Your Guide To The Hollywood Walk Of Fame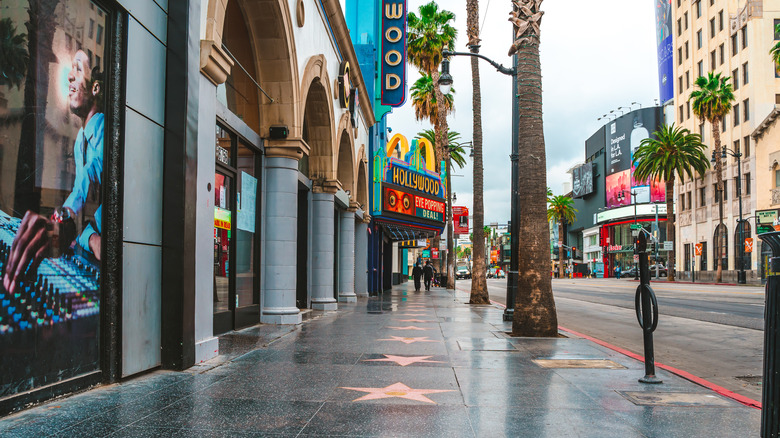 Ivanova Ksenia/Shutterstock
If you're unable to visit one of the popular vacation spots of the rich and famous, why not go to where the A-listers live instead? We're talking about Los Angeles, of course! The city is full of sights and sounds and whether you're planning an extended holiday or the perfect 3-day weekend, you won't be short on adventure. Just a few must-dos include soaking up the sun in Santa Monica, tucking into five-star dining, and hunting for the best views of the Hollywood sign — all while keeping your eyes peeled for celebrity sightings. 
And while downtown Los Angeles often ranks low on travelers' itineraries, it's worth at least a few hours of your time, if only to visit the iconic Hollywood Walk of Fame. What many may not realize is just how long and impressive the Walk of Fame is, running along Hollywood Boulevard for 15 blocks from Gower to La Brea, while also cutting across on Vine Street for three blocks from Sunset to Yucca. It's a must-visit for any film buff, but also for folks who simply love pop culture or those who just want to see one of America's most famed spots.
Whether you're passing through or making an entire day of it, you'll want to keep a few things in mind. Here's your complete guide to visiting the Hollywood Walk of Fame and having a wonderful time.
Getting to Hollywood Boulevard and where to stay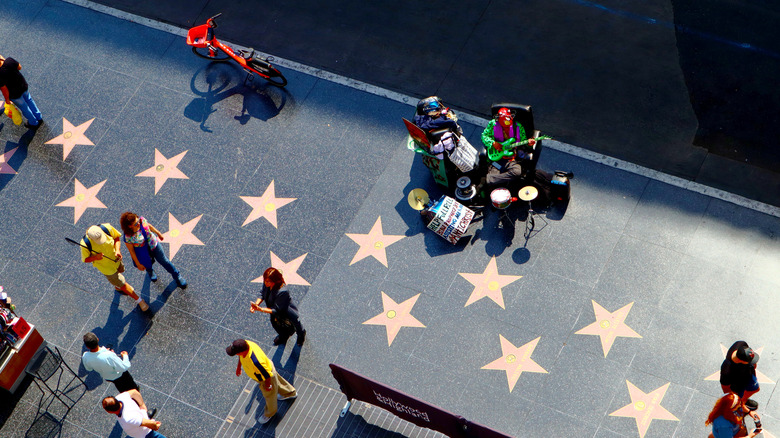 Walter Cicchetti/Shutterstock
Whether you're driving or taking public transit, getting to Hollywood Boulevard is quick and easy. If you plan to go by car, there are metered parking spots all along the boulevard, but you'll need a big dose of luck to snag one. Luckily, there are numerous parking lots and garages on various side streets with some super affordable options, like 1600 Vine Street City Parking which is just $10/day. Alternatively, you can skip worrying about your ride and take the subway. There are two super convenient stops on the B Line (Red): Hollywood/Vine at the intersection of both parts of the Walk of Fame and Hollywood/Highland, which is right next to the TCL Chinese Theatre. What's more, once you're there, the 217 bus runs all along the Walk of Fame on Hollywood Boulevard with stops every couple blocks, making it a great option if you want to minimize walking and save some energy.
If you'd like to spend the night, there are plenty of accommodation options to meet every need and budget. Just some of the best hotels you can choose from include the affordable Samesun Hollywood beside the Dolby Theatre, the mid-range Mama Shelter Los Angeles designed by famed architect Philippe Starck, and the legendary The Hollywood Roosevelt. Built in 1927 right on the Hollywood Walk of Fame, its storied guest list includes everyone from Marilyn Monroe to Charlie Chaplin.
How to find your favorite celebs on the Hollywood Walk of Fame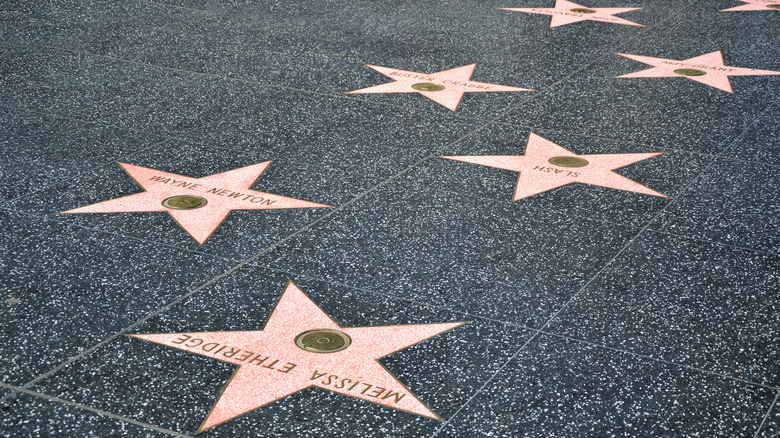 Studio Barcelona/Shutterstock
The Hollywood Walk of Fame has 2,700 stars and counting, which means you may need a little help locating your fave celebs. If you're searching for a specific star, whether it be Cate Blanchett, The Jonas Brothers, or Bugs Bunny, simply use the Hollywood Walk of Fame's comprehensive digital guide to track it down. You may even be able to see an A-lister in person if you happen to be around on a day when an induction ceremony is taking place. There are about two each month and you can track all of the upcoming ceremonies on the Walk's official page. Each unveiling is totally free to attend and lasts 45 minutes, but know that they do start promptly. No latecomers will be admitted and you can't reserve spots, so if you see a ceremony is happening on your chosen day, plan to arrive early.
As for how the whole thing came to be, the Hollywood Walk of Fame was the brainchild of E. M. Stuart, the Hollywood Chamber of Commerce's volunteer president. In 1953, he dreamt up the innovative way of paying tribute to Hollywood and in 1958, the first eight stars were unveiled, paying homage to Olive Borden, Ronald Colman, Louise Fazenda, Preston Foster, Burt Lancaster, Edward Sedgwick, Ernest Torrence, and Joanne Woodward. Construction on the walk officially began in 1960 and the first person to receive a star in a flashy ceremony was Stanley Kramer, the legendary director behind "Guess Who's Coming to Dinner."
There's more to see than just stars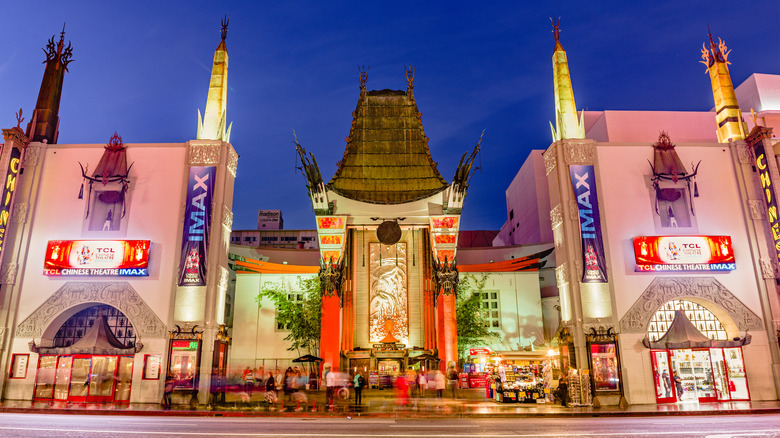 Sean Pavone/Shutterstock
While the Hollywood Walk of Fame is an essential part of Hollywood Boulevard, the strip is actually home to a treasure trove of attractions sure to please all movie lovers. In addition to its famous sidewalks, there are plenty of other famous landmarks and museums worthy of your time as you star hunt on the Walk of Fame. First up is the legendary Dolby Theatre, which hosts festivals, concerts, and screenings. Tickets for each can be purchased in-person at the box office or online through Ticketmaster. You can also take a guided tour on select days to get a full Academy Awards experience and see an Oscar in real life, visit the Dolby Lounge where celebs and winners hang out, and more. You'll also want to pop into the TCL Chinese Theatre, which screens all the hottest films in immersive IMAX and MX4D. Alternatively, you can take a 30-minute VIP tour to learn all about this iconic landmark. Before heading inside, don't miss the Forecourt of the Stars, which is home to handprints, footprints, and signatures of movie legends like Humphrey Bogart.
You can also pose with your fave A-lister at Madame Tussauds Hollywood or the Hollywood Wax Museum, explore the Guinness World Records Museum, spot the iconic Capitol Records Building, or catch a movie at The El Capitan Theatre, which opened its doors in the 1920s and maintains all of its historic grandeur while screening all the latest films (yes, even Marvel).
Where to eat and drink on Hollywood Boulevard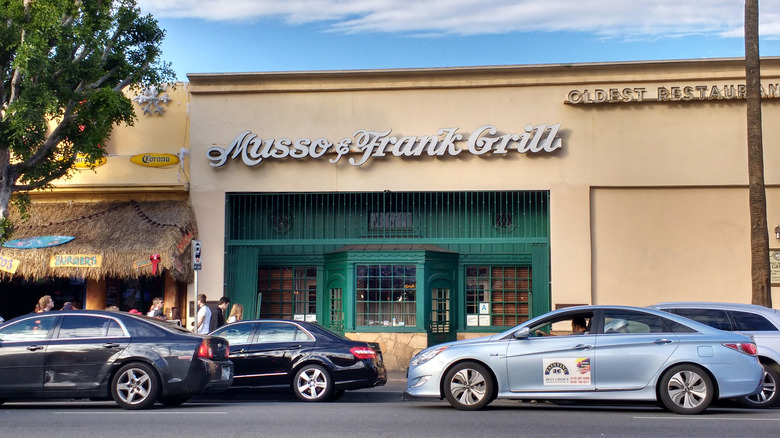 Alex Millauer/Shutterstock
There's no shortage of dining options all along Hollywood Boulevard and its surrounding side streets. If you're just looking for a quick bite, you'll find all the standard fast food chains have outlets near the Walk of Fame, but there are also plenty of sit-down restaurants and bars to choose from. The most famous is Musso & Frank Grill, which opened in 1919 and has served legends like Elizabeth Taylor and Steve McQueen. It has also appeared in 30 films and counting! Its daily specials range from corned beef and cabbage to homemade chicken pot pie and braised short ribs with veggies. Other top-rated options include The Barish, a classic American steakhouse from famed chef and cookbook author Nancy Silverton, Running Goose, which serves comfort food on a sunny patio, and Wood & Vine that's cooking up seasonal tapas paired with artisanal cocktails.
If you're looking for a tipple, try The Spare Room (a cocktail lounge combined with a gaming parlor and two vintage bowling lanes), The Bourbon Room (where you can enjoy a strong drink while taking in a live comedy, burlesque, or music), or just grab a pizza and pint of craft beer as you unwind at Elbow Room.
Take a break for some retail therapy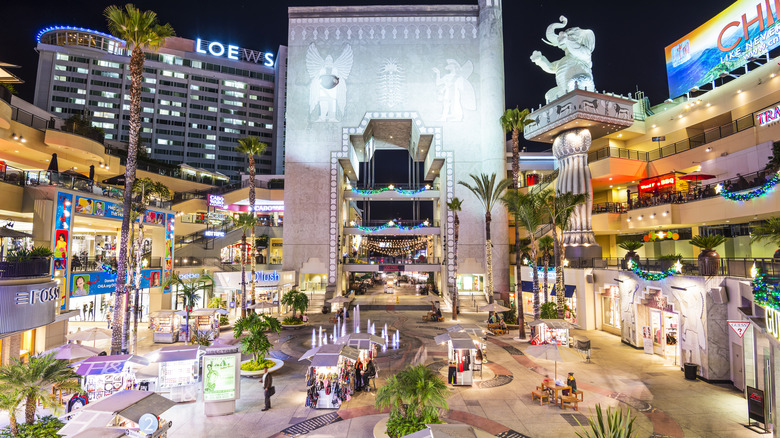 Sean Pavone/Shutterstock
Once you've taken all your star selfies, visited the icons of Hollywood Boulevard, and tucked into a hearty lunch, you may want to indulge in a little retail therapy. There are countless souvenir shops lining the Walk of Fame and you'll likely want to take home a memento of your adventure, even if it's a little kitschy. Head for the Hollywood Blvd Peterson Building, just two minutes from TCL Chinese Theatre, to pick up gifts and souvenirs at the gigantic La La Land shop, which also has some cool (imitation) movie props to check out while you shop. 
You'll also find a Target and Marshalls in the same building, but it's Ovation Hollywood, right in front of the Dolby Theatre on Hollywood and Highland, that steals the show. This state of the art shopping center is swanky but features stores, dining, and entertainment for all ages and budgets. You can easily spend a few hours here as you browse the likes of Sephora, Footlocker, and Pandora, then grab a bite from Hard Rock Café or Cold Stone Creamery or take in an immersive VR experience.
If you'd rather take a guided tour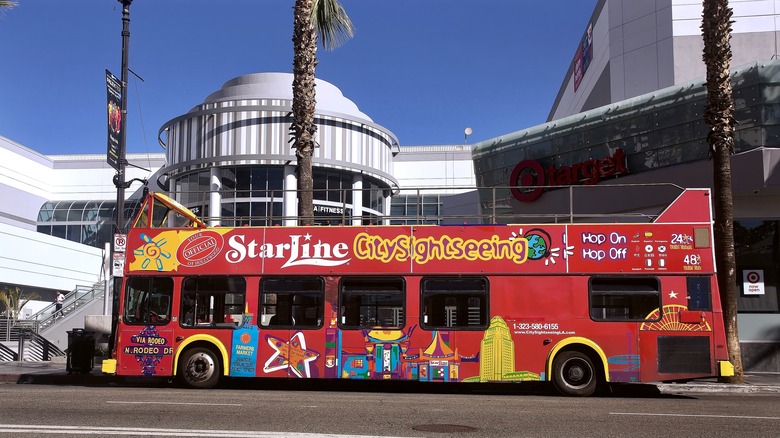 Elliott Cowand Jr/Shutterstock
If you're on a tight schedule or would simply like to see more on your day out than just the Hollywood Walk of Fame, a guided tour may be a better option. Grab a ticket for the BigBus Hop-On, Hop-Off Hollywood Loop Tour and you'll get to experience Hollywood Boulevard, as well as explore 11 other stops, including Beverly Hills, the Sunset Strip, and Paramount Studios, on a double-decker bus. If you'd prefer to explore on foot, you can take StarLine Tours' Hollywood Walking Tour, which covers all of the biggest attractions along Hollywood Boulevard in 60 minutes. Or you can even combine your time at the Hollywood Walk of Fame with one of the other most popular tours, like a celebrity home tour, on Hollywood City Tours' two-hour Original Hollywood Tour. First, you'll visit the most important spots along Hollywood Boulevard, then you'll see the Hollywood Sign and drive by the homes of Tom Cruise, Katy Perry, Leonardo DiCaprio, Madonna, and more.
Alternatively, you can take a guided tour without a guide by downloading SelfTour's Legendary Hollywood GPS Guided Walking Tour narrated by actor Debbie Reynolds. Add a little spice to your exploring as you let Reynolds tell you all about the stars on the Walk of Fame, as well as share insight into where you might spot a celebrity, and reveal the stories behind the various landmarks around you.
What's the best time to visit the Walk of Fame?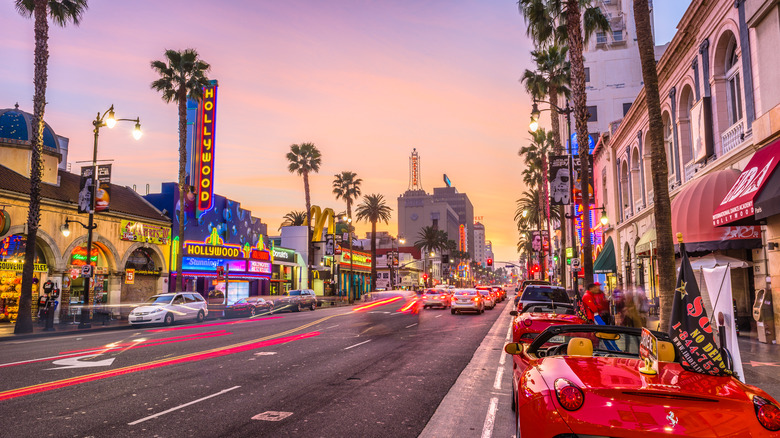 Sean Pavone/Shutterstock
When you're able to visit the Hollywood Walk of Fame may depend largely on your travel schedule, but if you're able to open up an entire morning, consider exploring Hollywood Boulevard in the a.m. As Chris Mooney, member of the Los Angeles Concierge Association, suggests, you should grab some breakfast, then head straight to the Walk of Fame. "The best time to hit Hollywood Boulevard is the morning between 7 o'clock and 11 o'clock," he told AskAConcierge. "The characters aren't even on the street, nobody's walking to work, it's nice and quiet and you have a beautiful mile and a half of Hollywood Boulevard, from Vine to LaBrea, that you're pretty much uninterrupted — the Boulevard is yours." Of course, the earlier you're able to go, the fewer folks you'll have to deal with, meaning you'll be able to enjoy a leisurely stroll while snapping the perfect selfies with all your favorite stars before the crowds obscure the pavement.
Another great option is walking the boulevard once the sun goes down. Most of the buildings light up with neon lights, which gives the area a totally different feeling from the one you'll experience during the day.