24 Best Vacation Destinations Where The Dollar Goes Further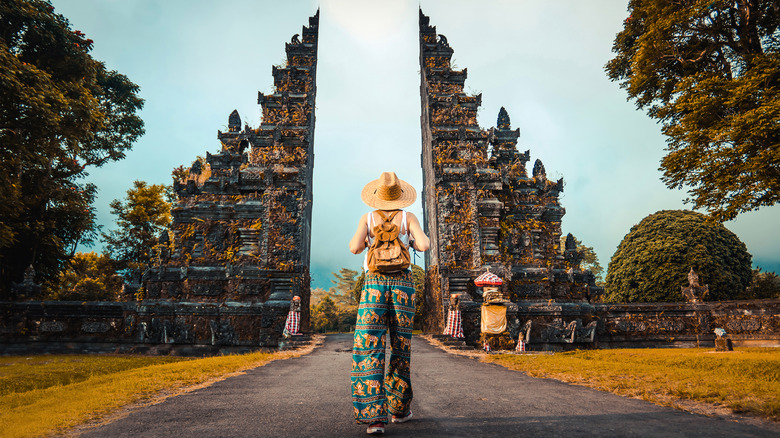 DavideAngelini/Shutterstock
Traveling isn't just for the financially flush! With a little bit of planning and a few extra days off work, you can swap your yearly beach trip out for an international getaway – don't worry, beaches could still totally be involved.
According to Forbes, an estimated 40% of Americans have never left the country, and a portion have never even left their home state. There are so many benefits to traveling and getting exposed to other cultures and countries. We know that it may seem completely out of reach to travel the world even on a budget, but there are countries all around the world where the American dollar goes much further than your hometown.
Dining out every night and paying for exciting outings may not be sustainable for a lot of Americans, but you can do so for pennies on the dollar in some select countries. From coastal paradises to bustling foreign cities, these destinations can show you a good time without turning out your pockets.
Colombia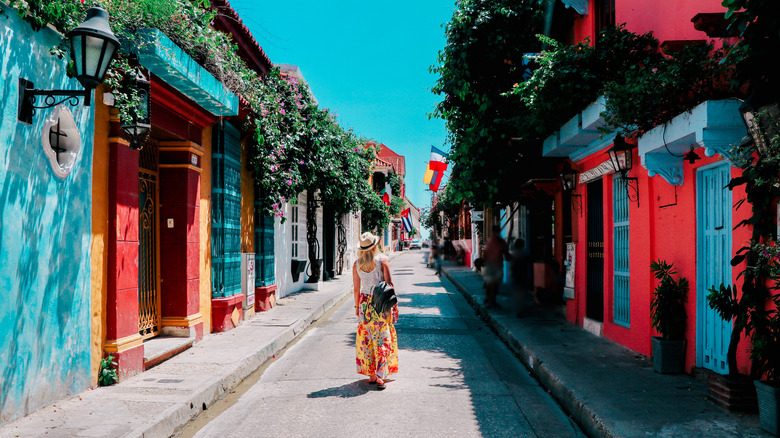 Yuki Mao/Getty Images
Colombia is a vibrant country and cities like Bogota and Jardín are teeming with life and culture. With a cost of living that has a very wide range, the South American country can be very affordable if you plan accordingly. The Colombian peso goes into the dollar well over 4 thousand times, meaning the U.S. dollar is very strong, though the currency here takes a bit of getting used to. You can grab a meal for just a few bucks and considering Colombian food is absolutely delicious, that's one heck of a deal.
If you're looking for a charming small town with a homegrown vibe, Jardín fits the bill beautifully. Another option is the capital of Colombia — Bogotá is home to various Latin American cultures and influences and it is also a destination worth spending some time in. The city has over 11 million people who reside there, so if you want something a little more low-key, check out Ciénaga in the Magdalena region. The small city is surrounded by the beauty of the Caribbean Sea, the Magdalena River, and the Santa Marta Mountains and is known throughout the world as the capital of magic realism and the inspiration for the classic novel "100 Years of Solitude." You may find your own inspiration there among the many different forms of art and nature.
Puerto Caldera, Costa Rica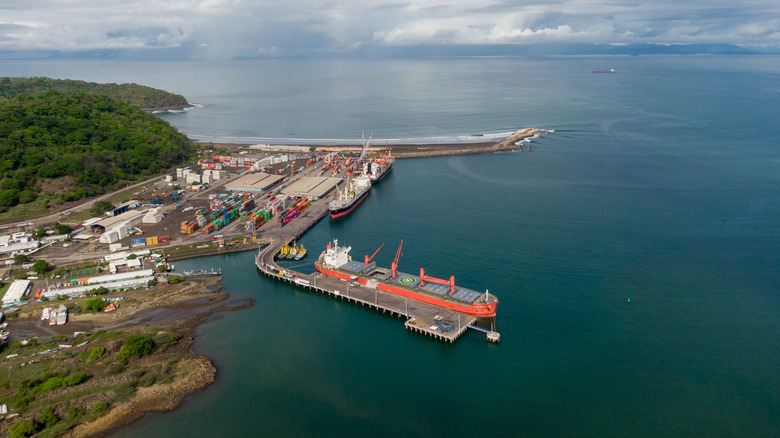 Gianfranco Vivi/Shutterstock
Costa Rica offers a lot of value not so far from home for Americans. The dollar is accepted in many places but the official Costa Rican currency of the colón goes into the dollar over 500 times, making American currency very strong here as well. Puerto Caldera is a port city with access to many different areas in the country, though there are plenty of things to see in the city itself despite most travelers looking past its potential.
From Puerto Caldera, you can take a short ferry to Tortuga, the (in)famous and historic pirate island that is now a desirable beach getaway. Los Suenos is also a short distance away via boat, and travelers can easily get to the large resort to have a laid-back escape.
A lot of cruises take off from the port city, so there are plenty of excursions to explore the wildlife and off-the-beaten-path destinations here. Shops, restaurants, and cafes are found near the port in Puerto Caldera, making it easy to stop in for some traditional Costa Rican food.
San José, Costa Rica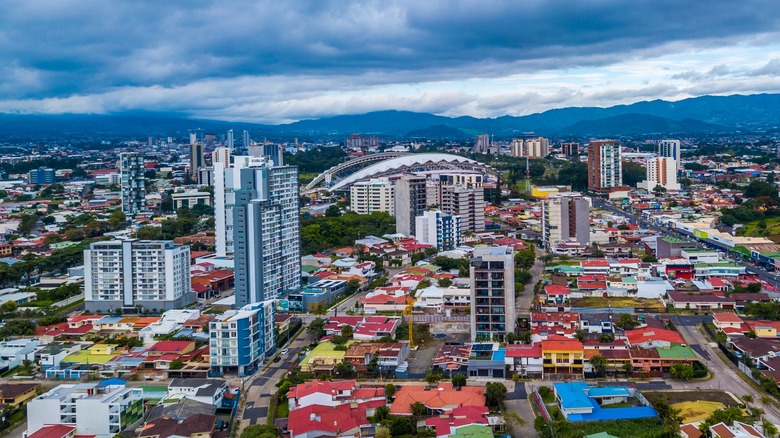 Gianfranco Vivi/Shutterstock
San José is the capital of Costa Rica and it is a pretty huge city. Don't let the size scare you, though, because while there are plenty of amazing sights and experiences in the city, visiting San José puts you in the vicinity of many other nearby destinations that will blow your mind.
Waterfalls, volcanoes, hot springs, oh my! San José is seriously one of the best places to travel if you're into all the wonders that Mother Nature can cook up. There are six active volcanoes in little ol' Costa Rica and a large number of dormant ones, and the capital city is central to a good few. The great thing about all those volcanoes is that the country is also scattered with relaxing hot springs. Obviously, the risk of an eruption is worth the spa-level R&R produced by the sometimes unpredictable natural occurrences. They also help create waterfalls as well. It's almost like we can chalk up a good amount of Costa Rica's beauty to the mountainous, destructive time bombs.
If nature isn't your thing, though, the city of San José has countless opportunities to have fun, shop, dine, and drink. Street food is popular here, with a meal only costing a few dollars and coming fresh from the vendor as you order it. With food costs being low, you'll have more resources to indulge in whatever attraction or opportunity crosses your path.
Egypt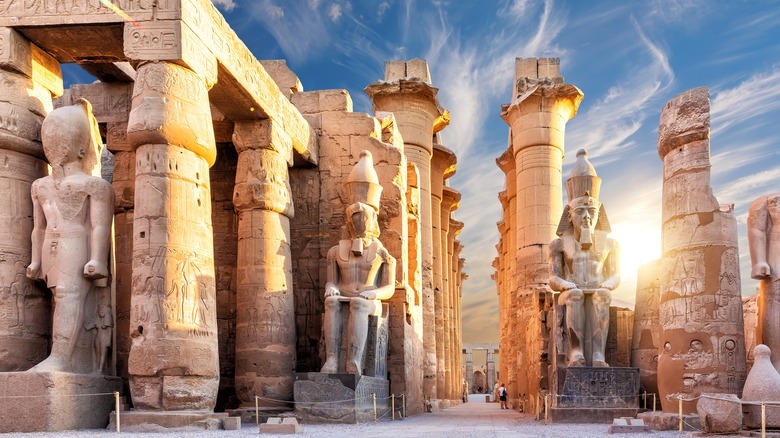 AlexAnton/Shutterstock
Talk about a bucket list vacation! Cairo is not only one of the most visited cities in the world, but 1 U.S. dollar equals around 30 Egyptian pounds, making it an accessible city that can easily be seen in style. When it comes to ancient mysteries and architecture, Egypt sits high on the list of ancient marvels we have still yet to understand completely.
If you're a traveler or have never left your hometown but visit foreign countries through books or stories, chances are that Egypt is one of the places you're dying to see. The pyramids, sphinx, and the many discovered temples in the area are all givens when it comes to attraction in the African country.
After you explore what the desert has to offer in the way of ancient leftovers, head into Cairo where you can book accommodations and get settled. The populous city sits right on the Nile River and is an oasis in the midst of the desert – you can even see the pyramids in some cityscape angles. Old Cairo is the best place to see historical sights, and Khan el-Khalili, a famous bazaar, is located here – you'll be surprised what you can walk away with for just a few dollars, especially after haggling.
Budapest, Hungary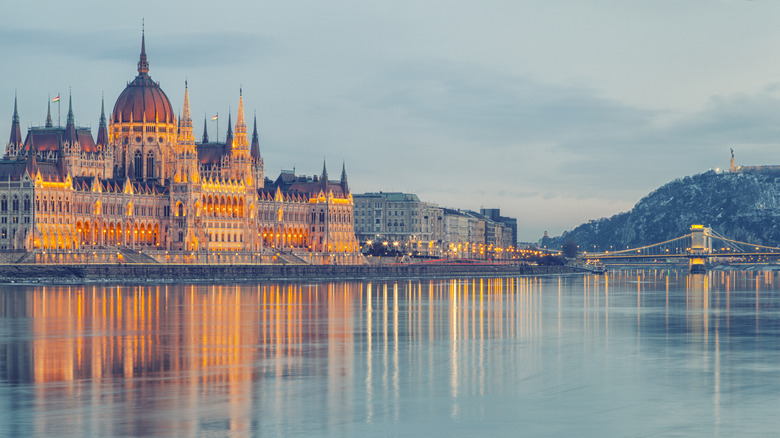 Focusstock/Getty Images
For some unknown reason, Hungary gets glossed over when would-be travelers are considering which countries to hit on their European adventures, but forgetting about this history-rich country would be a big mistake. Not only is it an old and important country, but it's absolutely gorgeous and the eye candy that is Budapest is hard to beat – especially when you consider that just one U.S. dollar equates to 300 Hungarian forints.
Architecture in Budapest is gorgeous and, unlike a lot of historic cities, it's very diverse, too. The buildings that make up a good portion of Budapest are of varying styles, thanks to a large surge in population and the city looking to various world-renowned architects to keep up with growth and relevance. Even the factories in the city are artfully designed. From art deco to geometric styles and with materials ranging from iron to expensive marble, the pure variance of Budapest is staggering. Spend some time here and you'll learn to love this mix-matched style as much as the locals do. 
Eger, Hungary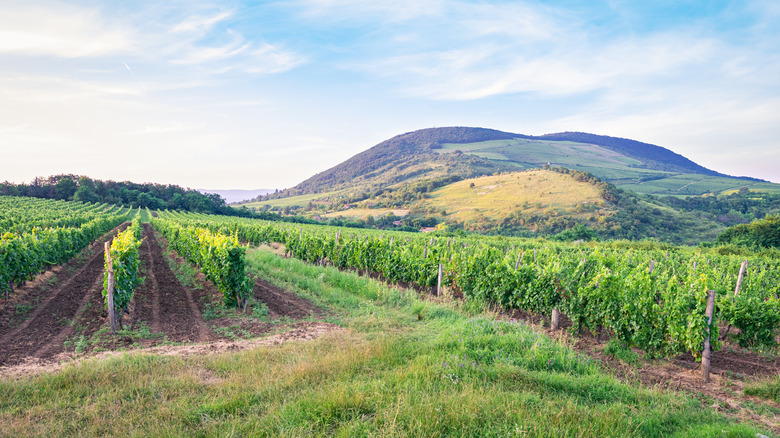 Menno van der Haven/Shutterstock
A resilient little city in Hungary, Eger is similar to Budapest in that it contains some pretty spectacular architecture. It is much smaller, though, and is a great representation of slow, small-town living in Hungary.
Since Eger is a smaller city, the community is strong here and locals like to support one another. Farmer's markets are popular happenings and local businesses are favorites. Cafes and local restaurants should be a go-to, as Hungarians take both sweet and savory foods seriously. Trust us, you'll want to check out local bakeries for a made-from-scratch pastry and a local bistro for a hearty meal paired with a glass of Hungarian wine.
Speaking of wine, Eger has a few wineries in its vicinity that are worth a taste. Valley of the Beautiful Women is one in particular that deserves a visit. While it sounds like the promise of some Amazonian paradise, the winery is actually just a relaxing place to explore some local Hungarian vino – you can even bring your own bottle to fill from the casks!
Bali, Indonesia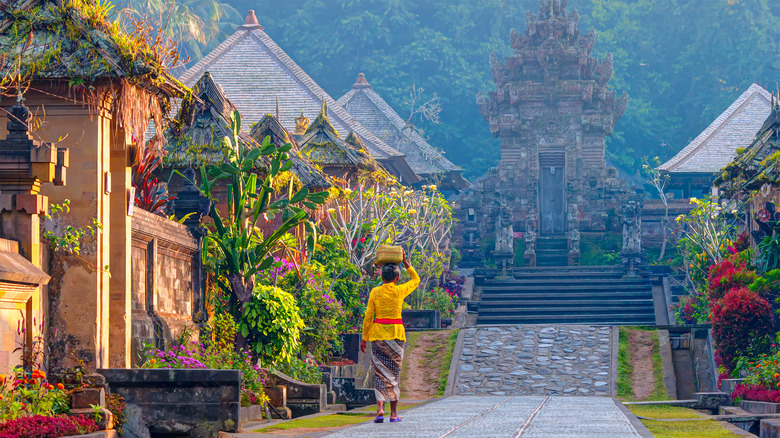 muratart/Shutterstock
If you're looking for a luxury vacation on a budget, Bali's many waterfront accommodations will make you feel as though you're living like a celebrity. A little goes a long way, as an American dollar is worth almost 15 thousand Indonesian rupiah and the cost of living in Indonesia is just a fraction of that in America.
There are countless gorgeous sights to see in Bali. Just going outside and exploring will lead you down some pretty sweet roads where you come face-to-face with landscapes and natural masterpieces you won't be likely to forget anytime soon. Beaches, waterfalls, and lush green jungles await travelers here. You might want to consider visiting Diamond Beach, Tegalalang Rice Terraces, and the Tibumana Bali Waterfall for some majorly jaw-dropping scenes.
The culture in Bali is important and vibrant, which is why you should try to learn as much as you can and indulge in as many local foods and traditions as possible. Conversing with locals and getting to know the island from their point of view will offer a new lens through which to see the world.
Wae Rebo Village, Indonesia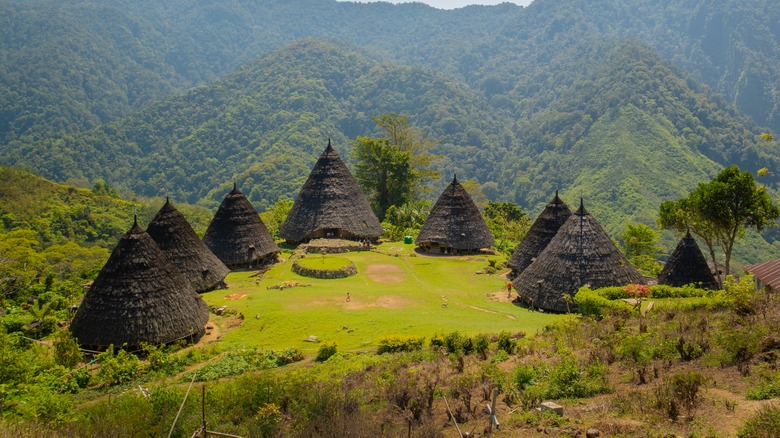 MarlonH/Shutterstock
Bali may be one of Indonesia's most sought-after destinations, but a little village a few islands to the east has plenty to offer travelers in way of explorations and experiences as well. Wae Rebo Village is famous for the traditional houses that have been built on the site, a recreation of the Mbaru Niang style house which can only be found here.
Surrounded by lush mountains and wild rainforests, the village is geographically isolated from other communities, but this does not stop people from wanting to visit and witness the crafted village themselves. While they don't look so sizable when looking at collective aerial photos of the village, the buildings are considerably large and impressive in person, each with five stories.
Visitors are welcome and a fair amount do make the trek, but Wae Rebo remains an actual, functioning village with people residing there. If you choose to visit and take in everything the traditional village has to offer, please be respectful of those who call the area home.
Jamaica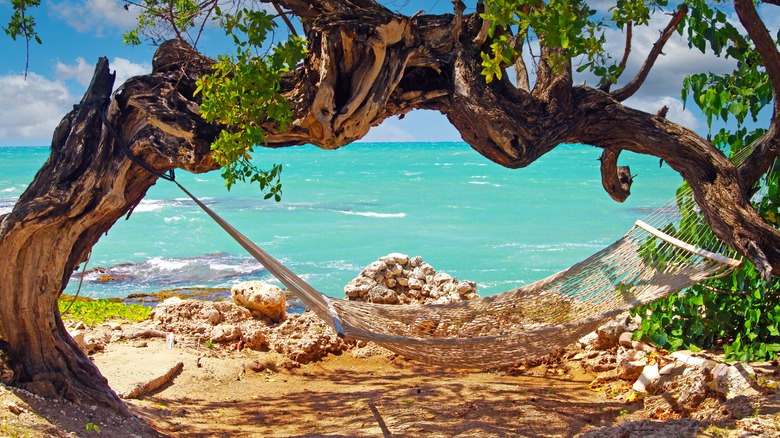 Ralf Liebhold/Shutterstock
As long as you're traveling during the off-season, a trip to Jamaica could cost you as little as $500 as a solo traveler, not including the airfare to get there. An American dollar stretches to over 150 Jamaican dollars, and the majority of your money will be going to accommodations. There is plenty of food, culture, and nature to experience here, all of which cost very little. The majority of the price tag associated with traveling to the Caribbean country is the plane ticket, which can get pretty pricey. Of course, traveling during the off-season is a great way to get a good deal and stay within your budget, and Jamaica has nice weather year-round, so you won't be missing out on any sunshine by booking before or after the peak season.
Jamaica is known for its food, music, and coffee, all of which can be found and appreciated in large quantities all over the island country. Walk into practically any cafe and be surrounded by the aroma of coffee and good eats, and you may even be lucky enough to come across one playing live music. For those who like to appreciate music through the lens of history, the Bob Marley Museum in Kingston is located in the late musician's home and is absolutely a necessary attraction for first-time visitors to Jamaica.
Kuala Lumpur, Malaysia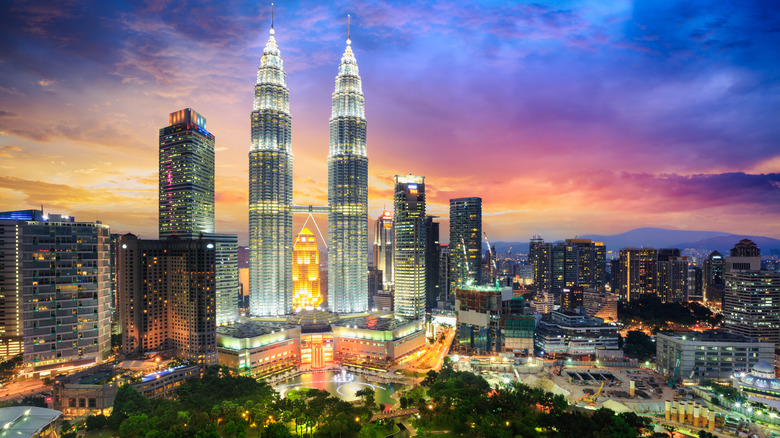 Patrick Foto/Shutterstock
As the capital of Malaysia, there is a whole lot going on in Kuala Lumpur, all costing a fraction of what a big American city does. The dollar is worth more than four times one Malaysian ringgit, which means that you're coming into the city with a financial advantage. The cost of living in the city can easily be less than $1000, which is practically unheard of in an American city.
With all that extra cash you'll be saving in the affordable city, you may as well treat yourself, and Bukit Bintang is the place to go. You could spend a full day shopping here, then stick around after the sun goes down for some drinks and nighttime entertainment. 
The Batu Caves is another desirable destination for tourists, and it is a collection of caves that act as Hindu temples. Even if it is likely to be busy, this holy place is both colorful and inspiring, full of people trying to pay their respects and immerse themselves in the culture there.
Melaka, Malaysia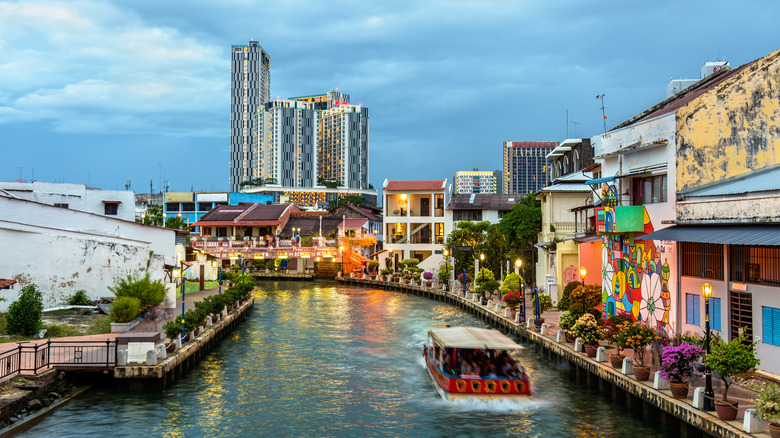 Leonid Andronov/Shutterstock
Art lovers, buckle in – you're going to Malaysia! Well, that is if you're a fan of street art and cheap eats. Malaysia is one of the best budget vacations you can take, and the streets of Melaka are full of color, so if you're the type of traveler who likes to mark their trip with fun and attractive keepsake photos, the city will be the star of your Insta feed.
If you do appreciate the art of murals and graffiti, you'll want to scope out the Orangutan House, which is marked with a mural and houses a large amount of modern art. The combinations of color in the gallery are intense and attractive, creating a vibrant vibe that is perfect for kicking off your trip on the right foot. The King's Well offers a different type of street art, and that is the muted-toned, realistic murals that can be found painted on the walls. Heading to the river will result in more color, as large-scale murals are littered along the River Walk walking route between various cafes and shops. The unsuspecting art destination is a great choice for a unique trip on a budget.
Mexico City, Mexico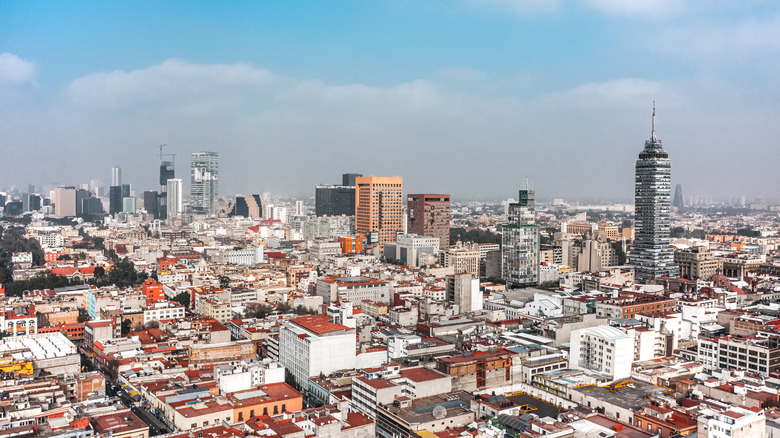 Medvedkov/Getty Images
One of the most populated cities in the world, Mexico City is one of the top destinations for travelers wanting to visit the Latin American country. In terms of affordability, the U.S. dollar is worth between 15 and 20 Mexican pesos and the cost of living in Mexico is a good amount lower than both the United States and the world, on average.
There are plenty of unique experiences to be had here for all types of travelers. Those who have a penchant for the creepy and bizarre may want to check out the Island of the Dolls, a small portion of the city that contains a startling amount of old dolls in varying degrees of deterioration hanging from trees – those who visit can also bring their own dolls to leave as a tribute to the eerie place.
Mexico City is also home to a number of museums and would be a perfect destination for history lovers. From the Frida Kahlo Museum to the popular National Museum of Anthropology, there are plenty of interesting and informative places that can scratch any brain itch and keep travelers busy for quite some time.
San Luis Potosí, Mexico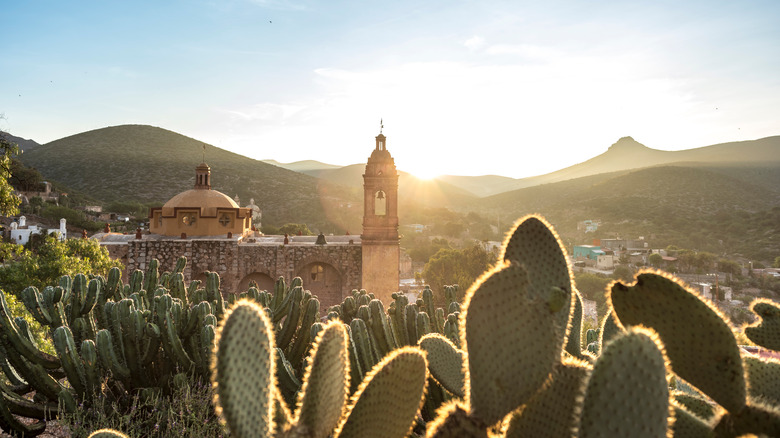 Claudio Briones/Shutterstock
For the explorer who likes to take the road less traveled, San Luis Potosí is a destination that has plenty to offer but is overshadowed by the more popular Mexican cities. The low-key city is the perfect mix of nature and city life, and even has a hidden ghost town that really looks the part.
The architecture found in San Luis Potosí gives the city a sense of magic, as they are both old and timeless. The city has heart, and beauty can be found in both the nature that surrounds it and the streets woven between colonial buildings.
San Luis Potosí is quite the destination for adventurers as well as those who just like to stroll about town. Heading into the mountains could – and should – result in coming across the ghost town of Real de Catorce, a once thriving mining town that has left its mark in film and with many visiting explorers. Nature lovers may also like rappelling down a waterfall at Minas Viejas – the possibilities for an outdoor excursion are practically endless.
Peru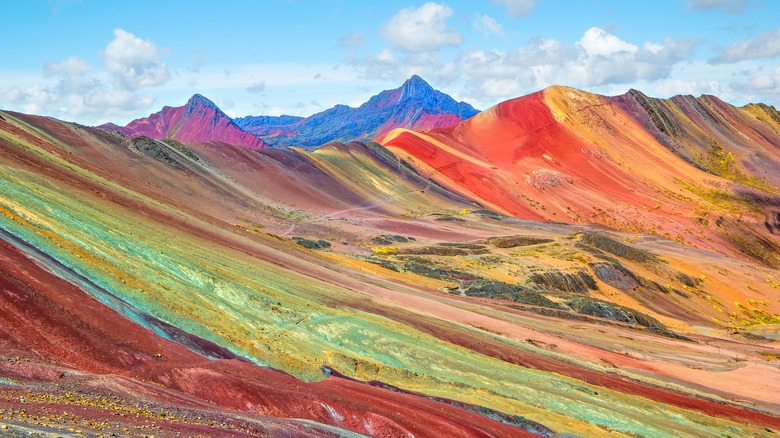 Perekotypole/Shutterstock
This one is for the extreme adventurers! Peru is an incredible country with various outdoor experiences that can't be replicated anywhere else in the world. The ancient village of Machu Picchu is world-famous and a must for any travel bucket list. Cusco shouldn't be skipped either, as the city nestled in the Andes Mountains is a dream destination all in itself.
Travelers flock to Peru for its culture, history, and landscapes, all of which are attainable on a low-cost trip. Machu Picchu can take some planning to get to, as it is a steep climb. Luckily, a few hours on a train can get you there, and the ride is one full of gorgeous sights of the country. Taking a train back to Cusco once you're done at the ancient Incan city is the natural progression, and the long ride allows you time to contemplate the mysteries Machu Picchu presents as a sophisticated abandoned city.
Cusco also offers the perfect place to start a tour of the Andes Mountains, which run the length of Peru. Access to Rainbow Mountain can be found near the city as well, and seeing the layered colors on the mountain ridges is truly something else, and it's an epic addition to your collection of scenic visuals you will undoubtedly collect in your mind's eye while visiting Peru.
Philippines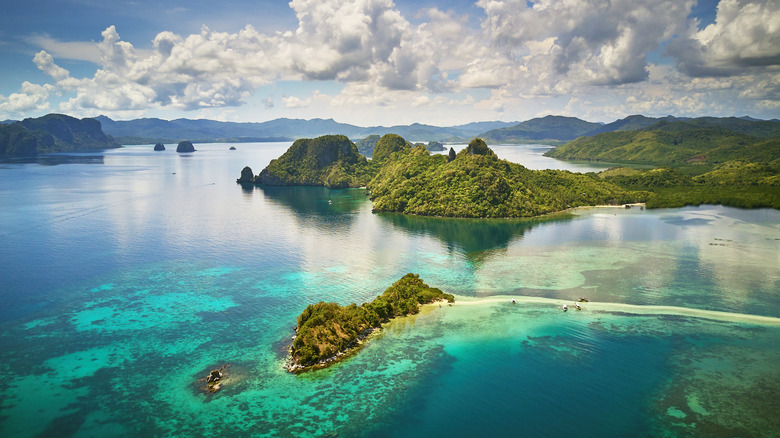 Xavierarnau/Getty Images
Like pretty much anywhere else, it's possible to travel to the Philippines on a big budget and live in luxury, but it's also a very real likelihood that you can get by with a modest budget here. One dollar is worth around 55 Philippine pesos and the cost of living for one person is as low as $600 – you can't find that anywhere in the U.S. The culture in the Philippines is also something you can't find anywhere in the States – at least in the same capacity.
There are so many cultural experiences that await you in the Philippines, from museums and eateries to holidays and festivals. Food is important here and you should try out as many local dishes as possible while you're in the country, like lumpia and adobo. Looking into the various festivals happening throughout the year would do you well, as lining up your trip with cultural celebrations will ensure you have a lively trip full of dancing and colorful costumes. The events are ingrained in the life here and it's common for parades and street dancers to be a part of celebrations. It's a fun, powerful, and typically free way to experience the tropical country.
The Algarve, Portugal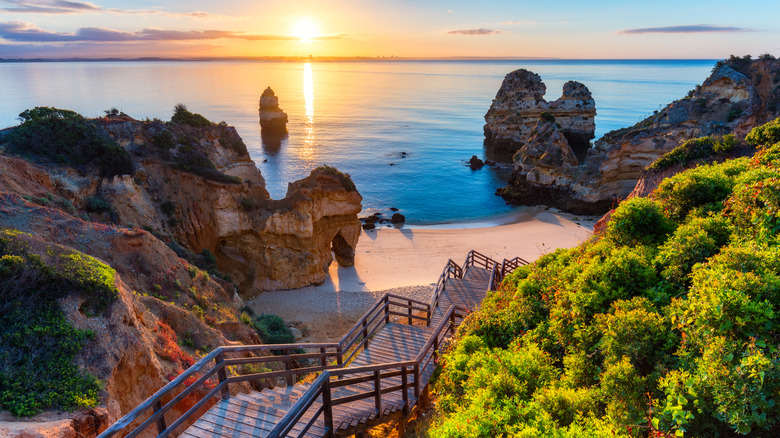 DaLiu/Shutterstock
Portugal is a very affordable country to travel to from the United States, as long as you do your due diligence to find an affordable plane ticket there. The country made the switch completely to the Euro in 2022, and even though the Euro is slightly stronger than the dollar, Portugal's cost of living and entertainment remains much lower than that of the United States. The Algarve is the country's southernmost region and covers a good amount of coastal land, making it a wonderful destination for a beach vacation.
The best way to describe the Algarve is simply stunning. Everything about the region is almost otherworldly, from the beaches and cliffsides to the gorgeous towns. Lagos and Faro are the perfect coastal cities, having both bustling streets and absurdly beautiful beaches. Faro in particular is a great beach destination, as there are a lot of points of interest on the coast and a good amount of privacy on the near-deserted islands along the bottom of the country.
With a cost of living between $850 and $1300, Portugal is a very affordable option for Americans, and the rocky cliffs contrasting with the Algarve's beaches is a sight only seen here. A far cry from your local beach trip, traveling here will be well worth it and not too much more costly than a domestic vacation.
Lisbon, Portugal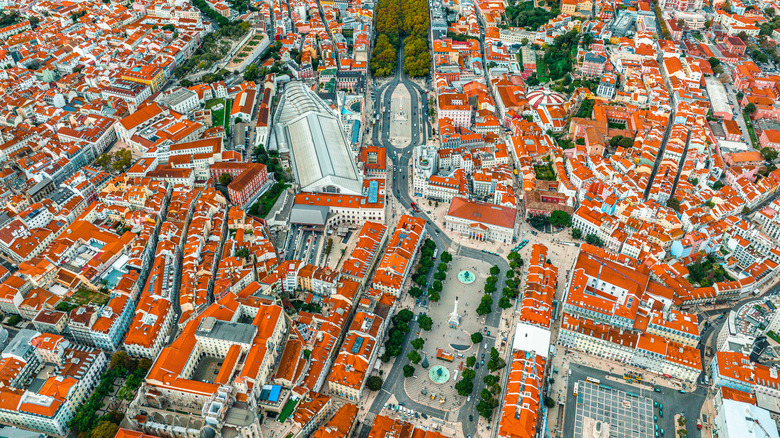 Chunyip Wong/Getty Images
As the capital of Portugal, Lisbon is obviously a go-to destination. What a lot of travelers don't expect from the city, though, is a bustling nightlife scene. The city comes alive at night, and it makes for the perfect city if you're looking for a way to go clubbing and party the night away on the cheap.
Lisbon likes to go so hard at night with their party scene that it bleeds into the day, with day parties being a common occurrence. If you desire a little more mysticism in your clubbing experience, the city has plenty of secret and hidden bars and clubs sprinkled throughout, like Monkey Mash, which requires you to ring a doorbell to be admitted, and Tejo Bar, an underground cellar bar with live music.
Even if the party scene isn't your thing, just taking a stroll through Lisbon is a good time. Not only can you stop into all the charming businesses as you like, but the interestingly unique and uniform red-roofed architecture throughout the city is worth a visit alone.
Cape Town, South Africa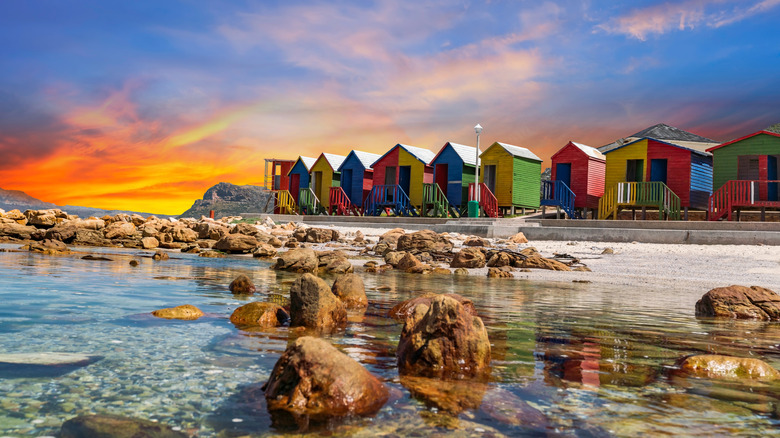 Arnold.Petersen/Shutterstock
Cape Town in South Africa is easily one of the most beautiful cities in the world and despite the bad rap that the country can get crime-wise, it is possible to safely travel there if you are vigilant about taking safety measures and staying aware of your surroundings.
Almost 20 South African rands equals one U.S. dollar and the cost of living in South Africa for a month without rent is estimated at just under $500 for one person, which isn't half bad! While food is very affordable here, visitors may want to set aside a little extra money in order to discover all of the country's flavors and cuisine.
Table Mountain and Boulders Beach are both outdoor destinations in Cape Town that deserve a visit. From atop Table Mountain, you'll be greeted with views of the city that can not be beat. Boulders Beach is one of many beaches along the city's shore and it is ideal for swimming – or, at least the penguins think so. Travelers can hit the water or admire the colony of penguins that call the area home.
Hammamet, Tunisia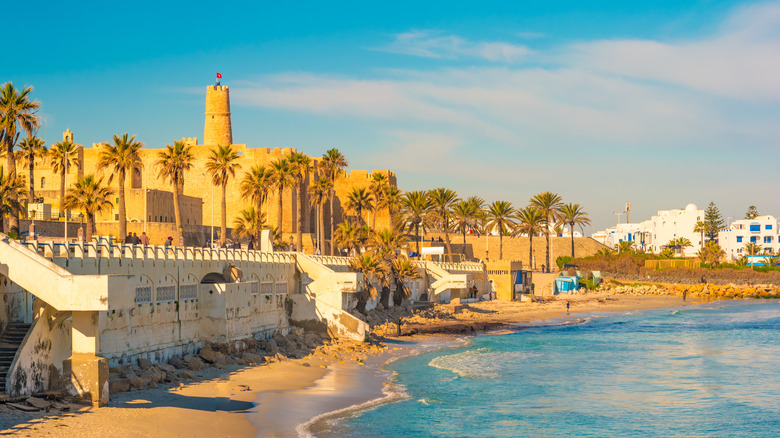 Romas_Photo/Shutterstock
Looking for a destination your friends and family may have never even heard of? Tunisia has an exciting and growing tourism industry and it is a stunner of a place. The northeast African country uses the dinar for its currency, which is worth less than a third of the U.S. dollar. It's possible for budget travelers to only spend a few hundred dollars while in Tunisia, making it a very real international destination for those who don't believe they have the means to travel far from home.
Hammamet is a beach town and taking a trip here is a great way to see the African coast. While viewing the turquoise water from the beach is a great way to spend the summer, swimming in the Gulf of Hammamet is a popular pastime for locals and tourists alike. The beaches of Tunisia seem to be more akin to those of the Caribbean than its neighboring European ones, which is great for travelers who want a more tropical feel to their budget beach vacation.
Sidi Bou Said, Tunisia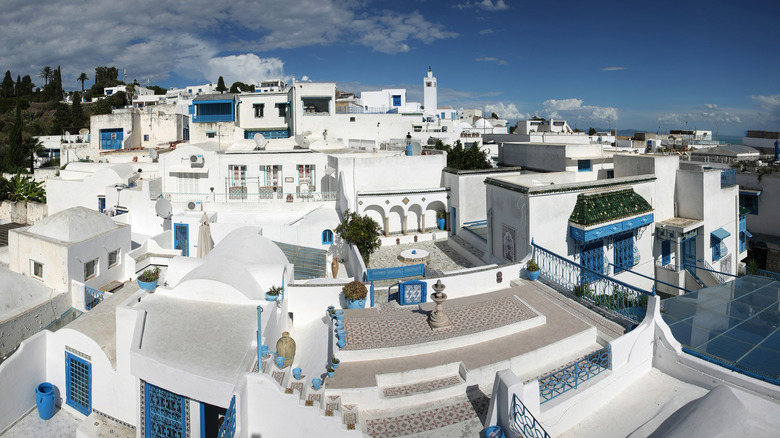 Goran Jakus/Shutterstock
The white and blue buildings of Greece's Santorini are world renowned, but they can be rivaled by the similarly colored buildings of Sidi Bou Said at a fraction of the cost. While you wouldn't technically be checking Santorino off your travel bucket list, you would be experiencing sights that rival the popular Greek city for a lot less.
If you do decide that the savings are worth switching up destinations, Sufi Bou Said is more than just its niche building style. A much smaller town than Tunis or Hammamet, here you can find a slower and more relaxed way of life. The buildings stand atop a cliff that overlooks the water, creating an environment that exudes luxury while actually being quite affordable. Just like in Santorini, the best pastime here is to just take a walk and take in the beauty of the town – there are plenty of street vendors and shops along the way that would love your business, and it won't cost you much to bring something home from one of them.
Tunis, Tunisia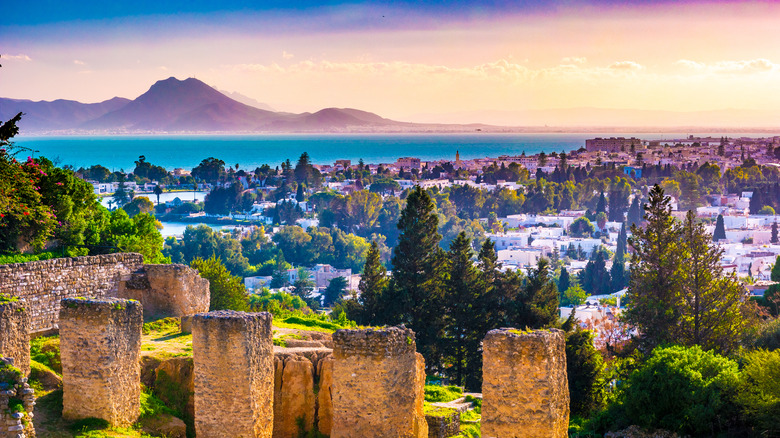 Romas_Photo/Shutterstock
Tunis is the capital of Tunisia and is like a whole new world to explore. The history in the city is immeasurable and there are naturally a number of museums worth checking out. Grand mosques are popular here as well, and they are pretty much all a wonder to look upon. Al-Zaytuna Mosque – or, the Olive Tree Mosque – is particularly striking, as its workmanship and inlaid designs are so intricate that it's a real shame the almost 150 feet tall building can't be examined more closely by visitors on the ground. Originally built in 732 AD, the mosque is a marvel as well as others that can be found in the city.
If you want to go even further back into the ancient world, the ruins of Carthage are located in the city and the site is one of the biggest attractions for those who visit the country. This attraction could be worth a trip to Tunis alone for history buffs, but the city has plenty of other sites worth exploring as well — all of which won't cost you very much at all.
Istanbul, Turkey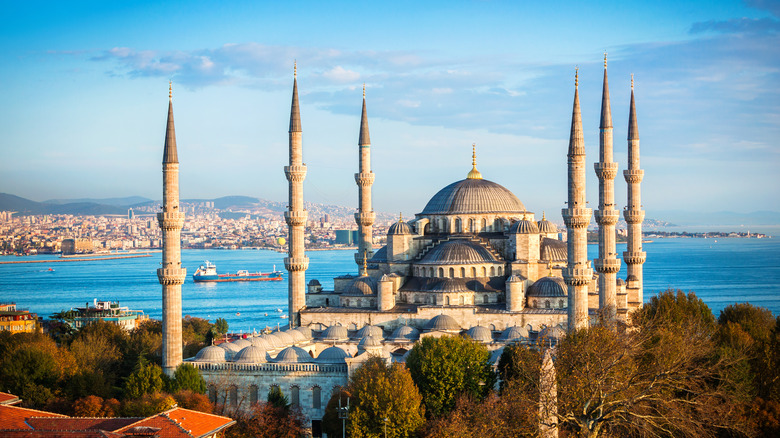 Nikada/Getty Images
While in Europe, do as the Europeans do! Turkey is a popular place Europeans go for holiday, mostly because it is affordable and absolutely gorgeous. The dollar goes a long way here, as one U.S. dollar is good for a little under 20 Turkish lira.
Istanbul is a city with deep history, having once been the ancient city of Constantinople, and the city has been left with various monuments and architectural wonders from its complicated past. They really don't build them like they used to, as the intricate buildings have withstood the test of time and remain something truly magnificent to see in person.
There are countless buildings, monuments, and landmarks throughout Istanbul that are worthy of being mentioned, but the Hagia Sophia Mosque is by far the most famous. Other mosques in the city worth gazing upon are the Blue Mosque and Kariye Mosque, all of which are grand and intricately designed. Taking a stroll down the streets of Istanbul almost guarantees running into something worth gawking at and while looks are free, there is also no charge for admittance into any of the mosques in the city.
Marmaris, Turkey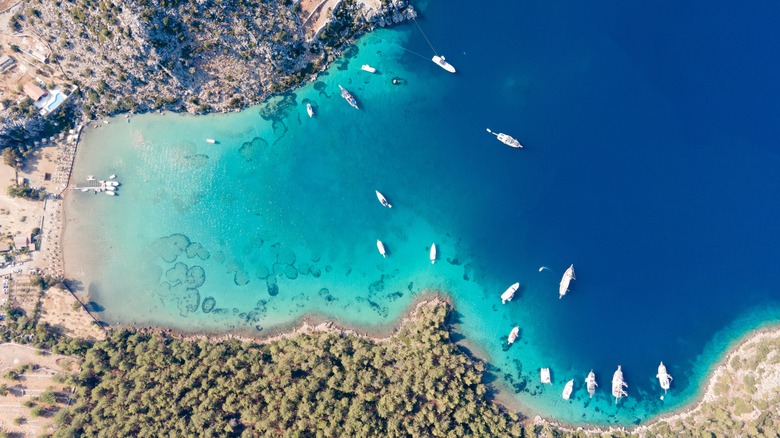 gokcentunc/Shutterstock
Turkey has a massive tourism industry with hundreds of thousands of visitors coming into the country, and Marmaris, in particular, is a popular getaway destination. The coastal city has plenty of draw for those who want to lay out on the beach or swim in the Mediterranean Sea. With a stellar view of lush mountains combined with the deep blue sea and shapely topography, the city is an eye-full. The vibrant colors are satisfying to look at and there is so much to see that it can be hard to relax, as you will likely want to soak up as much of it as possible.
The city is a popular destination for boating and diving and visitors can find various companies willing to take them out on the water to scuba dive near the turquoise coast. Other travelers may want to stick to the land, where attractions like the Atlantis Water Park and Bar Street, Marmaris' central nightlife scene, are popular. You'll also find Marmaris near the site of plenty of ancient cities, where you can still see ruins as evidence of their existence.
Vietnam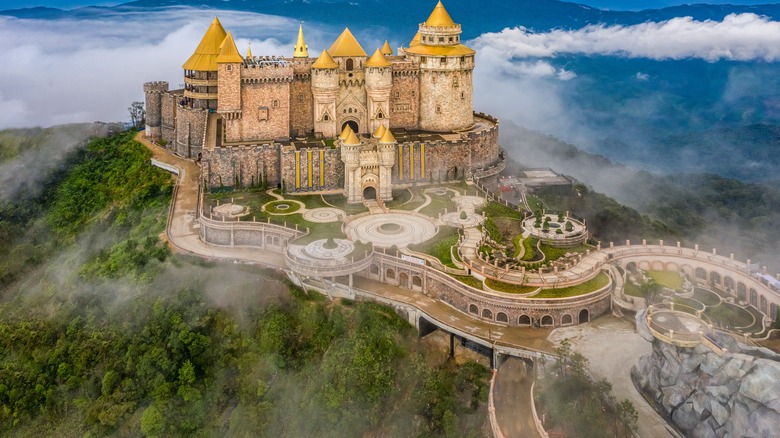 Hien Phung Thu/Shutterstock
It's very possible to journey to Vietnam on an incredibly low budget, making it a prime destination for those wanting to get their passports stamped for less. If you enjoy a good bowl of pho, visiting the Asian country is a no-brainer, but there are so many gorgeous sights to see here as well.
Vietnam is known as the "land of the Ascending Dragon" due to the shape of the country on the map, but there are some destinations within the country that will make you feel as though you are among dragons in the sky. Lunar Castle is one such destination, as the breathtaking castle is positioned atop of a mountain and reaches the clouds. Legend says that the stronghold was built on top of a dragon's den, and it looks so otherworldly that we may just believe it.
Coming back down to Earth, Hạ Long Bay offers a much different experience that is equally wondrous. The emerald waters and rocky surrounding landscapes create a stunning combination and those who like an adrenaline rush can rock climb and cliff dive here. The bay is worth the trip to Vietnam alone, but there are so many other things to discover in this mysterious and ancient country.