The Oldest Neighborhood In Mexico City Is A Must-Visit Destination For Art Lovers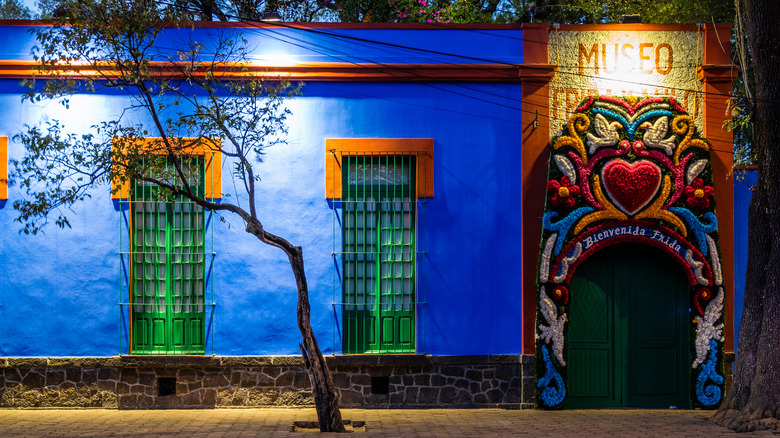 R.M. Nunes/Shutterstock
Mexico City, or la Ciudad de Mexico (CDMX), is steeped in history. At one time this area was home to the ancient Aztecs but once the Spanish arrived in the 1500s, Mexico City began to transform into a version of the modern city we know. Today, Mexico City is a major travel hub and home to the world's most renowned food scenes, architectural marvels, and artistic achievements.
The neighborhoods of Condesa and Roma Norte are among the most popular areas for travelers to stay and the city center dominates travel itineraries since it has so many activities to do. However, there are plenty of other places in CDMX that deserve your attention and are absolutely worth a visit, especially if you are an artist or art lover.
One of these places is Coyoacán. Though it is a ways from the city center, Coyoacán is one place you won't want to miss on your visit to Mexico City. It has an incredible history and is full of vibrant stories just waiting to be shared with visitors. While it has a little something for everyone, from foodies to history buffs, this is really a must-see for art lovers!
The history of art in Coyoacán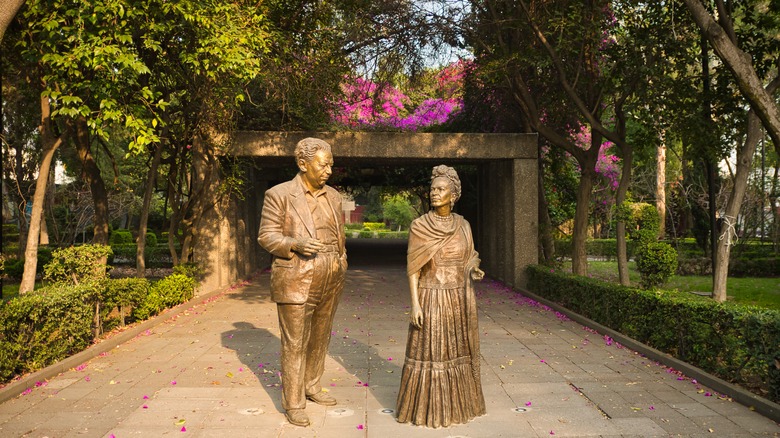 Gill_figueroa/Shutterstock
According to Britannica, the name Coyoacán means "place of coyotes." Today, you will find coyote iconography all over the neighborhood, from the tops of the street signs to the statues that take center stage in the main plaza's fountains. The coyote is a beloved symbol of the neighborhood and is just one of many things that makes Coyoacán special.
What draws most visitors to Coyoacán, however, is its history as a mecca for artists and art lovers alike. Chris Humphrey, the author of the book "Mexico City," writes that Coyoacán's reputation as a destination for artists began in 1923 when its first art school, Escuela de Pintura al Aire Libre (School of Open Air Painting), opened its doors. However, it wasn't just painters, but also poets, writers, musicians, and actors who all began to flock to this then-unknown part of Mexico City.
The most famous among them was Frida Kahlo, an artist renowned for her artistic talent and the political and social commentary her art provoked. The Culture Trip writer, Diana Vernon, explains Frida's talent even sparked something called "Fridamania," an intense obsession people had with Kahlo and her work. She and her partner, Diego Rivera — an equally talented and influential artist – lived in La Casa Azul in Coyoacán. The house, named for its bright blue walls, is now a museum, not only for fans of Frida Kahlo but anyone with an appreciation for art and art history.
Things to do in Coyoacán for art lovers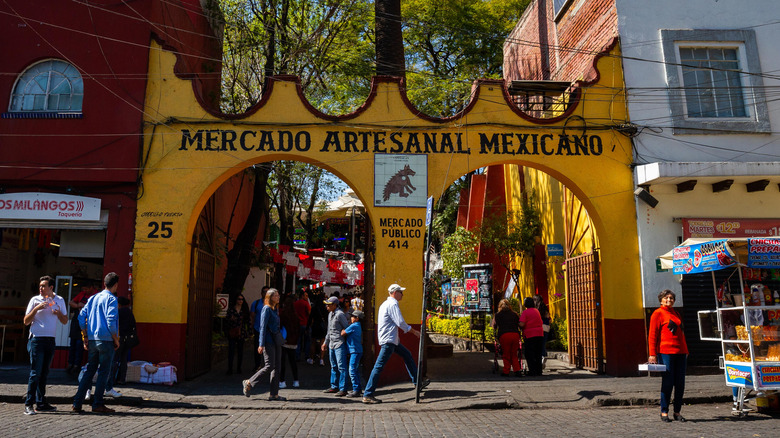 Tom Godfrey/Shutterstock
If you love art, it wouldn't be a successful trip to Coyoacán if you didn't at least see Frida Kahlo's house, La Casa Azul. The line to get in can be quite the wait, but if you are patient you are sure to learn some interesting facts that probably weren't taught in your high school Spanish class. If you want to try to avoid the crowds, it's best to go early in the morning when the museum opens and try to go on a weekday if you can.
After touring Frida's house, make sure to take some time to meander through the many artisan markets throughout the neighborhood. You will find endless stalls selling art and hand-crafted goods like jewelry, clothing, bath products, and more. The main market you should make sure to walk through is the Mercado de Coyoacán, just a couple blocks south of Frida's blue house.
Finally, it wouldn't be a real art district if there weren't art galleries to peruse. The art galleries of Coyoacán are a quintessential part of this neighborhood's culture and identity. The MXCITY insider's guide lists a number of amazing galleries you need to visit if you're looking to make a purchase or just get some insight into what the local talent in Coyoacán are producing. You won't be disappointed!