This Is The Absolute Best Place To Watch The Sunset In Santorini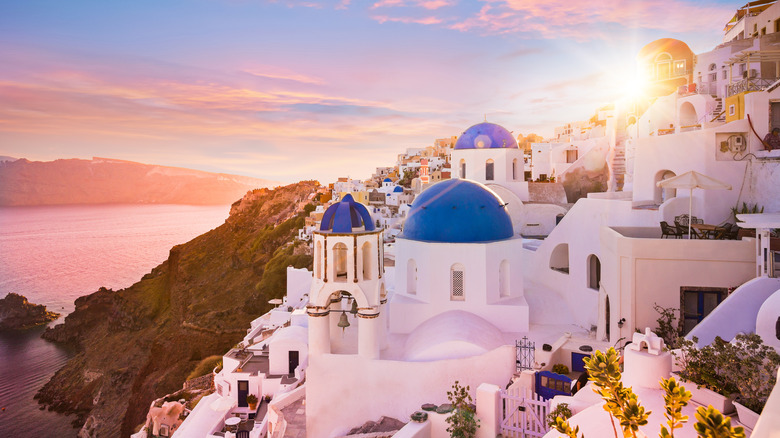 Kesu01/Getty Images
There's nothing more inspiring, or more romantic for that matter, than watching the sun gradually setting on a clear evening, tucking itself gently behind the horizon for the night. This fiery sphere of breathtaking reds, vibrant oranges, deep, golden yellows, and pastel hues of pinks and blues that paints the sky with its array of colors as it descends — creating a spectacular light show during sundown — has influenced philosophers, poets, songwriters, artists, and musicians for centuries: Their famous pieces dedicated solely to the infinite sunset.
Whether you're home or abroad, watching the magic unfold as the sun vividly bids the day adieu, is not only one of life's memorable experiences but it's also good for your health. According to VITA Daily, watching the sunset is both physically and mentally beneficial. And, with a host of countries around the world identified as affording the most beautiful sunsets, as reported by Rough Guides, you're sure to get your fill of good vibes and mental clarity no matter where you are in the world. And, one country on the list is world-renowned for being the absolute best place to watch the sunset. Get ready to pack your bags. We're taking you to the beautiful island of Santorini in Greece.
The most beautiful village in the Cyclades archipelago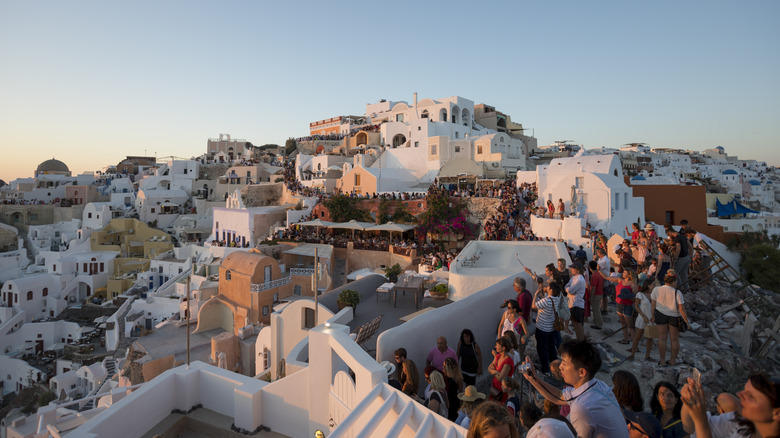 Athanasios Gioumpasis/Getty Images
Positioned high atop towering cliffs, overlooking the stunning Aegean Sea, the small village of Oia (pronounced "Ia," as told by Greeka), located on the most northern tip of the prehistoric, volcanic island of Santorini, is home to famous Greek Mythology and rich, yet turbulent history that beckons millions of tourists annually to its breathtaking landscape.
Whitewashed and pastel-colored traditional and cave stone homes, centuries-old churches adorned with vibrant, cyan-blue domes, shutters, doors and trim, abandoned windmills, and the ruins of an ancient castle, lend to a visually stunning cascade of picturesque architecture stacked amidst its rocky canvas, and beaches that tantalize you to their shores. But there is something even more visually appealing here, that draws mind-boggling crowds to its small area long before dusk each day: its spectacular sunsets. And, according to National Geographic, the village of Oia provides onlookers with one of the best sunsets around the world.
Sunsets as mystical as Poseidon and Aphrodite themselves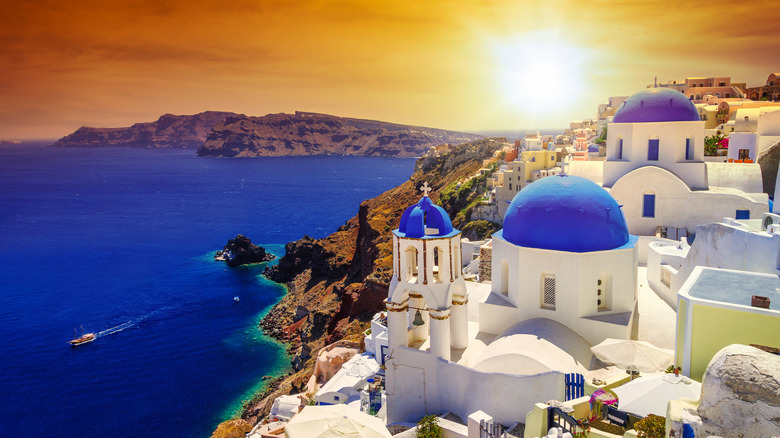 Patryk Kosmider/Shutterstock
Whether you position yourself at the popular, and overcrowded looking point located at Castle of Agios Nikolaos in Oia, or near the iconic three, blue-domed churches perched on its cliffs, both locations will afford sun gazers and photographers breathtaking sunsets that make one weak in the knees. A sheer painting of intense to tranquil colors strokes the canvas sky, and blue waters of the Aegean Sea as the sun dips below the horizon daily: Its transcendental experience unlike anything else.
If this destination and its magical sunsets is a must-see on your bucket list, make sure to arrive early, as crowds can be quite large. Don't forget to bring your camera if you plan on taking photos. But most importantly, make sure to truly take in Oia's charm, beauty and world-famous sunsets while you're there: Enjoying that moment of immense bliss as the sun salutes the day farewell. Your mind and body will thank you for it, and its unforgettable memories will last a lifetime.