Budapest's Famous Bathhouses Make The City The Perfect Relaxing Destination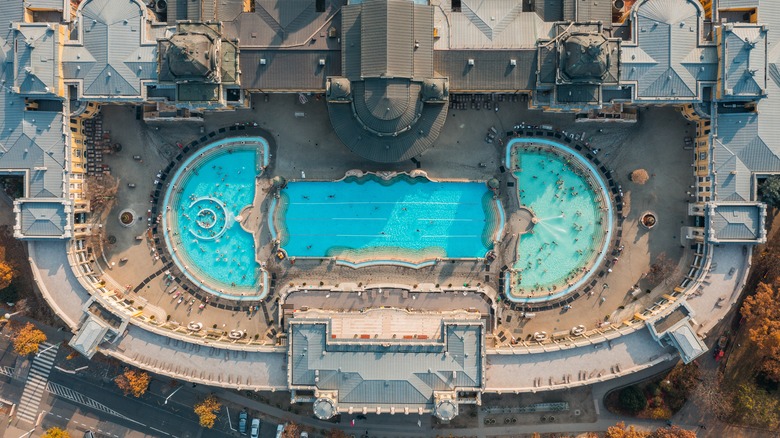 Pol.Albarran/Shutterstock
Budapest, Hungary is quickly becoming one of the most visited cities in Europe and is well-known amongst travelers as being one of Europe's most budget-friendly destinations. The stunning architecture, incredible cuisine, and vibrant history draw travelers from all over the world to this bustling city which is also regarded as a great off-season destination. There are many different areas to explore within Budapest, each one offering its own unique attractions and experiences. For a more in-depth understanding of the city's most famous corners, consider a guided walking tour. These tours offer insight into the city's vibrant past as well as its modern-day attractions. Other popular activities include visiting the castles and palaces, taking a cruise along the Danube River, exploring art galleries and museums, and shopping. With so much to see and do on your trip, you may feel you're in need of a relaxing spa day. Well, you couldn't be in a more perfect city to do just that!
What really makes Budapest stand out amongst other European destinations is its famous bathhouses. These relaxing oases provide a perfect way to wind down after a long day of sightseeing and exploring the city. Whether you're looking for an indulgent spa experience or just want some peace and quiet, Budapest's bathhouses are sure to be the highlight of your trip.
All about Budapest's bathhouses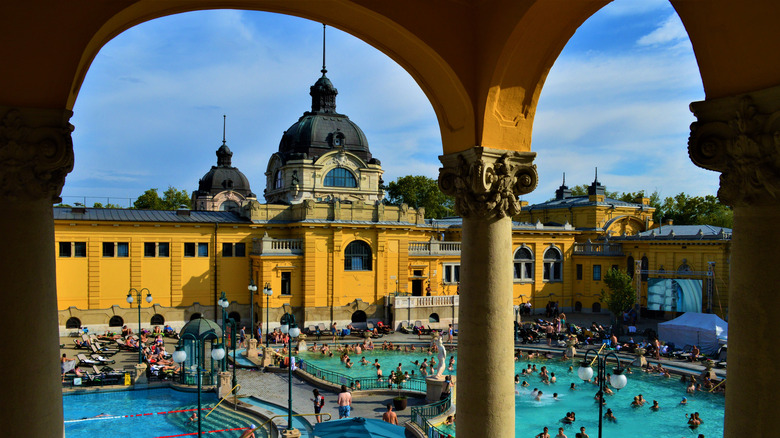 Anna Dunlop/Shutterstock
These unique facilities in the capital city of Hungary offer travelers the opportunity to relax and unwind in a way you can't find anywhere else. Per Amuse, the thermal mineral waters found in these historic structures allegedly have healing properties that make them perfect for those looking to find some restorative relaxation. Bathhouses date back centuries when the Ottomans occupied the area so it's no surprise that many of them have a deep cultural significance in the city. They range from traditional Turkish styles to more modern facilities with all the amenities you could ask for.
In the past, some baths had gender-specific days and full nudity was completely acceptable but nowadays almost all of the baths in Budapest are coed with swimsuits being mandatory. There is only one exception which (per Offbeat Budapest) is the Rudas bathhouse. This bathhouse permits men to wear just a small cloth if they choose and the only exception to this is on women-only days.
Afar writes that the best time to go to the baths is very early in the morning to avoid the crowds or go late at night to enjoy a calming bath before you grab a nightcap and head back to your hotel. While you can rent these items on-site, it's highly recommended to bring your own swimsuit, a pair of towels (for during the bath and after), and a pair of flip-flops both for reasons relating to hygiene and budget!
The best bathhouses in Budapest
With so many amazing bathhouses in the city, it can be difficult to decide which one you should choose. It all comes down to what your expectations are for a day at the baths. Do you want to socialize with other locals and young people? Do you really just want to relax and have some R&R? There is a bathhouse for every traveler's needs and desires!
First, some of the most popular bathhouses in Budapest have to be Széchenyi, Gellert, Rudas, and Király (per Offbeat Budapest). The Széchenyi baths are most popular among tourists thanks to the many pools you have to choose from (both indoor and outdoor) and beautiful interior facilities. Another popular bathhouse for tourists is Gellert. This is one of the more beautiful bathhouses thanks to its stunning mosaic design done in the art nouveau style popular at the time of its opening in 1918.
The Rudas bathhouse however will stun you with both its incredible beauty and dedication to creating a laid-back experience. The octagonal interior bathing room is dimly lit and steamy, creating a dream-like atmosphere. Try the different pools around the room to find the one with the best temperature for you and slip into a state of total relaxation. However, you really can't go wrong, no matter which bathhouse you choose. They all present a unique cultural experience and opportunity to recover from days of fast-paced travel.