The Best Spots In California For RV Camping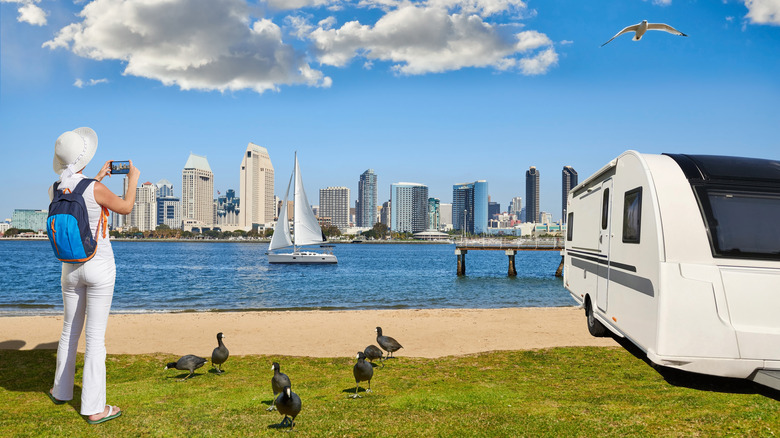 Harun Ozmen/Shutterstock
Outdoorsy types and adventurers can enjoy the best of both worlds when they opt for an RV camping getaway in the gorgeous state of California. The ideal location for enjoying the great outdoors, the Golden State has several amazing public parks, beautiful beaches, desert oases, and majestic mountain ranges, plus countless recreational activities. Thanks to all of this, California is truly a wonderful place to set up camp (or go glamping!) and partake in a close-to-nature RV trip.
With more than a dozen phenomenal sites, like the breathtaking redwood forests, Sierra Nevada Mountains, picturesque coastal areas near the Pacific Ocean, and Death Valley, there is plenty to choose from when it comes to RV camping sites. In fact, if you are looking for a state with more to offer, it will be hard to find. There is even free dispersed California RV camping available. So how does one choose? Well, depending on your chosen adventure, here are some of the best spots in California for RV camping to consider.
Big Sur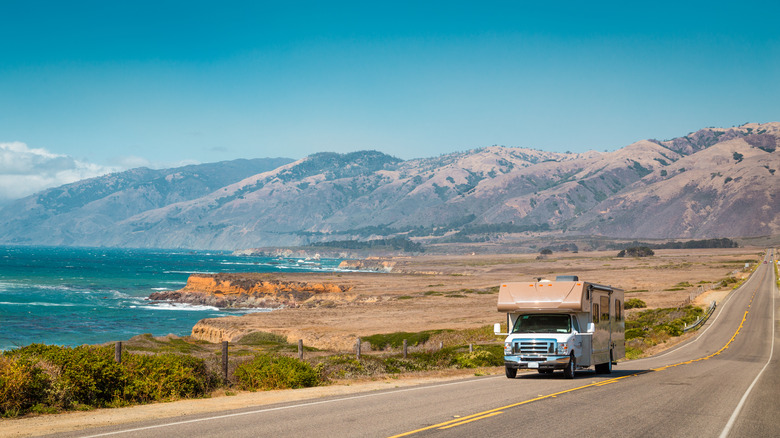 canadastock/Shutterstock
With its splendid ocean views, sandy beaches, rugged coastlines, forested areas, hiking trails, picturesque drives, and abundant wildlife, Big Sur is the perfect spot for an RV getaway. In the way of RV sites, Big Sur has more than a few places to set up camp. Several popular areas to camp out in RVs include the Treebones Resort, Plaskett Creek Campgrounds, Riverside Campgrounds & Cabins, and Kirk Creek Campgrounds — just to name a few that you can easily book online.
Other notable and very coveted options in the Big Sur area, such as the Julia Pfeiffer Burns State Park and Fernwood Resort, are best reserved in advance. Julia Pfeiffer Burns State Park offers RV campers two incredible sites — Saddle Rock Campsite, with its stellar oceanfront views, and South Gardens, with its lush surrounding landscape. However, both RV sites tend to book up six months prior, so make sure you call or book online sooner rather than later (a $30 fee is required to pre-book here). Likewise, Fernwood Resort is also a fan-favorite, with booking available up to a year in advance with a $25 deposit.
Joshua Tree National Park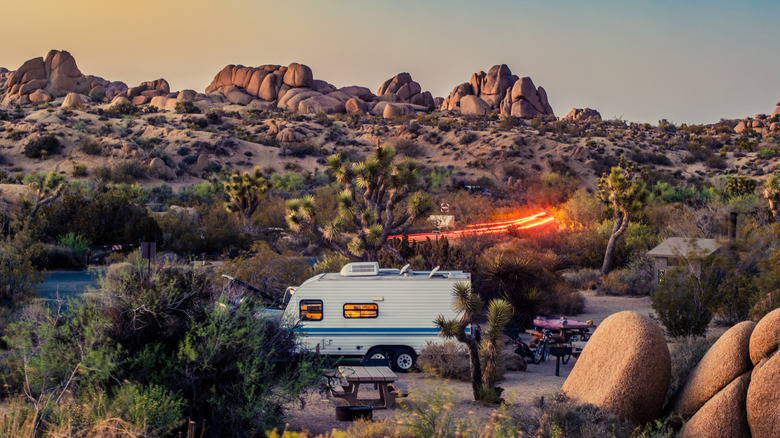 ThroughLensPhotosNVideos/Shutterstock
Yet another surreal location in California for RV camping is Joshua Tree National Park. With roughly eight major camping grounds in this stunning desert setting, campers can enjoy this one-of-a-kind place complete with hookups, bathroom facilities, fire pits, and dumping stations. Here, RV campers who prefer to be closer to the park's entrance and desire access to a wealth of amenities can opt for the privately owned Joshua Tree Lake RV & Campground. Plus, this spot is the best site within the park for Joshua Tree Music Festival-goers.
Additionally, the NPS-run Jumbo Rocks Campground is also a good choice for campers who want to go further into the park. However, it is worth noting that Jumbo Rocks Campground tends to get a little crowded during peak season, though you can reserve spots in advance for only $15 a night. The other park campgrounds here include the NPS-run Indian Cove, the NPS-run Black Rock Canyon (winter pre-booking available for $20 a night), Hidden Valley, Ryan, and Cottonwood (peak season pre-booking required for $30+ a night). Finally, the KOA campground, Palm Springs/Joshua Tree, is ideal for Coachella-goers and RV campers who like resort-like amenities such as saunas, hot tubs, swimming pools, and minigolf.
Crystal Cove State Park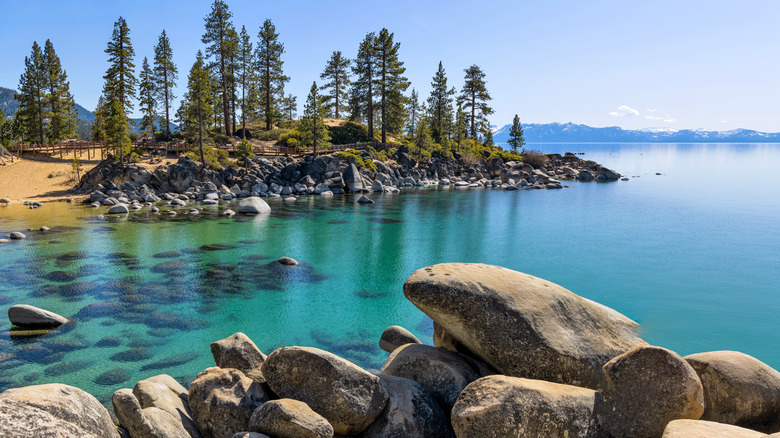 Seanxu/Getty Images
For nature and ocean lovers making their way through California near Orange County, Crystal Cove State Park is an excellent spot for RV camping. With sparkling views of the Pacific Ocean, semi-secluded relaxing sites, water sports galore, nearby adventuring, and more, camping around these parts just makes sense. Plus, there are numerous RV sites close to other must-see points of interest that have ample amenities and offer parkgoers a truly scenic camp setting.
For instance, in the Moro Campground, which is located within Crystal Cove State Park, there are over 25 RV trailer sites. Of course, these spots for campers have a tendency to fill up fast. But there are several other options in the area, so if you cannot snag one of these campsites in the park, don't fret. Campers will find great alternatives only a few miles away in areas such as Sunset Vista RV Park, Newport Dunes Waterfront Resort & Marina, and Live Oak Grove Campground.
Redwood National Park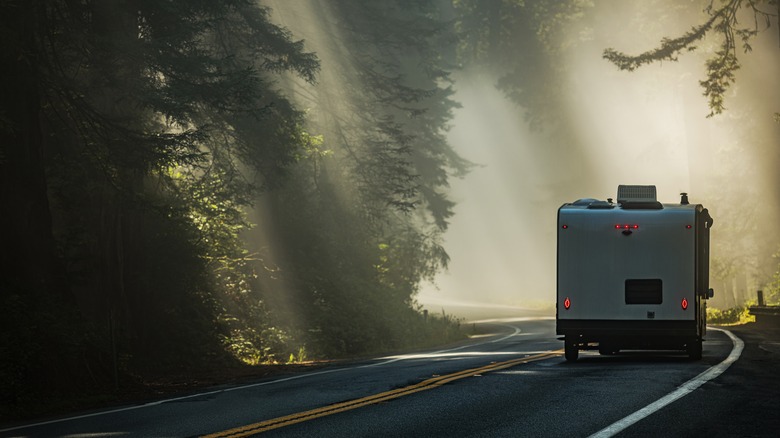 Virrage Images/Shutterstock
RV adventurers looking to appreciate the lush, forested areas of California should definitely set up camp in Redwood National Park. Home to the world's oldest and tallest trees, Redwood National Park has multiple RV-friendly sites (developed and backcountry) that are perfect for soaking up one's surroundings. Here, at the top of the list of spots for RV use is Redwood Meadows RV Resort, a popular option within the park, thanks to its modern conveniences (Wi-Fi, nearby restaurants, stores, and attractions) and welcoming dog policy.
That said, if you plan to do some fishing while camping in the park, then you should opt for Jedediah Smith Campground instead. Located next to the Smith River, there are over 50 RV campsites and standard facilities (restrooms, pay showers, food lockers, fire pits, and picnic tables) at Jedediah Smith. For majestic forest and ocean views within the Redwood National Park, Gold Bluffs Beach Campground is a nice choice as well. Other campgrounds like the Elk Country RV Resort & Campground and the Ancient Redwoods RV Park are also great spots within the park to relax and unplug.
Manchester Beach KOA Campgrounds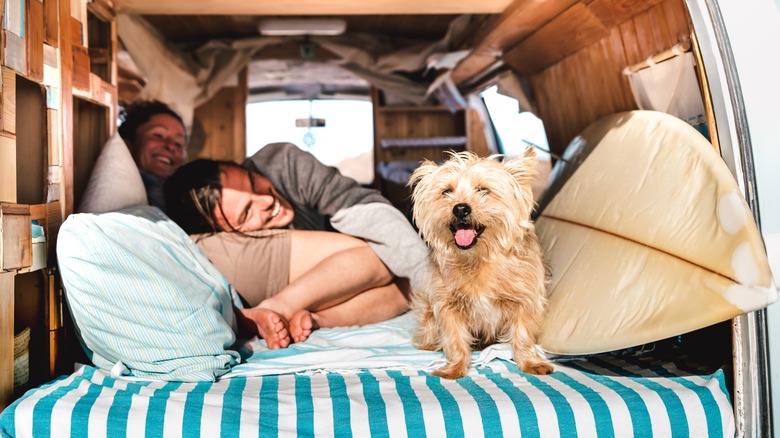 View Apart/Shutterstock
Manchester Beach KOA Campgrounds, located practically on top of Manchester State Park, is just one more delightful spot for RV campers. KOAs, in general, are a favorite of seasoned RV campers because they are known for taking one's camping experience to the next level. With resort-like amenities such as a campground restaurant, general store, a pool, hot tub, free Wi-Fi, additional options for accommodations, endless activities, attentive staff members, and more, it is not hard to see why so many people enjoy camping out at KOAs.
Manchester Beach KOA Campgrounds is actually the perfect California RV destination for families or anyone who prefers a one-stop shop with all the vacation perks included. Here, Manchester Beach-goers can also enjoy convenient access to the beach for some fun in the sun, watersports, and relaxation. There are also various hiking trails, and of course, Manchester State Park is only a hop, skip, and jump away. That being said, it is highly recommended that you reserve your campsite online ahead of time (a reservation deposit equal to a single night's stay is required).
Campland on the Bay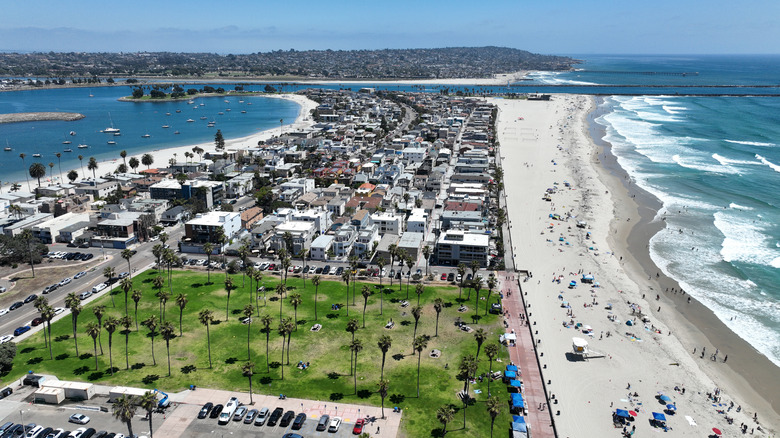 Thomas De Wever/Getty Images
Vacationers heading to San Diego are in for a real retreat at Campland on the Bay. This popular camping resort has been open since 1969 and is definitely ideal for families. Situated on the picturesque sandy Mission Bay's shores, this is a prime location if you plan on stopping by Sea World, the San Diego Zoo, or even the Gaslamp Quarter. Even if your camping plans do not include checking out these nearby attractions, Campland on the Bay is still worth considering due to its many amenities, packages, and group deals.
RV campers can enjoy swimming pools, hot tubs, a leash-free dog park, markets, full hookups, Wi-Fi, and restroom facilities here. In the way of wholesome fun, this campground has an arcade, skateboard park, recreational courts, a children's playground, plus bike and watercraft rentals. Campers also have access to a marina, boat launch, an onsite café, and an ice cream parlor. And the best part is you can reserve your RV spot up to two years in advance — rates vary per season, and there is a one-night stay deposit fee based on your chosen site accommodations.
Coast at Sun Outdoors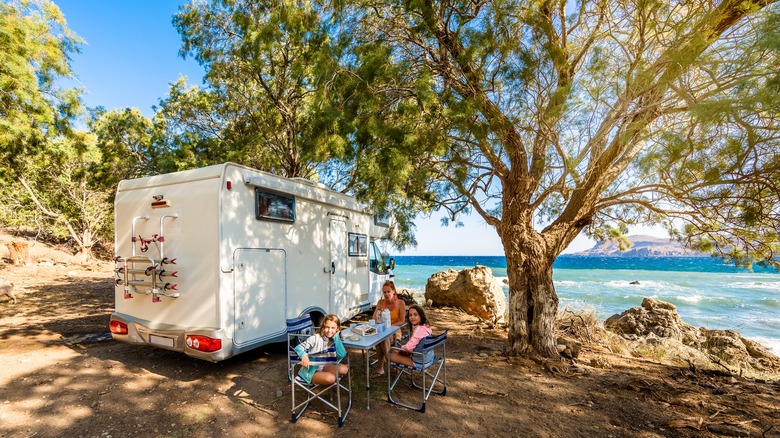 JGA/Shutterstock
Coast at Sun Outdoors is a family-friendly camping scene with more than a few RV sites. Located in Santa Barbara, this campground is truly a hidden gem with stunning views of the Ynez Mountains and the Pacific Ocean. Here, campers can enjoy a plethora of amenities plus pull-through sites, full hookups (water, electric, and sewer), a diverse selection of campsites, markets, bathroom facilities, and ADA access.
But that's not all — Coast at Sun Outdoors offers campers first-rate amenities, including electric hookups, a heated swimming pool, movie night, a playground, an onsite market, lessons (surfing, horseback riding, and ocean kayaking), and limitless recreational fun. There are also group activities here, such as yoga, stargazing, hiking, and storytelling. With all this and more, it is no wonder that sites for RV use here are a hot commodity. So, this is another book ahead-of-time situation, though it does not need to be months in advance.
Yosemite National Park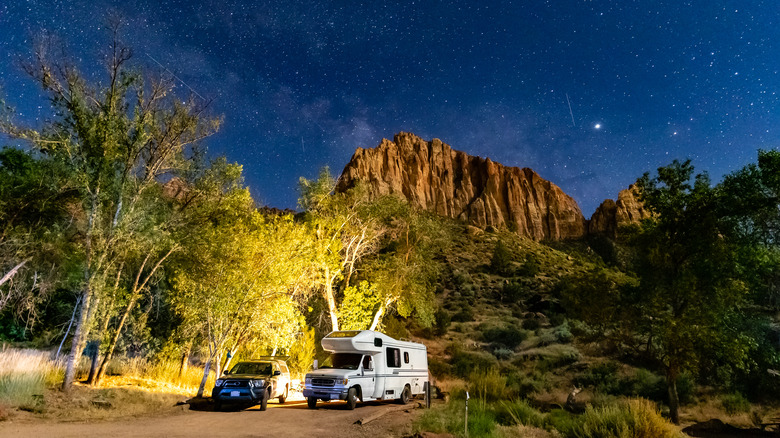 Marcin Madry/Shutterstock
Known as a true treasure, Yosemite National Park is just one more incredible spot to enjoy the great outdoors via an RV. With several campgrounds and RV sites in the main sections of the park, campers definitely have some stellar options here. Reservations are required for all campgrounds from April through October (reservation fees start at $36), trailer size restrictions apply, and RV camping is only permitted in designated areas.
Even though planning an RV adventure in Yosemite may seem slightly tedious, it is worth it for the incredible scenery alone. Depending on where you prefer to set up shop, reservations can also be made in advance — up to five months (most sites in Yosemite Valley), two months (South and North of Yosemite Valley), or two weeks (South and North of Yosemite Valley) — making planning a little easier. That said, if you opt to enjoy the park during the day and camp out outside the park at night instead, several great RV use sites are available. Notable options include Summerdale Campground, Mariposa County Fairgrounds, Yosemite Ridge Resort, and Yosemite Westlake Campground and RV Park, just to name a few.
Malibu Beach RV Park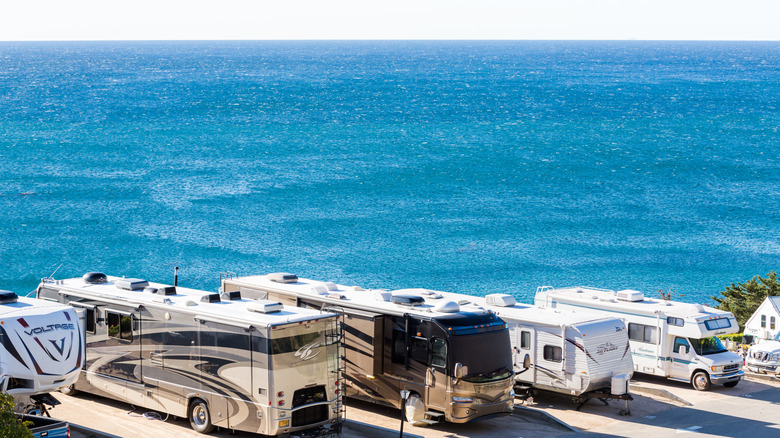 Arina P Habich/Shutterstock
Open all year round, there is never a bad time to camp out at Malibu RV Park. With roughly 142 RV sites, all of which have incredible beachside and mountain vistas, this is a lovely little spot in California for an outdoorsy getaway. Besides having access to one of California's most stunning beaches, campers will be delighted with the overall wealth of amenities here. From clubhouses and swimming pools to full hookups and laundry facilities, Malibu Beach RV Park has it all.
This fan-favorite also offers vacationers even more comforts like Wi-Fi, a convenience store, restroom facilities, a propane filling station, heaters, and fire pits. There are countless onsite activities and excursions available as well — boating, fishing, canoeing, surfing, and a whole host of other beach-related fun. Of course, reservations are required at Malibu Beach RV Park and must be made at least 48 hours in advance (pre-book fee varies but roughly amounts to a single-night stay).
Red Rock Canyon State Park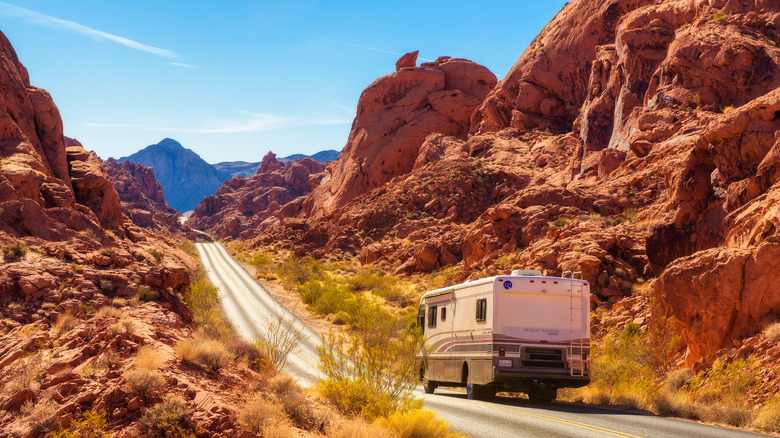 Nick Fox/Shutterstock
In SoCal, Red Rock Canyon State Park is home to several campsites, camping grounds, and great spots for RVs (under 30 feet). With a total of 50 primitive sites located at the park's Ricardo Campground, RV campers can spend some quality time in this rugged desert paradise. An ideal camping destination for adventurers ready to do some serious hiking and exploring, this diverse reddish landscape feels otherworldly.
As suggested, RV camping in Red Rock Canyon State Park means opting for the basics when it comes to amenities. So, potable water, pit toilets, fire rings, picnic tables, BYO firewood, and one breathtaking backdrop are what await campers here. But, if you do not mind traditional camping, then Red Rock Canyon State Park is a great option, especially if you plan on checking out nearby attractions like Death Valley and Sequoia National Park. And since camping is first come, first serve here, reservations are not required or accepted in advance.
Thornhill Broome Campground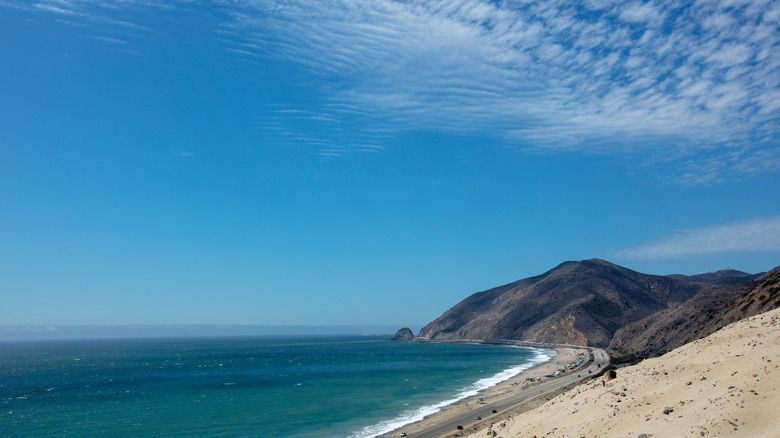 HTurner/Shutterstock
Tucked away in Mugu State Park, Thornhill Broome Campground is north of Malibu and is a serene RV retreat just waiting to happen. With approximately five miles of beachy goodness, the Santa Monica Mountains in the distance, and over 60 primitive campsites with basic amenities, Thornhill Broome Campground is the perfect spot for road-trippers looking to de-stress. This wonderful camping destination offers no-frills RV beach use, and sometimes that is all you need — the sun, sand, and the sea (or, in this case, the ocean).
In the way of relaxing activities, RV campers can enjoy kicking back on the beach, swimming, surfing, fishing, hiking, and exploring the park, as well as the Boney Mountains State Wilderness area. So if you have been meaning to slow down a bit and just enjoy all that nature has to offer, then this is truly the place to do just that. That said, reservations at Thornhill Broome Campground can be made up to three or six months in advance, but they are not required.
Paradise by the Sea Beach RV Resort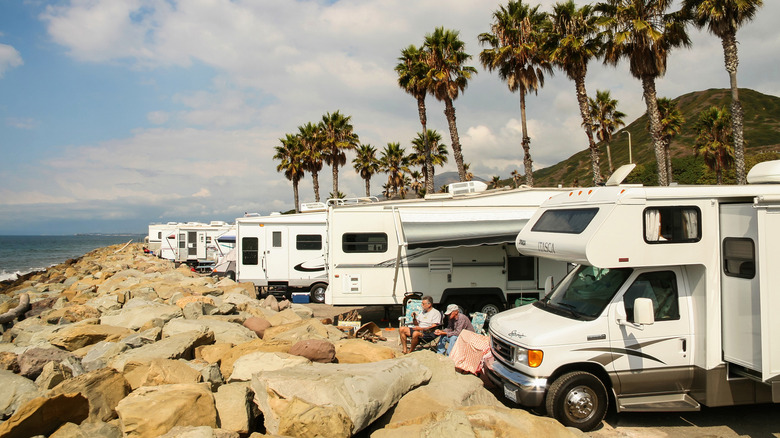 VictorHugoGaribay/Shutterstock
Yet another amenities-rich spot for RV camping is none other than Paradise by the Sea Beach RV Resort. Located near San Diego's North Shore in Oceanside, California, campers will find it difficult to be anything other than overjoyed with their chosen RV campsite. With a clubhouse, general store, dog park, restrooms, showers, internet access, free cable, pools, hot tubs, and more, you will likely feel you went glamping instead of camping — making this another RV camper must when on the West Coast.
In addition to resort-style perks, Paradise by the Sea Beach RV Resort is in close proximity to many of California's lovely beach towns and must-see tourist attractions. Plus, this action-packed RV park is right next to Buccaneer Park and Beach. So RV campers should try to spend some time outside the resort if they can tear themselves away. So if this sounds like your kind of site, then snag a spot at Paradise by the Sea Beach RV Resort — just remember pre-booking with a deposit fee (based on selected site rate and season) and a 10-day arrival notice are required.
Camp Williams Resort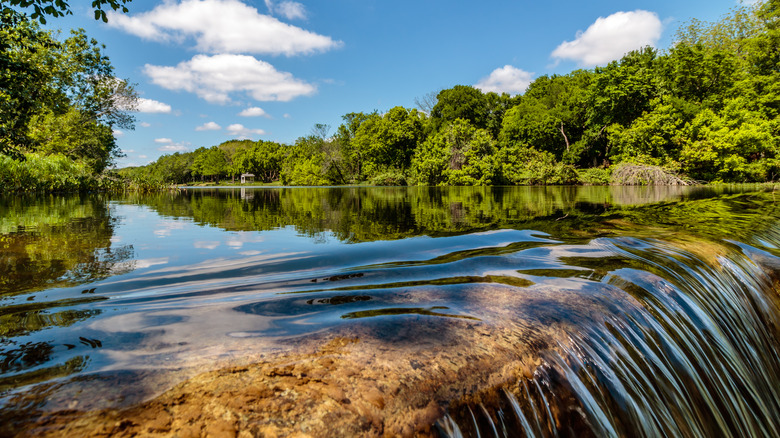 B Norris/Shutterstock
For an even more lowkey RV retreat in California, campers should head on over to Camp Williams Resort. Located in the city of Azusa near the San Gabriel Mountains, this semi-secluded RV spot offers campers front-row views of the San Gabriel River and convenient access to this area's lush surrounding landscape. With modern and well-maintained facilities, full hookups, a café, and a general store, road-trippers will feel right at home at Camp Williams Resort.
During your RV escape here, you can partake in numerous leisure activities, including hiking, biking, swimming, fishing, and, of course, panning for gold. A bonus at Camp Williams Resort is that if you really like it here, you can consider an extended stay or even a move, as this campground is also a mobile home park with sites and units for rent. So regardless of whether you decide to stay for a short while, book a lengthy vacation, or even move to this RV resort, it is highly recommended that you pre-book, though no "in-advance" reservations are required.
Motorcoach Country Club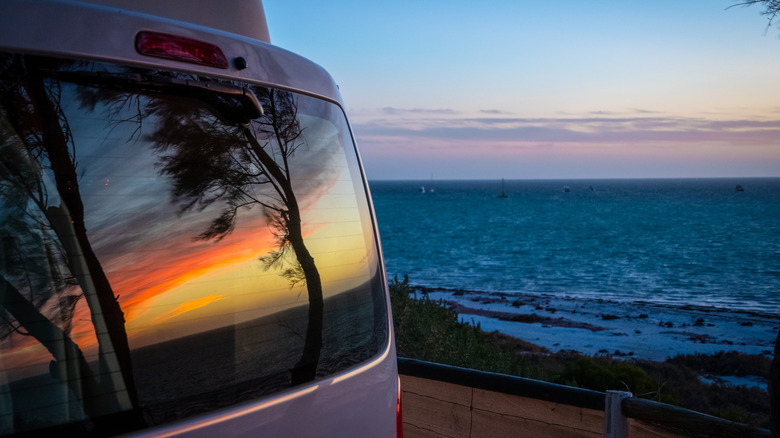 Mxw Photo/Getty Images
Last but definitely not least, the Motorcoach Country Club in Indio, California, is the place to be for RV adventurers who prefer to camp out in the lap of luxury. This RV resort is akin to a gated community for Class A Motorcoaches (30' to 45' only) with its fantastic amenities and first-rate everything. An 80-acre resort that is truly in a league of its own, here campers can take advantage of a golf course, a fitness center, three swimming pools, two miles worth of waterways, multiple recreational courts, a grand clubhouse, a private onsite fine dining establishment, a cocktail bar lounge, and onsite security.
Voted the best Luxury RV Resort by "USA Today," Motorcoach Country Club is absolutely divine. Located in picturesque Palms Springs, securing an RV site here means having your very own beautifully landscaped, sizable lot with full hookups. Reservations are necessary at the Motorcoach Country Club, and a 50% deposit is due upon booking. So if you want to experience the finer side of RV camping in California and want for nothing during your stay, then you should consider making your way on over to Motorcoach Country Club. Ultimately, no matter where you decide to camp out, there is no denying the fact that California is brimming with RV-friendly sites and all the makings of one stellar road-trip adventure.