Here's The Best Time Of Year To Visit Joshua Tree National Park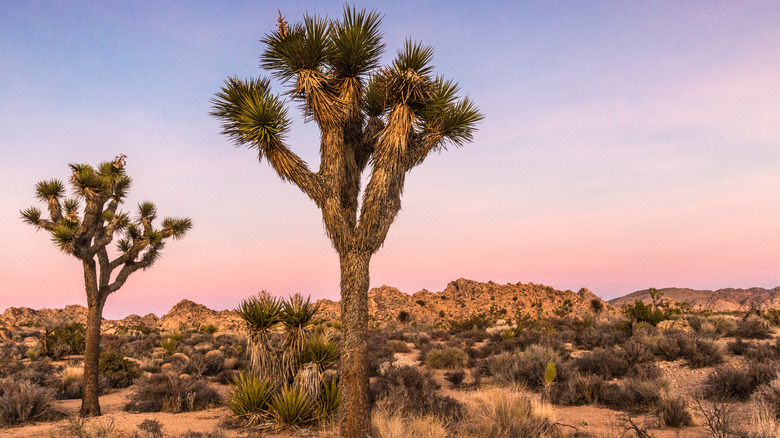 BlueBarronPhoto/Shutterstock
Alluring and wild, Joshua Tree National Park welcomed over three million visitors in 2021, according to the National Park Service. It is where two distinct desert ecosystems meet — the Mojave and the Colorado — and is home to starry skies, incredible geological formations, and, of course, the Joshua tree. And the park is enormous: California Crossings states that it covers 1,235 square miles. More than enough space for those three million visitors, so you'd think.
However, California Crossings also states that visitors see only about 15% of the park, with 85% designated as wilderness. Mental Floss warns of long lines at entrance gates and overcrowded campsites. Most visitors tend to go in certain seasons too, as weather conditions in Joshua Tree can be extremely harsh at certain times of the year. The blazing hot sun in July gives way to freezing temperatures in January, neither time making for the best experience in the park.
The best time of year to visit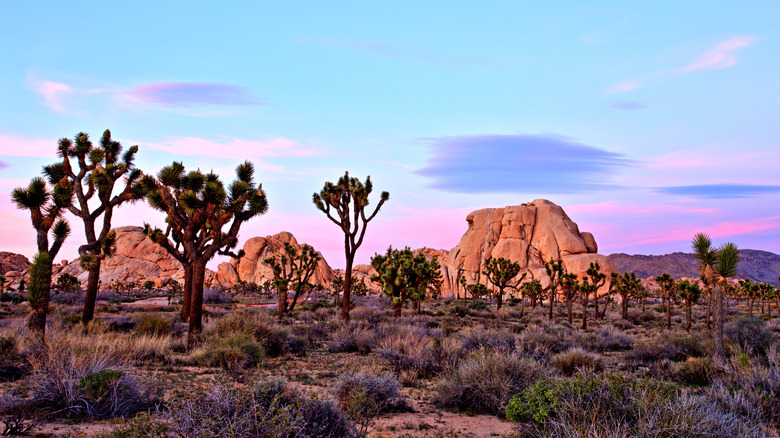 RomanSlavik.com/Shutterstock
According to the National Park Service (NPS), temperatures in Joshua Tree are most comfortable in the spring and the fall. During these seasons, high temperatures range from 70–85 degrees Fahrenheit and lows are around 50 degrees Fahrenheit. Many travel bloggers agree, including James Kaiser, who especially recommends visiting in early spring when the desert wildflowers bloom. However, the NPS warns that springtime and during holidays are the busiest times in the park, so if you want the most pleasant weather and fewer crowds, October and early November will be the best times to visit.
In contrast, summer temperatures can hit over 100 degrees Fahrenheit, with balmy lows of 75; in winter, temperatures drop to around or below freezing at night. The NPS has lots of warnings about the effects of high summer temperatures, and advice on avoiding heat exhaustion, heat stroke, and water intoxication. Outdoor activities, like long hikes, are not recommended during hot summer days here.
What to do year-round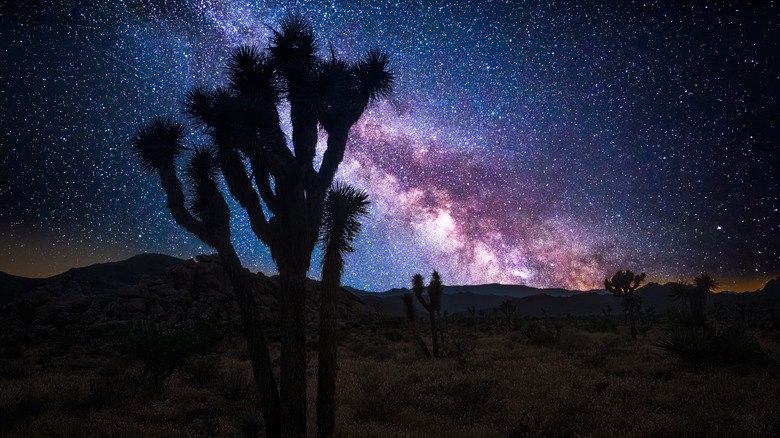 Mihai_Andritoiu/Shutterstock
Despite the challenging weather conditions, Joshua Tree is a year-round park. The NPS has hiking recommendations for all seasons, though they strongly advise against doing medium-difficulty or challenging hikes in the summer months. Even for the short walks, they recommend starting before 9 a.m. If you're not an early riser, Joshua Tree in the summer isn't for you. The NPS also runs ranger-led hikes in the park, usually between October and April.
Stargazing is a hugely popular activity in Joshua Tree, and it can be enjoyed all year. James Kaiser picks summer, with its warm nighttime temperatures and the Perseid Meteor Shower in mid-August, as the best time to go. On the flip side, Any Travel Tips would plump for a winter night spent stargazing in the park, as the longer nights give visitors more time to enjoy winter constellations like Orion, Gemini, and Taurus. Just make sure to wrap up warm!