How To Plan An Off-Grid Getaway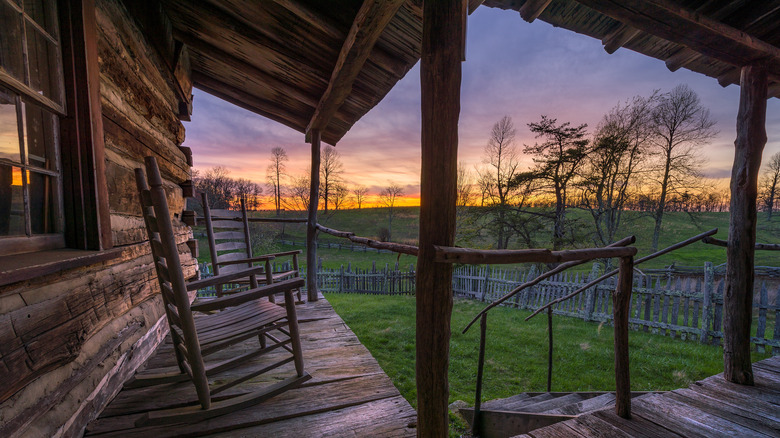 Anthony Heflin/Shutterstock
Remote vacations have always been popular, but thanks to the current state of the world, booking an off-grid getaway is now more appealing than ever. Escaping to solitude in the middle of nowhere is the epitome of social distancing. Plus, there's nothing quite like leaving behind the hustle and bustle of the city to be enveloped by the peace and quiet of the backcountry. Sometimes the solution to avoiding Netflix, social media, and doom-scrolling is to go somewhere that doesn't have WiFi or cell service altogether.
A vacation can help brush off the stress of everyday life, but going off-grid can help you disconnect completely. Remote places are usually somewhere deep in the wilderness, which offers you a chance to reconnect with nature — and yourself. Too often, our lives are so full of work and distractions, it can be hard to slow down and truly relax. Experiencing an off-grid getaway can help shift your perspective to different ways of living and open new doors of inspiration. Going off-grid is not only good for your mental health, but it's good for the environment, too (via Renogy).
The benefits of going off-grid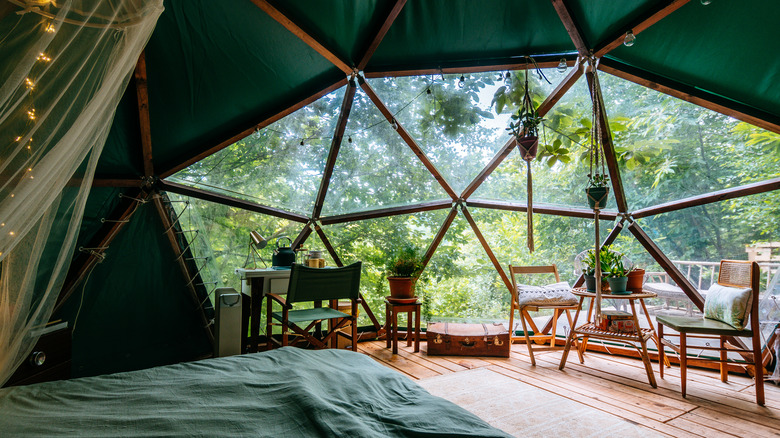 Jon Chica/Shutterstock
You may think that the phrase "off-grid vacation" is an oxymoron, but that's far from the truth – going off-grid doesn't necessarily mean you'll be skimping on basic comforts or sacrificing the quality of your vacation. According to Dictionary.com, going off-grid technically means that you won't be using any resources from the outside world; that is, you won't have access to public community utilities like electricity and water. If that sounds intimidating, rest assured in knowing that you can cater your off-grid trip to fit your needs. Not all off-grid destinations are bare bones; some offer basic amenities or more — where you end up is all up to you. 
Embracing an off-grid lifestyle of simplicity, sustainability, and self-sufficiency can feel empowering and invigorating. If having no electricity, toilet, or access to a hot shower is not your idea of a vacation, you can seek places that are equipped with solar energy, their own water source like a well or rainwater catchment system, and a septic and plumbing system. Most off-grid rigs are built with sustainability in mind, with goals on cutting energy costs and reducing the carbon footprint (via Renogy).  
Decide where you want to go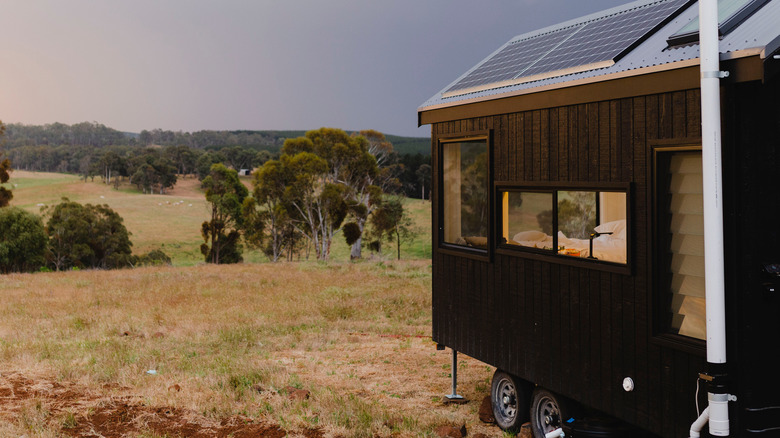 St. John Imagery/Shutterstock
The first step in planning your off-grid adventure is deciding where you want to go. Do you want to lounge in a tiny cabin in the middle of the woods or relax in a tropical paradise beach bungalow? Do you prefer roughing it in the mountains or soaking in remote hot springs? Maybe the desert is more your vibe, or maybe you daydream of spending a nostalgic weekend in a treehouse. Off-grid getaways exist in all shapes, sizes, and locations.
Making a list of your "must haves" — the things you can't go without — can help in your decision-making process. If you know you can't get a good night's sleep without a bed, then camping is probably off the menu. If you get cold easily, you might opt for a warm, sunny destination or a rental that has a wood-burning stove or fire pit with lots of logs nearby. Wherever you want to be, there's a way to enjoy an off-grid vacation there. 
Prepare to have no service and fewer amenities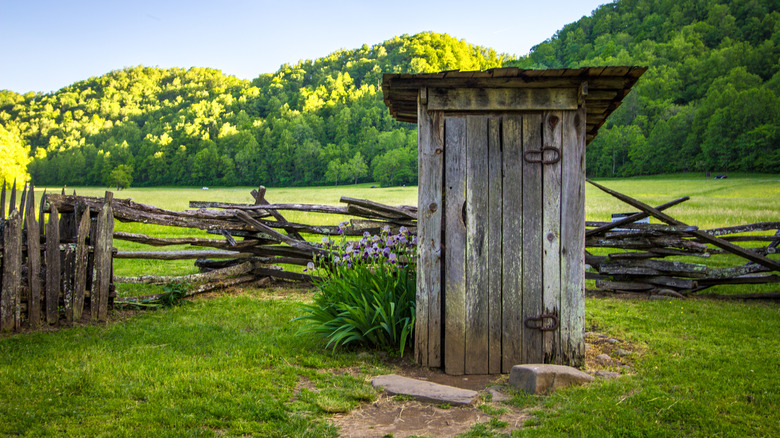 ehrlif/Shutterstock
When planning an off-grid getaway, it's important to consider what amenities you can not live without, as well as what you need to bring. Will there be a toilet on-site or do you need to bring a shovel and toilet paper? Is there drinkable water available or do you need to bring your own? Is there a way to cook and store food or do you need to plan ahead for that? Like any vacation, you'll want to do a little research and planning to know what to pack to be prepared.
If you're really drawn to a place but it doesn't have an amenity you are looking for, you could plan to bring it yourself. For example, if showers are a travel essential for you, bring your own portable shower set-up. If you find the idea of completely disconnecting from society and cell service a little dangerous, you might want to invest in a GPS device that connects to the satellite network so that you can reach the outside world in case of emergency (via Smithsonian Magazine). You choose your own adventure. Let's explore some astonishing off-grid getaway options that could easily be your next vacation.
Go off-grid camping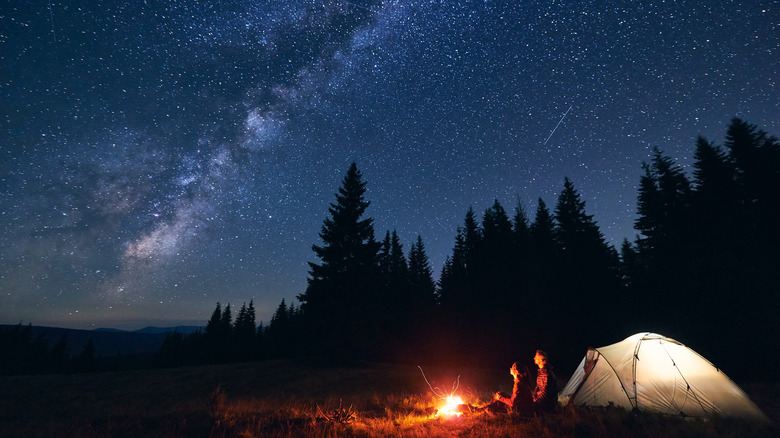 anatoliy_gleb/Shutterstock
Off-grid camping is different than your average camping experience. Many established campgrounds have designated camping spots that often require payment and a reservation. These campgrounds are typically outfitted with a camp host, bathroom facilities, picnic areas, fire pits, and other resources. While developed campgrounds can be a fun way to experience the great outdoors, it can sometimes feel like you're in the wilderness surrounded by a lot of other people. Off-grid camping, sometimes referred to as dispersed camping, involves staying overnight in a remote location, often far away from cities and crowds. While dispersed camping doesn't come with a toilet — or any amenities for that matter — there are no fees and it almost always guarantees you seclusion. 
Many people are unaware that camping off-grid is even a possibility — it is legal to camp anywhere that is designated National Forest land, Bureau of Land Management (BLM) lands, National Grasslands, and Wildlife Management Areas (via Muse Outdoors). To find where these areas are located, you can visit apps like FreeRoam or check out websites like freecampsites.net that give details on the land designations and where you might find dispersed camping. Once you have a location in mind, it's worth your time to give the local ranger a call to find out if there are any restrictions in the area, like places not to camp or fire limitations. They may even have some recommendations on potential spots that you can't find online.
Embrace van life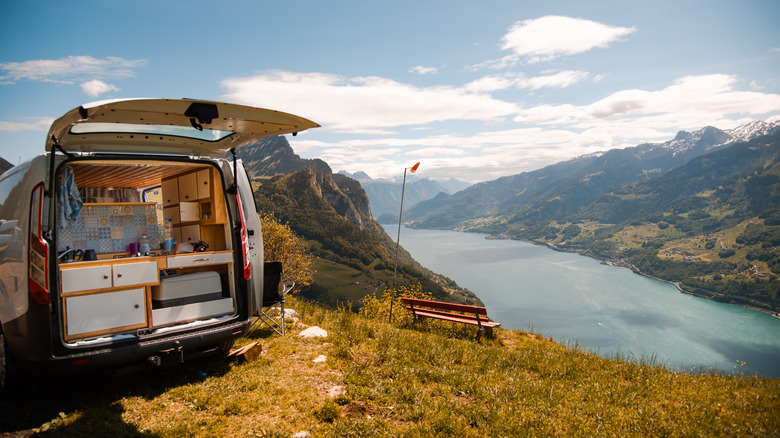 RoMiEg/Shutterstock
If sleeping on the ground is not for you, why not rent a camper van and take it for a spin? Or you could go even bigger and get a rental RV or built-out bus. There are many companies that offer camper vehicle rentals — some that even come fully equipped with all of the gear you will need for a trip. 
There are many pros to traveling via a camper van. First off, camping on dispersed land can feel more accessible if you rent a vehicle with 4-wheel drive that can help put your nerves at ease when your final destination requires traveling down some rough roads. It also can feel more comfortable sleeping in a cozy bed and behind doors that can be locked. Vans and RVs provide respite from nature when you're hit with less-than-ideal weather, like rain, snow, or wind. Plus, many vans have built-in electrical grids using solar panels or batteries, so you can have lights at night and maybe even keep food and drinks cold in a refrigerator (via Muse Outdoors). Some vans even come with a small kitchen set-up, so you can still eat well out in the wild. If you've ever daydreamed of van life, now is the time to give it a try.
Try glamping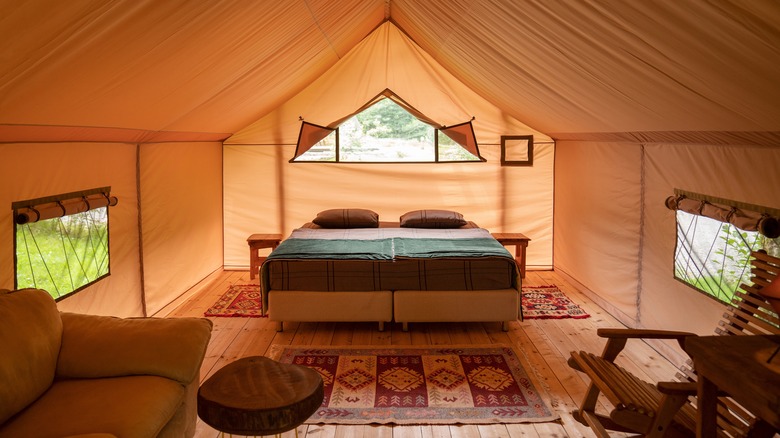 fortton/Shutterstock
If you like the idea of camping, but you want to level up on the amenities, glamping might be your answer. Glamping is a portmanteau of the words "glamorous" and "camping." It's basically camping, but with convenience and more luxury. Depending on where you stay, a glamping getaway could still be considered off-grid. It's a good option for those interested in getting their feet wet in the off-grid lifestyle but nervous to dive in headfirst. 
Depending on who you talk to, a glamping vacation can mean many different things, from staying in a yurt to an airstream or tiny home. Yurts are enclosed with canvas like a tent, but are much larger than a typical tent, with space for all the amenities you can dream of. This luxury yurt in Oregon comes with a small kitchen, drinking water, hot water shower, composting toilet, wood-burning stove, BBQ, full-size beds, and no cell service. Check out Hipcamp to browse your options — the website has filters that let you select which amenities are most important to you. You can find an off-grid, glamping location that's been vetted by other travelers. 
Indulge in cabin life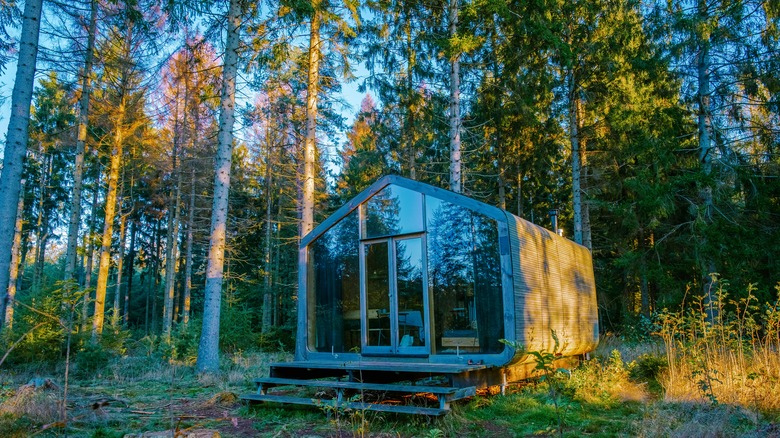 fokke baarssen/Shutterstock
If you're craving an off-grid cabin getaway, there's no shortage of options out there for you. Staying in an remote cabin is the perfect way to enjoy the solace of nature with comfort and ease. You can choose from bare bone, tiny A-frames with outhouses and outdoor showers, to gorgeous creekside cabins with clawfoot tubs and vintage propane cookstoves, and everything in between (via Cheapism). A quick search on Airbnb or Vrbo will help you narrow down your options and find a place that checks all your boxes for amenities to make your dream off-grid vacation come true. 
For a more catered cabin-in-the-woods experience, check out Getaway. They've built at least 28 tiny cabin pods across the U.S. that are packed with everything you need to decompress, including beds, a full kitchen with a stove and fridge, air conditioning and heat, a full bathroom with a hot shower, a fire pit, and more. They even provide a lock box to put your phone in upon arrival so you can truly disconnect. Don't worry — it's not required and there's a landline on the bedside table if you need it.
Volunteer or work exchange on a farm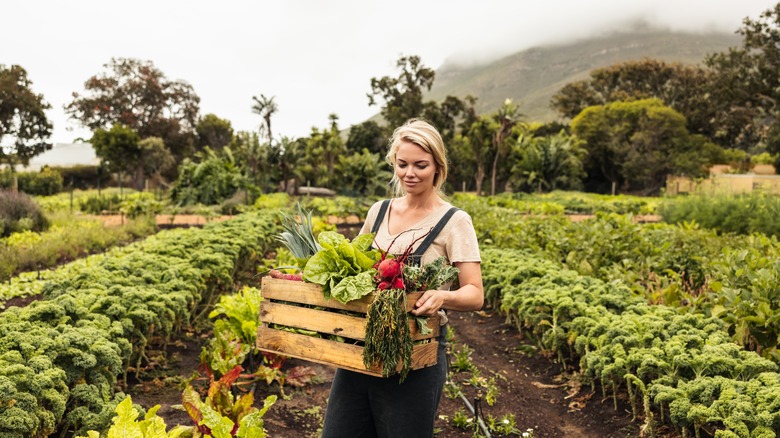 Jacob Lund/Shutterstock
If you've ever wondered what it would be like to live and work on a sustainable farm, check out World Wide Opportunities on Organic Farms, or WWOOF for short. This organization connects prospective volunteers with farms that want to host them. The intention is that no money is exchanged between the host and volunteers. Instead, it's a work exchange — volunteers work on the farm in exchange for education, room, and board. Participants are encouraged to communicate their expectations and come to their own mutual agreements with their hosts.
This type of off-grid getaway isn't exactly a relaxing vacation, but it can be a great option for someone who prefers a more active type of trip. While Instagram can romanticize farm life, keep in mind that your daily tasks might involve activities like pulling weeds, shoveling animal poop, and other manual labor tasks. You'll likely be staying somewhere the host is also living, kind of like an Airbnb with the owner always around (via Insider). If these caveats don't bug you, a work exchange on a farm can be a rewarding way to meet new people, experience a different way of life, and potentially learn new things in the process.
Stay in an earthship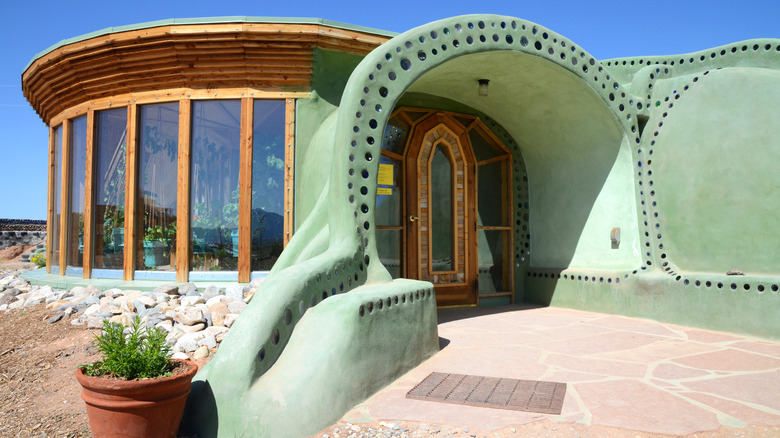 Takako Picture Lab/Shutterstock
Earthships are so ethereal that they look like they came from another planet. Created by Michael Reynolds of Earthship BioTecture, an Earthship is a sustainable house built from natural and recycled materials. The design is based on conservation and off-grid principles: Electricity comes from solar panels and wind turbines, cisterns collect rain and snow for water use, and each home comes with a greenhouse for food production. Earthships are built with thermal mass and passive solar heating using soil inside old tires. These materials naturally absorb heat from the sun during the colder months to help warm the home, but also absorb heat from the warm air inside the home in the summer to help keep things cool (via Energy.gov). 
Earthships originated in Taos, New Mexico, which is also the same location as the Earthship Academy, where you can attend training to learn how to build your own. Most Earthship rentals can be found in Taos, but they're starting to pop up in other places too, like Montana and Colorado (via Territory Supply). Airbnb even has a search filter called "earth homes."
Rent a tree house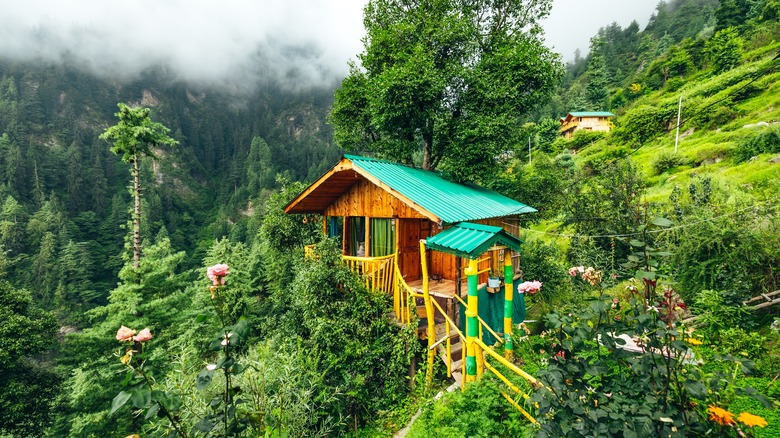 alexanderwhite/Shutterstock
Why not embrace your inner child by planning your next overnight vacation in a treehouse? Whether you're fulfilling a childhood dream or bringing back old memories, a treehouse trip can help you embrace being one with nature and finding peaceful solitude. You'll feel like a bird cushioned between the trees, and you'll get the joy of jaw-dropping views by just looking out the window. 
While some treehouses offer a tiny home, off-grid feel, others are outfitted with more amenities for a luxurious "in the clouds" experience, so there's something for everyone. Treehouse rentals can be found in many countries, from the forests in Europe and America to the palm trees of Indonesia (via House Beautiful). Staying in a treehouse can amplify any off-grid getaway, whether you want to go hiking through the woods or walk downstairs from your door to crack open a coconut and go surfing. Plus, if you're traveling with kids, you'll make their dreams come true, too. 
Stay in a fire lookout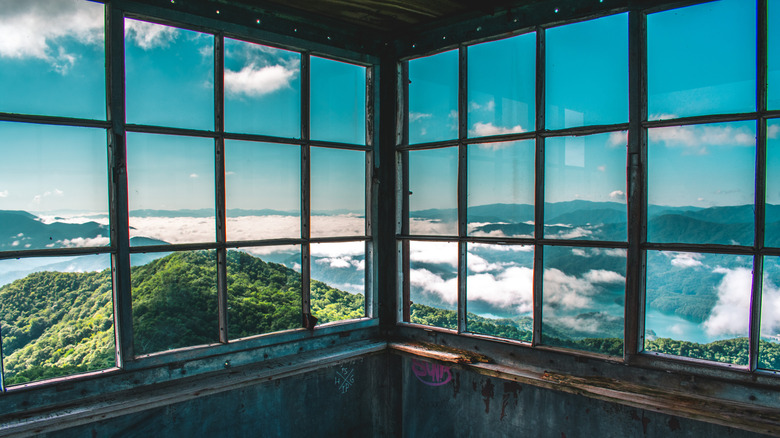 Rob Hitchcock/Shutterstock
If you like the idea of sleeping high in the sky, staying overnight in a fire lookout can be the ultimate off-grid adventure. Fire lookouts are scattered across areas at high risk for wildfires. In North America, those areas are in the western United States, including Oregon, Washington, Idaho, California, Colorado, Wyoming, and Montana (via Forest Fire Lookout Association). Starting in 1910, fire lookouts began being built when the National Forest Service determined that the best line of defense for fighting wildfires was catching them early. Lookout operators working in the towers would report fires as soon as they spotted them by using telephones, carrier pigeons, and heliographs (via National Forest Foundation). Many are still in use today during the fire season, but they are also available during the off-season for people to rent. 
Some lookouts provide basic amenities like beds, propane heat, and a cooking stove, but each tower is different, so it's best to do your research to know what you're getting into. Most won't have electricity or running water. While it may be cold — many buildings are nothing but windows for walls — you'll be bathed in breathtaking panoramic views at every moment. You can book a fire lookout stay through Recreation.gov, but keep in mind that a reservation is hard to come by due to the steep popularity, so you'll want to be ready to log in as soon as the availability is released for the season. 
Soak in the hot springs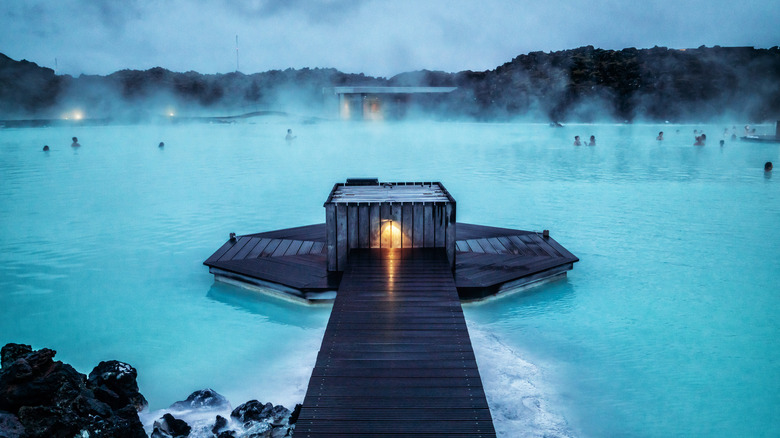 Blue Planet Studio/Shutterstock
Visiting hot springs is a bucket list item you won't want to miss. Hot springs are like nature's hot tub — and they're good for you, too. Not only do you get to soak while being surrounded by nature, but you reap mental and physical benefits, too. The springs are heated by the earth and the water is naturally high in minerals, which is beneficial for your skin. Plus, soaking your body in hot water has been known to support blood circulation, ease aches and pains, and provide stress relief (via Mountain Trek). There are hot springs located throughout the world, and you can find them anywhere there is volcanic activity, magma chambers, or fault lines. 
Some hot springs are in the middle of nowhere, with dispersed camping as the only overnight option. Others have rustic cabins nearby that you can stay in for a small fee. Some springs can only be reached by overnight backpacking, while others are easily accessible by car. There are even hot springs resorts, like Breitenbush in Oregon, that have an off-grid vibe with no cell phone service. You can camp, stay in a yurt, or book your own personal room in the main lodge while visiting. But be warned — some hot springs are clothing optional. You can wear as much, or as little, as you want, so be prepared to witness others doing the same!
Take an off-grid beach trip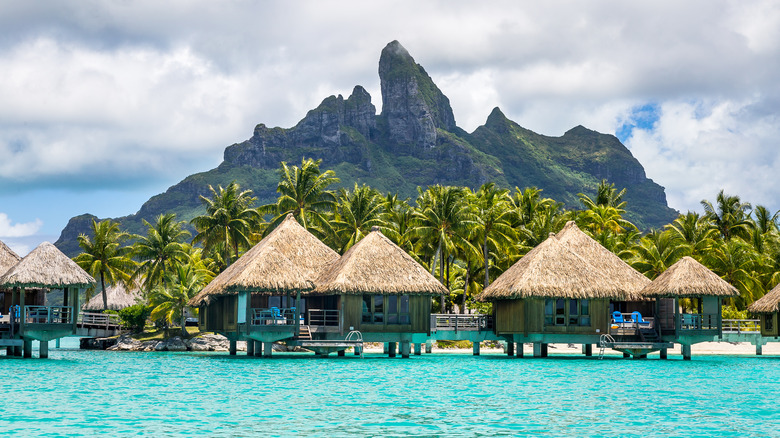 Lua Carlos Martins/Shutterstock
When many people envision a beach vacation, they usually want to stay as close to the beach as possible — but what if you could stay right on the ocean? There are some types of off-grid beach bungalows that offer just that. On the island of Oahu in Hawaii, you can stay in huts along the north shore that are leftover from Kahuku's sugar plantation days. The units don't have electricity or plumbing, but you'll have access to an outdoor beach shower and toilet nearby (via Malaekahana Beach Campground). 
Or, you could stay at the Bamboo Cottages off-grid resort on Phu Quoc island in Vietnam, which is entirely run by solar panels. There are even some beach huts that are only accessible by boat — talk about off-grid spots. If you are lucky enough not to get seasick, you might want to plan a trip to the Florida Keys to stay in The Tiki Suite, a houseboat that looks like a floating tiki hut bobbing in the ocean.
Living off-grid permanently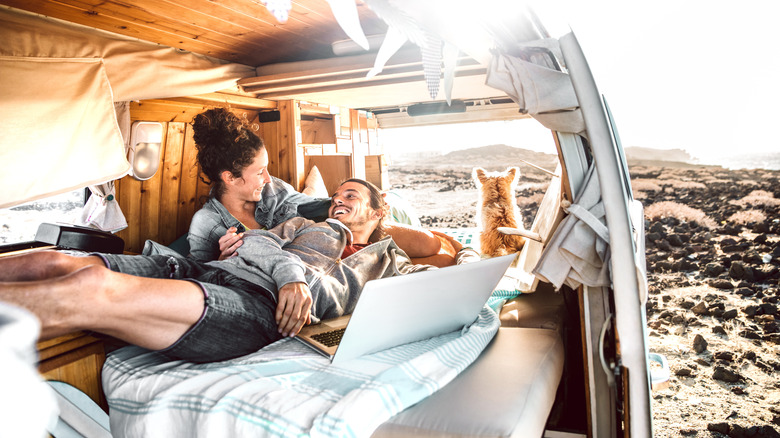 View Apart/Shutterstock
For those curious about potentially going off-grid full time, booking an off-grid vacation is one of the best ways to experience the lifestyle and truly get a feel for it. Even just a short getaway offers you firsthand experience that can help you envision a full-on transition into the off-grid life. While some people may look forward to getting back to the "real world," some fall in love with the simplicity, adventure, and self-sufficiency of living off-grid. Visiting other remote set-ups can give you ideas and get the inspiration juices flowing for how you'd like to construct your own off-grid dream home one day. 
With working from home becoming more common, many people are realizing that they can live wherever they want. For some, that means moving to the countryside or becoming a digital nomad (via The Remote Traveller). If you daydream about keeping your day job but living, working, and traveling in a van, check out Be My Van, a company that specializes in building out vans that can be off-grid but still connected to the internet for those important work sessions. If you already work remotely, why not live remotely?