How To Plan A Successful RV Trip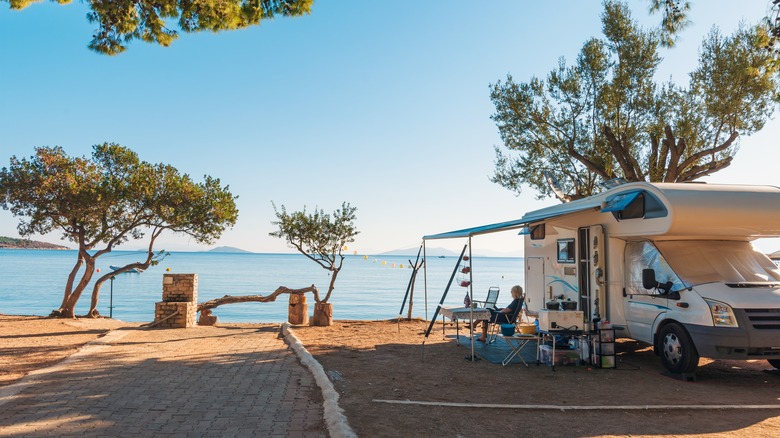 Andrii Marushchynets/Shutterstock
To really commune with the Great Outdoors, does anything come close to a recreational vehicle, or RV? These mobile dwellings are basically homes on wheels, usually replete with a full kitchen, bathroom, sleeping areas, and places to relax and take in the experience. Better yet, they can be driven, allowing you to tour and explore right from the comfort of your home away from home. Sometimes known as camper vans, they are a step up from traditional campers or caravans, which are trailers that need to be towed from place to place. 
RVs are a wildly fun way to take a road trip, allowing you the convenience of shuttling from point to point with a home's amenities at your fingertips en route. Need a snack or toilet break when miles from anywhere? Go for it. But, for all of their advantages and similarities they share with a traditional home, they are, of course, a different beast. Taking a trip in one requires that you make active adjustments in your daily routine, and that you undertake some careful planning to ensure that the journey goes without a hitch (pun intended!).
Learn the lingo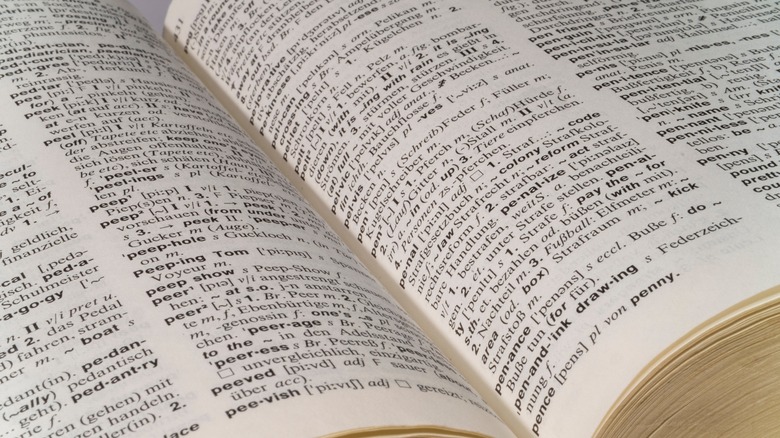 M.Nergiz/Shutterstock
For owners of RVs, their home on wheels is more than a simple mode of transport, it pretty quickly becomes part of the family. And with that deep connection, that unique attachment that we all have to our family (and our homes) comes a glossary of terms that any RV owner will rattle off as second nature. Hit the road on one of those marvels of engineering and you'll quickly encounter other RV users, and soon enough hear about black water, control panels, dump stations, fuel hookups, holding tanks, and much, much more. 
Take time well before the trip to familiarize yourself with these terms — there's a wealth of information online, and there's also several books on the subject. Knowing the difference between a front galley and a slide-out will make the ins and outs of each day a lot easier, both for your own peace of mind and for those around you.
How an RV works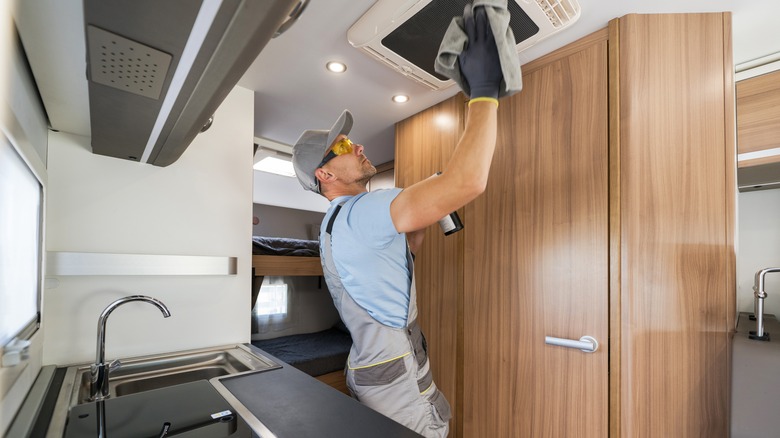 Virrage Images/Shutterstock
Think of an RV like a car with a house welded onto it. The mechanics to power it are the same as a normal vehicle — fuel fires up an engine that drives a shaft to move the wheels (and presto!) you'll be zipping along a road in no time — okay, it's a bit more complicated than that, but you get the picture. That's the simple part. Water is stowed in large tanks that will serve the bathroom and kitchen. To create pressure in the pipes to force that water out, an RV will have a water pump. That water, after use, goes into separate tanks depending on where it's come from — grey water and black water (the latter is water from the toilet, the former is everything else — think kitchen or bathroom sink/shower water). 
Power comes courtesy of the RV battery or an electrical system that can power all the appliances when plugged into the grid at a camp site or motorhome park. Furniture is usually adaptable; a dining area, for instance, can become a sleeping area after folding down panels and rearranging of cushions — and the space above the driver's seat serves as sleeping quarters. Efficiency is the hallmark of any RV.
Size matters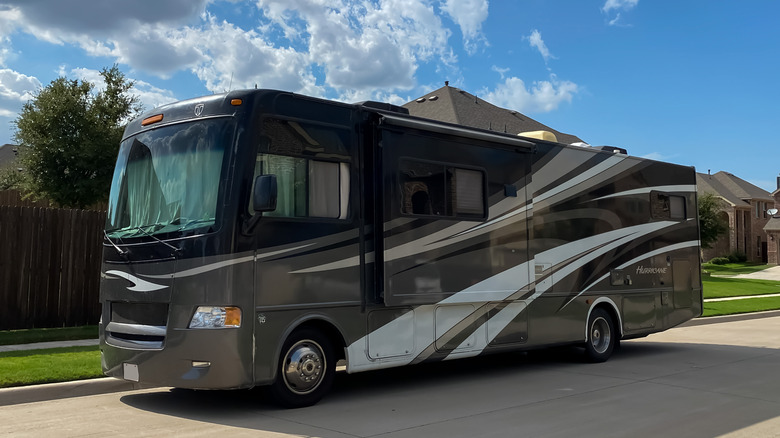 Jiujiuer/Shutterstock
You may have seen those behemoth motor homes that clog up traffic on windy mountain passes — they look like they contain everything you could ever want in a trip, but that doesn't mean that they are the right choice for your RV adventure. Mobile homes come in a variety of sizes — some can sleep only two passengers, for instance, others are designed to take up to 10 comfortably — and it's important to get one that closely aligns to your needs.
Class A homes are the monsters of the road, can sometimes sleep up to 10 people, and are the most likely to have one or more slide out (sections of the RV that can slide out to create extra space). People driving these, more often than not, own them. Class B RVs are significantly smaller, compact bundles that are quite nimble, and often max out capacity at four passengers. These are good for couples and adults with one or two kids. A happy medium between classes A and B is the Class C, an alphabetical anomaly which offer more space and comfort than the Class B, but without the bulk of the Class A, and can sleep up to eight. Choose wisely, or else you might be dissatisfied with the space and gas usage of the vehicle that you get.
Plan your route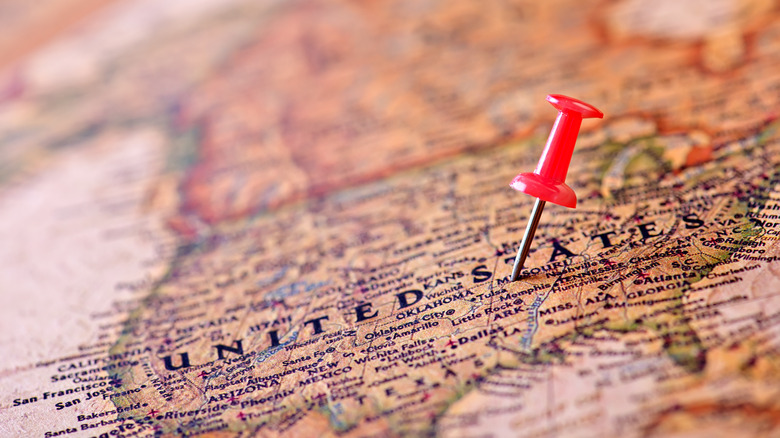 Gayvoronskaya_Yana/Shutterstock
While the idea of traveling by RV brings with it a level of freedom — you don't need to look for lodging after all, and can cook a meal or take a shower wherever you are — planning in advance is critical. What could be worse than being stuck miles from civilization, outside any cellphone coverage? Wherever you decide to stop each night, plot the route between your destinations and calculate the best way between them ahead of time; it's highly encouraged not to do this on the fly. 
You should always aim to drive in the daytime, and take regular breaks. These vehicles are much larger than a standard car and require a much higher level of concentration to operate. And don't push it; some seasoned RVers like to quote the 2-2-2 rule — traveling no more than 200 miles per day, driving a maximum of two hours without a break, and arriving at your camping spot before 2 p.m. You can also add another two — staying two nights in each place.
Setting up camp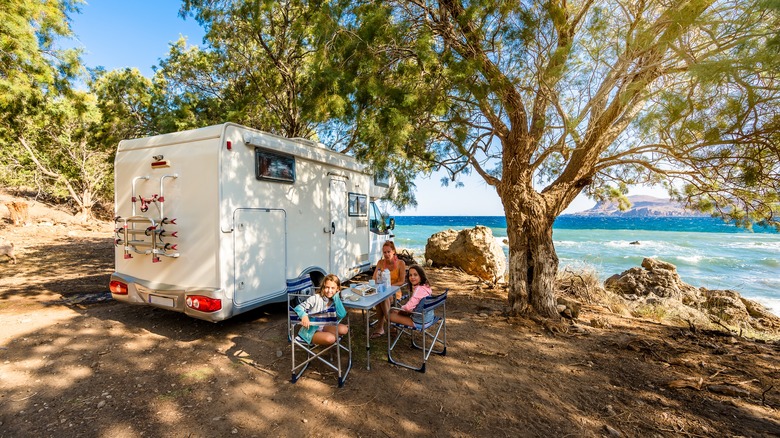 JGA/Shutterstock
The easiest places to stay are at camp sites that let you plug in so you can recharge your battery, use appliances without draining it, also dispose of any waste water, and refill the freshwater tank. Also, these sites sometimes come with laundry, hot showers (you'll appreciate the simple pleasures of a leisurely one), and cooking areas. They can fill up quickly, so reserve space ahead of time (KOA is a good campground resource). But these aren't the only choices, and the alternatives really are endless. 
Reserve America is a site with listings across the United States while Recreation.gov is government run and allows users to specify the size of their vehicle (its wilderness sites are substantially cheaper than private campgrounds). Private land is also available for overnight stays. Harvest Hosts has thousands of listings of wineries, farms, and other locations where camping is free, though membership is required. A related company, also requiring membership, Boondockers Welcome details free spots on private land. Boondocking refers to the simplest form of overnighting in an RV, for free, at places with no facilities, no power, and no water hook-ups. You can boondock for free all over the country, even in cities, but must follow local guidelines, signs, and parking restrictions.
Pack smartly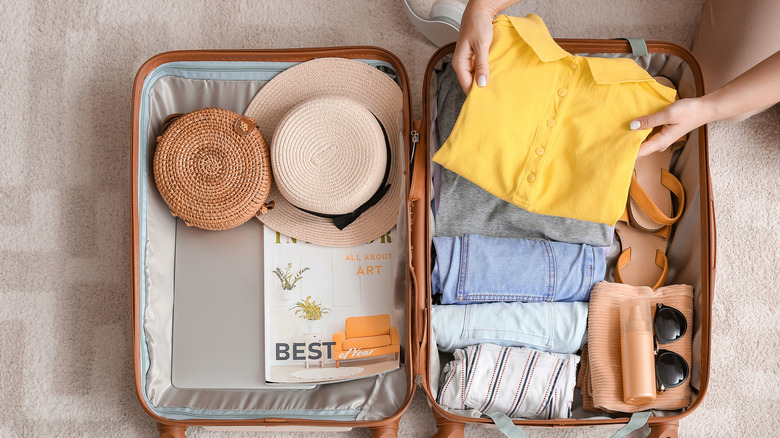 Pixel-Shot/Shutterstock
Since a lot is jammed into a compact space, RVs don't usually leave much area for luggage storage. Chances are for your trip you will be renting an RV, but even then, items like bedding, linens, and kitchen essentials are not always included. Check with the rental company to see if they are. Always pack your belongings in soft shell, collapsible duffel bags, not standard, wheeled suitcase that won't smush down and fit into the RV's small storage areas. Don't pack a separate outfit for every day, but plan on doing laundry and wearing clothes repeatedly (so pack laundry detergent!). Again, efficiency is paramount.
If you stay at campgrounds (a smart choice, at least for some of the trip), bring flip flops for the showers. Beyond this, your luggage should have all the expected items for a camping trip — clothes, toiletries, flashlights, refillable water bottles, sunscreen, and bug spray. Pack layers and something waterproof. Leveling blocks ensure your RV is stable when parked, ask your rental company to supply them. Also, some basic tools will come in handy — screwdrivers, an adjustable wrench, a utility knife, scissors, tape, and a pair of work gloves for the messier parts of the experience.
Insurance and assistance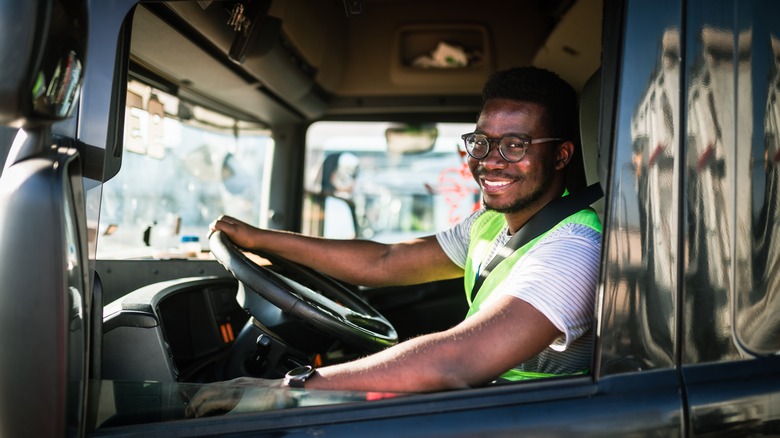 hedgehog94/Shutterstock
Since you'll be getting an RV from a rental company — the biggest in the United States is Cruise America, while in New Zealand, Maui and Jucy are two of the more popular choices — expect that their fleets are maintained and roadworthy. The chances of breakdown are slim, but things happen, so make sure you have insurance and assistance as part of the package. These are usually add-ons that you can purchase at the time of the booking or when you go to collect the vehicle. 
Sometimes you can also get insurance through your own home auto insurer, but be sure to confirm this well in advance. If you pay by credit card for the RV rental, some banks offer certain levels of coverage automatically, but again, this is something travelers will need to check — and to qualify, the deposit for the rental might need to be placed on the card.
Be realistic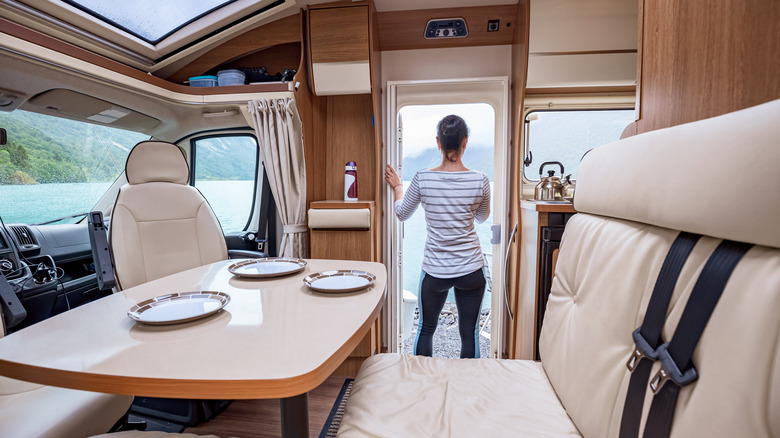 Andrei Armiagov/Shutterstock
You're traveling in a home on wheels, but you won't have the creature comforts that you are used to at home. Some days, cooped up on top of one another, you and your fellow RVers might wish that you were all back home, in a normal sized bed with access to a spacious, heated bathroom, a big fridge, and blazing fast wifi. 
An RV trip isn't supposed to recreate the feeling of being at home, or a stay at a remote resort, it's much more nuanced than that. You'll have to get used to simple, repetitive meals, beds where you can't stretch out without touching the sides of the vehicle, showers that don't last more than a minute, and not being able to escape (at least when on the road) from the people you are with. But the pay-offs are incomparable, a shared sense of purpose, to travel wherever you want, and see slices of a nature in a pure, unfiltered, and less touristed way.
Slowly does it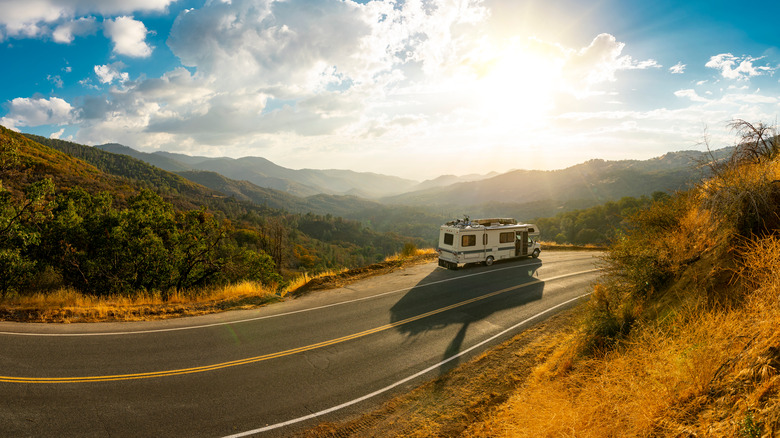 LeStudio/Shutterstock
A RV trip shouldn't feel like a race, the journey is as much a part of the experience as getting to the destination, and a daily itinerary isn't just about speeding from one camping site to the next. You should fully plan to make stops along the way anywhere you want — this could be at a roadside farm stand, at a field filled with llamas grazing, or a scenic overlook where the views just beg to be photographed. 
These stops might seem inconsequential, but they all add up to making the trips richer and more unique. Been to the Grand Canyon, Yellowstone, and the Everglades? So have millions of other people, so consider going to more off-the-beaten track natural wonders, or second-tier attractions. And even though you have wheels, sometimes the best exploration on an RV trip is on your own two feet, with a hike around the wilderness area where you'll be bedding down for the night.
Embrace the quiet roads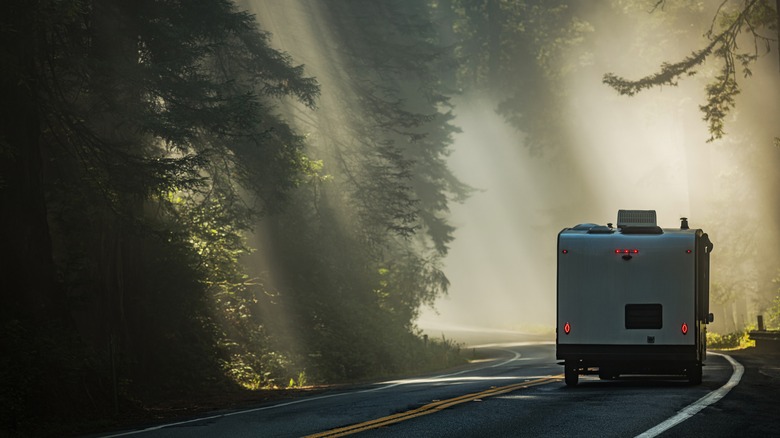 Virrage Images/Shutterstock
The highway network in America is quite an achievement, a patchwork of roads that allows us to efficiently travel around this nation with speed and safety. But, while highways are great for spanning large distances quickly, they don't offer drivers and passengers much of interest to see. The back roads are a much more scenic alternative, and isn't that the point of an RV trip, to connect to nature? The terrain will be less uniform, you'll experience a more personal version of the country, and since road speeds are usually lower than on highways, you might even get better gas mileage. 
Compiled by the Federal Highway Administration, America's Byways showcase the America's National Scenic Byways and All American Roads, two categories of roadway with scenic splendor guaranteed. Since some of these roads are remote, with limited cellphone (and hence GPS map) service, consider bringing a copy of National Geographic's "Guide to Scenic Highways and Byways", which highlights more than 300 stunning drives across the country.
Get your hands dirty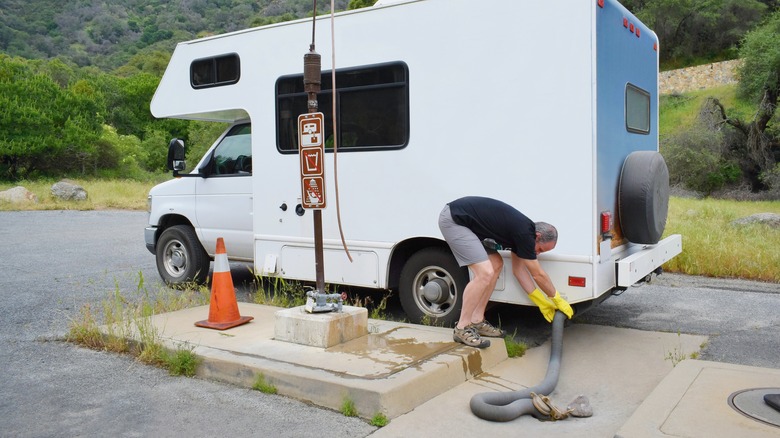 Tunatura/Shutterstock
Unlike at home, an RV's used water and sewage doesn't just disappear down a pipe never to be seen again. In these houses on wheels, you carry that mucky mess around with you, sloshing around in waste tanks as you lean into every bend and ascend every hill. It's not a pleasant thought, and can be a smelly facet of the trip if left to linger, so at some point you will need to dispose of this at a dump station. 
The waste water is divided into two receptacles — the gray water is the sink and shower water effluence, while the black water is the waste from the toilet. Some RVs have sensors that gauge how full the waste tanks are, but a good idea is to empty them at each camp site. This is a simple operation, requiring the clamping of hoses into the tank outlets and emptying them into dedicated septic systems at the campground. It's not inspiring work, but it has to be done — be sure to wear gloves and closed-toe shoes.
Power struggle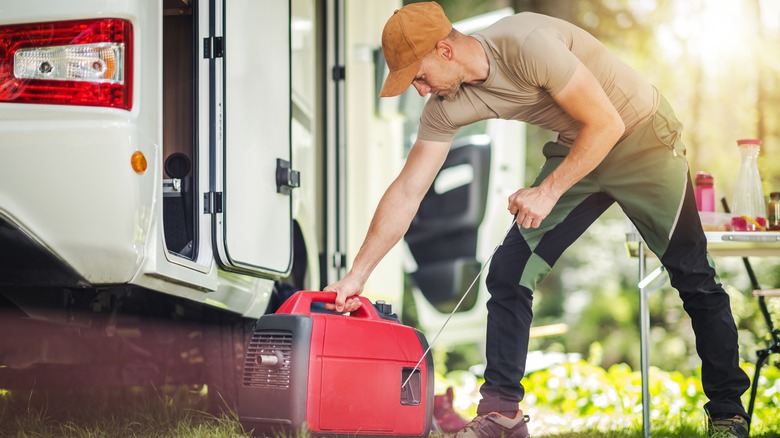 Virrage Images/Shutterstock
When you are parked, your RV battery will power everything in the van, from the lights to the water heater that lets you have hot showers. When you are at a camp, you can hook up your RV to a power source to take over this responsibility, to run things like the appliances and water heater, and this won't drain the battery. But if you boondock, or free camp, you need to be attuned to how much power you use, because out there in the wilderness, or in the city center parked at the side of the road, you won't be able to recharge the battery. 
A few simple tricks can help you conserve energy when you're boondocking. Turn off the water heater once you've finished showering (you wouldn't believe how easy this is to forget), or take cold showers, switch off unnecessary lights, use an ice cooler to keep items refrigerated, and bring battery-operated fans.
Liquid assets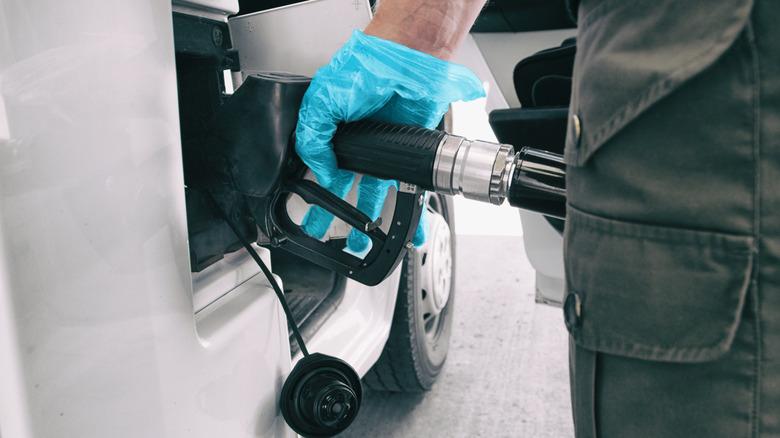 Maridav/Shutterstock
RVs are bigger than cars, and substantially heavier – a Class C van, for instance, can weigh 12,000 pounds, about four times the mass of a compact SUV. It's no surprise that RVs burn through more gas than a regular car, meaning saving a few cents on every gallon of gas can pay dividends over the course of a trip. There are apps that can help you find the cheapest option. 
Gasbuddy is a trusted source for locating the best deals around, while the navigation app Waze also can display the price of fuel at stations nearby, as can Google Maps. In addition to these apps, other online tools can help your trip run more smoothly. iOverlander lets users find places to stay and scour reviews by previous visitors of each campground. Campendium is an invaluable resource for RVers, a database with a list of campgrounds across the country and a forum section where users can ask questions and get answers.
Making connections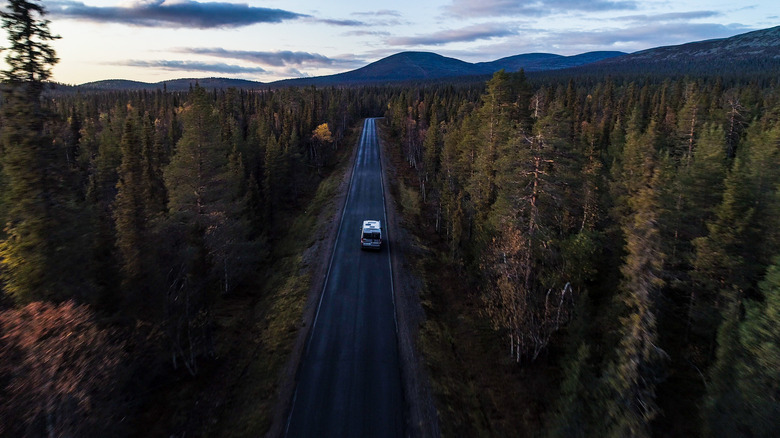 Wirestock Creators/Shutterstock
For many adventurers making a trip in an RV, the most rewarding aspect of the journey is the sense of escape — especially from the digital world that has us in shackles — a pure, elemental way for travelers to reconnect with nature and to truly appreciate the restorative, therapeutic properties of embracing the environments around us. But we also need to connect with our friends and family, or catch up on a show, or simply make sure we are driving in the right direction, and at times like these, having access to wifi is indispensable. 
It's hard to stay connected on the road in remote destinations. Consider using your phone as a hotspot, though depending on your phone's data plan, this might not be a long-term solution. Private campgrounds typically offer wifi, and for other locations, the Coverage? app can give you service information for the main three telecom companies here. Another app, WiFi Map, details the free wifi networks in any location.
Being pet smart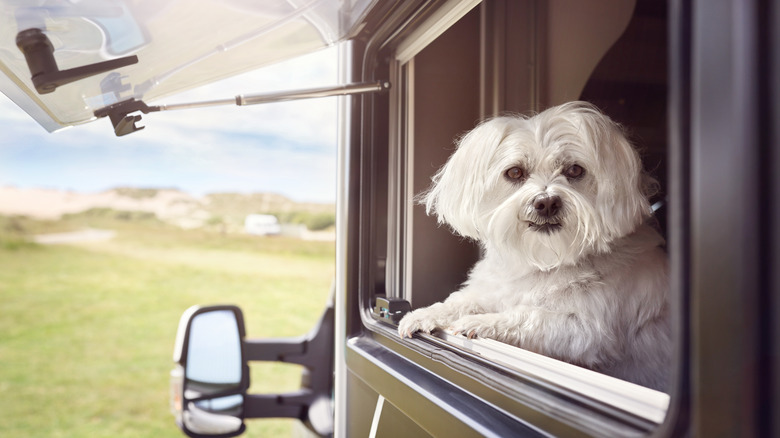 Brian A Jackson/Shutterstock
Sharing the RV experience with the family is priceless, and for many households, a pet is part of that family — taking a driving trip without that furry friend just wouldn't feel right. Luckily RV rental firms understand this, and allow renters to bring their pets along with them, sometimes for an additional fee. The more thorny issue arises at the destinations. National Parks, for instance, allow pets to wander in specific areas, such as marked trails near parking areas, or certain attractions, but there are many places in these parks where pets are banned. 
Likewise, some campgrounds also let in pets freely, but this is not a universal rule. If you do plan to bring your pooch or pussycat, do your homework and check ahead of time if they will be welcome. The site Bringfido, for instance, lets you search campgrounds by state, and gives clear information on each place's pet policy.
Enjoy yourself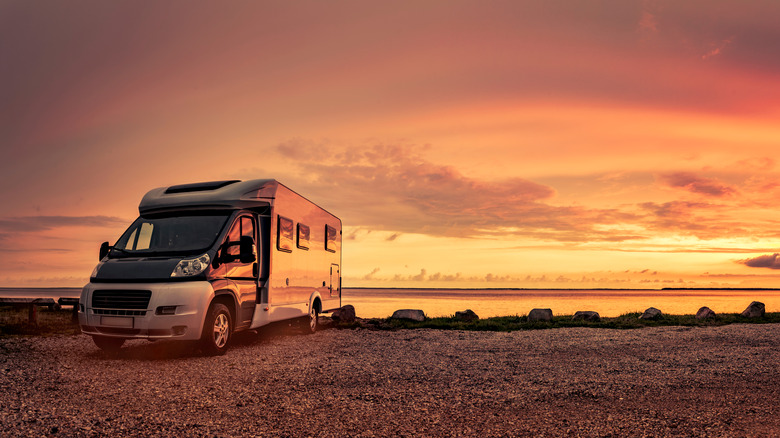 by-studio/Shutterstock
You're ready for your first RV, which will be unlike any other vacation you've had. You want to make sure everything goes smoothly and the voyage will be one of discovery, adventure, endless fun, and filled with plenty of laughter and snapshots of wonder. But remember, you don't have to have the best wine or the most delectable meal for an RV trip to be a success. It's not always the obvious things that make these types of excursions such an exceptional way to explore. 
Sometimes the most wondrous moments are just sitting there in nature, soaking it all up when you've finally got away from the daily grind. The indescribable feeling of the sun at twilight hitting a lake where you've stopped for the night. Or the gentle wind whipping through the trees in the forest where you are camping, gently rocking the branches, whispering round the RV — a seductive sound to serenade slumber if ever there was one.