The Best US Cities To Visit If You Enjoy Going To The Theater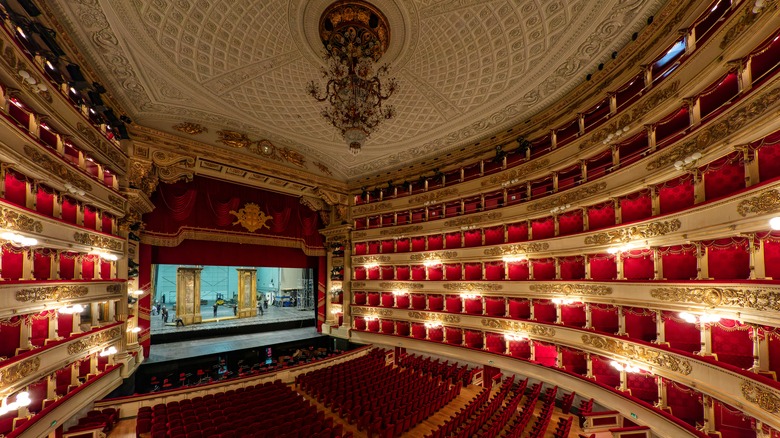 posztos/Shutterstock
A night at the theater is a great way to experience a far-off destination and is often a fun excuse to get all dressed up for a riveting evening out close to home. With exquisite "dinner and a show" packages, fascinating stories, and up-close seating allowing one to appreciate some of the best talents ever to grace the stage, it is not hard to see why many people adore the theater. But if you have thoroughly explored your hometown performing arts scene, maybe it's time to plan a getaway where you can branch out.
So if you are a theater lover looking to enjoy other great live performances and cultural scenes, particularly in major domestic cities, then you are in luck. With more than a dozen metropolises known for their spectacular theater and nightlife scenes, planning a quick city getaway with theatrical entertainment just got much easier. In fact, to help make your next theater-focused vacation one to remember, here are the best U.S. cities to visit if you enjoy going to the theater.
New York City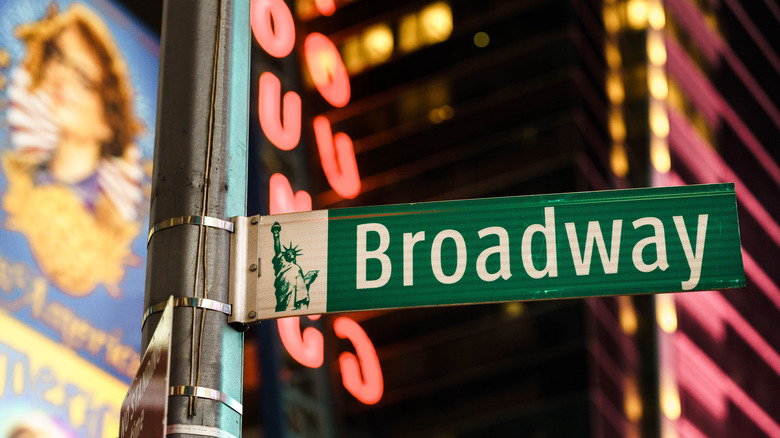 tetiana.photographer/Shutterstock
Of course, New York City is home to the legendary Broadway theater scene, so if you love all things theatrical, this city should definitely be number one on your list. Known as the cultural capital of America — New York offers everything from musicals, concerts, ballets, and performance art productions to off-Broadway must-sees and more. Likewise, this iconic theater scene is, more often than not, a stop for practically any touring theatre company worldwide.
With nightly shows in its renowned theater district, there is basically never a bad time to catch a theatrical performance or two. So, if you love the theater and want to immerse yourself in this famous mecca for the performing arts, then what are you waiting for? Book a trip and enjoy Broadway, Theatre Row, and over 41 phenomenal playhouses located in the Big Apple. What's more, the Theater District in New York is near all the major downtown attractions like Time Square, the Rockefeller Center, Bryant Park, Radio City Music Hall, the Empire State Building, and Restaurant Row (for delicious pre- or post-show eats) — all of which makes New York City an excellent choice for a lively, cultured, and eventful getaway.
Chicago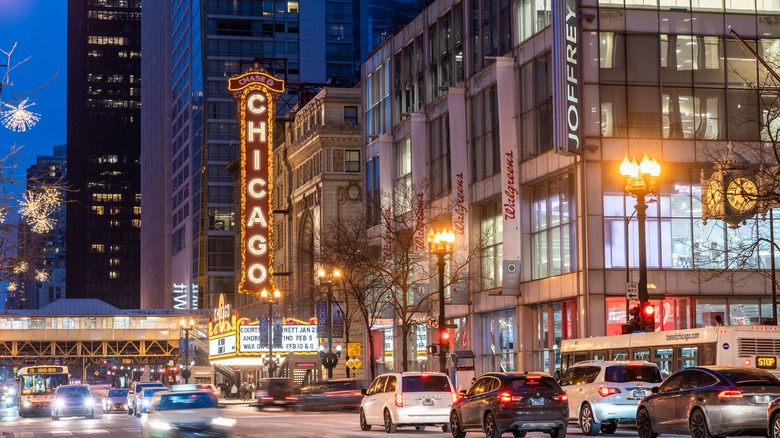 Rajesh Vijayakumar/Shutterstock
For theater lovers who enjoy avant-garde or edgy performances and productions, Chicago is the place to be. Here, theater-goers will get a chance to delve deeper into the Windy City's cultural scene and enjoy a variety of productions, musicals, plays, and more. With renowned theaters like the Steppenwolf Theater Company, Paramount Theater, the Lookingglass Theater, the Chicago Theater, and the original Second City Theatre, visitors have plenty of performances to check out.
Tony Award-winning local acts, a robust comedy scene, and touring groups regularly making their way to the Windy City means there is a genre here for even the pickiest of theater-goers. Chicago, itself, is full of other things to add to the travel itinerary as well. With over 250 theater options in the city, there are plenty of opportunities to catch a show here. If, after the show, youare looking for something else to do, make a stop by the countless museums, check out the Navy Pier, go on a Michigan Avenue walkabout, or spend some time in Chicago's iconic parks — just to name a few options. That said, with an amazing theater scene and various top-rated points of interest, Chicago is definitely a must-visit for theater enthusiasts.
Boston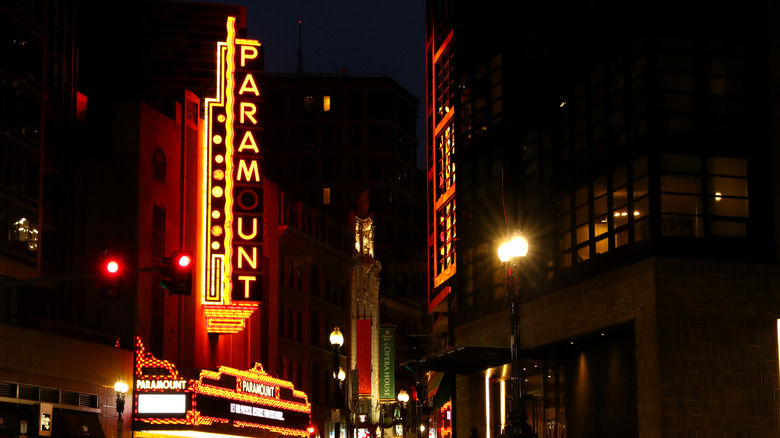 Maddie Meyer/Getty Images
Boston is another city that is simply delightful for theater-goers. With countless Broadway shows, Boston Opera House productions, the Charles Playhouse, the Philharmonic Orchestra of Boston, the American Repertory Theater, and the Citi Performing Art Center, visitors have more than a few options when it comes to enjoying a cultured night out in Beantown. The city of Boston also has a diverse selection of theatrical productions for audiences of all ages, so there is truly something for everyone.
Besides being one more critically-acclaimed major stop for Broadway shows on tour, Boston is almost on par with New York's Theater District. Plus, this particular city has its very own wildly talented theatrical community — one that is constantly perfecting its craft. And if you have time, you can enjoy all that Beantown offers in between all the stellar performances and theater shows. From family-friendly activities, tourist attractions, and museums to shopping, entertainment, and restaurants, this city also has a plethora of other amazing things to get into before heading to the theater.
Seattle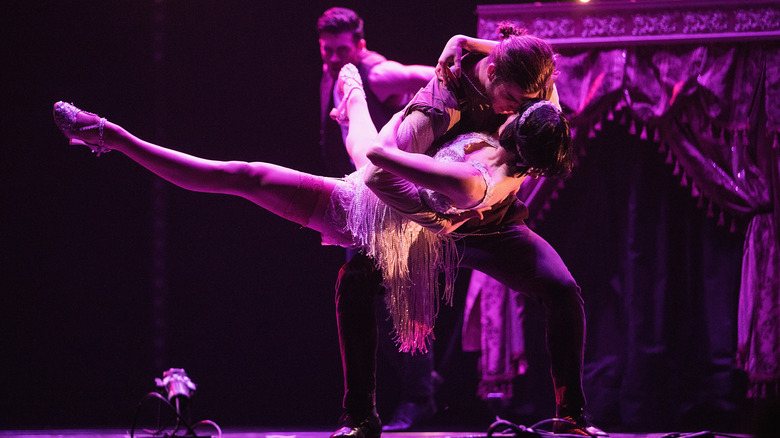 Mat Hayward/Getty Images
Yet another theater lover's go-to should be Seattle. Known for its risk-taking theatrical organizations, Seattle's performing art scene showcases a different side of the theater world. A truly joyful theater outing is what visitors can expect here, with blockbuster productions, historic venues, unique events like the Teatro ZinZanni experience, and so much more. So if you are looking for a theatrical destination that is not afraid to step outside of the box, then Seattle is for you.
In addition to an expectedly captivating theater scene, Seattle, of course, has a wealth of recreational activities and attractions for a well-balanced getaway. Before the show, visitors should make it a point to see the sights like the Space Needle, check out Pike Place Market, enjoy the great outdoors at Seward Park, and maybe even visit the state's oldest and most celebrated winery — Chateau Ste. Michelle. If you find yourself here in the summer, head to this prestigious winery to enjoy some wine along an outdoor musical performance as part of the winery's summer concert series.
San Francisco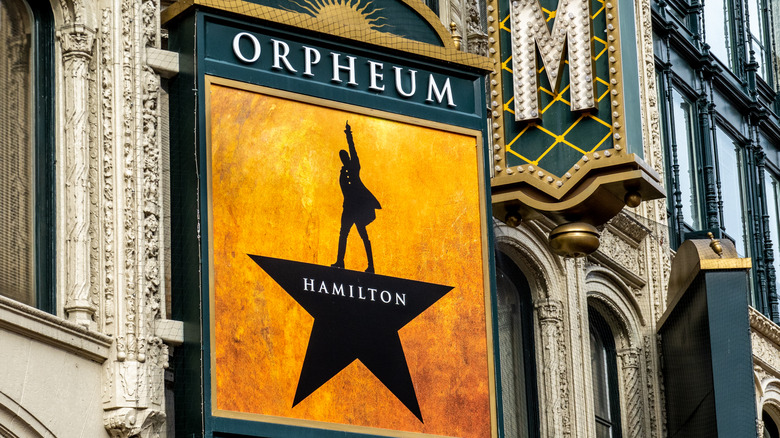 David A Litman/Shutterstock
Touted as one of the most exciting spots in all of the city, San Francisco's theater scene has everything one could ever need. Often referred to collectively as the Mid-Market area, three main districts make up the Theater Scene (The Civic Center, SoMa, and The Tenderloin). Though there is an endless array of entertainment choices in the Mid-Market area, performing arts fans who love a good Broadway production should head on over to the historic Orpheum Theatre.
Opera lovers can also enjoy a glorious night at the theater in San Francisco. At the San Francisco Opera, attendees are promised a night of thrilling and unique performances, no matter which shows they attend. Likewise, patrons can enjoy spellbinding live entertainment at the War Memorial Opera House with a historical flare. So, you cannot go wrong with going to the opera in this U.S. city either. And with all the major points of interest and countless other playhouses in the area, such as the Strand Theater, Castro Theatre, and the Toni Rembe Theater (formerly the Geary Theater), visitors are truly in for an amazing arts-focused vacation in the Bay Area.
Minneapolis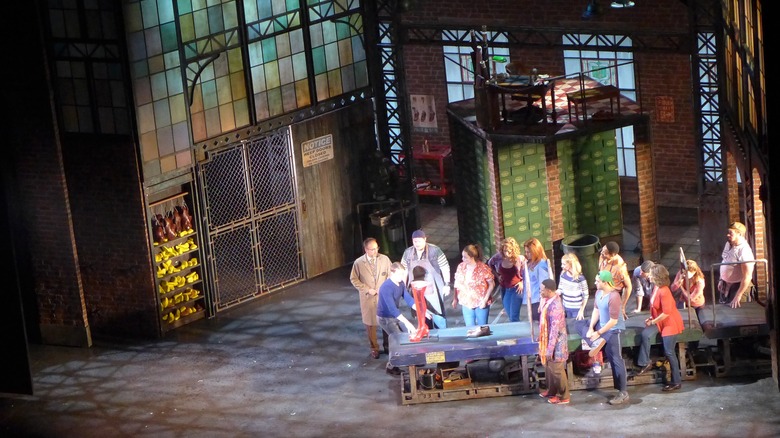 Jim Steinfeldt/Getty Images
When it comes to the performing arts, Minneapolis is definitely a contender. With approximately 440 theaters throughout the city, theater-goers may feel a tad overwhelmed when trying to pick their evening entertainment. But, regardless of what you decide to see or which theaters appeal to you in this grand district, one thing is for sure — a lively night awaits.
That said, Guthrie Theater is a performing arts haven showcasing classic and contemporary productions. Other great venues like the Old Log Theater, Pantages Theater, and the Yellow Tree Theatre offer just about every kind of theater experience — concerts, musicals, Broadway shows, off-Broadway productions, operas, plays, choirs, stand-up comedy, dance troupes, and more. So, if you are looking for a destination where you can spend every moment at the theater, then Minneapolis can definitely accommodate you. And a possible bonus to your Minneapolis Theater District extravaganza here is that the city of St. Paul and its exciting theater district is also just around the corner. So if you are up for it, then why not experience more than just one performing arts scene while in town?
Washington, D.C.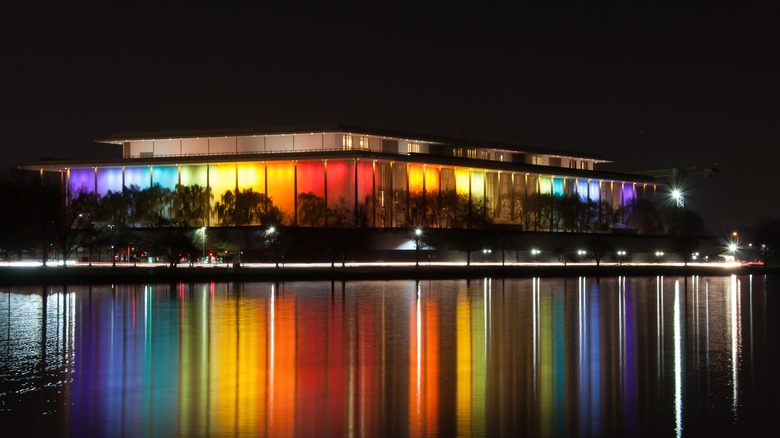 Rena Schild/Shutterstock
Next on the list of best destinations for theater-goers is none other than the nation's capital. With a highly celebrated, diverse, historical, and robust arts scene, it is no wonder Washington, D.C.'s Theater District is equally incredible. Here, visitors will find a rather large theater company, pre-Broadway premieres, 80 or so legendary performance arts venues, gorgeous playhouses that showcase touring productions, and so much more.
Popular theatrical spots like the Folger Theatre, John F. Kennedy Center for the Performing Arts, Tivoli Theatre, Ford's Theatre, Woolly Mammoth Theatre, and the Shakespeare Theatre Company: Klein Theatre are just the tip of the iceberg in this showstopping town. Moreover, just this handful of historical theaters alone hosts some of the best ongoing performances that are simply unforgettable. So not only can visitors thoroughly appreciate the performing arts in all its forms and get a sneak peek of Broadway blockbusters when visiting the nation's capital, but they can also enjoy free museums, historical sites, and an incredible culinary scene — all of which makes Washington, D.C. the perfect East Coast destination for a refined getaway.
New Orleans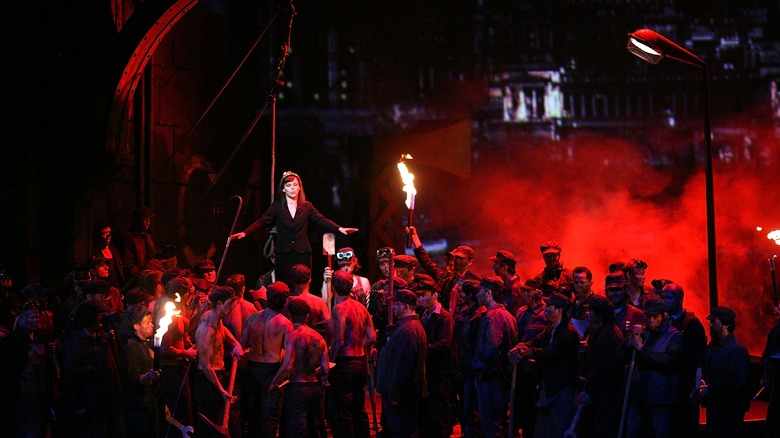 Johannes Simon/Getty Images
New Orleans might not be your first pick when you think of the theater. But with over two dozen theatrical joints and rave-worthy performances, Nola is definitely an up-and-coming theater district you want to keep an eye on. With beautifully restored Victorian entertainment venues like the Orpheum Theatre and the Civic Theatre, plus other wonderful performing arts spaces (both indoor and out), New Orleans has so much more to offer than just delicious Cajun and Creole cuisines, haunted history, The French Quarter, Voodoo, and Mardi Gras.
Other phenomenal venues for the arts, such as the Music Box Village, the Mahalia Jackson Theater, Le Petit Theatre, Blackbox Theatre at NOCCA, the Jefferson Performing Arts Center, and the Marigny Opera House, all dazzle and delight in different ways. Of course, visitors looking to experience this great destination to the fullest should also try to incorporate as much of New Orleans's culture and allure into the itinerary. The Big Easy is an excellent choice for a vacation with all the trimmings, especially considering you'll have no problem finding a rave-worthy performance at one of the theaters around town. 
Philadelphia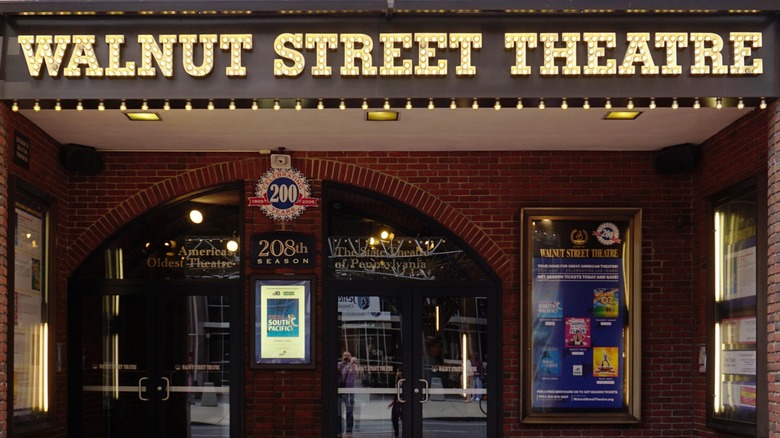 EQRoy/Shutterstock
Similar to New Orleans, another popular U.S. destination known for a wealth of other things besides the performing arts is the city of Philadelphia. Yet, the City of Brotherly Love is also home to America's oldest playhouse — the Walnut Street Theatre. Located almost in the middle of Philadelphia's Theater District, the Walnut Street Theatre is practically reason enough to head to the land of cheesesteaks, the Eagles, and the Liberty Bell.
Philadelphia is brimming with history, and there is no denying that, but this city also has a truly vibrant performance art scene and a prominent theater district. Thanks to the Philadelphia Orchestra, the Kimmel Center for the Performing Arts, the Philadelphia Ballet, the Academy of Music, The Metropolitan Opera House, and the Philadelphia Theatre Company, this destination knows a thing or two about live entertainment, storytelling, dance troupes, and the theater. In addition to these stand-out venues, this city is also home to The Proscenium at The Drake, Act II Playhouse, the Wilma Theater, and the FringeArts. Plus, with annual performance festivals, a dynamic theatrical community, the Avenue of the Arts, and more, Philadelphia is absolutely among a theater-goers' (and history buffs') must-see sites on the East Coast.
Houston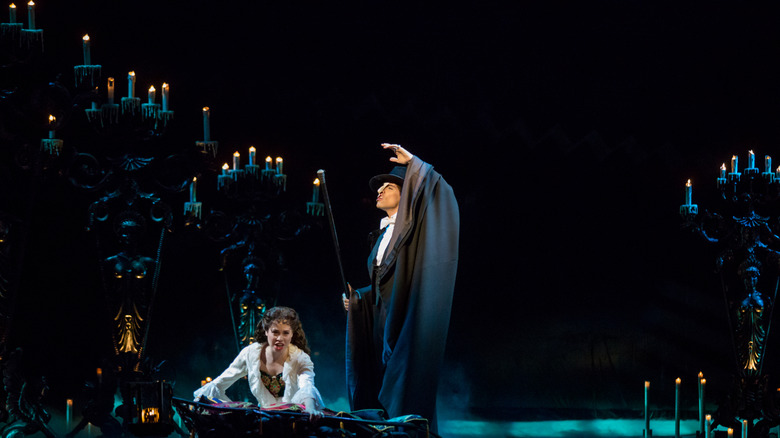 BW Press/Shutterstock
Situated in the center of downtown Houston, spanning multiple blocks, and rapidly growing, the Houston Theater District does not disappoint. Offering theater-goers an edgy take on the classics and traditional forms of creative expression, many believe that The Bayou City will be the next big thing in the performance art game. With less than a dozen venues currently, visitors can manage to get in a show or two without feeling like they have missed out on hundreds of other playhouses, making this the ideal quick theater-inspired weekend trip.
Though the world is not quite yet a stage in Houston, there is still a surprising amount of variety in this theater scene — opera, ballet, musicals, orchestras, contemporary performances, Broadway hits, off-broadway productions, and more. Trendy Houston theaters to check out include the Alley Theatre, the Hobby Center for the Performing Arts, Jones Hall, Wortham Theater Center, and Bayou Place. After enjoying your time at the theater in Houston, you can effortlessly branch out in the way of activities by checking out the Museum of Fine Arts, the rest of the Museum District, the Space Center, or whatever else tickles your fancy.
Los Angeles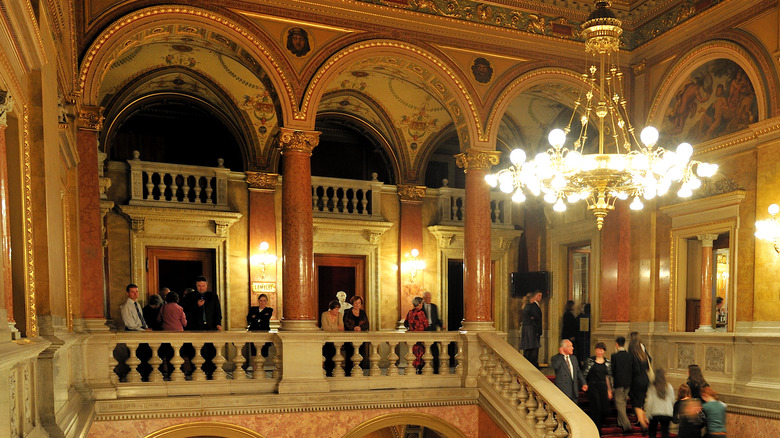 T photography/Shutterstock
Even though the Hollywood film scene may be the real showstopper in the Los Angeles area, its theater scene definitely deserves a more in-depth look. This city is a perfect history-meets-the-theater getaway since much of Los Angeles' Historic Broadway Theatre District dates back to the early 1900s. Truly a sight to behold, these grand entertainment houses reflect the era in which they were built and offer theater lovers an overall top-tier experience in the way of live entertainment and events.
In addition to these beautifully restored theaters in the Broadway District, Los Angeles has more than a few famed performing arts venues littered about the city, including East West Players, the Los Angeles Theatre, 24th Street Theatre, Thymele Arts, Kiki & David Gindler Performing Art Center, Ahmanson Theatre, and the Fountain Theatre. And thanks to the Geffen Playhouse and The Center Theatre Group, Los Angeles visitors will not have to look long or hard for theatrical fun. Plus, with countless other grand venues, many famous actors and actresses grace this star-studded theater scene on occasion. It really does not get much better than Los Angeles.
Atlanta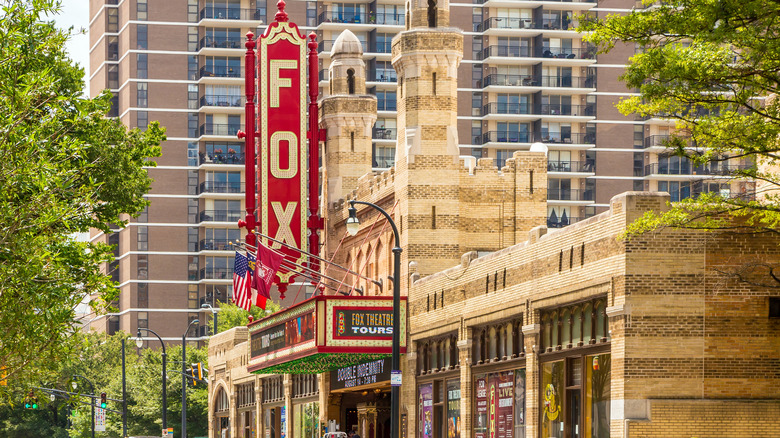 f11photo/Shutterstock
Local talent truly shines in Atlanta's dazzling and diverse theatre scene. But that's not all that's going on, on this arena stage – Atlanta's Theater District is also a buzz with off-Broadway shows, world premieres, classic theater performances, ballet, and delightful performance art for children of all ages. So if you are looking for a family-friendly theater vacation, then look no further than A-Town. Thanks to live entertainment spots like the 7 Stages Theatre, the Alliance Theatre, West Midtown's Kings Plow Art Center, the Rialto Center for the Arts, Kenny Leon's True Colors Theatre Company, and more, patrons can be in awe of various forms of creative expression from a wildly-talented theatrical community.
On the other hand, the Horizon Theatre and the fabulous Fox Theatre will have the right playbill for more contemporary performances and Broadway productions. With an assortment of great venues for the performing arts here, this destination allows visitors the chance to enjoy a decadently rich cultural scene and cross some of the major attractions off their lists. So, while in town, catch a show or two and leave some room in your itinerary to appreciate everything else that Atlanta has to offer.
Denver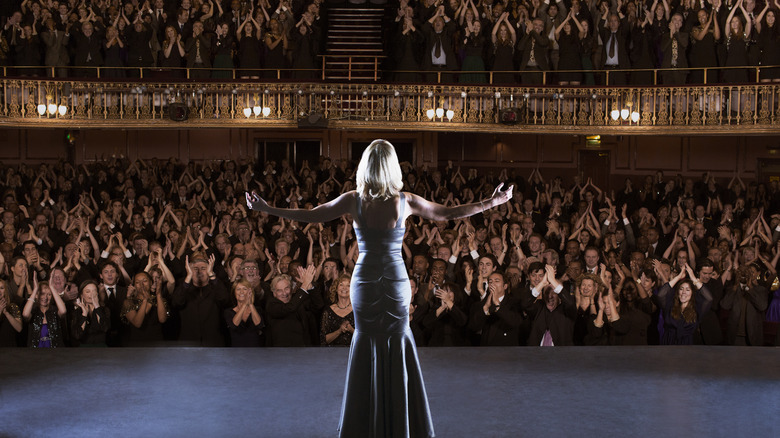 Yobab/Getty Images
Last but not least, theater enthusiasts ready to tour the nation's largest non-profit theater organization and have a marvelous time appreciating the arts should make their way to Denver. Not only is the Denver Center for the Performing Arts larger than life, but something magical is always happening here. So, whether it is a Broadway tour, a Cabaret show, or a never-seen-before production that has piqued your interest, this theatrical venue (which is actually nine separate venues in one) is worth a visit and then some.
Besides this local gem, the Dever Theatre District (DTD) itself encompasses a sizeable section of the downtown area and is equally impressive. Full of experimental, interactive, and immersive experiences, the DTD is a culture, art, and theater lover's dream come true. The Mile High City is also home to the Ellie Caulkings Opera House, the Paramount, and the Bellco Theater — all of which are excellent options for a traditional evening at the theater. And once you have marveled at all the world-class shows, exhibits, performances, and productions here, do not forget to partake in some good old-fashioned fun outdoors because it is Denver, after all.