Here Are The Best Places To Eat If You're Seeing A Broadway Show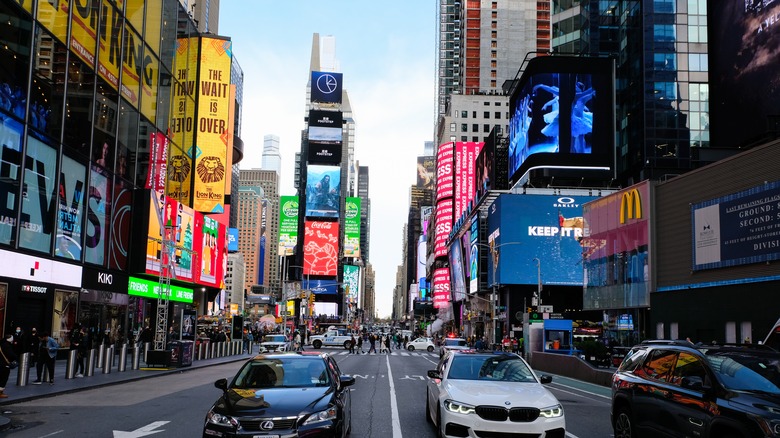 Cyrille Maertens/Shutterstock
For a popular place like New York City, tourists are a hefty part of the city's economic development. That's especially true with Broadway, as it is such a major part of NYC's tourist economy. And when folks go to the theater, there's a good chance they're also going to a restaurant before or after – especially if they're pulling a two-show day. If you're grabbing food in between shows, you need to have a game plan in place.
You usually only have a limited amount of time to grab some grub. There's nothing worse than being partway through an incredible show when hunger strikes. Don't make the mistake of doing two shows in a day and not eating, it's not fun. Your best bet is to pick a place in between the two theaters you're attending or find a place near the next theater just in case your food takes a little longer.
Frequent Broadway visitors know that the old standbys like Sardi's and Ellen's Stardust Diner are fun occasional stops. The food at both isn't the best, but you go for the ambiance, not the food. What can be hard is deciding which of the hundreds of restaurants to visit in order to heighten your Broadway experience. So we've put together a list of four spots in three categories: easy pre-show eats, more expensive dining, and post-show cocktails. You know what to do: Break a leg!
B Side Pizza Bar
There are two B-Side pizza joints in NYC; B Side Pizza Bar is located in Hell's Kitchen, an easy walk from the Theater District. This chill pizza spot is what you'd expect from New York City, but with a little more atmosphere. It features rustic decor and artisanal pizza, and it's a chill place to kick off a fun evening at the theater. Plus, it's open until 11 p.m. throughout the week or midnight on weekends, so if that pizza craving hits post-show, you're in luck.
Obviously more expensive than dollar slices on the corner throughout the city, B Side is an economical way to do pizza. Not to mention that they have fun cocktail options and even Budino, an Italian pudding you'll fall in love with at first sight. And don't even get us started about their Killer Bee pizza. Even if you have to do a bit of walking to get there from wherever you are in Manhattan, it's worth it.
Los Tacos No. 1
When you inevitably become a Los Tacos No. 1 fan, you'll be happy to know there are five locations in NYC. The one you'll want to find when you're in the Theater District is the Times Square location off 43rd Street. Los Tacos is a great place to grab a quick bite on the cheap before a show, in between shows.If your show ends before 10 p.m., you might also have time to swing by on your way home. Their hours make for great post-matinee eats too.
The theme here is simplicity. Los Tacos has a simple menu with the kinds of tasty cuisine you'd expect from a place called Los Tacos. Get some individual tacos or tostadas, quesadillas or mulas, and even aguas frescas (delicious water and fresh fruit combo). Or grab a Nopal Plate with cactus, beans, and cheese. If you've never tried cactus, it's a crunchy veggie a bit like green peppers. Highly recommend!
Times Square Diner & Grill
When you need a place for a bunch of folks who want different things, you need a good ol' NYC diner. These diners have a little bit of everything, they're cheap and the food usually hits the spot. You won't have to worry about whether the food will be good at Times Square Diner & Grill though, they always come through.
The best part? You can get breakfast at any time of the day. If you're starving at 10 p.m. after a three-hour performance of a hefty show like "Death of a Salesman," head to midtown Manhattan for a comfort meal that'll put your hunger at ease.
If breakfast isn't your thing, this diner also has the typical staples like a BLT or a wide range of sandwiches or burgers, but most of these dishes have a special addition. The BLT comes with an incredible garlic aioli which elevates it far above any other BLT you've ever had. When have you ever talked up a diner's food to your friends before? Probably never, unless you've been here.
Mee Noodle Shop
Sometimes there is nothing better than a simple Chinese noodle soup. Especially if you're in NYC in the autumn or winter, a dish from Mee Noodle Shop will warm you right up. Don't let the prices at Mee fool you, cheap doesn't mean anything here. Their Noodle Three Mushroom soup will transport you to a hole-in-the-wall eatery tucked away in a hutong in Beijing.
No matter the time of day you show up, Mee will probably be busy. It's popular for good reason. While it might not be the best place to go if you're on a time crunch, the service is speedier than you'd imagine. Folks flow in and out of the noodle shop like water, especially considering there are many other diners waiting to take their spot.
A simple but nourishing meal like a noodle soup at Mee's is honestly the ideal in-between food if you're squeezing in two shows in a day. It's filling enough to satiate you and way more nutritious than a sidewalk pretzel or other kind of city snack. Even if you have to hustle out to Hell's Kitchen to make it work, Mee's is one of those hidden gems you'll never forget.
Natsumi
Easy and tasty makes Natsumi a go-to sushi spot for theater folks. From singular rolls to teriyaki dinner boxes, sashimi sets to tasty crab dumplings, there's a little bit of everything here. You can even try some green tea mochi! While the menu isn't extremely different from many other sushi restaurants around the city, its stunning interiors and location in the heart of the theater district make it a choice dinner spot for a day spent on Broadway.
Natsumi even offers pre-theater, fixed-price menus to give visitors a small sampling of their offerings on their way to a show. Anytime you see a pre-theater menu at a restaurant, it's usually because they can get you in and out quickly. Ordering from a pre-theater menu is also a casual hint that you're on a time crunch. But you'll still want to give yourself plenty of time before the show to thoroughly enjoy your time at Natsumi.
Be sure if Natsumi is on your must-visit list that you make reservations ahead of time, or you might be waiting for quite some time for a table. Think an hour or more if it's a busy mealtime.
Joe Allen
Calling Joe Allen a Broadway institution makes it sound like it's a more upscale version of Sardi's. The major difference is that the food at Joe Allen is something you can always look forward to and the atmosphere is far less touristy. You can count on the steak frites being delectable and the manicotti being cooked perfectly.
Joe Allen's is more expensive than the other restaurants so far, though it's far less expensive than the other go-to fine dining experiences below. Their menu is small but they've perfected every item on it. They even offer brunch on the weekends, which is perfect for late-rising tourists on their way to a matinee.
If you wander around the restaurant, you'll see a collection of Broadway show posters. If you haven't heard of most of them, there's a good reason –- all of those shows flopped on Broadway. Even the notorious play that was hilariously decimated by Frank Rich, "Moose Murders," has its spot on the wall. But unlike the restaurant's many posters, Joe Allen isn't a flop. In fact, it might even deserve a standing ovation.
Gallaghers Steakhouse
When you are craving a steakhouse experience, Gallaghers Steakhouse is the place to be. If you aren't a steak person, you can find something to enjoy here from the myriad raw bar options, including a pound of lobster cocktail. They even feature a blue cheese and bone marrow-crusted filet mignon and stuffed jumbo shrimp on their specials. If you want to be particularly touristy, you could always order a New York strip and then a slice of New York cheesecake for dessert.
If you aren't feeling up to a steakhouse dinner, there's nothing wrong with taking a seat at Gallaghers' bar. A traditional NY steakhouse deep in the center of Manhattan is a perfect place to grab an Old Fashioned, sit back, and relax. Gallaghers has been a staple in the Theater District for almost a hundred years. It was even a speakeasy in its first years and was opened by Helen Gallagher. So this steakhouse is truly entrenched in Broadway's history.
Le Bernardin
When it comes to fine dining in the Theater District, you can't get much better than Le Bernardin. A fine French eatery, Le Bernardin is an exquisite choice for any pre-show dinner. Their prix-fixe four-course dinner can even have a caviar add-on. Be sure you allow yourself enough time to savor each course before your showtime.
For the most part, the menu is fish-based for protein, though you can ask for different entrees like filet mignon or duck, as well as pasta for a vegetarian option. There is also the option to do a Chef's Tasting menu with the choice to do a  wine pairing as well.
Non-prix-fixe options are available from the lounge menu if you're looking for fewer courses or just a fancy snack. Caviar with blinis and toast can be a snack, right? We think so. And sometimes you want to experience the nice restaurants but want something comforting like a lobster roll. Nothing wrong with that!
Bar Centrale
Owned by the same folks who own Joe Allen and Orso, Bar Centrale is a particular post-show cocktail favorite. In fact, you can find Bar Centrale nestled in between the two off 46th Street. They do serve some food, think tapas style, if you're peckish after the show. Enjoy some chickpea fries (seriously, so good) or shrimp and mushroom dumplings. If you're more than a little hungry, you can get some pasta, grilled cheese, or even fish tacos.
Because Bar Centrale is so cozy, you really need to make reservations, even if you're just going to enjoy some drinks. They don't allow standing areas, so you'll have to find empty seats if you want to stay.
Bar Centrale isn't open super late, so it's not a place to hang out until 2 a.m. Even so, it's a great spot to have a glass of wine or two after a show. What's better than splitting a bottle of wine with a friend and getting into the deep philosophical realms of "The Lion King" show you just enjoyed together? Or just bemoan the shame that was the premature closing of "A Strange Loop."
Playwright Celtic Pub
Aside from the fact that it's named perfectly for some pre- or post-show cocktails, Playwright Celtic Pub is an ideal spot for late-night cocktails. For one thing, they're open until 4 a.m. every day and for another thing, Irish pubs are just the best. A casual place to enjoy a pint or two with friends, Playwright is always a safe bet.
As any good Irish pub should, the Playwright has proper full menus. If you happen to end up there during brunch you can even enjoy a traditional Irish breakfast. But no matter when you end up there you'll have a delicious array of wine, beer, and cocktail options to enjoy.
Once you try a Bourbon Strawberry Smash, you'll hope you can find one at every bar you visit from then on. During the warmer months, you can even enjoy your drinks at the Playwright's roof deck seating area.
Junior's Restaurant & Bakery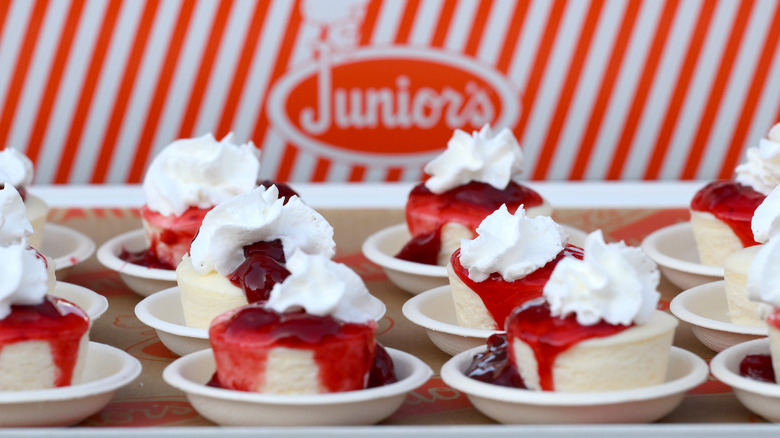 Daniel Boczarski/Getty Images
It doesn't matter which of the Junior's locations you visit near the Theater District, an NYC visit isn't complete without stopping here. Both locations have full bars, so you not only get those post-show drinks but the full diner menu. Junior's has been around in some form since 1929 and made visitors crave their specialty ever since –- cheesecake.
There is just nothing like Junior's cheesecake. What could be better than a nightcap in one hand with your favorite variety of Junior's cheesecake in the other? Their Chocolate Mousse Cheesecake, Tiramisu Cheesecake, and Carrot Cake Cheesecakes are beyond comparison. You can tell when a show just lets out because droves of people will flock to Junior's for their post-show treats. Depending on the evening, Junior's is open until 11 p.m. or 1 a.m., which leaves plenty of time for your sweet indulgences.
What Junior's really needs is a cheesecake pairing menu. What is going to go best with their boozy Strawberry Lemonade or The Big Apple? Inquiring minds must know.
Birdland Jazz Club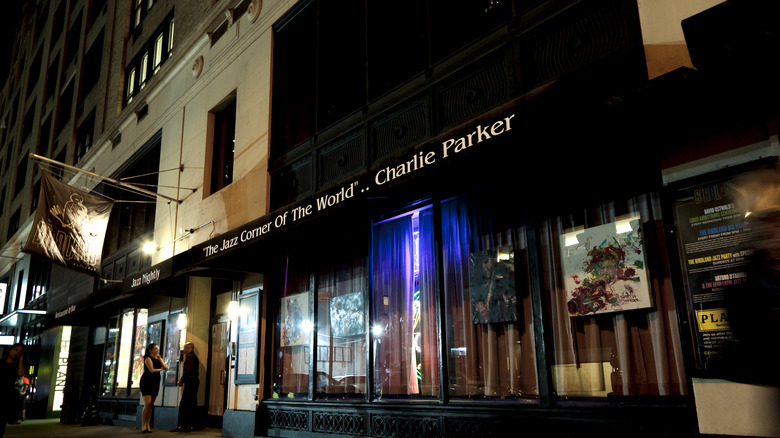 Osugi/Shutterstock
Charlie "Bird" Parker was the inspiration for Birdland's name when it opened in 1949 and Parker was even the headliner when it opened. If you haven't had enough live entertainment after seeing some live theater, Birdland Jazz Club is where you should be. There's always live music bopping through the place until late.
Some of the performers in the jazz club's history have included the greats like Miles Davis, John Coltrane, and Thelonious Monk, among countless others. Regular guests once included Frank Sinatra, Marilyn Monroe, and even Sugar Ray Robinson. In the decades since Birdland opened, it has become a significant part of the Theater District's entertainment scene, albeit a different kind of entertainment.
Birdland has full dining menus in addition to its bar offerings for those with late-night cravings. Jazzy clubs have a long history throughout NYC and Birdland is certainly one of the places that helped build that history.
Castell Rooftop Lounge
You can find the Castell Rooftop Lounge on top of the AC Hotel in Times Square. From the rooftop, you can take in panoramic views of the towering Manhattan buildings from the comfort of a cozy lounge. Open until late most nights, the Castell is an easy jaunt from any of the nearby Broadway theaters.
Being up high among the skyscrapers is the best place to sip a drink like the Pie in the Sky or indulge in a warm cookie sundae among the twinkling lights of the city. Castell is the place to be when you can't get enough of The Big Apple. Of course you can't bear to be inside when the city is awake all around you!
Given the popularity of this spot, consider making a reservation ahead of time. The rooftop area is plenty big but you'll want to ensure you can get a place before you arrive.