The Best Way For First-Time Visitors To See Everything Chicago Has To Offer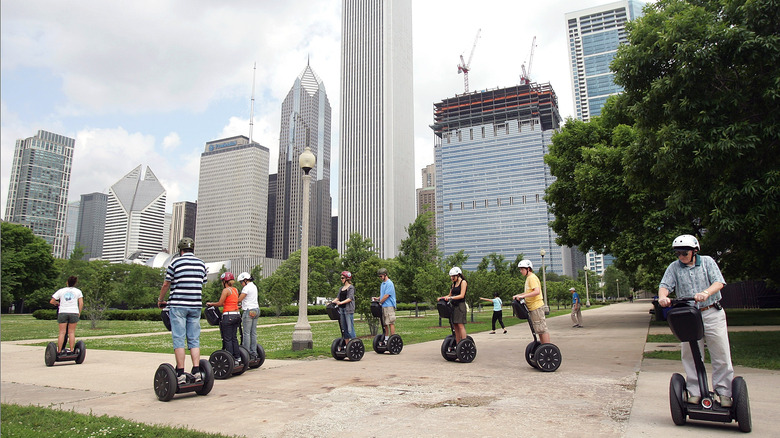 Bloomberg/Getty Images
If you've never been to Chicago before, there's a great and unique way for you to see all the city has to offer. Believe it or not, that's via Segway tours. There is a multitude of operators that take visitors through Millennium Park, Grant Park, and along the Lake Michigan waterfront trail. Skyline views envelop Segway riders in a way that doesn't feel slow or fast. You're just coasting along, soaking it all in. Most importantly, the rides are simply fun.
If you've never heard of a Segway, it's a two-wheeled, self-balancing, battery-operated vehicle. Tour operators say they're easy to ride and give you the speed of a bicycle without all of the human effort – just lean forward to go and backward to stop. All you need is a few minutes of training and you're ready to roll. And remember, Segways balance based on a rider's movements, so don't worry too much about falling off. Still, helmets are required just in case.
What you'll see on the Segway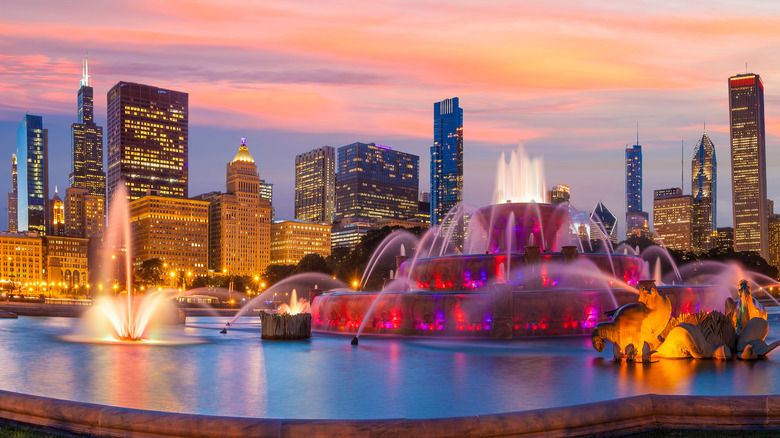 f11photo/Shutterstock
Chicago Segway Tour takes its customers to and through Navy Pier, the Art Institute of Chicago, Soldier Field, Adler Planetarium, the Field Museum, and many other sites that you may decide to come back to after learning the lay of the land.
Chicago Segways has a Lakefront/Museum Campus Tour, a Chicago Insider Tour, a Chicago Art & Architecture Tour, nighttime tours that run during the summer's weekly fireworks displays, and many other themed events like the Historic Chicago Mob and Gangster Tour.
My Segway Experience, which also runs Segway tours in Chicago, promises that what it offers can make you feel like a kid again. While the Segway never took off as a means of transportation, it is a phenomenal way to tour a place — having some fun while learning something new.
Like most of the other operators, Steve's Segway Tours offers a slate of public tours — both general and themed – and also has private tours. Prices tend to run from about $50 per rider and up.
Lesser-seen Chicago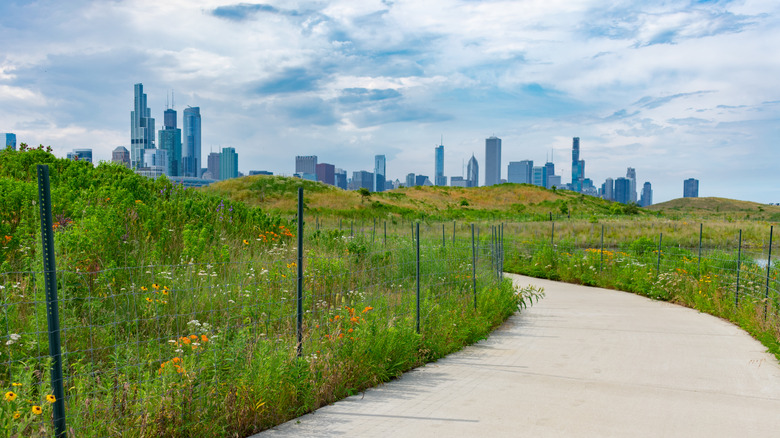 James Andrews1/Shutterstock
In preparation for a Segway tour, you should know that most of the operators require advanced reservations. Chicago Segway Tour says all walk-up customers will be accommodated based on Segway availability. However, that likely means you'll walk up and be told you can come back tomorrow for your reserved tour. Especially in the summer, tours tend to fill up fast.
The Chicago Sun-Times reported on the tours in recent years, saying that Chicago by Segway is a way to learn more about the city's history and experience parts of Chi-Town that most guided tours don't have time to cover on foot.
The Sun-Times mentioned that this particular Segway tour went through the flower field on Northerly Island, which tends to be ignored by most visitors and even locals. It's clear that the Segway is the best way for first-time visitors to see everything Chicago has to offer. You never know what you'll come across!