The Best Museums To Visit In Amsterdam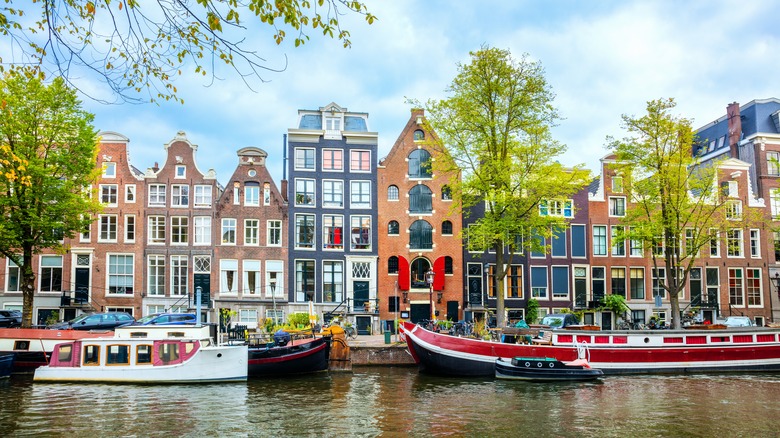 Taiga/Shutterstock
No European bucket list would be complete without Amsterdam. While spring may be the best time of the year to visit the Netherlands as tulips are in full bloom, there's plenty to see, do, and eat all year long. From delicious restaurants to the infamous Red Light District, the picture-perfect canals, and moving WWII history, Amsterdam caters to all ages and interests and is perfect for solo travelers as well as visitors on a budget. But really, there's something here for everyone.
Amidst the city's rich touristic offering is an unrivaled series of museums spanning from the visual arts to science and technology to living history. In fact, there are so many great institutions to choose from that narrowing them down to fit into your itinerary may soon prove overwhelming. That's what we're here for. These are the very best museums to visit in Amsterdam, all easily accessible by bike or by foot and sure to help make your visit an unforgettable one.
Rijksmuseum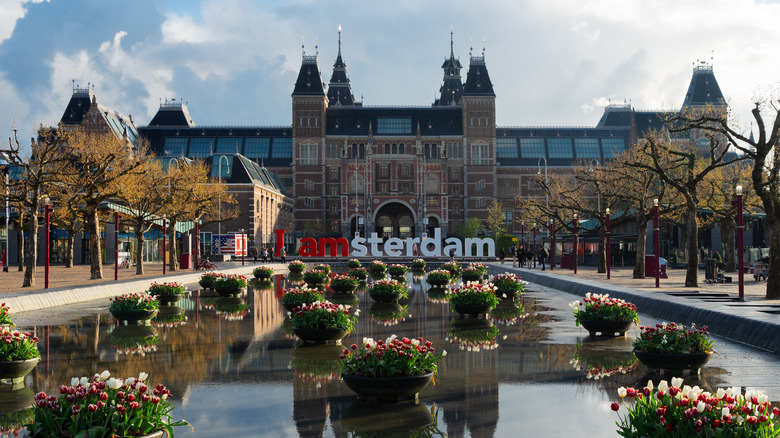 Neirfy/Shutterstock
Amsterdam is home to so many world-class museums, it can be difficult to narrow down which ones to visit. However, regardless of your preferred art style, there's no question that the Rijksmuseum is in a league of its own. It calls itself the home of the Dutch masters and it's not kidding. With a collection that traces 800 years of the country's history, the Rijksmuseum brings together an impressive number of important works from some of the world's greatest artists — think Rembrandt's "The Night Watch"  and Vermeer's "The Milkmaid."
Its collection goes far beyond paintings, though. The museum is home to over 8,000 varied pieces ranging from the 17th century to the 20th, including furnishings, metalwork, ceramics, and ship models. What's more, the building itself is stunning. There's the Great Hall with its stained glass windows, the exquisite Gallery of Honour which brings you face-to-face with "The Night Watch," and the Cuypers Library packed with historical tomes which you can actually browse. If you're tight on time or just want to ensure you don't miss anything important, you can take "The Best of the Rijksmuseum" guided tour for just €5. And if hunger strikes, the museum's Michelin-starred restaurant, RIJKS, is sure to satisfy.
Van Gogh Museum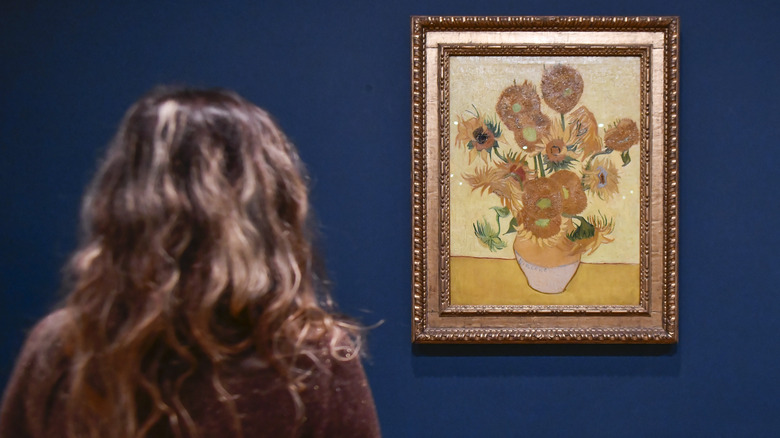 Stefano Guidi/Getty Images
Conveniently located in Museum Square, right next to other must-visit institutions like the Rijksmuseum, the Van Gogh Museum consists of a main building and a special exhibition wing. The first is a four-story shrine to the famed Dutch artist in which each floor is dedicated to a different period in his life. Here, you'll see just how many styles he dabbled in as you explore works that are grouped together thematically by subject matter, like "Painter of Peasant Life," "Friends," "Dreaming of Japan," and "Self-Portraits." Of course, there are world-renowned masterpieces like "Sunflowers" and "The Bedroom," but there are also plenty of works you've likely never encountered before. Not to mention that, in addition to paintings and drawings, you'll be able to see some of Van Gogh's personal effects, like his palette.
What's more, the museum also celebrates Van Gogh's contemporaries, like Henri de Toulouse-Lautrec and Paul Gauguin, and the museum showcases how much he both inspired and was influenced by them. Once you've finished with the permanent exhibition, you can head across the atrium to the second building which hosts A-class temporary exhibits, like the recent "Golden Boy Gustav Klimt" and "Choosing Vincent. Portrait of a Family History." You can also pop in for a snack or drink at the museum's cafe, Le Tambourin.
Anne Frank House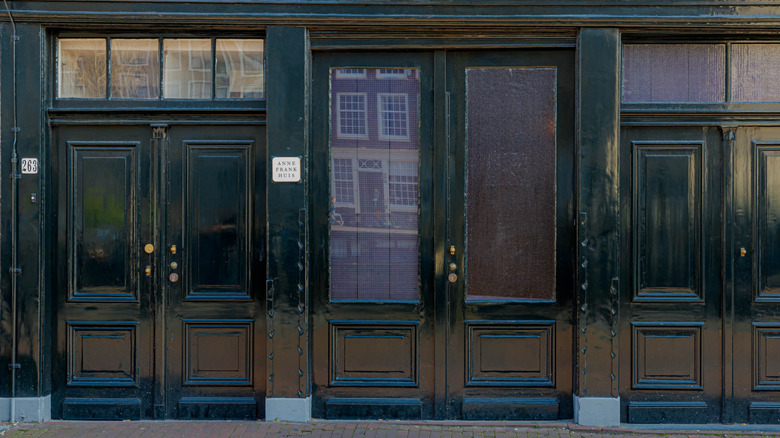 Wut_Moppie/Shutterstock
Walking into the Anne Frank House is like walking into a piece of history. The mood is somber, the past is palpable, and the visit is one you won't soon forget. Located on the Prinsengracht canal, this is the very home where Anne Frank hid from the Nazis during World War II. It's also where she penned the diary that would go on to become a bestselling book. Anne and her family spent two years sheltered in a secret annex entered by a revolving bookcase that remains untouched to this day. Inside, you will see the tight quarters that eight people were forced to call home, including cramped bedrooms, a makeshift living room, kitchen, and bathroom.
After the war, the property fell into disrepair and was nearly demolished, but a group of wealthy citizens saved it in 1957. It then opened as a museum and a place for remembrance and learning in 1960. Today, few original artifacts remain, but you can see some personal objects, like the photos Anne pasted onto her bedroom walls, the original diary she was gifted on her 13th birthday, and a number of her handwritten pages. If you're wondering why the annex was left empty during restoration, it was Anne's father, Otto Frank, who requested it. "They took everything out during the war and I want to keep it that way," he explained.
Tip: Thanks to Google Arts & Culture, you can see what the annex would have looked like furnished, but we suggest doing this after your visit.
Stedelijk Museum Amsterdam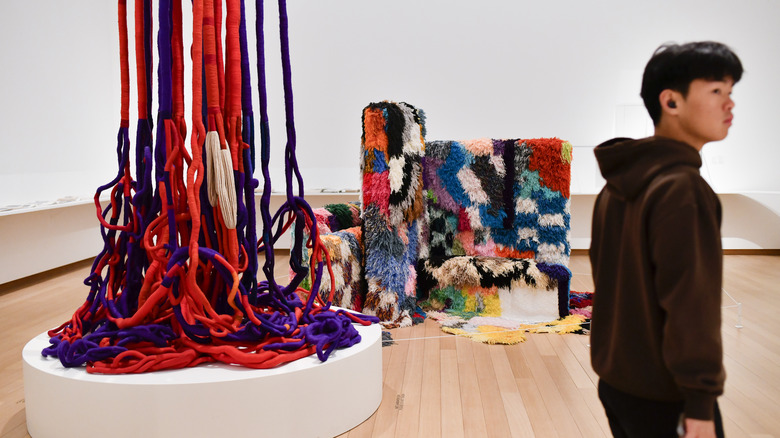 Stefano Guidi/Getty Images
If you're wanting to step away from the old masters (at least for a brief moment) and explore pieces from the present, then Stedelijk Museum Amsterdam's varied collection of modern and contemporary art is for you. The museum boasts an impressive design collection and, all in all, is home to some 100,000 works. There are drawings, prints, photographs, furniture, clothing, jewelry, and more from a wide-ranging series of artists like Steve McQueen, Max Ernst, and Andy Warhol. If that sounds slightly overwhelming, we recommend starting with the Essentials Tour, which is free with museum entry and will take you around the space to see all of the biggest must-sees, including art from Yayoi Kusama, Piet Mondriaan, and Jeff Koons.
Stedelijk's ongoing three-part exhibition dedicated to art and design from three different eras is also a must. It showcases highlights from 1880 to 1950 in an exhibit called "Yesterday Today," then jumps to highlight the 1950s to 1980s in "Everyday, Someday and Other Stories," and finishes off looking at 1980 to current day in "Tomorrow is a Different Day."
Museum Van Loon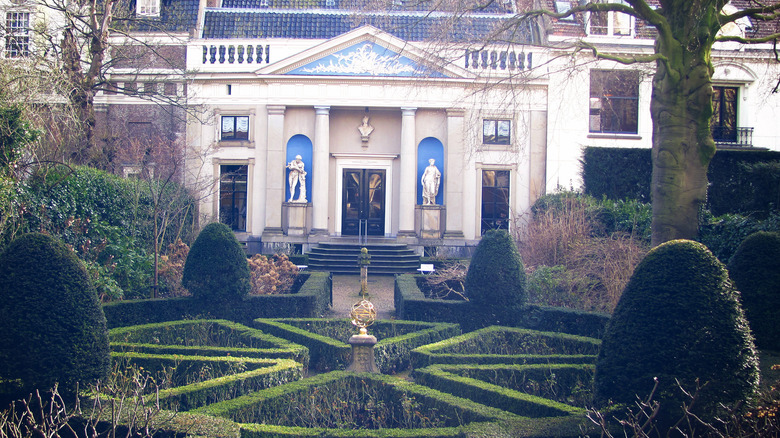 Magda-Lena/Shutterstock
One of the more unique museums in Amsterdam, Museum Van Loon is actually made up of a grandiose home, a beautiful garden, a historic coach house, and a stunning art collection. Originally built in 1672 by Rembrandt student and painter Ferdinand Bol, this opulent canal house appears to be frozen in time. It was purchased by the Van Loon family in 1884 and today, their incredible collection of furniture, art, porcelain, and more continues to fill the space. As soon as you step inside, you'll get a sense of the spectacular life such a wealthy merchant family was afforded. The Van Loon dynasty began in 1602 with Willem van Loon, who helped found the Dutch East India Company. His descendants went on to hold roles in government and at the royal court and you're sure to be wowed as you wander through their former home. Uniquely, you'll also get to see the flip side of mansion life when you visit the basement where the kitchen and pantry are located, offering a glimpse into the everyday life of the staff.
Your visit continues through the coach house, which also boasts the family's personal effects, and the tranquil garden, which is the perfect place to enjoy a slice of apple pie from the cafe. Tip: Each August the museum hosts live opera in the canal garden -– an unmissable event!
Jewish Museum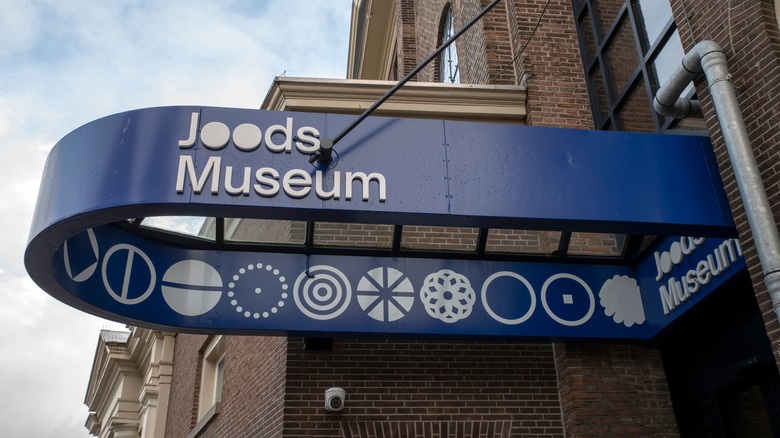 Dutchmen Photography/Shutterstock
Located in the heart of Amsterdam, the Jewish Cultural Quarter is dedicated to preserving and sharing Jewish history and traditions within the city. It consists of the Jewish Museum, Jewish Museum junior, Portuguese Synagogue (which also houses the world's oldest Jewish library), Hollandsche Schouwburg or Dutch Theater (which was used by the Nazis as a detention center during World War II), and the National Holocaust Museum. A single ticket grants you entry to all five sites and is valid for an entire month.
However, if your schedule doesn't permit you to visit each one, we recommend prioritizing the Jewish Museum, which also houses the Jewish Museum junior. Here, visitors of all ages can learn about the history of Jews in the Netherlands through art, ceremonial objects, historical artifacts, and films. Through a vast collection of over 13,000 pieces, the museum also shines a spotlight on Jewish faith and traditions. For families visiting with children, the Jewish Museum junior is a must. It's set up like a traditional Jewish family home and aims to make learning fun, with hands-on exhibits that allow kids to enjoy interactive activities in the imitation kitchen, music room, and study.
Tip: The Hollandsche Schouwburg and National Holocaust Museum are closed for renovation until early 2024.
Hermitage Amsterdam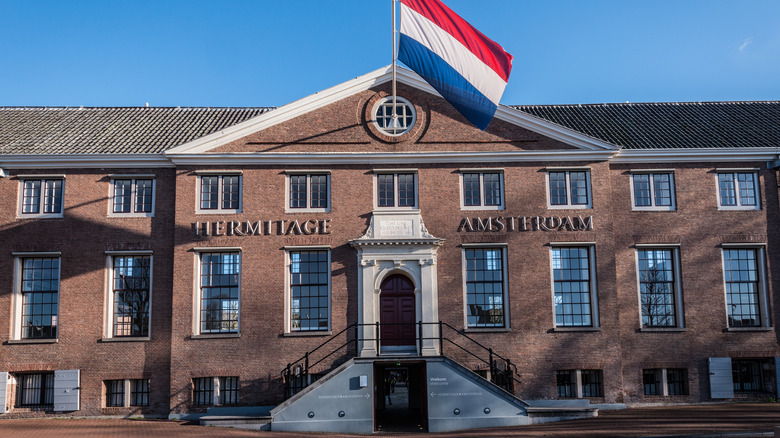 timsimages.uk/Shutterstock
Hermitage Amsterdam was forced to undergo some major changes and refocus its entire mission in 2022. Located on the banks of the Amstel river, the museum first opened its doors in 2009 as a major outpost of Russia's State Hermitage Museum and made a name for itself by showcasing a rotating collection of works from the Saint Petersburg institution's collection. However, following the invasion of Ukraine, Hermitage Amsterdam cut all ties with the State Hermitage Museum, but because it was entirely privately funded, it had to get creative.
Initially, a number of Dutch museums stepped in to help organize a five-part exhibition featuring some of their most iconic works, like Rijksmuseum's "The Milkmaid," but now, Hermitage Amsterdam is slowly finding its own way. In addition to putting on impressive temporary exhibits, like 2023's "Rembrandt & His Contemporaries," it's also showcasing modern day artists, working with guest curators, and has become the temporary home of the Amsterdam Museum. From now through 2025, guests will get to explore the museum within a museum -– more on that below.
Amsterdam Museum
Once you've experienced this beautiful city in person, you can step back in time and learn all about its history, as well as what Amsterdam is about today, at the Amsterdam Museum. Through a varied collection of 100,000 objects that include everything from paintings to photographs, furniture, textiles, and even the wedding rings used in the world's first same-sex marriage, visitors get to experience Amsterdam's past and present and a glimpse into its future. Currently, the museum's original home is undergoing renovation through 2025, but the museum has taken over an entire wing at Hermitage Amsterdam, as well as the Willet-Holthuysen House, a double mansion from the late 19th century that's filled with opulent period rooms.
What really sets Amsterdam Museum apart, though, is its mission to tell the city's story from a variety of viewpoints without skimming over any uncomfortable portions of its past. For example, exhibits such as "Colonial Stories" aim to spark conversation about the Netherlands' colonial past and how it's represented in the museum's collection. The museum is also devoted to promoting inclusion and its Queer Gaze Tour is a unique opportunity to explore Amsterdam's LGBTIA+ history through its art.
NEMO Science Museum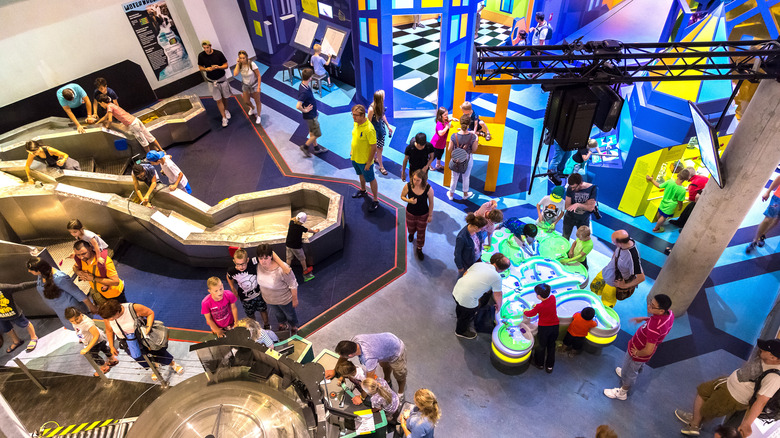 Sergii Figurnyi/Shutterstock
If you find yourself needing a break from the overload of visual arts, the NEMO Science Museum is a great palate cleanser. Filled with hands-on exhibits and experiments, each of the museum's five floors is dedicated to a different aspect of science and technology. Visitors of all ages can learn what's behind the tech we use every day, discover some of the biggest secrets of the cosmos, uncover the inner workings of our own bodies, and more. Just some of the fun activities include building your own dam, trying to capture energy from light, wind, and water, and using an aging machine to see what you'll look like in 20 years.
However, perhaps the most impressive portion of the museum is its Energetica collection, which contains 19,500 artifacts that tell the complete story of energy. All aspects, from its creation to the household objects it powers, are explored, shining a spotlight on something we rely on so greatly but often take for granted. The space includes a myriad of working tech spanning decades (remember the Walkman?!) and older visitors are sure to be transported back to their youth as younger guests scratch their heads and wonder, 'What the heck is that?!'
Diamond Museum Amsterdam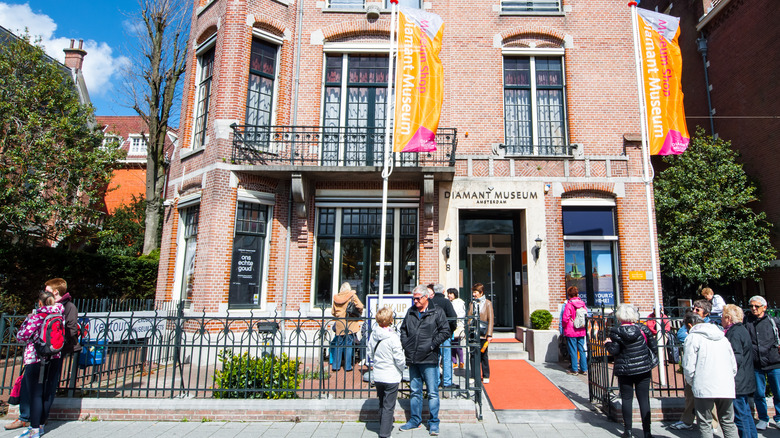 lornet/Shutterstock
Antwerp, Belgium may be the diamond capital of the world nowadays, but from the 1600s up until the 1940s, it was actually Amsterdam that enjoyed the title of The City of Diamonds. The Diamond Museum Amsterdam honors that history and is the only museum in Europe to be totally dedicated to celebrating the hardest mineral on earth. Inside you'll learn about the city's connection to diamonds, discover how diamonds are made, found, and turned into jewelry, and get to see replicas of some of the most famous stones in history, like the Cullinan Diamond, the largest diamond ever found, which is now part of the British Crown Jewels. There's also a collection of (replica) royal crowns from around the world, as well as a number of seriously unusual pieces, including a diamond-encrusted tennis racket and a gorilla skull that's been fully bedazzled with 17,000 stones.
Conveniently located in Museum Square, Diamond Museum Amsterdam was founded by Ben Meier, the owner of Royal Coster Diamonds, the oldest diamond polishing factory in the world. The factory is actually located next door to the museum and offers free guided tours, which allow visitors to see first-hand how craftsmen cut, work, and polish rough stones.
Amsterdam Tulip Museum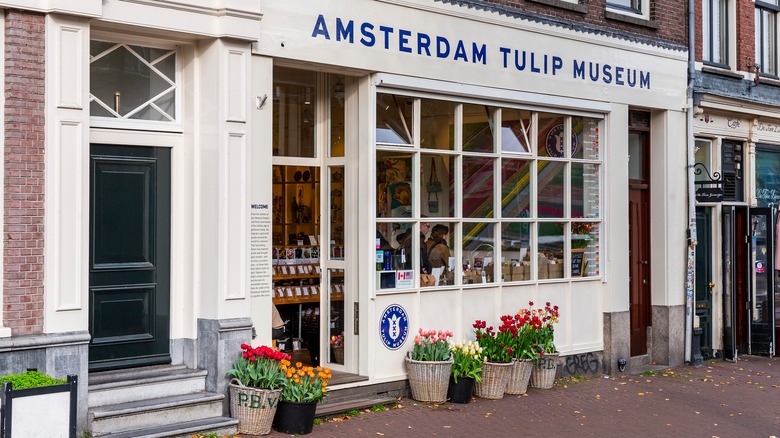 ColorMaker/Shutterstock
Amsterdam is synonymous with tulips and countless visitors flock to the Netherlands each year to see the spectacular flowers in full bloom during tulip season, which runs from mid-April through the first week of May. Whether you're able to visit during this time or not, you can learn all about the famed Dutch flower at the Amsterdam Tulip Museum. The country's most famous flower is given pride of place in this small but sweet museum that's spread across six rooms and takes just half an hour to visit (or a bit longer if you want to watch all of the films). 
Through photographs, videos, interactive displays, and historical artifacts, it offers a comprehensive look at its history and tells the tulip's story from how it first arrived in Holland to the start of Tulipmania in the 1500s. It then traces its eventual decline while also highlighting the different types of tulips and their breeding process. Once you're done wandering around the space, you can pick up a truly special souvenir at the gift shop: your very own tulip bulbs to take home and grow!
Museums you'll only find in Amsterdam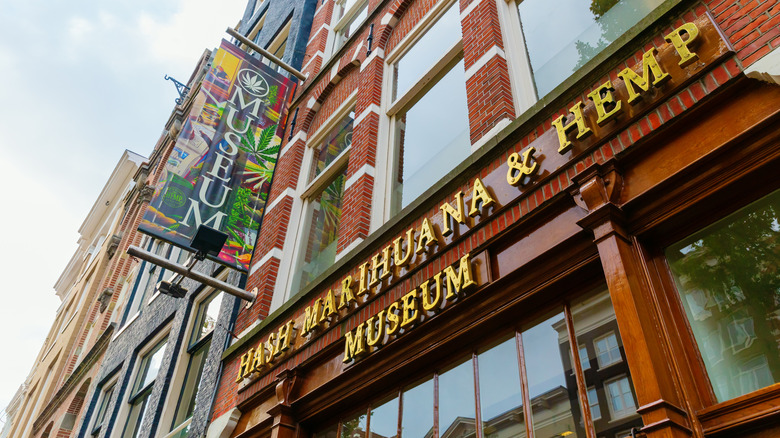 Christian Mueller/Shutterstock
If you want to get a sense of what makes this city truly one-of-a-kind, then carve out some time to visit two of the most unusual museums you'll ever set foot in: Sexmuseum Amsterdam and Hash Marihuana & Hemp Museum.
The Sexmuseum meanders through three homes and aims to be both fun and educational as it displays everything from paintings to historical objects and traces the centuries-long history of eroticism. The wide-ranging collection includes pieces as varied as a 16th-century chastity belt, an 18th-century instruction book from China, and a nude statue of Marilyn Monroe. As for the Hash Marihuana & Hemp Museum, it's located inside a canal house and brings together objects from around the world to paint a comprehensive picture of how the plant and its uses have evolved through time. Learn about the medical cannabis boom of the 1800s, see anti-marijuana propaganda from the 1930s, and discover all the products hemp has been used to make, from textiles to plastic and more. There's also global paraphernalia, as well as unexpected paintings, prints, and drawings, including works by 17th-century Dutch artists that clearly depict smoking. When in Amsterdam!