Solo Travel: Your Guide To Exploring Amsterdam Alone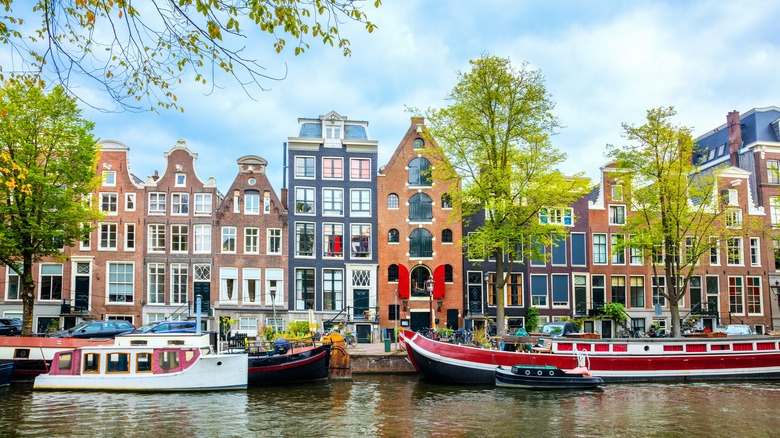 Taiga/Shutterstock
Amsterdam is a lively destination with a reputation that precedes itself. But this Dutch capital city in the Netherlands is so much more than its expansive airport and plethora of special coffee shops. For any travelers headed to Amsterdam, many wonders await in the Venice of the North. And the best part is you do not need a travel companion in tow to truly enjoy this amazing city. 
Traveling alone in Amsterdam is practically effortless and is the perfect first-time solo getaway. In general, this bustling European metropolis is easy to access from anywhere in the world, and globetrotters can explore this great place in roughly five days or less. Plus, with the abundance of activities, world-renowned landmarks, must-see attractions, easy-to-use public transportation, welcoming locals, and more, solo wanderers are truly in for a real treat here. So to ensure you enjoy your solo adventure to the fullest, here's a helpful guide for exploring Amsterdam alone for the first time.
Why Amsterdam is a great first-time solo destination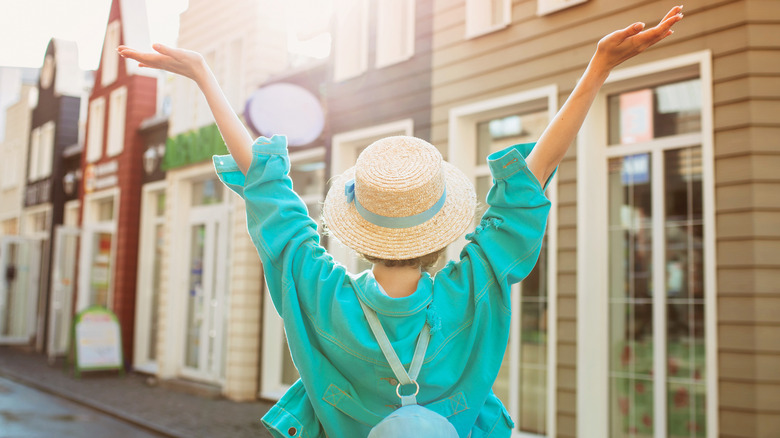 Kateryna_mostova/Getty Images
As solo travel continues to grow in popularity, more and more places are adjusting and willing to accommodate a party of one. But the city of Amsterdam has long since been a favorite for solo wanderers. Not only is the Venice of the North one of the most laid-back cities in Europe, but this city is also one of the safest European destinations and offers a wonderful selection of solo traveler accommodations.
Since Amsterdam's crime rate is relatively low, solo wanderers do not need to be overly on guard. That said, standard solo travel safety rules always apply — no matter your destination. So, be aware of your surroundings, watch your belongings, trust your gut, and keep loved ones apprised of your whereabouts. All travelers should also be mindful of the rise in pickpocketing across Europe. In ADAM (short for Amsterdam), particularly in the Red Light District is where most instances of pickpocketing occur since many tourists are not paying attention to their surroundings. Outside of this specific area, Amsterdam is a relatively safe place to visit for seasoned and first-time solo travelers. This is especially true since English is widely spoken here, navigating this city is very straightforward (bike- and pedestrian-friendly), and there is an abundance of tourist activities.
Cruise the canals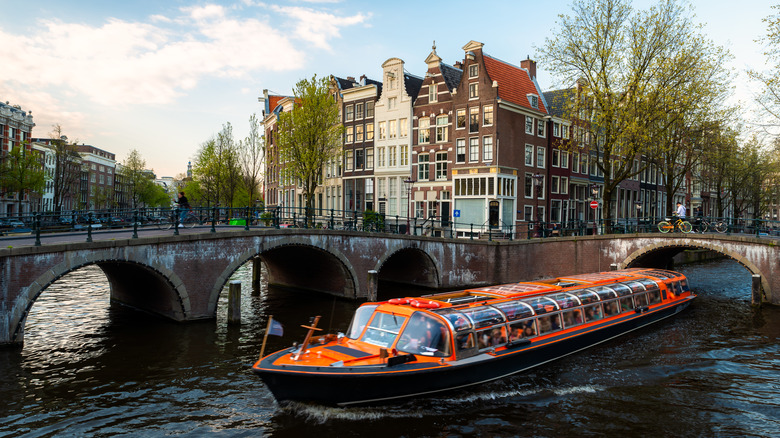 Ake1150sb/Getty Images
The canals in Amsterdam are literal show-stoppers all year round. So one of the very first things solo explorers should do when visiting this incredible city is check out the 60 miles of canals. Of course, you can walk along the cobblestone streets that line these beautiful channels or bike on by, but you will likely do that anyway throughout your trip. So, why not get a different perspective and embrace the relaxing opportunity that comes with booking a canal cruise here?
While cruising down these serene 400-year-old waterways, first-time solo travelers can get a feel of this city no matter the time of day. Here, cruise-goers can float by beautiful rustic bridges (many are adorned with lights), marvel at the city's architecture, take in all the vibrant homes, and learn a wealth of useful information over the course of 60 minutes or more. Visitors can choose from countless canal tours — standard group, small group, private, open boat, covered cruises, day, evening, or sunset. There are also dinner, brunch, smoking, and guided wine with Dutch cheese canal tours — just to name a few. That said, regardless of which option you choose, do yourself a favor and book your canal voyage in advance to avoid the crowds.
Marvel at fine art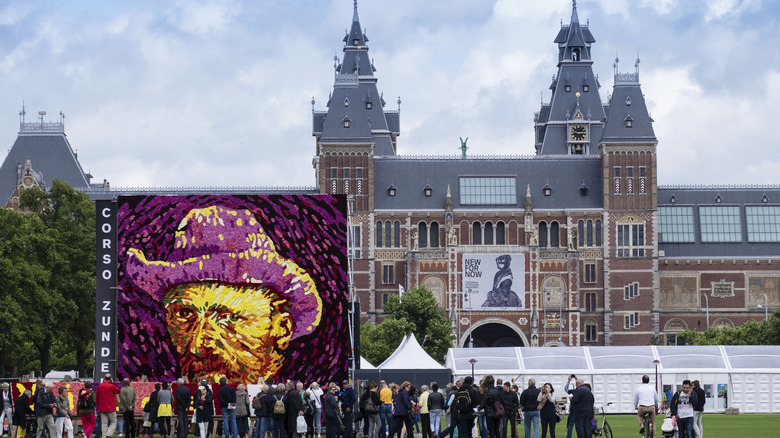 Michel Porro/Getty Images
To start, there are more than 75 museums located in the city of Amsterdam, so solo explorers who love all things art-related could easily spend several weeks visiting all the museums after their thrilling canal cruise. But, chances are you are only in town for a few days and likely do not want to spend all your time indoors or appreciating fine art. Still, it is highly recommended that solo travelers at least check off the popular and must-see art houses.
Legendary museums like the Van Gogh Museum, the Rijksmuseum, and Anne Frank's House should absolutely be explored. Other phenomenal art houses in the Venice of the North that are great for an afternoon of leisure and marveling at fine art include the Stedelijk Museum, the Hermitage Museum, the Rembrandt House Museum, the Baantjer Museum, and the Photography Museum FOAM. Plus, there is a wealth of history, nature, technology, lifestyle-focused, and interactive galleries located here. This city is also home to some of the most incredible street art and outdoor art exhibitions — for anyone who wants to delve deeper into the creative side of Amsterdam while out and about.
See popular filming locations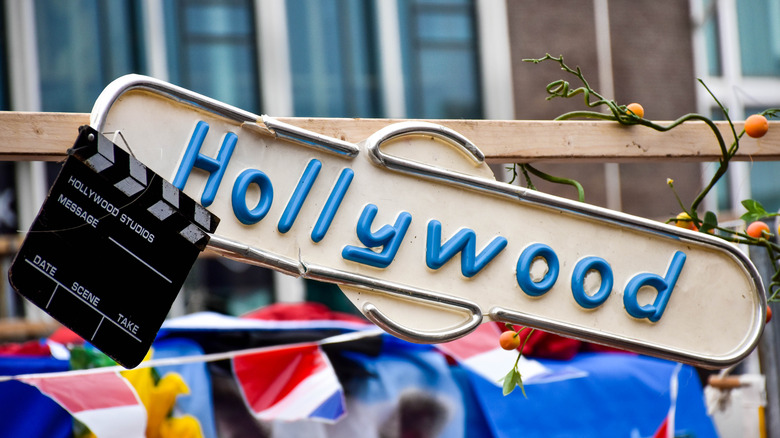 Aleksa Georg/Shutterstock
For solo wanderers who prefer other forms of creative expression, such as television shows and film, Amsterdam does not disappoint on this front either. This city has been the backdrop for countless movies and television series, and chances are some of your favorites have even been filmed here. So, why not delight in your movies and shows on a film and television tour?
Popular films like "The Fault in Our Stars" and "Diamonds Are Forever" (part of the James Bond series) have more than a few locations worth checking out (per Erasmusu). Various walking tours are available that touch upon Amsterdam being the setting for these and other films. What's more, since the movie The "Fault in Our Stars" was based on a book that was set in the capital city of the Netherlands, solo wanderers may also be interested in the handful of other critically-acclaimed books and fantastic pieces of literature that have ties to Amsterdam — many of which have their own bookable tours.
Bike About ADAM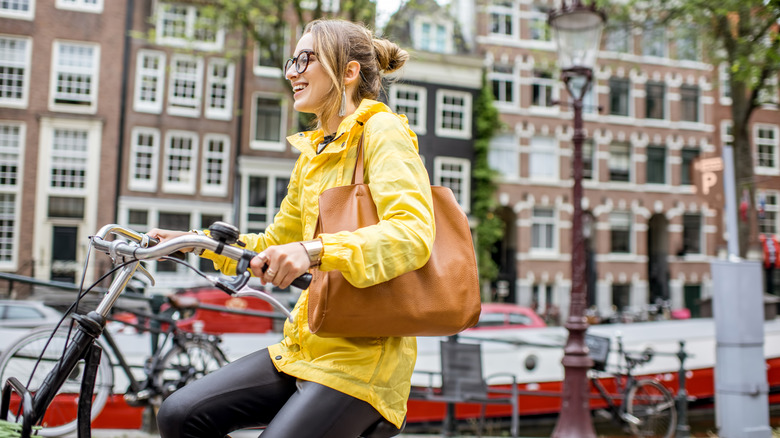 Rosshelen/Getty Images
When it comes to getting around the Venice of the North, off water, most people opt to bike or walk. Though Amsterdam's public transportation is exceptional, there is no denying that ADAM was meant for cyclists. Known as the world's bicycle capital, biking is simply a way of life here. Thanks to a transportation overhaul in the 1970s — in an effort to make the city center safer and more liveable — more than 320 miles of cycle lanes and paths were created.
Traffic rules also became bike-friendly, making ADAM the safest place to cycle around. So solo explorers really have no reason not to get out there, bike about for a spell, and enjoy one of the most authentic, affordable, and fun ways to see the city. Just remember to pay attention to signs, know where you are headed, use hand signs on pathways, know the right of way, and make room for others when cycling. Also, map it out beforehand with the I amsterdam City Card app – it'll be very helpful. Solo wanderers should also remember to use their bike bells (when necessary) and turn on their bike lights at night. And if you get off to a rocky start with cycle lane etiquette, there is no need to panic — within an hour or so, cycling about Amsterdam will feel just like, well, riding a bike.
Go beyond the city center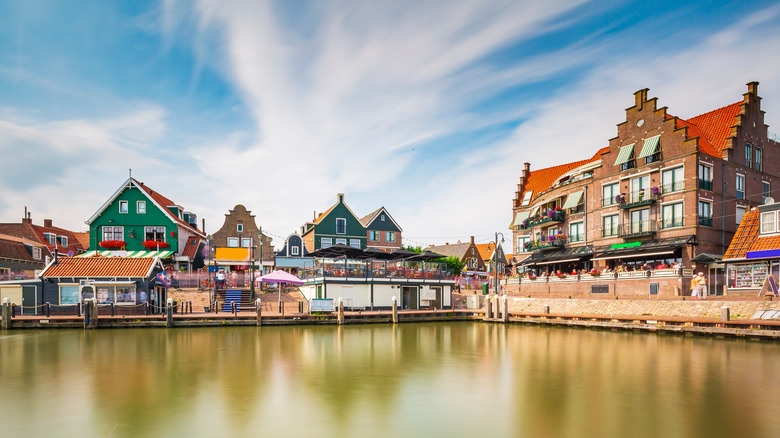 SanderMeertinsPhotography/Shutterstock
Whether via bike, tram, bus, boat, train, or on foot, solo wanderers should occasionally wander away from the city center. Of course, the allure of Amsterdam's core area is undeniable and absolutely worth a tour or two. But you came to explore this great metropolis in all its glory, right? Well, just beyond the touristy spots, incredible points of interest, Dam Square, and the Red Light District, the real Amsterdam beckons the curious.
So solo travelers should make it a point to venture out beyond these sections of the city while reveling in their vacation for one. In fact, a few hidden gems located in the beyond include De Hallen (street food market), an array of delicious and picture-perfect brunch places, the quirky museums (Dutch Resistance Museum, Molen Van Slote& Kuiperiju Musesum, and more), and LAB 11, which was a former science research facility now transformed into a lovely indie cinema. But that's not all — also, outside the city center, there is an abundance of eclectic, fun, and fascinating neighborhoods ready to be explored, like De Pijp, Oud-Audi, and De Plantage, for instance.
Take yourself on a coffee date in Jordaan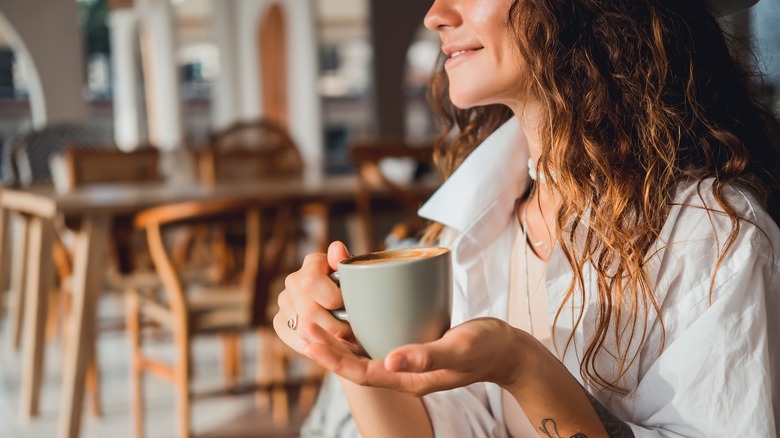 sergey causelove/Shutterstock
Speaking of beautiful and interesting neighborhoods in ADAM, Jordaan is another great area that deserves solo wanderers' attention. This quintessential Dutch district is known for its picturesque homes, charming boutiques, divine eateries, and koffiehuis (or just café) establishments. Visitors can enjoy the view and a nice cup of real coffee here. And even though the other coffeehouses (cannabis stores) are not too far away, they are often the last place one would go for actual coffee.
Thus, solo travelers looking for a fresh cup of espresso, hot tea, or a delightful cappuccino with something tasty to eat should head to a koffiehuis. Famous cafés in this neighborhood include Moods Coffee Corner, Pluk, Café De Blaffende Vis, and Winkel 43. While savoring your caffeinated beverage, don't be afraid to catch up with friends back home, get some work done, read a book, journal, edit your solo vacation photos, listen to music, or get in a good people-watching session. Solo explorers can also meet up with new friends as several travel groups, like the Amsterdam Girls Saturday Afternoon Coffee Group, were made for moments like these. So, take yourself on a coffee date in Jordaan and enjoy all the possibilities.
Stop and smell the roses, which are tulips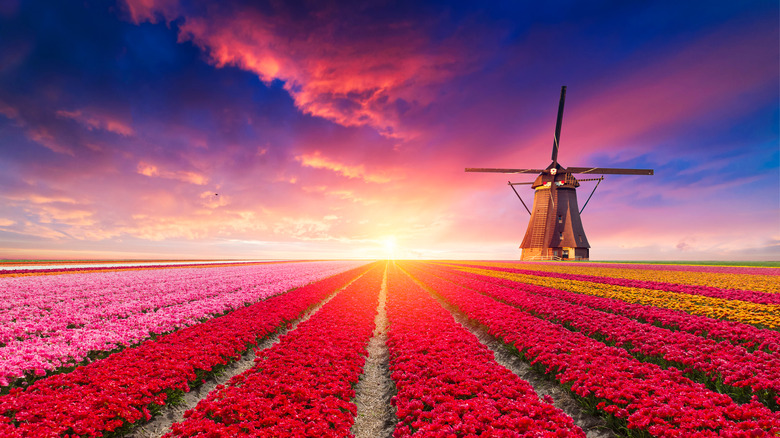 Kishivan/Shutterstock
Amsterdam has a wealth of attractions and landmarks that everyone should explore, but while you are there, don't forget to stop and smell the roses or the tulips. This capital city is brimming with stunning foliage, several lush garden spaces, abundant flower markets, various seasonal festivals, and an endless sea of vibrant fields of tulips. Here, solo explorers can opt to check out these spaces or events via a guided tour or on their own.
This beautiful destination is also home to the world's only floating flower market — Bloemenmarkt. So after basking in the parks, delighting in many of the tulip-filled areas, and enjoying a flower festival or two, stop by Bloemenmarkt. That said, if you are solo wandering in ADAM during the off-season or the colder months, you can still peruse the flower markets, as they are open all year round. Solo visitors can also spend some time in any of the arboretums regardless of the season — a few notable indoor garden spaces include ARTIS, Palm Greenhouse, and the Botanical Gardens Pinetum Blijdenstein.
Relax in the Hortus Botanicus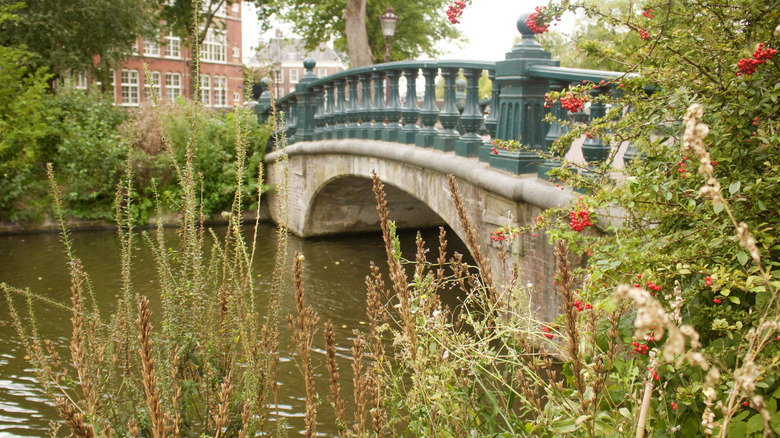 Jananz/Shutterstock
Yet another lush arboretum and must-see for solo explorers is the Hortus Botanicus. Located in the Plantage District of the city, this lovely botanical garden is legendary. Not only is the garden overflowing with a famous collection of more than 4,000 different plants and trees, but it is also ripe with history. For instance, Hortus Botanicus dates back to 1638 (some sections date back even further), making it the world's oldest botanical garden, and that's just the tip of the historical iceberg here.
Though this is largely an outdoor green space, it is still a wonderful spot in the city to kick back and relax. Here, visitors can enjoy the fresh air, overall quiet atmosphere, and appreciate all the foliage. Solo nature enthusiasts can also enjoy the various climate-controlled greenhouses on chilly days. In addition to ample outdoor space and several greenhouses, Hortus Botanicus has all the makings of a serene afternoon, including a quaint indoor/outdoor café, guided tours (which are popular among ADAM solo travelers), and a fun little gift shop. So you should add this one to your itinerary as it is the perfect place to take a load off or learn more about, especially if you have some unexpected downtime on your solo adventure.
Book a walking, Segway, or kayaking tour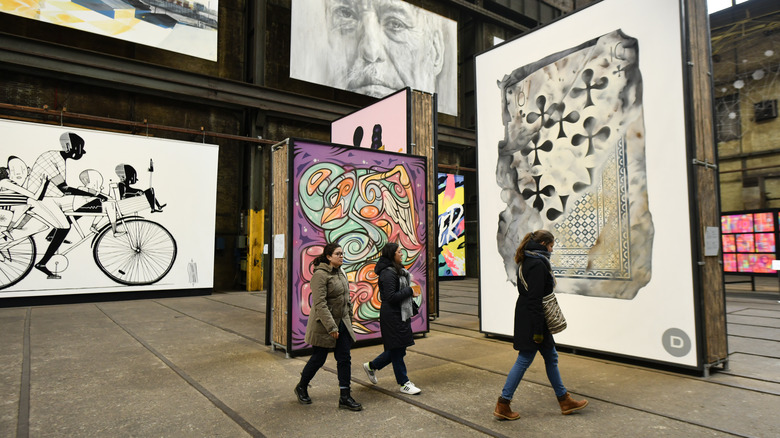 Stefano Guidi/Getty Images
One of the best ways to get the lay of the land in any destination usually involves booking some type of on-foot city exploration tour. Solo travelers here, however, have been floating down the canals, biking about, and mapping out their next points of interest, so booking a walking, Segway, or kayaking tour is purely for entertainment purposes. Whether you are looking for something thrilling, educational, or fascinating, opting for additional guided experiences in the Venice of the North is a must for solo explorers.
Of course, more than a few tour options are available in Amsterdam. So many, in fact, that it is easy to fall victim to decision paralysis — if you have difficulty choosing, then consider a history or culture walkabout. Options like the private Jewish culture & Jewish Quarter walking tour, the small group Street Art & Graffiti walking tour, and the Secret Food walking tour are all excellent choices. Alternatively, visitors can take city, neighborhood, garden, and food Segway tours. Even fun and unique excursions are available, such as the guided Canal Kayaking tour — so get ready to get out there and enjoy all this city offers.
Take a class or workshop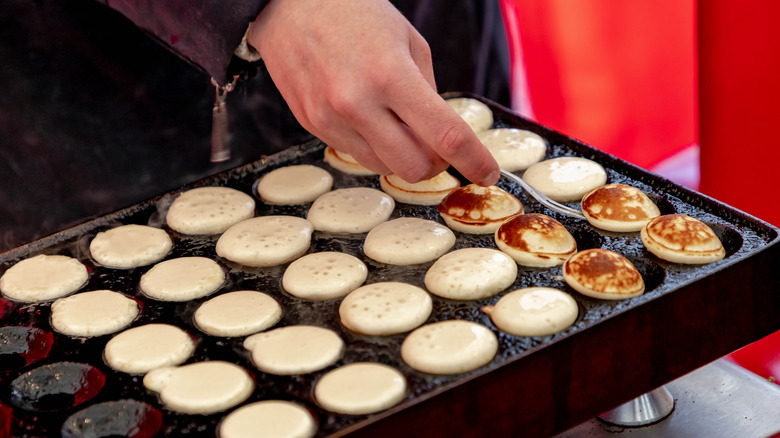 Wut_Moppie/Shutterstock
Besides a wealth of bookable tours, Amsterdam also offers visitors classes and workshops. So if you are interested in this region of the world's cuisine or need a rainy-day activity that doesn't involve a museum, then take a class or workshop. You can choose delicious how-tos like the Dutch pancake-making class or the Stroopwaffle workshop. Either course will teach you how to make this city's beloved tasty treats and give you a chance to make friends with similar interests.
Other options for solo travelers who are not fond of cooking or baking on vacation are available as well. Thus, if kitchen adventures are not really your thing, you can take a painting class at the Vondelpark Atelier, the paint your own Delft Blue Tile Workshop, or sign up for a street photography workshop instead. Interested parties of one can also check out the Cocktail Workshop at the House of Bols and a botanical rum-making class if they have a passion for drink mixology or alcohol distillation.
Check out Amsterdam after dark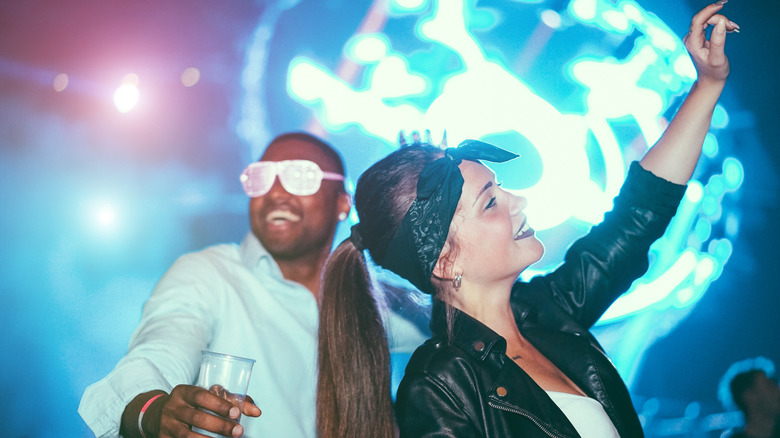 DisobeyArt/Shutterstock
Solo wanderers interested in nighttime activities in the Venice of the North definitely have some options. From night canal cruises (with light-adorned bridges), pub crawls, and evening art exhibitions to nightclubs, music venues, and the Red Light District, visitors can have a blast after dark in Amsterdam. However, it is highly recommended that you venture out with others at night if you plan to party it up in one of the well-known party capitals of Europe.
If you opt to stay at a hostel, then you can easily add to your party of one by seeing if any other guests have plans or would like to do something. You can also take advantage of solo travel groups you may have joined and meet up with others in the area. Another great option worth considering here is booking a small group tour (nightlife, food, a city at night, or pub crawls). For concerts and nighttime art exhibits, you can use your discretion and buddy up or not. That said, if you do decide to head out solo at night, be aware of your surroundings and make sure you keep an eye on your belongings and drinks as you would anywhere else.
Step outside your comfort zone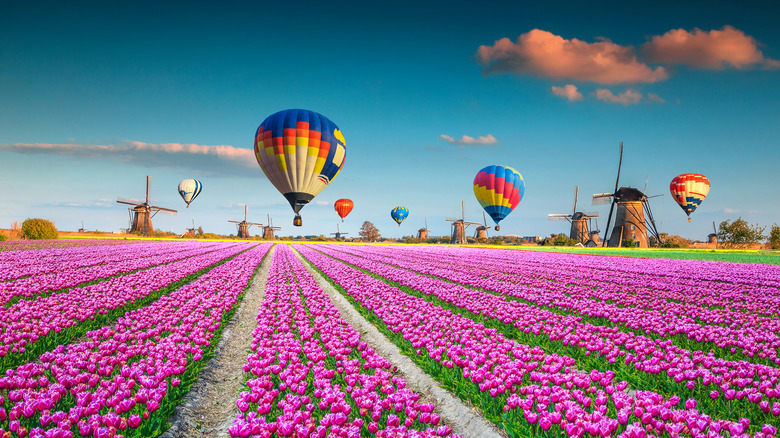 Janoka82/Getty Images
As you can see, Amsterdam is full of exciting travel experiences, especially for solo explorers. So, whether you want to immerse yourself in Dutch culture, enjoy Amsterdam to the fullest, marvel at all the surrounding beauty, or simply get in some much-needed you-time, this laidback city can accommodate. Not only is the city of Amsterdam the perfect destination for your very first solo adventure (hopefully the first of many more to come), but it is also a wonderful place for stepping outside your comfort zone.
Still, if you have been on the fence about heading to the capital city of the Netherlands, ADAM, or the Venice of the North alone, there is definitely no time like the present. This solo travel-friendly city is absolutely stunning and is truly worth exploring. So pack your bags, head to the nearest airport, find out what interests you, and enjoy.