The Most Budget-Friendly Area To Stay In When Visiting Amsterdam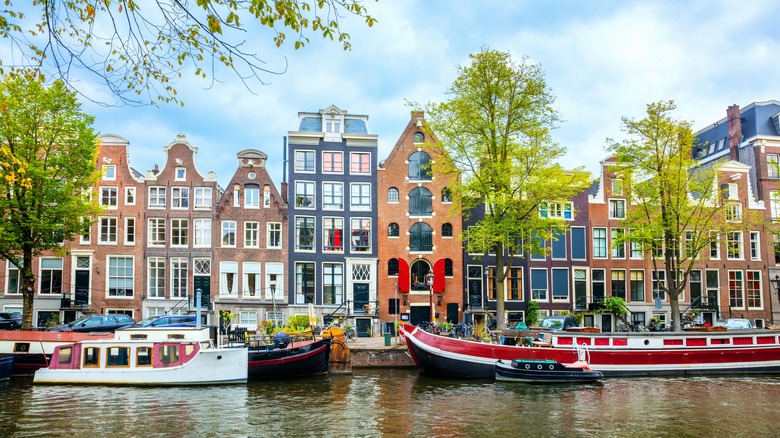 Taiga/Shutterstock
Amsterdam is a fascinating city and an ideal travel destination for people of all ages and budgets. From its picturesque canals to its historic architecture, Amsterdam is an endlessly exciting city with plenty of attractions to explore. Rich in culture, the city is home to internationally acclaimed museums, galleries, and art spaces. It's also renowned for its vibrant nightlife, with live music venues, underground bars, and rooftop restaurants located throughout the city.
Though it can often be expensive when staying in many parts of Amsterdam — there are still budget-friendly options available that allow visitors to experience all that this wonderful European capital has to offer without breaking the bank. Luckily, the best area to stay for budget-conscious travelers is not so far from Amsterdam's best attractions and is absolutely perfect for first-time visitors to the city. Nomadic Matt writes that in this area, you can find Dam Square along with all the usual travel fare, including museums, shopping, and amazing restaurants.
Centraal, Amsterdam is the best area for budget-conscious travelers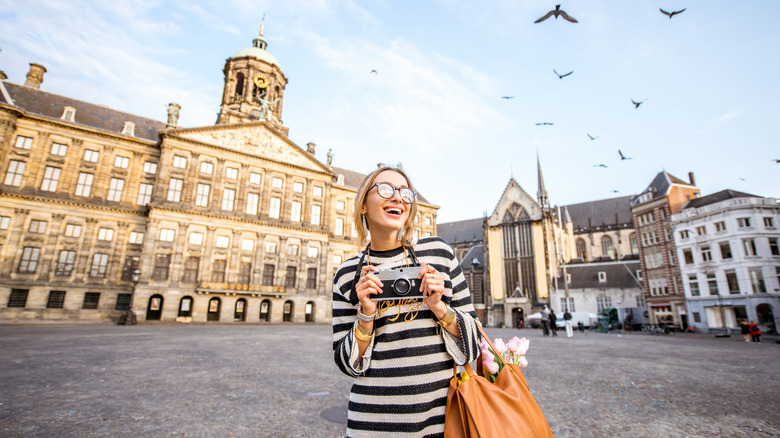 RossHelen/Shutterstock
Located in the heart of the city and close to many attractions, Centraal is the perfect budget-friendly area for travelers looking to experience all that Amsterdam has to offer. Whether you're staying at a budget hotel or hostel like The Flying Pig Downtown (as recommended by Nomadic Matt), you can be sure you won't have far to go for sightseeing saving time and money on transportation. You can find world-class museums like the Moco Museum or NEMO Science Museum, numerous galleries, lively nightlife spots, and plenty of shopping opportunities, as well as the iconic Dam Square, which is just steps away from most accommodation options.
There are also plenty of cafes, bars, and restaurants nearby where you can grab a bite. The Tour Guy recommends Vapiano's for a quick and affordable bite to eat, but if you're able to spend a bit more, you might want to consider trying The Pantry for Dutch food or Dignita Hoftuin for the vegetarians and vegans in the group. There's also Broodje Bert for, another budget Dutch eatery.
Things to do in Amsterdam on a budget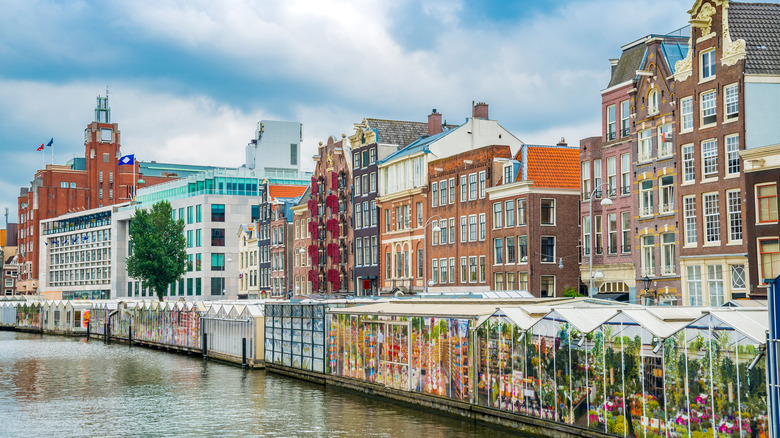 NaughtyNut/Shutterstock
There is no shortage of things to do in Amsterdam for any budget. Cheapflights recommends that travelers looking to save a few bucks should try a free walking tour or check out the Floating Flower Market, also called Bloemenmarkt. Additionally, Amsterdam Tips has a list of budget-friendly activities and suggests having a picnic in the park. With over 30 official parks scattered around the city (per Amsterdam.info), there are plenty of opportunities for outdoor activities, from walking or cycling through Vondelpark or simply sitting on a bench admiring nature's beauty in Oosterpark.
For those interested in history, you don't have to miss out on one of Amsterdam's most important sites and fun activities. Consider purchasing the I Amsterdam City Card, which ranges from €60-125 depending on how many days you think you will need it. This card not only grants you free entry to over 70 museums and attractions but also includes public transportation, a one-hour canal cruise, and bike rentals — all included in the price of the card.
If you don't think you need to go on a grand sightseeing tour on your trip to Amsterdam, make sure to prioritize the things you most want to see and budget accordingly. This will make the trip more stress-free and enjoyable as you'll know what to expect and won't have a nasty surprise waiting for you in your bank account or credit cards when you return home.