13 Best Stops To Make Along Northern Ireland's Causeway Coastal Route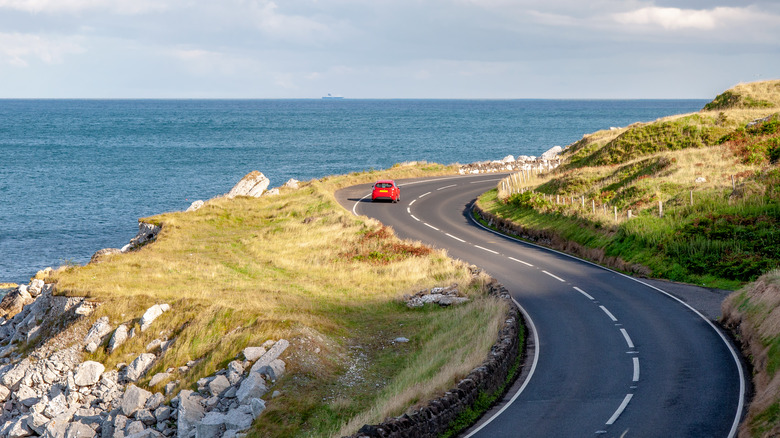 Nahlik/Shutterstock
The Northern Ireland Causeway Coastal Route is definitely the scenic way. Approximately 195 miles long, there are countless stops along this route that showcase the overall splendor of Ireland and delight travelers. Starting in Belfast City and ending in Derry, this Antrim Coast roadway is dotted with must-see attractions. Curious travelers can make this a single-day adventure (from Belfast to Londonderry) or a multi-day journey (day one — Belfast to Cushendall, and day two — Cushendall to Portrush/Derry). However you decide to approach this legendary roadway, get ready to experience Northern Ireland in a way you never imagined possible.
With stunning coastal views, phenomenal historical sites, ancient ruins, beautiful beaches, near-route lodgings, several golf courses, and other unique sights, this is truly the ideal excursion for everyone — not just history and nature lovers alike. That said, in order to enjoy all the incredible stops to the fullest, road-trippers should generally plan their northern getaway during the summer months or early fall for a less crowded road adventure. And to ensure you see the best of the best, here's a handy guide for the 13 top wonders that lie ahead.
Helpful need-to-knows before you go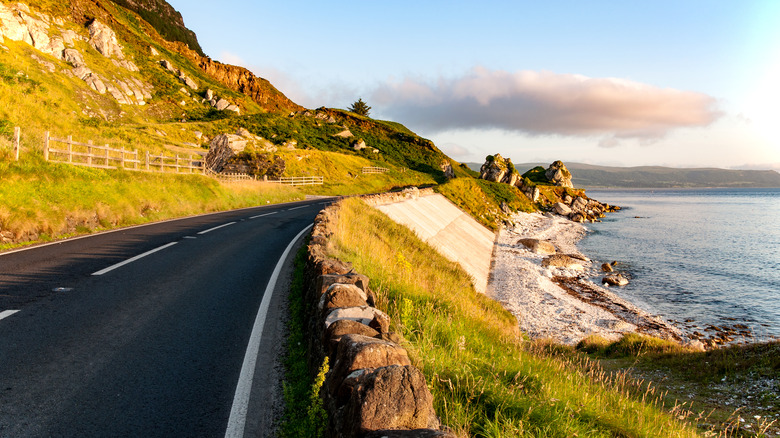 Nahlik/Shutterstock
As suggested, Northern Ireland is home to the Causeway Coastal Route and is a magnificent sight to behold. Still, this upper section of the country is typically very windy and stormy more often than not. So when setting out on your coastal adventure, don't forget to double-check the weather conditions, and pack accordingly for your multi-day journey — dress for the weather on your lengthy but lovely day trip or when out and about.
In addition to minding the forecast, travelers should thoroughly consider their intended route beforehand. There is more than one way to tackle Northern Ireland's Causeway Coastal Route, and you may not want to rent a car for whatever reason, which is fine. Even if it is as simple as not wanting to miss a second of your journey, you can remedy the issue by booking a guided tour or taking advantage of this country's great public transportation system. Thanks to this area's stellar modes of transport and wealth of tour options, visitors can set out on their own, cover the area over the course of several days, and enjoy a few side quests regardless of whether they plan to be in the driver seat or not.
Belfast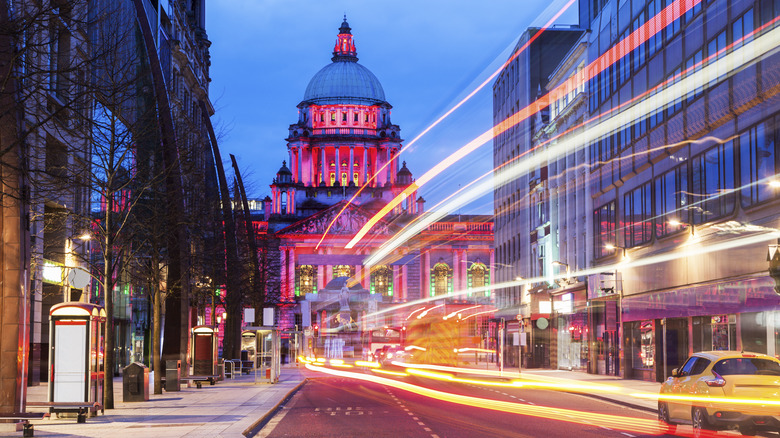 Benkrut/Getty Images
Before embarking on your scenic journey on the Causeway Coastal Route, you have an opportunity to spend some quality time in the capital city of Northern Ireland, Belfast, and you absolutely should. Even though some road-trippers may be wary since this city didn't always have the best reputation, Northern Ireland and Belfast now rank high among the safest tourist destinations. Still, there are a few things worth remembering when you are in Belfast as a tourist. For instance, travelers should know that Dublin and Belfast have two completely different vibes.
Moreover, when engaging with the locals here, visitors should keep the conversation light — avoid talk of religion, politics, or your possibly distant Irish heritage if you weren't born on the island. Also, when mingling with others, don't be surprised if strangers buy you the occasional drink, as locals are friendly — just remember to buy the next round. As long as you are mindful of these things, then there is no reason you won't enjoy yourself in this lively city. With its historic landmarks, exciting nightlife, the Titanic Building, botanic gardens, castles, museums, informative guided tours, accommodations, wonderful eateries, great shopping, and more, road-trippers should make the most of their time in Belfast before making their way through the nine Glens of Antrim, past the Giant's Causeway, and onward.
Carrickfergus Castle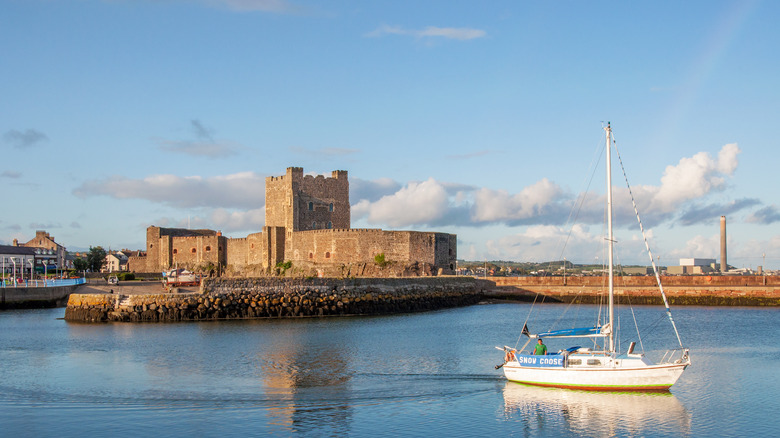 Nahlik/Shutterstock
Not too far away from Belfast, causeway travelers will come across the town of Carrickfergus, which just so happens to be one of the oldest in Ireland. However, Carrickfergus is best known for its beautifully preserved 12th-century Norman castle, which continues to stand tall despite multiple sieges throughout history and is open to the public. Here, visitors can opt to explore this stunning abode via a guided tour or on their own.
During the daytime, Carrickfergus Castle looks like something out of a fairytale, perfectly perched on this town's waterfront. So, travelers can opt to take a quick tour during business hours. Alternatively, visitors can make the most of this stop and spend some time exploring the other attractions in this town, which is highly recommended since, at night, this ancient fortress is lit up and looks absolutely dazzling, adorned with twinkling lights. No matter your decision, this fully-preserved medieval structure should be your second stop along this roadway.
The Gobbins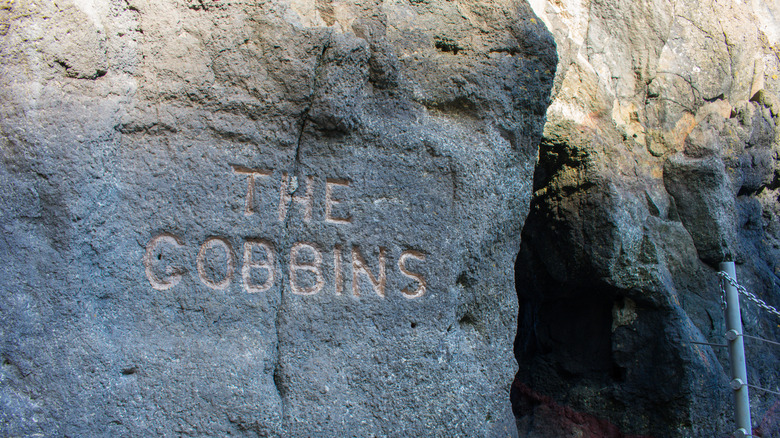 Maciek Grabowicz/Shutterstock
Next up on your tour of the coast is the marvelous cliff-face path known as The Gobbins. This particular point of interest is yet another must-see, come rain or shine. That said, walking along this path and the bridge is definitely not for the timid. But, if you are up for a three-mile walk with all the makings of a nature hike and a cave exploration, then The Gobbins are for you.
Built in the early 1900s as a tourist attraction by an Irish railway engineer, this marvelous architectural feat and path showcases the picture-perfect coastline, the dramatic rock formations, the ocean, and more. Of course, non-thrill seekers, who aren't overly excited about or interested in this moderately difficult side quest, can still enjoy the view. All in all, this hidden gem is truly one of the best-kept Causeway secrets, so it is highly recommended that you check it out.
The Dark Hedges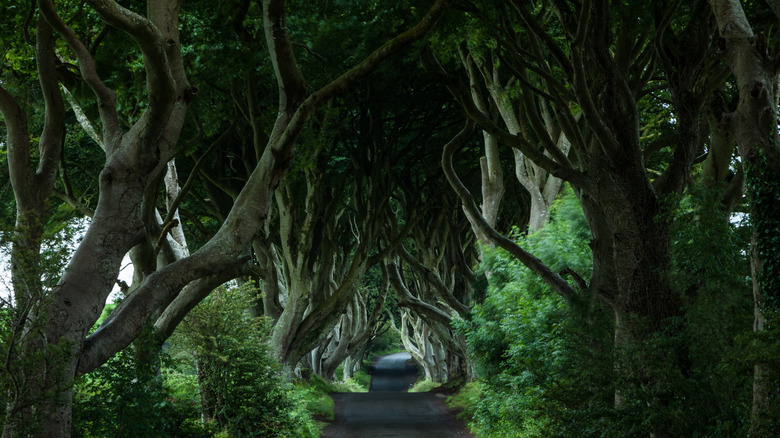 Francesco Ditria/Getty Images
Located in County Antrim, near the town of Ballymoney, "Game of Thrones" fans, nature enthusiasts, and lovers of dark tourism are in for a real treat here. The Dark Hedges is an ethereal-looking forested tunnel that lines the avenue to the former estate of James Stuart, Gracehill. Planted in 1775, The Dark Hedges are as eerie as they are enchanting, and no one knows for sure if the name derives from fact or lore.
These majestic beech trees block out most of the sunlight here, creating a dimly lit tunnel — so having "dark" in the name makes sense. However, where things get a little spooky is with the nearby forgotten graveyard and a ghost known as the Grey Lady who likes to roam about the trees. More than a few people believe this historical avenue is haunted and thus consider these hedges to be "dark." Still, as the fourth stop along the Causeway, travelers can check out this compelling landscape feature and decide for themselves. Plus, Gracehill estate is now Gracehill House with a lovely restaurant and bar, so if you are not too creeped out, you can enjoy a nice lunch once you've made it through The Dark Hedges.
Glenariff Forest Park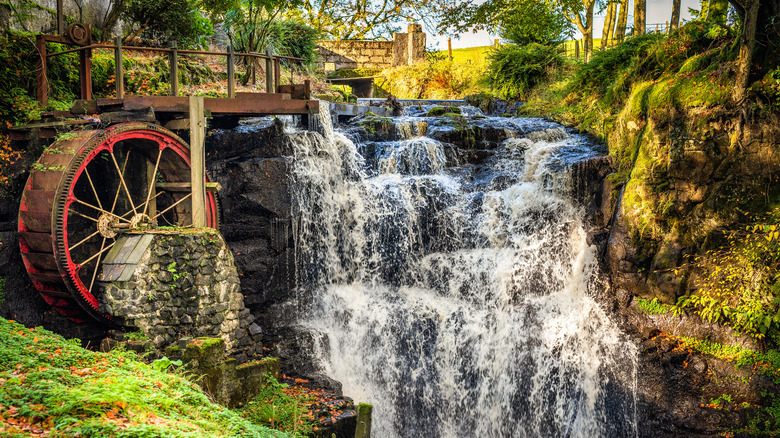 Dawid K Photography/Shutterstock
Glenariff Forest Park, also located in County Antrim, is a lush outdoor space with thousands of plant species, trees, breathtaking waterfalls, pristine lakes, and all-around stellar views. So, causeway travelers looking to get out in nature and stretch their legs for a bit can do so here while marveling at the stunning landscape. But that's not all — coastal wanderers can also take advantage of the recreational facilities in Glenariff, which include a visitor center, a shop, camping sites, and an interactive exhibition or two.
What's more, as you make your way through this expansive nature park, you can grab a bite to eat at the seasonal restaurant that just so happens to be situated in the heart of the forest. So, this is yet another great option for a spot of lunch and a few drinks. And if you aren't feeling peckish, you may want to skip the restaurant and take a load off while appreciating the tumbling waters, forested land, and mountainscape instead.
Glens of Antrim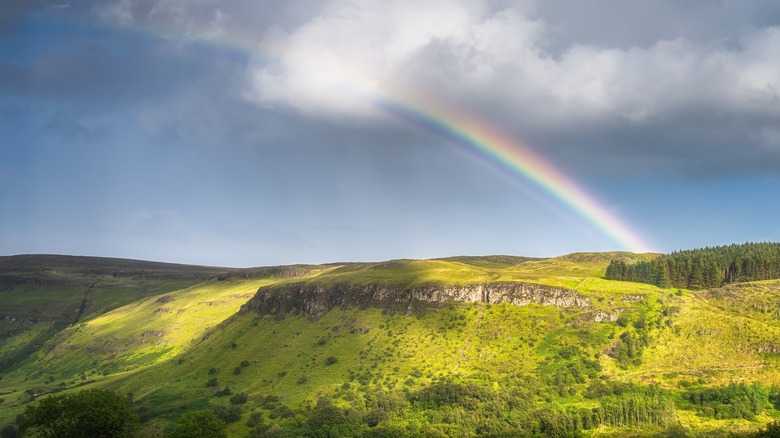 Dawid K Photography/Shutterstock
The Glens of Antrim are gorgeous valleys that are scattered about the Causeway, each with its own sights, history, tales, and unique coastal perspective. In total, there are nine glens — Glenarm, Glencloy, Glenariff, Glenballyeamon, Glenaan, Glencorp, Glendun, Glenshesk, and Glentaisie. Here, road-trippers can check out all of them if they so choose. However, if you happen to be short on time, then it is highly recommended that you only stop by the glens you come across while on your causeway journey.
That said, all nine glens are easy enough to spot as most are located near the various towns along this legendary roadway. So, towns such as Cushendall, Cushendun, Glenarm, Carlough, and Waterfoot are definitely worth more than a cursory look. Of course, wanderers who don't want to stray too far from the other best roadway sites can take comfort in the fact that more than a few glens run alongside the Causeway, so you can appreciate several of these lovely valleys as you drive on by.
Ballintoy Harbour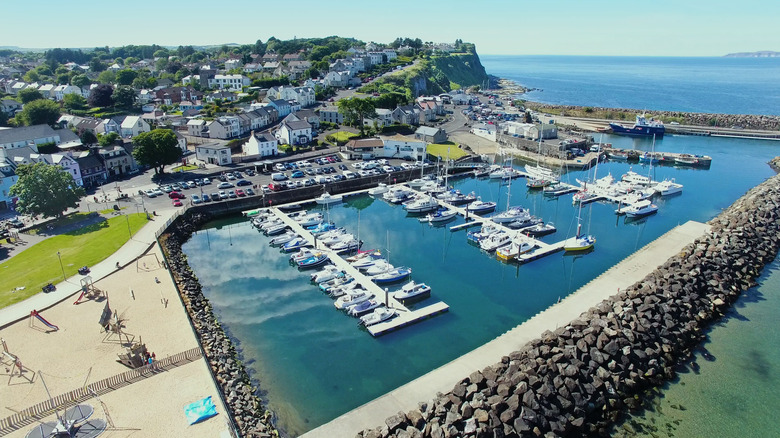 Ballygally View Images/Shutterstock
Yet another must-see stop along this picturesque roadway is Ballintoy Harbour. Translated, Ballintoy Harbour literally means Town of the North, so what better place for "Game of Thrones" than the north? Besides being the ideal setting for the Iron Islands in this famous HBO television series, Ballintoy Harbour is a photographer's dream come true. With sweeping oceanside landscapes, historical sights (lighthouses, churches, and more), plus an abundance of wildlife, it really doesn't get much better than this.
In addition to all the fantastic sights and iconic filming locations, Ballintoy Harbour has quaint eateries like Ruark's Kitchen, known for its delicious cake, and quite a few daytime activities for causeway explorers who are just passing through. For instance, there are ancient caves to explore, white sandy beaches to enjoy, long walks along the coast, available kayaking tours, and so much more. So, don't forget to carve out some time in your coastal journey for this sleepy fishing village.
Carrick-A-Rede Ripper Bridge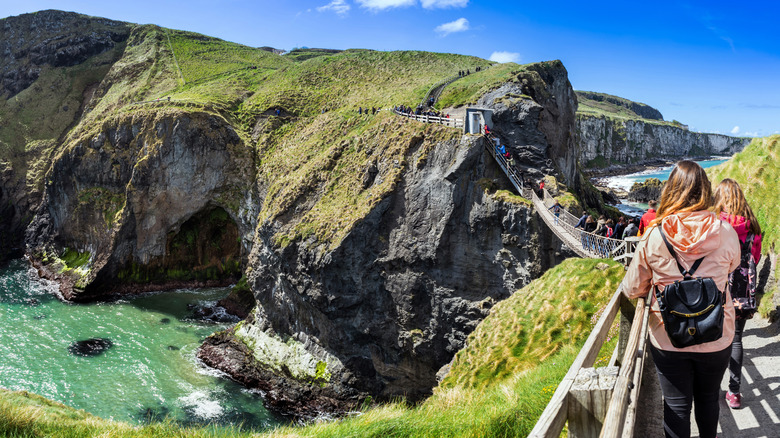 Violeta Meleti/Shutterstock
After basking in all that Ballintoy Harbour has to offer, adventurers can head on over to the Carrick-A-Rede Ripper Bridge for an afternoon of fun. Whether you opt to kayak there from Ballintoy Harbour (via a guided tour), walk the less than one-mile coastal pathway, or make the short drive between these two attractions is completely up to you. But, regardless of how you get there, make sure you spend some quality time on the ropes.
A truly thrilling experience, walking along the Carrick-A-Rede Ripper Bridge feels like a bonafide side quest. Despite being made of rope, this bridge is perfectly safe and is reconstructed every couple of years to ensure it is secure for all its visitors. So, if you intend to traverse the bridge, then try to get there earlier in the day, as a long line often forms since only one person is allowed to cross at a time.
The Giant's Causeway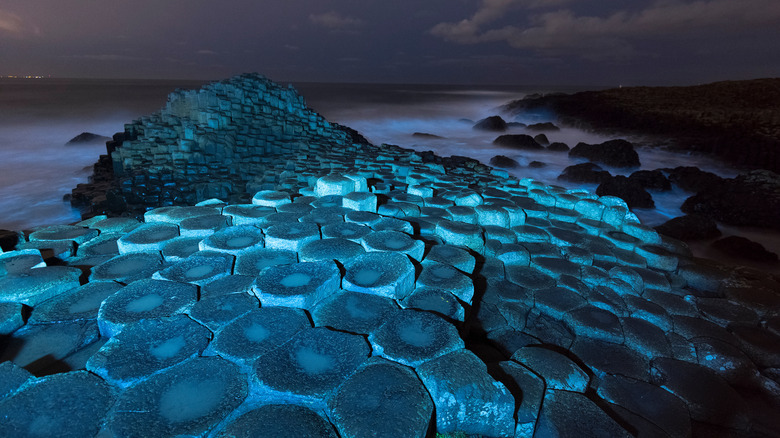 Jason Wilde/Shutterstock
Of course, a stop at the Giant's Causeway is absolutely in order on this phenomenal coastal journey. Not only is this enthralling collection of interlocking 40,000 basalt columns breathtakingly beautiful, but it is also steeped in local lore. This unique attraction was created more than 50 million years ago when an ancient volcanic fissure erupted, and a flood of lava emerged along the coastline.
Still, for much of its existence, the Giant's Causeway has been a mystery, and for ages, these geometric columns of cooled lava were thought to have been made by, well, a giant — though numerous stories vary on who, what, when, and why. The most beloved tale, however, involves a Scottish giant named Benandonner (also known as the Red Man) from the island of Staffa and Finn MacCumnhaill (MacCool), a mythical Irish hunter (per Encyclopedia Britannica). Legend says that Red Men and McCool were engrossed in a bitter battle — and the stage for this fantastical giant war was none other than the Giant's Causeway. Sound intriguing? Then book a tour to learn more about these battling mythical figures when you visit.
The Old Bushmills Distillery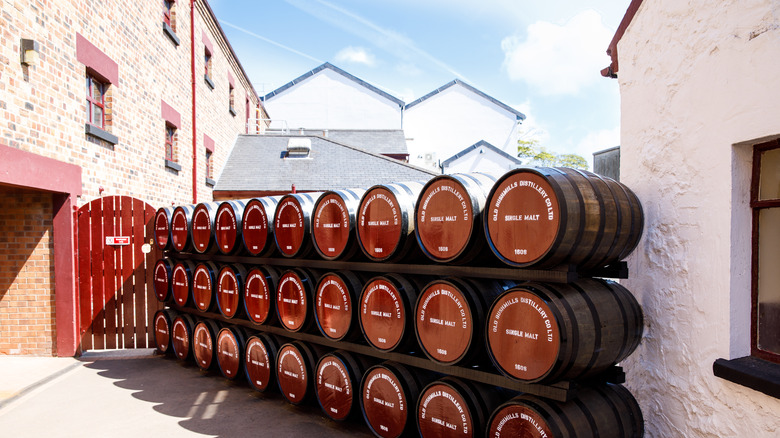 Irina Wilhauk/Shutterstock
After having a healthy dose of legend and lore, road-trippers can make their way over to the world's oldest licensed whiskey distillery and Ireland's oldest working distillery — Bushmills. This is the perfect stop-off for thirsty travelers, whiskey lovers, and for really anyone who is in the mood for a smooth and flavorful drink of uisce beatha (water of life).
Ever since 1608, when King James I granted the humble town of Bushmills the license to distill whiskey, another kind of legend was born. Fast forward 400 years or so, and there you have it. The Old Bushmills Distillery continues to make some of the finest and most unique-tasting Irish whiskey — made with locally-sourced barley and water from this distillery's very own pristine stream. Only a short jaunt from the main roadway, explorers cannot go wrong with this mini-adventure, so why not do yourself a favor and pop in for a wonderful guided distillery tour or a premium tasting at The 1608 Bar?
Dunluce Castle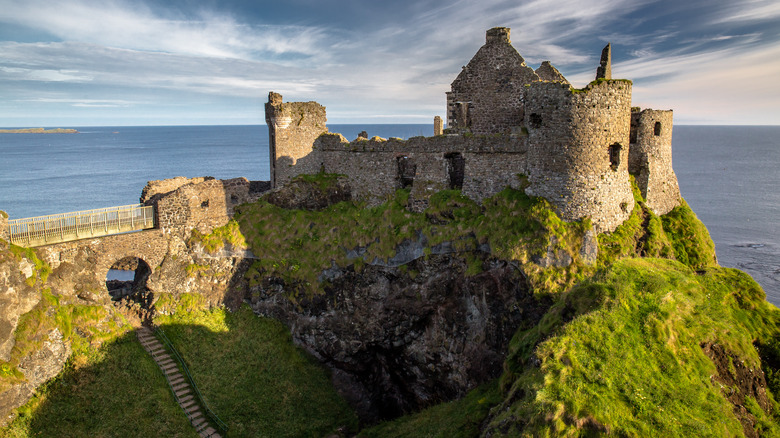 Rainbow79/Getty Images
One more "Game of Thrones" delight on this uber-scenic route is Dunluce Castle. In addition to being the filming location for the fictional House Greyjoy on the HBO blockbuster show, Dunluce Castle has inspired countless other producers, artists, writers, and creative types. Originally built in the 13th century, the first castle Dunluce was said to be a sight. However, the ruins of this medieval structure (the second Dunluce fortress) are from the 16th and 17th centuries.
Situated on sheer coastal cliffs, the current remnants of Dunluce Castle are touted as one of the most picturesque and romantic castle ruins in all of Ireland. Here, visitors can descend stone staircases built long ago, admire the spectacular views, stroll the lush grounds, explore the secret caves below — plus learn all about this captivating castle's past and historical significance. So, a stop-off at the ruins of Dunluce Castle should be on your causeway itinerary too.
Portrush beaches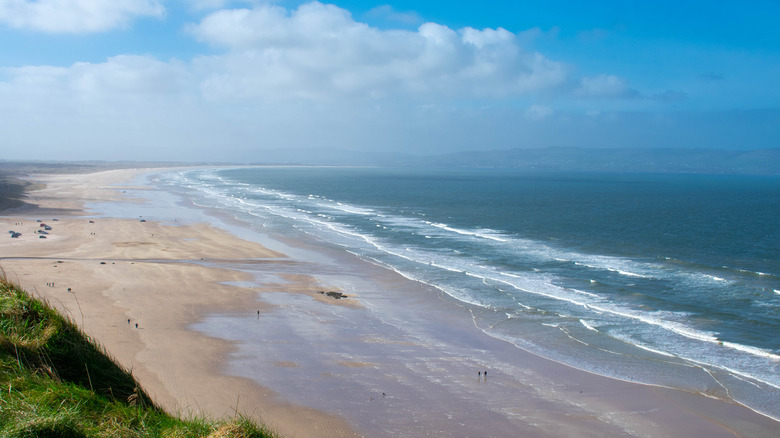 Maciej Grabowicz/Getty Images
Once you enjoy Dunluce Castle to the fullest, the beautiful white sandy beaches of Portrush are just around the corner. In fact, castle visitors can enjoy Whiterocks Coastal Park almost immediately as it is located only a few minutes away in Portrush. In general, the town of Portrush is one of Northern Ireland's premier seaside resort and holiday destinations, with more than a few activities for causeway explorers.
With three award-winning beaches in total (West Strand Beach, East Strand Beach, and Whiterocks Coastal Park), Portrush is the ideal spot to stop for a little fun in the sun. Even if you are cruising down the coast in early fall, you can still make a stop in this Causeway Coastal Route town. Thanks to this city's famous golf courses, bustling Main Street, family-fun amusement park, ample historical sites, great accommodations, and more, there are plenty of fun things to see and do all year round.
Derry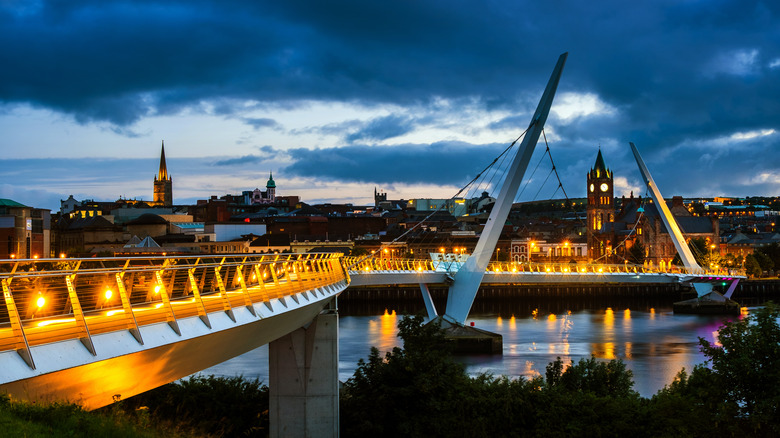 Madrugada Verde/Shutterstock
As your bucket list-worthy Northern Ireland Causeway Coastal Route adventure comes to a close — you may feel a little sad when you shouldn't. Though the city of Derry, or Londonderry, is the actual end of the road here, it is still quite the metropolis and, therefore, worth a semi-lengthy visit. So, before you call it a day, make sure you leave room in your adventure of a lifetime for a little exploration and relaxation in Derry.
Not only is Derry revered as one of the greatest walled cities in all of Europe with its 17th-century defense structure, but it is also one of the best ways to delve deeper into the history of Northern Ireland as a whole. Here, travelers can marvel at this vibrant city, visit the culturally significant Museum of Free Derry and check out any festivals or events (the City of Derry Jazz Festival, the Foyle Film Festival, or the famous Halloween Carnival). Derry also has a sustainable foodie scene, lavish and pampering stays, wonderful shopping boutiques, and more.