Bregagh Road Is The Most-Photographed Destination In Northern Ireland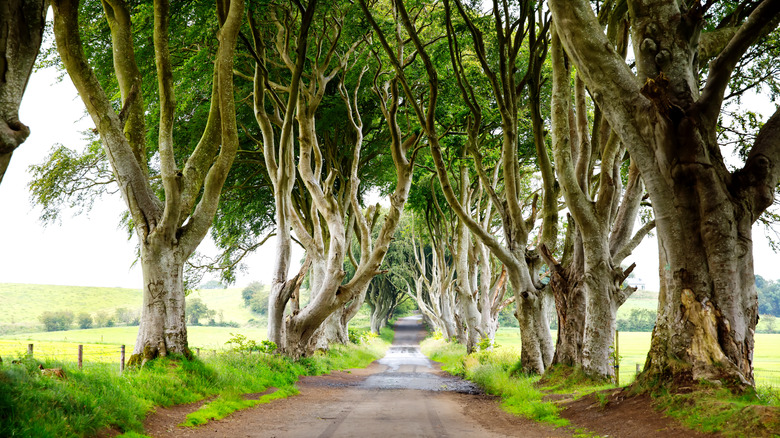 Irina Wilhauk/Shutterstock
Whether Northern Ireland has been on your bucket list for many years or you've never considered going until now, this lush, green, magical place should be bumped to the top of your travel "musts" as soon as possible. A land of folklore and mystery, Northern Ireland is known for its natural wonders, with sprawling coastlines and glittering lakes that will leave you in awe. If you're looking for an incredible road trip experience, this area offers fantastic views of the coastal roads in abundance, and one spot has been dubbed the most-photographed destination, making it an obvious choice for visitors to add to their itineraries.
The history surrounding Ireland is both rich and intense, and Northern Ireland, which sits on one-sixth of the island's land, is no stranger to revitalization and change. While Belfast has completely transformed and become one of the most popular cities to visit in the United Kingdom, it is the wild landscape that captures the imagination, and this spot is especially magnetic. If you're looking for the most spectacular scenery for those post-trip photo collections, make sure you stop off at Northern Ireland's most infamous backdrop.
The Dark Hedges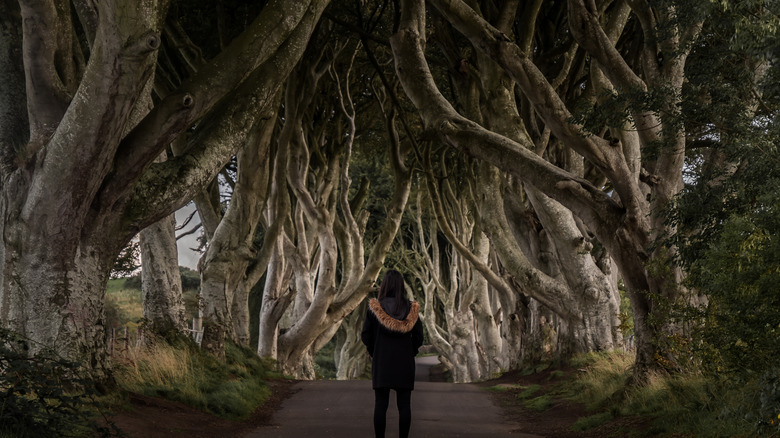 Puripat Lertpunyaroj/Shutterstock
Nestled along Bregagh Road in Northern Ireland, you will find a short stretch that features winding trees connecting together over the paved thoroughfare. This natural canopy resembles something out of a fairytale, where knights and dragons might exist at the other end of the twisted trunks. While the surrounding landscape melts into the numerous acres of countryside, you'll find throughout the region, this magical little hideaway is something truly magical that attracts visitors from far and wide for that idyllic photo. The Beech Trees, which were originally implemented in the eighteenth century, was created with the intention to excite visitors to the Gracehill House, according to Discover Northern Ireland.
The avenue may have been built to awe guests during the time the Stuart family occupied the area, but little did they know that the forest would continue to thrive two centuries later, providing a truly majestic locale tucked away behind farming fields. Despite being a popular attraction, when you drive up and get out to explore the lane, you'll feel as if you've discovered a secret passageway to another time.
How to find The Dark Hedges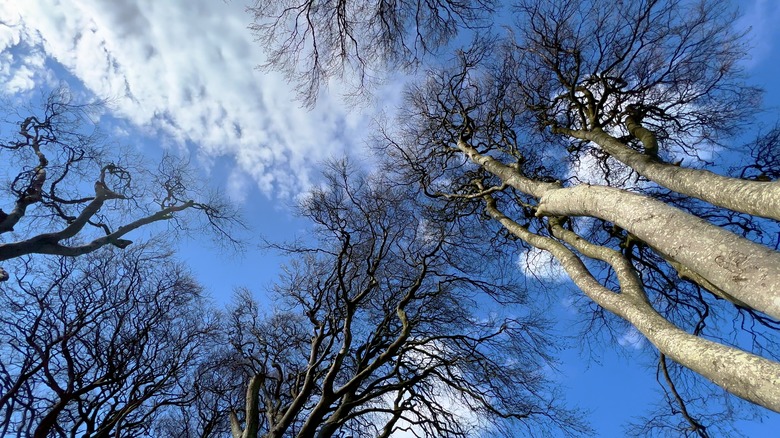 4kclips/Shutterstock
To get to the Dark Hedges, you'll want to head to County Antrim. Here you will find a small town known as Ballymoney, which is an easy 21-minute drive from another popular tourist destination: The Giant's Causeway. Once you arrive, you can input the Dark Hedges into maps to help you get there without searching through street signs for Bregagh Road. Due to the growing popularity of this location, especially after it was featured in the show "Game of Thrones" (per City Tours Belfast), it can get very busy, with tours running throughout the day that drops off visitors who didn't want to drive themselves.
If you want to take advantage of the empty lane bordered by 90 Beech Trees, it is best to arrive as early in the morning as possible. KEVMRC Travel also recommends taking the time to wander down the road until you reach the middle of it. Once there, turn south, so you're facing away from the Gracehill House, and look for the slight bend that provides the best vantage point for photos. This area is where you will get the most iconic snaps, and depending on the time of year, you might get a haunting picture filled with cloudy conditions or a brightly dappled lane from the summer sunshine. The Hedge even has its very own ghost story, where some say The Grey Lady wanders through the trees, offering a glimpse into the region's past. Part myth, part history, this spot is everything you want from a photo.