If You Want To Learn More About Belfast's History, This Unique Tour Is For You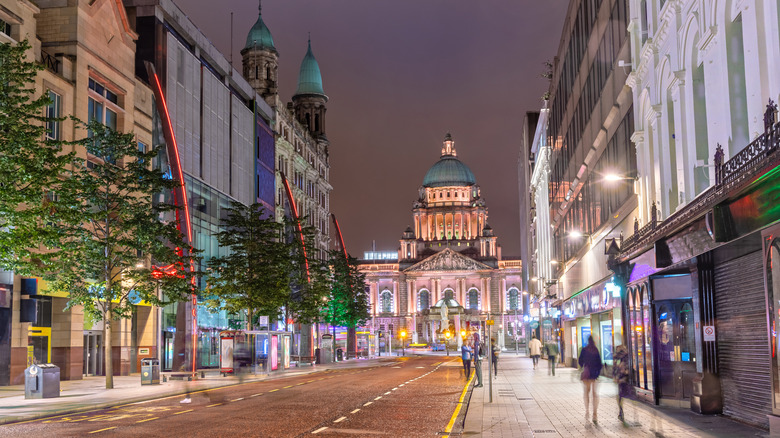 Susanne Pommer/Shutterstock
Belfast is the capital and largest city of Northern Ireland and has a long and complex history. However, today the city is full of life and has a unique charm that is sure to make any traveler feel welcome. There are fantastic restaurants, pubs, and museums to explore including the Titanic Belfast Museum and Belfast Castle. Whether you're a history buff, an art enthusiast, or just looking for a fun day out, Belfast is a great option for your next travel destination.
When you visit and see the city, though, you will see murals depicting a tumultuous period that occurred in Belfast, Northern Ireland from the 1960s to 1998. This period of time was called the Troubles. If you want to learn all about why and what happened, a black cab tour is essential. These tours are full of insightful stories from knowledgeable guides making it a must-do while in Belfast.
Learn all about Northern Ireland's history with a black cab tour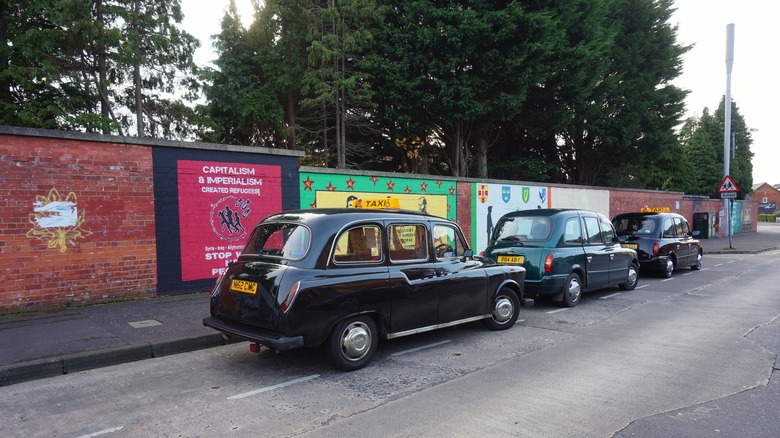 EQRoy/Shutterstock
First of all, you might be wondering what a black cab is and why you would want to get in one to go around Belfast. According to Dangerous Business, the black cabs are an iconic feature of Belfast since they became the go-to means of transportation when public transport services collapsed during the Troubles. Today, black cabs are simply taxis (painted black) that can be found in towns and cities across Northern Ireland and offer locals and visitors alike an easy and affordable way to get around the city. Taking a black cab tour is a great way to easily and quickly get around Belfast and learn about Northern Ireland's history.
Viator lists a number of amazing black cab tours, but you may want to consider one of the tours from Taxi Tours Belfast, owned by Norman Reilly. According to Taxi Tours Belfast, Reilly is one of Northern Ireland's longest-established black cab tour guides. His team will take you all over Belfast to such iconic locations as the shipyard where the Titanic was built and show you where the peace walls continue to divide the Catholics and Protestant communities to this day.
Other things to do and see in Belfast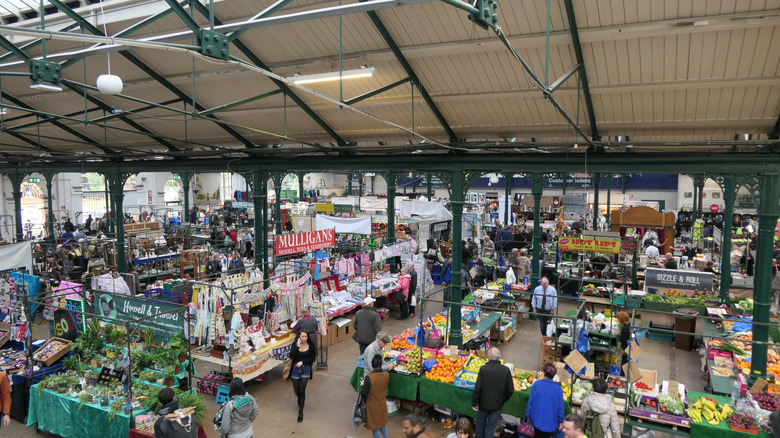 Friemann/Shutterstock
It wouldn't be a trip to Northern Ireland (and especially not Belfast) without grabbing a round at a nearby pub. Hand Luggage Only writes that this is a must and it's well-worth getting a pint at some of the more iconic locales in town. Head to the Duke of York for an eye-watering experience as your gaze is filled with amazing memorabilia. If you're doing your own mini pub crawl, round the corner to Hill Street and get a sampling from the many bars that line the picturesque lanes.
Need a snack to soak up the beer and spirits? Head over to St. George's Market, which Independent Travel Cats writes has been the site of a weekly market since 1604. Nowadays, the market is open Fridays to Sundays and vendors sell everything from fresh produce and seafood to spices, sandwiches, and other prepared eats. You can even peruse the market for some souvenirs to take home as there are also stalls selling clothing, books, and jewelry.
Lastly, Ireland Before you Die writes that the best thing to do in Belfast is to explore the Crumlin Road Gaol prison. This former prison is now a museum that details a dark but interesting history and how it played a part in this region's troubled past. This is definitely one for the history buffs!