Solo Travel: Your Guide To Exploring Paris Alone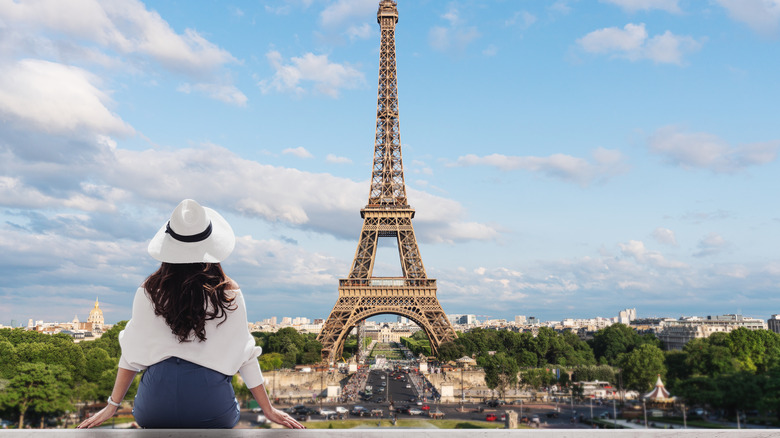 Sasin Paraksa/Shutterstock
The City of Lights and Love is unlike any other destination, making it an absolute must for all travelers. However, if this is your first time planning a Paris party-of-one getaway, exploring one of the most romantic places in the world may initially seem intimidating. But, with stellar attractions, abundance of culture, fantastic cuisine, cobblestone streets overflowing with history, and so much more, you definitely do not need a plus one to have the time of your life in Paris.
What's more, for solo wanderers, this city offers a different kind of romance that will have you falling even deeper in love with your overall journey and intended destination. So whether you are out and about experiencing this magnificent city solo or simply have a few days to yourself here, don't be shy — get out there and leave no stone unturned. 
That said, here is a helpful guide for exploring this city alone to ensure that your solo adventure goes off without a hitch — and that having a bad time in Paris is next to impossible.
How to safely solo explore Paris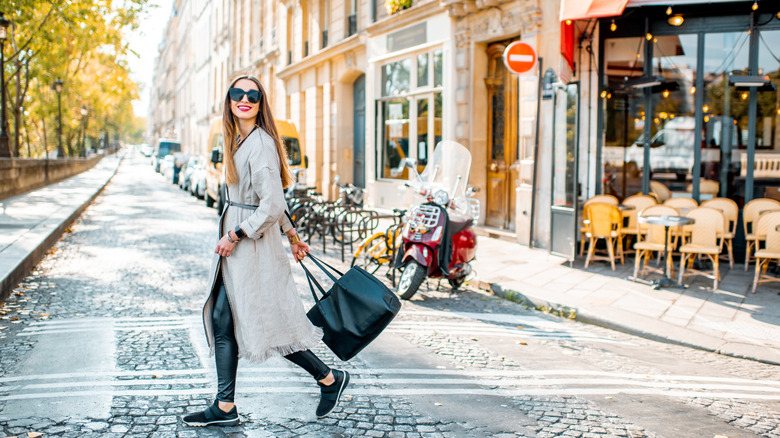 RossHelen/Shutterstock
When traveling solo, safety matters. If you've ever been globetrotting without a travel buddy, you know it is important to be mindful of your surroundings and to keep someone back home appraised of your whereabouts and itinerary. Moreover, you should try to blend in when possible while exploring Paris. Like other European destinations, there are more than a few scams you should watch out for — in addition to pickpocketing — as scammers have become more crafty, especially near major attractions.
For instance, when near the Louvre, you might encounter people panhandling who purposefully cause tourists to knock over their cups to guilt people into giving them money. Other scam artists use clipboards and fake petitions to get tourists to sign something that says you agreed to provide them with cash. These same clipboard scammers are even bold enough to bother tourists while dining outdoors and will use their clipboard to effectively steal your cell phone when you are not paying attention (per Wander Her Way).
Yet another common con job to look out for involves anyone selling friendship bracelets. At points of interest such as Sacré Couer, people will come up to tourists and put a bracelet on their wrist, often so tight that the target cannot remove it, and then they will demand payment. These are just a few reasons why blending in as much as possible is crucial when exploring Paris solo.
Cross off the major attractions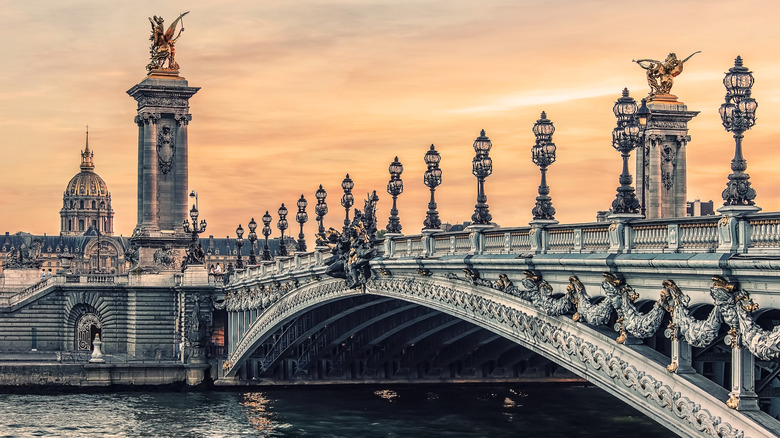 Stockbym/Getty Images
Now that you know what to look out for when experiencing the City of Lights and Love, you can cross off the major attractions in this beautiful city quickly and without any potential issues. Of course, if you have seen the Eiffel Tower, the Seine River, The Pont Alexandre III bridge, the Arch de Triomphe, and Norte Dame during a previous trip, then it is completely up to you if you want to peruse them again. But if it is your first time in Paris, then you should definitely spend a day or two marveling at all the well-known sights.
Other major attractions like the Palace of Versailles, the region of Champagne, and more can be enjoyed as a day trip. And while making your way out of the city center, you can experience Paris like a Parisian by spending some time in the surrounding neighborhoods or arrondissements. Districts like Saint Germain de Près are wonderful areas of the city, especially for history and art enthusiasts. Montparnasse (for lovers of literature), the Champs Elysées quarter (ideal for avid shoppers), and Le Marais (the trendy district) are also worth exploring.
Walking and biking tours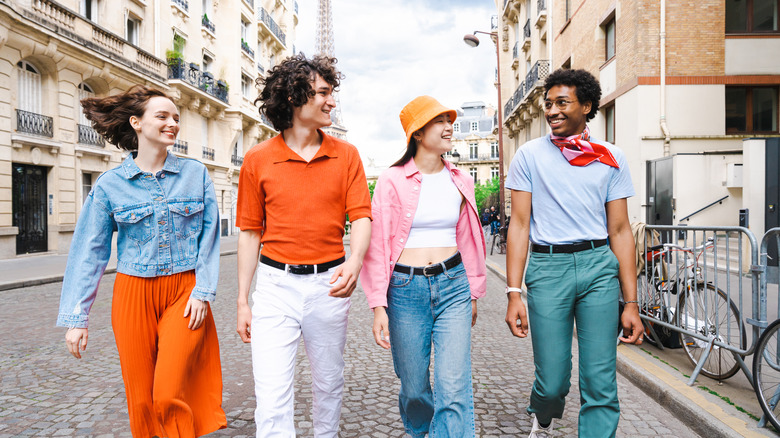 Diamond Dogs/Getty Images
Not only can solo travelers opt to explore some of the districts in Paris on foot or bike on their own, but you can also decide to explore many of the amazing arrondissements via a guided tour. By booking a walking or biking tour, you can get a taste of how Parisians navigate their own beautiful city. Plus, you can get a better sense of Paris once you have walked or biked around the city for several hours — some guided tours are even free.
In addition to touring the various districts in the city, solo travelers can enjoy all kinds of walking tours. From art, history, and major attractions to wine, cheese, patisserie, and chocolates, the possibilities are almost endless. Likewise, there are night biking tours, Versailles day bike tours, e-bike tours, bike tours with cruises, and more. So if you want a local or expert guide to show you the way, you definitely have some options here. Interested solo wanderers can also choose from private, small group and standard group tours, regardless of whether they opt to walk or bike.
Picnic in the park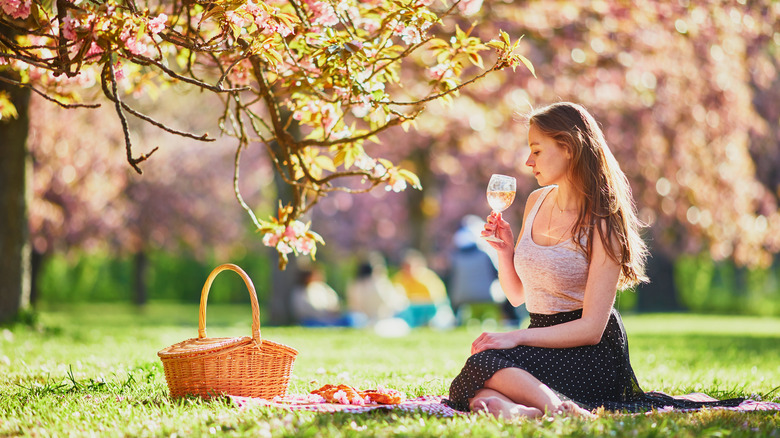 Ekaterina Pokrovsky/Shutterstock
Once in Paris, solo travelers might notice that Parisians love a good afternoon in the park. Moreover, having a picnic in the various lush outdoor spaces here only seems to kick things up a notch on the enjoyment scale. So, solo explorers asking themselves — what is one of the best ways to experience Paris, may already have the answer — picnicking in the park is a popular tradition in this city.
Here, you can easily make your own goodie basket for the park — by simply shopping for a few snacks, pastries, and a bottle of wine. After some light shopping, just head on over to a lush outdoor space of your choosing and have a leisurely lunch. Depending on the time of your visit, you can enjoy your picnic in Parc de Sceaux, which has an entire enchanting orchard of pink-blooming cherry trees throughout the month of April. 
Other incredible Paris picnic spots during the spring and summer months include the Parc des Buttes-Chaumont, the Parc Montsouris, and the Tuileries Gardens. The Champ de Mars esplanade is also an excellent choice if you want a front-row view of the Eiffel Tower while snacking.
Spend the afternoon appreciating art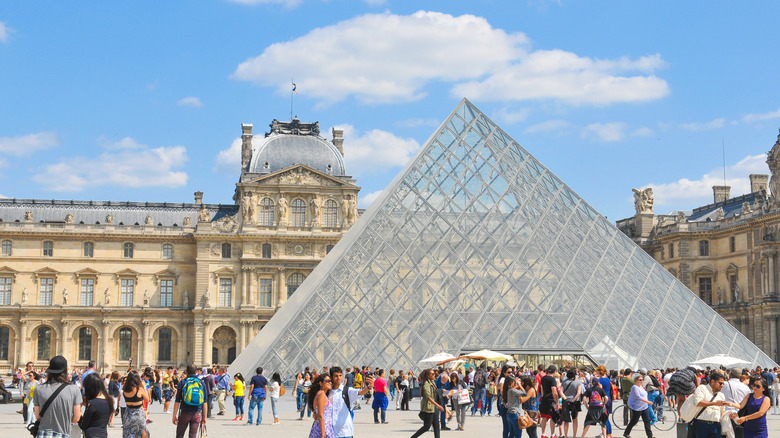 There is no shortage of art to appreciate in the City of Lights and Love. In fact, solo wanderers have their pick of smaller museums to visit, which are often less crowded. Art houses such as Musée Rodin, Petit Palais, L'Orangerie, Musée Gustave Moreau, and the Maison de Victor Hugo are just a few small gems that are worth exploring on your afternoon of art. Solo explorers can also marvel with the masses at all the fine art housed in the Louvre and the Musée d'Orsay.
Of course, the cultured fun does not stop there — Paris is also brimming with must-see architecture, fashion, culinary art, and performance art. Solo travelers can combine at least two of these elements — architecture and performance art — by seeing a film or two at Le Louxor, which just so happens to be one of the oldest theaters in Paris. Located in the district of Montmartre, Le Louxour is a glorious Egyptian-themed and Art Deco design cinema that shows contemporary international art films and is an all-around visual delight.
Relax in the Grand Mosque of Paris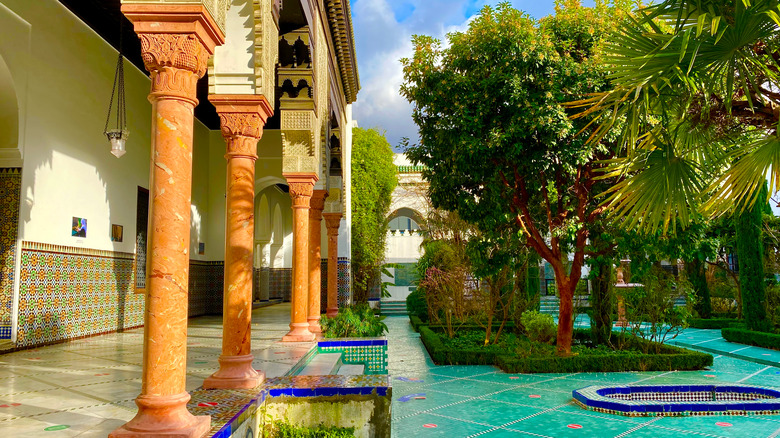 Elena Ska/Shutterstock
Yet another visually stunning place to explore in this city is the Grand Mosque of Paris. Located in the 5th arrondissement or the Latin Quarter, this particular monument and Muslim place of worship is the largest in France and the third largest in Europe. Constructed shortly after World War I as a memorial for the 70,000 Muslim soldiers who lost their lives fighting for France, this historic place is an impressive sight.
A truly serene point of interest in the city, this Paris gem is adorned with vibrant colors and made from the finest North African materials — making the Grand Mosque downright mesmerizing, like something out of a dream. Here, solo wanderers can stroll through the gorgeous gardens and admire the flowing fountain in this tranquil space. Mosque visitors can also enjoy an amazing spot of tea at the tea house right next door or grab a bite to eat at Café Maure de la Mosquée. Female solo travelers can spend a few hours relaxing in the women-only hamman (Turkish bathhouse) as well. So, do yourself a favor and add the Grand Mosque of Paris to your itinerary — it won't disappoint! 
Enjoy a wine tasting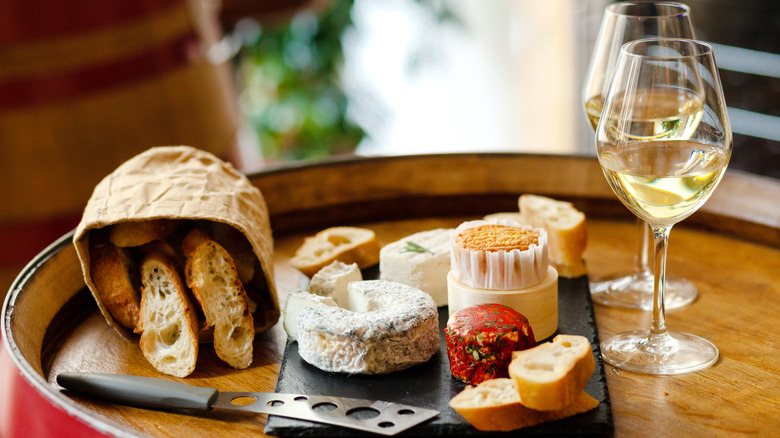 Vera Prokhorova/Shutterstock
France is home to countless world-renowned champagne and wine houses — many only a short train ride from Paris. Here, interested solo explorers can book guided tours to the famous Champagne region if they so choose. Alternatively, Paris visitors can stay put and enjoy the wealth of wine-tasting spots and tours in the heart of the city. Private tastings, wine walks (like the Promenade de Sens), plus wine and cheese pairing events are available.
Solo explorers can also partake in special guided wine tours in the Caves du Lourve, Dilettantes (a champagne cellar in the 6th arrondissement), and De Vinis Illustribus (a 17th-century wine cellar in the Latin Quarter). For more activity-based wine tasting, wine enthusiasts can head to Ô Chateau for tasting classes or champagne cruises along the Seine and wine workshops at La Route des Gourmets. Likewise, if you prefer an expert-handpicked selection of wine to sample, Les Piquers is yet another wonderful option. After your flight of wines, it is highly recommended that you take a tour of macarons and French gastronomy, also available at La Route de Gourmets, just for fun.
Dine in the Latin Quarter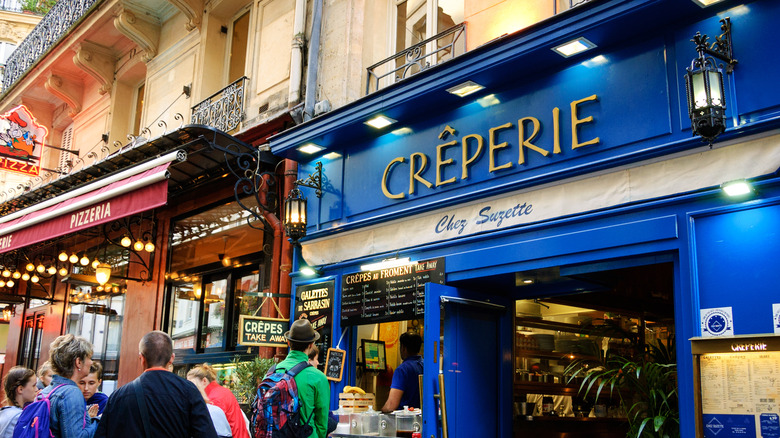 Elena Dijour/Shutterstock
Speaking of the Latin Quarter, this city section is full of delicious cafés, affordable eateries, and irresistible street food. So if you are not quite ready to dine alone at a big fancy restaurant, then eat in the Latin Quarter first — eventually, you will see that dining solo is not a big deal in Paris. After a few meals on the go, solo explorers are often more willing to venture out.
That said, the cuisine available in the Latin Quarter is quite tasty. So, there is definitely no shame in dining here more than once, especially if you happen to pair your casual meal with a wine tasting in a 17th-century cellar. A few notable places to dine in the Quarter include La Fourmi Ailée, Bistro Des Augustins, Les Crêpes De Louis-Marie, Kodawari Ramen, Au Petit Suisse, and LaTruffière. Other places outside the Quarter that are great for solo diners include Le Mini Palais, Café Pimpin, Wild & The Moon, L'Avant Comptoir de la Mer, La Fericita, and Le Lori dans la Théière.
Get in some theatre time at the Palais Garnier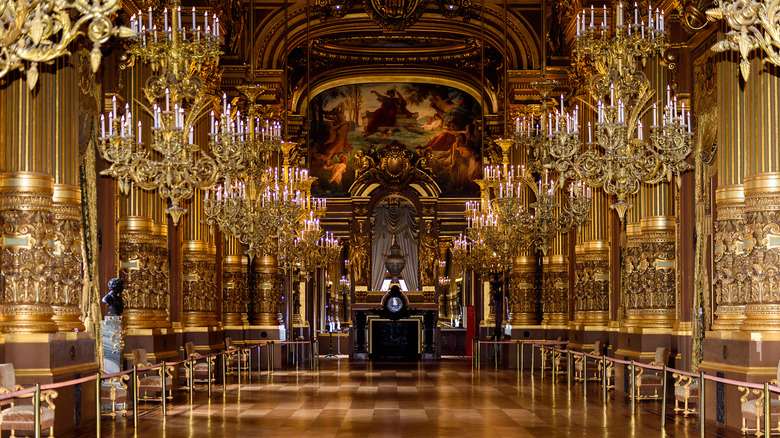 Anton_Ivanov/Shutterstock
A fun after-dinner activity in Paris that solo travelers should consider is an evening at the theatre. Of course, the Palais Garnier is not just any old theatre — it is a historical play and opera house that puts on its own performance with its overall design, décor, grand library, underground lake, 19th-century architecture, and more. Here, solo wanderers can book self-guided, virtual, and guided tours. However, it is worth noting that in-person tours are only available between 10 a.m. and 5 p.m., and this excludes days with afternoon performances and closures.
But, for travelers that want to do more than just take in this gorgeous theater, there are more than a few shows, plays, ballets, and live performances at the Palais Garnier. In fact, all year round, ongoing music concerts, world-famous operas, artistic creations, and special events are hosted here. So interested solo explorers should check to see what's playing and buy tickets online in advance.
Enjoy an evening in Montmartre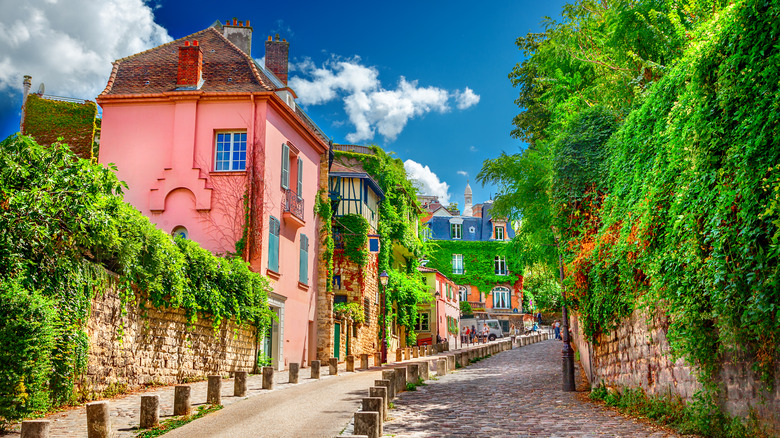 By now you know Paris has more than a few must-see areas. The neighborhood of Montmartre, which is practically overflowing with Parisian culture, entertainment, and history, is just a quick ride on the Metro to the Latin Quarter. So it is the perfect spot for a leisure stroll, or in this instance, an after-dining walkabout. In this charming little section of the city, visitors will find a true haven for many legendary artists, including Van Gogh and Salvador Dali. Many great writers have also left their mark on Montmartre. 
But that's not all — this beautiful bohemian district is also home to the number one rated cabaret show in Europe — Moulin Rouge. So solo explorers who want to see one of the greatest cabaret performances that dates back all the way to 1889 are definitely in for a real treat here. Moulin Rouge even offers a VIP three-course dinner that comes with champagne and a cabaret spectacular you will never forget. So, if you want to spice up one of your evenings in Paris, this is definitely the place to do it.
Marvel at the sunset from the steps of Sacré Couer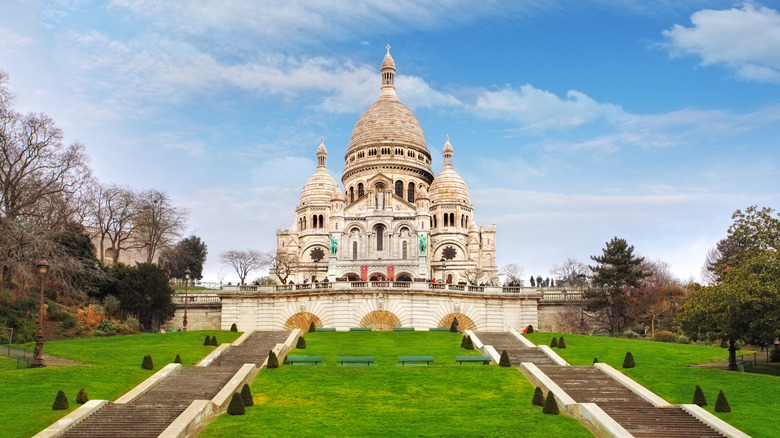 TTstudio/Shutterstock
The Basilica of Sacré Coeur is also located in the phenomenal 18th arrondissement or Montmartre. This grand church is an example of 19th-century Paris architecture and is worth a look-see when exploring Paris. Built in 1873, this place of worship and monument has a vast history and offers visitors unobstructed vistas of Montmartre. In fact, the views are so stellar here that Parisians and tourists frequently sit on the steps of Sacré Couer to enjoy breathtaking sunsets.
At first, solo travelers might be taken aback by the crowds that gather outside this church almost every night. But watching the sunset from the steps of Sacré Couer is a wonderful pastime that should not be missed. So if you plan on enjoying an evening in Montmartre, try to get there before the sun sets to catch this iconic sight. And while you are making your way to the steps of Sacré Couer, grab a bubbly refreshment or some wine so you have an after-dinner drink to pair with all the stunning scenery. This is also a great place to socialize and make friends during your solo adventure if you so choose.
Book a photoshoot with a professional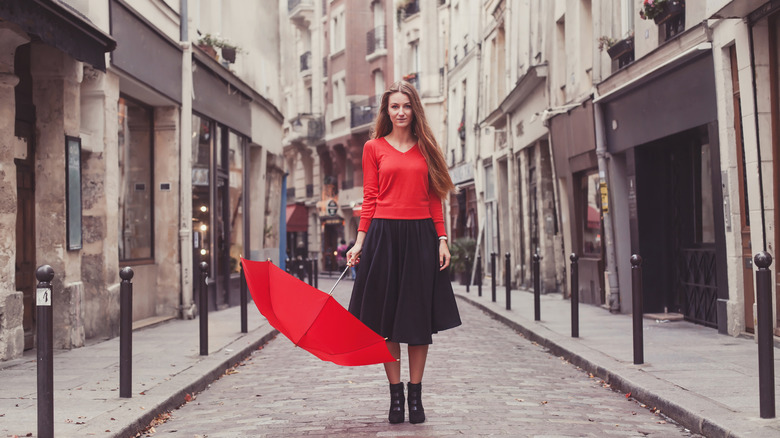 Anyaberkut/Getty Images
Solo wanderers who want to do more than just take in all the incredible sights and sounds of Paris can capture these exciting moments in a different way. A photoshoot in Paris is a fun activity that will provide you with memories that will last a lifetime. What's more, shooting with a professional is a great way to document at least some of your thrilling solo getaway sans the selfie stick or the telltale selfie pose.
So instead of struggling to capture incredible moments and the true beauty of Paris by your lonesome, schedule a few hours with a local photographer and get ready to be wowed. Booking a photoshoot is also a work-smarter-not-harder way to explore hidden gems in the city, feel like a local, and be a part of creating some of the most beautiful vacation photos ever. So, why not feel fabulous for an afternoon and have art exhibition-worthy photos to show off back home?
See where the day takes you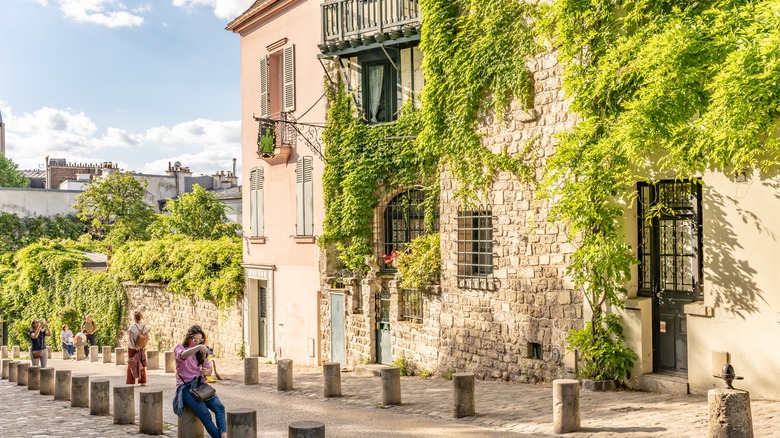 Page Light Studios/Shutterstock
Finally, solo explorers who prefer to play things by ear or who are not looking to overbook themselves with activities and adventures can opt for the tried and true method of simply seeing where the day takes them. By letting your inner flâneur (stroller or city wanderer) shine, there is no telling what kind of adventures are in store. Here, solo travelers can experience this magnificent city in a whole new way.
Not only will this make your time in Paris that much more rewarding, but it will also give you a chance to break free from the thrall of overly touristy spots. With hidden passages, quaint villages, scenic canals, treasure troves, bookstores, and so much more, there is absolutely no harm in seeing where the day takes you. Remember, at the end of the day, Paris was made for wanderers.