Tripod-Free Photo Hacks For Solo Travelers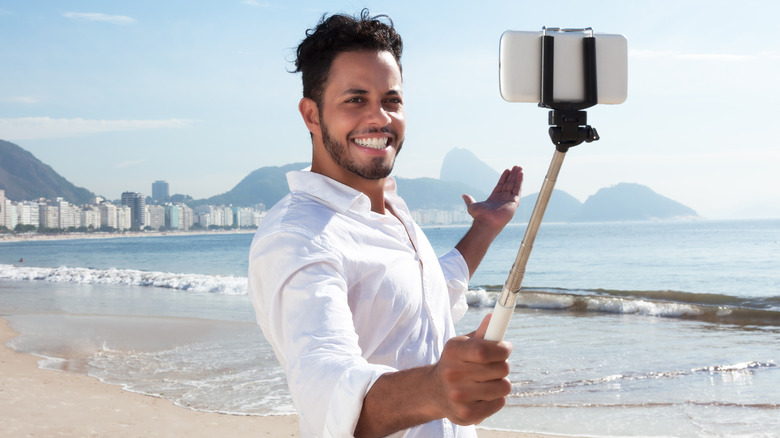 Dmephotography/Getty Images
Sick of awkward selfies or lugging around a tripod when you travel solo? One of the downsides to solo travel is not having anyone to take your photo in all of those gorgeous locations. But, capturing the moment on camera doesn't have to be challenging with these hacks.
Our first tip is to get a selfie stick. Yes, you'll look like a tourist, but it's probably not only going to be the selfie stick that gives you away. Famous solo travel blogger The Blonde Abroad says you shouldn't be embarrassed to whip out your selfie stick anyway. It lets you capture much more than just holding your phone or camera at arm's length and you can make sure your face doesn't take up two-thirds of the photo. Just try to hide the stick somehow.
Next, another traditional option is to ask a stranger. However, as Anna Everywhere cautions, photos taken by strangers often don't come out exactly how you'd planned. Our number one tip is to look for someone with a good camera or a tripod, as they're much more likely to be capable of taking a good photo. Second, frame the photo yourself before you ask by lining up where you want to stand and where you want the photographer to be.
Use your environment or get a gadget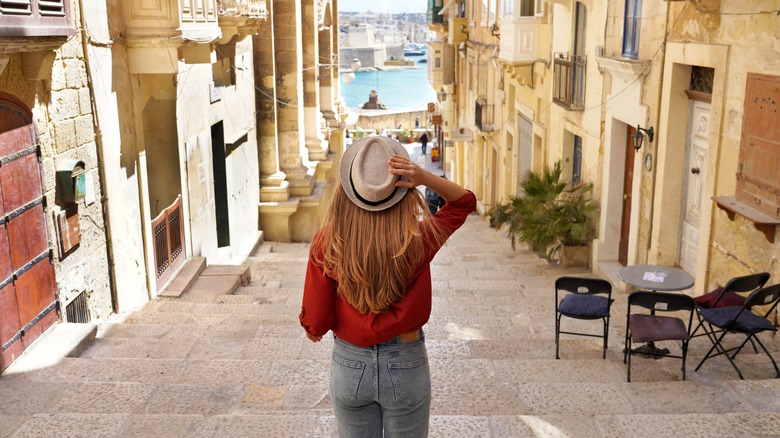 Zigres/Shutterstock
A tripod is great, but there are usually so many things around you that you could use instead. Third Eye Traveller advises using your bag, drink bottle, coat, steps, and even bins to prop up your phone or camera. Using your environment in this way can help you create photos with perspectives that you wouldn't have thought to capture with a tripod, making for some really interesting photos.
Our next tip is to use your phone as a remote. As most cameras have Wi-Fi now, you can download an app that will allow you to use your phone as a remote shutter. The great thing about this method is that you can see how your shot looks on your phone before you take it. Be My Travel Muse recommends setting your phone to a timer and then hiding it in a pocket or behind you if you don't want it to appear in your photo.
Composition tricks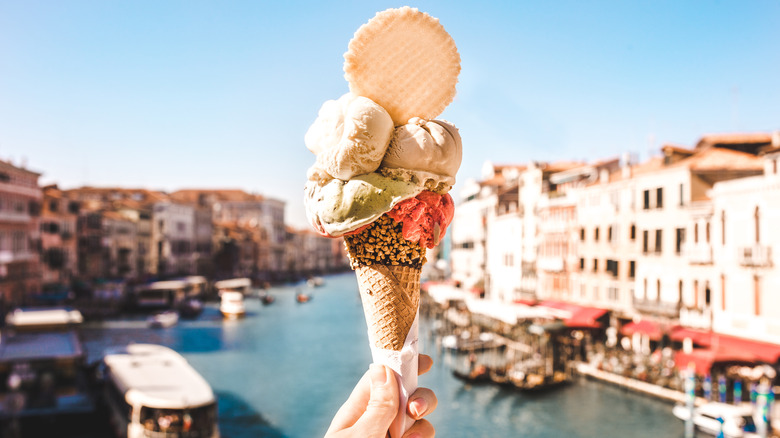 bissun/Shutterstock
Mirror, mirror on the wall ... can I use you to take a photo? Find a reflective surface of any kind and snap a photograph of yourself in it. Simple. Mirrors are the most obvious choice but look out for pools, lakes, windows, glass buildings, and stainless steel surfaces too.
Our final tip is to photograph only parts of your body. You don't need your whole body from head to toe in every photo and, if you've spilled pasta sauce down your front during lunch, it might be better not to. Take a photo of your hand holding delicious ice cream or your feet on a charming cobbled street. Check out Girl Eat World's Instagram for some ideas.
All of these tips and tricks mean that you will be able to travel lighter and still get some great images of yourself. They will also help you to be more creative with your photography, so you won't come home with hundreds of tripod-mounted photos of you in the same pose with changing backdrops.