The Best Way To Get Around Paris In Order To Make The Most Of Your Trip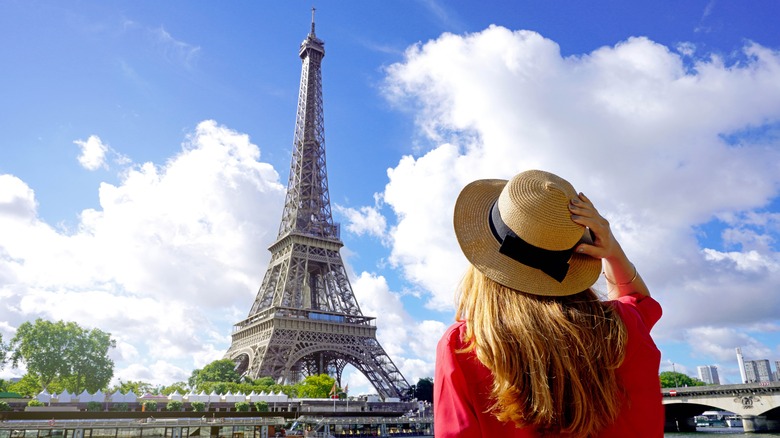 Zigres/Shutterstock
Paris just may be one of the most beautiful cities in the world. What is there not to love about this enchanting, magical city of love? It is a place that is actually built for tourism. According to Statista, 22.2 million visitors trotted around Paris in 2019. Although there was a slight decrease in the years following due to the COVID-19 pandemic, Paris still ranks high among Europe's most visited cities (per CNN). There is something for everyone. You've got cobblestone streets, fresh bakeries offering some of the best goods that will leave you craving more, and an insane amount of renowned architecture and sights.
Playwright and cartoonist James Thurber once said (via The Thurber Letters: The Wit, Wisdom and Surprising Life of James Thurber), "[The] whole of Paris a vast university of Art, Literature and Music. So that it is worth anyone's while to dally here for years. Paris is a seminar, a postgraduate course in Everything." The city is simply in a league of its own.
Whether you're looking at the busy Champs Élysées or admiring the artwork and the creativity seeming within the walls surrounding Montmartre, Paris is unreal. The city is not only mesmerizing, but it's also beaming with luxury, unforgettable moments, and is drenched in history. With a city of its stature, there are only a handful of ways to truly capture it all and live for your "Emily in Paris" moment.
Explore Paris by bus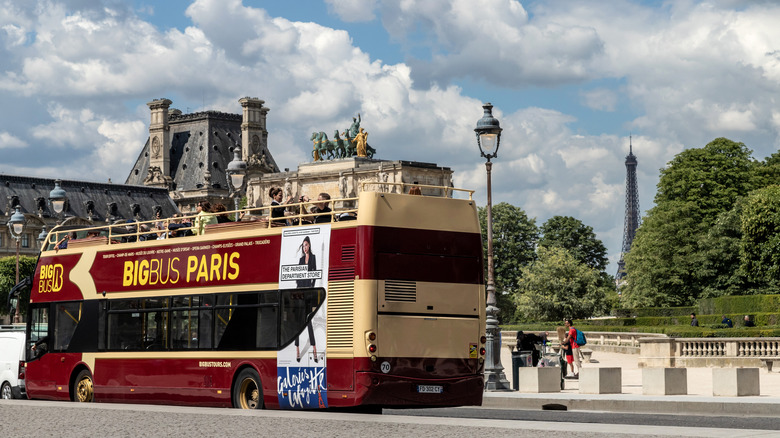 Bloomberg/Getty Images
There are two main airports in Paris, Charles de Gaulle (CDG) airport and Orly. Orly was initially the main airport in Paris. However, today it is mainly utilized for domestic flights, whereas CDG is the primary airport and welcomes all flights from North America, according to Paris Insiders Guide. With so many visitors each year, the city has curated well-thought-out modes of transportation to fit your needs, and opting to travel by bus may be one of the top modes to utilize.
Taking a bus in Paris is not only convenient, but it's also cost-effective. According to a secondary report by Statista, about 70% of individuals take public transit in Paris, which comes as no surprise as the city has a system that welcomes millions of transits with a ticket costing as little as $2.34 (in 2018). Some tickets are valid on any bus (or tram) within 90 minutes after the initial validation (per Régie Autonome des Transports Parisien). You can hop on and off as much as you'd like to explore the city once you reach your preferred area. Map out your day and familiarize yourself with the various routes ahead of departure (which can be found on the website for the Régie Autonome des Transports Parisien).
Traveling by bus is a great budget-friendly option if you're looking to see more of the city in a short amount of time. For a complete experience, take advantage of the hop-on hop-off bus that highlights the main tourist attractions, complete with commentary and fun facts (per HopOnHopOff.fr).
To make the most of Paris, explore by foot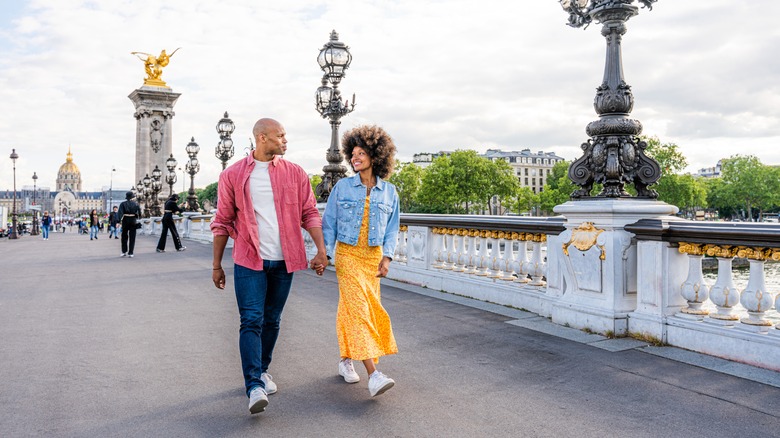 oneinchpunch/Shutterstock
Paris has so many mesmerizing moments. From the twinkling lights at the Eiffel Tower or a baguette from one of the many alley bakeries before visiting Sacre Coeur, the city is beaming with excitement and breathtaking scenes. The best way to truly capture the warmth and admiration of Paris is to explore by foot. Exploring by foot will put your itinerary in your hands and allow you the freedom to see and do as you please; without having to schedule your day around the metro. Be a free wanderer in one of the best places to do it.
Take a stroll to the artist square, Montmartre, and bask in its rich history. Renowned artists such as Claude Monet, Pablo Picasso, and Vincent Van Gogh once roamed the cobblestone streets and created paintings that are admired today. You'll be able to recreate a day in the life of these beloved artists by utilizing this route that highlights a few of their favorite haunts (per the official website of the Paris Convention and Visitors Bureau). Consider making your way to the white-domed Sacré-Coeur Basilica, as it's one of the highest viewpoints of the city and offers spectacular views.
Paris is more than meets the eye. There are 12 different themes that each highlight more of the culture, heritage, and history of the whimsical city (per another post from the Paris Convention and Visitors Bureau). Whatever travel option you choose, you can't go wrong. You'll certainly have your "Emily in Paris" moment complete with the perfect picture and cheeky caption.