5 Simple Hacks To Save On Food And Drink In Paris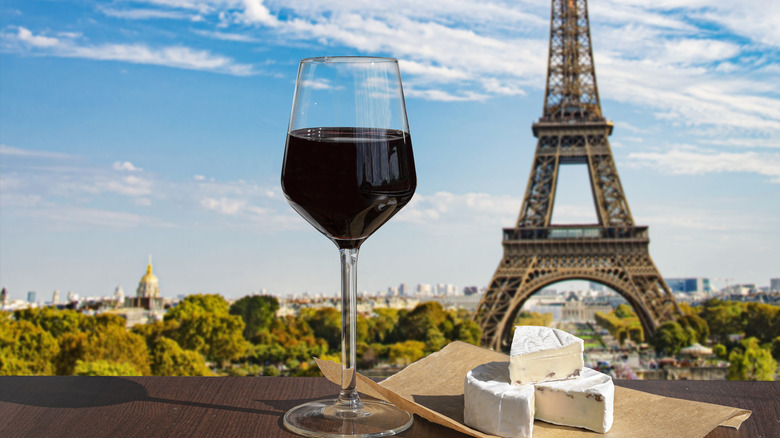 Maria Vonotna/Getty Images
Like perfectly paired wine and cheese, French culture is deeply intertwined with French cuisine. And this is particularly true in Paris. When you think of the City of Lights, two images probably come to mind: the Eiffel Tower and stylish Parisians sitting at sidewalk cafés sipping good coffee or better wine.
From freshly baked baguettes, butter-flaked croissants, and jam-filled crêpes to coq au vin, onion soup, and heritage cheeses passed through generations of master cheesemakers, the world-famous cuisine of Paris is unparalleled. Not only is the city a hub of Michelin-starred restaurants, Paris is also a city of bustling produce markets, family-owned cafés, street food vendors, and mom and pop bakeries.
While eating (a lot) in Paris is an undeniable must, Paris is also one of the most expensive cities in the world. If you're planning to visit Paris for the first time, you may feel a little queasy about budgeting. However, although Paris can be expensive, there are a few insider tips to help you dine like a Parisian while artfully budgeting your wining and dining experience.
Do fine dining for lunch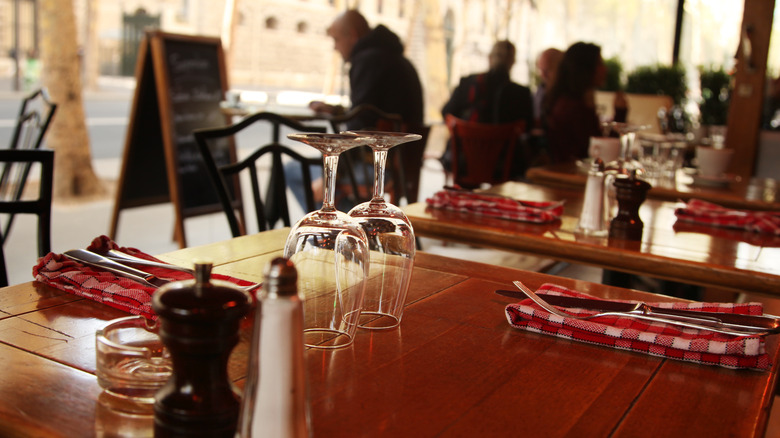 Olesya Kuznetsova/Shutterstock
To save money dining in Paris, you'll need to pick your battles. Most first-time visitors will want to sit down for an authentic fine dining Parisian meal. And they should! After all, the general concept of fine dining, with private tables, tablecloths, fancy cutlery, and indulgent meals, began in 19th-century Paris. Paris boasts 119 Michelin-starred restaurants, so you'll have no problem finding a spectacular meal.
However, not surprisingly, fine dining restaurants are expensive, especially the star-studded ones in Paris. To save a little on fine dining, consider sitting down for lunch instead of dinner. While it's no secret that lunch is typically cheaper than dinner, the prix fixe lunch menus at sought-out restaurants can be considerably cheaper.
If there's a particular restaurant or chef you'd like to try, check to see if the establishment offers a "formules déjeuner" lunch menu, which may include a few fix courses or a main course paired with wine or other type of beverage. If the restaurant doesn't offer a prix fixed lunch menu, be careful. Sometimes, eating à la carte in Paris can add up quickly — even at lunchtime.
Be mindful about beverages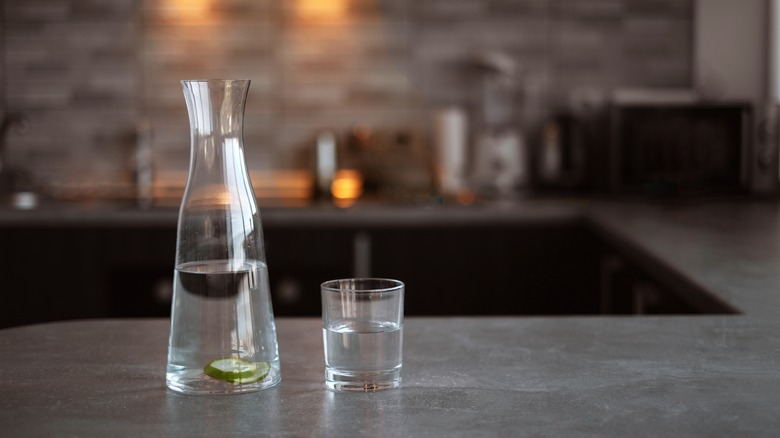 Irine and Andrew/Shutterstock
If you're trying to keep meals out reasonably priced, be mindful with your beverages. The tap water in Paris great, but unlike the U.S., most waiters won't automatically offer water. Typically, you'll need to order "une carafe d'eau," which is simply a carafe of good tap water. In Paris, soda, sparkling waters, and other bottled, non-alcoholic beverages can be more expensive than a glass of wine.
Point being, if you're prioritizing a good meal with a decent glass of wine, then save money where you can by sticking to tap water. And speaking of wine, you're definitely in Paris, so you'll be presented with all kinds of fantastic wines with a wide range of price tags. But overall, good quality wine in Paris is comparatively affordable to other places in the world. You'll probably really appreciate both the price and quality of the house wines, especially if it's been paired with a prix fixe menu.
Take advantage of daily specials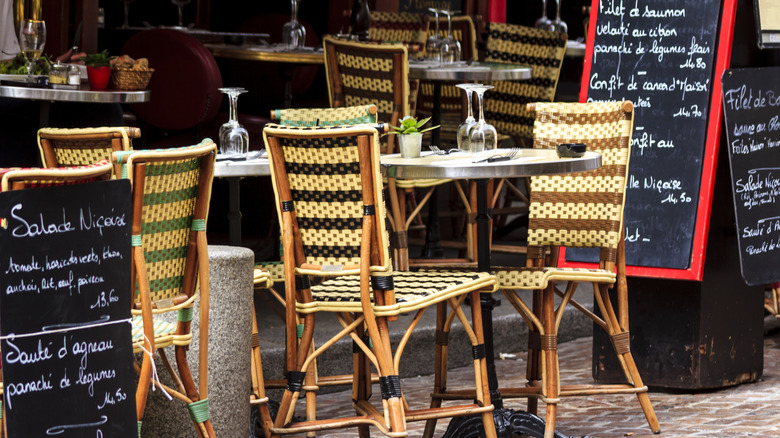 Rrrainbow/Shutterstock
In the same vein of searching out enticing prix fixe menus, pay attention to the daily specials of restaurants. Typically, restaurants will advertise their daily special on outside blackboards each morning, and these menus typically reflect seasonal ingredients found at the market.
While you can simply walk around to search for daily specials, you can also find discounts by downloading La Fourchette, or TheFork. Through this deliciously handy app, you can research restaurant discounts and specials, read customer reviews, and reserve tables. The app also rates restaurants in terms of value for money, which is pretty awesome when trying to budget.
Not only does TheFork offer an insider's glimpse into Paris dining, you'll also earn points by booking through the app. If you plan on dining out a lot, these accumulated points will continue to reward you with more discounts as you dine through Paris (and the rest of France).
Keep breakfast deliciously simple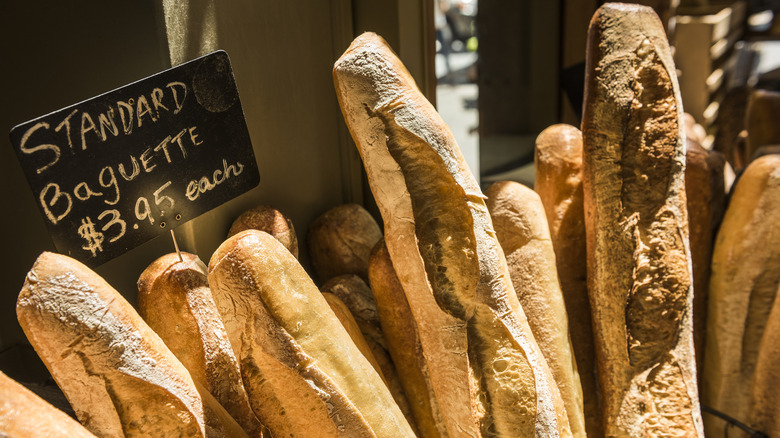 Andriy Blokhin/Shutterstock
As stated before, eating like a Parisian can help you save money. While it may seem that everyone's dining and people-watching all afternoon, it's not exactly a day-to-day norm. To save a little money, order your coffee from the café bar instead of sitting down at an outside table. While, yes, sipping coffee on a Paris sidewalk is something to experience, this experience comes with a premium.
Also, you can definitely save money by eating simple breakfasts. While a fancy brunch or big breakfast can be enticing, you may want to save up for a quality lunch or dinner. Really, a freshly baked baguette with preserves, French butter, and a coffee is a divine experience, and it'll typically only cost you a few euros. Paris is also known for their delicious street crêpes, which are filling, inexpensive, and an ideal on-the-go breakfast for starting your day.
Plan a park picnic in Paris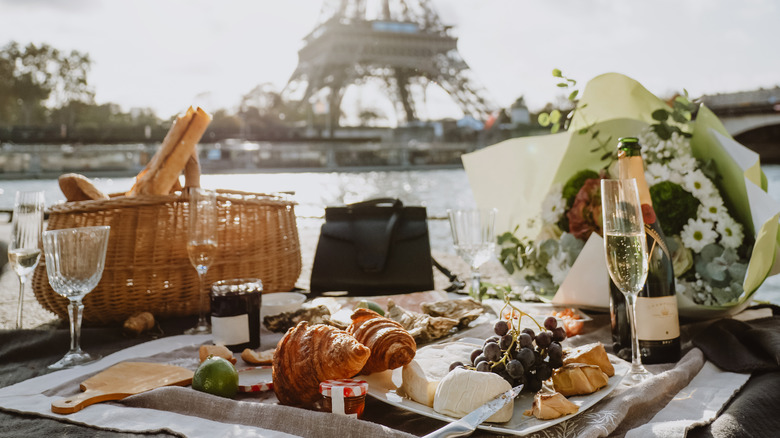 Anele Nova/Shutterstock
While dining in high-quality and storied restaurants is a top-tier bucket list experience, don't overlook the wonderful markets of Paris. Each morning, except for Mondays, the streets of Paris bustle with various types of food and produce markets. Although the prices at these market can actually be more expensive than a supermarket, the prices are also flexible. If you go in the early afternoon versus first thing in the morning, you can find deals from vendors trying to make last-minute sells before closing shop for the day.
While visiting Paris, you'll notice another dining norm of Parisians. Park picnics are common and a lot less expensive than dining at most restaurants. Find some good quality meats, cheeses, and breads to enjoy a memorable picnic outside. This is an excellent way to sample iconic French foods without spending a fortune.
Finally, and this is true all over the world, avoid touristy locations in Paris for dining. These tourist areas are usually easy to spot (like Avenue des Champs-Élysées), but if ever in doubt, these restaurants may employ "barkers" to attract tourist into their doors. As a feature of most tourist areas, these restaurants (but not all) can be overpriced with "eh" food.
Overall, Paris is filled with excellent dining options to accommodate a range of budgets, and by eating like a Parisian, you can indulge in the city's world-famous dining without breaking the bank. After all, you'll need to budget room for dessert.