This Midwest Town Is One Of The Best Wine Destinations In The U.S.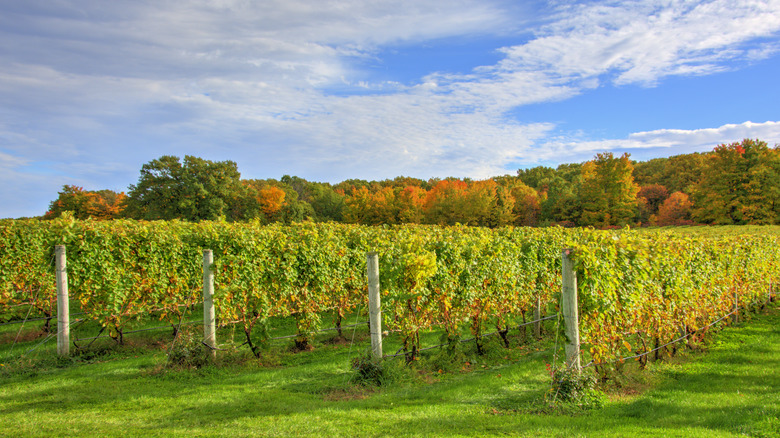 William Reagan/Getty Images
California's Napa Valley and the Finger Lakes in New York are two wine regions almost all Americans know about. However, there are some lesser-known destinations around the U.S. that are producing some incredible wines, and while we'd like to keep Traverse City, Michigan our best-kept secret, it's only fair to share. Producing over 60% of the wine in the state of Michigan alone, the Traverse City region is home to around 50 wineries, all offering up different varietals of Riesling, Chardonnay, Cabernet Franc, Pinot Noir, and even cherry and ice wines.
Traverse City is small enough to make for an easy weekend trip. It's also one of the USA's best lake towns, as it's closely situated to the vibrant blue waters of Lake Michigan. Don't skip out on Sleeping Bear Dunes National Park for a family-friendly activity. On the contrary, if you want to expand the boozy nature of your trip, Traverse City is one of the most historically-fascinating destinations in the U.S., specifically for prohibition-era history (which can best be learned at Mammoth Distilling Cocktail Lounge). Safe to say, Traverse City, despite being known as a fast-growing wine destination, has something to offer everyone.
Which wineries to visit in Traverse City, Michigan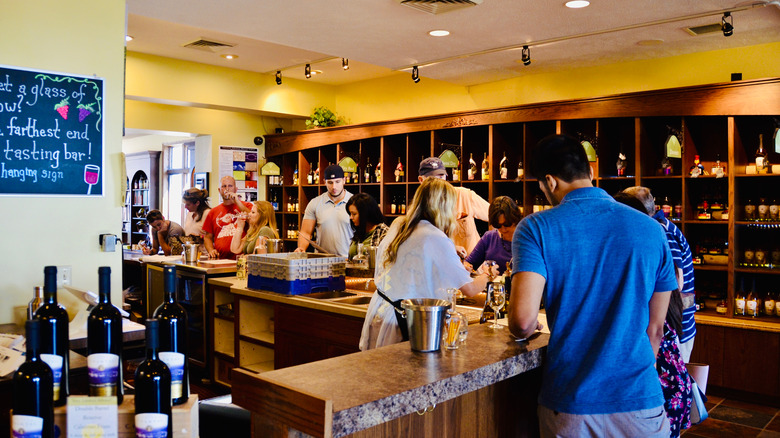 PQK/Shutterstock
There are around 50 wineries total in the Traverse City region in Michigan, so narrowing down which ones to visit can feel like a daunting task. The best way to see several wineries during your visit is to take an organized wine tour. If you want to self-plan, Chateau Chantal Winery & Inn is essentially a requirement, as the winery produces some of the best Riesling in the area. Best of all, you can book an overnight stay at their bed and breakfast right on the winery property.
Brys Estate Vineyard and Winery is a family-run winery in Traverse City with some of the most hospitable faces behind the name. Located in a dreamy setting overlooking Lake Michigan, Brys Estate makes a mean Gewürtztraminer and serves an almost-too-refreshing frosé in the summertime.
Black Star Farms is one of the most popular wineries in town and is well worth a visit. However, if you can't make it to the winery itself, you'll likely see a glass of Black Star Farms wine being offered on restaurant menus throughout town.
Mari Vineyards will transport visitors right to Tuscany without ever whipping out their passports. The entire winery has Italian-influenced architecture, and despite Traverse City being primarily praised for its white wines, Mari Vineyards makes some complex reds.
Annual events in Traverse City to plan your trip around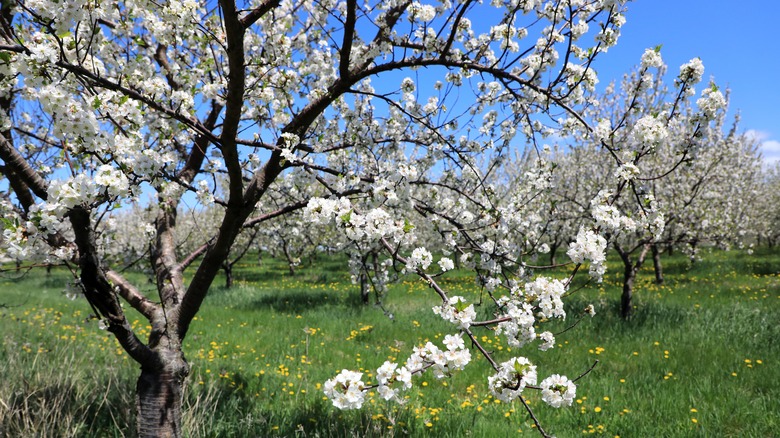 Thomas Barrat/Shutterstock
Not only is Traverse City known as a booming wine destination, but it is also the cherry capital of the world. Traverse City cherries are known to be especially tart, and in their peak season (which is summer), the city holds an annual Cherry Festival. The 2024 dates will be held from June 29th to July 6th. Cherries are so prominent in Traverse City that the city's airport is properly deemed the Cherry Capital Airport. Actual cherries aside, you don't need to travel all the way to Japan to catch Sakuras, and can instead head right to Traverse City, where cherry blossom trees are typically in bloom in mid to late May (though it can vary).
This October, the Leelanau Peninsula is hosting the Hunt for the Reds of October, where, despite Michigan primarily being known for its white wines, allows wine enthusiasts to sample some Michigan reds from participating wineries. Who wouldn't want to enjoy a glass of fruity Cabernet Franc against the backdrop of Northern Michigan's amber and orange fall foliage?
Even in the winter, Traverse City has plenty to offer wine lovers. They're one of the few destinations in the USA whose climate allows for ice wine to thrive, and what better time to drink ice wine than after snowshoeing in a city as beautiful as Traverse City?