Underrated Tourist Destinations In Mexico To Add To Your Bucket List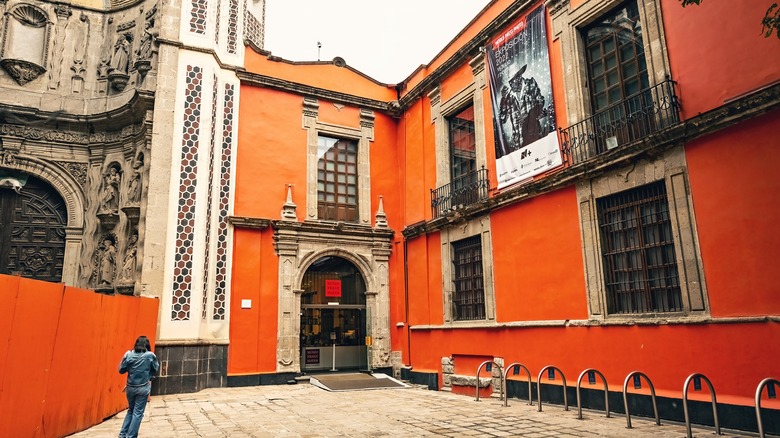 Sun_Shine/Shutterstock
Our southern neighbor, the bottom third of the trio of countries that make up North America, is a land of vast geographical and cultural diversity. It is where to find deserts, rainforests, jungles, scintillating seas, mountains, mangroves, and vibrant reefs. Mexico also has a rich history, and its traditions and language have deeply influenced the daily life of the United States. As tourism in the country has developed, a few spots seem to stand out as perennial favorites. 
At any time of the year, there will always be visitors to Los Cabos, Cancún, Puerto Vallarta, Chichén Itzá, Oaxaca, Tulum, and San Miguel de Allende. But for every sure-fire tourist hit, there are a number of unsung heroes, these lesser-known destinations that still manage to encapsulate the fantastic culture, exciting food, and warm hospitality for which Mexico is famed. Below, you'll find a list of some fabulous alternatives to the tried-and-tested beach, cultural, and foodie destinations that many of us already know and love.
Bacalar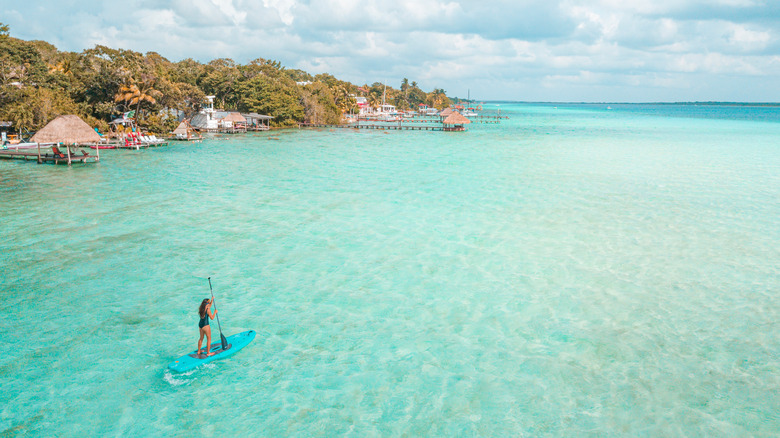 Rubi Rodriguez Martinez/Shutterstock
This quiet town sits in Quintana Roo state, also home to the much busier Cancún, and it's only a four-hour drive from the international airport of that teeming resort city. And yet, the atmosphere of this laid-back destination, which doesn't sit on the sea but offers amazing opportunities to enjoy the water, vastly differs from Cancún. 
Bacalar lines a body of water officially known as the Bacalar Lagoon; however, its brilliant luminosity and varying shades of color have carved it a fancier name, the Lagoon of the Seven Colors. For fans of water landscapes, the sight of the lagoon is one they will never forget — as the hues slowly transform between different shades of turquoise and blue, the water becomes crystal clear. This is a great spot for a swim or snorkel, or even a boat ride and kayak, and best of all; the water is not salty. 
A fascinating place to visit in the town itself, and one that offers excellent views of that water, is the Fuerte de San Felipe Bacalar, a fort built in the first half of the 1700s by a regional governor as a way to stave off attacks from Europeans and other invaders. Apart from providing amazing vistas of the water, the fort is an interesting place to wander, with a rich history detailed in its museum, which inhabits one of the sections of the structure.
Bahía de Loreto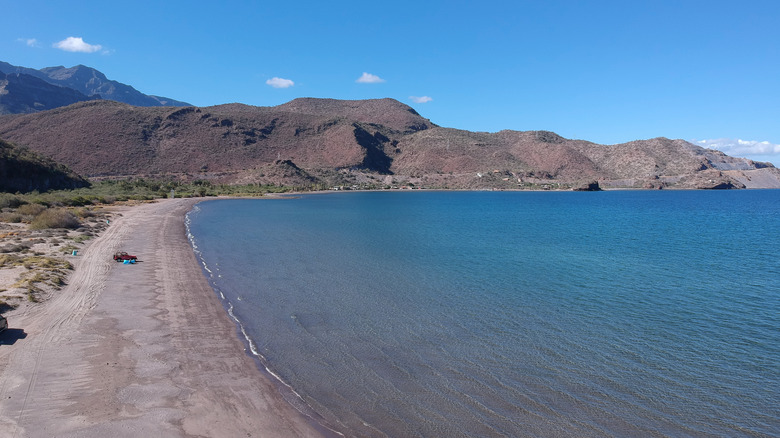 adeantoni/Shutterstock
For Californians, the road trip to Baja California can be as simple as getting in the car and driving south. If you go far enough, you can get close to this national park with an impressive range of flora and fauna. Located offshore, this is a stunning realm with five islands, a wide variety of sea life, and plenty to see and do on the islands. 
In the water, visitors might get the chance to see dolphins, the blue whale (the largest mammal in the world), and orcas, either from a boat or on snorkeling and diving trips. Blue whales are most frequently spotted here during the annual migrations, which generally take place in February and March. Still, these aren't the only creatures here that are transitory, as there are also migrations of jack mackerel and dorado each year between July and September that draw scores of sport fishermen. 
Away from the water, there is much to admire, with the chance to wander around secluded bays and laze on quiet beaches, explore underwater caves, and climb lofty dunes. Adventurers can also plan long, picturesque hikes among the semi-arid terrain and overnight stays in tents on the islands.
Calakmul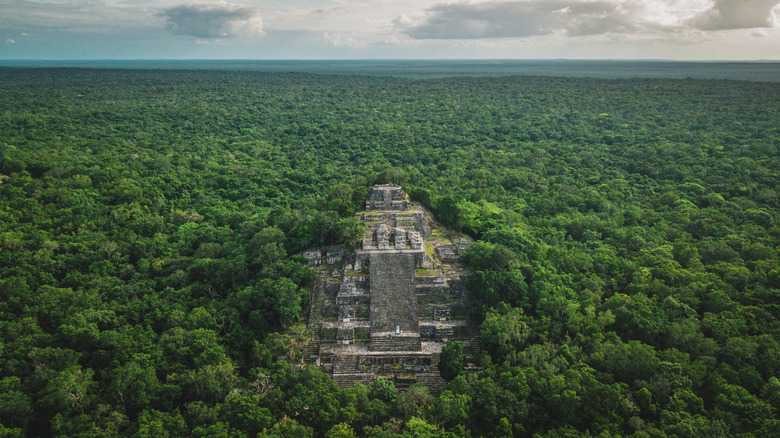 Alfredo Matus/Shutterstock
The Mayan ruins in the northern part of the Yucatan Peninsula are a pretty well-worn route, with Chichén Itzá and Uxmal almost considered de rigueur stops on any itinerary that skirts the area. But a bit further south, in the state of Campeche, the ruins of Calakmul are fabulous but far less busy. The structures sit within a UNESCO-designated Biosphere Reserve, part of a massive forest network that bleeds into Belize and Guatemala. It is second only to the Amazon in Latin America regarding its size and age. The forest is where species like the spider monkey, the jaguar, the tapir, and a massive range of birds are found. 
The jungles in this reserve are now protected, allowing the animal population to grow, but for many visitors, the sight of the ruins is the most compelling aspect of a tour here. The pyramids soar, believed to be the tallest among all the Mayan pyramids, and have a vast array of carved stone slabs. There is so much to see, well worth the effort of a trip, set up on a plateau among deep greenery, the site of a former city of 50,000. The site is spread over a large area, and though there are thousands of edifices within it, the main section is quite compact, with analysis showing that people first lived here almost 3,000 years ago. That is mind-blowing when you think about it.
Copper Canyon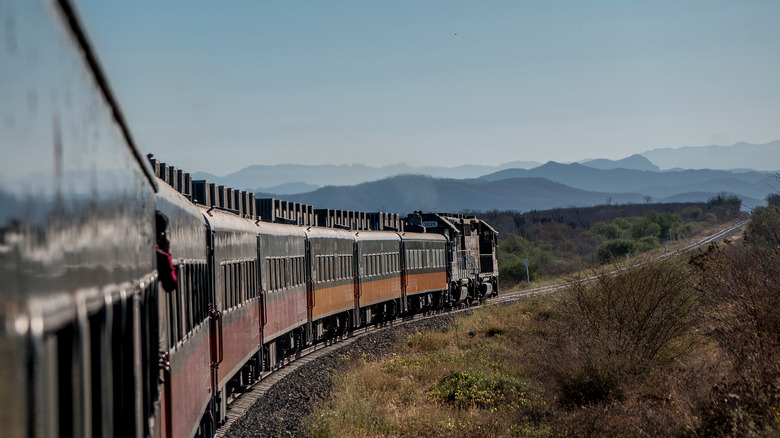 Eduardo Quiros/Shutterstock
Any nature lover in the United States will dream of visiting the Grand Canyon, that mouthwatering spectacle in Arizona. And yet, in Mexico, in the state of Chihuahua (yes, this is where the eponymous dog originates from), there is a canyon of scenic beauty larger than the Grand Canyon, most rewardingly seen from the comfort of an iconic train ride. Copper Canyon, known locally as Barranca del Cobre, is a small section of the American Cordillera network of mountains that runs from North America and through to South America, creating stunning landscapes along the way. 
Through the canyon, the El Chepe train winds its route from Chihuahua to Los Mochis, and as it travels its path, it showcases the variety of scenery in this part of the country. It's not a straight-shot ride that steamrolls through the whole route in one shot, but it makes stops along the way, so travelers can choose where to explore if they wish to disembark. Among the stops is Divisadero, for its striking views of the jagged landscape contours, and Los Mochis, for its access to the waterfront town of Topolobampo, where fine beaches allow relaxation.
Cuernavaca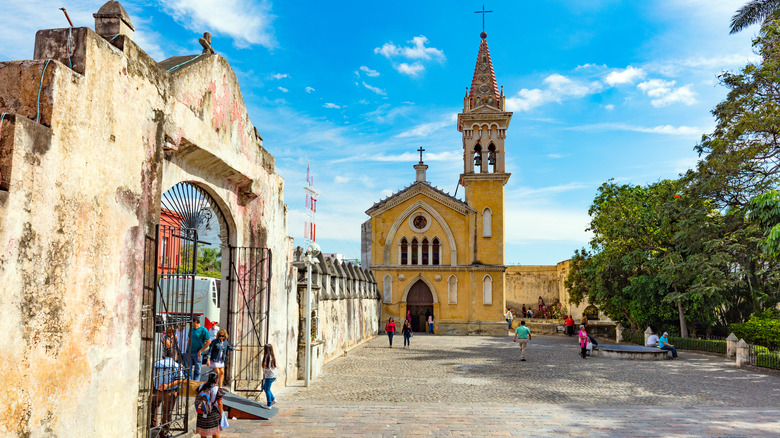 posztos/Shutterstock
It takes less than 90 minutes to reach Cuernavaca from Mexico City, making it an easy day trip, but this town has a fabulous colonial feel and is worth staying in for a night or two. The history of Cuernavaca is grounded in agriculture, and it was prized as a center of crops by both the Aztecs and the Spanish, later becoming a getaway for rich Spaniards who lived in Mexico City. The weekend trippers still descend on the town throughout the year, so plan to visit during the week, when the pace is less frenetic and the sights and restaurants less engulfed. 
Many like to wander the town's central buildings and landmarks — around the Palacio de Gobierno (governor's palace), Zocalo (the town's main square), or the grand cathedral (built in the 1500s). The weather is pleasant here for much of the year, making it a destination for all seasons. Travelers can also check in to a hotel that was a former colonial residence, offering them the chance to get a closer look at the architecture and features of these homes that are so attractive. This is also a great place to learn Spanish, with many language schools here, so a trip can combine work and play.
Guanajuato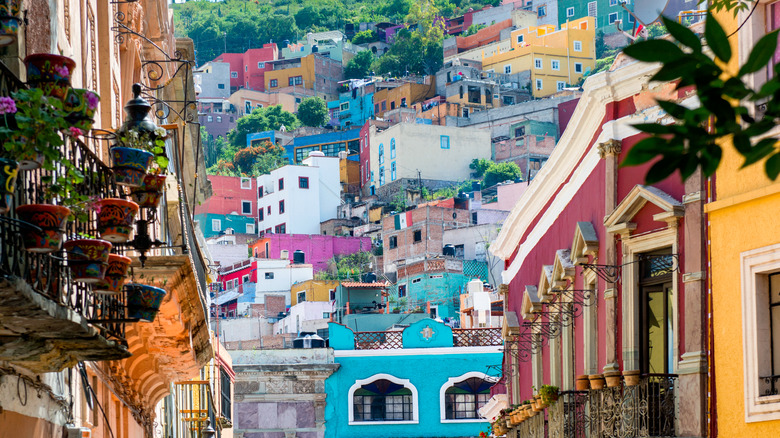 Ferrantraite/Getty Images
This town is a UNESCO World Heritage site, along with the nearby silver mines to which its fortunes are tied, and is a short drive northwest of the infinitely more touristy San Miguel de Allende. Visually, Guanajuato, also the name of a state in Mexico (this city is its capital), is a treat, with colorful houses splattered around the hilly city, making it a feast for the eyes and an excellent subject for the camera. The brightness of some buildings might be a little arresting at first, but once you get used to the audacity of the tones — gaudy pinks and wild bright greens — the jumble is quite refreshing and unique. 
The Nuestra Señora de Guanajuato is one of the most memorable buildings here, a grand church with a bold mustard-yellow exterior accented by red trim, and inside, visitors will find a depiction of the Virgin Mary covered in gems. The city also has colorful blooms, with bougainvillea everywhere, and one of the loveliest ways to pass the time is to stop in one of the many plazas around town and soak in the atmosphere.
La Paz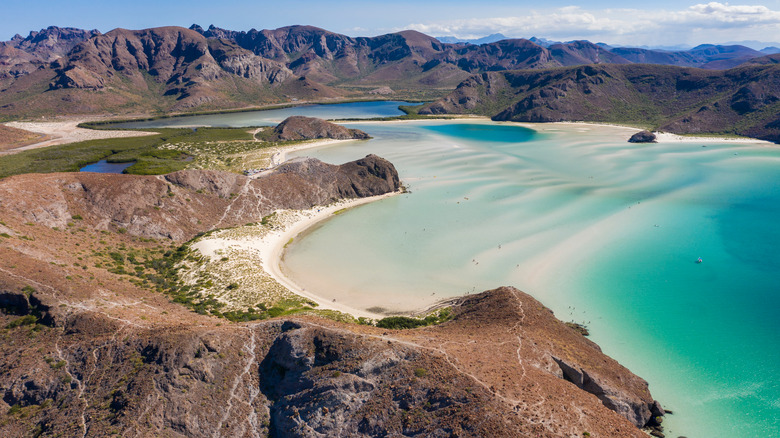 Matt Gush/Shutterstock
The capital of Baja California Sur, the southern part of the peninsula, La Paz, lets visitors experience both desert and gorgeous seas. In the water, the possibilities read like a roll-call of bucket-list adventures, allowing travelers to see gray whales, snorkel alongside the mighty, languid whale shark, and even dive with playful sea lions. Set back from the clear blue waters of the Sea of Cortez are the desert landscapes, rocky coastlines with cactus growing in solitary patches, and the contrast between the duns and browns of the land and the turquoise shimmer of the sea is a gorgeous tableau of color and contradiction. 
The city has plenty to entertain visitors, with a lively cultural scene. In the city's central plaza, the Cathedral of Our Lady of Peace (La Paz is Spanish for peace) was built in the 1800s and features paintings inside that once-graced old missions. Nearby, the Regional Museum of Anthropology and History traces the local history, captured through photos, paintings, and monuments from the pre-Columbian era to the country's independence. A visit here also wouldn't be complete without a stroll along the seafront of EL Malecón, a boardwalk peppered with statues, artwork, and murals, and it is one of the places that makes La Paz a wonderful destination.
Las Grutas Tolantongo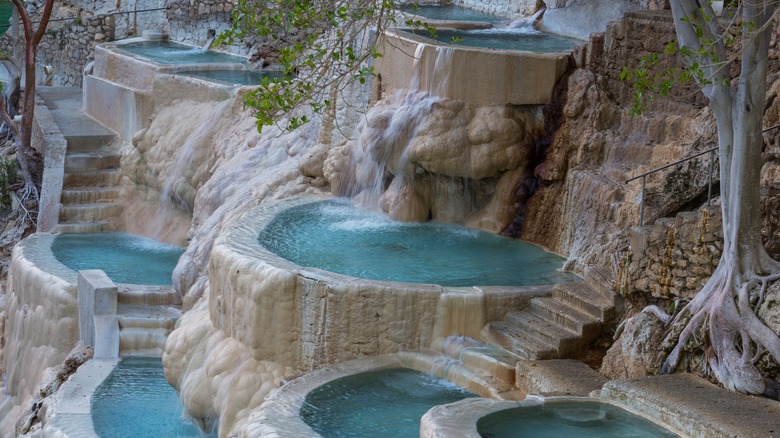 Galyna Andrushko/Shutterstock
This park, situated north of Mexico City, which charges an entry fee has a range of goodies to keep active types busy. What makes the place special is the thermal waters that course through the park, a centerpiece of the swimming areas, caves, pool, tunnels, and more that make up the destination. The cavern has steaming spouts of water and rocky formations that look almost ghoulish, and it's quite something to be sitting under arched rocks with steam rising from the water. 
Though you won't be able to loll about in the heated water, you can enjoy a similar effect at the tunnel, walking through a passage fed by the thermal water, an exciting and scary experience. The bathing pools are probably the park's biggest attraction, a series of small-tiered pools fed by water that is about the same heat as body temperature and notable for its baby blue shade. Elsewhere, visitors can hike, dip in a swimming pool, see waterfalls, and walk along a bridge attached to the side of a rock face.
Loreto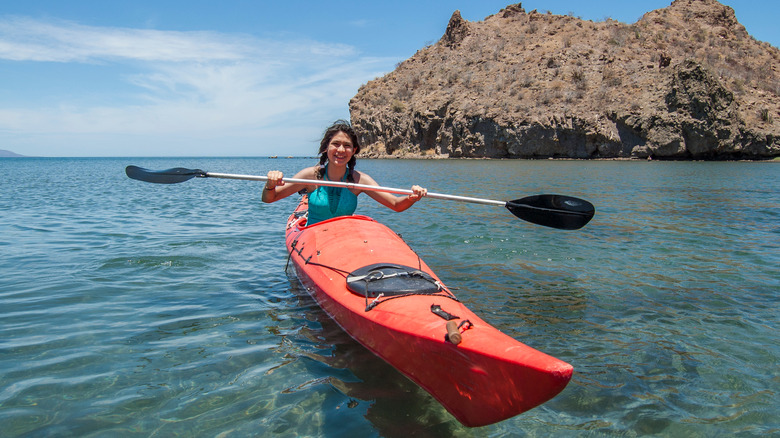 VG Foto/Shutterstock
While the Bahía de Loreto National Park is an obvious place to visit close to the city, travelers can enjoy plenty of other outdoor activities at this Baja California destination. The arid plains and hills just outside the city limits are primed for exploration on an ATV, rugged vehicles that can handily tackle the bumps and lumps of the rugged region. Other trails in the area can be seen on horseback, and operators in town can size you up and match you to the appropriate steed. 
The clear seas here are a fine realm for glass-bottom boat tours, and visitors might go gaga at the prospect of seeing aquatic life wriggling and gliding below their feet. Also, kayaking is a popular way to shadow the coastline in the water, and for those who want to take a closer look at the marine riches here, snorkeling and diving trips are easy to arrange. 
Back on land, the Sierra Gigantes mountain range, next to Loreto, is populated with hiking trails that let walkers get in their daily steps. And a short drive south of Loreto, at Puerto Escondido, boat tours and whale-watching trips are an exciting, fulfilling way to take advantage of the fine setting.
Mérida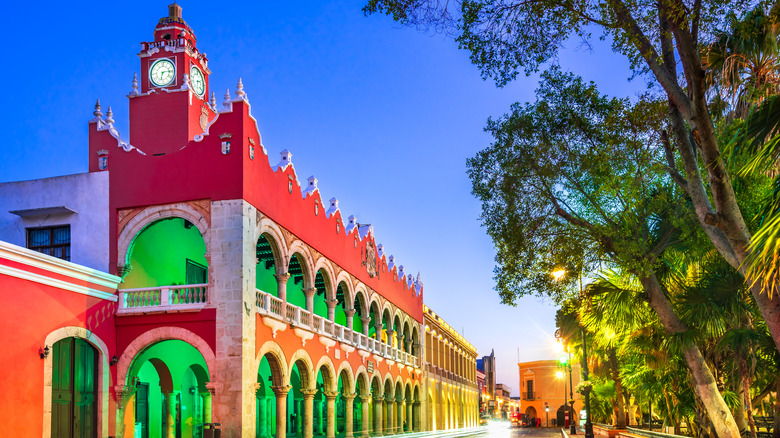 ecstk22/Shutterstock
This beautiful colonial town is the capital of Yucatan state and has pretty architecture and plenty of cultures. Strolling around the streets and seeing the comely colonial buildings is dreamy and will have visitors constantly fumbling for their phones to snap and upload shot after shot of gorgeously colored facades, compact balconies, arched doorways, and other fine architectural details. Mérida is a charming, low-key destination, and the simple pleasure of walking around the historic core is reason enough to visit. 
With its twin towers, the cathedral is probably the city's most iconic building and should be included in any itinerary; it was constructed in the late 1500s and is still mightily impressive today. Another site not to miss is a la Patria, a monument dedicated to the fatherland with carved figures and totems that reflect centuries of the country's history. It's a scintillating piece of art, beautifully realized and laden with meaning. For theater fans, Mérida is home to the country's most acclaimed annual festival, set in an amphitheater and featuring opera, ballet, music, and more each summer.
Palenque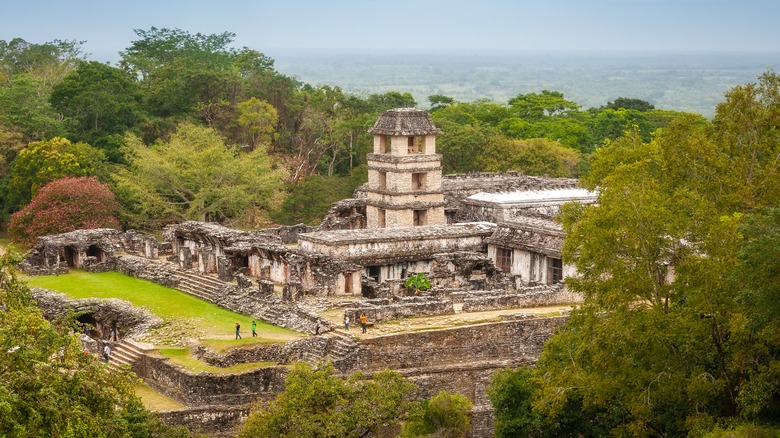 Daniela Constantinescu/Shutterstock
For fans of Mayan structures that seek another place to plant their unerring gaze, this stunning site set among the thick jungle is not to be missed. In the state of Chiapas, the archaeological site was a key city in the Mayan empire, and today, firmly wedged between woods and jungles, it has the feel of a hidden dimension, like an alternate reality. Palenque is very much a living archaeological site, and work continues to unearth discoveries and new parts of the complex. 
What is known is that tombs have been found here, many belonging to people in positions of power, and much more is likely to be uncovered. Of the structures already on display, the Temple of Inscriptions is often the first encountered, the entryway on the hill that eventually flows into the former city. Other attractions include the Temple of Skulls, the palace with multiple courtyards, and a temple dedicated to the jaguar. The jungles themselves are teeming with life, and visitors might be able to spot toucans and howling monkeys as they wander around the site.
Puebla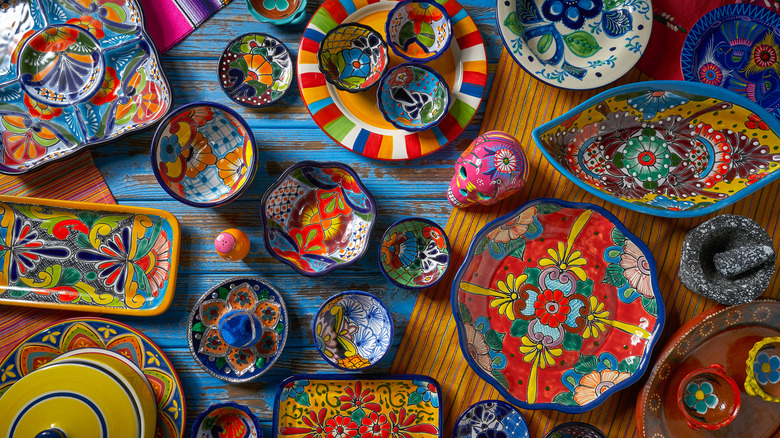 lunamarina/Shutterstock
Many Mexican residents in the United States trace their roots to the state of Puebla, whose main city has great food and beautiful pottery. A visit here invariably takes in the cathedral, a building of grand dimensions that sits slap bang on the city's main square. It features two towers and, as a Roman Catholic Church, gives the nod to the St. Peter Basilica in Rome through the shape and style of its dome. For some great color, visit Toad Alley or Callejon de los Sapos, a row of houses with vibrantly colored facades — think pink, deep blue, bright yellow, lime green, and so on. 
With so much Baroque architecture around the city, it's only fitting that the Internacional Museo del Barroco (International Museum of Baroque) is here, with a fine trove of Baroque works on display. Visit Puebla, and you will likely see Talavera pottery around the city, a technique originally from Spain and distinguished by its fine stencil and enamel work — clay is abundant around the city, hence the popularity of the craft here. When it's time to feed the stomach, specialty dishes to try in Puebla include Mole Poblano (a thick, cocoa-based sauce), Chiles en Nogada (stuffed chili), and the sandwich known as a cemita.
Real de Catorce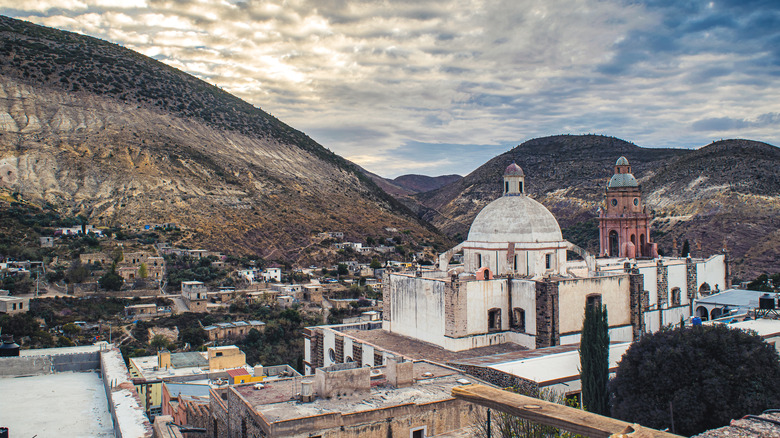 Raul Luna/Shutterstock
This village in Central Mexico is a small place, with a tiny patchwork of roads crisscrossing its main area, and there aren't buzzing clubs or chic restaurants anywhere in sight. This is because the destination that will give visitors a feel for small-town life in Mexico is also a ghost town that has been brought back to life. A settlement that was once thriving with workers that toiled in mines in the area, the former town has a cathedral, a mint, and several monuments that testify to its storied past. 
There is activity along Lanzagorta Street, with places to get a bite to eat or find out about tours to the surrounding areas. Be sure to stop by La Purisima Concepción Parish, constructed in the 1900s, and a shrine that mixes elements of different architectural genres. Visitors will see Neoclassicism, Doric features, and even Gothic touches, and there is a giant organ with 1,200 pipes in it at the church.
San Cristobal de las Casas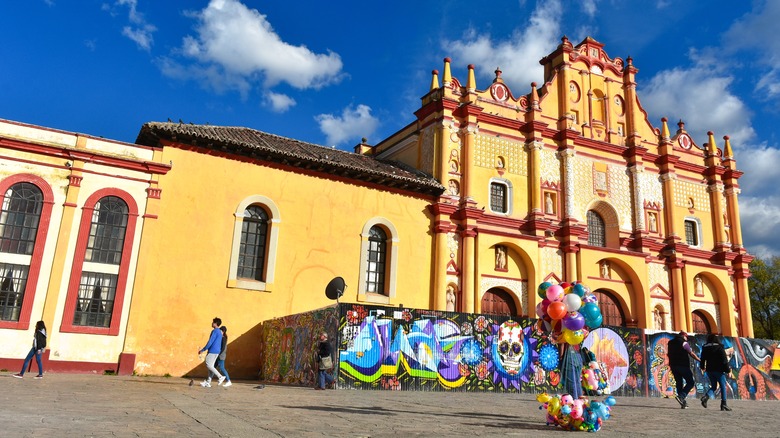 Nichimar/Shutterstock
In Chiapas, this town features lovely cobblestoned streets and a sizeable indigenous population. The city is great to visit at any time of the year, thanks to its location 7,000 feet above sea level, ensuring that it is often cool. There are plenty of churches to visit around the city, some bright pieces of confection like the cathedral, in sunny yellow shades, or the artfully contoured Church of Santo Domingo, or others with higher vantage points that come with clear views over the entire urban spread. 
To look at how ancient items can be preserved for millennia, a visit to the Museo del Ámbar (Amber Museum) is not to be missed. There, fossils immortalized in orange resin capture creatures that are, in some instances, 25 million years old, a wild thought when you take a moment to think about it. Today, travelers will enjoy the lively atmosphere along the main drag, Real de Guadalupe, with its stores, restaurants, cafes, and plenty of opportunities to purchase locally crafted items sold by the indigenous residents of the city and its environs.
Sima de las Cotorras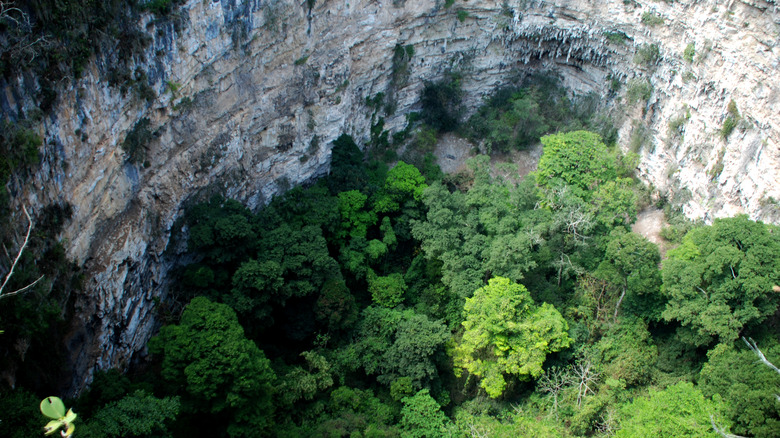 wayak/Shutterstock
Often visited as a day trip from San Cristobal de las Casas, this vast sinkhole within a larger park will get adventure tourists pumped up. Located inside the Selva El Ocote Biosphere Reserve, a UNESCO-designated area of nature with high forest and a large system of karst caves, the giant hole looks like it was the product of a machine that bored a section down into the rock as if to make a tunnel. 
It's an eye-opening sight, the rim of the hole topped with trees, and its ground similarly blanketed in greenery. The crater is more than 450 feet in depth — more than 1½ times the height of the Statue of Liberty — and is quite an unnerving phenomenon on first encounter. Most visitors come here to rappel down its walls, see the old paintings adorned on its borders, and walk around the base and caves below to explore an otherworldly realm.
Taxco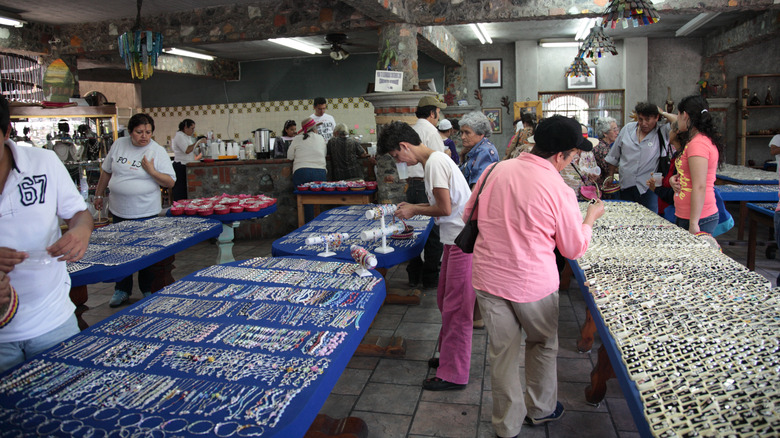 G01xm/Getty Images
The towering monument of Christ set in the hills above this town that is an easy drive from Mexico City might have travelers believing they are in Rio de Janeiro, even without any seas nearby. But Taxco's religious landmark is as popular as that in the Brazilian city, even if this one is many times smaller. This, however, isn't the main reason to visit the town — jewelry fans laud Taxco for the wealth of locally produced silver items in a town that was once a hotbed of silver mining. 
The city is achingly pretty, with cobblestoned streets, white buildings topped by red tiles on their roofs, large and small ornate churches, and plenty of places to sit or wander. The city has an immense verticality, set on a steeply sloping hill from which it seems to tumble down into existence. There are shops selling silver all over the town, and visitors will never have to walk far to find one; the prices will seem reasonable for travelers from the United States. 
Make time to stop at the Museo de Guillermo Spratling, named for the American William Spratling, who was instrumental in kick-starting the silversmith industry here almost a century ago. It houses some of his art collection and examples of his jewelry designs.
Todos Santos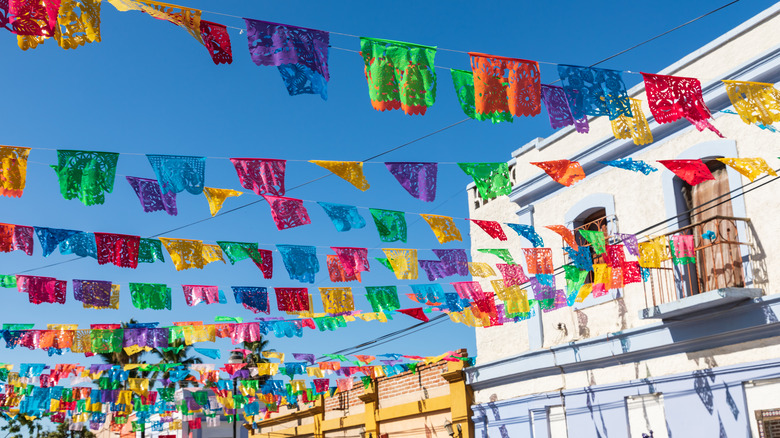 Emily_m_wilson/Getty Images
In Baja California Sur, less than 50 miles north of Cabo San Lucas, Todo Santos is a boho-chic refuge that has recently drawn surfers for its Pacific waves and laid-back vibe. It's most certainly a gorgeously located town, with the Sierra de la Laguna mountains rising behind, the town itself set on a plateau, or mesa, with a verdant valley below. Like many towns in the region, its history is intertwined with missionaries, and the town's name translates to "All Saints." 
For a while, Todos Santos was a hub for sugar production, and later, as wealth poured into the place, cultural institutions opened, and soon, the artists began to arrive. Sugar production dropped off in the 1950s, with water here running dry, and the town started to fall into disrepair. But a few decades later, the water returned, and with it, the farming of fruits started to prosper, helping the town's fortunes to revive. Today, it's popular for its tranquil, charming ambiance and as a springboard for the waves at Bahía de Todos Santos, a surfing reserve with waves for all surfers.
Xcalak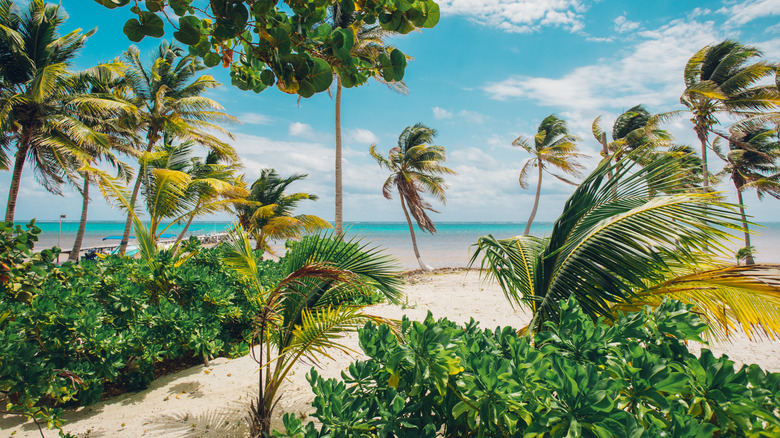 Duarte Dellarole/Shutterstock
A lot of tourists visit Cancún for its sumptuous beaches, but five hours south of that city's airport, travelers will find this low-key beach refuge where the water is no less enticing. This is a small place, which can easily be traversed in a few minutes due to its paucity of streets. A couple of lagoons sit behind Xcalak, but what is in front really holds one's attention. Sugar-soft sand, lazy palm trees that rustle and sway in the sea breeze, and crystal-clear turquoise waters will hypnotize even the most avowed beach hater. 
A reef just offshore lets water babies spy on some marine life, but life here is mostly about kicking back, hitting the beach, and unwinding from the grind of daily life, and that seems like a pretty sweet formula for a vacation. The water is calm here, the waves halted by the reef offshore, and fall within the confines of a national park, so expect plenty of great snorkeling.
Yelapa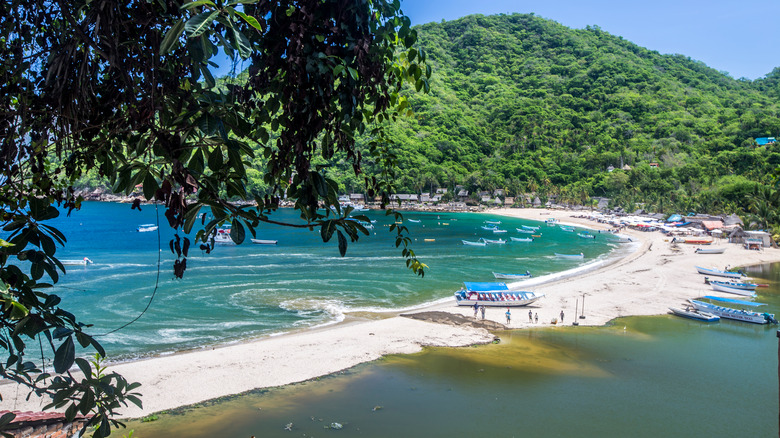 Isabellaphotography/Shutterstock
This town is a short distance down the coast southwest of Puerto Vallarta. Still, because getting here from the tourism magnet requires a circuitous route inland on dubious roads, the vibe here is much less touristy, with minimal road traffic. Think of that as your gain because the beach in this quiet town, which curls in a lovely crescent shape, is sublime and serene. Many visitors end up coming here by boat from Puerto Vallarta. Yet, Yelapa retains the feeling of an old beach haunt from decades ago that hasn't been blighted by mass commercialism and rampant waterfront development. 
This is a blissfully low-rise destination, and the heart of the town is a walk away from the beach, a separation that helps to keep the beach area relatively calm. The town itself is haphazardly planned, with small alleys, winding roads, and a general lack of uniformity that makes it a never-ending wonder to explore.
Zipolite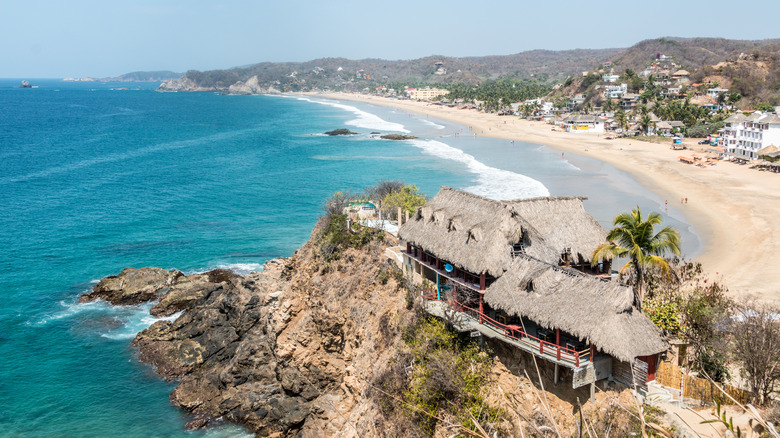 In2dodo/Shutterstock
This is another bohemian beach enclave located in Southern Mexico. What has made Zipolite famous, or perhaps notorious, is that it is the site of the only legal nude beach in the country. However, this shouldn't deter non-nudists from visiting this slice of seafront paradise located south of Oaxaca. The town center is very compact, walkable, and opens to a beach that stretches in an east-west direction, which means that visitors can take in views of the sunrise and the sunset from the sand, a treat for lovers of those magical times of the day.
The beach has unending, surging surf and is bookended by craggy cliffs at either end, adding another facet to its visual appeal. This isn't a destination loaded with nightlife and bars where shots are the de facto drink order, but rather a relaxed beachfront idyll perfect for anyone that loves their beach time natural and possibly au naturel.