12 Best Places In The World To Celebrate New Years With Kids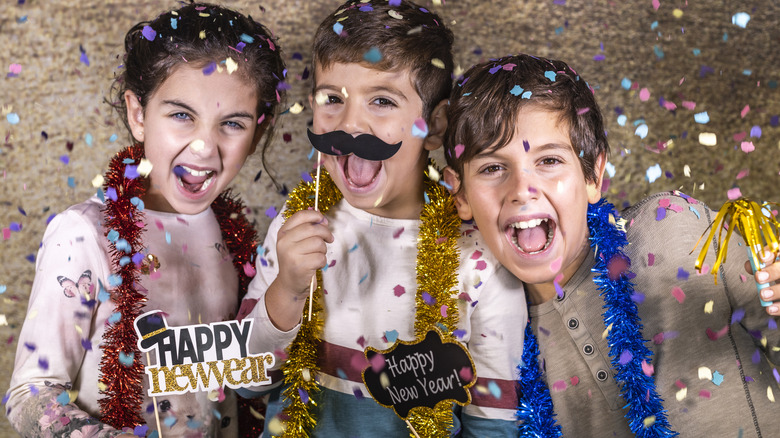 Coscaron/Getty Images
New Year's Eve looks different when you become a parent. Suddenly, the thought of shivering for hours in a veritable mosh pit while awaiting a giant ball to drop over Times Square seems less than ideal. So, too, does the idea of pulling a champagne-soaked all-nighter while you're accompanied by tantrum-throwing toddlers. That said, having kids doesn't mean New Year's Eve has to be a bust. There are plenty of destinations around the world that offer kid-friendly fun to make ringing in the next annum an experience the whole family can enjoy. 
From dance parties on a beach in Seychelles to camel rides in the desert outside Dubai to counting down to noon at the Louisiana Children's Museum in New Orleans, there's no lack of exciting ways to celebrate New Year's with your favorite nonadults. Here are a few of the best places in the world to celebrate New Year's with kids. P.S. We chose these locations based on the number of kid-friendly attractions and interesting options for family-based New Year's Eve fun. These 12 had more to offer than other places we reviewed. We recommend adding at least one to your bucket list. 
London, England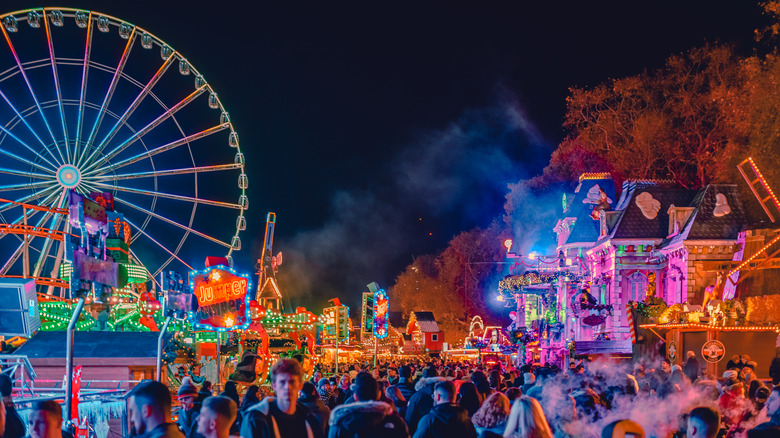 Serts/Getty Images
Whether you're visiting for a royal event, Guy Fawkes Night, or Christmas, London knows how to throw a party. When it comes to New Year's Eve, the Big Smoke won't disappoint. A city packed with festive things to do for the whole family, you'll be spoiled for choice when it comes to ringing in the New Year with kids. Hyde Park Winter Wonderland is a must-visit for those who love to zip through the sky on amusement park rides, sip on mulled cider, and watch a show. Unsurprisingly, spending the day here is deemed one of the most festive things to do in London at Christmas; you'll be practically dripping with cheer when you leave. 
Your kids will think you're the coolest for at least a day if you bring them to the Fly-Kid Family Rave. Held in Market Halls by Oxford Circus from 12 p.m. to 4 p.m., this family-friendly dance party includes street dance lessons, hip-hop face painting, and confetti. The kids will be so tuckered out by the time midnight comes around they won't realize they missed a thing. Only 100,000 tickets are available for the Mayor of London's New Year's Eve fireworks. They cost about $24 and grant access to one of six viewing areas along the Thames. It's packed, chilly, and likely wet, but not much beats watching a lighted-up London sky as Big Ben chimes in the new year. Be warned: Public transportation will be a nightmare.
Sydney, Australia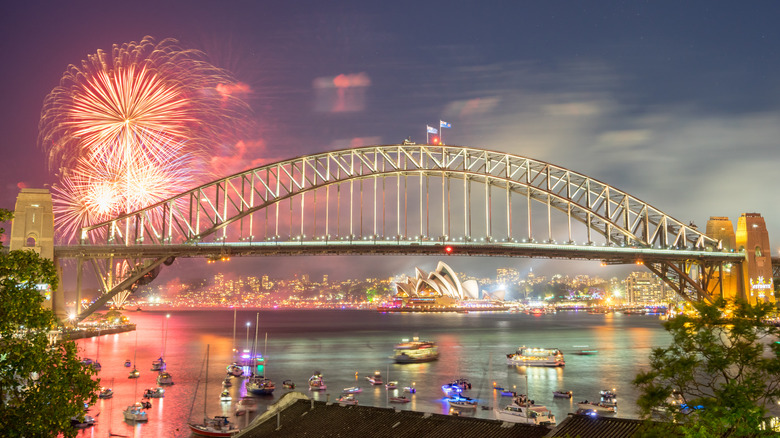 MEzairi/Shutterstock
As one of the first places in the world to welcome the New Year, Sydney's impressive fireworks are shown on screens across the globe hours before other cities get dark enough to see a sparkler flicker. While the main pyrotechnics are launched from Sydney Harbor Bridge and the Sydney Opera House, these areas get packed. That's why Darling Harbour is one of the best places to celebrate New Year's with kids. This quieter venue offers activities that start at a more reasonable time than midnight. Its free fireworks show on Cockle Bay begins at 9 p.m., but another show is at midnight for those whose kids are willing to rally. While you can't see the Opera House from here, little ones will be so thrilled with the entertainment that they won't notice.
Taronga Zoo is another fun place to bid farewell to the year without crowds. Four packages are available, each boasting different views of the Harbour, live entertainment, and access to the zoo. Most packages include food and drinks, and picnicking is encouraged. Bring a blanket. Tickets start at $225 for adults and $115 for kids. Pirrama Park is another family-friendly, less crowded site for fireworks viewing. It boasts enough space to spread out and enjoy views of the west side of the Harbour and bridge. Plus, you'll see some of the well-decorated boats in the Harbour of Light Parade. 
Dubai, United Arab Emirates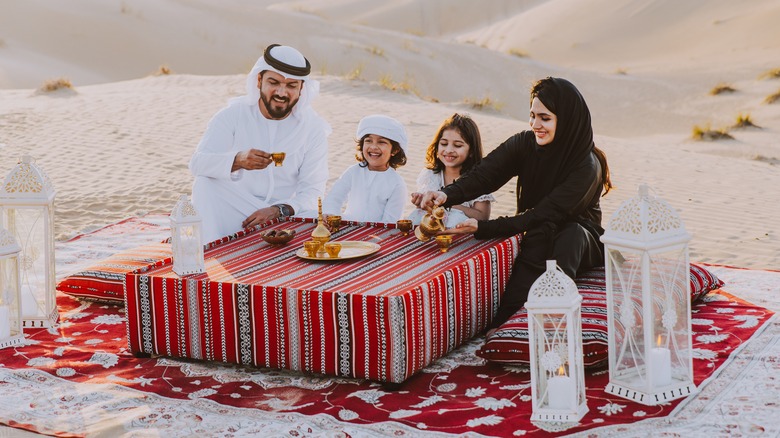 oneinchpunch/Shutterstock
The Dubai Fountain show on Lake Ride is fascinating at all times of the year. Situated near the base of Burj Khalifa, this fabulous presentation is even more astounding on New Year's Eve, when a backdrop of lasers and fireworks adds to the excitement. If you can, book a window table at a nearby restaurant to enjoy the show more comfortably. The New Year's Eve Gala at Riva Beach Club ensures tourists a front-row seat to the fireworks at Palm Jumeirah. It includes a luxurious meal, music, and views of the Burj Al Arab and Dubai skyline. Dinner doesn't start until 8 p.m., so a nap and snack will likely be in order.
Atlantis is always a hit, and the newest, most luxurious Dubai resort in the chain is primed for an extravagant night of performers as popular as Sting, as well as Dom Pérignon (for the adults), and fabulous food. Kids aged 4 and up are welcome at La Mar By Gaston Acurio Peruvian restaurant, while only those over 10 can join their parents at the swanky Dinner By Heston Blumenthal. 
If you're looking for a truly unique way to welcome the next annum, book a New Year's Desert Safari. Packages often include transportation, belly dance performances, a Tanura show, a fire show, henna tattoos, and camel riding, as well as dinner. Organized tours can last six hours, so if your children aren't up for that, consider booking something privately. 
Panama City Beach, Florida, USA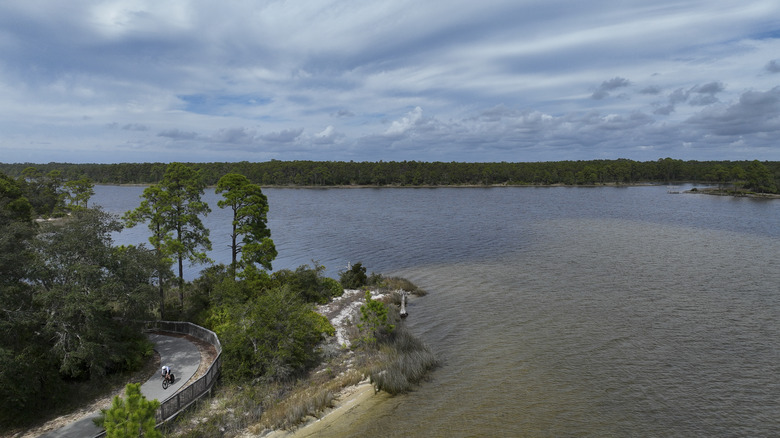 Patrick Mcdermott/Getty Images
Bet you didn't expect to see a Florida locale at the top of this list of the best places in the world to celebrate New Year's with kids. With so many family-centered things to do on New Year's Eve, Panama City Beach deserves its spot. This underrated, budget-friendly Florida beach hosts a beloved New Year's Eve Beach Ball Drop designed to win the hearts of your little ones while keeping your budget and sanity in check. Technically, there are two parties; the Kids Beach Ball Drop happens first. At 8 p.m., 10,000 inflated beach balls are released to partygoers to welcome the new year, and a few fireworks will be set off. It's dark outside, and there's a countdown, so kids will think they've experienced the fun of staying up until midnight without running the risk of a complete meltdown. There'll still be plenty of time to get them in bed by at least 9. 
Panama City Beach wouldn't live up to its reputation as a party hotspot without loud music and entertainment. If your kids are still raring to go, head to Pier Park for the next round of fun. The concerts begin at 5:30 p.m. in front of the Celebration Tower, and there are enough food vendors, shops, games, and activities to keep everyone happily entertained until the giant, glowing beach ball is lowered from the tower at midnight, accompanied by fireworks, of course.
Aruba, Caribbean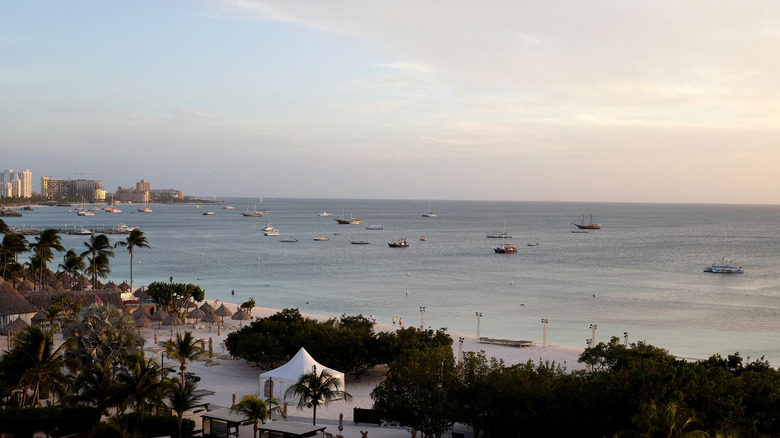 Rob Carr/Getty Images
There's no lack of fireworks for New Year's Eve in Aruba. Many believe the smoke and noise created by these pyrotechnics can drive away evil spirits, which is why so many people light them on December 31. Arubans also set off Pagaras (a long line of Chinese firecrackers) across the island during the day on New Year's Eve. Families can participate in the large Renaissance Pagara in Oranjestad. Also called the BIG BANG, the Pagara stretches from the Renaissance Marketplace across the downtown bridge to Renaissance Mall. It's lit at a very reasonable time — 1 p.m. After the smoke dies, kids can dance off their energy to live music at the marketplace's main stage before heading back for a swim and dinner.
If you'd rather steer clear of larger parties on the beach, check in to a hotel that offers family-friendly New Year's Eve celebrations — many of them do, but we advise booking well in advance as they fill up quickly. Hilton Aruba Caribbean Resort & Casino is a crowd-pleaser. Their pool deck party starts at 7 p.m. and continues until 1 a.m. A dinner buffet, open bar, party favors, live music, entertainment, and fireworks are involved. If you're not up for a lengthy sit-down meal with kids, opt for dinner at the Sunset Grille and book a party-only ticket for those aged seven and up. It's free for kids aged six and under.
Orlando, Florida, USA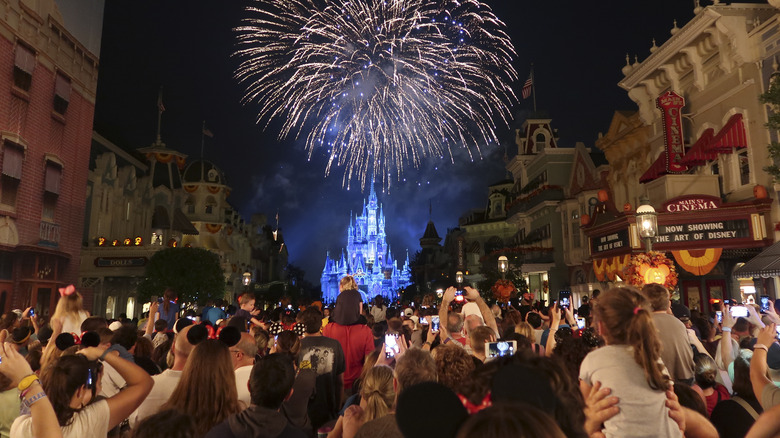 Gary Hershorn/Getty Images
When it comes to family-friendly celebrations, Orlando is hard to beat. Home to two of the United States' most popular theme parks (Walt Disney World and Universal Orlando Resort), this Floridian gem is a haven for parents looking for exciting ways to occupy kids of all ages, not to mention those searching for a bit of thrill-riding fun for themselves. Walt Disney World is hard to beat when it comes to celebrations. While there are nightly fireworks year-round, you can expect special New Year's Eve displays at Magic Kingdom and Epcot on the big night. The happiest place on earth sets off some of the best NYE fireworks in the world, so stake out your spot early. After a day spent zipping around on rides, watching magical shows, and meeting their favorite Disney characters, your little ones will be more than ready to sit down or settle upon your shoulders to watch the fireworks. 
Universal Orlando Resort's New Year's Eve celebrations won't disappoint either. They, too, offer an impressive fireworks presentation, as well as a countdown to midnight, enough rides to make parents feel nauseous, and plenty of tasty treats on offer from the onsite restaurants. Universal's Holiday Parade featuring Macy's is a big hit with families. Admission is included with your theme park ticket, boasts character appearances, and floats so big and dazzling that you'll be forgiven for thinking you've walked onto a movie set. Well, actually, you kind of have.
Singapore, Singapore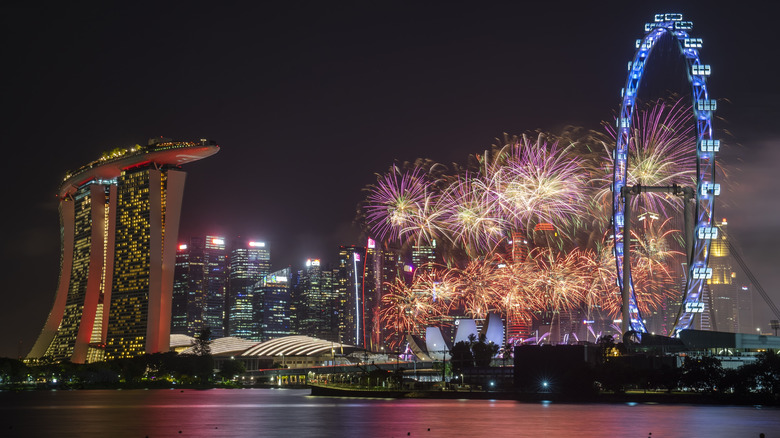 Kokkai Ng/Getty Images
Singapore is clean, safe, and beautiful, which makes it a great place to celebrate New Year's Eve with kids. In addition to fun activities, fabulous restaurants, and luxurious hotels (hello, Capella Singapore), the city boasts many family-friendly ways to ring in the New Year. The Marina Bay Countdown is the most iconic event, and it involves massive fireworks. As one of the world's most spectacular buildings, it's no surprise that this landmark attraction plays host to one of the biggest parties in town. Prepare for a crowd. Star Island offers its own countdown with a capacity of 22,000. That's still a lot, but if your kids can handle it, the 70-minute pyrotechnic show is impressive and set against the backdrop of the Marina Bay skyline. There are also family-friendly entertainment areas, music, and plenty of food on offer. Other ways to watch the fireworks in a quieter setting include heading to The Helix, Marina Barrage, or Gardens by the Bay. 
During the day, hop on a cable car to Sentosa Island and admire stunning skyline views on your way to board thrill rides at Universal Studios Singapore, get up close to marine life at the S.E.A Aquarium, or hang out at the beach. Have a Pickachu-obsessed kid? They'll love you forever for booking the Singapore Cable Car with Pokémon. A festive offering, the Poké Ball cabins are decked out in five designs and are attended by a Pokémon character dressed in full festive attire.
New Orleans, Louisiana, USA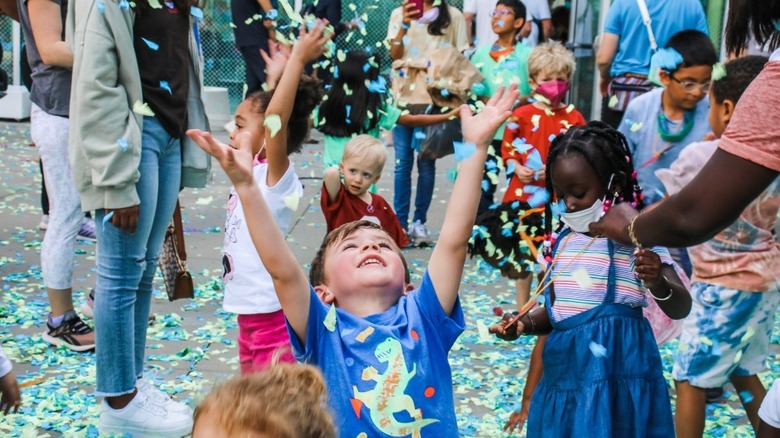 Louisiana Children's Museum
New Orleans is one of the best places in the world to celebrate New Year's Eve, which isn't all that shocking considering this buzzing city is best known for its iconic Mardis Gras celebrations. While images of a packed Bourbon Street might make you wonder about the city's family-friendliness, don't let this dissuade you from a late December visit. There are plenty of fun and relatively quiet places to celebrate New Year's with kids in New Orleans, in addition to a bevy of great restaurants and attractions to visit during your trip. Topping the list is the Louisiana Children's Museum. Its child-centered party rages from 9:30 a.m. to 1 p.m., leaving plenty of time to get back for an afternoon snooze. Kids can countdown to noon when confetti and bubbles explode onto the area to celebrate the next annum. 
An exciting Noon Year's Eve Bash awaits visitors to the Children's Museum of St. Tammany as well. Just over 45 minutes from downtown New Orleans, this adorable spot lies across Lake Pontchartrain and is an easy day trip destination. The fun, which includes admission to the museum's attractions and live music, begins at 10 a.m. and ends at noon. 
Urnäsch, Appenzell, Switzerland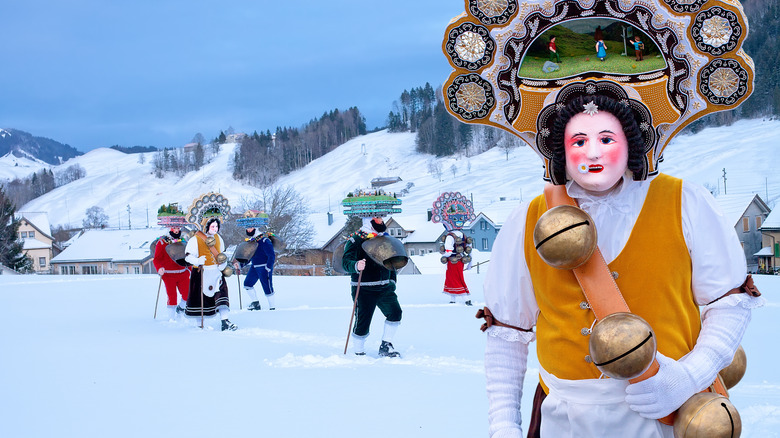 Yamagiwa/Shutterstock
In Urnäsch, they enjoy New Year's Eve so much that they celebrate it twice –- once on December 31 (the Gregorian calendar) and again on January 13 (the Julian calendar). Called Silversterchläusen, both occasions involve Silvesterchläuse mummers (mostly men and boys) wandering the streets dressed in ornamental headgear, bonnets, and masks, with giant bells ringing as they walk. Crowds gather in the village square early enough that you might struggle to get your kids out of bed — the mummers begin their singing and yodeling journey at 5  a.m. The men then walk from house to house or farm to farm, visiting everyone in this small village of just over 2,000 people to perform their choreographed yodel. In return, they receive a small amount of money, as well as mulled wine or tea, which they sip through their mask with a straw. 
If either date falls on a Sunday, the celebration is held the Saturday before. Tip: You can follow the Silvesterchläusen performers but must keep a polite distance. Also, you may shout "bravo," but do not applaud. Urnäsch lies in the Canton of Appenzell Ausserrhoden, over an hour and a half by train from Zurich. It's a stunning place to spend the holidays — rolling alpine foothills, a sparkling lake, and snowy peaks add to the allure. If your kids enjoy cross-country skiing and snowman building, this is the place for them. 
Edinburgh, Scotland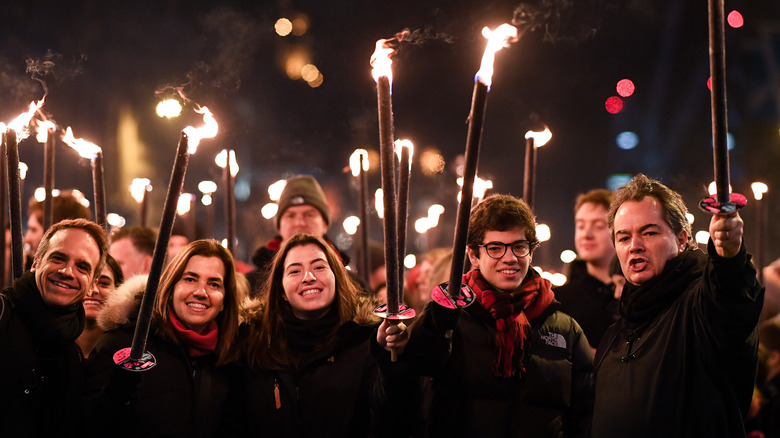 Jeff J Mitchell/Getty Images
Instead of celebrating New Year's Eve, Scots like to party for Hogmanay. Essentially, the same holiday, this recognition of the end of the old year and the beginning of the new is a huge deal in Scotland. Expect street parties taking over Edinburgh for three days, fireworks ringing in the air, and live music emerging from pubs and restaurants throughout the city. The family-friendly Torchlight Procession is a beloved event that has taken place on December 29 for over 30 years. 
In addition to fire performers, drummers, pipe bands, and street theater, the lighted torches create a remarkable "river of fire" throughout the Old Town. Entertainment begins at 6 p.m. at The Meadows, and the Procession gets on its way at 7:30, reaching the city center between 8:30 and 9 p.m. A torch costs about $24, and a $9 fee for a Procession wristband. This is a walk, so be prepared for cold and likely wet weather. Dress everyone in comfortable shoes, a coat, and a hat. Unfortunately, strollers aren't allowed, so if you have little ones, you'll have to carry them. 
On December 31, take the kids to Bairns New Year Revels to celebrate the New Year early. Aimed at those aged six and up, this family-friendly party runs from 2 p.m. to 3:30 p.m. at the Assembly Rooms on George Street. It includes live musicians playing songs from a sing-a-long soundtrack and plenty of dancing to Edinburgh's Hogmanay ceilidh band.
The Seychelles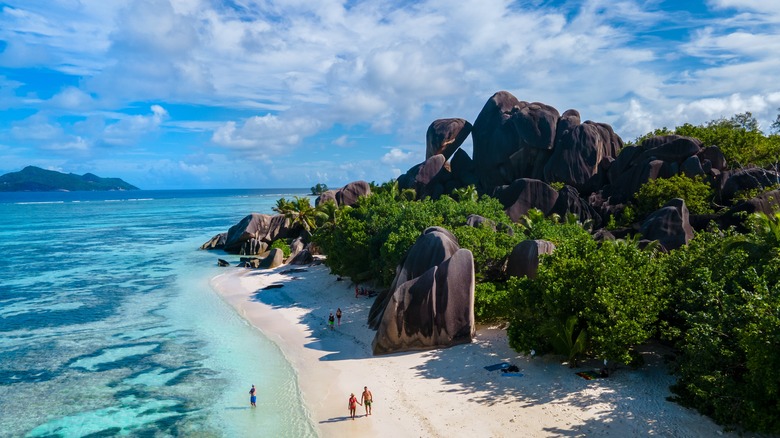 fokke baarssen/Shutterstock
Want to celebrate New Year's Eve in Paradise? Head to the Seychelles. One of the most bucket-list-worthy destinations in the world, this stunning spot consists of an archipelago of islands so beautiful you'll think you've landed in a postcard. Many of these islands are inhabited by fabulous, often super-luxe resorts that really know how to throw a party. The Four Seasons Resort Seychelles is exceptionally fantastic and boasts their well-loved Kids For All Seasons club to keep little ones happily entertained. There are plenty of giveaways, musical games, candy hunts, and more planned for a fun New Year's Eve for kids. Meanwhile, adults enjoy cocktails at Kannel Bar before being entertained by a cabaret. They are also fed scrumptious food and granted a memorable countdown to midnight that includes fireworks. 
As for New Year's Day, the resort has thought of everything — craft activities, a surf competition, and a disco are on the schedule so parents who might have overindulged the night before can have some quiet time to recover. 
Punta Cana, Dominican Republic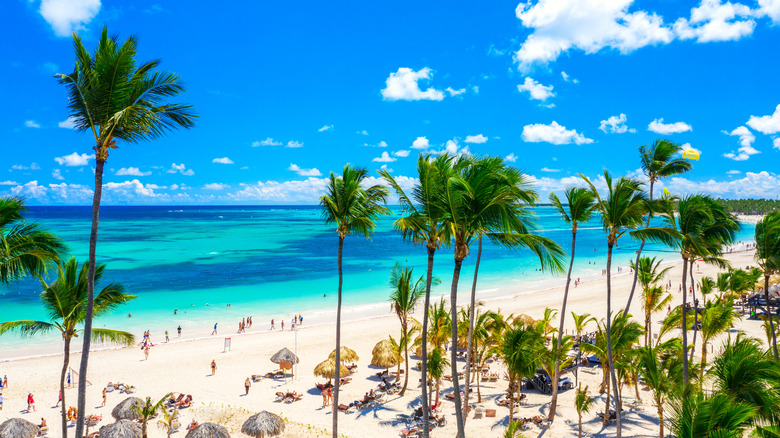 Nick N A/Shutterstock
The Dominican Republic is a cheap warm-weather destination for December, which means treating your family to a New Year's Eve holiday will be more affordable in this pretty tropical locale than it would in other places like, say, Dubai. Known for its incredible all-inclusive resorts, the DR hosts a slew of kid-centric hotels that boast enough activities to keep children, and therefore their parents, smiling from dawn until dusk, even without a nap. 
Club Med Punta Cana is a great option for families who'd like to sit back, relax, and not worry about receiving an extra bill at the end of their trip. They throw an epic New Year's Eve party annually, and it's included with your stay. The fun begins at 7 p.m. with appetizers and cocktails. A New Year's Eve dinner follows at 8:30, and at 10 p.m., entertainment is provided for kids and adults of all ages. Countdown to midnight together and watch the fireworks explode over the azure waves. 
Nickelodeon Hotels & Resorts Punta Cana has a packed calendar of festive events, including the Nickelodeon Holiday Extravaganza, which includes a super fun New Year's Eve gala. Expect a pajama party breakfast, fireworks, dancing, and a bunch of meet and greets with your kids' favorite characters. There are also plenty of opportunities for little ones (and you, if you'd like) to get slimed.