Underrated Budget-Friendly Beaches To Visit In Florida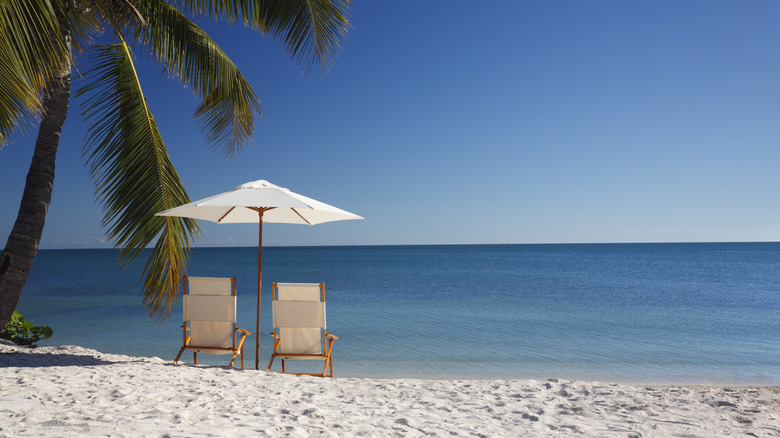 Cdwheatley/Getty Images
When many picture themselves on an affordable beach vacation, images of Florida's white sandy shores, sparkling turquoise water, and palm-lined streets come to mind. A state known for its warm climate and frequent sunshine, it's not surprising that so many tourists choose Florida as their holiday destination, especially when trying to escape a cold winter. In fact, over 137 million people visited the Sunshine State in 2022 alone. 
Everyone has heard of Florida's beach superstars, the most famous of which is Miami's beautiful and bustling South Beach. But with 825 miles of beaches stretching across the state, there is a vast expanse of fabulous and often underrated beaches just waiting to be explored. The best part? Since they are less appreciated, many of these beaches are budget-friendly spots, not to mention less crowded than their more popular counterparts. 
Florida's most underrated beaches stretch from Pensacola in the northwest to way down south in the mid-Florida Keys. They all boast soft, clean sand and iridescent waves, not to mention a slew of affordable activities like snorkeling, paddleboarding, and fishing. Whether you're looking to surf epic waves in New Smyrna, relax on a secluded beach on Caladesi Island, or expose the kids to endless entertainment in Daytona Beach, this list will help you find the perfect, underrated budget-friendly beach to visit in Florida. 
New Smyrna Beach, New Smyrna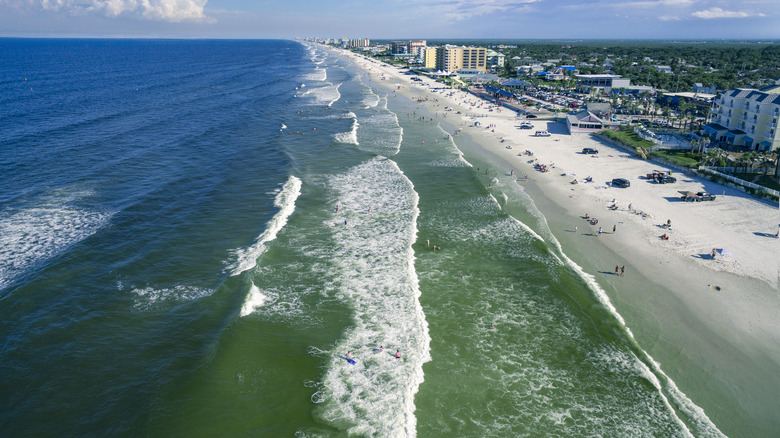 Javier_art_photography/Getty Images
New Smyrna is one of the most underrated beach destinations in Florida. It sits serenely on the Atlantic coast, an hour northeast of Orlando, and is comprised of a whopping 17 miles of soft, sandy beach. It also plays host to sandbars that create ideal swells year-round. Due to this natural phenomenon, New Smyrna has repeatedly been voted one of the world's top surfing destinations, making this a must-visit East Coast beach for surfers. 
Not a surfer? No worries. This beach isn't just an epic place to paddle out. There are plenty of other fun things to do, including people-watching on the boardwalk, body boarding, and cruising your 4x4 on the sand. Beach driving is permitted between 8 a.m. to 7 p.m. between May 1 and October 31 and between sunrise and sunset from November 1 through April 30.
If you're hoping to bring your favorite furry family member, head to the north side of the jetty. The dog beach is located in Smyrna Dunes Park. While New Smyrna is a world-class beach, a word of warning: It has been named the most dangerous for swimming in the U.S. due to a number of shark attacks that have occurred in the area. That said, you're more likely to be killed by a lightning strike than you are by a shark.
Cape San Blas, Port St. Joe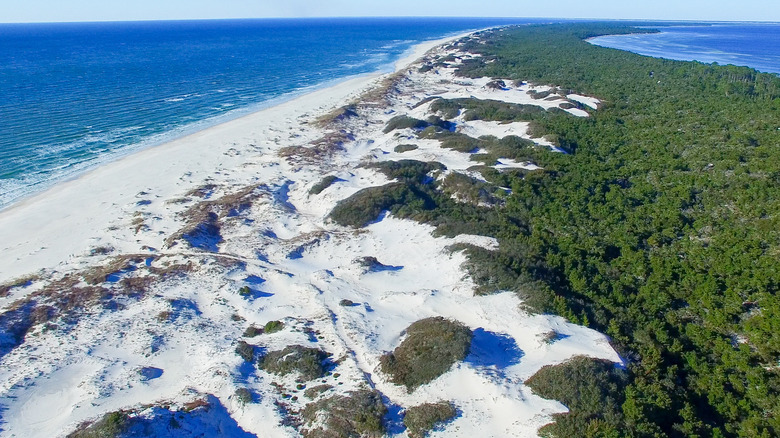 pisaphotography/Shutterstock
If you haven't heard of Cape San Blas, you're not alone and that's not a bad thing. This underrated Florida beach is tucked offshore between Saint Joseph Bay and the Gulf of Mexico, a mere 48 miles south of Panama City. A hidden gem on the Panhandle, its slightly out-of-the-way locale makes this a relaxing escape for Florida beachgoers. Often referred to as a "forgotten" beach, this is an ideal place to visit for a romantic holiday. What's more amorous than lounging on a quiet beach in the middle of nowhere surrounded by water? 
Cape San Blas is home to T.H. Stone Memorial St. Joseph Peninsula State Park, where you'll find 20 miles of sand peppered with tall dunes on the Gulf side and edged by marshland on the Saint Joseph Bay side. Whether you're hoping to stroll hand-in-hand along the beach, kayak through the waves, or snorkel offshore, you'll find enough activities to stay busy. The park is also home to a campground with 14 primitive campsites but be warned, this is a become-one-with-nature, rustic kind of camping. In other words, there are no facilities. If you're hoping for something a bit more glam, or at least a room with air conditioning and a toilet, try one of the park's eight vacation cabins.
Caladesi Island State Park, Dunedin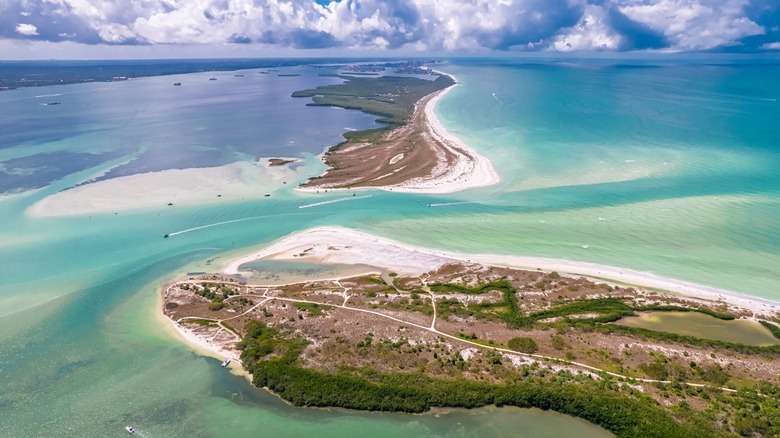 Artiom Photo/Shutterstock
Caldesi Island State Park is yet another Gulf Coast beauty you'll never want to leave. Set on a barrier island just west of Dunedin and under three miles from one of America's best beaches, Clearwater Beach (more on that later), it's easy to reach this serene spot — as long as you travel by boat, that is. Those who don't have a private boat at their disposal can book a ferry ride ($16 per adult and $9 per child aged 6 to 12) from Honeymoon Island State Park. Visitors are allowed to stay on the island for four hours, but there are no facilities on site, so pack accordingly (extra sunblock, water, and snacks are a must).
Prepare to be wowed by the endless activities on offer at this best state park. More than three miles of water trails lead kayakers and canoers through lush mangrove tunnels bursting with wildlife. The beach is idyllic and unspoiled. If you're quiet and look hard enough, you may even spot a gopher tortoise. They like to burrow behind the sand dunes.
Despite being tranquil and remote, Caladesi Island State Park offers all the amenities and activities tourists might look for in a Florida beach vacation. There are showers, restrooms, change rooms, concessions, picnic tables, and even a playground here. There's also a historic homestead on the island, which can be reached by following the nature trail.
Fort Myers Beach, Fort Myers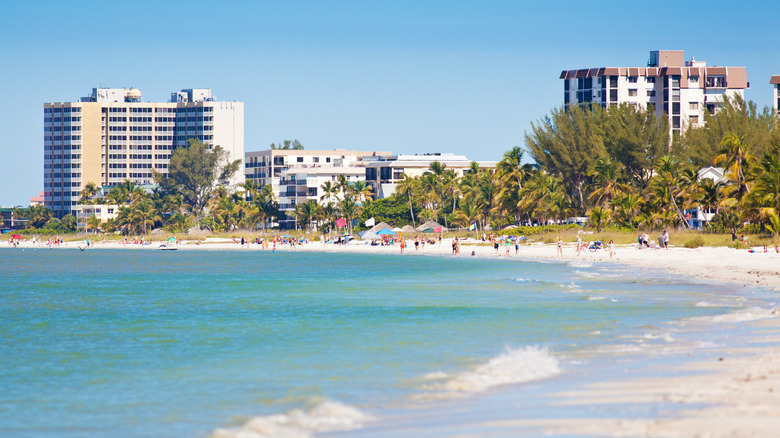 Yinyang/Getty Images
Despite being named after a Gulf Coast city, Fort Myers beach lies on a barrier isle named Estero Island, over 15 miles south of downtown. A tranquil place for a day trip, this beach spans over seven miles of the island, offering up plenty of space to lounge, build sandcastles, practice body boarding, or swim in the azure waves of the Gulf of Mexico. Kayaking, windsurfing, beachcombing, and fishing are also popular things to do. There are plenty of restaurants nearby, like the aptly named Eats at the Beach that offers affordable take-out meals you can enjoy on the sand. Parking can be found throughout the area and costs $5 an hour.
Sadly, Fort Myers Beach sustained damage from Hurricane Ian in September of 2022. While tourists should expect to find some of the 29 beach access points under repair, the beach is open and primed for visitors. Those hoping to watch the sunset or fish from the Fort Myers Beach Pier, however, will have to wait (possibly for years) as it was almost completely destroyed by the storm.
Pensacola Beach, Pensacola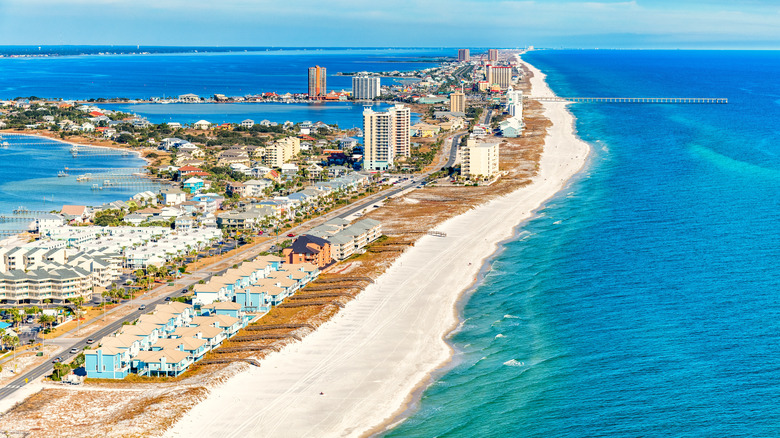 Art Wager/Getty Images
While not exactly an unknown beach, this Gulf Coast gem is still an underrated, budget-friendly beach to visit in Florida. And it's so lovely that you'll want to spend days lounging upon its sugar-white sand. Pensacola Beach is actually a collection of beaches that span 18 miles of coastline. They are hugged by the type of water you'd expect to find in more tropical destinations like the Caribbean — crystal clear and turquoise, the Gulf is extra inviting at this pretty locale. Located near the western tip of the barrier island of Santa Rosa, the beaches are easily reached by crossing the bridge from nearby Pensacola. 
Although Pensacola Beach and its sandy shores tend to fly under the tourist radar, this is a fun and entertaining place to visit with the family. It is filled with exciting things to do. You can fish off Fort Pickens Fishing Pier, head out on a boat cruise, or play all day in the Adventure Park at Laguna's Beach Bar and Grill. 
Bringing your four-legged family member? Fantastic! They're welcome to spend time in two designated dog areas on this vast beach. You'll find these at lot 21E and lot 28B. Another perk of hanging out at Pensacola Beach is the free, open-air trolley that runs from 4 p.m. to midnight between Memorial Day and Labor Day. 
Sombrero Beach, Marathon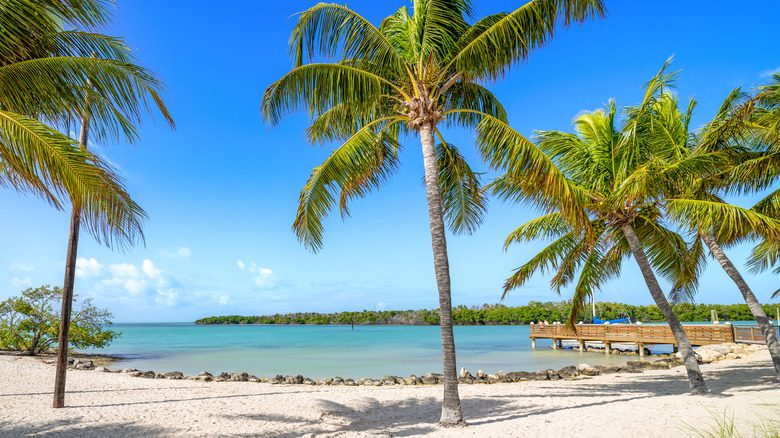 Frankpeters/Getty Images
Sombrero Beach is an ideal place to visit for families and couples looking for an affordable Florida beach vacation. A secret closely guarded by locals, this secluded spot lies in the middle of the Florida Keys, almost equidistant from Key West and Islamorada. With fewer crowds than more popular beaches in Florida, travelers are welcome to enjoy a game of beach volleyball, hike to the Sombrero Key Lighthouse, or nap in the shade of a palm tree during their visit. Speaking of shade, there's plenty of it at this Atlantic Coast beach, which is a definite plus on super hot days. Once free to enjoy, parking now costs $5 an hour for the first two hours and $2 an hour after that. That's still pretty budget-friendly for a day at the beach. 
If visiting between April and October, be warned that certain areas of the beach may be temporarily off-limits. This is turtle nesting season, and the threatened sea creatures often lay their eggs here at night. Don't worry, the clearly marked nesting areas typically encompass less than 10% of the beach.
Melbourne Beach, Melbourne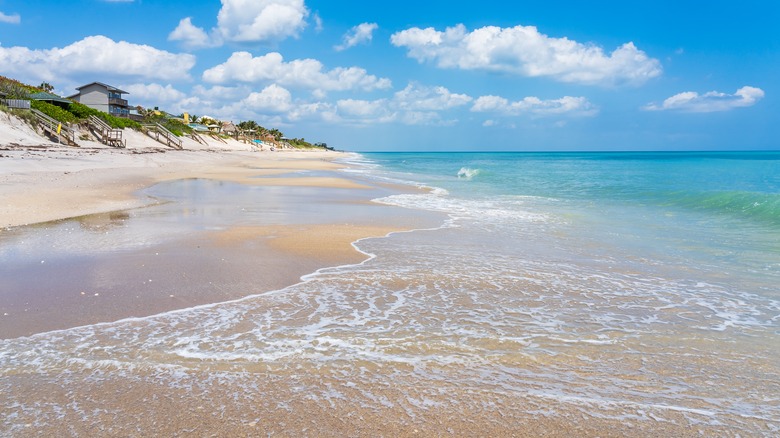 Sergey and Marina Pyataev/Shutterstock
An easy day trip from Orlando, Melbourne Beach lies on the Space Coast, just 75 miles southeast of the theme park haven. It's not an exaggeration to describe this immaculate beach as "breathtaking." Melbourne Beach features picture-perfect, turquoise waters that caress its white sands. The beach is popular among both families and watersports enthusiasts, and you'll find plenty of snorkelers, paddleboarders, kayakers, and anglers taking advantage of this dreamy stretch of coast. However, the beach rarely feels crowded.
Being an underrated beach means you won't have to elbow your way through crowds to pitch your beach umbrella, which makes this a very relaxing place to visit. If you're hoping to stay active, book a boat cruise, take a surfing lesson, or head out on a guided kayak tour. You can also help ensure a budget-friendly trip by staying at one of Melbourne's charming B&Bs or skipping the beachfront rental to stay near Melbourne's historic downtown area. 
Cocoa Beach, Cocoa Beach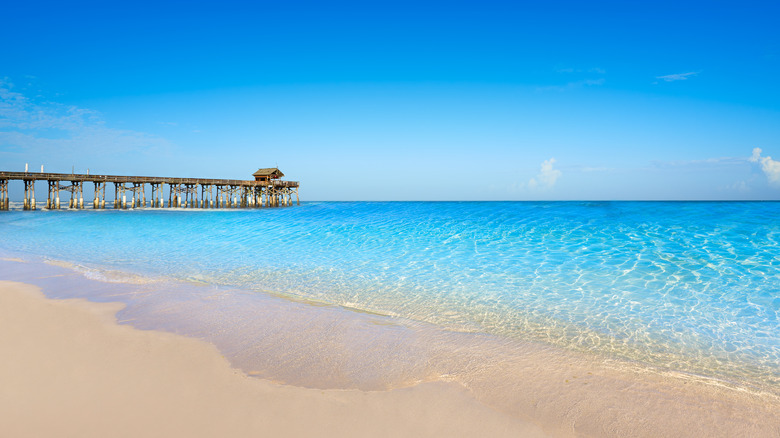 lunamarina/Shutterstock
If traffic cooperates, it will take less than half an hour to drive south from the exciting attractions at Kennedy Space Center to blissful — and affordable — Cocoa Beach. While not exactly an under-the-radar destination, the beach is a fantastic place to visit. From swimming to parasailing to flyboarding and kiteboarding, there's literally something for everyone. 
However, learning to surf is one of the best things to do in Cocoa Beach. Nicknamed the "Surf Capital of the East Coast," there are multiple surf schools to choose from. At the original Ron Jon Surf Shop, instructors will teach you to surf while selling (and renting) all the gear you'll need. You'll also be learning on the same waves as surfing legend Kelly Slater, who grew up in the area. Beyond surfing, Cocoa Beach is still a fun place to visit and one of the most budget-friendly beach towns on the East Coast.
Sunset Beach, Tarpon Springs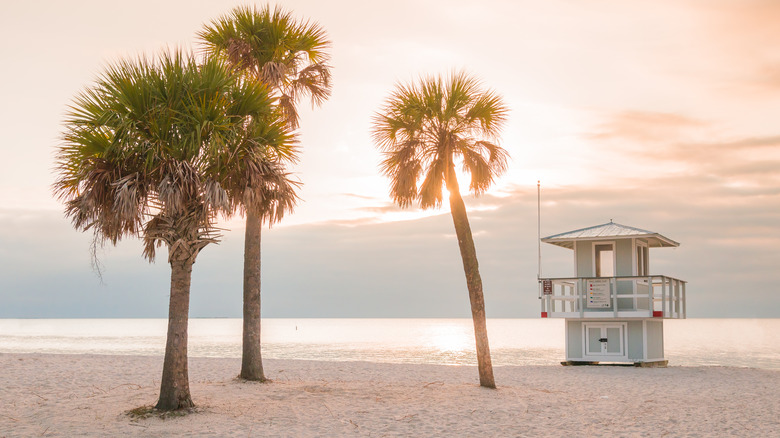 Sky Cinema/Shutterstock
While there are quite a few beaches in Tarpon Springs, Sunset Beach is one of the most amorous locales. Less crowded than the more populated Howard Park Beach, this serene spot boasts impressive views from its west-facing, Gulf Coast position. Unsurprisingly, watching the sunset is one of the most popular things to do on this romantic stretch of sand. Pack a picnic, bring your loved one, and settle in for Mother Nature's wonderful display. A backdrop of waves lapping the shore only serves to enhance the romance. If you really want to make a good impression, time your visit for one of the free monthly concerts, which typically coincide with full moons.
Tarpon Springs has been dubbed one of the most affordable Florida beach towns, which means you can save by staying and dining locally while visiting their stunning beach. The town also boasts a high Greek population, so you know the food is going to be divine. In addition, the area is known as the "Sponge Capital of the World," and you can find some pretty interesting sponges for sale, not to mention unique opportunities to head out on a sponge diving expedition with St. Nicholas Boat Line. 
Panama City Beach, Panama City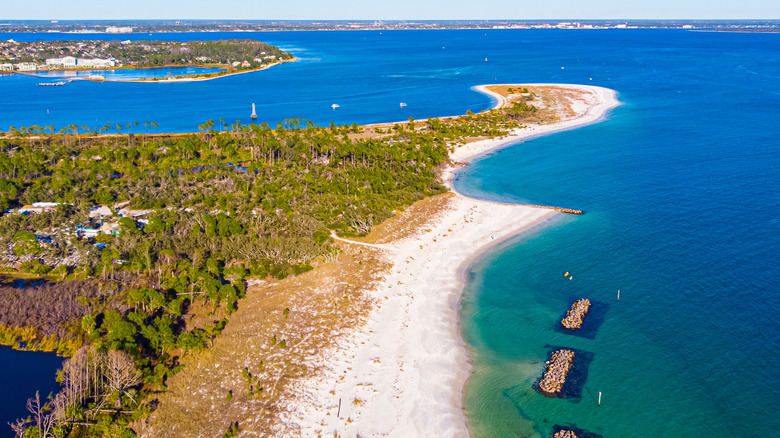 Pugalenthi Iniabarathi/Shutterstock
When you think of Panama City Beach, you may think of spring breakers chanting "PCB" with ensuing collegiate-level chaos. However, there's a lot to love about Panama City Beach, including 27 miles of clean, soft sand nestled against the Gulf of Mexico, and there's a wide variety of beaches to enjoy. Families visiting Camp Helen State Park will be especially happy at this tranquil spot. Surrounded by water, the park features the calm beaches of the Gulf and the placid freshwaters of Lake Powell, which is Florida's largest coastal dune lake. There are no lifeguards on hand, though, so be extra vigilant. At $4 per vehicle or $2 per pedestrian or cyclist, this is a cheap beach to visit.
St. Andrews State Park is also home to a fabulous, mile-and-a-half-long beach that lies between two large bodies of water — the Gulf of Mexico and St. Andrews Bay. Popular activities include snorkeling, surfing, scuba diving, swimming, and hiking along the dunes. There's a campsite on the grounds for those who'd like to spend a night or two under the stars. Pitch a tent or better yet, reserve a night of glamping in an eco-tent. These include a queen-sized bed, fan, water views, and a twin-sized cot.
Daytona Beach, Daytona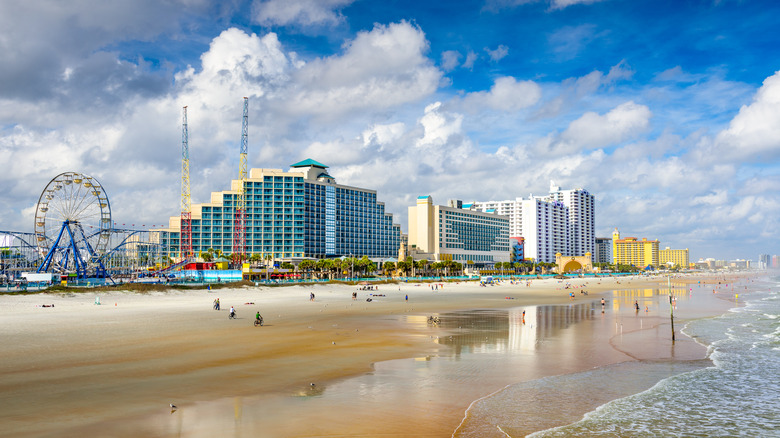 Sean Pavone/Shutterstock
Another spring break destination, Daytona Beach has gotten a bad rap. As a result, this beach has become underrated over the years. This is actually a good thing for tourists looking for an enjoyable seaside break outside of that crazy season. Packed with fun, and cheap, things to do, this is a budget-friendly beach to visit in Florida for families. Kids will appreciate the amusement park (a.k.a. Screamer's Park), as well as the ice cream parlors and pizza joints that line the Daytona Beach Boardwalk. 
There's also enough sand available, so even when the strand is somewhat busy, the beach doesn't seem overrun. Considering the beach sprawls across 23 miles on a barrier island sandwiched between the Halifax River and the Atlantic Ocean, there is no lack of water-based excitement to be had. After a day of paddleboarding, body surfing, or fishing from the pier, the area also offers over 60 miles of hiking and biking trails to explore inland. 
Lauderdale-by-the-Sea, Fort Lauderdale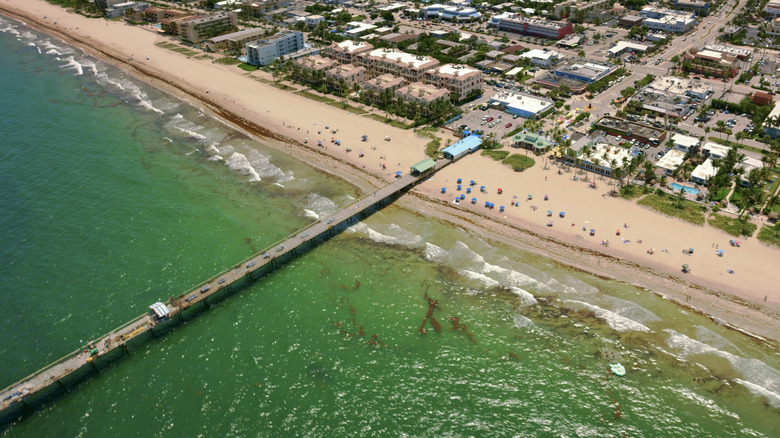 Simonkr/Getty Images
Where Fort Lauderdale is bustling and loud, Lauderdale-by-the-Sea is lowkey and adorable. Less than eight miles north of Fort Lauderdale, this less sought-after beach area is more than worthy of a visit. Anglin's Square is the most colorful entrance to the beach, flanked by restaurants like TacoCraft Taqueria & Tequila Bar and 4D Gelateria. Unfortunately, the historic Anglin's Pier was damaged by hurricanes and is currently closed as of this writing, though efforts are being made to repair and reopen it. 
Walk about five minutes from Anglin's Square north to El Prado Park, and you'll find a quieter section of beach highlighted by bright azure water and a shade-providing Beach Pavilion. The brightly painted Adirondack chairs are an ideal place to sit and people-watch. Once on the sand, stake out a good spot and hit the waves. The beach is a fun place to go swimming, snorkeling, or paddleboarding away from the larger crowds south. 
Clearwater Beach, Clearwater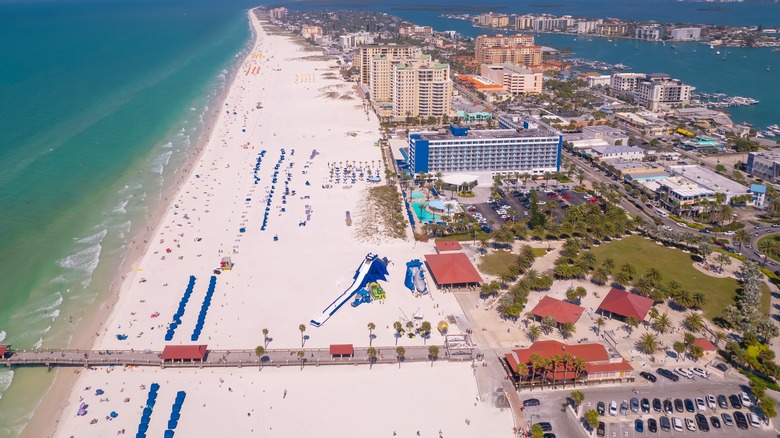 Artiom Photo/Shutterstock
Clearwater Beach lies on a barrier island just west of the town of Clearwater on Florida's Gulf Coast. In addition to easy access to the Gulf's warm, emerald water, the beach lies close to multiple affordable hotels and exciting attractions, which include a picturesque fishing pier and the Clearwater Aquarium. Amenities abound at this beautiful Florida beach, making it easy to enjoy a meal of uber-fresh seafood, cool off with a pint, then rent a beach chair and build sandcastles in the clean, soft sand. No wonder this beach has been deemed one of the best beaches in the South.
Watching the sunset is also a popular activity at Clearwater Beach. Many visitors arrive two hours early in order to find the best spot at Pier 60. Every night of the year, Sunsets at Pier 60 events involve live music, street performers, and artists to help celebrate this picturesque time of day. The best part? It's free! It's also family-friendly, so feel free to bring your little ones. 
January is one of the best times to visit for those looking for sun, as the month averages almost 23 days of sunshine. That said, Florida is named the Sunshine State for a reason. Even when it does rain, it doesn't last for too long, so no matter when you travel, you're in for a sun-filled beach vacation.