Most Spectacular Buildings Around The World To Add To Your Bucket List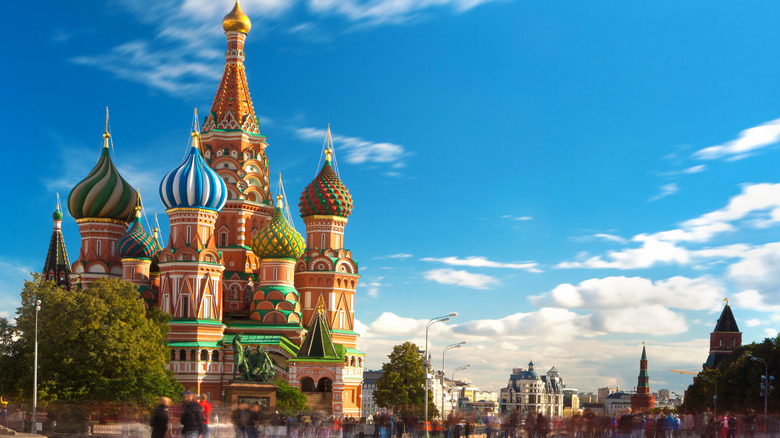 Damir Karan/Getty Images
The world's best bucket list destinations offer tourists a first-hand look at some pretty inspiring features. From stunning natural landscapes to unique cultures to once-in-a-lifetime adventures, there's a reason these places top millions of travelers' must-visit lists. One thing many bucket-list locales share is an extraordinary collection of spectacular buildings. From medieval marvels to modern wonders, these architectural masterpieces span centuries as well as the globe. Travel back in time to over 4,500 years ago with a visit to Egypt's remarkable Pyramids of Giza, then zip into the future with a trip to admire 11,000 glass panels at London's impressive skyscraper, the Shard. 
Not wowed by those spectacular buildings? Book a vacation to Moscow for an up-close view of the whimsical St. Basil's Cathedral. This colorful, onion-domed church is so fantastical that you'll be forgiven for thinking you've stepped into the pages of a fairy tale. Barcelona's Sagrada Familia Basilica is a unique magnum opus that should be seen at least once, while the Parthenon in Athens is one of the most recognized buildings in the world. There's certainly no lack of outstanding structures to explore, and the world's most spectacular buildings are truly awe-inspiring.
Sydney Opera House, Sydney, Australia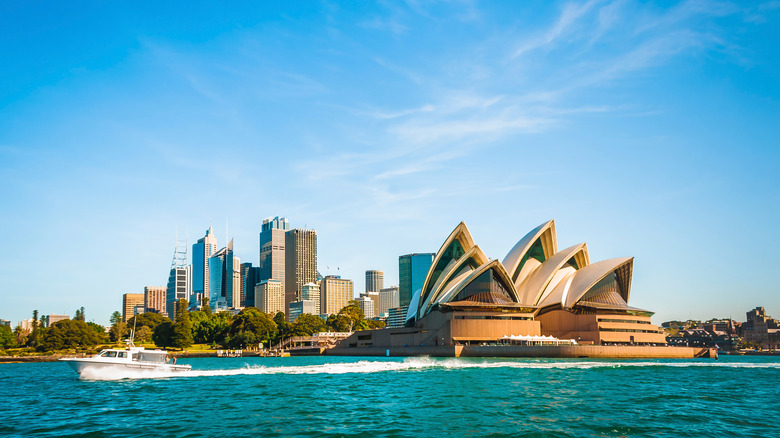 Ira Sokolovskaya/Shutterstock
According to the UNESCO World Heritage Convention, the Sydney Opera House is "a great architectural work of the 20th century." When viewed up close, it's easy to see why. Three groups of sail-shaped "shells" form the unique roof, with terraces jutting out below, allowing visitors to take in the stunning harbor and city views. Essentially a large sculpture, this remarkable structure was designed by Danish architect Jørn Utzon and sits on the tip of Bennelong Point, a headland, in Sydney Harbor. While it was projected to be built in four years, it took 14 years before it was fully finished in 1973. The Sydney Opera House was designated a World Heritage Site in 2007 and receives over 10.9 million visitors each year.
Inside, you'll find seven performance venues ranging from a 544-seat Drama Theatre to the recently renovated, majestic Concert Hall and the Joan Sutherland Theater, which hosts both Opera Australia and the Australian Ballet. Forecourt offers a massive outdoor space perfect for large concerts and can hold 6,000 standing guests. Northern Boardwalk, another open-air venue, is beloved for its stunning vistas. It can host 2,400 general admission concertgoers. When you aren't soaking up the music or appreciating the architectural feats, sign up for a Sydney Opera House Tour. Tourists are given a detailed look into the history of this spectacular building. Tickets currently cost about $28 for an adult and $15 for a child.
Taj Mahal, Agra, India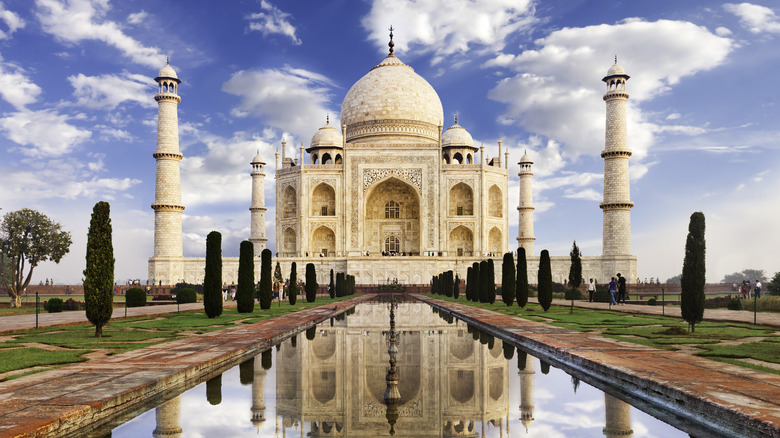 Adamkaz/Getty Images
It's easy to picture the Taj Mahal. Built in honor of emperor Shah Jahan's wife, this spectacular building is one of the world's most photographed monuments. Its off-white marble gleams under India's powerful sun, made even brighter by the contrasting greens of the garden bordering the reflecting pool. This extravagant complex is a large mausoleum housing two tombs — one for the Shah and the other for his wife. According to UNESCO, the Taj Mahal is "the greatest architectural achievement in the whole range of Indo-Islamic architecture." Although it is yellowing with age due to construction, pollution, and insect excrement, the Taj Mahal is still beautiful enough to make your heart skip a beat upon seeing it, especially for the first time. 
You won't be alone during your visit, so prepare to deal with large crowds. There are separate entry lines for foreigners versus locals. Children under 15 are free to enter, while adult tourists (aka foreigners) can expect to pay about $30 to visit the mausoleum as well as the Taj Mahal. Tickets are only available for purchase online. Note: The Taj Mahal is not open to visitors on Fridays. Also, photography isn't permitted inside the mausoleum.
St. Basil's Cathedral, Moscow, Russia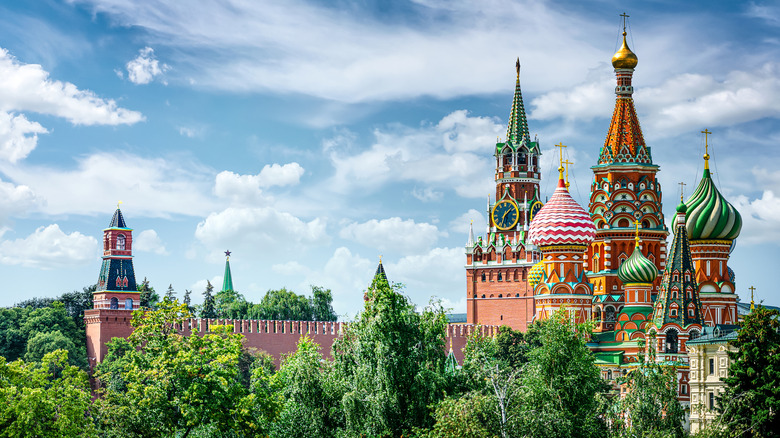 Triff/Shutterstock
It's hard not to be impressed by Moscow's most famous building. Commissioned by Ivan the Terrible (aka Tsar Ivan IV) in the mid-1500s, this UNESCO World Heritage site was built to commemorate his victory over the Tatars. Today, St. Basil's Cathedral rises from Red Square in a burst of whimsical glory. Each of its eight colorful, onion-shaped domes contains a small chapel with another topped by the main bell tower at the center. Candy-like in appearance, these domes beg to be photographed. 
Inside, they hold a treasure trove of intricate details, painted icons, frescoes, and hidden staircases. Not to be confused with the Kremlin, which is a separate entity lying on the west side of the Square, this landmark building is one of the top attractions to visit in Moscow. 
In a nod to a moat that once flowed beside the walls of the Kremlin, the cathedral's full and original name is the Intercession of the Most Holy Mother Of God on the Moat. At the end of the 16th Century, the cathedral was referred to as St. Basil's, after a beloved holy man of the same name. Visitors can take a peek behind the salmon-colored brick walls daily. Tickets currently cost $7 for those who visit between September 1 and May 14 or $10 between May 15 and August 31. Add an audioguide for another $5.
Sagrada Família Basilica, Barcelona, Spain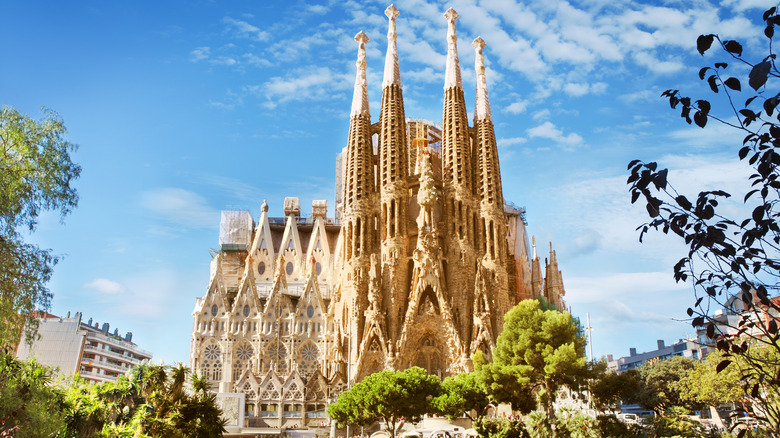 Narvikk/Getty Images
The Sagrada Família Basilica is impossible to miss. Its iconic spires stand 558 feet tall, after all. Like many other famous and eccentric buildings in Barcelona (i.e., Casa Milà, Casa Battló, and Palau Güell), this beloved Roman Catholic cathedral was designed by the famous Spanish architect, Antoni Gaudi. His unique touch can easily be seen in its fantastical structure and mix of Gothic and Art Nouveau styles. The building itself took nine architects over 140 years to complete — Gaudi died when the church was only one-quarter finished. That's why you'll see Catalan Modernist details present in its architecture as well.
From afar, this church may not appear as pretty as say, Moscow's St. Basil's Cathedral, but once you get close, the innate beauty of its intricate details is mesmerizing. Inside lie some of the building's most impressive features. Giant columns formed from volcanic rock, an apse containing seven chapels and the Sagrada Familia crypt (where Gaudi was laid to rest), remarkable stained glass windows, and captivating carved ceilings. Tip: Buy tickets in advance to ensure you can explore these inner gems, especially if you're hoping to climb into the spires. Entry fees begin at $36 and run as high as $66 for a fast-track guided tour with access to the towers.
Burj Khalifa, Dubai, United Arab Emirates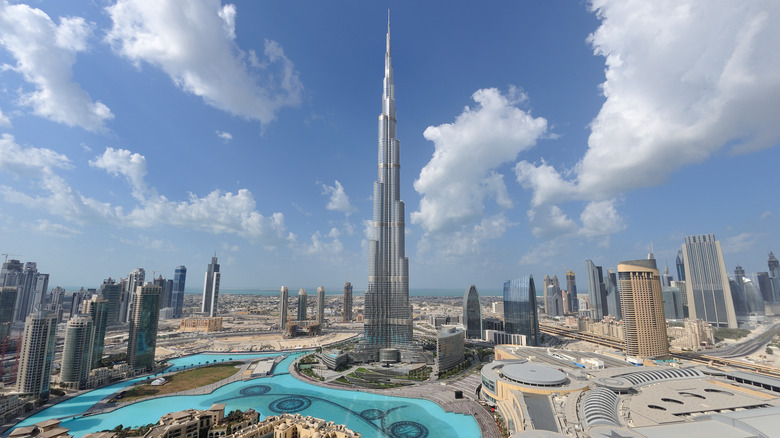 Dblight/Getty Images
In addition to being one of the most spectacular buildings in the world, Dubai's Burj Khalifa is also the tallest. Towering over 2,710 feet above the fascinating desert city of Dubai, this glimmering skyscraper is also home to the highest outdoor observation deck in the world. Scared of heights? If you take the elevator (the tallest service elevator in the world) to the top, then don't look down. Resembling a needle, this bucket-list attraction is a fitting addition to a city known for its glitz and glamor — it sparkles from every angle. 
Originally set to be named Burj Dubai, the building was ultimately called Burj Khalifa in honor of Sheikh Khalifa bin Zayed Al Nahyan, former president of the United Arab Emirates. The world's tallest performing fountain lies at the foot of the tower in the 30-acre Burj Lake. Book dinner at one of the fountain-view restaurants in Dubai Mall to enjoy the nightly water show, which occurs every half hour beginning at 6 p.m. daily and is set to music. As a tip, Social House is found on the Lower Ground Floor and boasts fabulous international food paired with fountain vistas.  
Marina Bay Sands, Singapore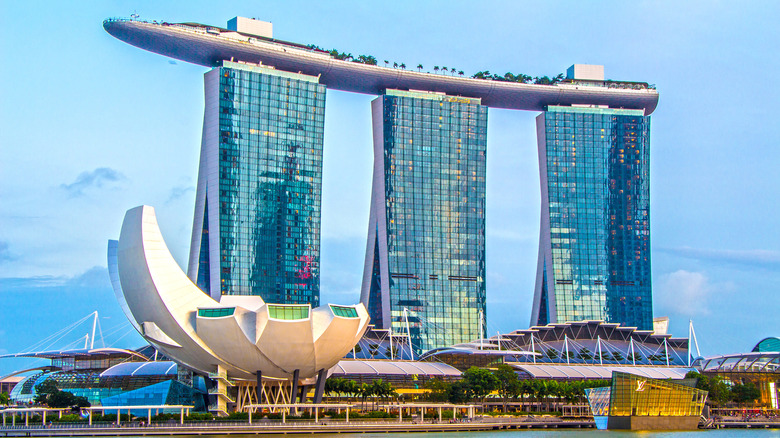 Vichy Deal/Shutterstock
It's easy to see why Singapore's Marina Bay Sands should be added as a bucket-list destination. This truly spectacular structure is three buildings topped by a platform that resembles a giant boat. The Israeli-born architect, Moshe Safdie, designed it this way to avoid blocking the view of the ocean — the space between the buildings acts as windows to a pretty water vista. The boat-shaped structure was designed to be asymmetrical in order to achieve feng shui and is home to Sky Park, which boasts a massive infinity pool, gardens, and unbeatable views. Inside lies a luxury hotel, museum, casino, convention center, restaurants, and high-end shops. Book a ticket to ogle the panoramic view from the Skypark Observation Deck. A whopping 56 stories up, you'll be able to see some of Singapore's most famous landmarks. Tickets start at about $15 per person, depending on the date and time of visit.
Attached to Marina Bay Sands is another of Safdie's incredible creations, the ArtScience Museum. Shaped like a lotus, it has been nicknamed "the Welcoming Hand of Singapore," and consists of 10 "fingers" that contain gallery spaces and light-producing skylights. Perhaps the most impressive feature is a waterfall of collected rainwater that drops 115 feet from the roof into a reflecting pool below.
The Leaning Tower of Pisa, Pisa, Italy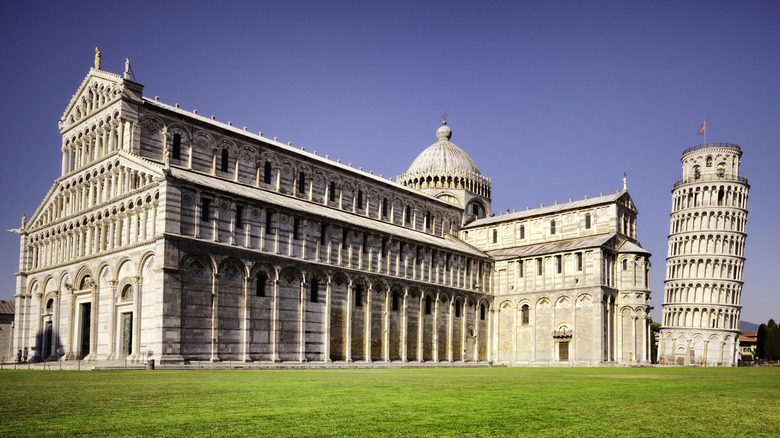 Nicolamargaret/Getty Images
Known as Torre Pendente di Pisa in Italian, the Leaning Tower of Pisa is one of the world's most remarkable (not to mention recognizable) buildings. It dates to medieval times and has been leaning since it was erected. In fact, at a lean rate of 0.05 inches a year in the late 20th century, this spectacular building was predicted to collapse. Multiple efforts have been made to reduce the amount of lean over the years, culminating in a total decrease of 17 inches during a straightening project that lasted from 1990 to 2001. In May 2008, engineers determined that the tower should remain stable for another 200 years at least. 
Those who want to experience the lean should climb to the belfry. A narrow, stone staircase winds up the inside of the building, guiding tourists up more than 250 steps to the bells chamber. From there, you'll have to climb another 12 steps (they'll feel like nothing at that point) to reach the top. This is where you'll find the 8th-floor glass ceiling, which offers a peek into the tower from above, as well as beautiful views. Only 30 visitors can enter at one time, and the stairs must be climbed in a single file. Visitors have 35 minutes to travel to the top and back down again. To note, children under age 8 are not permitted to climb the tower.
The Colosseum, Rome, Italy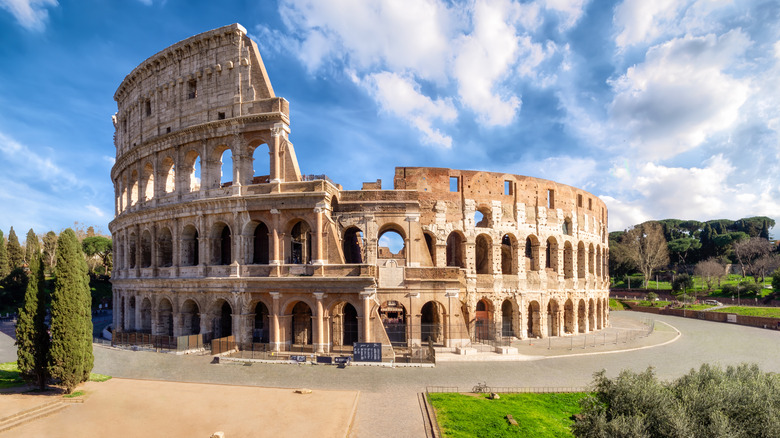 Eloi_omella/Getty Images
There are few buildings as resilient as Rome's Colosseum. One of the best-built feats of Roman architecture, this remarkable amphitheater survived fires, an earthquake, and moreover its nearly 2,000-year life (it was built between A.D. 72 and A.D. 83). Well-known for hosting gladiator battles and wild beast hunts, this ancient wonder's unique elliptical shape and organized system of entry and exit for spectators is mirrored in today's outdoor sports venues. 
Today, the Colosseum has been designated as one of the New Seven Wonders of the World. As such, it receives more than 4 million visitors annually, making it the most visited tourist attraction in Italy. You'll want to book tickets early, especially if you're traveling during high season (i.e., summer, which stretches from June through August). Also, arrive early to reduce your waiting time — gates open at 8:30 a.m. Another quick entry option is to book a guided tour. Since Rome is filled with spectacular buildings to add to your bucket list, you may want to purchase a Rome Tourist Card to save money on entry to some of its most beloved landmarks, like St. Peter's Basilica, Roman Forum, Palatine, Hill, Vatican Museums, and the Sistine Chapel.
Great Pyramid of Giza, Egypt, Africa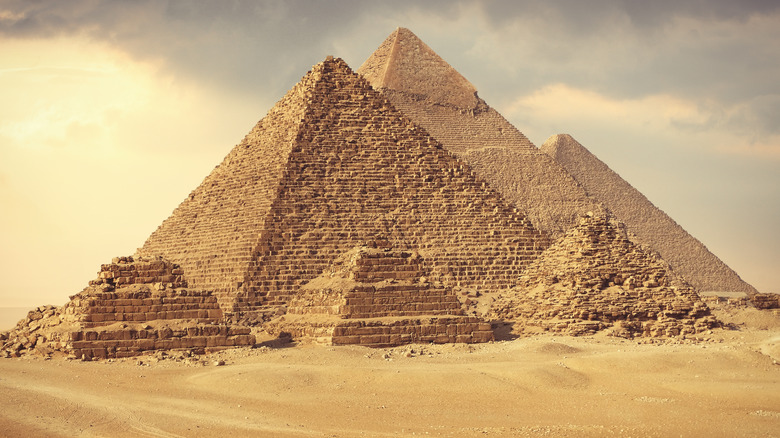 Narvikk/Getty Images
Imagine having an entire pyramid built to serve as your final resting place. That's exactly what happened to King Khufu in about 2560 B.C. The largest of the Pyramids of Giza, this over 4,000-year-old monument is the last that remains of the Seven Wonders of the Ancient World. It spans 13 acres and originally stood 480 feet tall, making it the world's tallest structure for 3,800 years. The Great Pyramid lies on the west bank of the Nile River and is part of a group of three impressive pyramids — the other two were built as tombs for Khufu's son and grandson. 
The Pyramids of Giza lie about 30 minutes southwest of Cairo and are best visited in the early morning or late afternoon between October and April. Booking a guided tour is one of the easiest ways to get there, not to mention the most educational. A taxi or bus can also get you near the entrance. One of the main complaints made by visitors to this bucket-list destination has to do with the crowds, so book an early tour in the off-season for the best chance at having a quieter experience. Also, plan to spend at least a few hours here to get the most from your visit. This is also where you'll find the Sphinx.
The Parthenon, Athens, Greece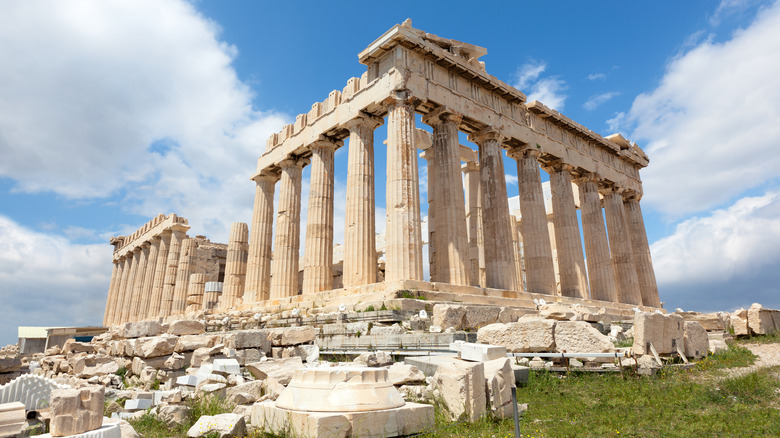 Richmatts/Getty Images
The Parthenon is the crowning jewel of Athens. Set atop Acropolis Hill, this Doric- and Classical Greek-style temple overlooks the busy city below. Built between 447 and 432 B.C. to honor the goddess Athena, this spectacular structure has been deemed one of the most attractive buildings in the world. In addition to its prominent hilltop locale, the Parthenon is praised for the design of its columns. Slightly curved, these appear strong and majestic from afar, not spindly. The corner columns are larger than the others, and the entire temple is devoid of straight lines and right angles. Like Italy's Colosseum, the Greek Parthenon has withstood the test of time, surviving fire, wars, earthquakes, and looting that continues today. 
Visiting the Acropolis (home to the Parthenon) is fairly straightforward. Tourists can take the Metro to Acropoli station (about two minutes from the southeast entrance), a bus to Akropolē (an eight-minute walk), or a taxi. Guided tours are another popular way to visit the Parthenon and often include a ride to and from the landmark attraction.
The Shard, London, England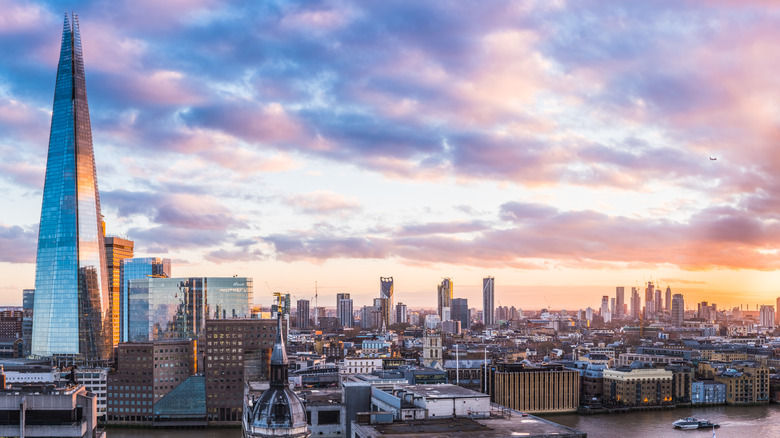 Fotovoyager/Getty Images
Designed to be an "architecturally striking vertical city," The Shard is easily one of the most spectacular, and beautiful, buildings in the world. Situated on the southern bank of the Thames in London's Southwark neighborhood, this pyramidal skyscraper lies between London Bridge and Tower Bridge and across the water from The Gherkin, another of London's bucket list buildings. Designed by an Italian architect named Renzo Piano, this sparkling masterpiece features 11,000 glass panels and stands 1,016 feet high. It opened in 2012 and has wowed visitors and locals ever since.
Inside The Shard, you'll find seven restaurants spread across three floors, all boasting views so captivating, that you'll be tempted to order seconds to enjoy it for longer. There are also 13 floors of apartments, the luxurious Shangri-La The Shard Hotel, and the highest public viewing gallery in London. On a clear day, tourists can see as far as 40 miles from the stomach-dropping height of 72 stories on the open-air viewing platform. Or, those who'd rather stay in a protected environment can enjoy an equally impressive view from the main viewing platform on the 69th floor. General entry tickets currently cost about $39, and you can further "up" the romance factor by adding a glass of champagne to your experience for an extra $20 per glass.
Hagia Sophia, Istanbul, Turkey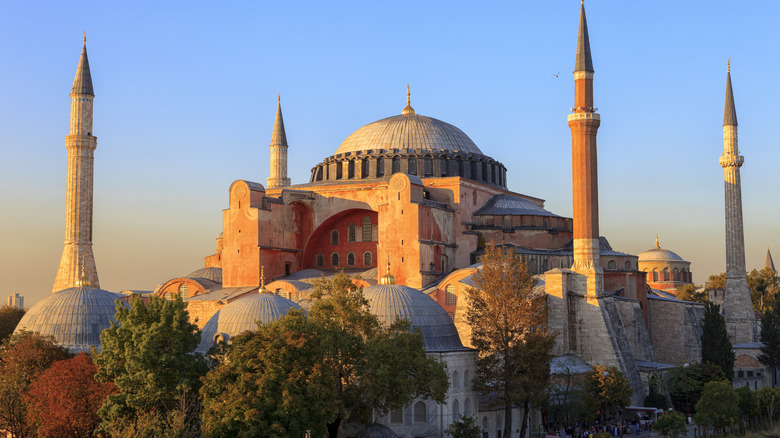 Tolga_tezcan/Getty Images
The Hagia Sophia has been around for a long time -– parts of this stunning Byzantine building date to the sixth century. Known as Ayasofya in Turkish, this beauty was originally built to serve as a Greek Orthodox Christian church. No stranger to politics, the iconic structure has suffered from multiple fires (often due to riots and revolts) and reconstructions over the years. It has even changed hands for political and religious reasons, becoming a mosque from 1453 to 1934. After that, the Turkish government turned the gold-domed beauty into a museum, which is how it stood until 2020. In July of that year, Turkish President Erdogan converted the Hagia Sophia back into a mosque. 
A UNESCO World Heritage Site, Hagia Sophia still welcomes tourists of all religious backgrounds to visit the mosque. Women must wear a head covering (free head scarves are available at the entrance) and all must remove their shoes before stepping on the carpets. It's advised to avoid visiting during prayer times, especially at noon on Fridays. Inside the building lie extraordinary gold mosaics and an impressive collection of windows that lie at the base of the dome. They block the dome's main supports during daylight, making it appear as if the canopy is floating. Guided tours are available for those who would like a deeper insight into the building's complicated and lengthy history.
The Empire State Building, New York, USA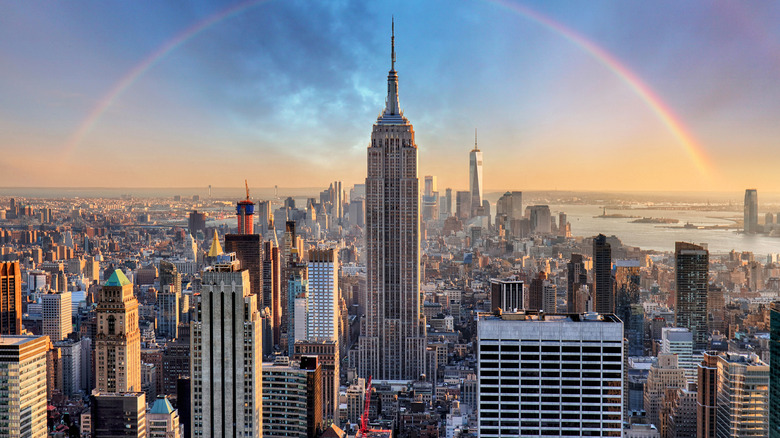 TTstudio/Shutterstock
Start spreading the news, the Empire State Building is one of the world's top seven most photographed landmarks. At 1,454 feet tall (if you count the spire and antenna), this famous New York landmark was considered the tallest building in the world for almost 40 years. An iconic symbol of New York City, this regal Art Deco-style masterpiece was built in 1931 and continues to wow tourists from across the globe. In fact, over 4 million visitors walk through the doors of this famous Big Apple skyscraper every year to admire the view from two observation decks. 
The Main Deck lies on the 86th floor, an open-air observatory boasting panoramic vistas. The 102nd-floor Top Deck boasts floor-to-ceiling windows that can show visitors up to 80 miles on a perfect day. In addition to these scenic masters, visitors can enjoy two floors of interesting exhibits that range from celebrity sightings to King Kong's hands to historic pictures and bronze sculptures of ironworkers and masons.