13 Must-Visit Spots In Tuscany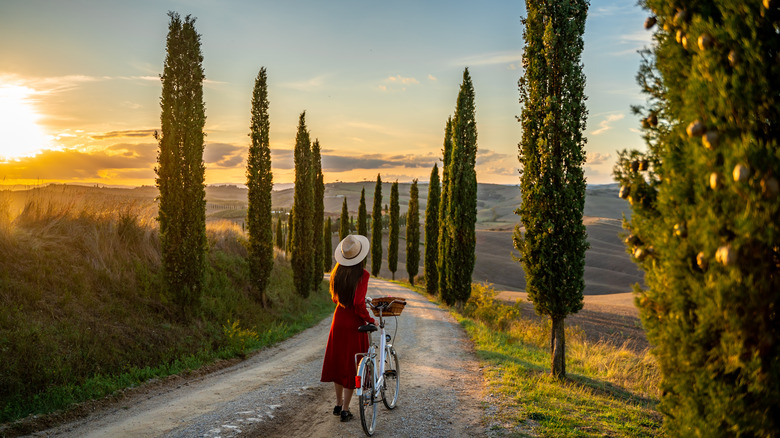 Simonskafar/Getty Images
It's pretty easy to fall in love with Tuscany. So easy, in fact, that tourists who've been enchanted by this magical region return to it often, if only in their dreams. One of Italy's most romantic destinations, Tuscany, consists of a landscape so beautiful that it appears to have been freshly painted — by a master, of course. Pastoral green fields, rolling hills, historic stone churches, and lush vineyards beckon travelers looking for a place to unwind. It helps that Tuscan towns and cities boast some of the most delicious foods to tempt any palate. Tuscany is also one of the best places in Italy for wine tasting. Did someone say pasta and chianti? Sign us up!
From the majestic Duomo in Florence to the idyllic hilltop town of San Gimignano, there's seemingly no limit to the beautiful places to visit in Tuscany. And whether you're hoping to sip on Vino Nobile di Montepulciano or enjoy a stroll through the scenic streets in Volterra, you can do it all and so much more in this gorgeous Italian countryside. The problem is, with so many incredible destinations to choose from, it can be tough to know where to start. That's where we come in. This list of the 12 must-visit spots in Tuscany was created using our own travel experiences along with reviews of other towns we have added to our own Tuscany bucket list. 
Florence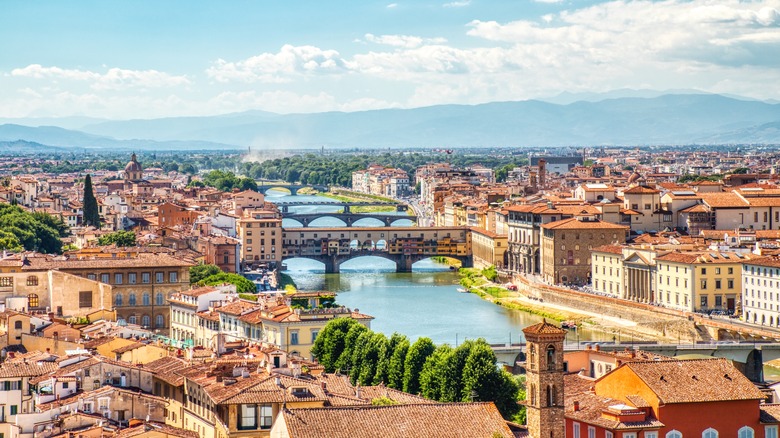 RomanSlavik.com/Shutterstock
Visiting Tuscany without spending a day, or better yet three, in Florence is akin to skipping out on the Eiffel Tower when you're in Paris. You'll be missing one of the best parts. The capital of the Tuscan region, Florence, is renowned as the cradle of the Renaissance, which is why you can't walk more than 50 feet without finding a masterpiece so impressive you'll have to slow your pace. Be it the captivating Fountain of Neptune or a life-sized replica of Michelangelo's David in Piazza della Signoria (the real one stands in the Galleria dell'Accademia di Firenze), Florence is a veritable outdoor museum filled with wonders. 
An easy train ride from Rome's Termini station, it will take about an hour and 40 minutes to reach Firenze Santa Maria Novella, a 10-minute walk from the central Piazza del Duomo. This is where you'll find the real-life version of all those postcard photos you've seen of Santa Maria del Fiore and its octagonal Dome (aka the Duomo). 
Despite being one of Italy's best cities, Florence is smaller than many expect, making sightseeing easy due to its walkability. Crossing the remarkable Ponte Vecchio bridge over the Arno, touring Palazzo gardens, and visiting iconic museums like the Uffizi Gallery can be completed in a day. Still, they're so incredible that you won't want to rush. 
Siena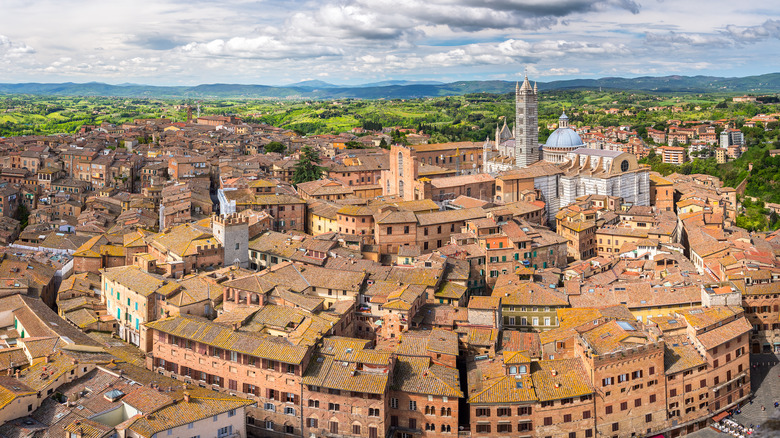 Sborisov/Getty Images
Siena is another must-visit destination in Tuscany. Close enough to Florence for a day trip, there are enough enticing places to see that you may want to spend the night (or two). The Duomo di Siena, Torre del Mangia, and Biblioteca Piccolomini top the list of must-see attractions, but merely wandering the streets of this beautiful city is enough to fill your heart with joy. The Duomo is unmissable with its Romanesque-Gothic architecture, white, green, and red marble accents, and lead-topped dome. Inside, you'll find works of some of the country's best artists, like Michelangelo and Donatello. 
The shell-shaped central square, Piazza del Campo (or Campo, as locals call it), is a UNESCO World Heritage site. Its historic buildings include the Palazzo Pubblico and surrounding 14th-century palaces. The Torre del Mangia, one of the oldest towers in Italy, is found here, too. This wonder boasts unbeatable views of the city and surrounding Tuscan landscape, so be sure to climb to the top. 
Want a more authentic Siena experience? Sign up for a cooking class at Scuola di Cucina di Lella. You'll leave with a full belly, delectable recipes, and an impressive set of skills. Tip: If you'd prefer to avoid pushing your way through a crowded piazza during summer, visit this beautiful Italian city in the fall. You'll be rewarded with lower prices for flights and hotel rooms, fewer tourists, and more enjoyable temperatures.
San Gimignano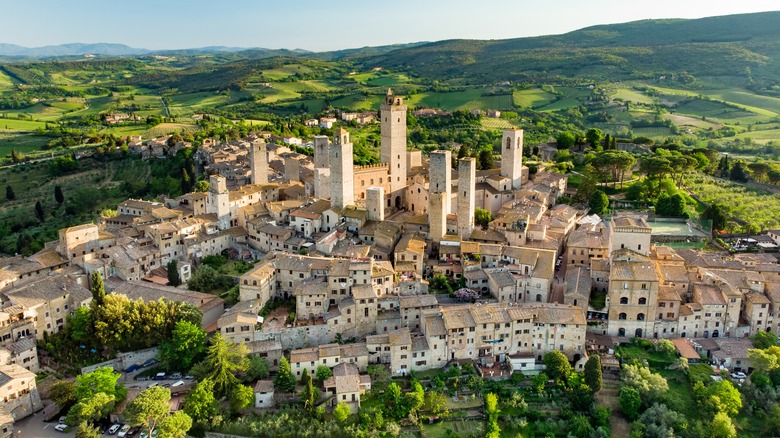 MNStudio/Shutterstock
Have you ever stepped foot in a place so beautiful that it literally takes your breath away? That tends to happen when tourists arrive in San Gimignano. A gorgeous, medieval hilltop town rises from the pastoral countryside, at first a caramel-colored blip on the windscreen towards the end of an hour-long drive from Florence or Siena. As the town comes into focus, its 14 grand towers become the main attraction. Once fittingly called the City of 100 Towers, this UNESCO World Heritage Site is a one-stop-wonder for history buffs. Palaces dating to the 12th and 14th centuries line the pretty, double-walled town. Climb Torre Grossa for the city's best view and reward yourself with a gelato upon your descent.
If visiting during the high season (aka summer), expect hordes of tourists during the day. Tour buses frequent this beautiful locale, unloading their International cargo to descend upon the town's ancient well in the center of Piazza della Cisterna. Soon, they'll head to the Romanesque cathedral, Duomo di San Gimignano, in Piazza del Duomo. Inside this building's hallowed walls lie artistic masterpieces, including preserved frescoes from the 14th and 15th centuries. Escape the crowds on a visit to Torciano Winery, where you can taste their dreamy product straight from the barrels, participate in an olive harvest (in November and December), or have a romantic dinner between the vines.
Pisa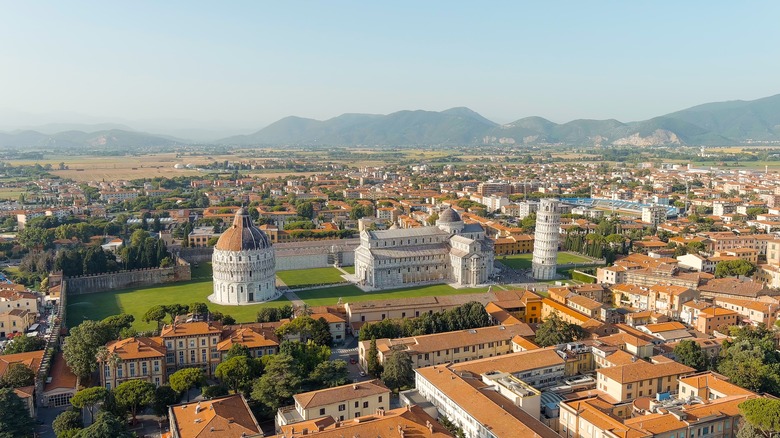 Maykova Galina/Shutterstock
Best known for its landmark attraction, the Leaning Tower of Pisa, which is one of the most spectacular buildings in the world, this Tuscan gem has enough engaging things to do that it is more than worthy of a visit. Climb up the world's most famous architectural building gone wrong while visiting the town's top tourist sight — Piazza dei Miracoli (the Square of Miracles). Once inside the tower, you may notice the lean, although it isn't too dramatic. That said, we don't recommend climbing to the top if you're claustrophobic — the 251-step, winding staircase is dark and narrow. Outside, you'll find Duomo di Pisa and the Pisa Baptistery. 
The University of Pisa calls this town home, which means you'll find a variety of nearby restaurants and shops to while away at least a couple of hours. I Porci Comodi gets fab reviews for its well-priced lunch and dinner fare, and you can't go wrong with a sweet treat from Gelateria Tuffo 13. When well-fed and rested, dip your toes in the Mediterranean at the pebble beach, wander the trails in the nearby Natural Park of San Rossore Massaciuccoli, or soak up some inspiration in the Palazzo Blu art museum. 
Lucca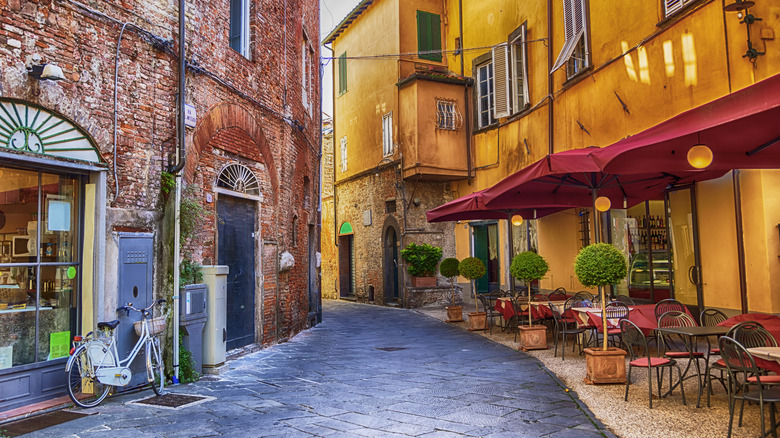 ariadna de raadt/Shutterstock
It's easy to step back in time when visiting Lucca. Known as the city of 100 churches, this charming town is revered for its meticulously preserved ancient walls. Almost 2 ½ miles of the wall are accessible by foot or bike. Cars are no longer allowed to drive here unless operated by the police. As is typical in a medieval Tuscan village, most of the excitement in Lucca takes place in its central square, Piazza Napoleone (or Piazza Grande, as locals call it). Concerts and special events like the Lucca Summer Festival are held here. 
Guinigi Tower is hard to ignore. Built in the 1300s, this 148-foot Romanesque-gothic structure is topped by a garden of Holm Oaks. Climb to the top for a great view, but be prepared for a hike — there are 230 steps to climb. Piazza dell'Anfiteatro is another must-see spot in Lucca. Built upon the ruins of a Roman amphitheater, the spectacular square retains its elliptical shape, the ancient building surrounded by a "new" (19th Century) via dell-Anfiteatro. While driving is the easiest way to travel from town to town in Tuscany, if you'd rather not stress about navigating unfamiliar, winding roads, simply hop on a train from Florence's Santa Maria Novella station. They leave hourly and take about an hour and 15 minutes.
Montepulciano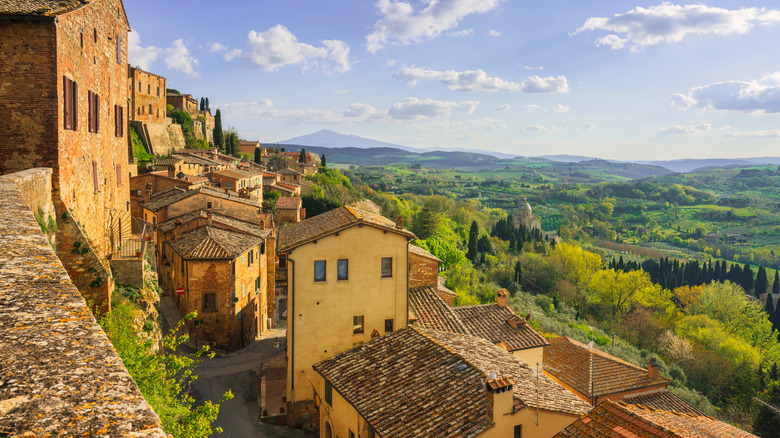 StevanZZ/Shutterstock
There are many enjoyable things to do in Montepulciano, and they don't all involve drinking wine. However, you can't go wrong by sampling a little Vino Nobile di Montepulciano (one of Tuscany's most valued wines) while you're in town. Like many destinations on this list of must-visit spots in Tuscany, charming Montepulciano seems stuck in medieval times. Don't worry, that's a good thing. Historic buildings line the narrow road that stretches to the main square, Piazza Grande. Located atop a hill in the heart of the old town, this is where the Palazzo Comunale, Cathedral of the Assumption, and Well of the Griffins and Lions call home. Speaking of climbing, your quads may scream at you during your visit, but that's nothing a little wine can't cure.
You'll want to drive here from Siena, which can take as little as 52 minutes. Or hire a taxi if you aren't confident driving in Italy. Just be sure to schedule a ride back or ask the driver to wait. Unless you plan to stay the night, this relaxing town won't take too long to explore. That said, save enough time to enjoy a meal at one of the local restaurants and soak up the view with your vino; it's pretty hard to beat. 
Pienza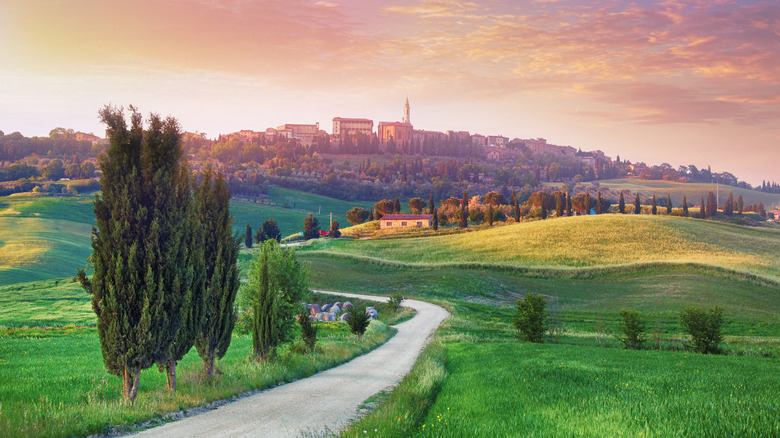 Mammuth/Getty Images
Being a tourist is easy in Pienza. A captivating town bursting with blooms and lined with ancient stone buildings, there are plenty of picture-perfect spots to inspire an Insta-worthy background. Time your visit for a sunset meal, and you'll see why  Pienza is deemed one of Italy's most romantic towns. Known as the "ideal city of the Renaissance," many well-preserved attractions are waiting to scratch your historical itch. Top sights include Piazza Pio II, the main square in this small and beautiful town. It's home to many of Pienza's other main points of interest, like the Cattedrale dell'Assunta and Palazzo Piccolomini. Visit the Loggia's hanging garden for stunning views over the Val d'Orcia. 
Pieve di Corsignano is a short walk downhill. A hit with history buffs, parts of this Romanesque church date to the 7th century. When hunger hits, head to a local restaurant for a delicious meal featuring their famed Pecorino of Pienza cheese. Tip: Many shops offer tastings that include cheese, wine, and even handmade pasta. Driving is the easiest way to get from Siena to Pienza. Plus, it allows you to stay as long as you want without worrying about a schedule. Without traffic, the journey takes under an hour, while the bus, which involves a transfer, could take over two. Plus, driving allows you to tack on a visit to Montepulciano, which lies a mere 20 minutes northwest. Or sign up for a wine and cheese tour of Pienza and nearby Montalcino. 
Montalcino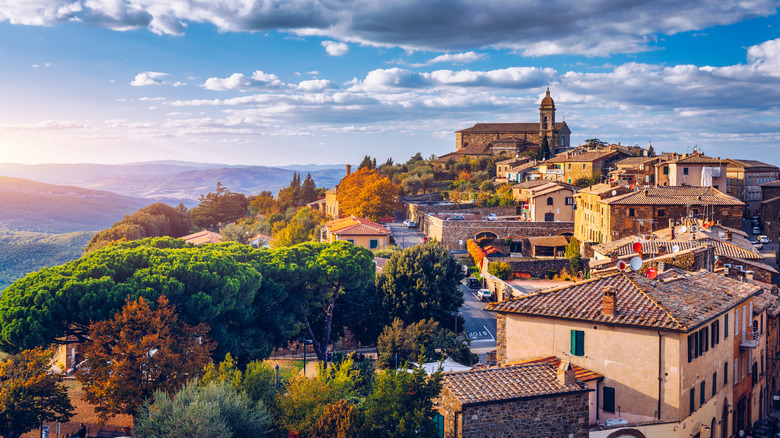 Daliu/Getty Images
The best thing to do in Montalcino is participate in a wine tasting. This quaint and splendid village is the birthplace of Brunello di Montalcino, which is the first and, according to wine expert Tom Maresca, the finest of SuperTuscan wines. How can you not sample at least one glass after a stellar review like that? If we had you at wine, you'd want to try a bit of Rosso di Montalcino while in town. A more youthful vino, this dry, fruity red is best enjoyed with a side of spectacular views from Montalcino's idyllic hilltop locale.
Another beautiful walled town, this Tuscan retreat boasts a fortress, an ancient clock tower, and a buzzing main square called Piazza del Popolo, highlighted by the 14th-century Palazzo dei Priori. Driving is the simplest, most scenic, and fastest way to get to Montalcino from Siena. Otherwise, taking a bus is your next easiest and cheapest option. Be warned, the bus route takes double the time and often requires a transfer.
Cortona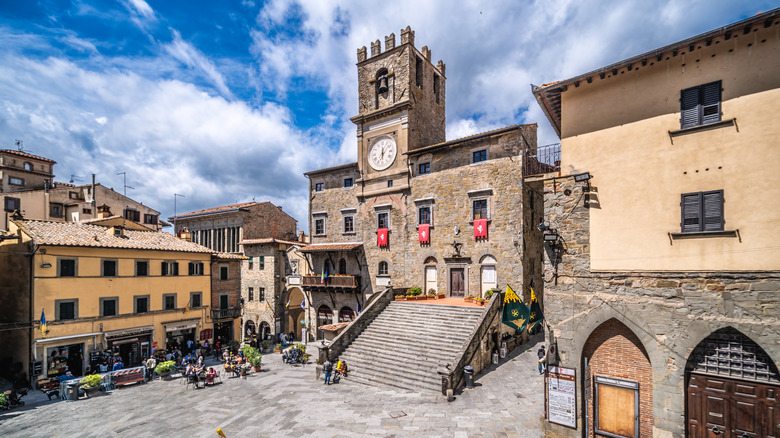 Frankix/Getty Images
What do you get when you mix a 2,000-year-old walled village with hilltop Tuscan views and fabulous wine? An Elysian haven so lovely that you're likely to fall in love instantly. A perfect destination to combine food, wine, and art, Cortona's small list of enchanting attractions will leave you lusting after another stay before you've even gone. Visit the 14th-century Basilica di Santa Margherita to admire its rose window and bell tower. Take time out to enjoy coffee or lunch in the Piazza della Rebúbblica, then get lost exploring the winding, cobblestone streets. Art lovers will appreciate seeing the works of Luca Signorelli and Pietro da Cortona in the Museo Diocesano. 
One of the town's most popular landmarks is the Villa Bramasole, an attraction made famous by its role in the film "Under the Tuscan Sun." It's available for rent and can house up to 20 guests. Despite the town's allure, Cortona is less visited than other spots in Tuscany, mainly due to its more inconvenient location. That means you won't have to elbow through crowds to see the best sights. The train from Siena can take over two and a half hours and includes at least two transfers (one of which is in Florence) and a 10-minute bus ride to reach Piazza Garibaldi or Market Square. From Florence, expect at least a two-hour train journey, one change, and a bus ride to the center of town. It's best to rent a car.
Volterra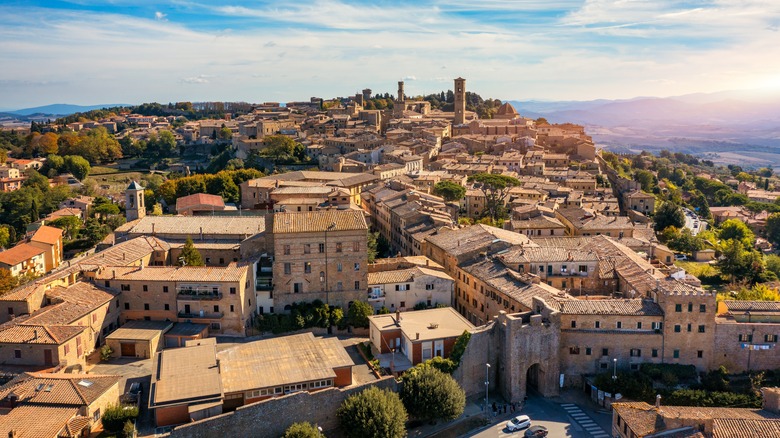 DaLiu/Shutterstock
Like Cortona, Volterra offers Tuscan travelers a more serene and authentic sightseeing experience. Busloads of tourists aren't dumped here for a day exploring its narrow streets, archeological sites, and breathtaking hilltop vistas. Instead, visitors tend to flock here on their own, some mistakenly searching for film sites used to represent Volterra in the Twilight film "New Moon" – these were actually shot in Montepulciano. The road to Volterra is steep and serpentines its way to the summit, where ancient stone towers, biscuit-colored buildings, and bright blooms greet guests. It is deemed one of the most adorable small towns in Europe due to its captivating architecture and charming town squares.
Piazza dei Priori is the town's most central square, home to the enticing 13th-century Palazzo dei Priori, aka town hall. Visitors can climb to the top of the bell tower via 52 steps (be warned, they're pretty narrow) or take a small lift. Spend time exploring the scenic streets, soaking up the romantic ambiance oozing from the charming alleyways before heading to the historic sites (i.e., the Etruscan Acropolis) and attractions like the Guarnacci Etruscan Museum. Tip: The easiest way to get to Volterra is by car. There are no direct trains from Florence or Siena, meaning both trips involve taking a train and a taxi or bus, which aren't always easy to procure.
Arezzo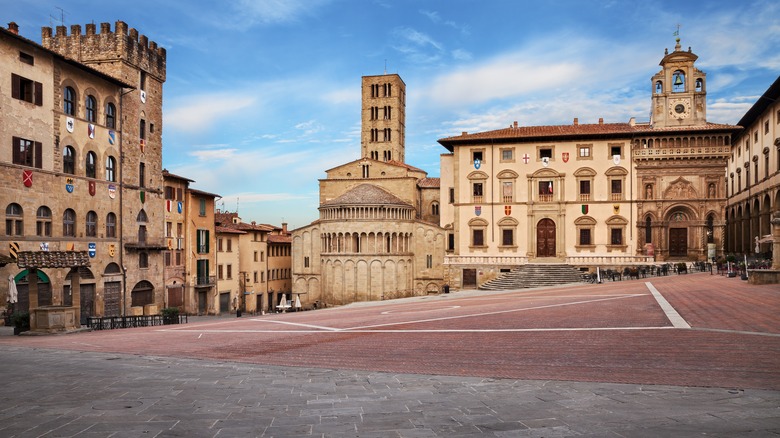 ermess/Shutterstock
If you're a fan of historic town squares, you'll love Arezzo. A small, medieval town packed with beautiful points of interest, you'll want to carve out at least a half day here, although a full day would be better. That way, you can visit top tourist sites like Piazza Grande, one of the most beautiful squares in Itlay, Villa La Ripa, Santa Maria della Pieve, and the Arezzo Cathedral. Located in the southwest of Tuscany, this quaint town is featured in the Oscar-winning "La Vita È Bella" ("Life is Beautiful") film.
The 13th-century Duomo of Arezzo is an unmissable landmark situated at the top of St. Peter's Hill. Inside, you'll see seven stunning stained-glass windows that Guillaume de Marcillat painted between 1516 and 1524. Outside, you'll find a lovely park boasting panoramic views of the Casentino Valley and the Medici Fortress. The ruins of the ancient Roman amphitheater are also worthy of a visit. Good news for travelers who don't want to drive: There's a direct train from Florence to Arezzo, and it can take just 32 minutes if you take one of the fastest Frecciarossa trains.
San Quirico d'Orcia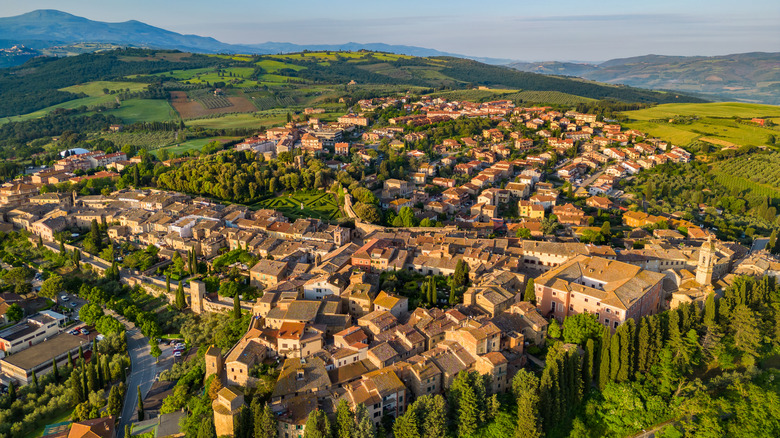 Fani Kurti/Getty Images
Another walled village graces this list of must-visit spots in Tuscany. This one, San Quirico d'Orcia (or San Quirico for short), is as charming as you'd expect from a Tuscan town. It sits serenely within the heart of the glorious Val d'Orcia, about 22 miles from Siena, and is surrounded by the valley's verdant olive groves, chalk plains, tall cypress trees, and rolling hills so lovely that you may dream about their beauty for years to come. Top attractions in this historic town include the Collegiata di San Quirico, which lies just outside the city's walls, the Church of Santa Maria Assunta, which stands along Via Francigena, and Horti Leonini, a stunning Italian garden that lies outside the church. 
Set about 22 miles from Siena, the easiest way to get here is by bus. It will take under an hour, and you won't have to worry about navigating windy roads. Otherwise, renting a car or hiring a taxi are your other best options for traveling from Siena to San Quirico d'Orcia.
Monteriggioni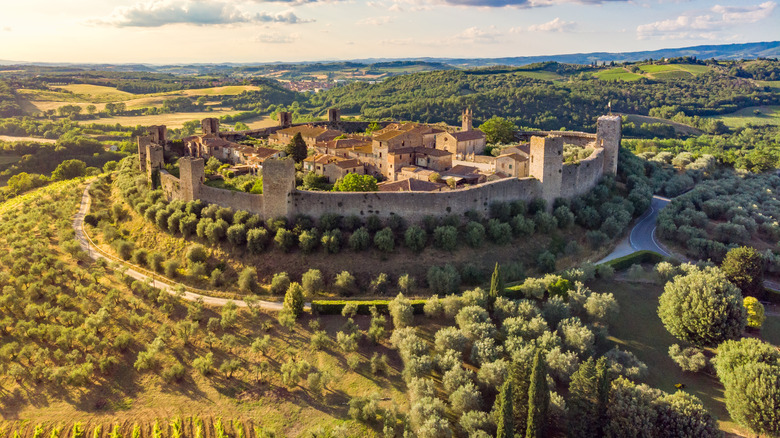 Fani Kurti/Getty Images
What Monteriggioni lacks in size, it more than makes up for with beauty. This medieval-walled Tuscan town is a perfect pit stop on any road trip from Siena, San Gimignano, or Volterra. Monteriggioni is small enough that you won't need more than an hour or two for your visit but pretty enough that you won't want to speed your way through. Created as a fortress in the 13th century, the 14 stone towers and preserved ancient walls surrounding the town enthrall tourists. 
Walking on the walls and gaping at the pastoral views top the list of the best things to do in Monteriggioni, but there are plenty of other places to visit while you're here. While the Monteriggioni Castle is the town's landmark attraction, you won't want to miss the Church of Santa Maria Assunta, which is perched overlooking the main square. To get to Monteriggioni, it's best to drive. A great road trip destination, you'll want an easy way to move on to the next beautiful Tuscan stop.