Yes, Pisa Is Visit-Worthy (Even If You Skip The Leaning Tower)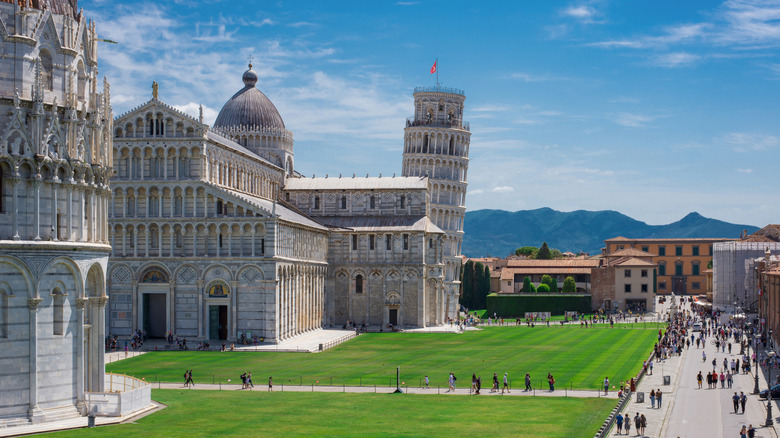 Olgaviare/Getty Images
Split by the Arno River and near the Ligurian Sea, Pisa is a vibrant college town full of historic sites, artwork, and green spaces. Situated in Italy's beautiful Tuscany region, Pisa is often overshadowed by Florence, as well as the nearby medieval towns of Siena and Lucca. Pisa is also overshadowed, albeit a little crookedly, by its world-famous Leaning Tower.
Although Pisa welcomes its fair share of tourists, many visitors simply bus in and out of the city to climb the Leaning Tower, snap an obligatory pic "holding up" the tower, and return back to their Tuscan home base. Is Pisa worth visiting just to visit the Leaning Tower? Probably not, especially when considering all the historical richness and natural beauty of Tuscany. Fortunately, there's plenty to do in Pisa, and whether you choose to visit the tower or not, Pisa is steeped in history and charm, making it a visit-worthy destination when exploring Tuscany.
Explore other highlights at the Square of Miracles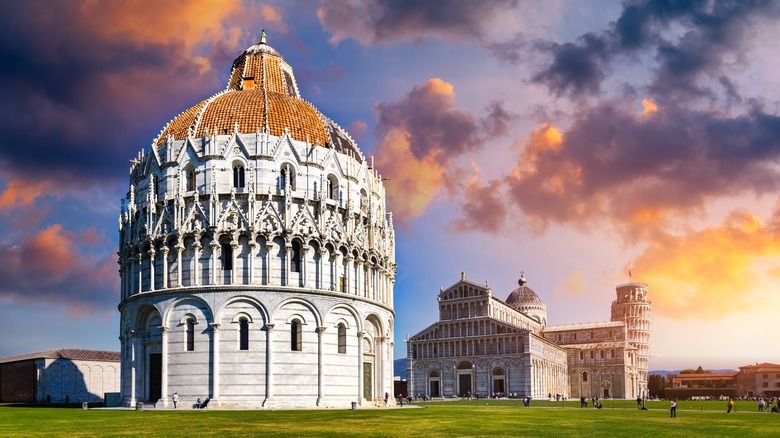 DaLiu/Shutterstock
Let's be clear, there's nothing wrong with visiting the Leaning Tower of Pisa. As long as the crowds aren't insane, we actually suggest climbing the nearly 300 marble stairs to enjoy fantastic views of Pisa, the river, and nearby mountains. You are in Pisa, after all. However, the other highlights of Piazza dei Miracoli, or Square of Miracles, are also Pisa must-visits.
The Leaning Tower is actually the bell tower of the Cathedral of Santa Maria Assunta (or Pisa Cathedral), one of the most beautiful cathedrals in all of Tuscany. Completed in 1092, the Pisa Cathedral is an impressive example of Romanesque architecture, celebrated for its marble facade and intricate marble pulpit, which was created by the famed sculptor Giovanni Pisano.
When visiting the Square of Miracles, we also recommend visiting the ornate Baptistery of San Giovanni, the largest baptistery in Italy, and the Camposanto, a Gothic cemetery that features sculptures as well as frescoes from the 14th and 15th centuries.
Go to the beach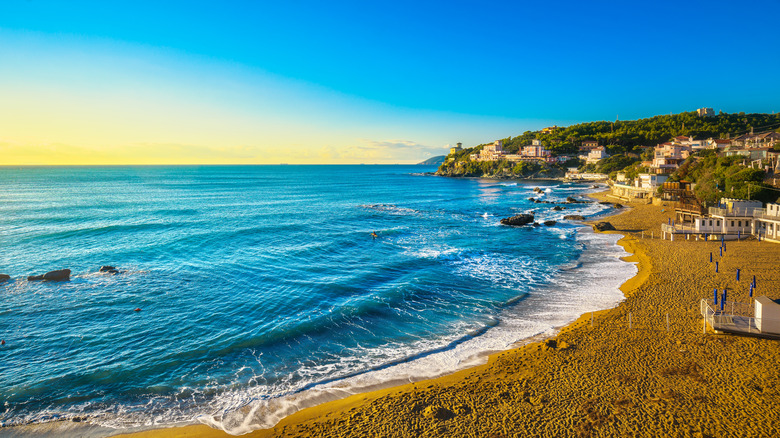 Stevanzz/Getty Images
When you think of Pisa, you probably don't think of beaches. However, for much of its history, Pisa was a maritime power, and the city is very close to a number of scenic, lounge-worthy beaches. If you're visiting Pisa for a few days, we'd recommend taking a relaxing day trip to the coast. Although Marina di Pisa is close to Pisa, we'd recommend taking the 30-minute train ride south to the coastal town of Castiglioncello.
In Castiglioncello, you can relax on the golden-sand beach of Quercetano Bay, a cliff-flanked stretch of coastline in the center of town. Along with its sand beaches (versus the many rocky or pebbled beaches in the area), Quercetano Bay is a preferred beach due to its crystal-clear and calm waters, making it an ideal beach for snorkeling and swimming. Castiglioncello also features beach clubs for renting loungers, umbrellas, and other essentials, as well as numerous seaside restaurants serving freshly caught, dock-to-dish seafood.
Stroll or ride through Pisa's peaceful parks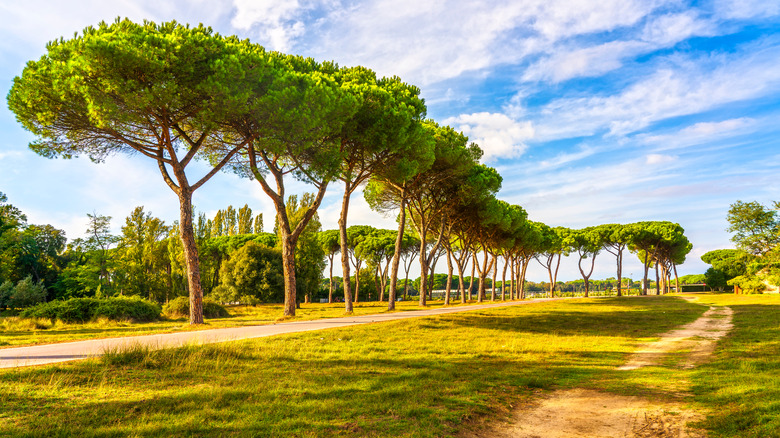 StevanZZ/Shutterstock
Pisa is known for its historical buildings and walkable streets, but Pisa is a surprisingly green city and boasts plenty of incredible parks and green spaces. If you'd like to spend an afternoon exploring the area's Tuscan countryside, consider visiting Migliarino, San Rossore and Massaciuccoli National Park, a protected habitat that stretches from Pisa to the coast. You can choose to walk or cycle throughout, but for a more rustic adventure, you can take a horseback riding tour or explore by horse-drawn carriage.
If you'd prefer to stay within Pisa, take a scenic stroll along the Arno River to visit Giardino Scotto, a preserved green space that's surrounded by a 15th-century fortress. You may also consider strolling through the Garden and Botanical Museum of the University of Pisa. Founded in 1543, the botanical garden is believed to be the first university-operated botanical garden in the world.
Immerse yourself in Pisa's art scene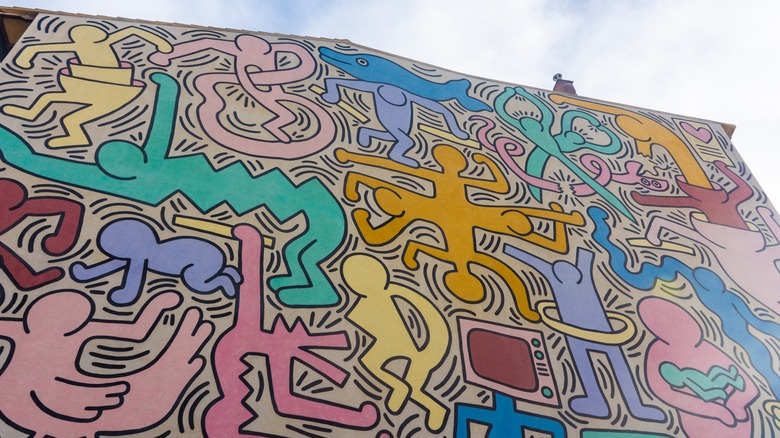 Stefano Zaccaria/Shutterstock
While Pisa is a must-visit destination for history buffs and architectural aficionados, Pisa is also a popular city for art lovers. Palazzo Blu is one of the most important and well-known museums in Pisa. Set along the Arno River, Palazzo Blu features its permanent collection, as well as rotating exhibits from a range of iconic artists. In the past, it has hosted exhibits of works by Pablo Picasso and Salvador Dalì.
If the Leaning Tower is Pisa's most recognizable site, the "Tuttomondo" mural by American artist Keith Haring may be the city's second-most recognizable attraction. Created shortly before Haring's death in 1990, the 1989 mural covers just under 2,000 square feet on the outer wall of the Church of San Antonio. Haring created the mural at the request of the city, and for contemporary art fans, the "Tuttomondo" mural may be more iconic than the Leaning Tower.
Shop and dine the Borgo Stretto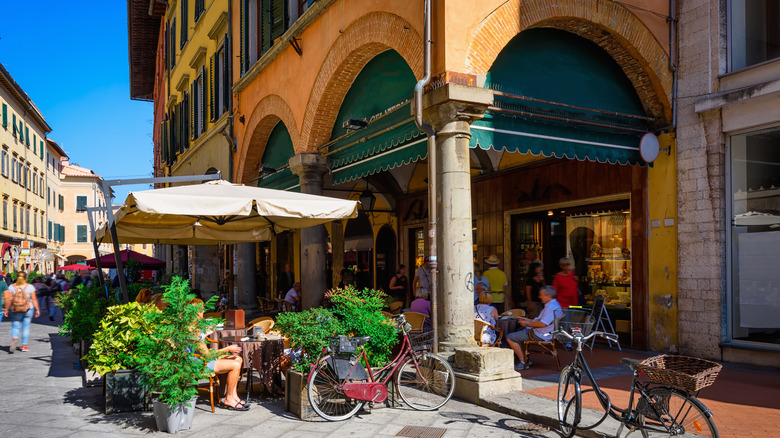 Catarina Belova/Shutterstock
Located between the Arno River and the Piazza dei Cavalieri, a main square of Pisa, the Borgo Stretto district is the hub of the city's dining and shopping. Strolling through the labyrinth of narrow alleyways and small plazas, you'll find quaint sidewalk cafés, gelato shops, high-end retailers, open-aired produce markets, as well as restaurants and bars frequented by the city's college population. When exploring the Borgo Stretto district, you're immersed in the Pisan lifestyle. 
Whether you're looking for a reasonably-priced meal, evening cocktail, or afternoon coffee, the area is a lively spot for socializing, people-watching, and dining. The pedestrian thoroughfare features some of Pisa's most luxurious stores, though you'll also find locally-owned souvenir shops, bookstores, and galleries. When you're sipping a coffee or sampling gelato under a porticoed café in Borgo Stretto, you'll undoubtedly appreciate the time you're spending in Pisa, whether you plan to climb the tower or not.