Winter Getaways For People Who Don't Ski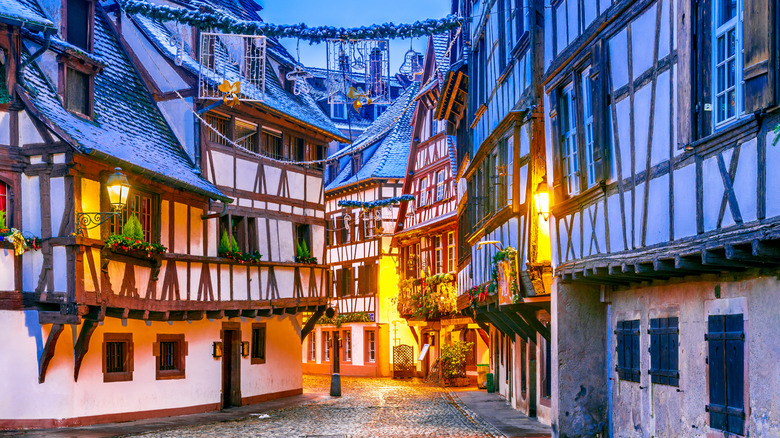 ecstk22/Shutterstock
Winter getaways aren't just for the ski bums and powder seekers. Snowy villages, steaming onsens, and shining metropolises are just waiting for winter lovers to explore them. So many beautiful landscapes and cities are transformed come winter, allowing visitors to witness these places in a whole new light under their winter blankets. Winter doesn't mean an end to adventures. In fact, it's quite the opposite. Frozen forests and castles carved from ice are a great excuse to seek out new destinations. 
From a legendary ice festival in China to Europe's Christmas markets dusted in snowflakes, there's an endless list of winter activities and snowy locales perfect for those who aren't looking to hit the slopes. Grab your hat and mittens and come with us to be transported inside real-world snow globes. These are the best winter getaways for people who don't ski.
Aomori, Japan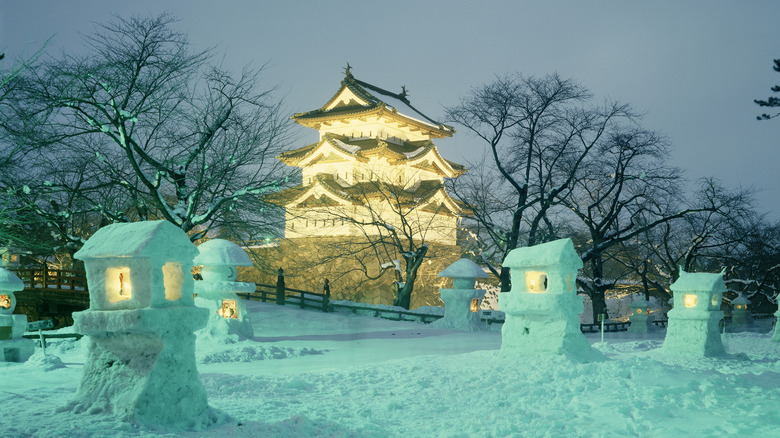 KPG-Payless2/Shutterstock
Aomori is known as the snowiest place in the world, seeing up to 312 inches (26 feet) of snow every winter! The city leans into its nomination as the world's snowiest place, holding frozen festivals and events throughout the season. But why all the snow? Aomori's location, at the very northern edge of Honshu, is ideal for creating winter weather. Winds travel across Siberia and over the Sea of Japan, butting up against the Hakkoda Mountain Range and dropping feet of snow at a time. You may have seen the city's iconic image of buses and cars driving between two white walls of snow.
Winter is when Aomori comes to life. While you might imagine that reaching Aomori is difficult due to its abundance of snow, it's actually quite simple via the high-speed train from Tokyo. Once you arrive, you can hop aboard the Tsugaru Railway for the annual Winter Stove Train to enjoy wintry scenery and dried squid cooked on the train's namesake stoves. A ride on the Hakkoda Ropeway is another great activity, offering you a bird's-eye view of Aomori's snow-encrusted forests. 
Steaming onsens, for which Japan is famous, is the best way to thaw out from your adventures around town. The Sukayu Onsen is particularly stunning and located on Mt. Hakkoda. However, the most popular, and arguably beautiful, event of Aomori's winter is the Hirosaki Castle Snow Lantern Festival. The castle grounds are decorated with carved snow lanterns and glowing kamakura, or Japanese igloos.
Strasbourg, France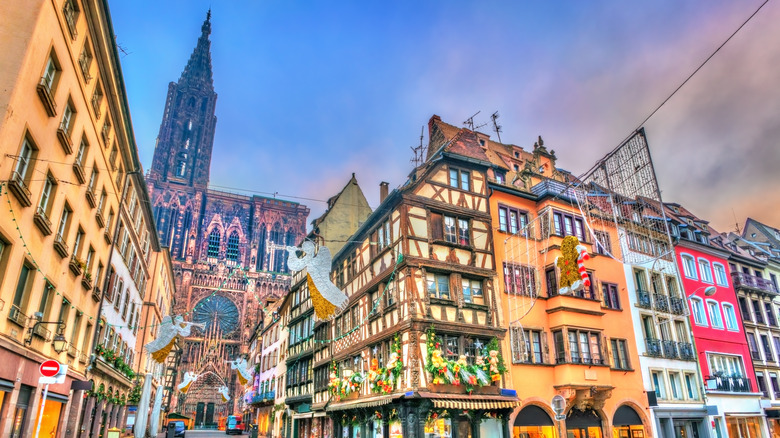 Leonid Andronov/Shutterstock
Strasbourg's Christmas markets, held in the shadow of its behemoth gothic cathedral, are some of the most beautiful in all of Europe. Combine twinkling lights, snowflakes floating from the sky, and quaint, half-timbered facades, and you have a getaway that's straight out of a fairytale. Situated in the Alsace region of France, Strasbourg is also surrounded by storybook villages, like stunning Riquewihr, which are worth exploring. All of these locations are only more stoic and magical during winter.
Straight out of a snow globe, Strasbourg's legendary Christmas markets are spread out across the city. Twelve different themed areas keep it interesting and distinct from other markets in Europe. This also means that it can take a few days to see it all! As the oldest Christmas market in France, tradition is alive and well, especially when it comes to the cuisine. Don't miss out on Alsatian specialties like bretzels, pain d'epices, and vin chaud, which is mulled wine that's perfect for your strolls through the markets. 
Visitors might expect that the festivities quiet down after the New Year, but Valentine's Day ushers in a whole new celebration. Not only is Strasbourg one of the world's most magical Christmas towns, but the already romantic village also holds the annual Strasbourg Mon Amour over Valentine's Day week. Events like a 24-hour ball, a love cruise, and wine tastings are just a handful of the romantic activities.
Leadville, Colorado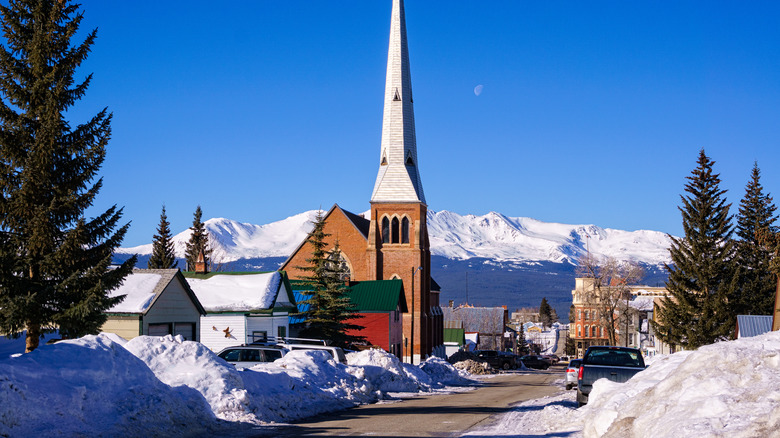 Adventure_photo/Getty Images
Leadville is the highest incorporated city in America at 10,152 feet. That elevation means that "Cloud City" becomes a winter wonderland as early as late October. Annual winter snowfall averages around 12 feet, and there's plenty of powder to go around. While there are countless posh ski towns in Colorado, Leadville has a much more laid-back atmosphere. It's not all about skiing and snowboarding in this town. 
Cold weather activities like snowshoeing and snowmobiling are great ways to immerse in the beautiful mountains that surround Leadville. In fact, one of the best ways to reach the nearby ghost town of Interlaken is by snowshoe. The trail is five miles in length and follows a portion of the Continental Divide Trail along Twin Lakes. If you'd rather explore the rugged scenery without the grit, hop aboard the Holiday Express. Views of Mt. Elbert and Mt. Massive in the distance, coupled with a warm beverage in hand, make this cozy experience a must. Back in town, visitors can continue their winter revelry by ice skating under the stars, sledding, or sipping a craft beer at the Silver Dollar Saloon.
Toronto, Canada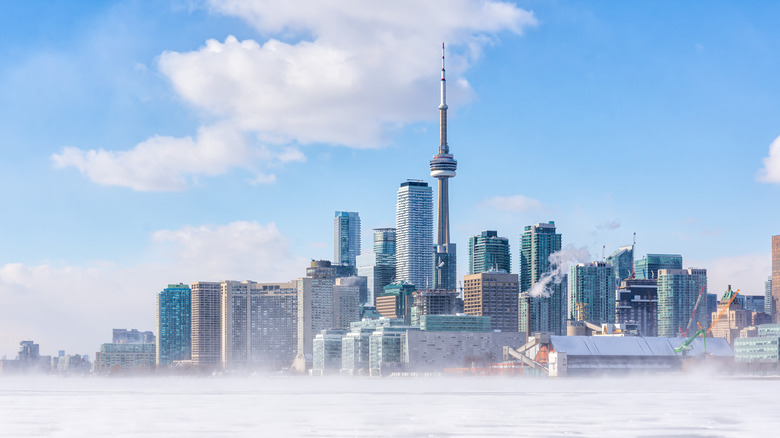 Artem Zavarzin/Shutterstock
Toronto becomes a frozen metropolis in the winter and a super fun escape for those who love the cold. Glittering skyscrapers, a frozen lakefront, and snowy greenspaces all add to the icy ambiance. Take part in a Canadian national pastime at one of the city's many ice skating rinks. Union Station's ice rink is just beneath the iconic CN Tower, while The Bentway offers a unique figure-eight rink to slide around on. Lake Ontario can also be a great place to lace up your skates, gliding with an incredible view of the Toronto skyline. If you're still searching for more ways to get outside, take the ferry to Toronto Islands for an escape from the city and partake in activities like snowshoeing. 
The Distillery Winter Village is one of Toronto's best winter hangouts. A mammoth Christmas tree presides over the festivities, which include delicious bites to eat, warm beverages, handcrafted gifts, and twinkle lights. Toronto's food scene is legendary and the perfect excuse to thaw out from your winter adventures. Known for its density of Asian cuisine and restaurants, a bowl of ramen will warm you from the inside out, so you'll be ready to hit the icy streets again in no time. Konjiki Ramen is a Michelin-Bib Gourmand restaurant and is frequently touted as serving the best budget-friendly ramen in town.
Krakow, Poland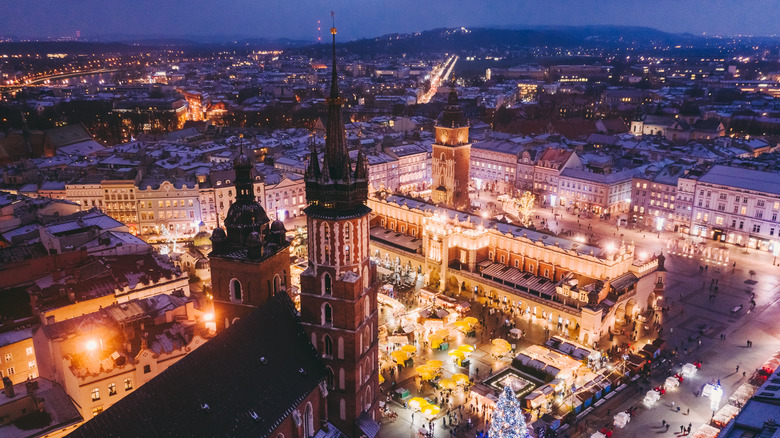 Martin-dm/Getty Images
Leave it to Europe to pull out all the stops when it comes to winter wonderlands, and Poland is no exception. With colorful, storybook squares and dense forests to explore, Krakow is already a picturesque city, but its medieval center appears as if it's straight out of a novel when it snows. Duck into the towering St. Mary's Basilica to witness one of the most staggeringly beautiful cathedrals in Europe. A trumpeter appears every hour to reenact the Mongol invasion of the city in 1241, which culminates in a dramatic ending. While Christmas markets are often the stars of the show in Krakow, wandering the Jewish Quarter, Kazimierz, bundled in your winter gear, is also truly memorable.
Polish food is practically made for long winters, so make sure to try some piping-hot pierogies, sip tangy borscht, or get stuck into a piping bowl of bigos, also known as hunter's stew. The country's famous bar mleczny, or milk bars, are great places to find these dishes for cheap and cooked in the traditional way. If the mountains are calling, head just two hours south to Zakopane. Snuggled in the shadow of the Tatras Mountains, Zakopane is a small village known for its cozy and quaint atmosphere.
Quebec City, Canada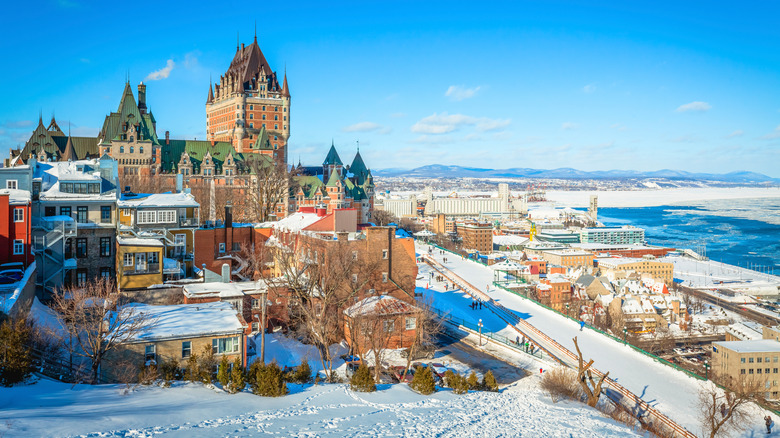 iPIX Stock/Shutterstock
Québec City is a magical town to spend some time in winter, especially around the holidays. Stroll beneath the twinkle lights in the Old City, spend the night in an ice hotel, or attend Québec's Winter Carnival. Here, winter isn't dreaded; it's wholeheartedly celebrated. Every year, Hôtel de Glace is erected in January, and visitors can actually spend the night within its ice block walls. Alternatively, you can also seek out the Bonhomme Ice Palace, a part of the Winter Carnival festivities. The Winter Carnival also includes night parades in the snow, an ice canoe race across the St. Lawrence River, and the annual snow bath.
The Fairmont le Chateau Frontenac, an iconic and historic hotel, watches over the city from its precipice, while winter fun takes place all around it. Toboggan down the Glissades de la Terrasse with stunning views of the Chateau, or take a tour of the building itself dressed in its holiday finery. Québec City doesn't just look like a European village; it also takes on some very European traditions in winter. Both the German Christmas Market and Le Grand Marche Christmas Market descend on the city in November, bringing holiday cheer and delicious food.
Akureyri, Iceland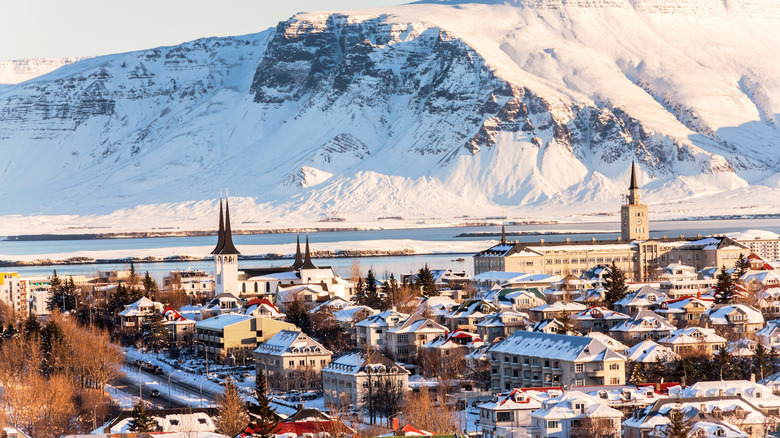 KeongDaGreat/Shutterstock
If you're craving a true arctic winter, doused in the darkness of polar nights, a trip to Iceland's northern city of Akureyri can be a real adventure. This city is only 62 miles (100 km) south of the actual Arctic Circle. Soak in geothermally heated hot tubs, experience Iceland's Northern Lights, and witness the frozen Godafoss Waterfall in all its icy glory. Look at the small town of Akureyri on a map and you'll see that this town sits at the very end of a long fjord known as Ejafjordur.
Geothermally heated pools are a town staple in Iceland. You'll find both manmade places to swim and natural hot springs sprinkled around Akureyri. The newly opened Forest Lagoon hot springs will certainly give the famed Blue Lagoon a run for its money. Its contemporary design and location, surrounded by pine forests, make it a lovely spot to experience the winter months. Seeking out the Northern Lights is practically a rite of passage for winter visitors to Iceland. Being that the heart of winter in Akureyri experiences pitch-black darkness for much of the day, the odds will be in your favor to witness this magical phenomenon dancing across the sky.
Harbin, China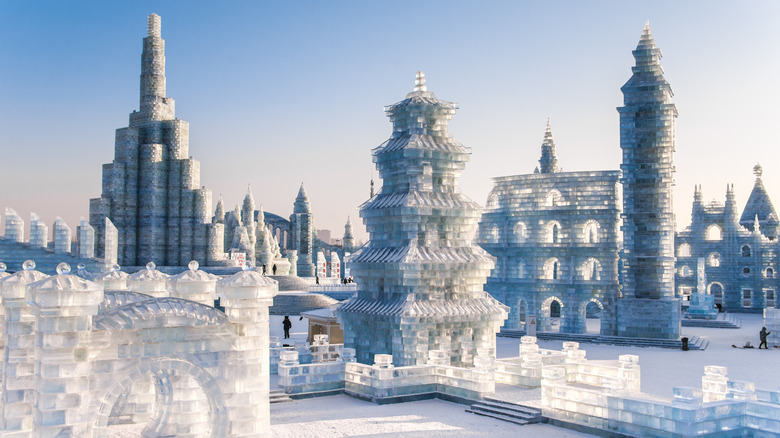 kikujungboy CC/Shutterstock
Harbin is China's winter capital with frequent sub-zero temperatures that sweep in from nearby Siberia. But you'd never know that the cold was so severe by how the city embraces its winter weather. A visit to the Harbin International Ice and Snow Sculpture Festival is a bucket list experience that shouldn't be missed. The festival takes place every year from late December to early March and includes incredible ice sculptures, ice castles, and the ice lantern festival — all feats of beautiful artistry.
Take part in unique winter activities like snow biking, snow kiting, and ice sailing along Harbin's Songhua River. Stop by one of the candied haw vendors in town, one of the most popular winter snacks in Harbin, or sip a Harbin beer. Visitors might be surprised at Harbin's Russian influence, including the striking Saint Sophia Cathedral in the center of the city. The Volga Manor and Stalin Park are other interesting stops for those interested in Harbin's ties with the country.
Chicago, Illinois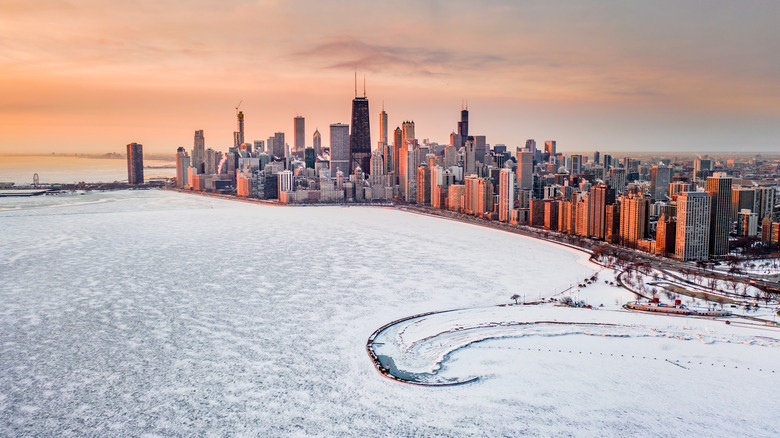 John Lupu/Shutterstock
Chicago winters are legendarily brutal. It didn't get its "Windy City" nickname because of its gentle summer breeze. But this Midwest metropolis embraces the winter with tons of fun activities. You can ice skate, sip cocktails inside igloos, and brave the cold on a wintry walk through Lincoln Park. Because Chicago spends half of the year with chilly temperatures and heaps of snow and ice, locals have learned to embrace the frigid landscape instead of hiding away. Rooftop and igloo bars have become a staple in wintertime and are a fun way to experience the city.
When the winds really pick up and you can't bear the freezing temperatures any longer, head to one of Chicago's best museums. The Shedd Aquarium is particularly picturesque, overlooking Lake Michigan, and the Adler Planetarium is made for stargazing on a clear winter's evening. For sports fanatics, hockey is one of Chicago's most treasured pastimes in winter. The Black Hawks stadium is just west of downtown and a fun way to spend an otherwise blustery evening.
Queenstown, New Zealand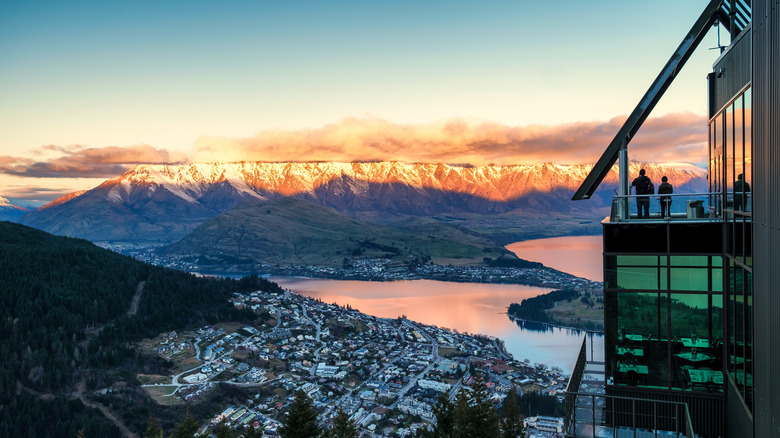 AlmostViralDesign/Shutterstock
You may not equate the Southern Hemisphere with winter wonderlands, but Queenstown, New Zealand sees its fair share of chilly temps. Wreathed in snow-capped peaks, the "Adventure Capital of the World" is a great option if you're tired of the Northern Hemisphere's scorching summers. Head to Queenstown from June to August to experience the peak of Kiwi winter. Temperatures can dip as low as 28 degrees Fahrenheit, but it rarely snows in town. Instead, The Remarkables, the mountains surrounding the town, are dusted in snow throughout winter.
Ride the gondola into the sky, take part in an adventure sport like bungee jumping, or seek out a wine bar — New Zealand's vineyards are world-renowned after all. Queenstown is located in the heart of the Central Otago wine region. This particular area of New Zealand specializes in pinot noirs. Some of the best nearby wineries for tastings are Wet Jacket Wines if you're looking to stay close to town or Peregrine Wines for beautiful architecture and snowy views.
Tallinn, Estonia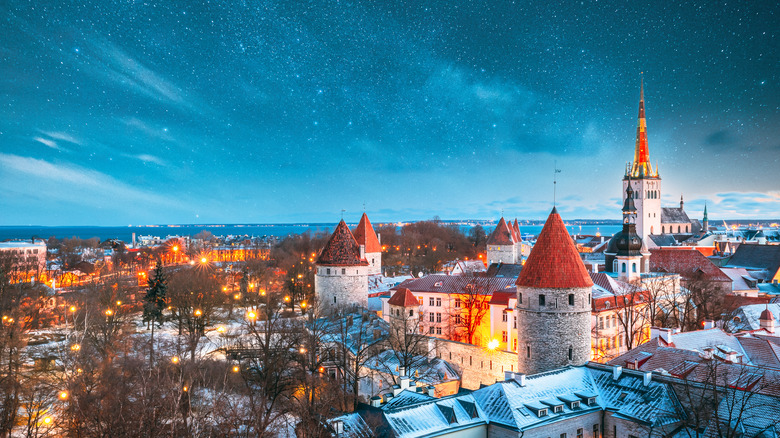 Grisha Bruev/Shutterstock
The tiny town of Tallinn may be Estonia's capital, but it's often overshadowed by other wintry European destinations. Keep in mind that you'll really need to bundle up to visit this medieval city. Tallinn can have temperatures that are well below freezing, but that doesn't stop the city's winter events. Escape the chill by exploring the city's museums or partaking in their quintessential café culture. When you're ready to brave the cold again, you can traipse through Tallinn's Christmas market, admire the colorful Russian Orthodox cathedrals, or explore the historic icebreakers at the Estonian Maritime Museum.
Tallinn may have one of the most underrated Christmas markets in Europe. These picturesque Yuletide celebrations take place in Town Hall Square. Dozens of wooden market stalls offer glittering ornaments, homemade candy, and freshly made gingerbread. In fact, Tallinn's Christmas traditions reach back hundreds of years. The very first Christmas tree ever put on display was placed in the city's central square in 1441.
Taos, New Mexico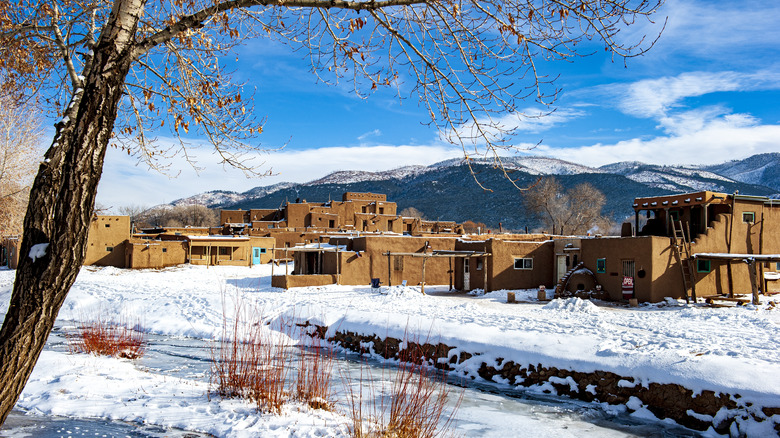 Judd Brotman/Getty Images
You might expect Taos to be warm and sundrenched in winter, and while you wouldn't be wrong about sunny skies, the city also sees cold temperatures and snow. This tiny city is situated on a high desert plateau near the Sangre de Cristo Mountain Range, which provides a snow-capped background in winter. No visit to Taos would be complete without a visit to the UNESCO World Heritage Site, Taos Pueblo. This is the oldest, continuously inhabited structure in America. While other visitors are busy at nearby ski resorts, you'll be uncovering over 1,000 years of history. 
Snowshoeing is one of the best ways to explore the wilderness around Taos in winter. After you're finished discovering the nearby mountains on foot, pay a visit to the beautiful Hotel La Fonda to warm up in their hot springs. Like nearby Santa Fe, there are also a plethora of art galleries, chock-full of stunning Pueblo art, to uncover. This is a great way to spend the day if you're craving an escape from the chilly temperatures.