The Best Museums To Visit When Traveling To Chicago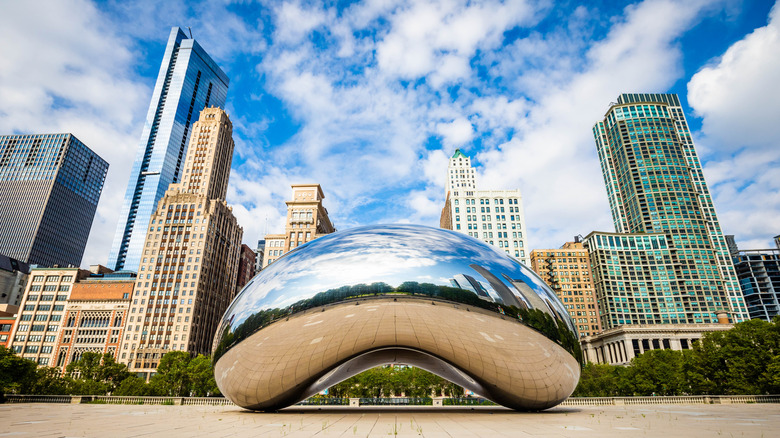 Photo Spirit/Shutterstock
Chicago is inarguably one of the best U.S. cities for food lovers to add to their bucket list, but it has much more to offer than delicious deep dish pizza, loaded hot dogs, and elevated fine dining — and more speakeasies and secret bars than you could ask for. The Windy City is also a haven for art lovers and it's giving New York's famed art scene a run for its money. From the infamous Bean (actually called Cloud Gate) to gorgeous street art and impeccably preserved Art Nouveau architecture, Chicago's vibrant art scene literally spills out onto the street. 
The city is also home to some of the very best museums and galleries in the country. Of course no visit would be complete without a stop at The Art Institute of Chicago, but there are also plenty of other top-rated institutions to consider, catering to all ages and a wide array of interests. Here are the very best museums to add to your itinerary during your next trip to Chi-town.
The Art Institute of Chicago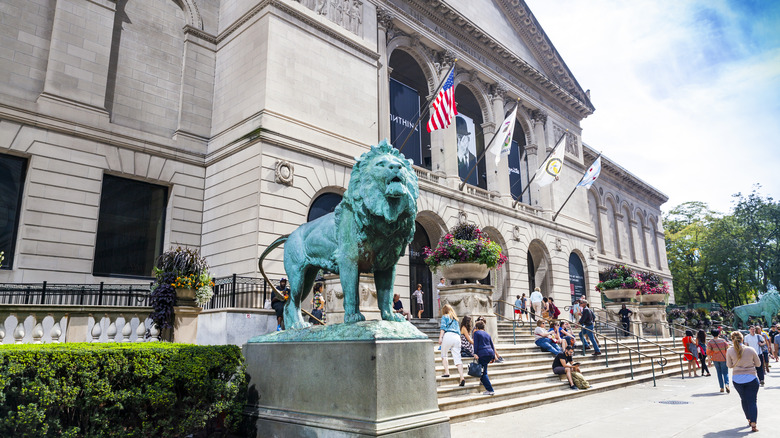 MaxyM/Shutterstock
Perhaps the best known museum in the city – The Art Institute of Chicago – is home to nearly 300,000 works of art, spanning numerous centuries and countless styles. It's just a couple minutes' walk from several subway stations and is conveniently located right next to Millennium Park, so you can complete your visit with a Bean selfie. Once inside, you can spend an entire day exploring galleries filled with everything from Ancient Roman marble and mummy artifacts to contemporary works by prominent Black artists. 
If you're tight on time, though, you can see the institute's most famous works in about an hour. Just a few of the pieces you simply cannot miss include Vincent van Gogh's "The Bedroom" and "Self-Portrait," Edward Hopper's "Nighthawks," Grant Wood's "American Gothic," and Salvador Dali's "Inventions of the Monsters." Other stunning works include paintings and prints by world-renowned artists Georgia O'Keeffe, Pierre-Auguste Renoir, Pablo Picasso, and Andy Warhol. It's really no wonder The Art Institute of Chicago was named one of TripAdvisor's Top U.S. Attractions of 2022.
Museum of Contemporary Art (MCA Chicago)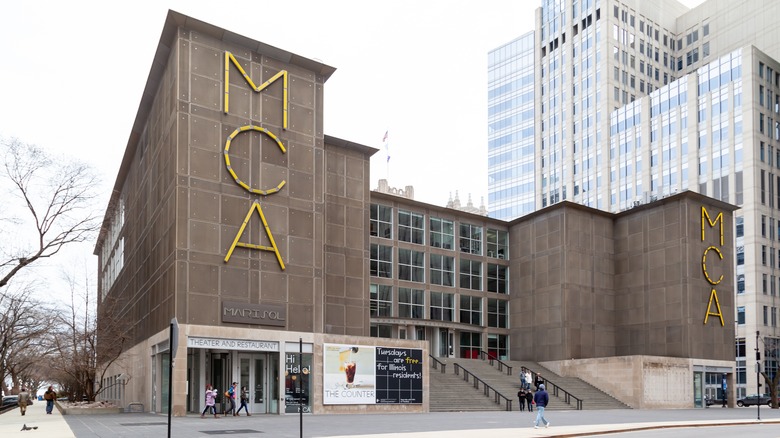 JHVEPhoto/Shutterstock
If your artistic interests lean more toward the modern, the Museum of Contemporary Art Chicago (or MCA) will not disappoint. Just a few steps from the Magnificent Mile, it's easily combined with a day of shopping. It's one of the largest museums in the U.S. to be dedicated to contemporary art and its permanent collection boasts 2,500 pieces and counting, ranging from the 1920s to the present day. 
However, it's the MCA's temporary exhibits that really set it apart. In 2014, it set a single-exhibition attendance record with 193,000 visitors flocking through its doors to see "David Bowie Is," as it was the only U.S. venue to host the major retrospective from London's Victoria and Albert Museum. It then beat its own record in 2017 with Takashi Murakami's "The Octopus Eats Its Own Leg," which saw 205,000 visitors attending, and it again hit it out of the park with the 2019 Virgil Abloh retrospective, "Figures of Speech." Pro tip: If you're feeling peckish during your visit, be sure to pop into in-house restaurant Marisol for a tasty treat, lunch, or even dinner.
DuSable Black History Museum and Education Center
Located right inside Washington Park, the DuSable Black History Museum and Education Center is the oldest independent African American museum in the country. It was founded by artist, educator, and activist Margaret Taylor Burroughs in 1961 and was named after Haitian-born Jean-Baptiste Pointe DuSable who was the first permanent settler in the city and later became known as the founder of Chicago. With a focus on education, this Smithsonian affiliate boasts a permanent collection packed with 15,000 inimitable pieces of history, ranging from paintings to sculpture, prints, and historical memorabilia, like a 1964 Illinois Rally for Civil Rights flier emblazoned with the image of Martin Luther King Jr. 
The mission here is simple: to preserve history and spark conversation, no matter how difficult it may be. In that vein, the museum also hosts workshops and lectures, as well as curates memorable temporary exhibitions. Just a few impressive shows from recent years include "Nick Cave and Jack Cave: The color is fashion exhibition" and "Fighting racism in the trenches," which told the story of Kathryn Magnolia Johnson, one of the few African American women to serve in World War I.
Museum of Science and Industry, Chicago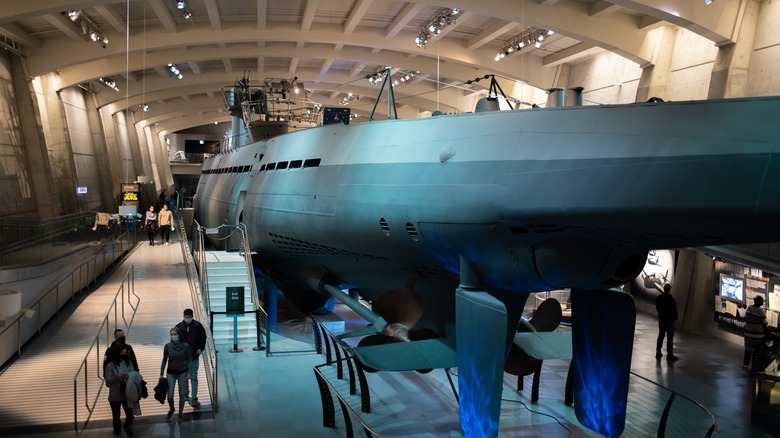 Michael Gordon/Shutterstock
Kids of all ages will fall in love with the Museum of Science and Industry, Chicago. Opened in 1933, it's actually the largest science museum in the Western Hemisphere and is the place to go to learn about and be amazed by the magic of science. Located inside the lush Jackson Park, the museum spans more than 400,000 square feet and is all about hands-on, interactive exhibits. Just a few of the highlights include the opportunity to see the U-505 Submarine, a real German ship captured during World War II, then enter into a recreated sub environment to see what life was like for soldiers below deck. Other surefire hits include actor Colleen Moore's miniature castle dollhouse (in which no detail was spared!) and the baby chicks hatchery, complete with live baby chicks. 
The complex also includes the five-story Giant Dome Theatre, which screens immersive films about some of the world's most remote places, like Mount Everest and the island nation of Vanuatu. If you have some extra time, be sure to ask about the museum's unique tours and experiences, like "Dissect an Eye at MSI" which lets kids dissect a real cow's eye.
Field Museum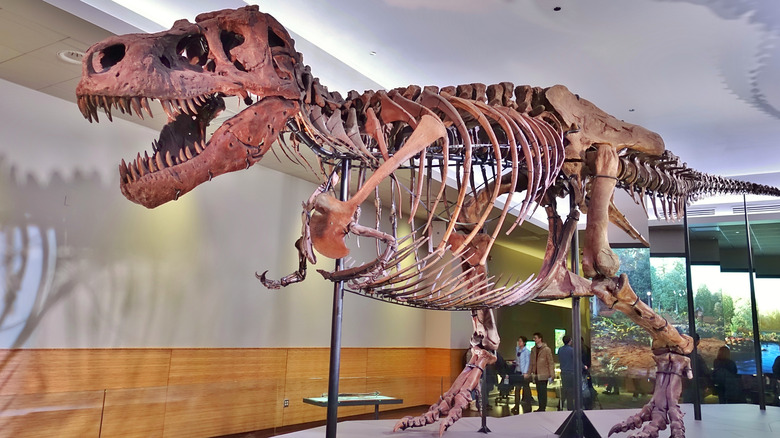 EQRoy/Shutterstock
Calling all natural history buffs! Chicago's Field Museum, located just south of Grant Park, has been wowing visitors since 1894. Initially built to house many of the 65,000 artifacts exhibited during The World's Columbian Exposition of 1893 (the first world's fair held in Chicago), it has since amassed 40 million pieces and counting. The museum's most famous resident is undoubtedly Sue, the world's largest Tyrannosaurus Rex, but she's just a small part of the impressive collection that spans 4.5 billion years. Yes, billion. 
Spread out across 27,000 square feet, the Field Museum tells the story of planet earth and its evolution with impressive installations and interactive displays, like a full-size replica of an 1800s earth lodge showcasing what life was like for Native Americans at the time. You can also step inside Ancient Egypt, be wowed by precious stones in the Grainger Hall of Gems, get up close to animal specimens and — if you're lucky — participate in one of the occasional Dozin' with the Dinos events, which allow families to explore the museum at night, then sleep inside.
Adler Planetarium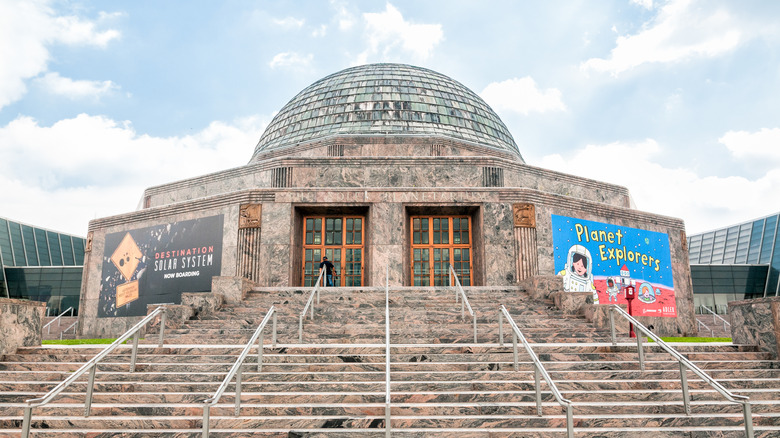 elesi/Shutterstock
Right next to the Field Museum is another of Chicago's museum gems: the Adler Planetarium — the very first planetarium in the United States. Start your visit by exploring the museum portion, which houses scientific instruments, manuscripts, models, and photographs tied to space and astronomy. Visitors can step inside a Medieval classroom, learn everything there is to know about telescopes, and see tools used by astronomers as far back as Ancient Greece. There are also interactive, hands-on exhibits for all ages and everyone is sure to love "Mission Moon" where visitors learn about the landing on the moon, try to save the crew of Apollo 13, and get to look inside the Gemini 12 spacecraft. 
However, it's the planetarium's Sky Shows that will really take your breath away. Sit back inside the dome theater and get ready to be amazed by the adventure of your choice. You can explore the solar system, learn about Pluto and other dwarf planets, be a stargazer, or join Big Bird and Elmo on a trip to the moon.
Chicago Sports Museum
Chicago is home to some of the biggest sports teams in the country, so it's no surprise it would dedicate an entire museum to that rich heritage. All sports buffs are likely to prioritize seeing a game while in the city, but a visit to the Chicago Sports Museum should also make their list. The space is packed with memorabilia, simulated experiences, and endless photo opportunities. As ESPN SportsCenter anchor Matt Barrie enthuses, "If you're a Chicago sports fan, this is a must." 
While exploring the museum you'll be able to see the largest collection of Chicago Cubs World Series memorabilia in the city, as well as inimitable pieces like the very basketball hoop Michael Jordan used to make that memorable winning shot during the 1998 NBA Finals. There are also plenty of displays you can touch (why not try on a replica of the largest Super Bowl ring ever made for William "Refrigerator" Perry?) and loads of opportunities to play against some of the greatest athletes of all time in VR games of baseball, football, hockey, and basketball. You can also pop into Harry Caray's 7th Inning Stretch restaurant on-site for breakfast, lunch, and dinner and chow down on a juicy burger or tasty steak.
Chicago History Museum
Learn everything there is to know about the Windy City at this comprehensive museum. Conveniently located in Lincoln Park, the Chicago History Museum is easily reached by public transit and is a great place to spend a morning immersed in the history of Chi-town. Founded in 1856, it's run by the Chicago Historical Society and brings together 23 million objects, images, and documents to showcase how the city has evolved over the centuries. The museum organizes temporary exhibits, such as the recent "City on Fire: Chicago 1871," while also boasting a rich collection of permanent expositions. There's an insiders' look at Abraham Lincoln's Chicago, the famed miniature dioramas which show the city's evolution in the 1800s, and the hands-on "Sensing Chicago," which encourages kids to play and even jump into a giant Chicago hot dog. 
Perhaps the most fun space of all, though, is the interactive "Chicago: Crossroads of America" which shows visitors everything from a recreated jazz club to the famed Marshall Field's department store from the mid-1800s. Plus don't miss the chance to hop on and explore the restored L car no. 1 tram from the late 1800s.
Chicago Children's Museum
If you're visiting Chicago with kids, you'll definitely want to carve out some time to spend at Navy Pier. Here, you can take a ride on the 200-foot high Centennial Wheel, enjoy a number of amusement park rides, walk the pier, have a bite to eat, and visit the Chicago Children's Museum. This interactive museum has been around since 1982 and is all about blending fun with education. It gives kids a chance to learn while playing, creating art, trying STEM experiments, and having an overall great time. 
The best part is that there are activities and exhibits for kids of all ages, starting with babies and toddlers who can crawl and explore a huge treehouse. Kids aged four to eight will love digging for dinosaur "bones" or exploring the Kids Town, which features the chance to drive a CTA bus, shop for groceries, and more. As for kiddos nine and older, they'll surely get a kick out of the Skyline play area where they can build their very own skyscrapers.
Frank Lloyd Wright Home and Studio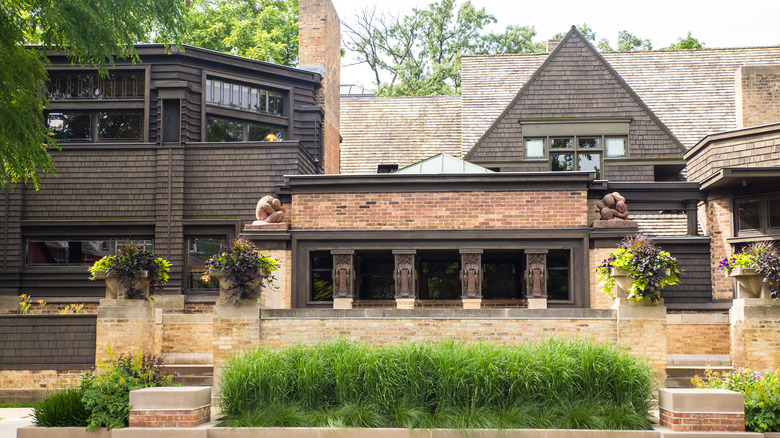 littlenyStock/Shutterstock
Despite hailing from Wisconsin, Frank Lloyd Wright has become synonymous with Chicago. The famed architect began building a home and design studio for himself in Oak Park in 1889 when he was just 22 years old and the impressive abode remains there to this day. Wright expanded the residence to fit his family needs over the years and the studio is where he produced more than a third of all of his work. Step inside and you can visit the home as it was when Wright lived here and see everything from the dining room to the office. Get ready to be blown away by the fact that Wright didn't just design the house itself, he also dreamt up all of the furniture, textiles, and accessories inside!
After you've explored the house, you can also take a self-guided audio tour of the neighborhood to discover other impressive mansions in the area or easily walk over to Unity Temple. Designed by Wright as a Unitarian Universalist church, it was completed in 1908 and today holds a place on the UNESCO World Heritage List.
National Museum of Mexican Art
Chicago's Pilsen neighborhood has been home to much of the city's Hispanic community since the mid-1900s and their rich heritage and culture is felt everywhere. There are the delicious restaurants serving up Mexican classics, the beautiful street art that can easily be explored on foot during a mural walk, and the impressive National Museum of Mexican Art. Located inside Harrison Park, the museum celebrates Mexican, Latino, and Chicano art in all its forms. Spanning 3,600 years of history, the collection is 12,000 objects strong and aims to educate, inspire, and wow visitors by showcasing artists from both sides of the border. Here you can see textiles, paintings, photographs, and gorgeous objects of arte popular. The latter, as RDN Arts explains, are handmade pieces crafted by Mexico's indigenous and working-class communities which are steeped in history and tradition. 
Additionally, the museum also has a rich performing arts calendar and puts on a myriad of events highlighting dance, music, theater, and more.
Peggy Notebaert Nature Museum
The Chicago Academy of Sciences' Peggy Notebaert Nature Museum aims to inspire kids' curiosity by bringing them up close and personal with nature and science — and boy, does it succeed! By offering an immersive, hands-on experience, this museum ensures children of all ages will be kept fascinated and entertained while learning about the world around them. Just a few of the highlights include the Judy Istock Butterfly Haven, a 2,700-square-foot greenhouse that's home to more than 1,000 free-flying butterflies from 40 species, as well as the Mysteries of the Marsh exhibit, which offers a closer look at seven different types of wetlands. There are even toddler-friendly play spaces to accommodate the youngest of visitors.
Once you're done inside, the exhibition continues outdoors with the Deb Lahey Nature Trails. Running a third of a mile, the trails showcase different native habitats found throughout the state. What's more, you can easily combine your visit to the Peggy Notebaert Nature Museum with a stop at the nearby Lincoln Park Zoo or Lincoln Park Conservatory for a full day of fun.
The Richard H. Driehaus Museum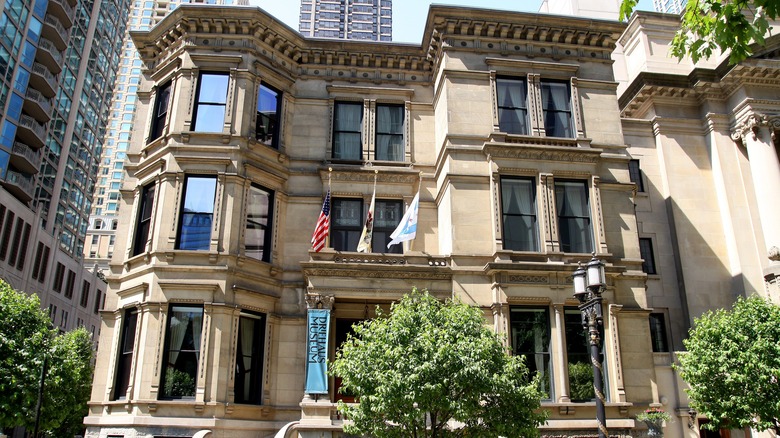 Raymond Boyd/Getty Images
Stepping inside the Richard H. Driehaus Museum is like stepping back in time. It was 1879 when wealthy banker Samuel Mayo Nickerson and his socialite wife commissioned this mansion located just a few steps from the Magnificent Mile. It was completed in 1883 and became a prime example of the opulent style of the Gilded Age. Inside, the couple showed off their impressive art collection and now, thanks to a modern day restoration carried out by philanthropist Richard H. Driehaus, you can see what life was like for the wealthy Nickerson family. 
Although this grand home isn't exactly as it was during their time, it's sure to impress from the moment you walk into the splendid front hall with its marble balustrades and grand staircase. Inside, visitors can still see many original furnishings as they explore the dining room, drawing room, library, and more. There are also pieces selected by Driehaus, as well as temporary exhibits with a special focus on Art Nouveau and Modernism. If you'd like to learn even more about the property, you can take a guided Highlights Tour during your visit for an extra $5.