The Time Of Year You Are Most Likely To See The Northern Lights In Iceland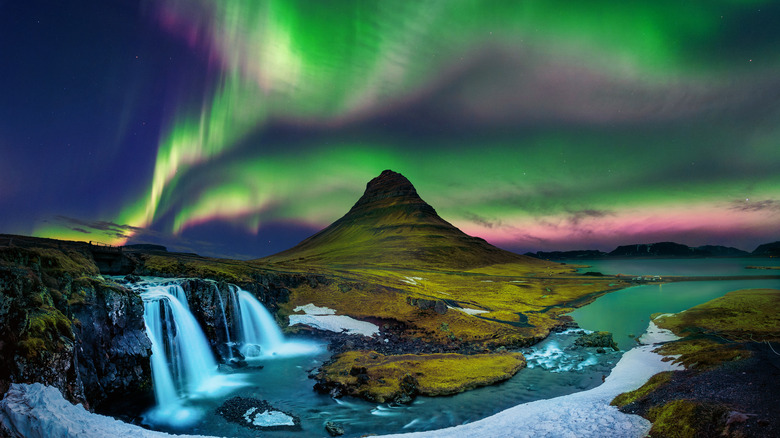 Michal Balada/Shutterstock
You can hardly drive a half hour in Iceland without seeing a volcano or glacier, so it's easy to see why it's known as the land of fire and ice. But sometimes, Mother Nature paints the skies of Iceland with a kaleidoscope of fire in hues of purple, green, and pink; The Northern Lights are an absolute bucket list must-see. But first things first, let's discuss the Icelandic-sized elephant in the room. You might think, "Iceland sounds cool but maybe too cool. It must be unbearably cold, right?"
The good news is that Iceland's weather is far more reasonable than you might think. The island certainly experiences its fair share of wind and storms, according to Visit Iceland, but the average winter high is up in the 30s (via US News and World Report). Not too shabby for a location so close to the Arctic Circle! Along those lines, most folks looking to catch the Northern Lights opt for a cozy base layer set, a cute Nordic sweater, and waterproof winter jacket.
It's easy to travel to Iceland since Icelandair offers direct flights from over a dozen U.S. cities, but you'll need to be strategic about timing if you want to bask in the glow of the rainbow light show.
These dark months are the perfect Northern Lights canvas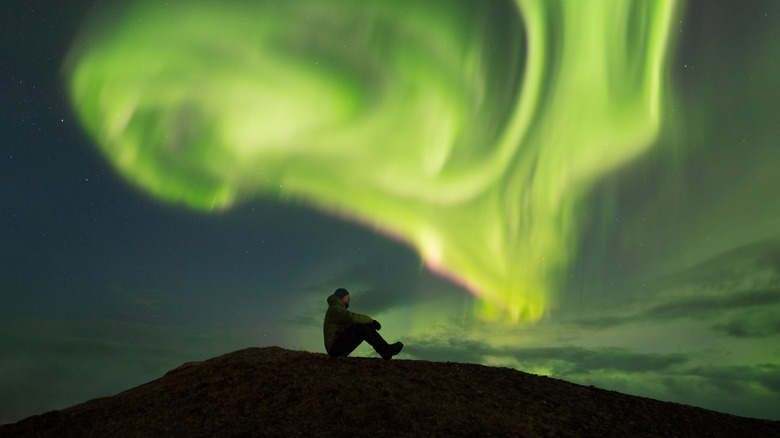 Guitar photographer/Shutterstock
If you go to Iceland in the summer, you'll be dazzled by blankets of deep purple Lupine flowers, but not so much the Northern Lights. Yes, there's a chance you might get a glimpse, but if you're looking to maximize your chances, Travel & Leisure suggests going September through March. During this time, the country experiences approximately 19 hours of darkness each day, which makes for optimal viewing.
Once you arrive, you can further increase your chances of seeing the solar light show — which appears and disappears without warning — by connecting with a local tour. If group tours aren't your thing, look for a hotel specializing in Northern Lights experiences. No need to chase the lights in the (chilly) darkness of the night; just sign up for Hotel Ranga's Northern Lights wake-up call. Even if you're fast asleep dreaming of how Northern Lights get their color, they call your room when the green and purple start streaking across the sky. From there, just pop on a complimentary snow suit and enjoy the show — easy breezy.
Whether you keep a watchful eye on your own, with a tour group, or with the help of expert hotel staff, visiting Iceland during the winter is the best way to see the Northern Lights. So, abandon the notion that Iceland is inaccessible and pack those bags!