Swap The Empire State Building For This Spot If You Want Better Views Of New York City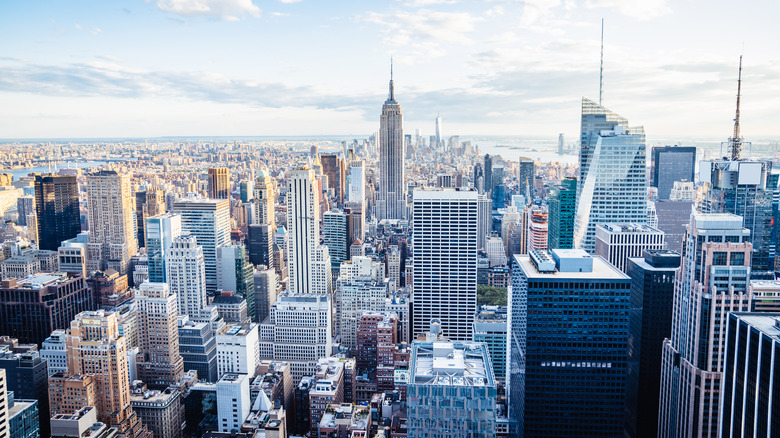 Filippobacci/Getty Images
New York City is well known for having one of the most spectacular skylines in the world. Because of this, many visitors to the Big Apple seek to see the city from up above. One of the most breathtaking views of New York City is at the top of the Empire State Building; and while that's certainly not a bad choice, there's another option that provides even better views in a historical setting.
Top of the Rock, which is the observatory at the top of Rockefeller Center, is a great spot for getting stellar views of Manhattan and beyond. There are three floors of observation decks at Top of the Rock, providing picturesque views in all directions. Best of all, they're unobstructed, meaning there is no glass blocking the beautiful New York skyline. One of the greatest perks of choosing this spot over the Empire State Building is that you'll actually get to see the Empire State Building, since you won't be in it (obviously). Who doesn't want the iconic Empire State Building in their New York City photos?
Know before you go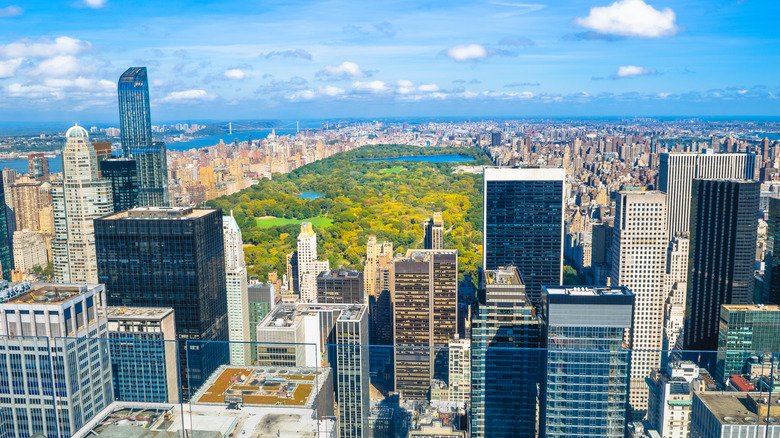 Nido Huebl/Shutterstock
If you want to visit Top of the Rock, there are a few things to consider before you go. First and foremost, you'll want to know the best time to go. While Top of the Rock does not get quite as busy as the Empire State Building, it does still attract a crowd. Top of the Rock observation decks are open everyday from 9 a.m. to midnight, with the last entry being at 11:10 p.m. To save time, it's best to purchase your tickets online ahead of time. Sunset is the busiest hour, and the least busiest time is usually toward the end of the night. Going on a Monday as opposed to a Friday or Saturday is also a good way to beat the crowds.
If you plan to see more than one attraction when in New York, it might be worth buying a CityPass. A CityPass gives you access to the Empire State Building, the American Museum of Natural History, as well as an additional three attractions of your choice, with Top of the Rock being one of those options. The New York Pass is another great option for saving some cash while exploring plenty of tourist attractions, including Top of the Rock.
What else to do in the Rockefeller area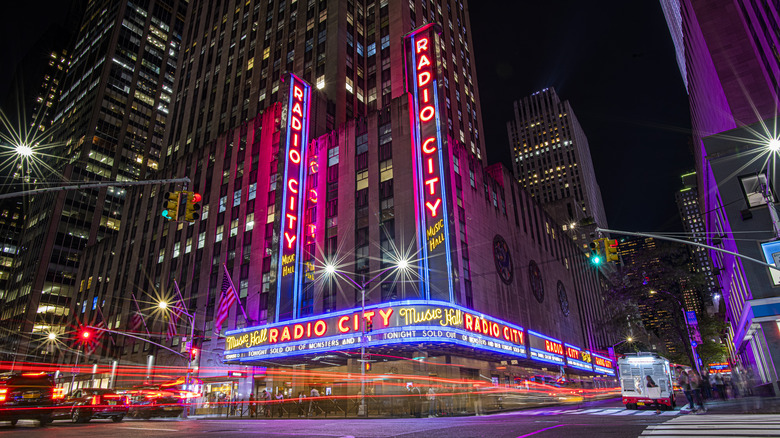 Thenewguy03/Getty Images
One of the biggest downfalls of going to the Empire State Building is the area surrounding it. Herald Square, and 34th Street in general, are filled with chain stores, overpriced subpar eateries, and general chaos. Top of the Rock, however, is a different story.
Rockefeller Center and its surrounding areas have plenty to offer. If you're looking for a good bite, head over to Monterey, a New American brasserie offering a martini cart (yes, a cart that comes to your table to make you a curated cocktail) and table-side prime rib. Taru, an elegant Japanese eatery, is another fantastic option for a good bite — and is only a six-minute walk from Top of the Rock. Make sure to try their milk toast with salted nori butter and fusion dishes like uni carbonara with thick, chewy noodles. If you want a libation, head to Pebble Bar, a chic cocktail bar with friendly service.
If you need a place to stay near Top of the Rock, The Algonquin Hotel is a historic hotel in the heart of town. New York Marriott Marquis is one of New York's most iconic hotels and is less than a 10-minute walk away.
Furthermore, if you want another touristic New York activity to partake in after Top of the Rock, Central Park is close by. MoMa, or Museum of Modern Art, is also only a six-minute walk away.