Epic Hikes To Take When Visiting The Midwest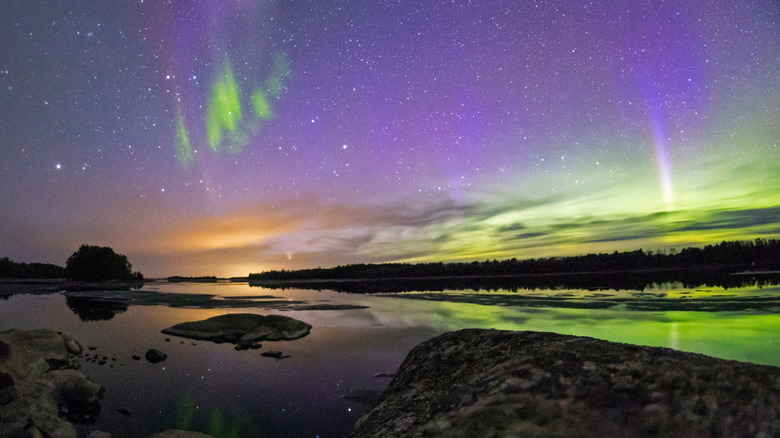 BlueBarronPhoto/Shutterstock
While many may think of America's West Coast as boasting the country's best hikes, the Midwest actually offers a treasure trove of lesser-known but epic trails. From arid landscapes with towering, whimsical spires to mossy slot canyons begging to be discovered, there's no shortage of worthwhile walks to experience the expanse of the nation's middle. Twelve states make up the U.S. region known as the Midwest, from Ohio in the far east to The Dakotas, Nebraska, and Kansas in the west. 
Between these borders is an endless series of unique treks to stretch your legs on, cascading waterfalls to see, backcountry campsites to sleep under the stars, and picturesque scenery to capture through your lens. With all of the beautiful national parks of the Midwest, along with national lakeshores and state parks, it's a wonder why this area isn't more popular with outdoors enthusiasts. You can uncover them for yourself — before the crowds arrive — with this list of epic hikes to take when visiting the Midwest.
Notch Trail, Badlands National Park, South Dakota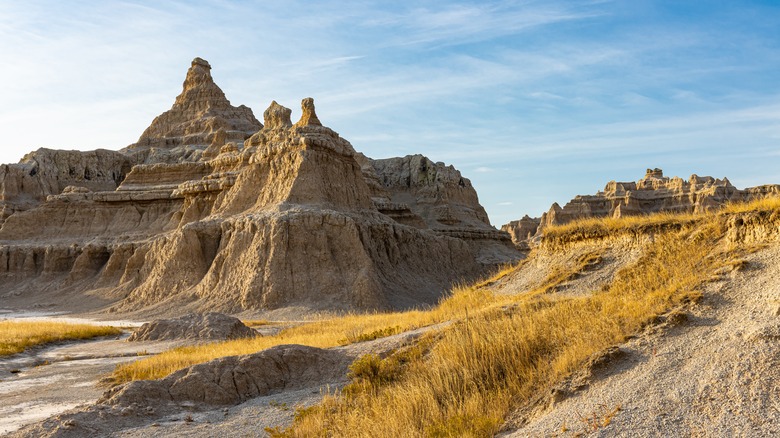 Billy McDonald/Shutterstock
Located in Badlands National Park, the 1.5-mile Notch Trail is the perfect introduction to one of South Dakota's most famous natural wonders. Surrounded by striking rock formations and sweeping views of the desert-like topography, this might be one of the best trails in the state. Wind your way along its sandy pathway that carves through the park's unique layers of sandstone, ash, and limestone, a geologic marvel created by primordial rivers. You may begin to feel like you're on the set of a "Star Wars" film in the Badlands' iconic landscape. 
While it wasn't featured in any space sagas, a myriad of Hollywood Blockbusters have been filmed here like "Dances with Wolves." The Notch Trail is a choose-your-own adventure in that you can decide whether to climb a log ladder to reach your end destination or hike through a rocky gorge. Either way, the views of the White Valley sprawling into the horizon at the terminus are truly breathtaking. Make sure to stick to the trail as some sections can be treacherous, especially after severe weather, and some sheer cliff faces could be challenging for those who have a fear of heights (or exposure).
Chapel Loop Trail, Pictured Rocks National Lakeshore, Michigan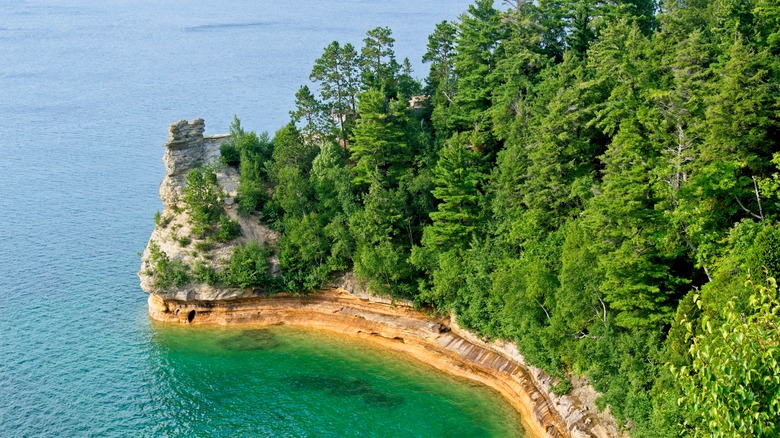 Peter Blottman Photography/Getty Images
Clocking in at a whopping 10.5 miles long, the Chapel Loop Trail isn't for the faint of heart but does provide jaw-dropping views. Tucked away on Michigan's Upper Peninsula along the Pictured Rocks National Lakeshore, its moderate difficulty may scare away some hikers, but those who complete the trail will be rewarded with the picturesque scenery of Michigan's craggy coastline and the almost tropical-looking, turquoise waters of Lake Superior. Although this trail is certainly a journey, the path is never boring with sites. Passing Mosquito Falls and Chapel Rock, along with countless other vistas and waterfalls to explore, the trail also weaves through various backcountry camping sites, as well as Chapel Beach and Mosquito Beach. If the water isn't too cold, the beaches are excellent swimming locations if you get sweaty on your hike. 
However, the hike's true star is Grand Portal Point, a panoramic lookout that offers unbridled views of the lake and its iconic sandstone shoreline topped with tufts of pine. The Chapel Loop Trail is even more scenic in autumn when the deciduous forests surrounding Lake Superior become ablaze with fiery fall foliage in crimson and gold. The national parks around the Great Lakes are beautiful, and Pictured Rocks National Lakeshore is certainly worth exploring. Just be aware that Chapel Loop Trail does feature some dangerous cliff edges, dropping hundreds of feet to the lake below.
Witches Gulch, Wisconsin Dells, Wisconsin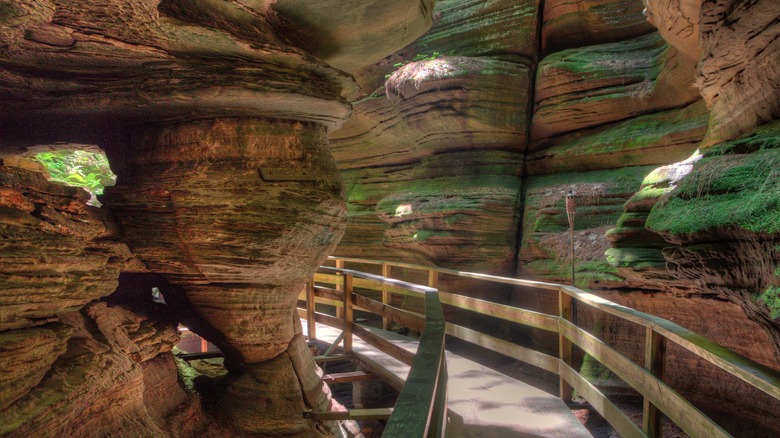 Jacob Boomsma/Getty Images
Witches Gulch Trail is often touted as one of the most interesting hikes in the Wisconsin Dells, and the entire Badger State as a whole. At just two miles long, this adventure is an easy one. The only way to access Witches Gulch is by boat, a tour of the Upper Dells that's provided by Dells Boat Tours. Hop off at the boat ramp and walk along the short, raised platform heading deeper and deeper into this mysterious slot canyon of mossy rock. While you're walking along the elevated path, you can look down to see the river below. 
This natural feature — along with glaciers — is what created Witches Gulch millions of years ago. You may also notice tiki torches along the railings while you're exploring. These are lit after nightfall in autumn every year, lending an eerie feel to the already spooky vibes of Witches Gulch. This display is part of the Dells Boat Tours' annual Season of the Witch Tour, the perfect addition to a fall trip to Wisconsin.
Blind Ash Bay Trail, Voyageurs National Park, Minnesota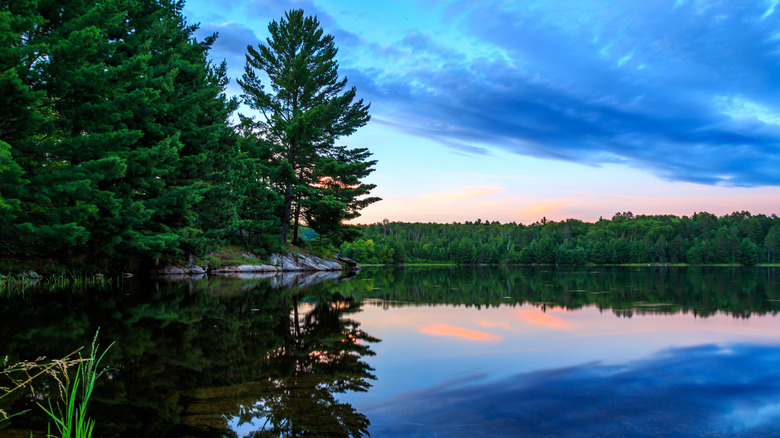 Frank Kennedy MN/Shutterstock
Known as the "Land of 10,000 Lakes," it's no wonder that Minnesota's national park, Voyageurs, is a patchwork quilt of forests and water. The Blind Ash Bay Trail displays the best of this northern wonderland. Snaking its way 2.9 miles through boreal pine forests, the path skirts the edge of Kabetogama Lake. Blind Ash Bay Trail leaves from the Ash Bay Visitors Center. This is a great place to stop and learn about trail conditions and any wildlife you might see along the way. Hikers are almost guaranteed glimpses of white-tailed deer and bald eagles. Some animals, like otters, are much more elusive. 
Note that you'll also be sharing the forest with some potentially dangerous animals. Black bears, moose, and wolves all roam these woods (though they usually avoid humans). Visitors who spend the night will be delighted with millions of twinkling stars. Since the park has an International Dark Sky Park designation, the park's campgrounds offer views of star-lit skies. If you're lucky, the aurora borealis may also paint the sky in shades of neon green and fuchsia.
Ash Cave Trail, Hocking Hills State Park, Ohio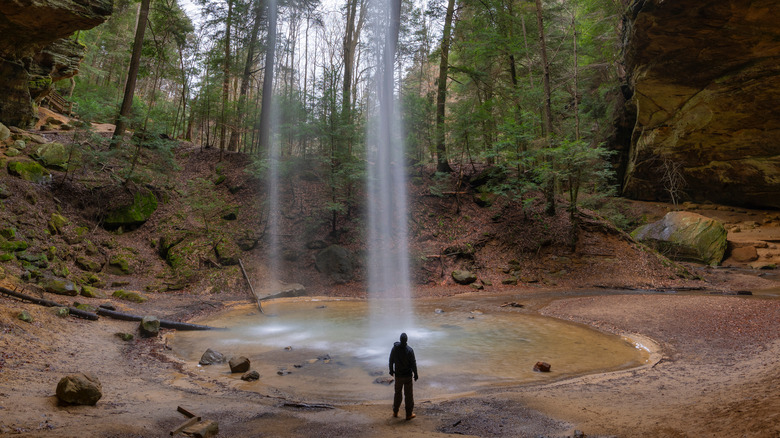 arthurgphotography/Shutterstock
Located in southwestern Ohio, the Hocking Hills State Park is a hidden gem for aspiring hikers. The highlight of this trail, as its name might suggest, is the massive recess cave tucked back in the forest. A recess cave is another term for a rock shelter, found in forests throughout the Midwest. Ash Cave happens to be the biggest recess cave in Ohio and one of the largest in the country. Its rim and cave opening measures a whopping 700 feet in diameter. Standing within this cathedral of rock gives you a better perspective of its sheer size.
The cave got its name from the huge piles of ash, found at its base. Researchers believe it was left by Native Americans who used the area for shelter. The Ash Cave Trail is only a half-mile long and begins with an asphalt path. This is perfect for those who need an easy way to reach the cave. Hikers can take the more moderate second half of the trail back, which includes staircases. Or, you could simply turn around and head back along the paved trail. Make sure to visit from fall to spring to see Ash Cave's seasonal waterfall, trickling from its precipice to the sandy, forest floor. Winter visitors may witness an icy spire, reaching towards the sky.
3 Dunes Hike, Indiana Dunes State Park, Indiana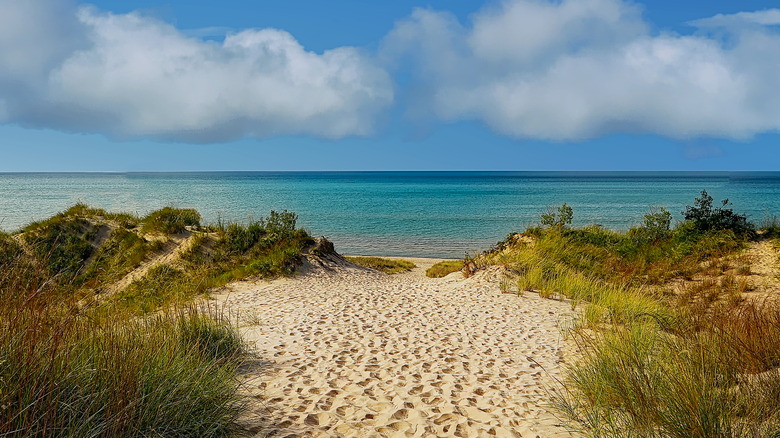 Stockphoto52/Getty Images
The 3 Dunes Hike isn't for the faint-hearted. In fact, the "3 Dune Challenge" is practically legendary. Only 1.5 miles in length, this trail gains 552 feet of elevation over its course as hikers traverse three towering sand dunes: Mt. Jackson, Mt. Holden, and Mt. Tom. Test your mettle by running the trail, or you can casually accomplish it while enjoying the views along the way.
Those who make it to the top are rewarded with sprawling views of Lake Michigan and Chicago. There's also a novelty bumper sticker waiting at the Indiana Dunes Visitor's Center. You can buy a t-shirt or sweater, announcing your feat to anyone who happens to read it. Visitors should know that Indiana Dunes State Park and Indiana Dunes National Park are separate entities. This is an important factor when planning your trip, as you'll need separate permits for each park.
Painted Canyon Trail, Theodore Roosevelt National Park, North Dakota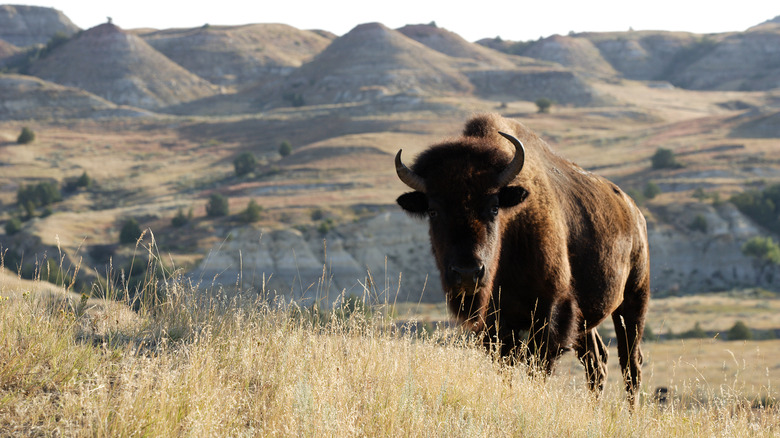 Ericfoltz/Getty Images
Winding its way through Theodore Roosevelt National Park's iconic Badlands terrain, the Painted Canyon Trail is one of the most beautiful hikes in the Great Plains. This hike is only a mile long but packs a punch in both colorful topography and its variety of landscapes. Stunning bluffs, tipped in ochre-colored rock and dotted with evergreens, line the horizon as the trail dips down into the Painted Canyon. 
Be on the lookout for bison along the trail. The Theodore Roosevelt National Park herd numbers in the hundreds. While they're a beautiful sight to see, they can also be aggressive. It's important for visitors to keep their distance. At one time, millions of buffalo grazed in the Great Plains. 
Theodore Roosevelt National Park got its name from the president of the same name. (President Roosevelt created the very first national park in 1902.) The dawn of spring ushers in a season of wildflowers that extends well into summer. Hikers can see clusters of asters, sunflowers, and thistles clinging to the edges of the trail.
Starved Rock and Sandstone Point Overlook Trail, Starved Rock State Park, Illinois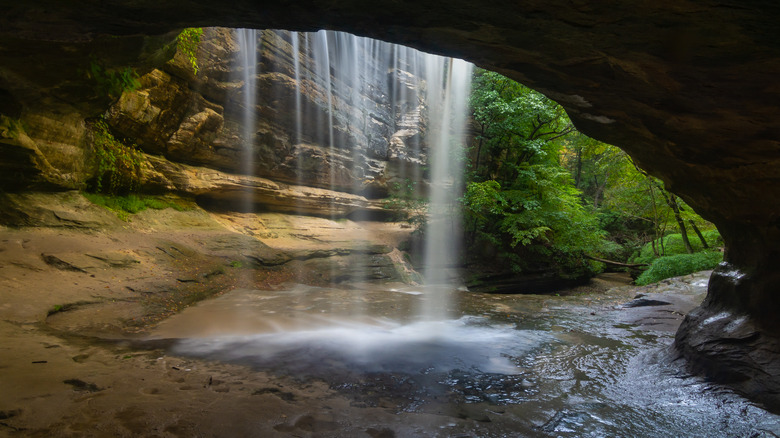 Ej_rodriquez/Getty Images
Illinois's Starved Rock State Park is known for its beautiful waterfalls, which are on full display along the Starved Rock and Sandstone Point Overlook Trail. This is an easy hike. Even novice trekkers will enjoy this trail, passing by one of the most famous sites in the park, LaSalle Waterfall. While it only runs in spring or after heavy rainfall, the area near the waterfall itself is stunning in fall. Autumn foliage descends on the forest, creating a beautiful reflection in the falls. Depending on conditions, hikers may be able to explore behind the LaSalle Waterfall, and viewing the forest from the other side of the mist is almost otherworldly.
As the trail's name might suggest, the second-best features of this trail are the panoramic viewpoints. Overlooks of the Illinois River skirt the trail for over half of its length, and the loop culminates in a rocky outcrop with unparalleled views of the river and forest. If this trail doesn't satiate your hiking spirit, you can also seek out other hikes in the state park. The St. Louis Canyon Trail is just down the road and includes the park's highest waterfall. 
Life on the Rocks Trail, Little Jerusalem Badlands State Park, Kansas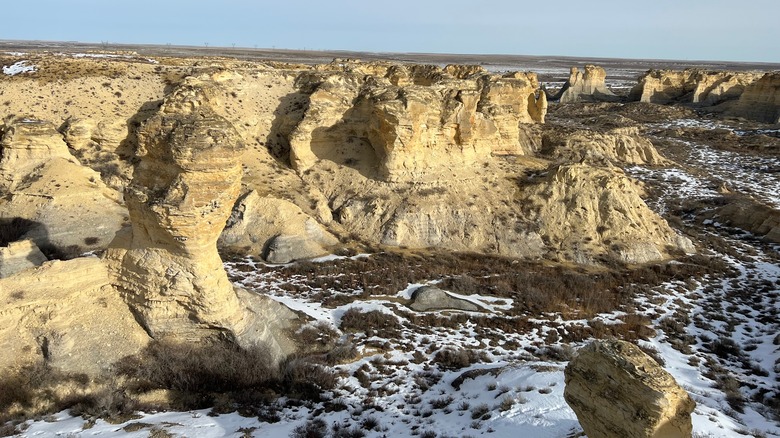 MarkinStillwater/Shutterstock
Badlands aren't just for The Dakotas. Little Jerusalem Badlands State Park in Kansas has its very own interesting rock formations, created a millennia ago. The Life on the Rocks Trail is a 1.5-mile introduction to this unique state park. Stopping at several overlooks for sweeping panoramas, the trail shows the park's jagged wilderness. While the Jerusalem Badlands number over 300 acres in total, this tiny taste of fossil country is one of only two trails. Guided tours are held on a weekly basis for those who are curious about how the Little Jerusalem Badlands were formed and want to explore a litter further back in time.
From the trail's vantage point, it isn't difficult to imagine dinosaurs roaming the land. If you're skeptical, there are real-deal fossils at the nearby Keystone Gallery, including a near-perfect plesiosaur specimen. Archaeologists have been excavating the area for decades, and prehistoric creatures, cemented in the park's ancient seabed, are found frequently. If you're looking for modern-day animals, the park is home to bison and ferruginous hawks. But the true star of the show is the plethora of Great Plains wild buckwheat, a plant species that isn't found anywhere else in the world. 
Fire Point Loop Trail, Effigy Mounds National Monument, Iowa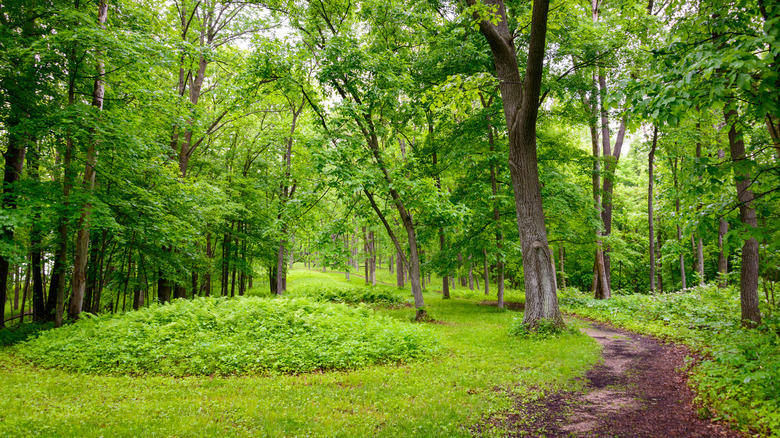 Zack Frank/Shutterstock
Effigy Mounds National Monument is a beautiful testament to Iowa's rich First Nations heritage. Known to historians as the Effigy Moundbuilders, the group created mounds that formed the shape of various animals. Referred to as effigies, these mounds are found all along the Mississippi River. This area alone is home to 206 separate mounds. These mounds were used as burial sites and are sacred places to the Effigy Moundbuilders. Arranged to look like various animals, the mounds resemble bears, birds, deer, and bison, just to name a few. 
Of course, you would have to see them from above to take in the full picture. The Fire Point Loop Trail is one of the easiest ways to see the effigies. It's recommended to hike the trail clockwise, revealing over two dozen mounds that form the Great Bear and Little Bear. Continue on the trail for sweeping views of the Mississippi River, and stop by the Visitor's Center for more information on Effigy Mound Culture.
Sheppard Point Trail, Trail of Tears State Park, Missouri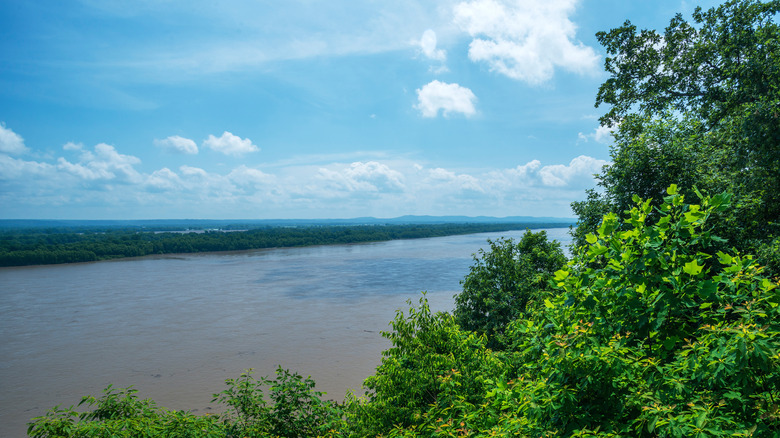 Malachi Jacobs/Shutterstock
The devastating history of the Trail of Tears reveals itself in Missouri's Trail of Tears State Park. Take in pretty views of the Mississippi River while simultaneously coming to grips with the park's grisly past. The Cherokee people were made to march through this very area, crossing the river in freezing winter conditions. 
The Sheppard Point Trail spans 1.5 miles through the park. Though short, it traverses idyllic deciduous forest and up steep ravines at times. Sharp climbs reward hikers with sprawling views, and this area is particularly beautiful in fall as autumn foliage lines both the trail and the river.
Aside from hiking, visitors can go horseback riding, camping, and fishing. The Visitor's Center is a wealth of information not only on trail conditions but local history. Find out more about the forced removal of the Cherokee people and their horrific march to Oklahoma in the documentary on display.
Bison Trail, Toadstool Geological Park, Nebraska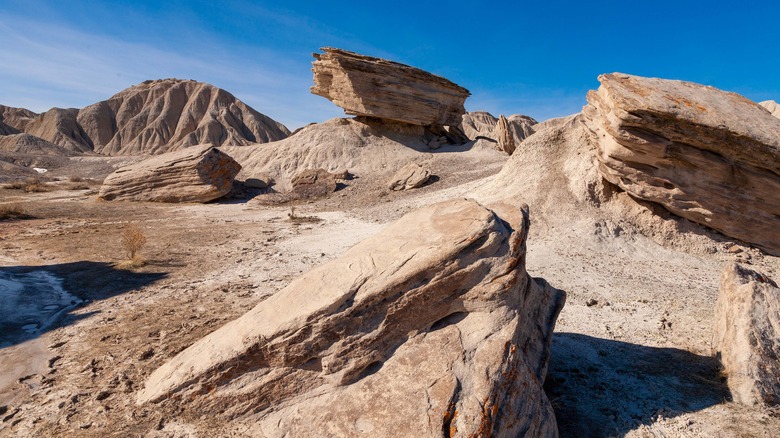 Philip Eckerberg/Shutterstock
Nebraska's Toadstool Geological Park is a whimsical example of erosion, which created rock formations that resemble stout mushrooms. Hikers can get up close and personal with these fairytale landscapes on the Bison Trail. Although it's just one of three hikes in this humble park, you'll be able to roam over three miles to discover towering hoodoos, grasslands, and a bison bone bed. Like other regions in the Midwest, the Toadstool Geological Park has hidden treasure below its rocky surface.
Fossils are commonly found and impeccably preserved in this area of Nebraska, and the bison bone bed is no exception. Hundreds of ancient bison died at this very spot within the park. Researchers can only guess what caused their deaths, and you can formulate your own hypothesis while visiting them at the end of the Bison Trail.
The Toadstool Geological Park could have sprouted straight from a sci-fi novel. In reality, you might recognize this familiar landscape from South Dakota's Badlands and would be right. As a part of the larger Oglala National Grasslands, this geological park is also considered badlands.