Where To Find The Best National Parks In The Midwest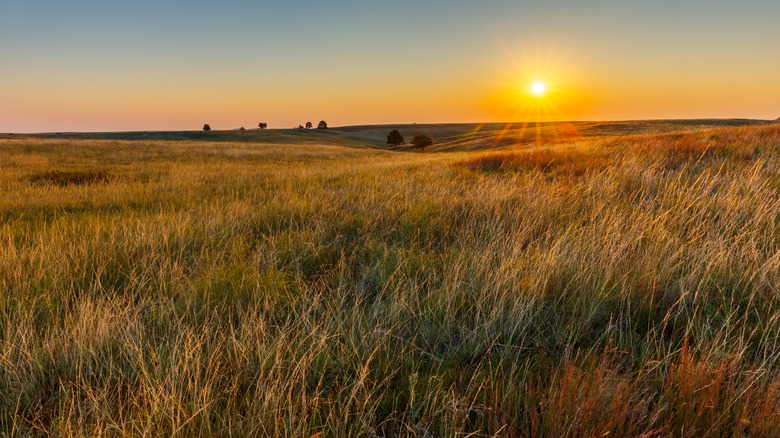 Kencanning/Getty Images
The U.S. is one of the largest countries in the world, and every part of the diverse country is utterly unique with varying ecosystems and breathtaking sights. When most think of "America the Beautiful," their mind may go to stunning shots of the Florida keys or Alaska's otherworldly and unending wilderness, but the Midwest shouldn't be forgotten, because many of America's most staggering views are found here.
Luckily, the National Parks Service has claimed billions of acres in the United States as their own protected areas, plenty of which can be found in the Midwest. There are, of course, plenty of meadows and prairie land included in these natural beauties, but you'll also find lush collections of islands, daring cliffsides, and dramatic landscapes teaming with life among the Midwest's best national parks. Visiting the heart of the nation should be packed with one of a kind views, and explorations into the region's national parks system makes for some truly unforgettable experiences.
Illinois' Pullman National Historical Park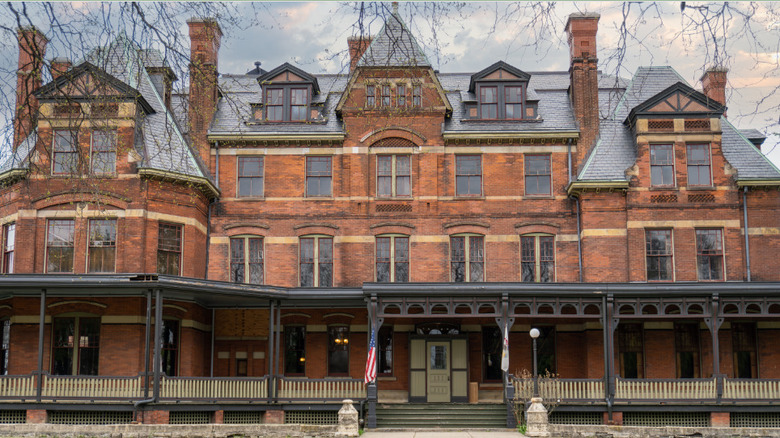 EWY Media/Shutterstock
A historic district in Chicago, Pullman National Historic Park became the very first National Park Service in the Windy City when President Obama designated it in 2015. The district was originally a company town set aside as housing for workers of the Pullman Company in the 1800s. It's one of the most famous of its kind, and significant in that it served as an example of why a company should not have total control over its employees' livelihood.
The town failed due to employees being dependent on their employer, allowing the Pullman Company to cut wages, maintain rent prices, evict employees swiftly, and prevent tenants from buying their own homes. This helped lead to the famous Pullman Strike, which both showcased the power workers have standing together and the national impact collective noncompliance can have. This park is a great addition to a family trip centered on education, especially for homeschooling families, and history buffs who are visiting Chicago for more than just art and music culture.
Indiana's Indiana Dunes National Park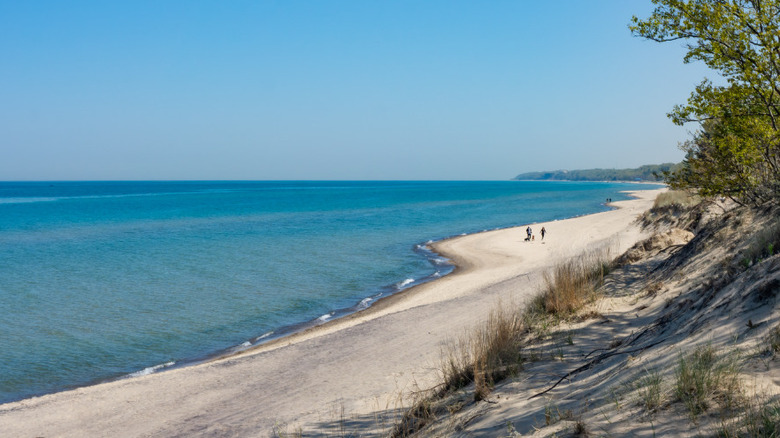 PhotosByLarissaB/Shutterstock
The Indiana Dunes National Park consists of a 15-mile stretch of beach on the coast of Lake Michigan where the rise and fall of the water has transformed the land into a number of lush and sandy habitats. In addition to the shoreline, there are thousands of acres to explore here that take visitors between dunes and tall grass on trails that lead through diverse wildlife.
The park is ideal for nature lovers and families, as water activities like swimming and fishing are available, along with hiking and camping. Spend a day here with a picnic as you take in the sights or stay a few nights to really get the lay of the land, either way, your stay will be a peaceful one. Animals lovers and bird watchers will especially find Indiana Dunes to be enjoyable, as the various species found here are active and very much at home.
Iowa's Effigy Mounds National Monument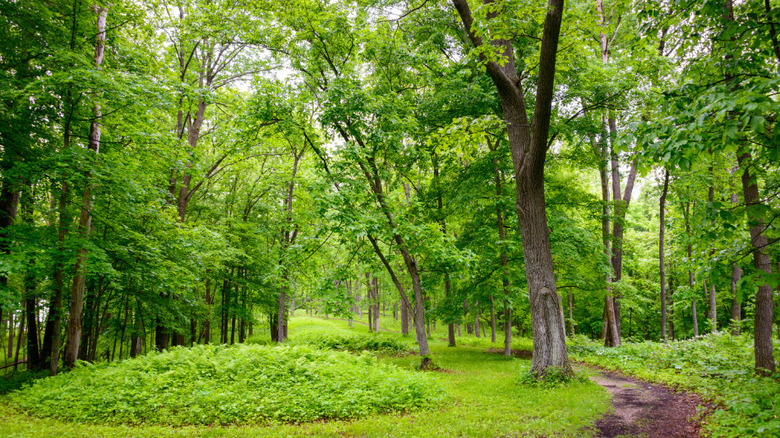 Zack Frank/Shutterstock
The Effigy Mounds National Monument in Iowa is a sacred place that demands the utmost respect. The site has a collection of animal-shaped mounds that were likely used for spiritual reasons by Natives who worshiped the land and nature well before the United States were even a thought. A journey here shouldn't be taken too lightly, and the way the mounds fit perfectly within nature is both powerful and beautiful.
Around the national monument are 14 miles of hiking trails that will allow visitors to dive deeper into the gorgeous nature and atmosphere that was chosen for the site of the mounds all those years ago. Come here to get one with lush nature and learn about the culture and history behind the effigy mounds, as they are evidence of a practice almost forgotten and not seen in very many places across the world.
Kansas' Tallgrass Prairie National Preserve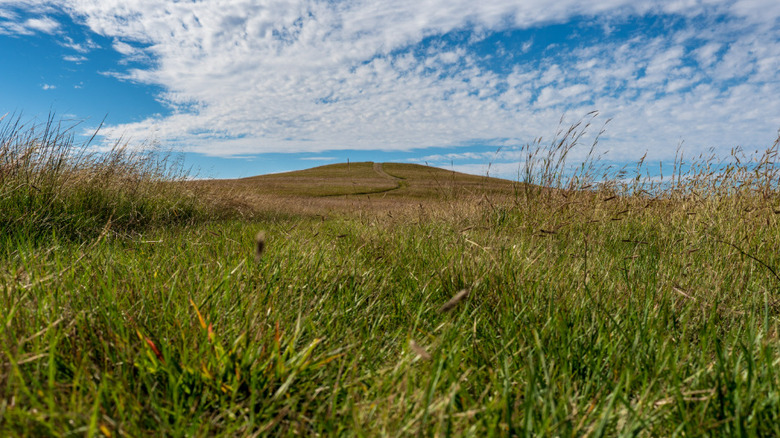 Dylan Freedom/Getty Images
If you want a clue as to how North America may have looked before being settled by the masses and transformed into ever-growing cities and communities, Kansas' Tallgrass Prairie National Preserve is a little window into the past. While the prairie once would have covered an amazing 170 million acres of land — which is over three times the size of Kansas itself — today the preserve has been cut down to just a small portion of the state's land.
Even so, the same wildflowers, buffalo, and meadows are free to grow and roam here just as they once did on a larger scale. Exploring the prairie must be done by foot, as any vehicle could damage the preserve, especially if done by many visitors over time. Still, hiking through the tall grass meadows and seeing the wildlife up close for yourself is well worth foregoing a quicker transport.
Michigan's Isle Royale National Park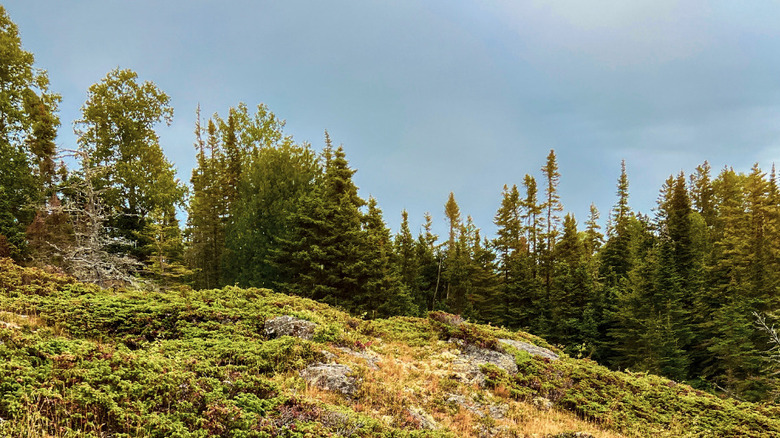 Reel creative/Shutterstock
Another tough to get to park, Isle Royale National Park can only be accessed by boat, ferry, or the area's seaplane service. Located on Lake Superior, the island provides an ideal place for a group of close friends or family members to take a camping trip. Of course, hiking plays a big part in what visitors tend to entertain themselves with here, but water activities are also abundantly available for those who want to bask in the lake, either in the water, via boat, or onshore fishing.
Interestingly enough, old shipwrecks can be spotted from the park as well as old copper mining sites. Exploration doesn't have to be kept to nature, though there is plenty of it here.
Minnesota's Voyageurs National Park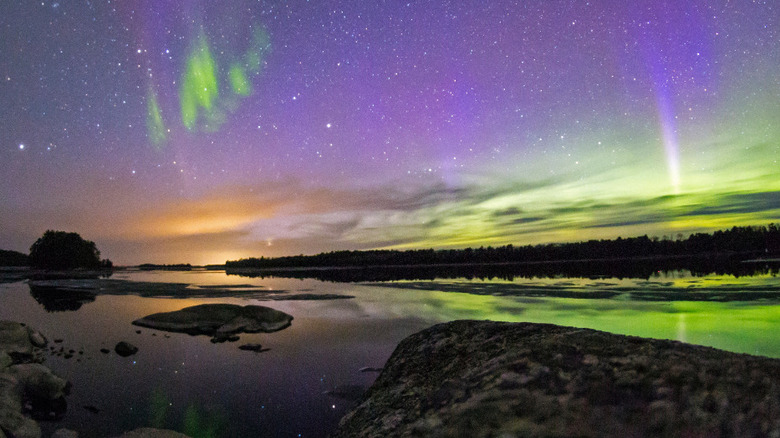 BlueBarronPhoto/Shutterstock
More than 200,000 acres make up Minnesota's Voyageurs National Park, both land and waterway finding balance together and creating a truly unbelievable park that is home to abundant animal and plant life to witness. Visitors traverse the park by boat, weaving in and out of the woodland islands throughout the wetlands. The park gets some serious bonus points for having a stellar view of the Northern Lights when they occur, and watching the fantastic light show from a kayak or canoe is nothing short of magical.
Missouri's Gateway Arch National Park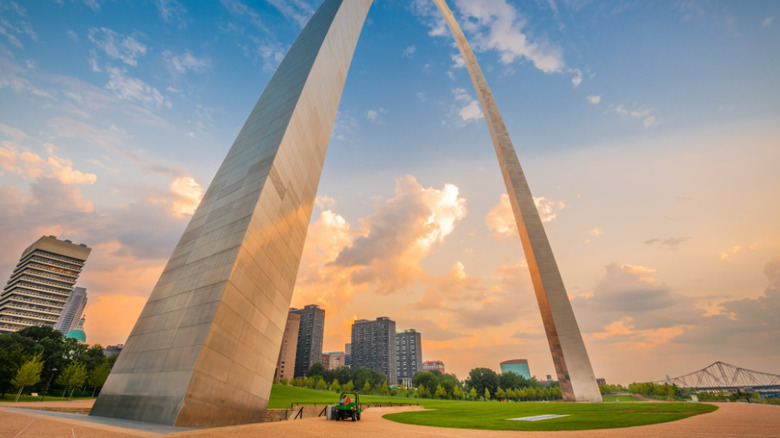 Sean Pavone/Shutterstock
Missouri's Gateway Arch National Park is the country's smallest national park, but that doesn't take away from its significance. The park's defining feature is St. Louis' iconic arch that is recognizable by most. The huge monument acts as an ode to the part the city played in the westward expansion of the United States when the early settlers started pushing further west. The arch isn't just some huge piece of metal, though, as you can ride to the very top in the arch and get a grand view.
Nebraska's Niobrara National Scenic River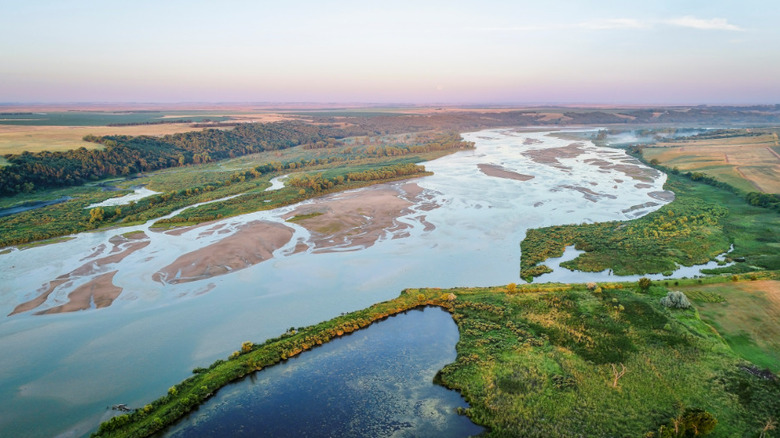 marekuliasz/Shutterstock
When you picture most rivers, you're probably thinking of quick rapids and a rocky passage needing to be navigated by a skilled outdoorsman. Nebraska's Niobrara National Scenic River is a breath of fresh air, as the river's calm and clear waters allow for people of all skill levels to have a whole lot of fun. Large rafting parties are commonly seen floating the river and kayakers can take it easy going down the stretch of water. Of course, it's important to remember that all water has the potential to be dangerous and precautions still need to be in place, as well as bringing the proper gear for a day out on the river.
North Dakota's Theodore Roosevelt National Park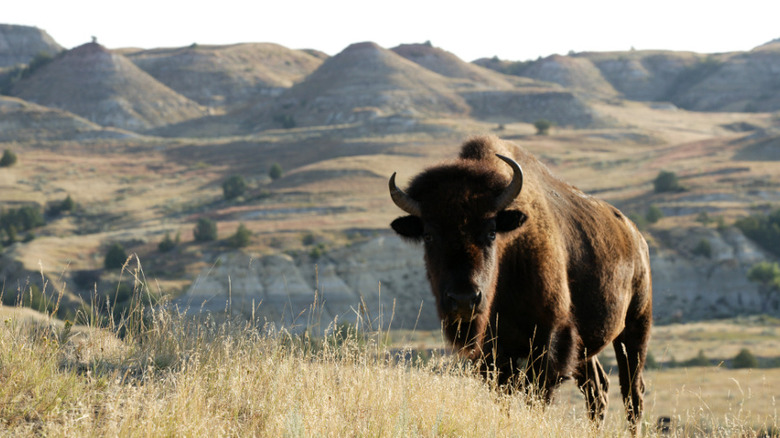 Ericfoltz/Getty Images
A lot of what the National Parks Service is today is due to the work that Theodore Roosevelt did while he was president. He not only established the U.S. Forest Service, but also placed 150 national forests, 5 national parks, and a number of other areas under the protection of the parks service. It's only fitting that the service he helped build up honor him, and North Dakota's Theodore Roosevelt National Park contains vast wildlife and scenic nature drives and trails, as well as the undeveloped Elkhorn Ranch Unit, where the former president had planned to make a home for himself.
Ohio's Cuyahoga Valley National Park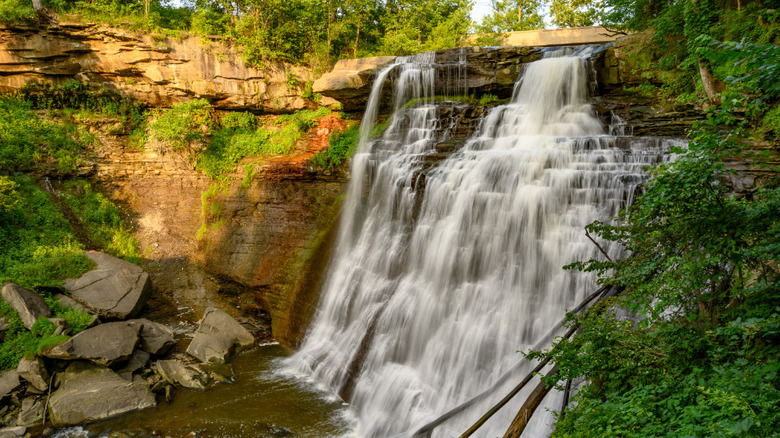 RN Photo Midwest/Shutterstock
Not far from city life is the charming Cuyahoga Valley National Park that is full of lush greenery, woods, and thriving life. While there is plenty to do here, hikers will feel right at home with over 100 miles of hiking trails that take visitors over all kinds of terrain. The Ledge Trail is a great option for hikers of all skill sets and of most ages. No matter where you end up going in the national park, though, it's important to remember basic outdoor safety like not hiking alone and letting people know where you will be, because no matter how safe you think a place is, the lack of precaution could make a trail much more dangerous.
South Dakota's Badlands National Park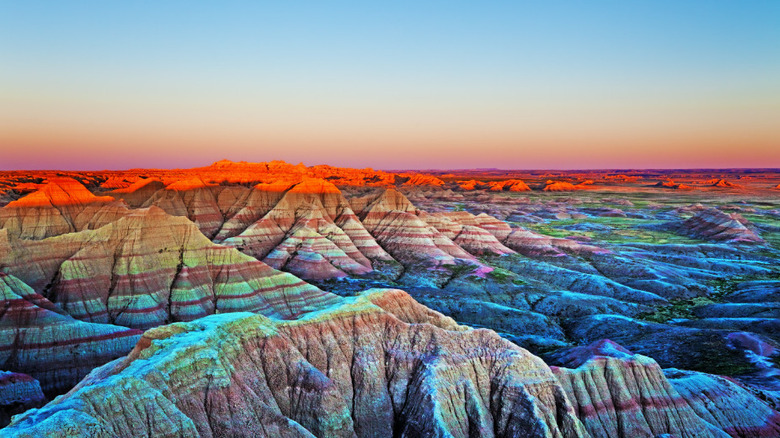 Stevegeer/Getty Images
While the name sounds straight out of a dystopian future film, there actually isn't anything bad about the Badlands. In fact, it's quite the opposite, and the name simply comes from the translation of what the Natives who once resided there called the land. Other than not being easy terrain to traverse in the past, Badlands National Park is actually quite a lovely place to be. Especially when the sun hits just right or during sunset, the layered rock formations of the park look like a magical and colorful land, possibly something straight out of a mildly wondrous Dr. Suess book. This sight alone is worth a visit here, but the prairies and wildlife offer something extra for nature lovers as well.
Wisconsin's Ice Age Scenic Trail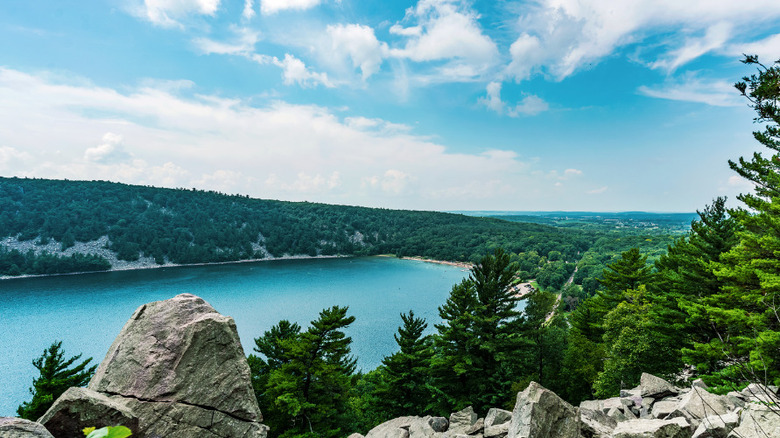 Sarah Quintans/Shutterstock
A good portion of national parks and sites that fall under the National Parks Services' jurisdiction are admired for their natural beauty, but Wisconsin's Ice Age Scenic Trail marks a very important place in history as well as being a beautiful place to visit. It is here that holds evidence of the Ice Age that once overtook North America, thousands of years ago when saber tooth tigers and mammoths roamed the land. This Ice Age's massive glacier left traces here on the land itself as it carved out how nature is formed here today. The trail stretches across the whole state and is over 1,000 miles long, but you certainly don't have to hike the entire thing to see how the distant past can still have an impact on our world today.