Avoid Crowds And Spot Wildlife At This Underrated Midwest National Park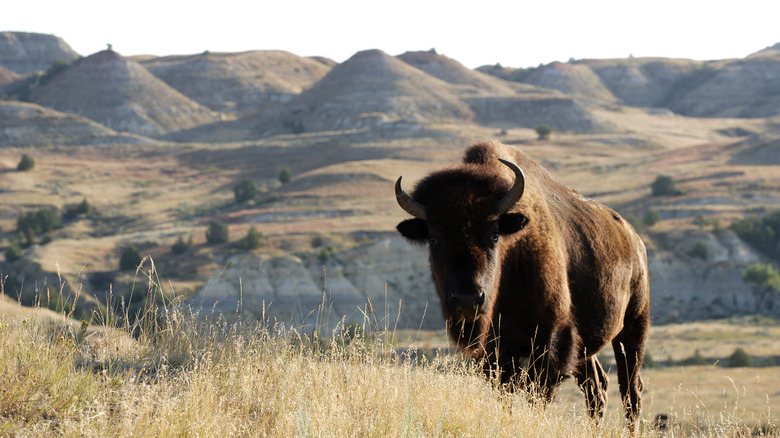 Ericfoltz/Getty Images
North Dakota might not be the first place you think of when you're searching for your next travel destination. In fact, it might never cross your mind, and that's exactly why we're bringing it to your attention. This quiet, unassuming state is home to Theodore Roosevelt National Park, a vast expanse of unique terrain, hiking trails, and tons of wildlife, and you could spend days exploring each section of the Midwest national park. 
The Midwest is known for its rolling prairies, and to an extent, North Dakota is no exception. However, the western region of the state's landscape varies drastically. Featuring scenic buttes, which are rocks formed by erosion and deposition, the landscape serves as home to a variety of animals and plants that tough out the frigid winters, come alive in spring, and thrive in the summer. If you're itching to spend time in nature while avoiding the large crowds that typically flood national parks, Theodore Roosevelt National Park is a hidden gem abounding with wildlife and beauty.
Highlights of Theodore Roosevelt National Park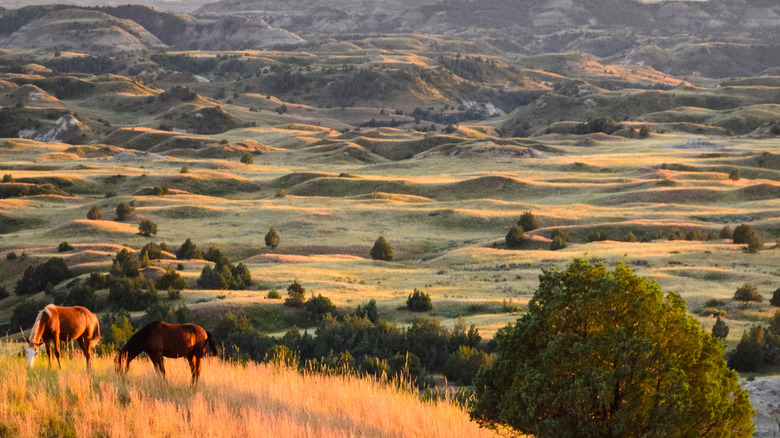 Zrfphoto/Getty Images
If you're hiking, you can see a plethora of animals at the national park, depending on the season. The national park is home to over 200 kinds of birds, feral horses, pronghorns, prairie dogs, and the iconic bison. "It's just a remarkable place for both critters and people," North Dakota Game and Fish Department wildlife division chief Jeb Williams told ND.gov. There are also over 400 documented species of plants at the park, with an estimated additional 100 species yet to be recorded. Unlike busier national parks, you can see wildlife in a more natural, less-crowded habitat, and the lack of noisy crowds can make wildlife spotting a bit easier. 
If you don't want to spend the day on your feet, you can spend it on horseback. Medora Riding Stables offers guided trail rides. You choose from one-hour or two-hour rides, with price ranges from roughly $50 to $100. Along with its wildlife viewing, the park's landscape is something to behold, especially the sky. As the Midwest sky fills with vibrant pinks and oranges that stretch out for miles, the sunsets and sunrises in North Dakota are breathtaking. 
Planning your trip to the park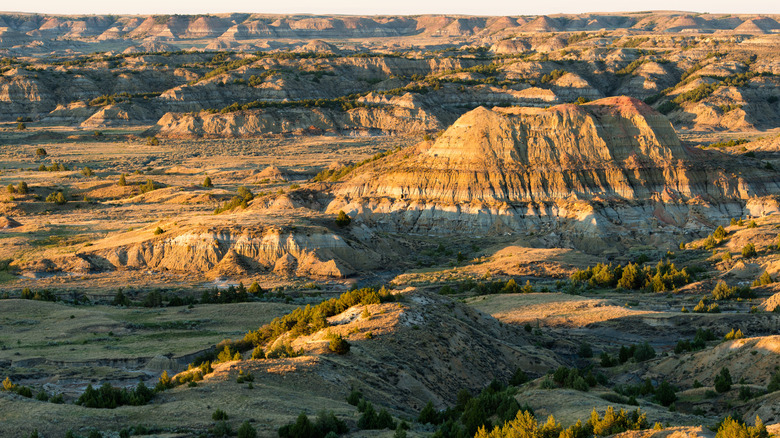 Nagel Photography/Shutterstock
Medora, North Dakota is the nearest town and makes for a cozy place to stay if you'd rather find lodging than camp out under the stars. Medora is a historic town, complete with old-fashioned storefronts, including the picturesque Cowboy Lyle's Candy Barn. If you visit during the summer, you can end your day after exploring the park by attending the Medora Musical, a live show that celebrates the region's history and heritage.
Theodore Roosevelt National Park is about a 45-minute drive from Dickinson, North Dakota, and a two-hour drive from Bismarck, North Dakota. You can fly into either of these cities. While many choose to visit the park during the summer when the weather is warm, the park is open year-round, so intrepid adventurers may appreciate the solitude and scenery during other times of the year. Just keep in mind that North Dakota winters can be bitter cold.