Great Lakes National Parks For Adventure-Seekers, Ranked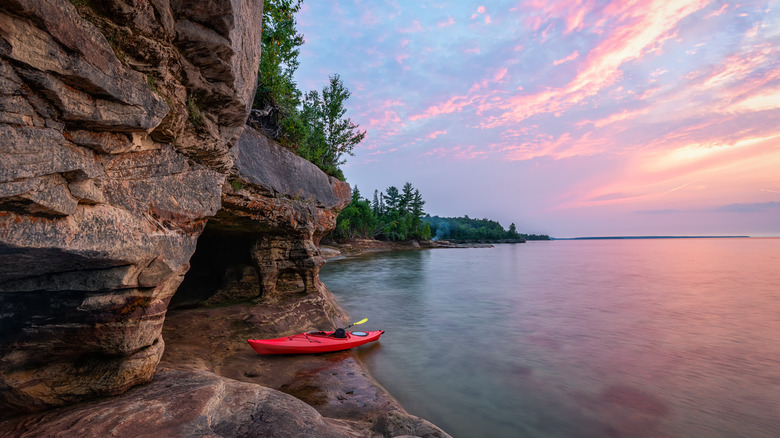 John McCormick/Shutterstock
The Great Lakes region is one of the world's most unique ecosystems. Combined, the chain of five mammoth lakes represents the largest surface area of freshwater in the world. Lake Superior is the second-largest lake in the world, and when combined with Lake Michigan, Lake Huron, Lake Ontario, and Lake Erie, the freshwater lakes in central North America cover more area than all of Great Britain. So, yeah, the Great Lakes are indeed pretty great.
The Great Lakes region is home to incredible biodiversity with abundant wildlife, miles of hiking trails, stream-filled forests, hundreds of islands, and nearly 9,500 miles of shoreline. Needless to say, the Great Lakes region is a paradise for adventure-seekers who appreciate exploring untamed natural environments.
Whether you're a hiking enthusiast, kayaker, avid camper, scuba diver, outdoor sportsman, birdwatcher, or just someone who appreciates wilderness challenges, the Great Lakes offer exciting landscapes to discover. For those seeking a more rugged experience, we've ranked the top national parks of the Great Lakes best for outdoor adventure.
5. Pictured Rocks National Lakeshore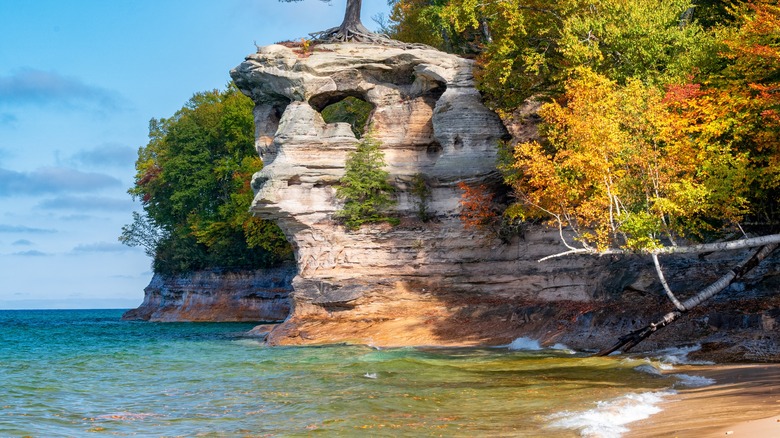 John McCormick/Shutterstock
Pictured Rocks National Lakeshore isn't technically a national park, which is the only reason we're starting our Great Lakes national parks ranking here. However, the national lakeshore is definitely worth mentioning. As America's first national lakeshore, Pictured Rocks is famous for its sandstone cliffs that tower over the unspoiled coastline of Lake Superior. A four-season destination, Pictured Rocks is a haven for outdoor adventure.
In the winter, guests can enjoy snowshoeing, cross-country skiing, and snowmobiling through 20 miles of snowy trails. Lake effect snow also freezes waterfalls and sandstone cliffs, making ice-climbing a popular winter activity. During warmer months, the national lakeshore offers 100 miles of hiking trails and backcountry camping, allowing guests to fully immerse in the untamed wilderness of Michigan's Upper Peninsula.
During the summer, visitors can also swim, boat, kayak, and canoe around the iconic sandstone cliffs. Due to the area's crystal-clear waters, scuba diving and snorkeling are also popular lakeshore activities. The lakeshore's natural beauty and wealth of outdoor activities make it a top-tier destination for those seeking adventure in the Great Lakes region.
4. Cuyahoga Valley National Park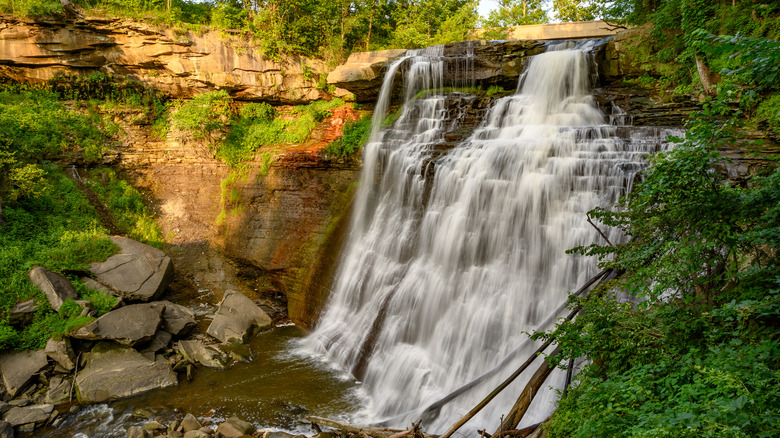 RN Photo Midwest/Shutterstock
Only 20 miles south of downtown Cleveland and seven miles north of Akron, Cuyahoga Valley National Park is a natural oasis surrounded by urban development. Cuyahoga Valley National Park offers easy accessibility and plenty to discover in its 33,000 acres of protected land. Although the park may not provide the remote, immersive wilderness experience available at other national parks of the Great Lakes, Cuyahoga Valley is ideal for adventure-seekers with a tight schedule.
Cuyahoga Valley National Park features 125 miles of scenic hiking trails, and some of the park's popular trails, such as Buckeye Trail and the Brandywine Gorge Loop, lead hikers to waterfalls hidden in the valley's forests. The national park also offers designated trails for mountain biking, cycling, and horseback riding.
Cuyahoga Valley National Park surrounds the Cuyahoga River, which recently become one of Ohio's official Water Trails. Beginning in Lake Erie in downtown Cleveland, the Water Trail weaves through four Ohio counties and offers diverse paddling experiences for kayakers. Although the national park is flanked by big cities, adventure-seekers can still immerse in natural surroundings by exploring the trails and waterways of Cuyahoga Valley.
It should be noted that overnight camping is not allowed in Cuyahoga Valley National Park, but visitors can stay at nearby campsites to access the national park during the day.
3. Indiana Dunes National Park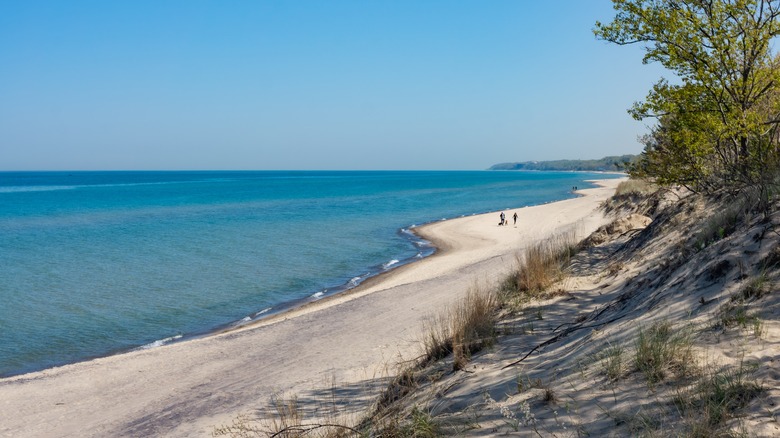 PhotosByLarissaB/Shutterstock
Indiana Dunes National Park encompasses 15,000 acres of diverse terrain and 15 miles of Lake Michigan shoreline, which spans from Gary, Indiana to Michigan City. For hikers, the national park features 50 miles of trails, which weave through lakeside dunes, marshes, wetlands, and forested savannahs. The park also offers designated trails for biking and horseback riding.
Visitors can boat, paddle board, kayak, sail, and canoe along the shore and explore the park's interior waterways with smaller vessels. The park is especially popular among fishing enthusiasts, as steelhead salmon and trout make seasonal summer runs through Lake Michigan, as well as nearby streams and tributaries.
As far as biodiversity, Indiana Dunes National Park ranks fourth among all national parks. The park boasts over 1,100 types of plant life and 350 species of birds, making it an ideal park for naturalists and birdwatchers. Due to its location on the southern Lake Michigan shoreline, the national park provides resting and feeding grounds for hundreds of species of migratory birds. Overnight camping is available from April 1 through October 31 at designated campgrounds.
2. Voyageurs National Park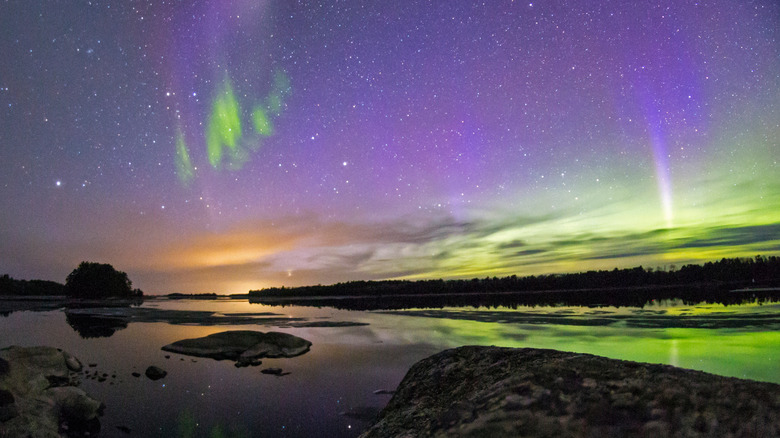 BlueBarronPhoto/Shutterstock
Voyageurs National Park offers visitors the opportunity to explore off the beaten path (or waterway). Located along the Minnesota and Canada border, the national park features a water-based ecosystem. Consisting of four large lakes, over two dozen interior lakes, as well as crisscrossing canals, Voyageurs is ideal for boating, kayaking, canoeing, and paddle-boarding.
Voyageurs National Park provides both front-country and backcountry camping sites. If you'd like more seclusion, you can choose a stay at backcountry sites, which are located on interior islands. To preserve and protect inland waterways, visitors are not allowed to bring their own watercraft into backcountry waters. However, the park does provide canoes to rent at each backcountry campsite.
Voyageurs National Park is a popular summer destination, with 27 miles of hiking trails and terrific birdwatching opportunities, but the winter conditions in the park are also excellent for cross-country skiing, snowshoeing, snowmobiling, ice fishing, and skiing. In the winter, you'll also have the chance to view the Northern Lights. However, Voyageurs is designated as an International Dark Sky Park, so epic night skies and stargazing opportunities are possible year-round.
1. Isle Royale National Park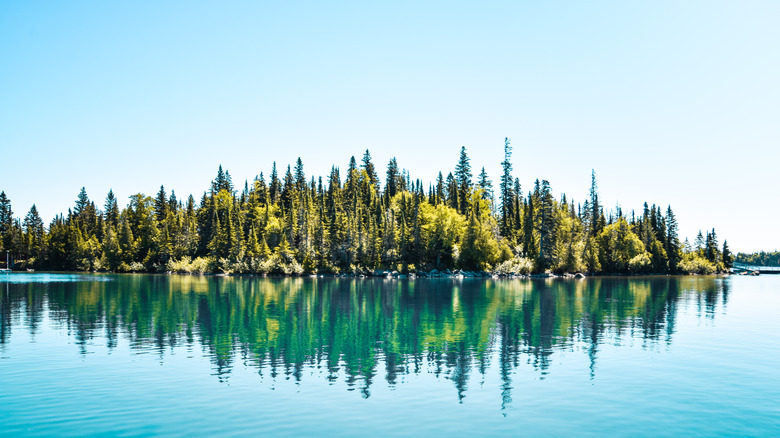 Photosbysixfive/Getty Images
At the top of our list, Isle Royale National Park is an unspoiled wonderland for adventure-seekers. Located within Lake Superior, the national park is comprised of 450 lake islands and takes a bit of planning to visit. Due to its extreme winters, the remote archipelago is closed to visitors from November 1 to April 15, and Isle Royale National Park is only accessible by ferry, private boat, or seaplane.
While Isle Royale is one of the least-visited national parks in America, its isolation and unspoiled environment reward intrepid explorers. The national park boasts over 160 miles of wilderness hiking trails, lighthouses, and shipwrecks for scuba divers to explore. Although Isle Royale is almost completely designated wilderness, the national park does offer 36 campgrounds with water sources and outhouses. Since no cars are allowed on the islands, the campgrounds are only accessible by foot or watercraft.
Isle Royal is also renowned for its wildlife, namely its grey wolf population. While the wolves are elusive, visitors may spot them along the lakeshore and open areas. While the wolves aren't typically considered a threat, the national park doesn't allow pets on the island. Isle Royale is a far-flung destination with a wild, rugged wilderness to discover and the best Great Lakes national park for those seeking adventure.