The Top Ranked U.S. Campsites For Incredible Views Of Star-Lit Skies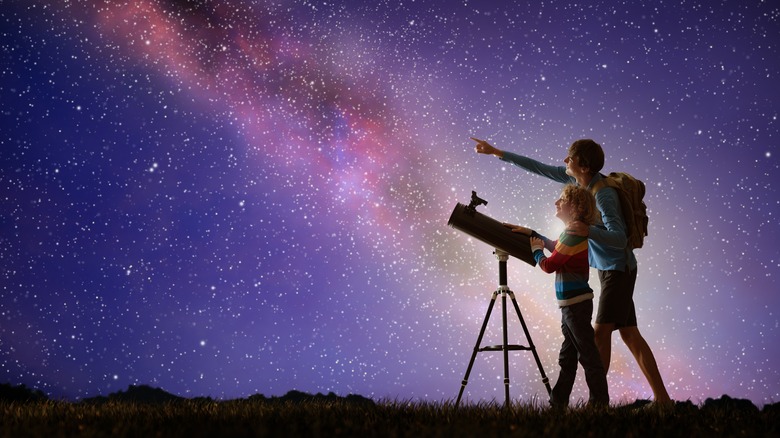 FamVeld/Shutterstock
Have you been dreaming of spending long nights under a star-filled sky? It's time to plan a camping trip to one of the incredible International DarkSky Parks in the United States. There is something awe-inspiring about stargazing, and the night sky has fascinated humans since time immemorial. Archaeologists have even discovered astronomical drawings on cave walls that date back 30,000 years.
Unfortunately, in the modern era, stargazing has become increasingly difficult due to light pollution. Looking up at the sky in any major city worldwide, you might not see many stars. In addition to destroying the view of the star-filled skies, light pollution can disrupt nocturnal species of plants and animals and even negatively impact human health. These days, according to a 2016 study, 80% of Americans live in an area where they will never be able to see the Milky Way.
The International DarkSky Association began its mission to protect and preserve the night sky in 1988 and has since established more than 200 DarkSky-designated places across the globe. Dozens of them are within the United States. If you're interested in viewing the night sky uncorrupted from light pollution, pack your bags and head to one of the epic DarkSky parks scattered across the country for a camping trip you will never forget.
Experience one of America's darkest night skies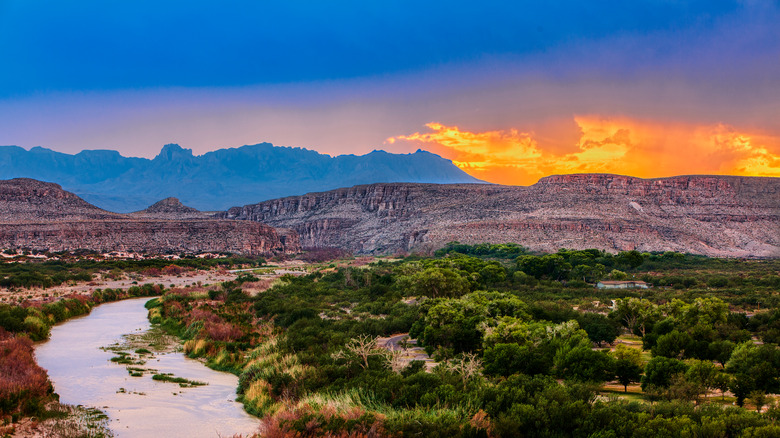 Paul Leong/Shutterstock
While not all DarkSky Parks offer the opportunity to stay overnight, several incredible options exist nationwide. Due to their remote locations, many spots only offer primitive campsites or dispersed camping, so you'll want to bring all necessary supplies.
Head to Southern Texas for some of the darkest night skies in the United States. Located along the Rio Grande River border, Big Bend National Park is an excellent destination for camping and views of breathtaking stars year-round with a massive protected dark sky space. The entire region surrounding Big Bend National Park is part of the world's largest DarkSky Reserve — covering an impressive 9 million acres.
The park is far away from any major urban center; hence, light pollution is almost non-existent. It is also one of only a handful of DarkSky Reserves around the world to receive the highest Gold Tier distinction. In addition to being the perfect place to stargaze, it's an excellent destination for winter camping because the temperatures remain warm throughout the winter months.
Within the park are four designated campgrounds operated by the National Park Service. While the national park is less crowded than some, booking your campsite well in advance is a good idea. Backcountry camping and trips along the river are also allowed as long as you apply for a permit in advance.
Escape city lights for twinkling stars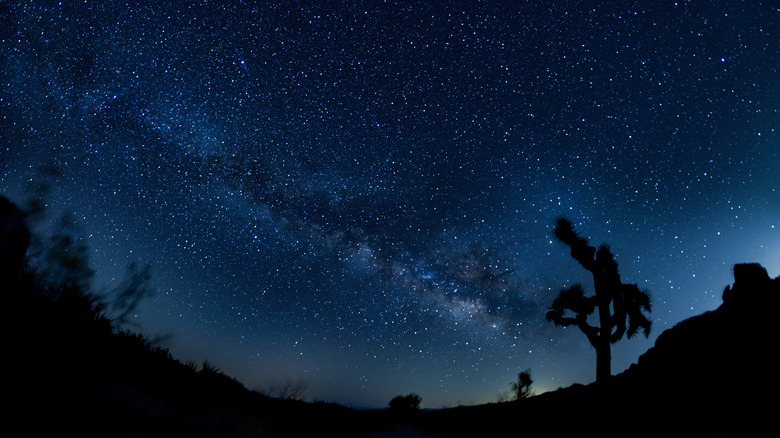 Jasin Inacay/Shutterstock
With a convenient location close to several major cities, Joshua Tree National Park is one of the best places to camp and stargaze in the western United States. You can reach Joshua Tree within a four-hour drive from Los Angeles, San Diego, Phoenix, and Las Vegas. For the millions of people who call these bustling metropolitan areas home, the peaceful night skies of Joshua Tree offer a welcome retreat into nature.
The western part of Joshua Tree still has light pollution from Palm Springs, but the eastern section offers amazing stargazing. According to DarkSky, it's the last remaining area without light pollution in Southern California. Joshua Tree National Park received its International DarkSky designation in 2017, and since then, officials and volunteers have continued to make improvements.
Within Joshua Tree, there are plenty of great campgrounds. Cottonwood Campground is one of the most popular spots for camping and stargazing due to its location, low light pollution, and year-round availability. Cottonwood's 62 sites are reservation only and can be booked six months in advance on the National Park Service website. If you're looking to host an overnight stargazing party with friends and loved ones, Cottonwood is the perfect place, as it has several large group campsites. Other campground amenities include bathrooms and potable water.
Attend an all-night star party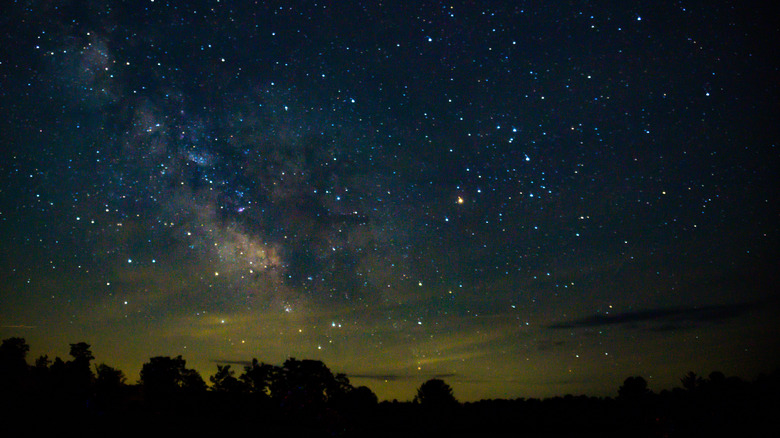 Rachael Frances/Getty Images
For those based in the eastern United States, Cherry Springs State Park in Pennsylvania is one of the best places to take in the gorgeous night sky. Cherry Springs received its International DarkSky Park designation in 2008 and features an Astronomy Observation Field with 360-degree views of the epic night sky.
The 82-acre state park is within the expansive Susquehannock State Forest, which covers 262,000 acres, meaning the skies have almost no light pollution. You can camp at the official state park campground from mid-April through late October. The campground closes during the winter months. Camping rates start at just $16.00 per night, and reservations are required.
For a real treat, register for the annual Cherry Springs Star Party, which is held over a weekend in June when stargazing is at its best. When you register for the event, you will be permitted to set up camp on the Astronomy Observation Field, where the affair is held. Speakers, raffles, and other events make this a lively weekend for professional and amateur astronomers.
Go glamping at the first DarkSky-approved lodging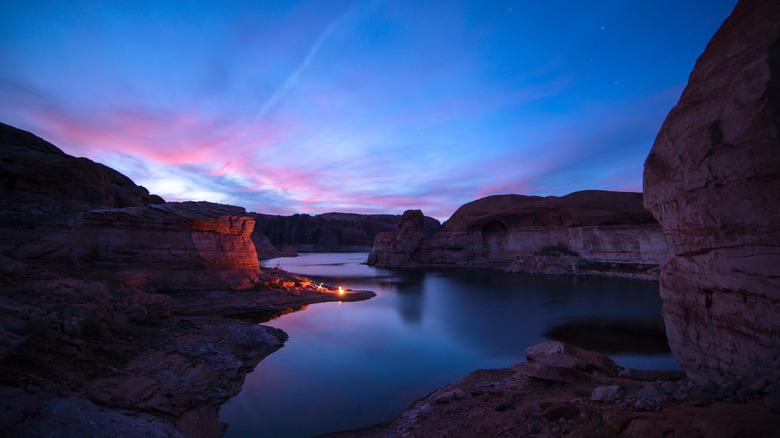 Epicurean/Getty Images
Utah has the world's highest concentration of International DarkSky Places and more DarkSky Parks than any other U.S. state, making it one of the country's most amazing places to stargaze. Super dark skies, rugged landscapes, and plenty of outdoor recreation opportunities are just a few reasons you may want to add Utah to your bucket list.
Throughout the state, you'll find incredible places to camp in the wilds and take in the night sky, but if you're looking for the ultimate luxury experience, book a stay at the world's first-ever DarkSky-approved Lodging. Under Canvas Lake Powell – Grand Staircase received its DarkSky recognition on August 8, 2023, due to its isolated location amongst mesas and slot canyons and efforts to keep the sky dark through DarkSky-approved lighting.
Under Canvas Lake Powell features luxury safari-style tents and plenty of high-end features like organic toiletries, super soft bedding, and complimentary activities. Spend the evening sitting around a fire pit with loved ones while gazing at the jaw-dropping Utah skies before retiring to your glamorous tent accommodations. Nightly rates start around $379, and the season runs from mid-March through late October.
While Under Canvas was the first lodging to receive DarkSky approval, the organization plans to release criteria and applications for approval in the coming weeks. Soon, you'll likely see more DarkSky campgrounds and lodges nationwide. 
Discover more great campsites with ideal stargazing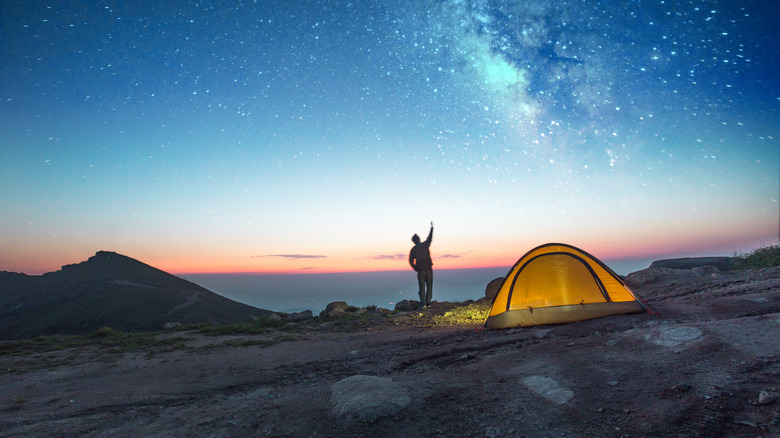 Jxfzsy/Getty Images
If you're looking for a unique campsite outside traditional campgrounds, check out HipCamp's awesome new Dark Skies Map. HipCamp is an online marketplace similar to Airbnb that features listings for tent camping, RV camping, cabins, treehouses, and glamping experiences across the United States, Canada, France, the United Kingdom, and Australia.
In 2022, the site released a new search feature incorporating DarkSky data from the International DarkSky Association with available campsites and vacation rentals around the United States. The user-friendly map allows you to see the places around the country where the skies are the darkest and easily browse listings in those areas.
Choose from over 400,000 campsites and rentals around the United States using the International DarkSky map information to select the perfect place to spend a night under the sparkling star-lit skies. HipCamp offers countless options for every type of traveler, including listings from private property owners.