This Underrated Beach Is The Perfect Escape From The Florida Crowds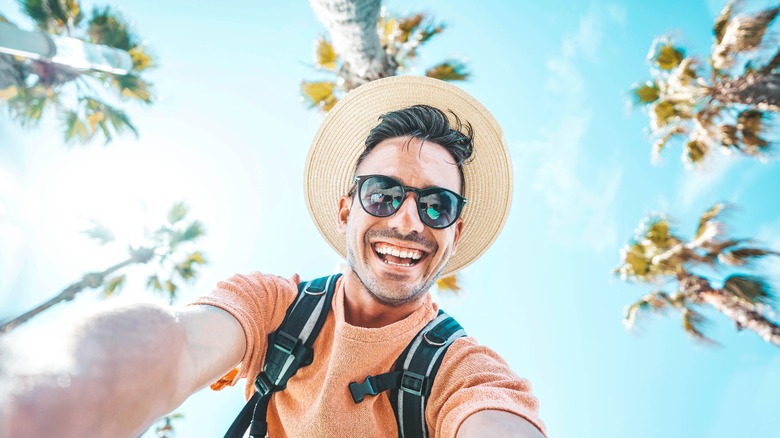 DavideAngelini/Shutterstock
For millions of sunseekers yearly, no place says summer vacation like Florida. Its reputation as one of the top beach destinations in the United States is well-earned. With long, hot summers, 825 miles of beautiful and varied coastline, and an average of 237 sunny days each year, it isn't called the Sunshine State for nothing. From the bustling and style-conscious shores of Miami's iconic South Beach and the craggy majesty of Blowing Rocks Preserve to the tropical waters of Key West, Florida has the perfect location for just about every sun-worshipper or beachcomber. In case you need further convincing, CNN named St. George Island State Park the top beach in the nation in 2023.
Tourists have been flocking to Florida for vacation since the early 20th century, which means the state's resorts are well-equipped for visitors' needs. Hotel rooms are abundant, and restaurants, bars, and activities cater to every taste. The flip side is that so many people seek the famous beaches and warm waters that some popular spots can get pretty crowded; over 137 million visitors traveled to the state in 2022. If you prefer to avoid the summer crowds, consider heading to Cape San Blas for your next vacation to discover one of Florida's best-kept secrets. Just don't tell anyone else, okay?
Cape San Blas has miles of beaches to explore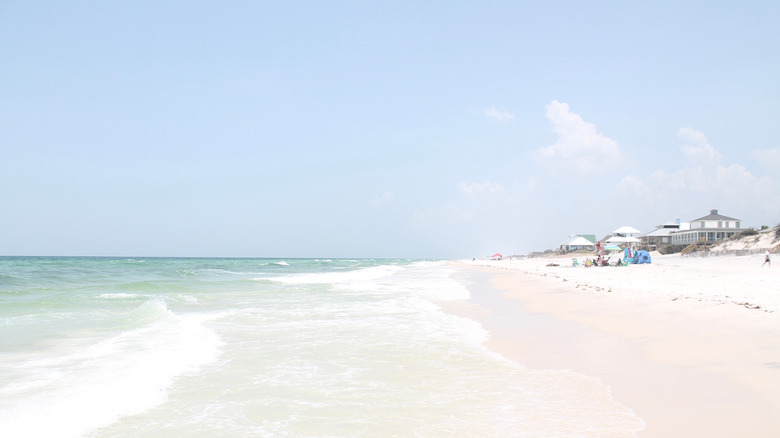 Breanna Burk/Shutterstock
While many of Florida's most sought-after beaches and resorts lie along the peninsula, there are plenty of fine destinations on the Gulf Coast of the Panhandle. One of the best and least heavily visited is remote Cape San Blas, separated from Tallahassee by the Apalachicola National Forest and around 50 miles along the coast road from Panama City. 
From the small city of Port St. Joe, you're only a short drive along scenic Highway 30A to Cape San Blas on the St. Joseph Peninsula. The narrow strip of shoreline curls around Saint Joseph Bay in the Gulf and offers 200 miles of secluded white sand beaches. Known as a "forgotten" destination, crowds are almost unheard of, allowing visitors who prefer peace and quiet to enjoy the warm waters and relax. There are also plenty of activities to participate in, including kayaking, paddle-boarding, fishing, and even horseback riding along the pristine sands.
Compared to many busier Florida beaches, Cape San Blas isn't built with whole strips of hotels, bars, and restaurants. For visitors wishing to explore, the paved Loggerhead Bike Path makes it easy to traverse the length of the cape from Salinas Park near the highway to St. Joseph Peninsula State Park. Hiring a bicycle is a great way to get a real feel for the area and pick your next sunbathing spot.
Other things to do in Cape San Blas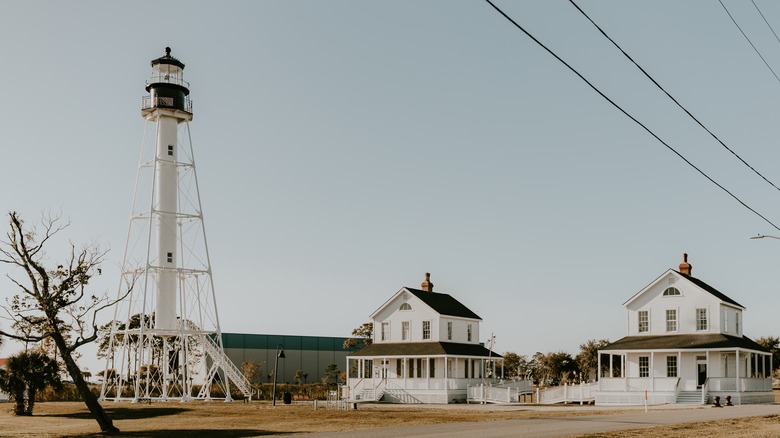 Ashley Stubbs Photography/Shutterstock
While the biggest draw to Cape San Blas is undoubtedly the sparkling beaches, anyone interested in wildlife should consider heading to T.H. Stone Memorial St. Joseph Peninsula State Park. The preserve is a great place for camping, picnicking, and snorkeling, and one of its highlights is the chance to spot turtles on the beaches during their hatching season between May and October.
One of the area's most famous historical landmarks is the Cape San Blas Lighthouse in Port St. Joe, which survived an attack from Union troops in 1862 and many storms in the years since. Nearby is also the Constitution Convention Museum State Park, dedicated to Florida's first constitution and surrounded by 14 acres of beautiful grounds.
There is nothing like a day by the ocean to work up an appetite, and there are some great options in the area for laid-back dining. Unsurprisingly, seafood features heavily on the menu. One of the most popular spots is Indian Pass Raw Bar, where you can grab a cold beer from the fridge and tuck into freshly caught oysters, shrimp, and crab or opt for no-frills burgers and hot dogs. Another place for great cheap eats is Skully's Low Country Boil, a friendly shack recently named the best seafood restaurant in Florida, according to Yelp. If you are hankering for BBQ, The Smokehouse on Cape San Blas will satisfy your meaty cravings.