The Florida Beach That Was Named The Most Dangerous For Swimming In The US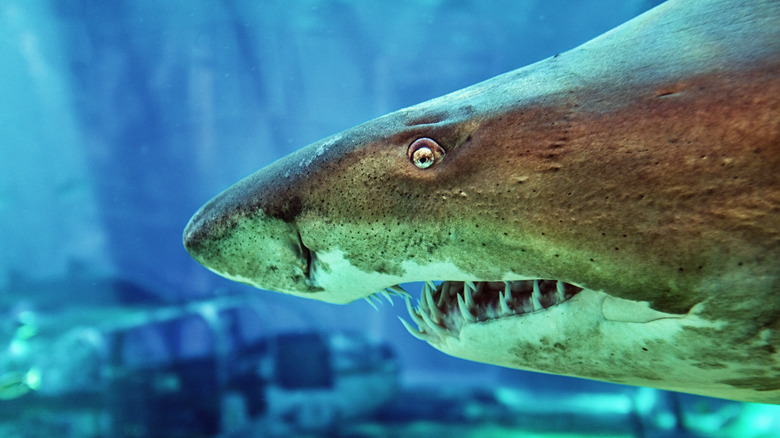 Rapideye/Getty Images
The U.S. leads the world in a lot of categories — some good, some not so much. When it comes to shark attacks, it's better to stay off the podium, but alas, the U.S. leads the world in shark attacks as well, which has largely been the case since records have been kept. On average, about 70 documented shark attacks occur each year around the world, per the International Shark Attack File (yes, that's a thing) and many of these unprovoked shark attacks happen in Florida.
For decades, Florida has led the world in shark attacks, and given Florida's 825 miles of sandy beaches and its popularity as a tourist destination, this fact shouldn't be incredibly surprising. In 2022, Florida beaches had 16 documented shark attacks, which represented 28% of shark attacks worldwide.
Of these 16 shark attacks, nearly half happened in Volusia County. To be more specific, most of Florida's (and the world's) shark attacks occurred in the waters of New Smyrna Beach.
Known as the Shark Bite Capital of the World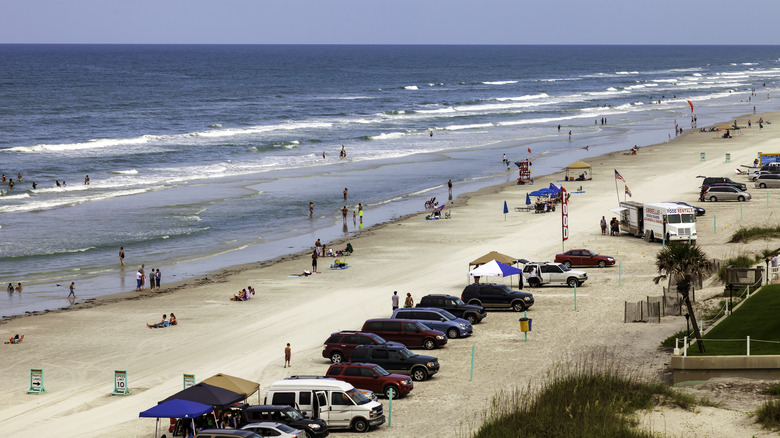 Visionsbyatlee/Getty Images
Located on Florida's east coast, just south of Daytona Beach, New Smyrna Beach boasts 17 miles of white-sand beaches, turquoise waters, and the world's highest rate of shark attacks. From 1882 to 2020, there have been 337 confirmed shark attacks in Volusia County, according to the International Shark Attack File (ISAF). While this number may seem high, and it is when compared to everywhere else in the world, we should mention that New Smyrna Beach is an extremely popular hub of Florida surfing, which can help account for higher-than-normal shark interactions.
New Smyrna Beach is home to around 40 different types of sharks, though the most common types of sharks are blacktip and lemon sharks. Neither of these types of sharks are particularly aggressive. However, the sheer amount of sharks in the area makes incidents more likely. New Smyrna Beach is next to Ponce de Leon Inlet, which connects the Halifax River to the Atlantic Ocean. The inlet forms a strong tidal flow in the ocean, which creates an ideal feeding ground for sharks and a consistent surf break for surfers. Thus, the Shark Bite Capital of the World.
So, planning a trip to New Smyrna Beach?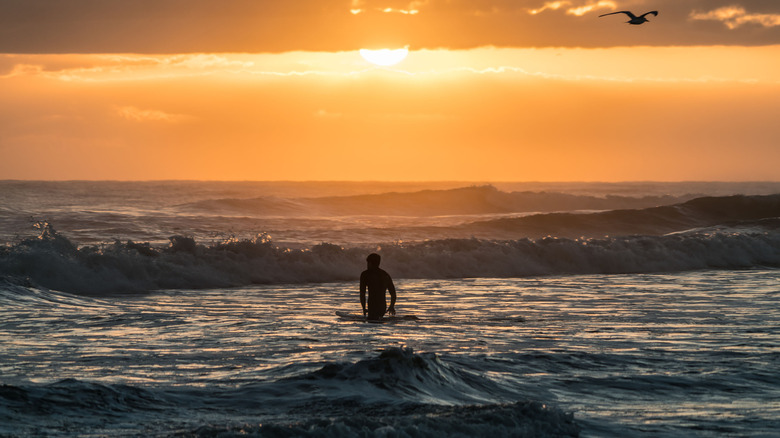 Jason Sponseller/Shutterstock
According to the International Shark Attack File (ISAF), there were 94 reported shark bites in Volusia County from 2012 to 2021. However, over 400,000 beach-going tourists flock to the seaside town each year. When you chew on the numbers, your chance to be bitten by a shark is incredibly small.
Overall, your chance to die from a shark attack is 1 in 3,748,067, according to the International Wildlife Museum. Statistically, even when visiting the world's shark bite capital, you're much more likely to die by lightning or fireworks on the safe confines of the beach. 
But, if you're planning to visit New Smyrna Beach and want to decrease your chances of winning the "how they'd die" lottery, there are a few things you can do. Avoid murky waters, refrain from wearing shiny jewelry, don't swim at night or in low light, and stay away from waterways that feed the ocean, such as the Ponce de Leon Inlet. Or, you could kayak with the manatees in nearby Bethune Beach. To date, there's never been a recorded manatee attack.