East Coast Beaches That Are A Must-Visit For Surfers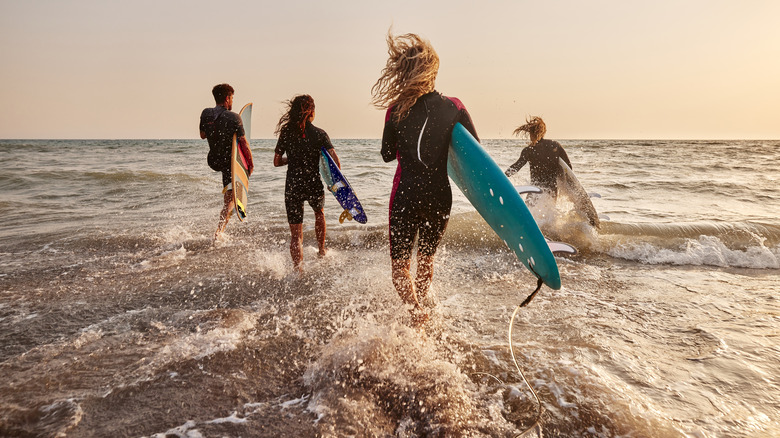 Skynesher/Getty Images
Surfers are constantly on the hunt for fantastic new places to explore, relax, and of course, catch some killer waves. Surfing is about more than just running headlong out into the wash to wait in the lineup. It's truly a lifestyle and cultural experience. Surfers rely on the good fortunes of the tides, weather, and eons of geological formation within and around the seam between water and land. The communities surrounding these beaches also add value to the epic wave breaks that surfers seek. Surfing towns are culturally unique, and the holistic experience of traveling and surfing is something that can be deeply spiritual, personal, and emotional. 
Getting out into the calm of the ocean only to ramp up your focus to grab ahold of the chaos of a wave's swell brings about a range of feelings and energy. It's hard to compare the experience. The land-based components of a memorable surf trip then bring the whole experience home, rounding out your time on the water. Many facets of a beachfront can make or break its status as a must-see surfing destination, and these are some of the best along America's East Coast.
Montauk, New York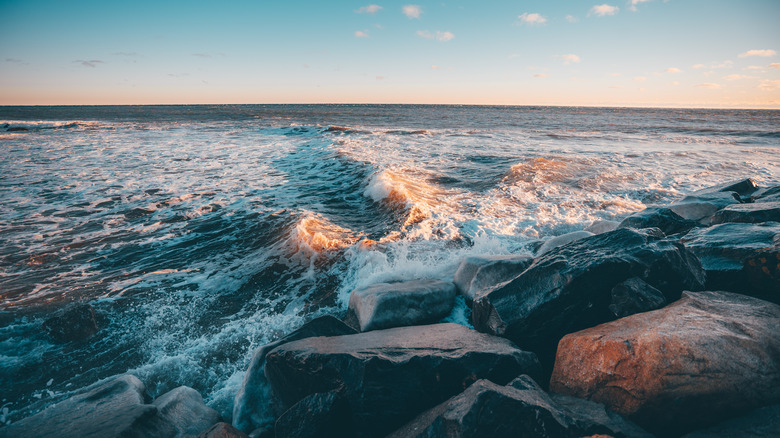 easy wu/Shutterstock
Montauk is one of the most beloved beaches for surfers in the United States. Located on the eastern edge of New York's Long Island, Montauk is a bit of a trek for those driving out to catch the waves. Depending on traffic, it may take three to four hours to drive here from New York City. But the voyage is worth it! Montauk benefits from a lengthy beachfront, and there's a natural shelf that drops to nearly 30 feet in depth at some locations. The waters quickly deepen farther out into the ocean, more than doubling in many parts rapidly. This bathymetry gives Montauk a deep ingress of wave movement that rapidly begins to shallow out, offering up phenomenal wave breaks for surfers up and down the shoreline. Likewise, as an unprotected frontage that's directly influenced by the Atlantic, Montauk is blessed with the full might of tidal movement.
Prevailing wisdom suggests that the summer surge of tourists and city escapees degrade the freedom to ride in this fishing and beachside community, but the wintertime provides a spectacular change of pace. An amazing array of consistent waves can be found when the weather begins to turn. The reef structure beneath the surface creates a surfing haven that's cold, but it's manageable for those with a wetsuit and the yearning to ride these phenomenal swells.
Cocoa Beach, Florida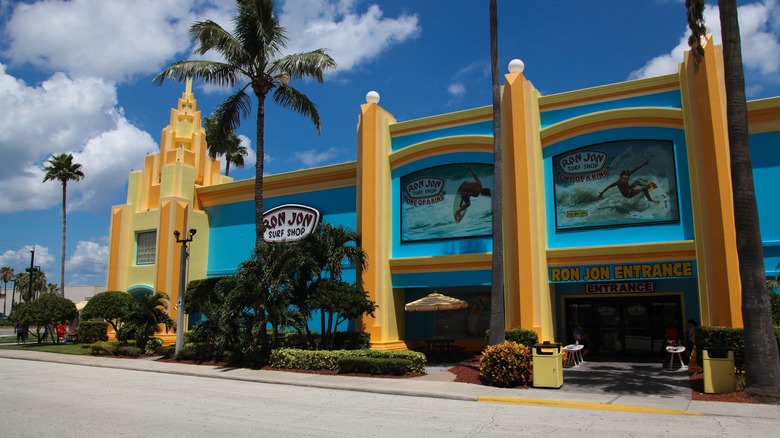 ajith camera walk/Shutterstock
Tucked down along Florida's Space Coast, Cocoa Beach is an incredibly popular destination for any level of surfing enthusiast. The history of this community is interconnected with the sport of surfing, and the weather, wave breaks, and faces of Cocoa Beach aren't bad either! The community lies on a barrier island separated from the bulk of Florida by the Banana River Aquatic Preserve. Any good surfing community will need a long strip of coastline and favorable underwater architecture. NOAA hydrography records suggest that not only is the Cocoa Beach coastal community gifted with a surprisingly sprawling row of sandy beach locations, but a streak of ridges beneath the tide offers perfect contours that are typical of an ideal surfing destination. 
The location also catches northeasterly swells in the fall, which includes the tidal systems resulting from intense hurricanes that eye up Florida's coastline. Cocoa Beach offers nearly 80 surf breaks up and down the area's 12 miles of sandy coastline, and the beach is a sort of heritage site among surfers. One of the sport's champions, Kelly Slater cut his teeth on these waves, and it's the home of the first Ron Jon Surf Shop, which also houses the Florida Surf Museum. Rounding out the experience here is a rich tapestry of beachside cafes, bars, and hotels that cater to the laid-back vibe that surfers often seek. For many, Cocoa Beach is the best surfing beach in Florida.
Emerald Isle, North Carolina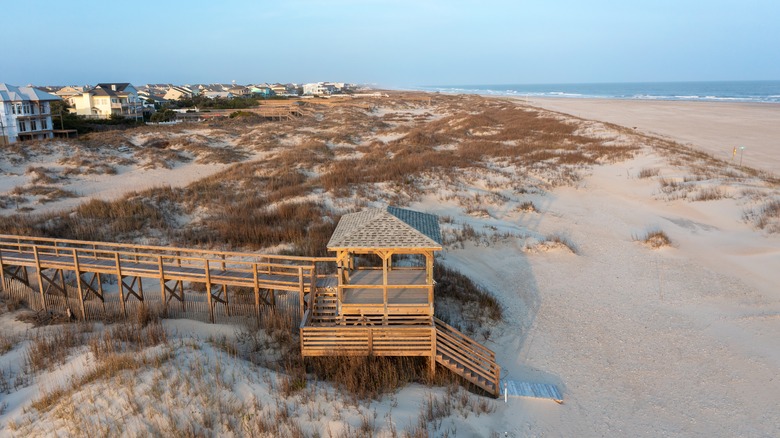 Kyle J Little/Shutterstock
Emerald Isle stands as a fabulous surfing destination as well. North Carolina's Atlantic coast is marked by a teeming variety of inlets, barrier islands, and other cutouts that deliver a constantly churning interaction between sea and land. Bogue Banks Island, across the Bogue Sound from the main landmass, is home to not one but two beaches that make this list of excellent surfing sites.
Emerald Isle is a fabulous spot for both advanced surfers and those who are newer to the sport. This location is gifted with pretty consistent swells and emerald-green waters that create both an enjoyable riding experience and a picture-perfect backdrop for "hanging ten." The Bogue Inlet Pier is a favorite among surfers who frequent Emerald Isle, and multiple surf shops on this part of the beachfront make it a great choice for those in need of some new gear or even a lesson or two. You can also join a surf camp if you need some tips, like the Hot Wax Surf Camp.
New Smyrna Beach, Florida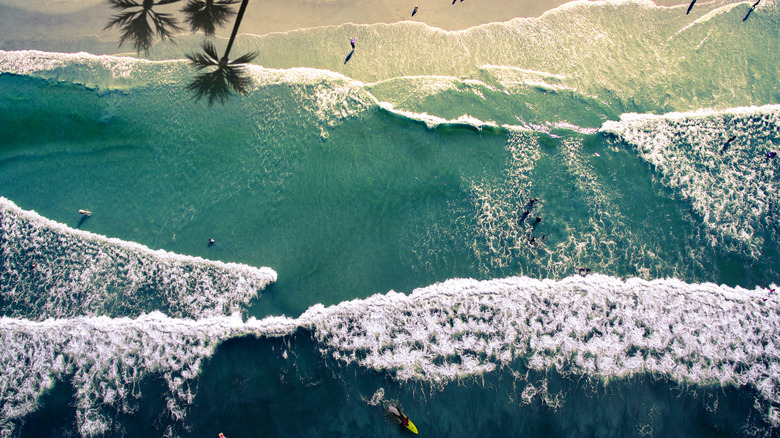 Javier Cruz Acosta/Shutterstock
It's obvious why multiple Florida coastal towns make the grade here. With water temperatures that dip down to a still comfortable 66 degrees Fahrenheit in the depths of a Floridian February "chill," surfing is possible here year-round. For this, and many other reasons that coalesce throughout the beach and its supporting town, New Smyrna Beach was named the fifth-best surf town in the entire country in 2017 by Surfer.com.
New Smyrna Beach possesses some of the most consistent breaks in wave behavior along the Atlantic coastline that blesses Florida's eastern edge. Florida's long coastline equates to more than 1,300 miles of surf-ready beach, and yet New Smyrna Beach is a standout in every way as you traverse the beaches in search of spectacular waves. Multiple, excellent break spots result in a variety of riding conditions sure to satisfy any type of surfer. The town is far quieter than you might expect as well, due to the magnetic draw of Daytona Beach that gobbles up the rowdier crowd heading down to Florida's coastal communities in the spring and summer. It should be noted, however, that New Smyrna Beach does see its fair share of sharks, having been named the "shark bite capital of the world" and one of the most dangerous for swimming in the U.S. 
Atlantic Beach, North Carolina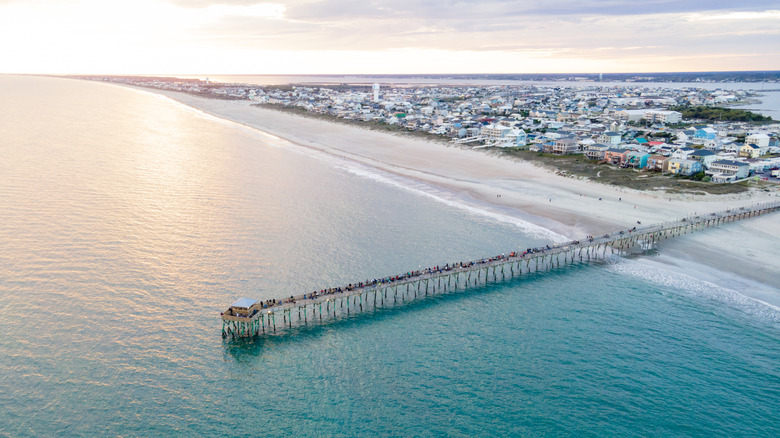 Eifel Kreutz/Getty Images
On picturesque Bogue Banks Island, Atlantic Beach is one of the best options for surfers seeking a fantastic place to kick back and relax. It's a great spot to hunt for waves to ride in a laid-back surfer's community, and the coastline is positioned perfectly to take advantage of the Atlantic's churning surge. The wash isn't affected by tidal considerations, and the beach enjoys breaks that travel in both right and left directions. The beaches here are tilted directly into the Atlantic's oncoming fury, so powerful hurricane systems and nor'easters that tend to hammer small towns on the East Coast bring heavy wave activity to these shores. 
One feature that sets Atlantic Beach apart is its normally beginner-friendly conditions, even with the sometimes violent surf. "The Circle" is a great spot to learn to control your board and achieve a standing position for the first time! There are also beach lifeguards on duty during summer seasons, making safety a built-in feature of the surfing spot.
Ocean City, Maryland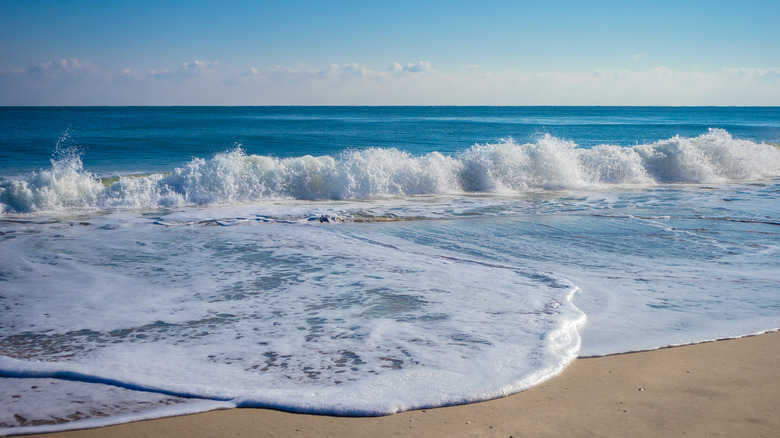 LittleKitty/Shutterstock
Ocean City is yet another community on a barrier island that finds itself thrust out into the big, open Atlantic. Removed from the landmass by the Isle of Wight Bay, Ocean City sits at the bottom edge of Fenwick Island. This is a resort beach town that's brimming with activity and entertainment, but many visitors come for the surfing found along the shoreline. Ocean City's segment of the island is ever so slightly turned southward, with the rest of the thin landmass curving out into the ocean. NOAA charts show that the hydrography beneath the surface showcases a narrow channel of deeper water off the shore with a secondary rise behind it. This makes for an interesting wave break pattern that's distinct from most other beaches, including those to its direct north and south.
It's also a fantastic place for beginners to get the hang of the sport. Ocean City is home to surf schools and camps and a range of surf shops that offer gear and lessons to novice boarders. While providing an enjoyable experience for all levels of surfer, you'll often find forgiving waves that combine with the training wheels of a helpful and nurturing surfing community, making for an excellent overall surf destination.
Charleston, South Carolina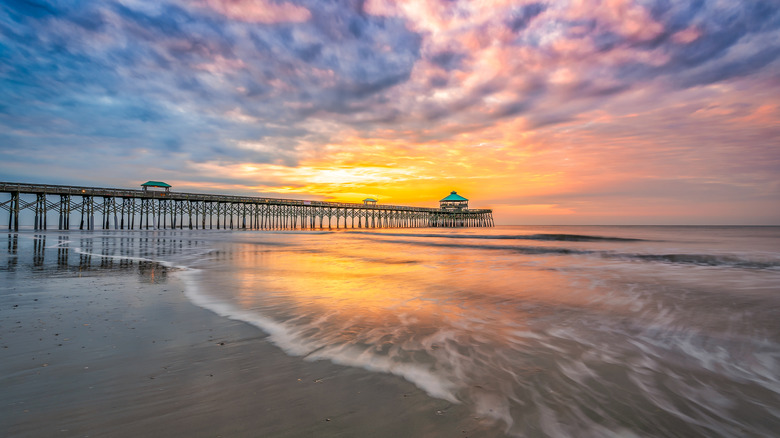 Rhonda Kingen Photography/Shutterstock
Folly Beach is just a short trip outside of Charleston, which is located at the convergence of the Ashley and Cooper Rivers as these waterways empty into the Atlantic. In fact, much of the South Carolina coastline in this region sees a wash of different waterways and winding coastal marshlands. The coastline isn't buoyed by barrier islands like many other Atlantic shores, so the landscape takes on a more frenetic appearance when viewed from above. Fortunately for surfers, however, geological chaos in the meeting of land and sea often showcases itself in a brilliant tapestry of wave breaks, reef structures, shoals, and more.
Folly Beach is a favorite among locals and out-of-town surfers alike, and its proximity to Charleston's charms attracts surfers from all over. Like the other surf spots on this list, Folly Beach faces southeast, and seasonal storms can stir the waters into a frenzy, ideal for surfers chasing big waves and fast movement. The best spot at Folly Beach is aptly nicknamed "The Washout," as the break took shape after Hurricane Hugo destroyed a portion of the community's coastal homes.
Rye, New Hampshire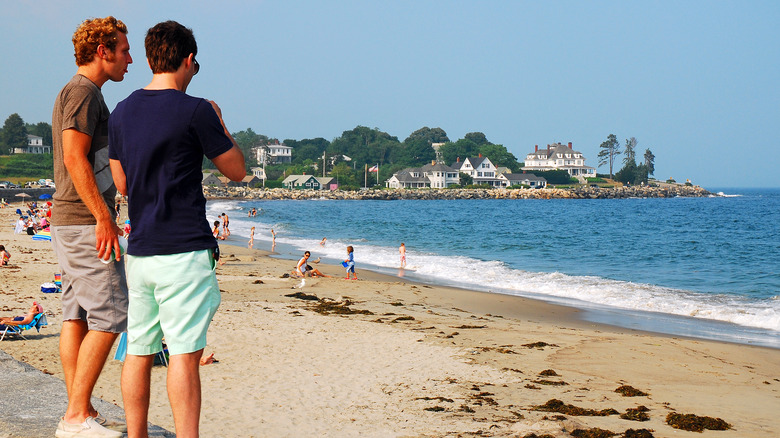 James Kirkikis/Shutterstock
New Hampshire isn't known for its beaches, let alone surfing. And yet the beaches of Rye, New Hampshire offer some of the best and most diverse surfing conditions on the East Coast. The slim coastal area is peppered with beaches that can serve nearly any type of surfer. Rye on the Rocks is a challenging option for experienced boarders due to its rough breaks, but other segments of the coastline, such as Hampton Beach, Jenness State Beach, and Seabrook, are all great options for surfers looking for calmer swells. Of course, anywhere along New Hampshire's beaches will likely demand a wetsuit and a steely resolve as the water will be much colder here than in some of the more tropical climes farther south.
The beaches along Rye's coastline are also excellent for anyone who loves all things outdoors. New Hampshire is highly regarded for its wide range of hiking, camping, and other scenic outdoor areas. Those coming to the state for a glimpse of the high peaks and majestic forests will be in for a special treat by tacking on a day or more of surfing on these wonderful Atlantic beaches, which provide pretty consistent swells and a varying range of challenges.
Newport, Rhode Island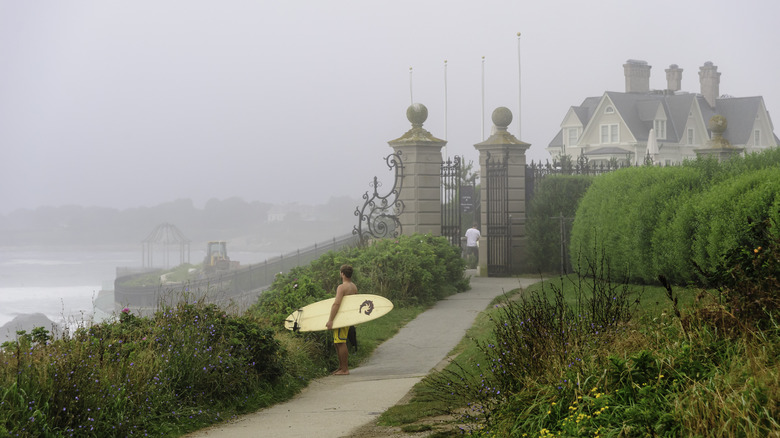 Danlogan/Getty Images
Ruggles is the elite surf spot on Rhode Island's jagged coast. However, the break is for advanced surfers only. Novice boarders will need to look elsewhere to catch waves, as Ruggles combines a rocky bottom with unpredictable and powerful wave formations that have left a great many surfers bloody and bruised. Surfers sometimes walk away from the wash with broken boards and worse. Yet, for experienced surfers who can handle the chop, Ruggles presents a unique challenge and a vastly enjoyable riding experience that's topped by very few surfing locations anywhere else in the country.
Surfers enjoy consistent wave breaks, and it's usually pretty easy to get barreled at Ruggles, but the cold water and challenging conditions make it off-limits for many. Fortunately, the cliff walk found at the scenic overlook and the town of Newport itself makes for a fantastic backdrop, and visitors will have plenty to do if the conditions turn a little too rough. 
Wellfleet, Massachusetts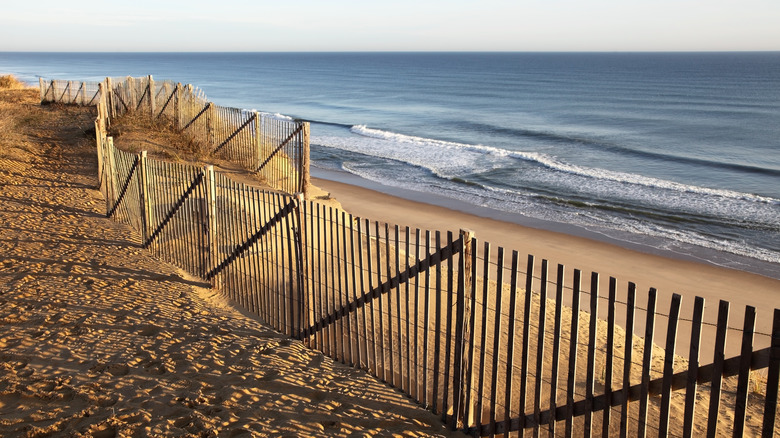 Denistangneyjr/Getty Images
Located out along the Massachusetts coast, Wellfleet is halfway up the "turn" and situated on the interior, Cape Cod Bay side, creating a naturally sheltered surfing haven. Even so, the waves can rise to a potent swell that will give even seasoned surfers an exciting ride. White Crest Beach in Wellfleet is also known as Surfer's Beach, and for good reason. While the water is naturally quite cold, the waves are more than enough to give you a great day out on the water with your board. Across Cape Cod, shark sightings are a somewhat common occurrence, however. This means that you'll need to exercise caution while diving.
White Crest Beach is also a great spot for longboard riders because of its exposed sandbar. This makes for consistent waves at nearly any time of the year. Alternatively, the atmosphere and low tide wave patterns at Cahoon Hollow Beach, and the rapid, high tide breaks at Marconi Beach offer variety for those looking to mix it up over a few days of surfing "down the Cape."
Cape Hatteras National Seashore, North Carolina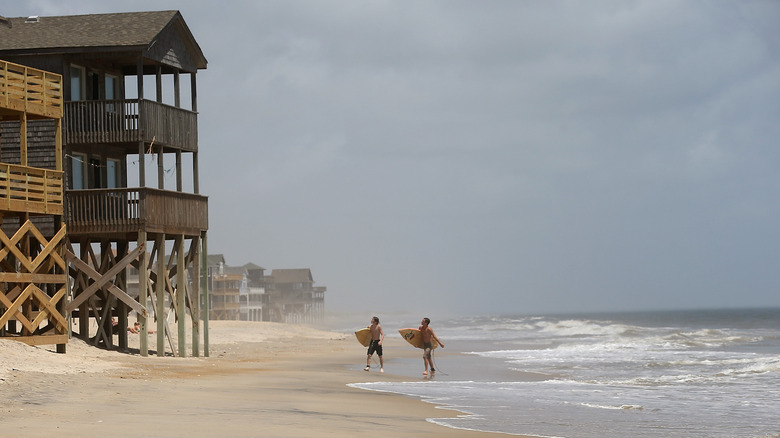 Mark Wilson/Getty Images
Cape Hatteras National Seashore is yet another fabulous destination for surfing in North Carolina. The recreational area is administered by the National Park Service and was established in 1937 as the first of its kind in an effort to care for North Carolina's essential barrier island geography. Here you can expect to find varying levels of ocean activity and visitor volumes. Yet, no matter when you choose to go surfing along North Carolina's Outer Banks, you're sure to have a fantastic time. The fall is marked by hurricane season, offering up more waves, but this section of the Atlantic Ocean can be pretty wild during storm season, so you'll need to be an experienced surfer when charging into big conditions. 
But later on in the year (the end of the fall and even into early winter), crowds die down and the whole of the shoreline seemingly reverts back to a sleepy seaside environment that's perfect for surfers who want to enjoy the ocean air, miles of secluded beaches, and a more peaceful ride. The best sites for surfing along the national seashore are at Buxton, which features a stone jetty that delivers immaculate wave breaks, S-Turns, which is a surf spot near the back side of Pea Island, and Ocracoke Island, an Outer Banks beach that's ideal for beginners.