Places In Atlanta Where You're Most Likely To Spot Celebrities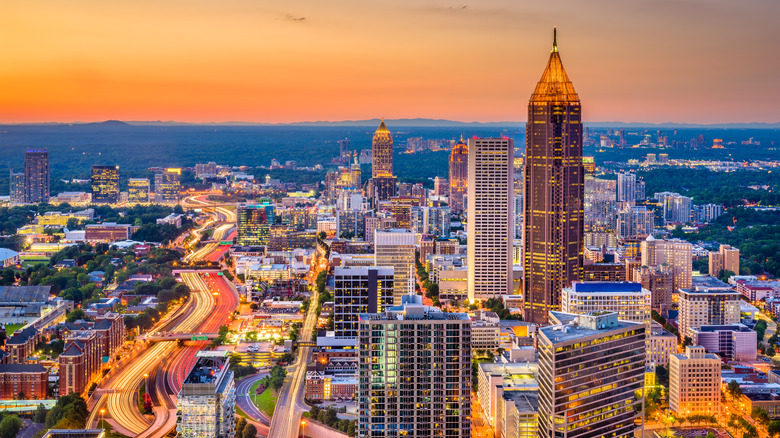 Sean Pavone/Shutterstock
Atlanta has always been a place for celebs to set up shop. Whether for the city's lavish real estate, its ever-growing entertainment industry, or to experience a little southern hospitality. Plus, Atlanta continues to be a red-hot movie and TV filming hub. Therefore, if your goal is to fangirl or boy out, you've undoubtedly come to the right city. Atlanta has its share of superstars, from the Hollywood and music industry elite to pro athletes, reality TV stars, and the upper crust of the fashion world.
Celebrity sightings are typical occurrences since many stars run errands, grab a bite to eat, partake in A-lister events, and enjoy one of the country's most lively nightlife scenes when they are in town. Of course, for travelers visiting for just a few days, catching a glimpse of any big name is often purely by chance. But if you know the popular haunts of the rich and famous, you can increase your odds of a possible meet and greet. So, to help, here are the top places in Atlanta where you're most likely to spot celebrities. 
Nobu Hotel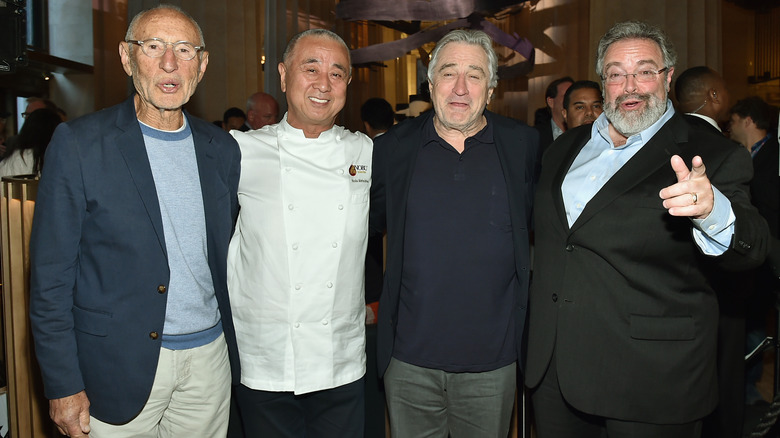 Mike Coppola/Getty Images
A relatively new addition to the Atlanta luxury hospitality scene is none other than the Nobu Hotel Atlanta. With first-class accommodations, posh amenities, a stunning penthouse villa, and convenient access to one of the world's beloved Michelin-star restaurants, Nobu Hotel Atlanta is prime territory for celebs. This particular Nobu Hotel opened its doors in late 2022 and has been a go-to spot for famous rappers such as 2 Chainz, influential people in the entertainment industry, and the Buckhead area's upper echelon.
So, if you are looking for fantastic digs with all the trimmings in addition to seeing your favorite famous people, then the Nobu Hotel in Atlanta is truly the place to be. Known for its relaxing atmosphere, customer service, and privacy, the Nobu Hotel Atlanta is ideal for celebs who like keeping things low-key. And thanks to the many Nobu hotels worldwide, countless celebrities are more than a little partial to this high-end hotel group, making celebrity sightings pretty much a guarantee here.
10 Degrees South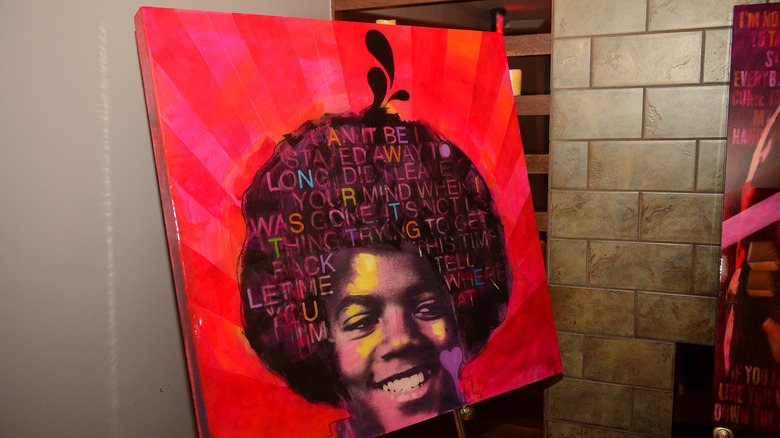 Prince Williams/Getty Images
For more than 20 years, 10 Degrees South has been a fan favorite for the rich and famous. A true culinary gem, 10 Degrees South is located in the Buckhead Village District of Atlanta and dazzles with its unique take on traditional cuisines from across the globe. Since 10 Degrees South effortlessly blends authentic South African fare with a delightful dose of French, German, Dutch, and Mediterranean cuisines, local and visiting celebs flock to this establishment in droves.
Moreover, with its luxurious ambiance and exclusiveness, 10 Degrees South is yet another low-key place for celebrity events, business meetings, and then some. Everyone from Usher to John Hamm and Matt Ryan frequents this one-of-a-kind upscale eatery. And even though this South African fusion spot does not appear, on the surface, to be a place where A-listers go, 10 Degrees South does not disappoint in the way of celeb clientele.
Ponce City Market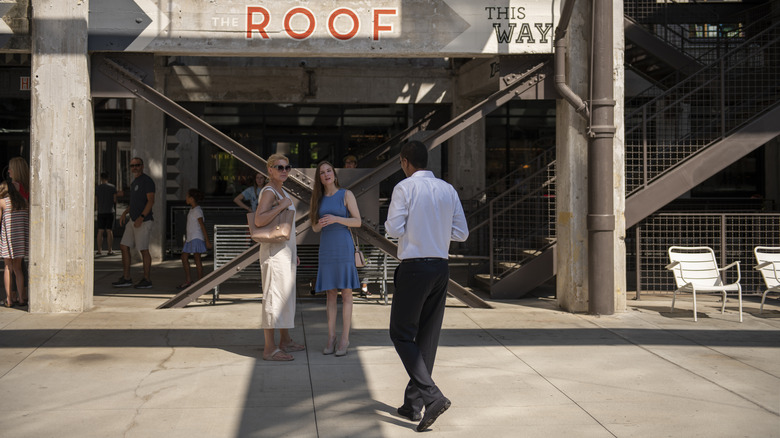 Silkfactory/Getty Images
Located in the famous Old Fourth Ward, Ponce City Market is a wonderful shopping center, food hall, and historic building that has it all. So it is unsurprising that hungry celebs looking for some delicious eats while filming their next big blockbuster make their way to Ponce City Market. This dining and retail shopping center also has a few other perks that A-listers enjoy, including Skyline Park (a rooftop amusement park), the farmers market, and City Winery.
Ponce City Market is the place to go if you want to see celebrities like Tyra Banks, Winona Ryder, Owen Wilson, Ed Helms, and more. Plus, many small-screen actors and actresses on location head to Ponce City Market to grab a quick meal in between takes. So, if you are exploring this phenomenal marketplace in Atlanta, make sure you are on the lookout for megastars here — you won't be disappointed. 
The Krog District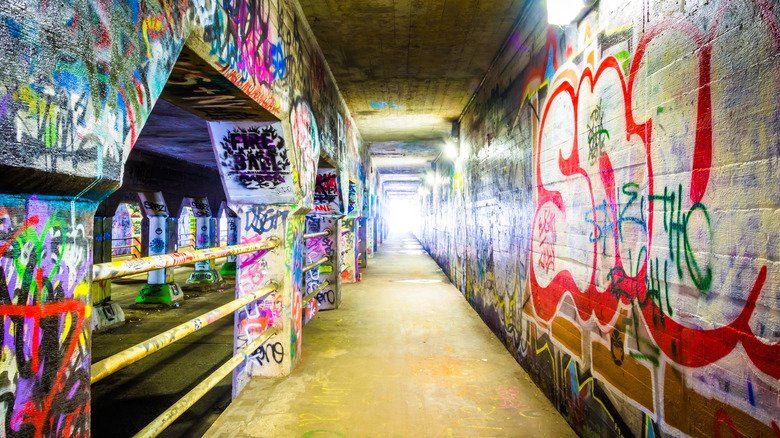 Jon Bilous/Shutterstock
Yet another beloved food hall in Atlanta worth perusing for diverse cuisine and the occasional celebrity is The Krog District (or Market). Just around the corner from Inman Park, where famous people like to stay when filming, Krog Street is a bustling section of the city. From its colorful murals and graffiti art-adorned tunnels to a large marketplace with dining, shopping, and more, the Krog District is a popular spot in town that everyone should visit.
In the way of celebrity sightings, you can expect to see a variety of stars from just about any show or movie in production currently. Not too long ago, the cast of The Walking Dead, Stranger Things, and The Vampire Diaries would head to the Krog District and Market for delicious eats and some good old-fashioned shopping. Currently, upcoming productions such as "Bride Hard" with Rebel Wilson and "Back In Action" with Cameron Diaz, Glenn Close, and Jamie Fox are all filming in Atlanta — this is to name a few celebs you might see out and about in the Krog District.
Clermont Lounge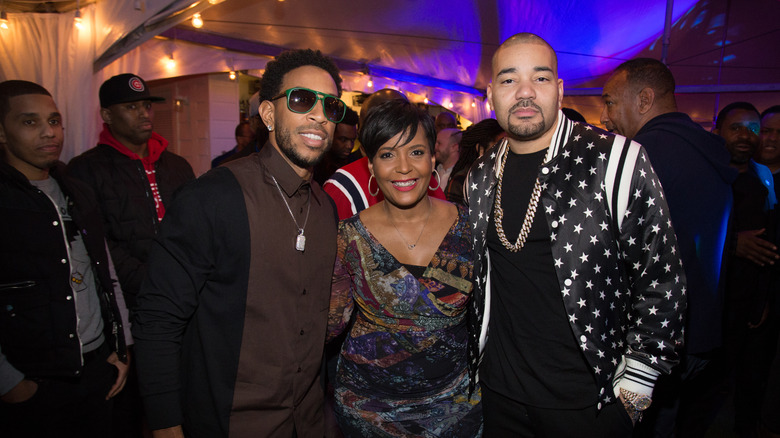 Brian Stukes/Getty Images
The Clermont Lounge on Ponce de Leon Avenue is another iconic adult entertainment club (with a hotel and bar) that celebrities enjoy in Atlanta. Everyone from Morgan Freeman, Robert De Niro, and Anna Kendrick to Lady Gaga, Ludacris, and even local politicians has had a stop-off at the Clermont Lounge. And as the oldest strip club in the city, most of the Hollywood elite have made it a point to check out this scene.
Of course, U.S. history buffs can also get a kick out of this club that has operated since 1965. But if celebrity sightings are what you came for, then you will be glad you added the Clermont Lounge to your roster. The Clermont Lounge is the perfect mix of opulence, live entertainment, history, and dive bar ambiance for many stars. So head down to this Atlanta landmark for one of the most unique experiences, and don't be surprised when you see some of the big names having a great time right along with you.
Nobu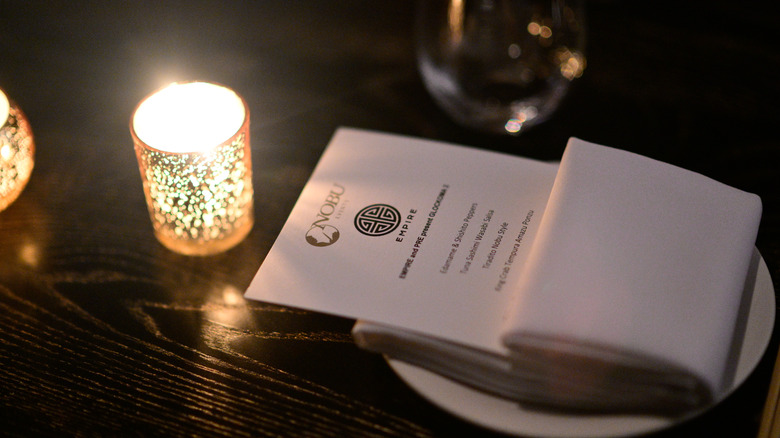 Prince Williams/Getty Images
As previously mentioned, Nobu Hotel Atlanta is one of the newer high-end accommodations in the city that attracts celebs from all over. But, before becoming a renowned hotel chain, Nobu was (and still is) a world-class restaurant undoubtedly loved by many. With fresh eats, delicious fusion cuisine, a refreshing cocktail menu, and more that you can enjoy solely at the restaurant or while staying at these posh digs (via reservations or room service), it is not surprising to see entertainment industry people frequenting this particular hot spot.
For A- to Z-listers, Nobu is the perfect dining establishment for a semi-private meal with family, business meetings, and special events. Yet another lovely restaurant owned by Chef Matsuhisa, Film Star Robert De Niro, and Movie Producer Meir Teper, Nobu, is much more than a beloved brand. So, if you love sushi or fusion cuisine that unites Japanese and Peruvian fanfare easily, that is honestly reason enough to make your way down to this famed eatery in the Hollywood of the South. The countless celebs that happen to make an appearance at this fantastic restaurant are just an added bonus here.
Four Seasons Hotel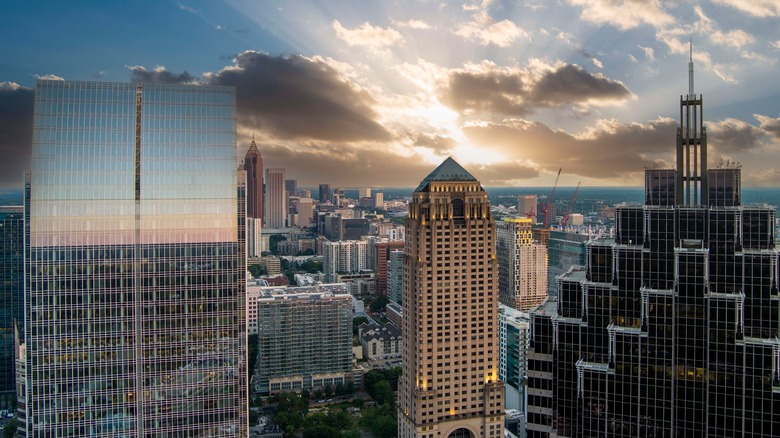 Marcus E Jones/Shutterstock
The Four Seasons hotel in Downtown Atlanta is also on many famous people's list of places to mix and mingle in the Hollywood of the South. Not only do celebs like Bruce Springsteen, Cameron Diaz, and Jack Black like to stay at the Four Seasons when in town, but other household names enjoy this hotel's lavish amenities like the Park 75 restaurant and Bar Margot lounge. Located near the High Museum of Art and Piedmont Park, this luxury hotel is a must for celebs in the area.
Attracted to the over-the-top ambiance, fine dining, stunning décor, five-star amenities, and first-rate service, ATL visitors can expect to cross paths with celebrities when experiencing the Four Seasons. Even if you prefer more budget-friendly accommodations for your stay, if you take advantage of the spa, restaurant, lounge, and nearby event spaces, it is almost a guarantee you will see someone famous. Known as one of the most illustrious lodgings in the city, the Four Seasons does not disappoint — really on any front. So, if you want to enjoy a star-studded outing, do yourself a favor and head to the Four Seasons Hotel in Atlanta.
STK Atlanta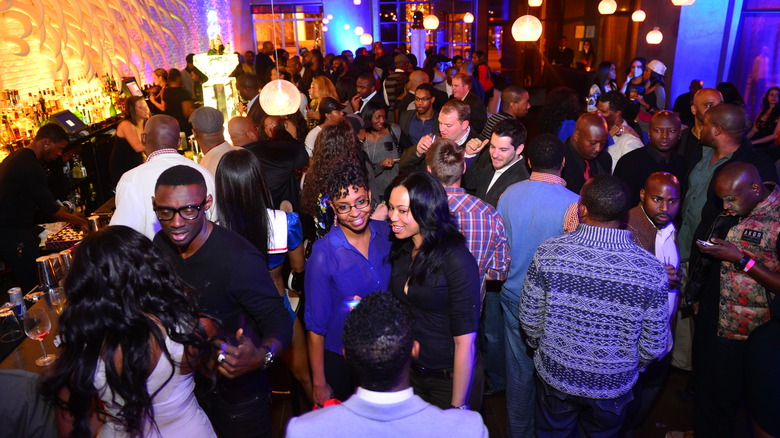 Prince Williams/Getty Images
What celebrity doesn't love great eats? STK Atlanta is a popular steakhouse on Peachtree Street that pays homage to its northern roots with an air of the Manhattan dining scene. Like most traditional steakhouses, you can expect to enjoy the freshest seafood, phenomenal cuts of meat, Wagyu, divine entrees, mouthwatering sides, chic drinks, and more. Besides the upscale cuisine, heavenly cocktails, and posh New York vibe, STK Atlanta is a great option for anyone searching for celebs. From Kurt Russell, Megan Ryan, and Denzel Washington to Selena Gomez, Chris Evans, and Jessica Alba, dining at STK Atlanta is always a star-studded affair.
Other well-known entertainment industry people who make it a point to stop by STK Atlanta include Vince Vaughn, Scarlett Johansson, Keri Hilson, and Kevin Bacon — to name a few. So, if you have been dreaming of rubbing elbows with some of these above-mentioned famous folks, then there is no time like the present. Open every day of the week for brunch, lunch, social hour, and dinner, STK Atlanta can easily fit into a short vacation itinerary.
The Battery ALT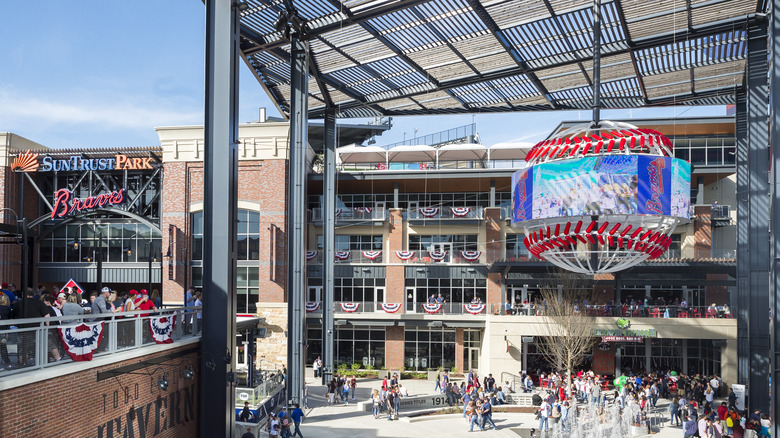 Logan Riely/atlanta Braves/Getty Images
Famous people tend to have favorite sports teams like the rest of us. And, since the Atlanta Braves call the Battery ATL home in Cumberland, more than a few big names turn out to enjoy a good old-fashioned ball game at this sports venue. Besides being in awe of some of the Major League Baseball (MLB) teams and professional athletes, baseball fans have the opportunity to catch a glimpse of the entertainment elite when in attendance.
Stars like Actor Ryan Reynolds, pop icon Lady Gaga, Quavo from the rap group Migos, Big Boi from the hip-hop group Outkast, country music legend Jason Aldean, and rapper-actor Ludacris often make it a point to catch an MLB game when they can. Likewise, several super fans who are celebrities in their own right can be spotted at Braves games and other sporting events for a variety of reasons — whether it is for the free seats, good press, or to take part in the game somehow. Additionally, Atlanta-based reality TV stars, well-known influencers, and other local celebs are no strangers when catching a Braves game or two at the Battery ATL.
Georgia Aquarium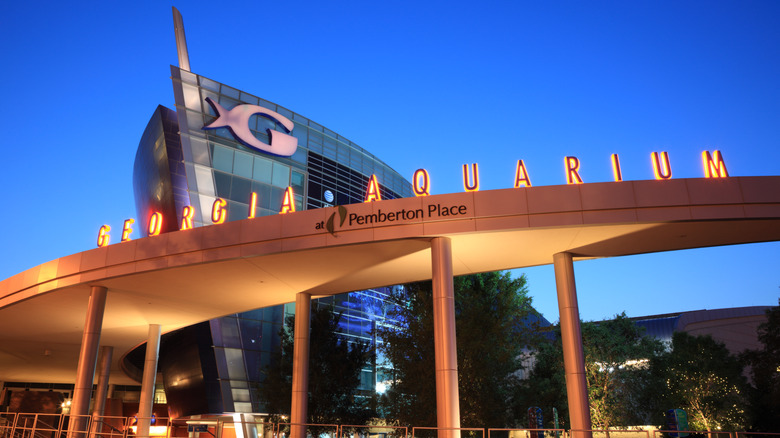 Veni/Getty Images
The Georgia Aquarium may not be one of the first places that comes to mind when looking for celebrities — but it should be. Touted as one of the world's largest aquariums, it is no wonder stars like Jennifer Lawrence, Elton John, and Jennifer Lopez have been spotted here. That said, with a plethora of animals and marine life to see, the Georgia Aquarium is worth a visit, whether you are famous or not.
Celebrities come out in droves to marvel at all the fascinating exhibits and experience unique events. Aquarium visitors, in general, are also in for a real treat with mesmerizing dolphin shows, a first-rate shark exhibition, aquarium sleepovers, and ample opportunities for swimming with dolphins, manta rays, and whale sharks. Plus, the world-renowned Georgia Aquarium is open all year round and near popular downtown Atlanta attractions — World of Coca-Cola and Centennial Olympic Park. So you can explore this famed spot, see a few celebs, and check out several points of interest in the area, regardless of when you decide to visit.
The Sugar Factory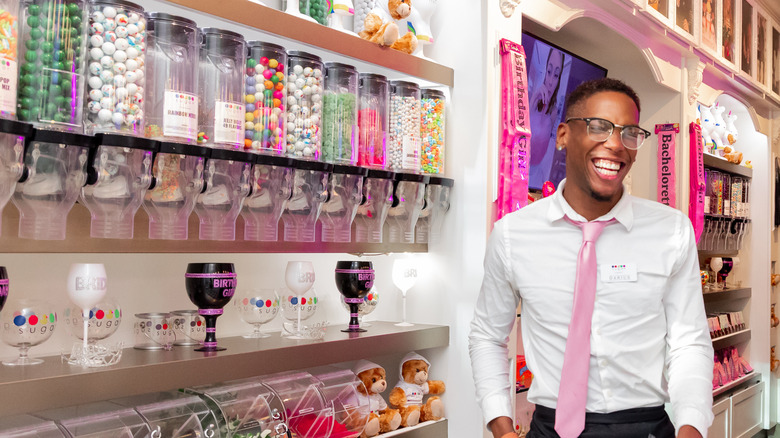 Carol Lee Rose/Getty Images
Speaking of family-friendly activities for Atlanta visitors, locals, and celebs, the Sugar Factory, a wonderful full-service café and confectionary shop, is a must. An imposing restaurant, the Sugar Factory, Atlanta, is a favorite of many big-name celebrities. Famous people such as Drake, the Kardashian-Jenner clan, Selma Hayek, Katy Perry, Britney Spears, Flo Rida, Jerry Seinfeld, and more have indulged their cravings for sweets here.
In addition to being a sugar-lovers paradise, the Sugar Factory has a couple of cocktail lounges, a robust food menu, a private dining room, outdoor seating, and a candy store. Of course, the décor is candy-themed and quite the sight to behold. Thus, many celebs are drawn to the Sugar Factory and enjoy hosting important events onsite. Still, if you happen to check this spot out, remember to take a good look around this 8,000-square-foot candy land in Midtown Atlanta for your favorite celebrities — before giving in to this restaurant's famed monster burgers, milkshakes, rainbow doughnuts, crepes, candy-inspired drinks, and shareable sundaes for 12.
The Green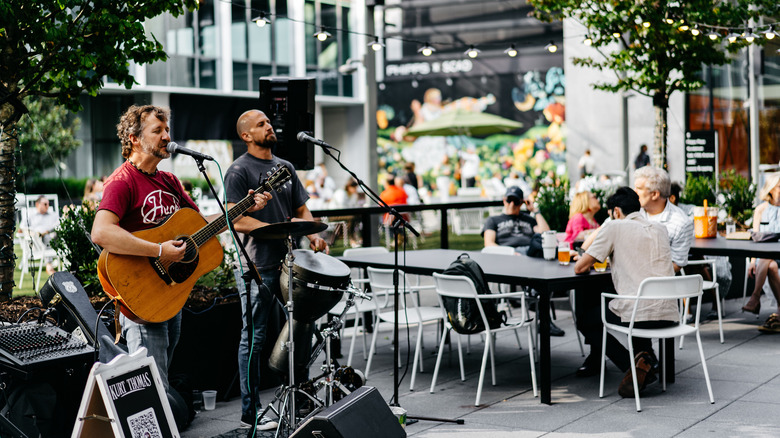 Citizen Market
The Green at Phipps Plaza is a fun outdoor event space that is the perfect venue for star-studded events, casual dining, and impromptu entertainment. Located just outside Phipps Plaza's high-end shopping complex, The Green is yet another place in the ATL to be on the lookout for celebs. With weekly happenings, like Saturday Brunch Bar and Wine Wednesday, plus the occasional fundraiser, live music performances, and possible pop-up fashion shows, more than a few famous people tend to turn up at the Green.
For instance, Real House of Atlanta alums like Sherri Whitfield and Phaedra Parks attended The Green's 2023 Fashion Statement event, along with models, fashionistas, and distinguished designers. Even if nothing major is on this space's event calendar, The Green is still a good area for crossing paths with the rich and famous. Situated near other celeb hot spots like Lifetime, Nobu, Nobu Hotel, and the luxury retail Mecca that is Phipps Plaza, The Green is undoubtedly prime territory for celebrity peepers. 
Magic City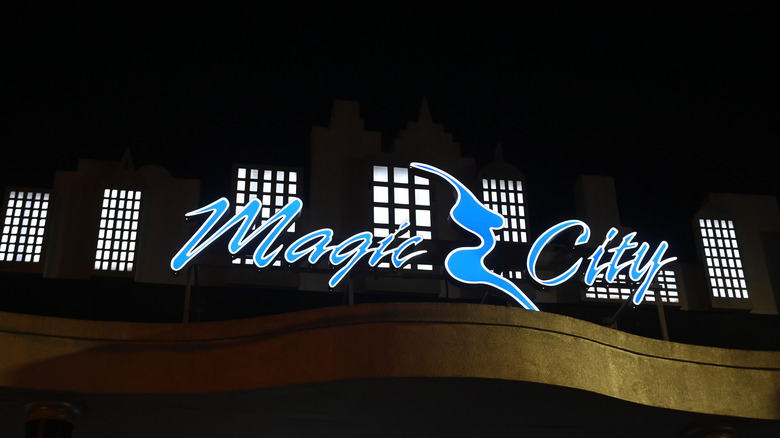 Paras Griffin/Getty Images
This sultry after-hour spot needs no introduction. Magic City is named dropped in countless songs because it is where the industry elite like to go for a good time in the Hollywood of the South. From hip-hop artists and producers to professional athletes and actors, this adult entertainment club's clientele is famous people. Dubbed "America's Most Important Club" by GQ, Magic City is exclusive.
Still, if you want to see stars like Future, Jeezy, 21 Savage, Drake, Michael Jordan, Taraji P. Henson, and more, add Magic City to your to-do list. Magic City has become somewhat of an international celebrity as a city landmark and lifestyle brand. Thus, spending time in this adult entertainment club will cost you some serious vacation dollars. But it is well worth seeing how the rich and famous like to blow off steam. And it is worth noting that you may even be able to hang out with these superstars if you play your cards right.
Little Italia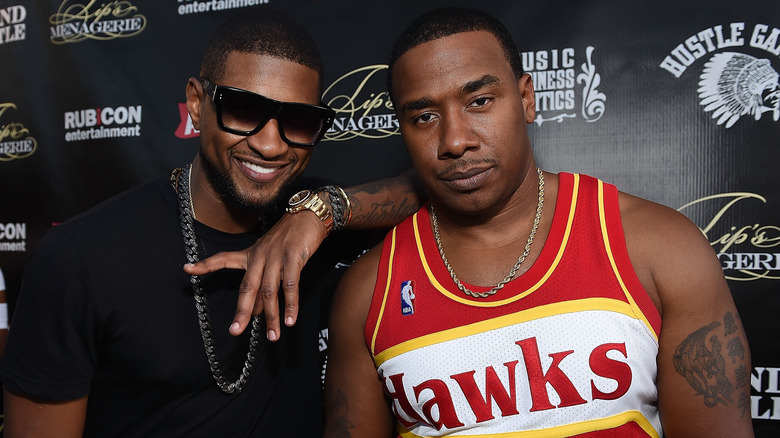 Paras Griffin/Getty Images
Last but not least, a true hidden gem called Little Italia is located on the west side of Atlanta. Not a single restaurant but rather a collection of fantastic food spots, Little Italia is very much a tasty slice of the city with phenomenal Italian cuisine. With a variety of eateries serving up authentic pizzas, delicious kinds of pasta, and so many mouthwatering dishes that deserve a chef's kiss, Little Italia attracts celebs and foodies alike.
While indulging in some incredible Italian fanfare, watch out for Chris Rock, Drew Barrymore, Usher, Paul Rudd, Gabrielle Union, Conan O'Brien, and possibly even Will Ferrell. Whether you opt for a taste of Italy with your celebrity sightings or explore any of the other mentioned haunts is your call. But remember, they don't call this area the Hollywood of the South for no reason. So make sure to be respectful and keep your eyes peeled when out and about in the ATL.