The Best Budget-Friendly US Destination For Swimming With Dolphins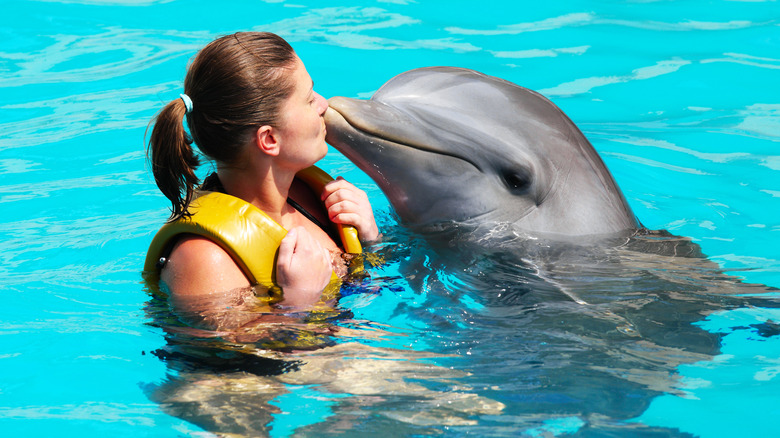 Macniak/Getty Images
On a tiny island in the heart of the beautiful Florida Keys, your dreams of swimming with dolphins can become a reality on a visit to the Dolphin Research Center. The island of Grassy Key is home to a thriving pod of dolphins and sea lions who live in expansive saltwater lagoons around the island.
Dolphins are brilliant and social animals. According to Science.org, they're one of the most intelligent animals on the planet. They're self-aware enough to recognize themselves in the mirror, exhibit complex problem-solving skills, and even understand human speech.
Humans have been fascinated with the sweet and playful creatures for generations. If you're an animal lover or a marine enthusiast, splashing around with dolphins is probably at the top of your bucket list. If you're looking for the best place in the United States to book a dolphin experience, head to The Dolphin Research Center — it's one of the best things to do in Key West, Florida. The nonprofit facility focuses on research and education, allowing visitors to enjoy unforgettable moments swimming, nuzzling, playing, and painting with majestic marine mammals. With ten different hands-on dolphin experiences, there are affordable options to fit every budget.
Dolphin Research Center is a facility that puts the animals first
Dolphin Research Center is one of the premier dolphin research institutions in the United States. It is renowned worldwide for leading marine mammal research and education. The nonprofit center encourages peaceful coexistence between humans and marine mammals through outreach, experience, and education.
What is now a premier tourist destination and a respected research institution began as a marine animal-lover's hobby. According to the organizations website, a commercial fisherman named Milton Santini first created the dolphin facility, then called Santini's Porpoise Training School, by adopting dolphins from aquariums and individuals. They weren't professional trainers, but they loved the dolphins dearly and began to study their behavior through trial and error. One of Milton's favorite dolphins, named Mitzi, went on to star in the 1963 film "Flipper" which popularized dolphin and human relationships around the world. Some of her decedents still call the Dolphin Research Center home.  
The facility passed hands and was eventually established as a nonprofit corporation in 1984. Dolphin Research Center is now home to bottlenose dolphins and California sea lions that have either been rescued or born onsite.
Each of the 26 dolphins living at the Dolphin Research Center have unique personalities, according to staff at the facility, and the organization claims that the animals' care is always the top priority. 
Choose your experience
As the Dolphin Research Center has grown over the years, it's become one of Florida's premier tourist destinations, attracting over 70,000 visitors annually from all over the world. You can choose between 10 experiences that will allow you to get up close and personal with the friendly dolphins during your visit.
If you're on a tight budget, Dolphin Research Center offers admission without booking a hands-on experience for $35.00 per adult and $25 per child. The general admission ticket will allow you to watch the animals work with their trainers and play with one another, but it does not include any hands-on interactions.
Other unique experiences include swimming with the dolphins and being pulled through the water while holding on to their dorsal fin, painting with dolphins, and even helping with dolphin training and research. Prices at the time of publication range from $70 per participant for petting the dolphins to $695 per participant for the full-day trainer experience.
The Dolphin Research Center is usually open year-round, except for holidays, so you can book an experience no matter what time of year you visit the Florida Keys.