One Of The Best Places To Stay For Budget-Friendly Accommodations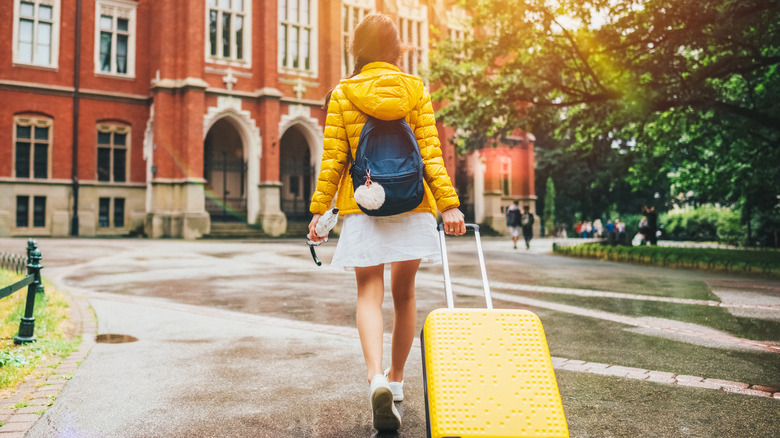 Martin-DM/Getty Images
Finding reasonably priced accommodation in a central location can be tricky when traveling. You'll typically need to compromise either the location or your budget. Of course, there are a few alternatives, such as staying in a hostel. However, while there's absolutely nothing wrong with hostels — which typically provide budget digs in popular areas — not everyone is comfortable with sharing rooms, and hostels don't usually cater to families.
Fortunately, if you're traveling with your family or you don't want to book a hostel, there's one savvy approach that may help you to score budget-friendly accommodation in ideal locales: Searching for places near universities.
As major contributors to a city's culture and commerce, universities tend to occupy prime real estate. However, college students aren't exactly known for their lavish lifestyles. So, whether it be a low-cast Airbnb or a budget-friendly hotel, you can usually find accommodations that reflect the area's spending habits. Better still, you'll be surrounded by all the restaurants, shops, and entertainment venues that cater to the inhabitants of the college.
Save some money by embracing college life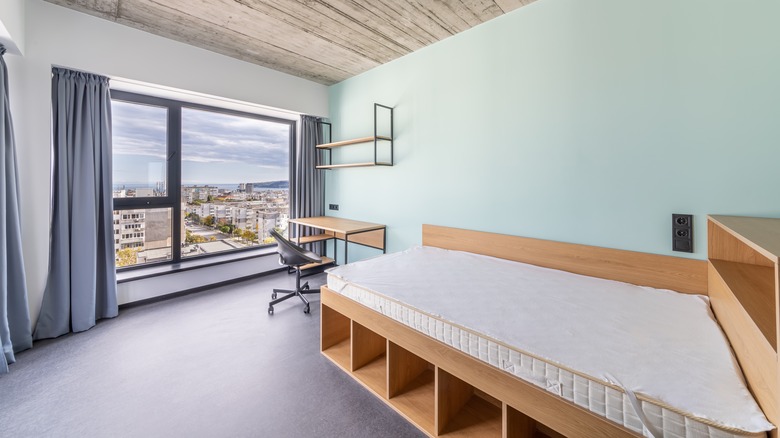 Michael Dechev/Shutterstock
Whether you're traveling domestically or internationally, the districts or neighborhoods near universities are typically safe, culturally vibrant, and reasonably priced. While five-star hotels and posh Airbnb options help accommodate visitors in tourist-centric areas, the accommodations near universities tend to cater more toward locals, visiting families, and students. Overall, these neighborhoods are more ingrained into the everyday life of the city than touristy areas.
When it comes to savvy and budget-friendly travel, you'll typically want to avoid staying in areas that cater to tourists. However, choosing accommodations far removed from city centers and popular areas may introduce other problems, such as the inconvenience and cost of commuting. Not to mention that you're probably visiting the city to immerse yourself in its unique charms, and suburbs aren't exactly known for this. Fortunately, university neighborhoods are typically in close proximity to the vibrant areas (and are usually quite vibrant themselves), but they're not often considered tourist-centric districts.
If you really want to get creative, you may actually be able to stay on a college campus. According to UniversityRooms.com, many universities in the United States and abroad actually rent out dorm rooms during summer breaks and holidays. While college housing isn't exactly the Ritz, you will enjoy a private room at a budget-friendly price in a prime location.
Immerse yourself in the city's vibe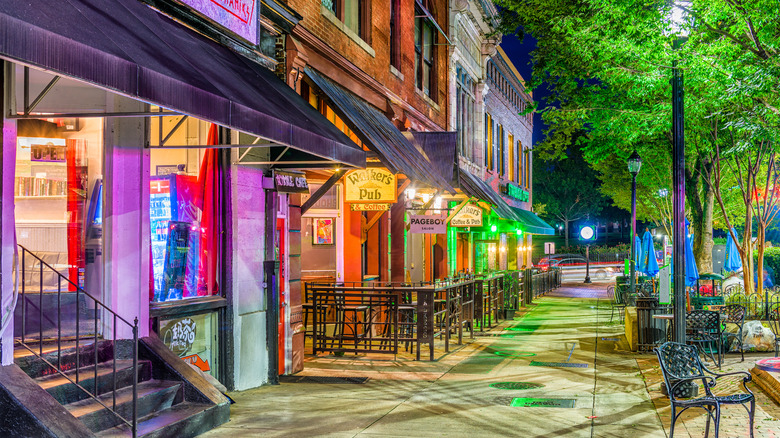 Sean Pavone/Shutterstock
Along with the budget accommodations that tend to surround colleges, these districts are also priced to reflect their customer base — college students. Whether it's the cool cafés and restaurants or the nightlife, you should be within walking distance to unique, popular, and reasonably priced establishments. There should also be plenty of small supermarkets and shops, so topping up on the essentials is never a hassle.
While every city is different, most neighborhoods near universities are also safe. Remember, these colleges need to attract a student body, and the city relies on the commerce that universities create. So, while some college districts may be rough around the edges, college districts are typically walkable, vibrant, and altogether pleasant — just make sure to look into the place before you book.
Another big bonus about these areas is that since you're not in the middle of a super touristy area, you won't be inundated by hawkers and tourist-focused salesmen. Staying in an area around a college allows you to fully immerse yourself in the spirit of the city without all the tourist traps. These areas are also typically great places to meet both locals and international visitors, giving you the best of both worlds.