Take A Picture-Perfect Halloween Vacation To This European Destination
While it is true that Halloween is not celebrated as widely or enthusiastically in Europe as it is in the U.S., there is one place that fully embraces this spooky holiday — Derry, Ireland. Located in Northern Ireland, Derry is the home of Europe's biggest Halloween festival, a celebration of all things mystical, magical, and spooky.
The enthusiasm for Halloween across Ireland is due to the fact that Halloween actually comes from Samhain, an ancient Celtic festival that took place on October 31st to mark the end of summer and the beginning of harvest time. Over time, as Christianity spread, Samhain became intertwined with All Martyr's Day (November 1st) and All Soul's Day (November 2nd). While the initial intent was to replace this Celtic holiday with Christian ones, the ways people celebrated remained much the same, with big bonfires and dressing up in costumes. Over time, Halloween has evolved and become inclusive of a number of ancient traditions from around the globe, including Día de los Muertos in Mexico.
However, if you want a picture-perfect Halloween vacation in Europe, you had better head to Derry for Derry Halloween. This four-day Halloween festival goes all-out with ghost tours, storytelling, and spooky arts and crafts, culminating in a fireworks spectacular. Everyone dresses up in costume, so don't arrive without a proper outfit planned in advance. Trust us, it'll be worth the extra room it takes up in your bag.
Here's what makes Derry Halloween so spooktacular
Though the Derry Halloween festival began as just a unique costume party back in the day at a local bar, the celebration has grown to unimaginable proportions. From October 28th to the 31st the festival totally envelops the city, turning it from the Walled City to the City of Bones. There are endless events to enjoy across all four days, such as parades, live music, group bike rides, markets, and performances. If you're traveling with young ones, there is no shortage of kid-friendly activities for them, too. There's a large blow-up "monster" whose snout peers over the edge of the city walls, fun games, a creepy critters farm, and story times.
However, if you only have one day to spare for Halloween in Derry, you should definitely save it for the 31st and join the Awakening the Walled City Trail. This is a little over a half-mile walk through the center of Derry that is suitable for all ages. It features costumed street performers, aerial acrobatics, music, and more as the city comes alive — or maybe we should say undead?
The best part is your wallet won't perish from fright as nearly all of these events are free to attend, with the exception of a few specialty workshops — such as a makeup design workshop – and live theatre and music events.
Beyond Derry Halloween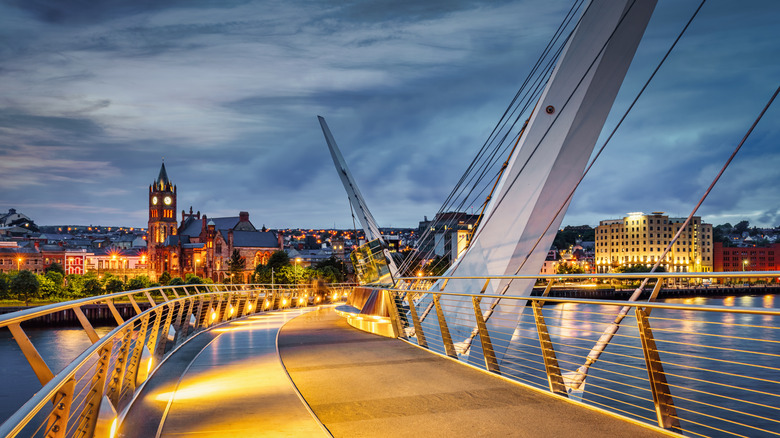 Mlenny/Getty Images
We get it. You love Halloween, but you're just as happy to fill your vacation time with other cultural sites and local activities, too. If that's you, we have the scoop on all things Derry. 
As you might have guessed already, Derry isn't called the Walled City for no reason. Here, you'll find beautiful 17th-century walls that you can actually walk along to get a great view of the entire city. Even better, the walls equal a short, one-mile walk around the inner city, so a very easy way to start your day while walking with a warm cup of tea or coffee from one of the local cafés. If you'd like to continue your self-guided walking tour of the city, head to the Peace Bridge, which connects the center of Derry across River Foyle to Ebrington Square and St. Columb's Park.
If you really want to understand Derry, don't shy away from its darker history during The Troubles. If you head to Bogside, you'll find many murals, monuments, and museums dedicated to the history of the conflicts that took place all across Northern Ireland, particularly in Derry and Belfast. In particular, the Museum of Free Derry offers visitors an excellent insight into this era of chaos and sorrow that affected Ireland so deeply.