The Tallest Roller Coasters In The World To Add To Your Bucket List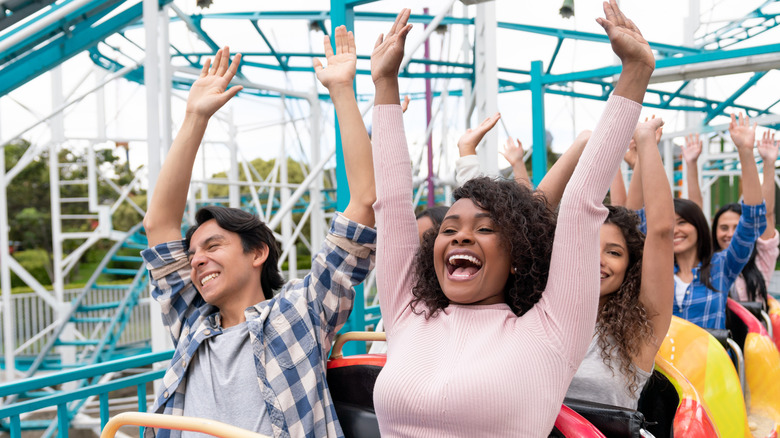 Andresr/Getty Images
If you're a bona fide thrill-seeker who thrives on lightning speed and steep drops, hold onto your butts because the world's tallest roller coasters are calling your name. But where should you start if you're a globetrotter with a head for heights? From the scariest roller coasters in America over the Great Lakes to those boasting stunning vistas against the backdrop of Japan's iconic Mount Fuji, these steel titans will leave you screaming for life while trying to soak in the views all at once.
Some are quick trips to the sky, others are the longest roller coasters in the world, but all of them are giants. In fact, due to their heights, they have their own classifications: The hyper-coasters soar above 200 feet, the giga-coasters have drops of at least 300 feet, and the strata-coasters reach dizzying heights of 400 feet.
Keep in mind this list only includes rides in operation, so coasters in production like Top Thrill 2 don't make the cut. Also, classification is tricky. For instance, take the Yukon Striker at Canada's Wonderland. It is 223 feet tall from its base but has an even longer 245-foot drop. This discrepancy comes from factors such as whether the coaster descends into a valley, climbs a towering hill, or is elevated by the terrain of a mountainous landscape.
Dinoconda: Welcome to Jurassic Park
Dinoconda at Dinosaurs Park in Jiangsu, China, is considered a gem among roller coaster fans. It's one of only a few 4D coasters in the world. This design means the seats can rotate independently from the tracks, spinning forwards and backward even while the car is pivoting or in a loop. This prehistoric-themed coaster starts with a reverse ascent 226 feet before plunging over hills and around hard turns while passengers spin around simultaneously. It's safe to say that tackling Dinoconda requires a strong stomach; otherwise, you might feel like a tyrannosaurus wreck.
Legendary Twin Dragon: Pierce the sky
Asia boasts another monster to conquer — the Legendary Twin Dragon at Chongqing Sunac Land amusement park in Chongqing, China. At 230 feet tall, The Legendary Twin Dragon is the world's tallest (and fastest) impulse coaster — a coaster with a linear synchronous motor (LSM) that picks up speed with accelerated increases. You'll rocket back and forth four times, soaring 74 mph into the sky, weaving around as if riding a serpent's back before spiraling down in reverse up the dragon's "tail."
Nitro: Hold on tight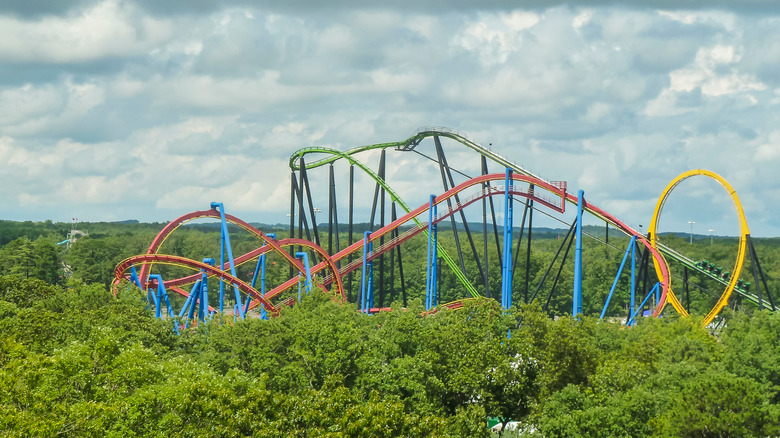 Marti Bug Catcher/Shutterstock
Nitro at Six Flags Great Adventure in New Jersey is a hyper-coaster with a 230-foot climb. At its height, you might even spot the neighboring Philadelphia skyline before the 215-foot drop at 80 mph. You'll have over two minutes to take it all in, at least if you can keep your eyes open during curves, loops, and 360-degree helix turns. Nitro also features a hammerhead U-turn — a 180-degree turn that banks in the opposite direction for a paralyzing swift reversal. Did we mention there are no shoulder restraints? Hang on tight.
Diamondback: Ride the snake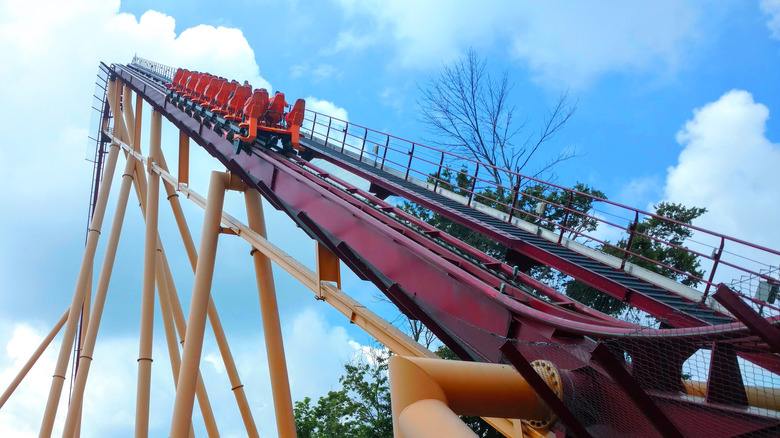 LukeandKarla.Travel/Shutterstock
At Ohio's Kings Island, the Diamondback roller coaster has a height of 230 feet, an exhilarating 215-foot drop at a 74-degree angle, and a top speed of 80 mph. Like a diamondback rattlesnake's serpentine path, the coaster's tracks wind over six humps, hitting a splashdown to mists riders. Each big drop gives airtime (i.e., a sense of weightlessness), and the coaster's forest backdrop is a refreshing change in contrast to the concrete parking lots most roller coasters are built.
The Behemoth: The Canadian beast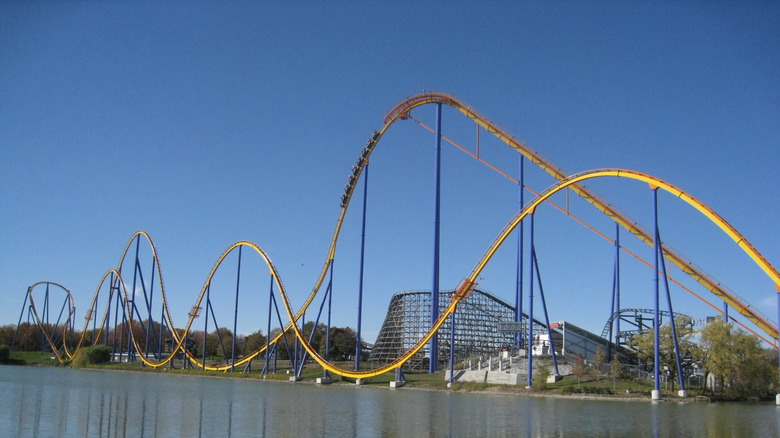 Shawn Goldberg/Shutterstock
Behemoth, located at Canada's Wonderland in Ontario, is 230 feet tall and is the second-tallest coaster in Canada. It reaches a slightly slower top speed (compared to others on this list) of 77 mph, but it compensates with a 226-foot drop. Its slides come fast and heavy. There also aren't any upper-body restraints. While you won't get flung out like a bug, it adds excitement as you speed down its camelback hills (hump-shaped hills that create a sensation of weightlessness and lift riders out of their seats).
Intimidator: Start your engines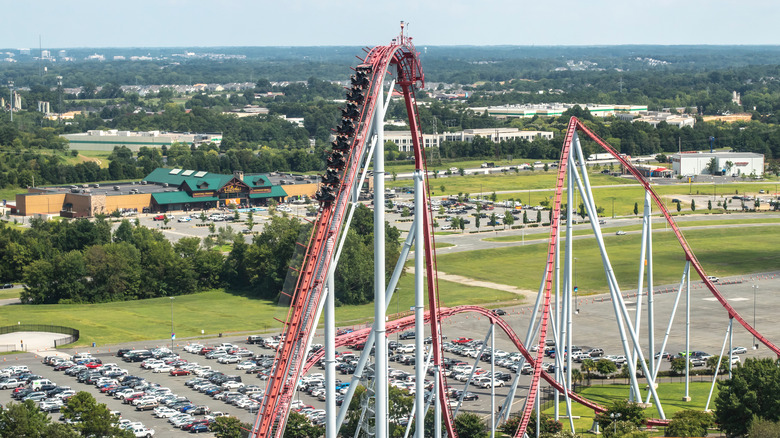 Andrii Vodolazhskyi/Shutterstock
Intimidator, located in Charlotte, North Carolina's Carowinds amusement park, pays tribute to NASCAR legend Dale Earnhardt, a native of the state. His racecar-themed hyper-coaster starts its thrilling adventure with a familiar NASCAR command: "Gentlemen, start your engines!" One of the ten tallest steel roller coasters in the United States, it stands at 232 feet and has a 74-degree drop. With a maximum speed of 80 mph, the Intimidator treats riders to an exhilarating experience with seven hills, providing ample moments of weightlessness.
Goliath: Get rocked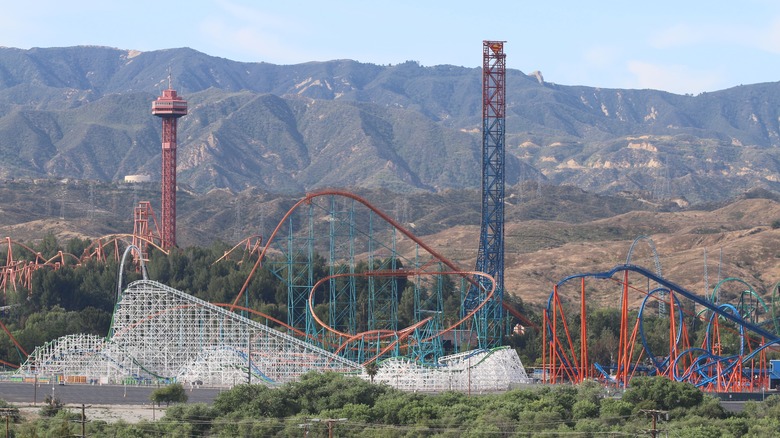 Wirestock/Getty Images
At Six Flags Magic Mountain in Valencia, California, Goliath lives up to its biblical namesake with a towering height of 235 feet. However, it actually even bigger thanks to its epic 255-foot drop. The dive goes under the coaster's base, plunging at 85 mph into a dark tunnel before twisting through sharp banks and skimming the ground with over four g-forces. It's an intense ride. If you can open your eyes, you can gape at the rolling mountain ranges surrounding the park.
Silver Star: A country ride
Silver Star at Europa-Park, located in Rust, Germany, has an impressive height of 240 feet. Sponsored by Mercedes-Benz, the ride's queue includes a showroom displaying luxurious cars. However, the real excitement begins with a 2020-foot drop, hurtling passengers at speeds of 79 mph. The coaster thrills with two additional 161 feet and 135 feet drops. As you ascend, you'll enjoy a sweeping view of peaceful villages and farmland. There is even a sound barrier to block screams from annoying the neighbors too much.
Coaster Through the Clouds: Soaring above
In Nanchang, China, the Coaster Through the Clouds at the Nanchang Sunac Land amusement park is the tallest roller coaster in the country at 243 feet. It drops riders at 85 mph and gives riders a panoramic view of the city skyline. Coaster Through the Clouds has a "near-miss" element between its support beams that aficionados on r/rollercoasters call one of the craziest ever. A near-miss, or head chopper, is when something looks close enough to hit your head during a roller coaster ride. Of course, it's not actually going to hit you. But your brain doesn't know that at 85 mph.
Titan: Bigger in Texas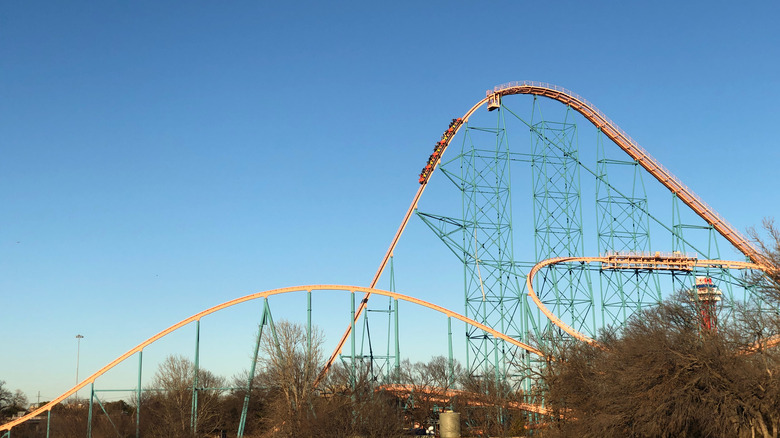 Tallmaple/Shutterstock
Titan, situated at Six Flags Over Texas in Arlington, Texas, is, well, a titan with a commanding height of 245 feet. While it doesn't break the top 10 for height from its base, it does have a fantastic 255-foot freefall, including a daring descent into a 120-foot tunnel. Titan comes with overbanked turns (turns where the track is tilted more than usual), delivering that thrilling sensation of weightlessness as riders navigate two 540-degree spirals and a top speed of 85 mph.
Shambhala: Lose yourself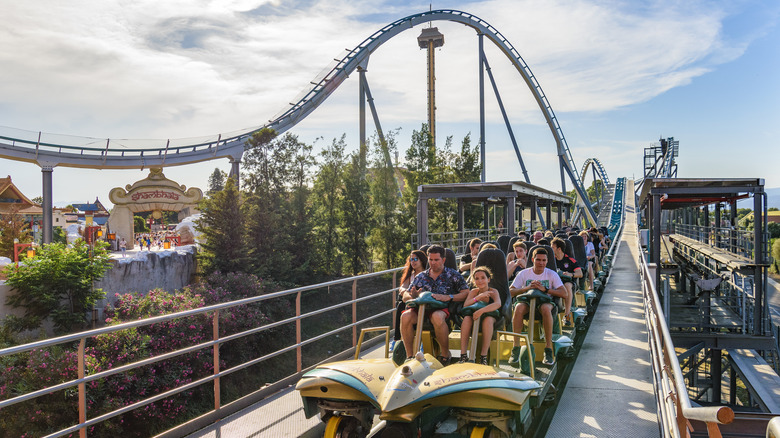 Pit Stock/Shutterstock
Inspired by the legend of the Himalayan lost city, Shambhala is at PortAventura Park in Catalonia, Spain. It has a height of 249 feet, but a 256-foot drop. The gorgeous view of the Mediterranean Sea doesn't hurt either. With five camelback back-hills, riders feel the sensation of being lifted from their seats multiple times while speeding just over 83 mph. After its drop into a tunnel, riders bank into a figure-8-like helix and dive again into its splash effect.
Eejanaika: Isn't it great?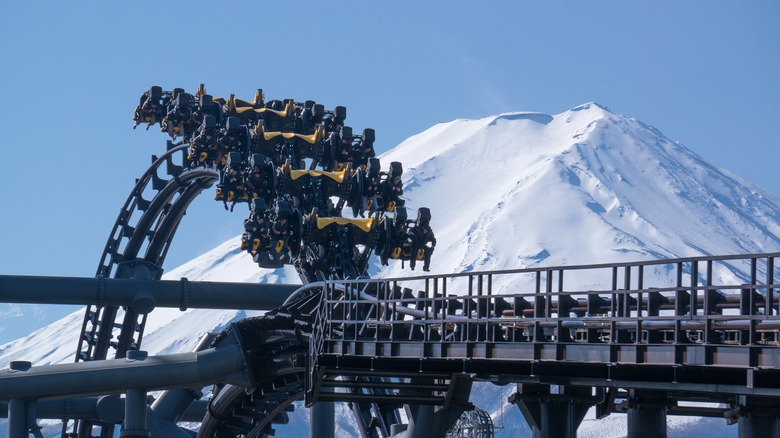 ICQ34791919/Shutterstock
Eejanaika in Japan's Fuji-Q Highland, is 249 feet tall. It's also one of the world's rare 4D roller coasters, meaning its cars spin independently around the track. Its name is from the Japanese phrase "ee ja nai ka," which translates to "Isn't it great?" and is joyously echoed by operators as passengers launch. Riders ascend backward up the lift hill, reclining and gazing at the scenery, though not with Mount Fuji directly in view (that's saved for another coaster). Then, Eejanaika dives 78 mph into an 89-degree drop. Riders get 14 complete rotations while looping and twisting around the course. Notably, passengers aren't allowed to wear shoes for safety precautions.
Hyperion: Wibbly-wobbly, timey-wimey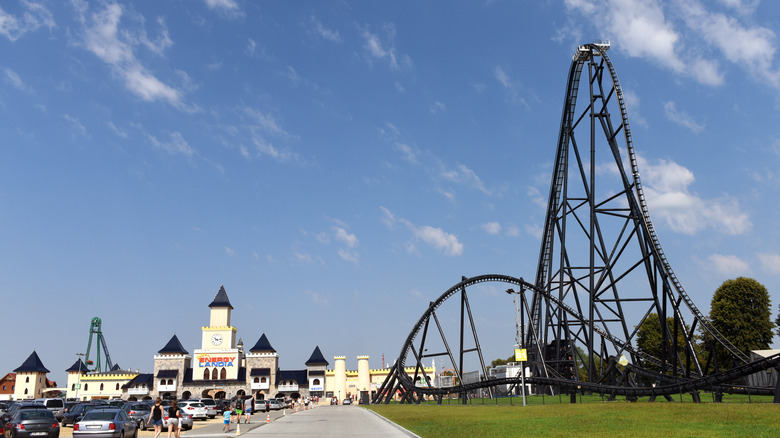 Bumble Dee/Shutterstock
Hyperion, at Energylandia amusement park in Zator, Poland, is 253 feet tall with a drop of 269 feet, the second-tallest roller coaster in Europe but the longest overall drop. Themed as a research mission to Saturn's moon, riders embark on an interstellar voyage. Its sequence of hills mirrors moments of weightlessness in space, and sharp, overbanked turns send them into a black hole, propelling passengers as if they're sliding through a time warp with wavy side turns. And at 88 mph, the speed is nothing to laugh at. Wait. 88 mph? Time travel? GREAT SCOTT!
Fujiyama: A steel icon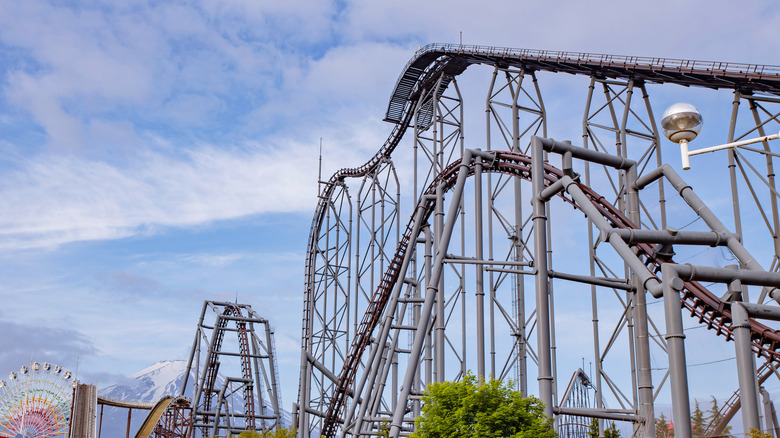 Yellow Cat/Shutterstock
At Japan's Fuji-Q Highland, Fujiyama is iconic. The "king of coasters," Fujiyama debuted in 1996 and held the title of the world's tallest. Despite being Fuji Q's oldest coaster, it packs a punch with a top speed of 81 mph and an old-school 230-foot drop. As riders ascend to its lofty 259-foot summit, you're treated to sweeping sceneries, including the majestic Mount Fuji. In fact, you have more than a minute to simply admire the magnificent mountain before the real thrills kick in.
Thunder Dolphin: City thrills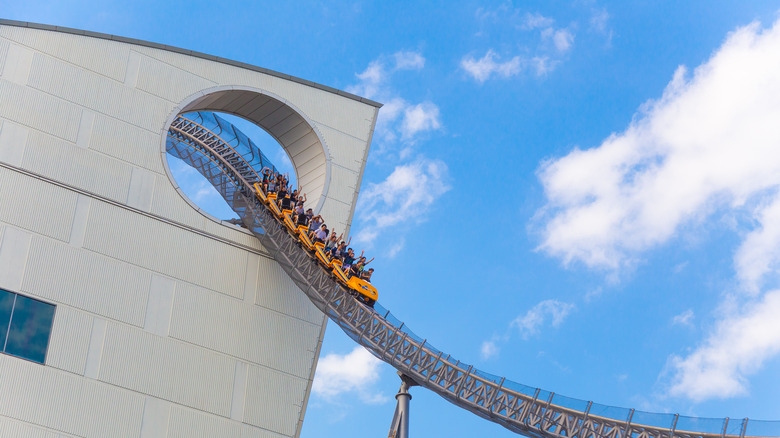 Chalermpon Poungpeth/Shutterstock
While Fujiyama showcases the countryside, Thunder Dolphin is smack in the middle of bustling Tokyo at Tokyo Dome City Attractions. At about 262 feet, Thunder Dolphin is the world's tenth tallest circuit coaster (i.e., a coaster that goes around in a complete track). The slow ascent heightens the excitement, granting the brave a sneak peek of the cityscape before the heart-pounding drop at an 80-degree angle. Thunder Dolphin's climax darts through a hole in a shopping mall and races right through the core of the Big-O Ferris wheel. This roller coaster provides an exhilarating fusion of urban vistas and adrenaline-inducing thrills as it winds over Japan's metropolis.
Orion: The final frontier
Orion is the latest roller coaster at Kings Island in Ohio, and at 287 feet high, it dominates over the park and surrounding forest. However, because it sits on a ravine, it has an even more impressive 300-foot drop — the first giga-coaster on our list. Despite 5,000 feet of track, the space-themed Orion blazes through it at 91 mph over seven hills following the drop. These elements include wave turns that leave passengers hanging sideways and an electrifying speed hill that lifts riders out of their seats.
Intimidator 305: Get your heart racing
Intimidator 305, located at Kings Dominion in Doswell, Virginia, is the second roller coaster to honor Dale Earnhardt, affectionately known as "The Intimidator." True to its name, this coaster is 305 feet tall with a 300-foot drop at a terrifying 90-degree angle. With a maximum speed of 90 mph, it delivers thrills aplenty, featuring six exhilarating airtime humps and near-ground-level high-speed turns. In fact, it was too intense. Since its 2010 debut, Intimidator 305 has had several modifications to reduce its intensity after passengers experienced blackouts and greyouts (i.e., temporary loss of vision).
Leviathan: Canada's tallest coaster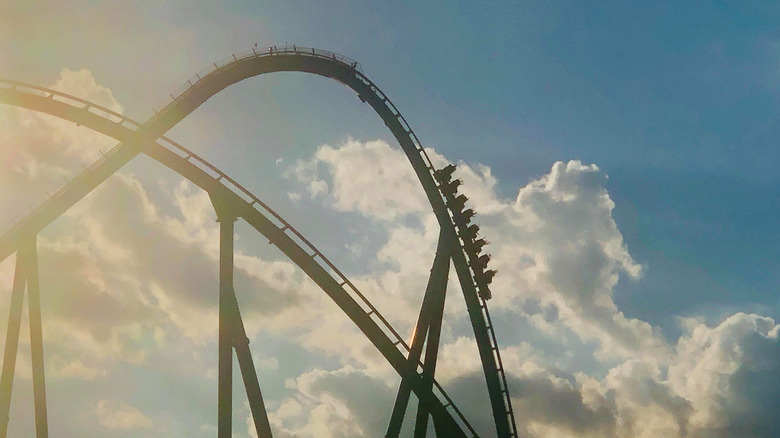 Jay Thaker/Shutterstock
Like those annoying contestants bidding a dollar over someone else on "The Price Is Right," Leviathan at Ontario's Canada's Wonderland barely edges out Intimidator 305 by one foot at 306 feet and is Canada's tallest (and fastest) roller coaster. Once it reaches the top of its climb, it drops to a super-fast 92 mph, lifting riders out of their seat for plenty of air time. It dives through a short tunnel and overbanked turns, over floaty camelback hills, and a classic hammerhead turn (i.e., a 180-degree turn that goes straight up and right back down).
Millennium Force: The fan-favorite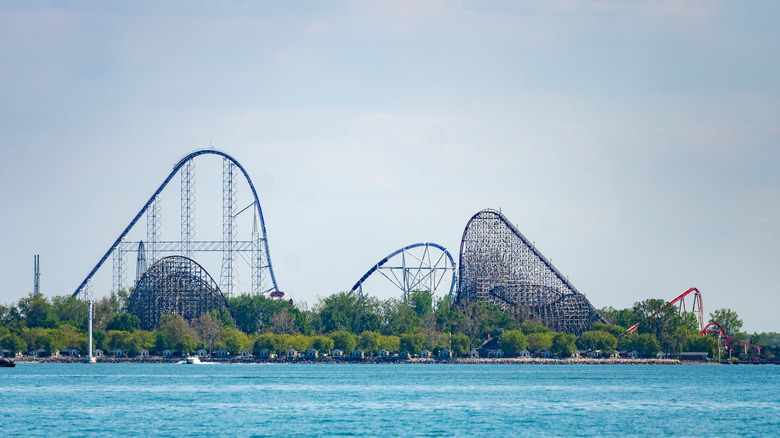 PhotosByLarissaB/Shutterstock
Millennium Force, at Cedar Point in Sandusky, Ohio, kicks off with a 310-foot climb, treating riders to eye-catching views of Lake Erie. In a flash, you're plummeting 300 feet down an 80-degree drop, experiencing a bracing freefall. Riders enjoy multiple moments of weightlessness as the coaster glides just feet above the ground, weaving between trees and through tunnels for awesome head-choppers (elements designed to appear as if they're going to collide with a passenger's head). Millennium Force is among the best, earning Amusement Today's Golden Ticket Award for best steel roller coaster ten times.
Steel Dragon 2000: Big in Japan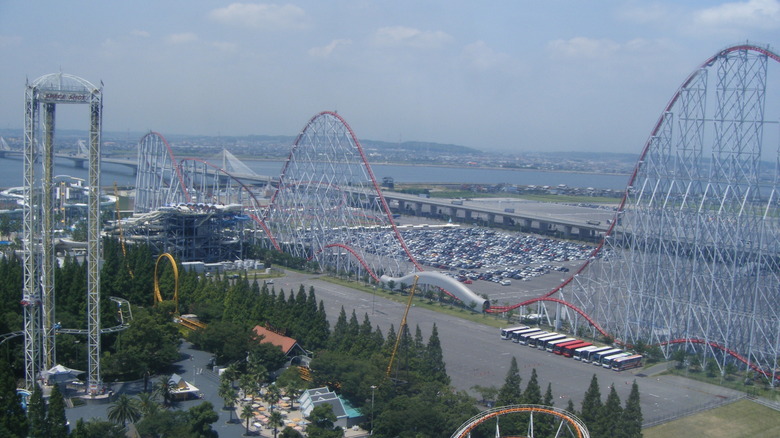 Paul Gerrard/Getty Images
In Mie, Japan, Steel Dragon 2000 at Nagashima Spa Land rises 318 feet above Ise Bay. It's Japan's tallest roller coaster and the fifth-tallest coaster in the world. To add to its accolades, it's also the longest roller coaster, boasting an incredible length of 8,133 feet — over 1.5 miles of track. As it speeds at 95 mph, prepare for the intense g-forces during overbanked turns. Midway through, it dashes through a double helix — clockwise and counterclockwise — adding to the extreme tug.
Fury 325: Everyone is watching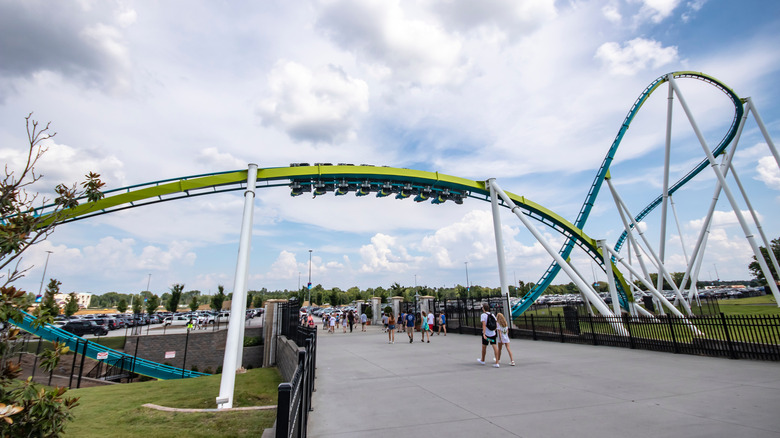 Andrii Vodolazhskyi/Shutterstock
Fury 325, located at Carowinds in Charlotte, North Carolina, is the world's fourth-tallest roller coaster. Another giga-coaster, riders can glimpse the Charlotte skyline while inching over its 325-foot summit, providing a brief moment to fill their lungs before they dive down at an 81-degree angle. Despite reaching speeds of 95 mph, the ride maintains a remarkably smooth experience. It's even a spectacle for people watching. Fury banks hard over the entrance bridge into Carowinds, up a distinctive treble clef-shaped turn-around, and dives back under the bridge and onlookers.
Red Force: The need for speed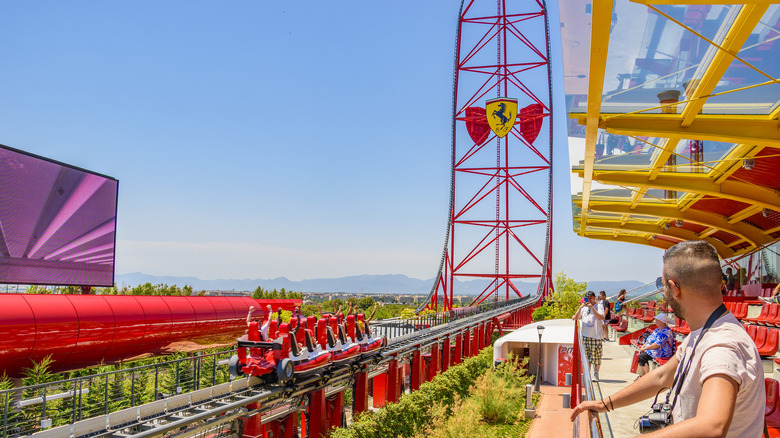 Pit Stock/Shutterstock
Red Force at Spain's PortAventura World in Ferrari Land (itself within PortAventura World) is famous amongst coaster buffs for going from zero to 112 miles per hour in five seconds. At 367 feet, it's the tallest roller coaster in Europe and third-tallest in the world. After its lightning-fast launch, it ascends a top hat, a coaster term for a steep 90-degree ascent, immediately followed by a 90-degree descent, slowing down just long enough to crest over the top. While we suggest trying to glimpse Catalonia's Costa Daurada (Golden Coast), your attention will probably be on the ground below you.
Superman Escape from Krypton: Believe a man can fly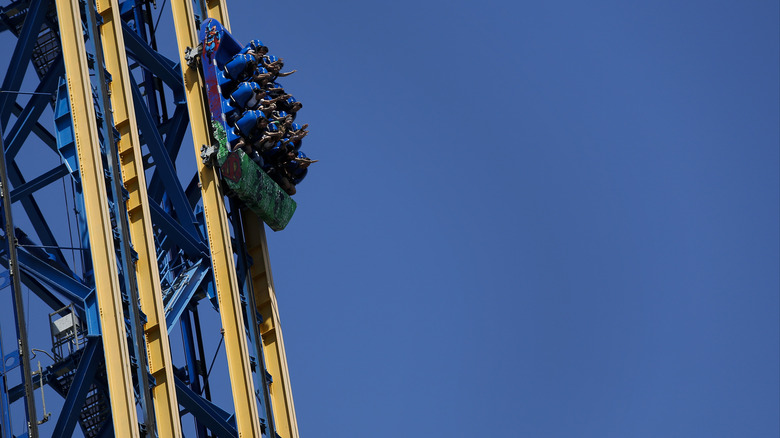 Bloomberg/Getty Images
Superman Escape from Krypton at Six Flags Magic Mountain in Valencia, California, is a shuttle coaster (i.e., a coaster only moving forward and backward). It's a quick 30-second ride but a doozy. From the "Fortress of Solitude," heroes shoot 415 feet into the sky, booming zero to 100 mph in seconds up a gravity-defying 90-degree angle. The strata-coaster is close to having the longest drop in the world. The crack of its launch is so thunderous Batman might flinch. Riders savor a panoramic view and a genuine sense of weightlessness akin to the Man of Steel himself.
Kingda Ka: Bow to the king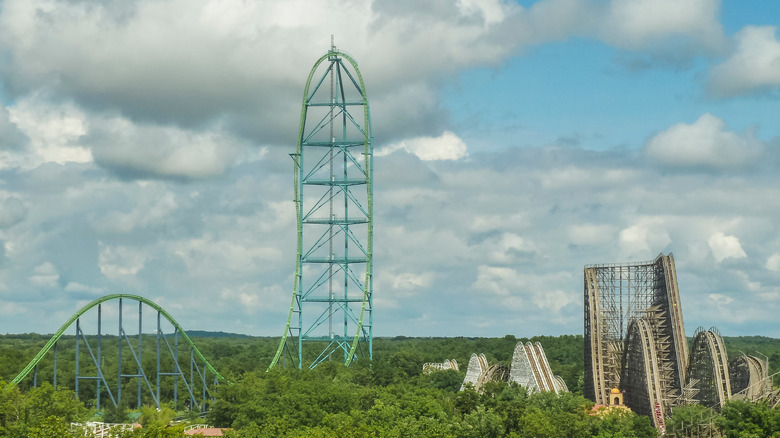 Marti Bug Catcher/Shutterstock
Kingda Ka, at Six Flags Great Adventure in Jackson, New Jersey, is a colossal height of 456 feet, the world's tallest operating roller coaster. A strata-coaster, it slings riders over 20,000 horsepower from a standstill to a staggering 128 mph. You'll shoot up a top hat and roll into a dizzying 90-degree angle. It's so tall you can spot New York City skyscrapers across the New Jersey Pine Barrens. Then, it hurls you into a mind-bending 418-foot drop — also the longest in the world — and a 270-degree, clockwise spiral at breakneck speed.