TikTok's Last-Minute Airplane Ticket Hack May Save You Money, But It's Not Without Risk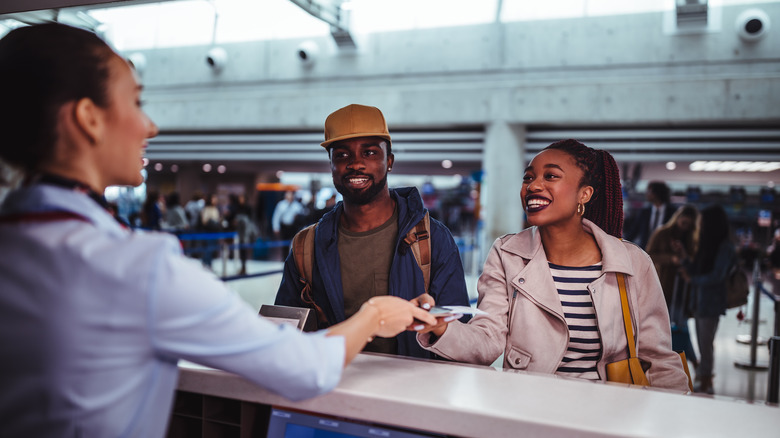 Wundervisuals/Getty Images
With the prices of tickets skyrocketing seemingly by the day, you want to snap up any chance you can get to save on airfare. There are a number of purported hacks that you can try to get flights cheaper, including traveling on a holiday, booking error fares, purchasing tickets months in advance, and opting for open-jaw flights. Taking advantage of miles and points can also help you to save, along with signing up for flight deal alerts. The savings can sometimes be measly, but hey, a dollar saved is a dollar earned.
But there's one viral hack on TikTok that claims to save you as much as nearly half the ticket price. A video posted by Gabrielle Moore (@_gabriellem21) demonstrates how, if you buy a ticket directly at the airport, you can enjoy significant savings as opposed to purchasing online. She headed there, waited 20 minutes in line at the Spirit Airlines ticketing booth allotted for future travel, and ended up buying round-trip tickets from Myrtle Beach to New York for only $53.80 instead of the advertised $100 on Spirit's website. 
"Why didn't I know this sooner?!" Moore asserted in the caption. As of this writing, the clip has garnered over half a million views and more than 20,000 likes, with plenty of people in the comments confirming that this trick worked for them too. But while it's tempting to try it out yourself, this supposed hack doesn't always work — at least not for most airlines.
The hack doesn't work for all airlines
If you think the supposed hack is too good to be true, it's because it kind of is. The main reason why it's sometimes cheaper to buy tickets at the airport rather than online is that you get to bypass the additional fees some airlines tack on when they sell over the internet. Low-cost companies like Allegiant Air, Frontier, and Spirit typically charge booking fees to customers when they buy tickets online. These fees are usually referred to as "electronic carrier usage," "carrier interface usage," or "passenger usage fee," but in reality, they all technically mean the same thing.
When you buy tickets in person, you won't have to fork over more money for these extra fees, so the airfare ends up being considerably cheaper. But you're also not saving anything per se, it's just that you're forgoing additional charges. What's more, this only tends to apply to budget airlines. You may score "cheaper" tickets when you fly Spirit, but you can't expect the same when you fly, say, Delta or American Airlines.
Purchasing tickets at the airport also only really makes sense if you live nearby, too. A couple of dollars in savings isn't worth the trouble if you're going to have to drive far and pay for parking. If you really want to guarantee savings on a flight, the tried and tested hacks are always the best way to go. Buy your tickets in advance, be flexible with your travel dates, and use your points or miles strategically. Simple!