Get Amazing Deals On Flights By Looking For Error Fares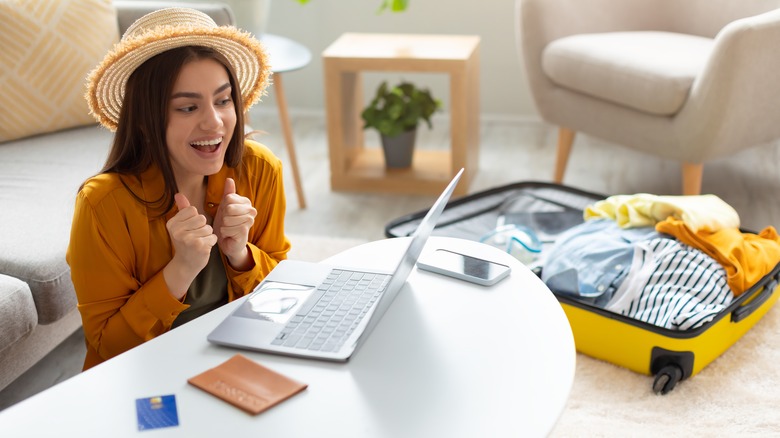 Prostock-studio/Shutterstock
It's no secret that airlines make mistakes all the time, much to the dismay of passengers. Most of the time, their blunders result in canceled or delayed flights or travelers getting unceremoniously bumped off planes. Other times, although rarely, their errors lead to passengers saving a significant amount of money on their flights. Such was the case with the Japanese airline All Nippon Airways (ANA), which accidentally sold $10,000 tickets for just $300.
In April 2023, Bloomberg reported that lucky travelers were able to book business class tickets for flights between North America and Asia for 20 times less than what they're supposed to cost. One even managed to snag a first-class flight from Jakarta to the Caribbean for only $890. In 2018, Hong Kong-based airline Cathay Pacific made a similarly egregious mistake, selling $16,000 tickets for $675. According to the BBC, the airline ended up honoring the error fare, but it was obviously a very expensive misstep on their part. 
Meanwhile, ANA made a contrasting decision, revealing in a statement that the mistake fares on their website were a result of a currency conversion issue, and they would therefore refund affected customers. All of this is just to say that error fares happen, and they're the best booking hack to save on flights if the airlines decide to honor the mistake. The kicker, though, is that they're not as easy to spot and score as you might think.
Booking mistake fares requires patience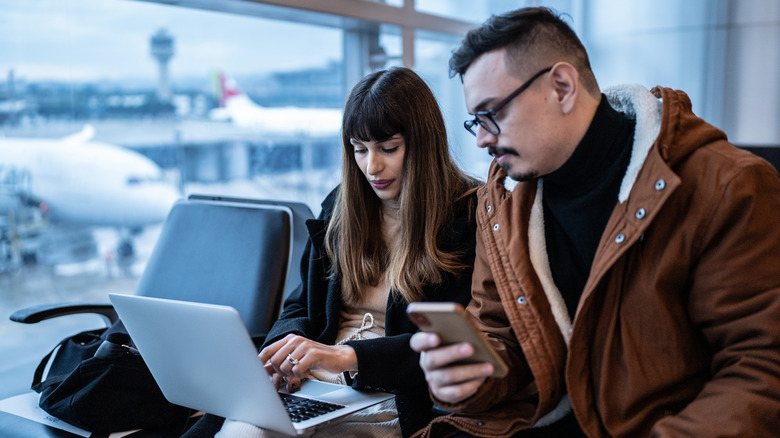 Fg Trade/Getty Images
If you have all the time in the world, you're considerably more likely to score these elusive airline error fares. No one really knows when they're about to pop up on airline sites or price comparison platforms, so your best bet is to just keep checking until a deeply discounted flight miraculously shows itself. One Reddit user noted that you may have better luck scouring the web at night. "In my case searching in night time was the key," they shared. "Those prices only last up to like 1 hour before being corrected." But not everyone has the time and energy to spot these deals themselves. 
If you're not keen on the idea of allotting precious time just to check sites for a deal that might not even be there, rest assured you can rely on sites like Airfare Watchdog and Secret Flying, both of which often alert users of error fares. If you don't mind paying, there are also services like Going and Jack's Flight Club that offer premium memberships and deliver these special fares straight to your email inbox. Alternatively, you can also set fare alerts on your favorite booking platforms like Google Flights and Kayak and just trust that they'll notify you of a mistake fare at the right time.
Error fares may soon be a thing of the past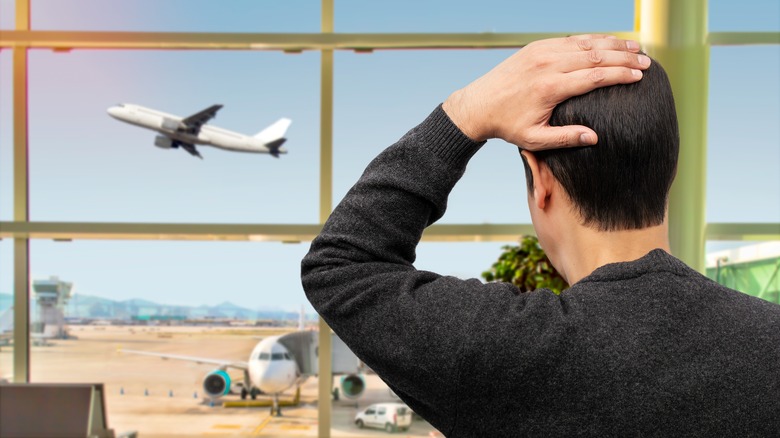 cunaplus/Shutterstock
Considering how costly mistake fares are for the airlines, many of them are apparently taking the necessary steps to prevent travelers from booking them in the first place. In United Airlines' carrier document, updated in June 2023, the company declared that it "does not intend to file tickets priced at a zero or close to zero-fare." In the event that a traveler manages to book an error fare anyway, it is also noted that they have the right to cancel outright. What's more, the Air Tariff Publishing Company (ATPCO), has also employed a Suppression of Sales (SOS) tool that supposedly cancels error fares within minutes of flagging them. 
In the past, airlines often took hours before correcting the fares, but with this tool, they can do it much more swiftly. "[Airlines] would panic and they would start calling every single system they could get ahold of, and ask the system to manually try to take [the incorrect fare] out, and you can imagine that that's not a very efficient process!" explained Tom Gregorson, chief strategy officer at ATPCO (via View from the Wing). It may only be a matter of time until airlines find a way to avoid publishing error fares altogether. Until that happens, you can try taking advantage of these accidental deals and just hope the airlines honor them.