Under-The-Radar Beaches You Need To Visit In Europe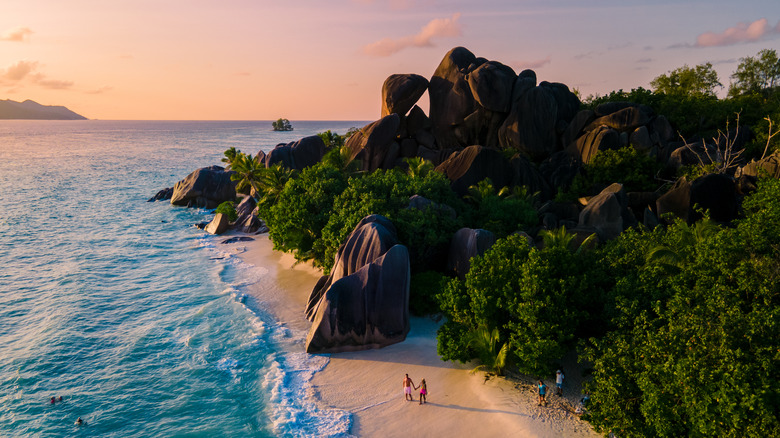 Fokkebok/Getty Images
Travelers off to Europe will find a wealth of activities from recreational to touristy. Beach lovers and water sports enthusiasts, in particular, will be delighted with all the opportunities for fun in the sun seaside. Of course, popular beach destinations like Ibiza, Mykonos, and the French Riviera will not disappoint. But, if you are looking for a more affordable and low-key oceanside getaway, then you should definitely consider a few other lesser-known options.
Since there is no shortage of beaches in this part of the world, finding the perfect sandy spot for your holiday should not be too difficult. Whether it's a breathtaking paradise sans the crowds, phenomenal surfing, crystal clear waters, a boating haven, stunning landscape vistas, or a one-of-a-kind island retreat you crave, there are countless shorelines to choose from. That said, to help ensure your upcoming beach vacation is everything you could hope for and more, here are some of the best under-the-radar beaches in Europe to add to the itinerary.
Bilin Žal Beach, Korcula, Croatia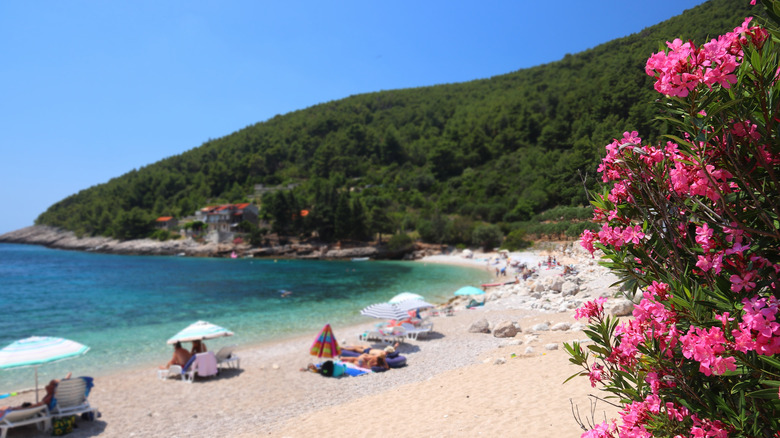 Greens and Blues/Shutterstock
Located just off the coast of the mainland of Croatia, the island of Korcula is home to one of the most pristine and under-the-radar beaches — Billin Žal. The island paradise of Korcula is teeming with inviting shores, all offering unobstructed access to some of the most mesmerizing blue waters. But Billin Žal is an incredible spot worth checking out if you happen to be in the area, even though it is not necessarily the largest or most touristy beach on the island.
For vacationers needing some seaside relaxation, Billin Žal is a lovely destination. With shimmering turquoise water, lush greenery, golden sandy knolls, rugged pathways littered with white stones, and awe-inspiring coastal scenery as far as the eye can see, this beach is truly a must-visit. Besides offering the perfect setting for much-needed downtime, Billin Žal is also a great option for families, especially during mid-to-late summer. Billin Žal beach visitors can enjoy a quick swim, sunbathing, various recreational activities, fruity refreshments, delightful seasonal eats at a handful of waterfront cafes, and so much more.
Sarakiniko, Milos, Greece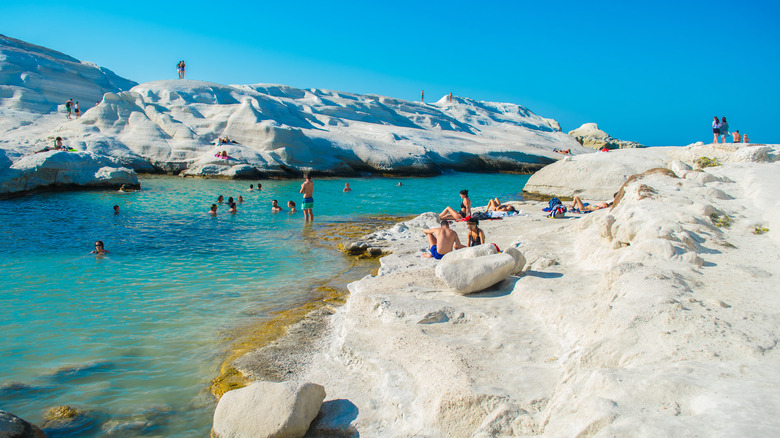 Andronos Haris/Shutterstock
Milos, Greece, is also home to several amazing beaches, including the often-overlooked Sarakiniko beach. Touted as one of the heavenly points of interest on this Greek island, this beach is far from sandy. Sarakiniko is brimming with fascinating pale-faced volcanic rock formations and mysterious caves — though a few level areas are ideal for lounging under the sun. This beach also has several natural sea-filled pools that are both shallow and swimmer-friendly. That said, shoes (water shoes and sandals) are highly recommended on land and in the water at Sarakiniko since the terrain is not as smooth as it appears. Still, with its crystal-clear waters and overall ethereal vibes, Sarakiniko is undoubtedly the perfect beach-like escape.
Not only is Sarakiniko a unique attraction, but this beach is also quite massive. So even though locals and visitors sometimes make their way out to this under-the-radar spot, during the summer months, the breathtaking beach never feels crowded. With water recreation galore, cave exploring, and ample opportunities for otherworldly photos, Sarakiniko is a fantastic beach day trip you should add to your holiday itinerary when traipsing about the Greek Isles or visiting Milos.
Praia de Monte Clérigo, Aljezur, Portugal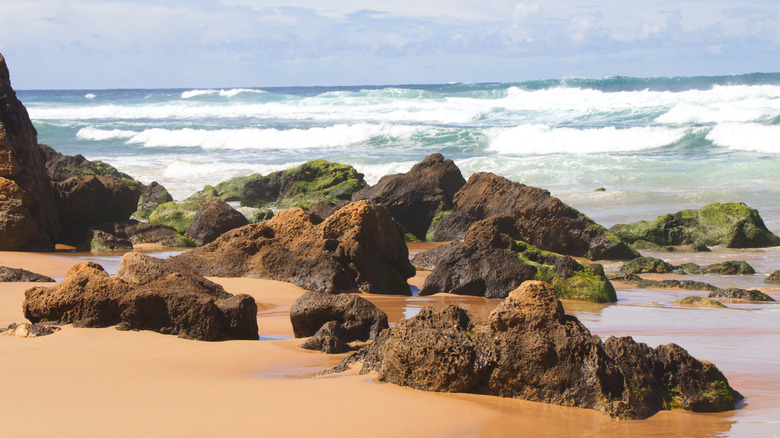 Chriwe/Shutterstock
Yet another hidden gem in Europe when it comes to beaches is none other than Praia de Monte Clérigo in Aljezur, Portugal. In Vicentine Coast Natural Park, Praia de Monte Clérigo is a favorite among locals, especially those trying to catch a good wave. Like the surrounding landscape, this beach is an unspoiled wonder on the Algarve's northwestern coast, with direct access to the Atlantic Ocean.
Here, beachgoers can marvel at the golden sand, crashing waves, rock pools, impressive cliffs, and all the natural beauty of this beach. In addition to first-rate surfing, Praia de Monte Clérigo visitors can also take advantage of this untouched region's clear waters by opting to go snorkeling, swimming, boating, and kayaking. What's more, just around the corner from Praia de Monte Clérigo, you will also find the dazzling coastal village of Aljezur. This off-the-beaten-path town is full of splendid attractions, colorful houses, lovely shops, several snack bars, and al fresco restaurants, making it the perfect stop off after spending time at Praia de Monte Clérigo.
Playa Sa Riera, Costa Brava, Spain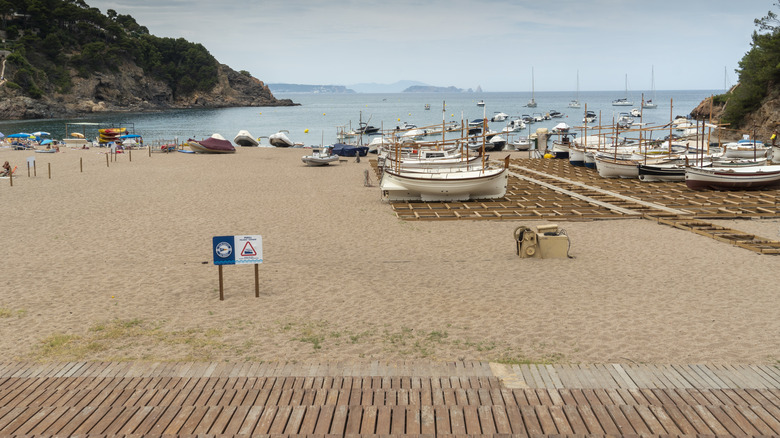 Ana Del Castillo/Getty Images
Playa Sa Riera is an underrated destination and sea cove in Begur, Spain's Costa Brava region. Once a local fishing community, this expansive beachy spot is now the perfect place to soak up the sun and enjoy the warm waters of the Mediterranean. Playa Sa Riera is known for its sandy coastline, dramatic landscape, luxury villas, and all-around pleasantness. This slice of paradise was made for families and anyone looking to make memories that will last a lifetime.
From building sandcastles and going for a leisure swim to renting canoes and enjoying other amenities, Playa Sa Riera is a charming location for beach lovers. With picturesque views of fishing boats, forested land, and the sea, nature enthusiasts will feel right at home. This often-overlooked beach has an on-duty lifeguard, onsite beach facilities, showers, and free parking. Playa Sa Riera also has hilltop walkways that offer incredible views, easy access to a must-see medieval village, al fresco restaurants, and beachside bars. Overall, this alluring seaside cove has all the makings of a great day at the beach — so make sure you check it out.
Es Trenc Beach, Mallorca, Balearic Islands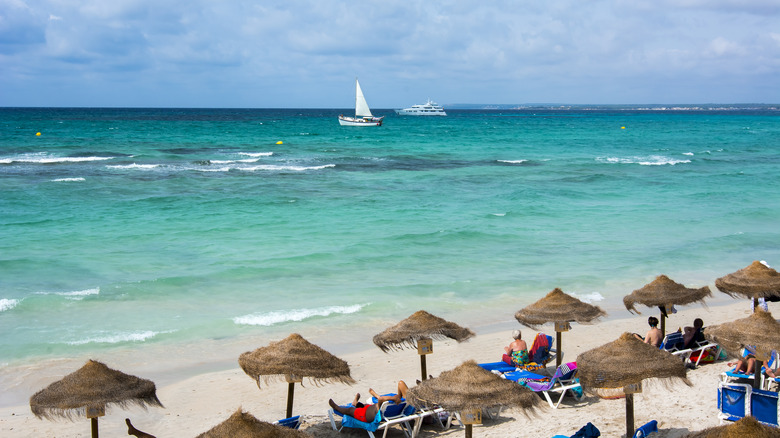 Mistervlad/Shutterstock
As a destination, Mallorca, Balearic Islands, is a must for avid beachgoers. Situated off the southern coast of Spain, an unspoiled wonderland rich with white sand shores and brilliant blue waters is what awaits visitors here. With over 200 superb beaches to choose from, a holiday in Mallorca is sure to please even the pickiest of beach lovers. Nevertheless, due to the sheer number of options, more than a few beaches may not be on your radar when they should be.
Es Trenc, for instance, is one wondrous beach that does not attract many out-of-towners due to its remoteness. But this utterly gorgeous beach should be on the roster. An out-of-the-way tropical escape, an Es Trenc outing can be whatever you choose to make it. Far from the hotel resorts, Es Trenc is a breathtaking sight, with its only downside being that some areas are more or less bring-your-own-everything. So, if you do not want to carry all your beach gear in tow, stay closer to the beach's public entrance. That said, if you want to get away from all the overly touristy spots, then Es Trenc is the beach for you.
The beaches of Calanques, Provence, France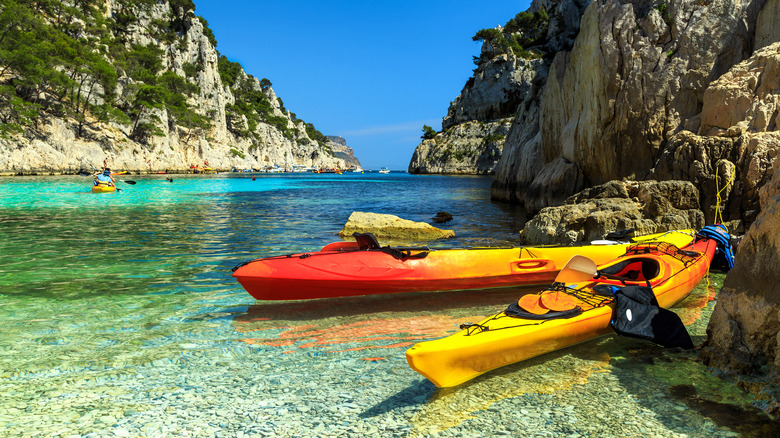 Gaspar Janos/Shutterstock
Calanques National Park in Provence, France, is another European destination with secret beaches and outdoor adventure. Inside this glorious national park, beach enthusiasts can choose from such amazing sandy coves as Saint-Estéve, Sormiou, and Port-Pin — to name a few. Both Sormiou and Saint-Estéve have lifeguards during the summer, so it is highly recommended that you make your way over to these white sands for supervised fun in the sun.
Similarly, Port-Pin Beach offers visitors a chance to get out there and enjoy the remarkable coastline. Here, beachgoers will find a pristine beach with pebbles and white sand, some of the clearest water, and ample water activities to pass the time. Of course, with an abundance of outdoor recreation (hiking, climbing, and guided tours), many Calanques visitors often miss out on the beaches of this breathtaking nature preserve. So, if you happen to be in this neck of the woods, make sure you plan for some quality time at one of the lesser-known beaches in Calanques.
Kelebekler Vadisi Beach, Turkey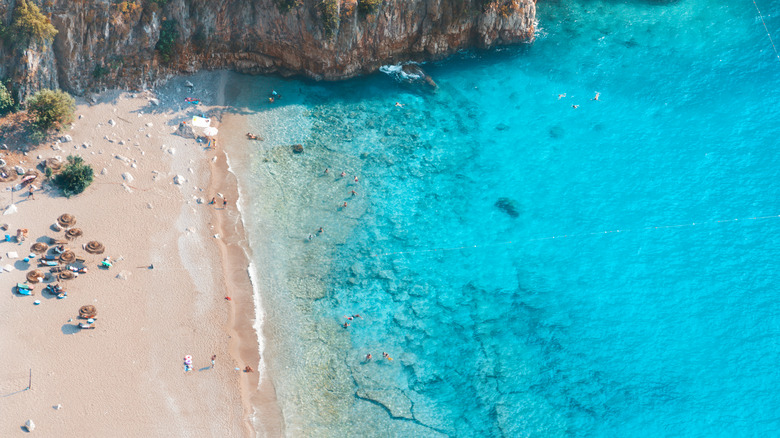 Gokhan Dogan/Shutterstock
Kelebekler Vadisi (or Butterfly Valley) Beach, in Turkey, should also make it onto your European vacation to-do list. Like so many other phenomenal places in Europe, Turkey has no shortage of beaches. Particularly, in the Muğla region, where this underrated beach can be found, there are over 100 beaches that rank high among beach lovers. But what makes Kelebekler Vadisi Beach so unique is its display of sheer natural beauty.
Tucked away in Butterfly Valley along the Mediterranean, this beach is a true utopia with soft, white sands, shimmering waters, towering cliffs, blossoming wildflowers, fluttering butterflies, distant waterfalls, and a beyond-impressive coastline. Reachable only by boat, Kelebekler Vadisi Beach is worth the trip, especially if you are looking for a secluded beach getaway that is simply unmatched. Here, visitors can take it easy on land, take a cooling dip in the sea, partake in some snorkeling, go sailing, or just admire the view. Whatever you decide to do at Kelebekler Vadisi Beach, you can be sure that this natural setting will have you at ease.
Kynance Cove, Cornwall, U.K.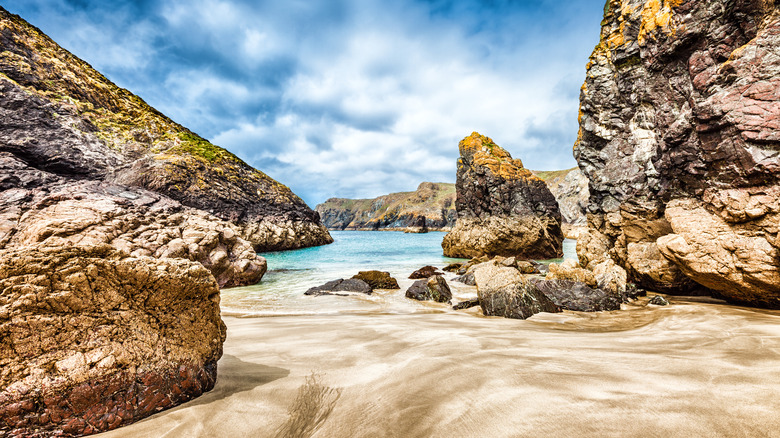 Mbbirdy/Getty Images
Holidaymakers off to Cornwall, England, will quickly see why this beach town is the place to be for Londoners during the warmer months. Home to a plethora of beaches and some of the dreamiest stretches of coastlines in the United Kingdom, Cornwall has a lot to offer visitors in addition to its revered history, art, culture, and cuisine. For many, beaches like Porthcurno, Holywell Bay, Porthcurnick, and Summerleaze are absolute musts when in town. But often, Kynance Cove gets left off the must-see list for out-of-towners.
Yet Kynance Cove is a gorgeous beach with so much to offer. Situated on the Lizard Peninsula, Kynance Cove has enchanting serpentine rock formations, grassy knolls, sandy terrain, sapphire sea, a quaint onsite café, several tourist attractions, and endless entertainment. Considered a Cornish gem by all who have had the pleasure of visiting Kynance Cove, this lively seaside haven is family-friendly and one of many underrated spots you do not want to miss if your objective is a lovely day at the beach.
Ksamil Beach, Albania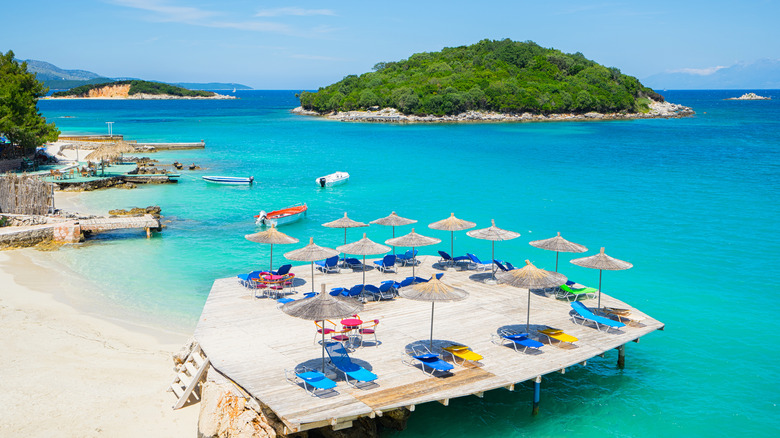 upslim/Shutterstock
If your vacation plans take you to Albania, Ksamil should be your go-to beach destination. Often referred to as the jewel of the Albanian Riviera or the "Maldives of Europe," this little town is ideal for relaxing on holiday and immersing oneself in all things beach-related. While enjoying the good life in the city of Ksamil, travelers should make it a point to stop by Ksamil Beach.
Touted as one of the most attractive beaches in the area, Ksamil Beach, surprisingly, is still a well-kept secret that not many tourists know about. With all the fun of the Mediterranean, rooftop bars overlooking the sea, great al fresco restaurants, golden sands, blue waters, lush greenery, colorful lounge chairs, and your choice of watersports, Ksamil Beach is simply a good time waiting to happen. Another bonus with this lesser-known utopia is that once the sun sets, the last thing you want to do is call it a day because this tropical paradise has quite the nightlife scene. So, if you head to Ksamil Beach, do yourself a favor and give yourself adequate time to fully experience this amazing place.
Amager Strandpark, Copenhagen, Denmark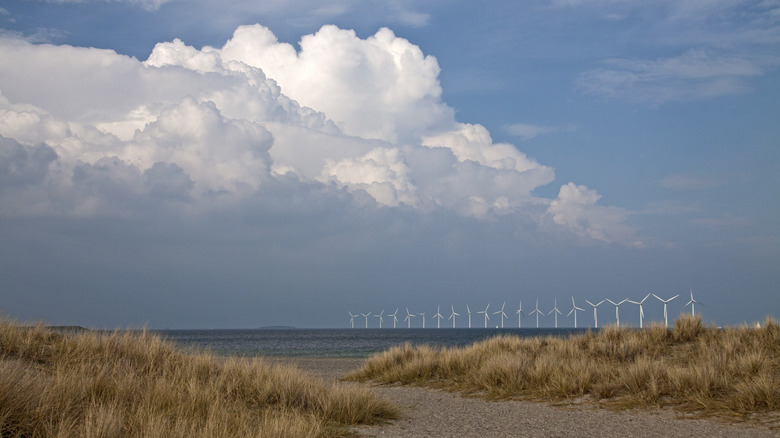 Kenneth_a_meisner/Getty Images
For a memorable day at the beach, European wanderers should definitely check out Amager Strandpark in Copenhagen, Denmark, any time of the year. Not only does this lesser-known beach park offer world-class surfing and ample recreation, but there are also a variety of ongoing local events and cultural festivals that make use of this sandy holiday spot. With fantastic vistas, nearby windmills, kid-friendly lagoons, tall grass swaying in the wind, and the Baltic Sea, Amager Strandpark is a real treat regardless of your preferred beach activities.
Amager Strandpark is also conveniently located a bikeable distance from the city center, so getting here is more than doable. From great facilities, sports fields, and picnic areas to the Copenhagen Surf School and a wonderful vantage point for several city attractions, Amager Strandpark, visitors can make the most of their vacation at this beach. So, if you have always wanted to go to Copenhagen to appreciate its history, culture, architecture, fairytale-like canals, and gastronomy, remember you can still have the quintessential beach experience on top of it all at Amager Strandpark.
Kilmurvey Beach, Inis Mor, Ireland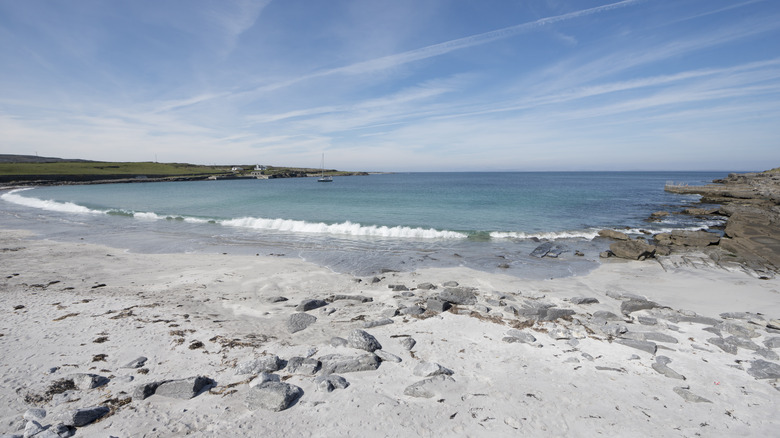 Maria_Janus/Shutterstock
Inis Mor, Ireland, is known for its natural beauty. Inis Mor is a sight to behold, with rugged cliffs, blue waters, and some of the most captivating landscapes. But before getting caught up in the wealth of this island's diverse scenery, visitors should make it a point to plan an outing to Kilmurvey Beach. A favorite among many, Kilmurvey Beach is simply marvelous thanks to its stunning vistas, semi-secluded vibe, white sands, brilliant blue waters, rock pools, secret coves, and endless recreational fun.
When visiting this hidden gem, most take advantage of the stellar kayaking, swimming, surfing, snorkeling, and sunbathing available here. Marine life enthusiasts can also marvel at this island's seal colony via boat. And if relaxation is more your thing, then Kilmurvey Beach is undoubtedly an excellent place for partaking in some good old-fashioned outdoor wellness, including a possible yoga session oceanside. Kilmurvey Beach has on-site facilities, a lifeguard on duty during the summer, nearby monuments and ancient ruins, shops, and a café.
Isola Bella Beach, Sicily, Italy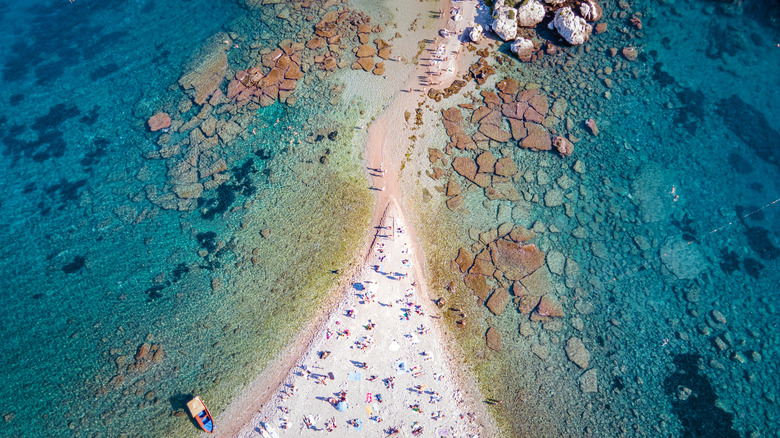 Fokkebok/Getty Images
Though Isola Bella Beach is one of the most well-known beachy spots in Taormina, Sicily, many tourists overlook this incredible natural wonder when they should not. Of course, while enjoying the view here, beachgoers can swim in the clear, revitalizing azure waters and marvel at the sandy walkway (visible during low tide) that leads to a breathtakingly beautiful islet just off the mainland. Despite its narrow strip of beach, the rest of Isola Bella is pebbled, but there is still much fun to have here.
Isola Bella has two main sections — a free beach and a beach club offering towels, refreshments, and much more. Affectionately called the "Pearl of the Ionian Sea," Isola Bella has several sea caves you can explore and is prime territory for sunbathers. Even if you don't consider yourself an avid sunbather, you can have an exciting time at this beach, as there are various boating tours and an on-site nature reserve, making it easy to mix up your activities while spending some leisure time at Isola Bella.
Playa de la Tejita, Tenerife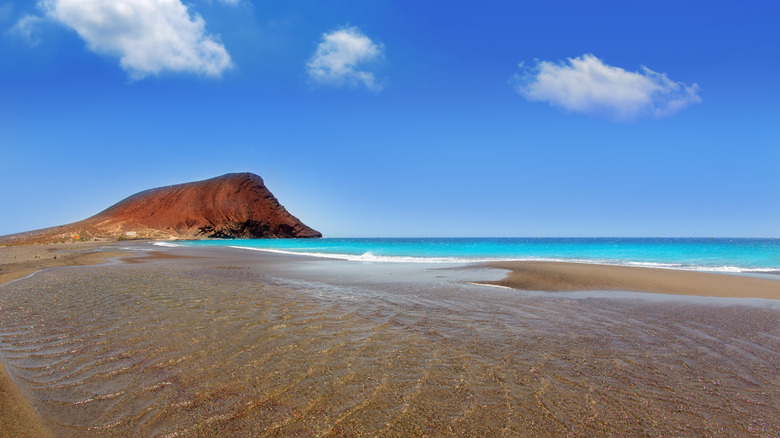 Lunamarina/Getty Images
Last but not least, Playa de la Tejita in Tenerife, near El Medano, is a hidden oasis that promises vacationers a truly stellar day at the beach. At this golden sands nirvana, there are quite a few activities to enjoy — from windsurfing and surfing to sunbathing sans your swimwear (on the eastern side). Playa de la Tejita is a rather expansive beach, so if you prefer to frolic about in your bathing suit instead, you absolutely can.
Besides being a fun-filled partial nudist beach, Playa de la Tejita is lovely and serene. Here, you can cherish red-colored mountains, the wild coast, and the crashing waves, go sailing, or revel in all the peace and quiet. It is worth noting that the sea in this area can be rough, so it is highly recommended that you exercise caution if you plan on swimming. Still, if you are on your way to the Canary Islands, why not check out Tenerife's largest natural beach for a day of fun in the sun? Ultimately, wherever your wanderlust takes you, remember that countless under-the-radar beaches await you on your European getaway.