Underrated Destinations In Spain To Add To Your Bucket List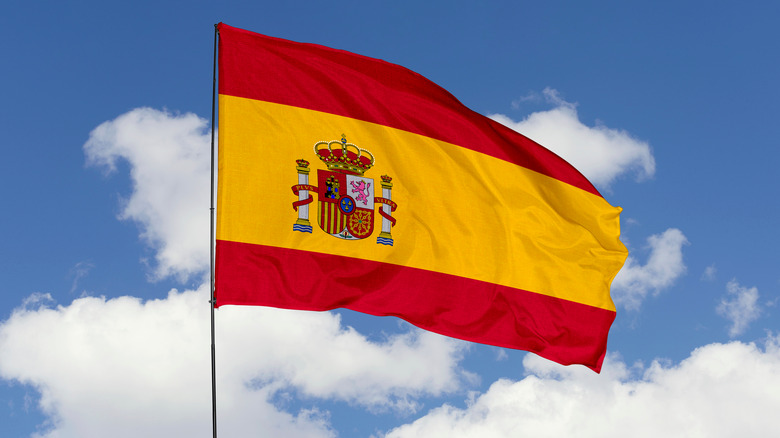 Tatohra/Shutterstock
A country blessed with deep variety, Spain is a magnetic destination for travelers the world over. Here, you'll find vast mountain ranges, expanses of verdant countryside, arid plains, sumptuous bays, and innumerable beaches of smoothed pebbles and soft sand. And yet, visitors to this southern European nation tend to stick to the familiar haunts — Barcelona, Madrid, Granada, a white village like Ronda, the southern coast's mass-tourism beaches, and a Balearic Island — rather than venturing into the unknown. 
This does the country's overlooked riches a huge disservice, because there are revelations of history, nature, culture, and food just waiting to be discovered. Spain really is a complete package, with scores of underrated destinations across the breadth of its land and offshore that handsomely compete with any of the tried-and-tested, obvious choices. Here, we present an A-Z list — and we mean that alphabetically as well as figuratively — of the country's unexplored treasures, from its cool northern fringes to its searing, sun-baked south.
Almería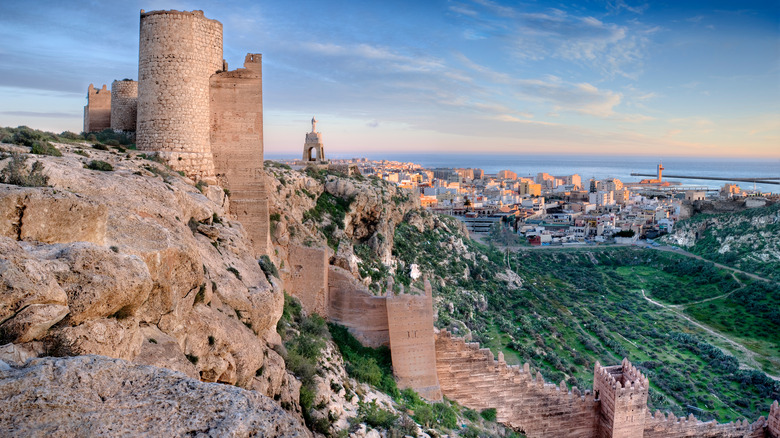 dlnicolas/Shutterstock
On the southern coast of Spain, and with ferries from here departing to Morocco and Algeria, this city celebrates its coastal location. For starters, visitors can head to city beaches, long stretches of sand that yield right into the warm, blue waters of the Mediterranean Sea. Among the best are Playa El Zapillo and Playa El Palmeral, which extend generously along the shore, backed by tall apartment buildings. 
Elsewhere, the Cathedral of Almería was built in the 17th century, mixing Gothic and Renaissance architectural styles. It served as a house of worship and as a fortress to repel sorties by Barbary pirates. This a stunning building, with imposing turrets and towers, and skinny palms out front. Another beloved is the Alcazaba de Almería, a walled citadel built by the Arabs in the 10th and 11th centuries. Set up on a hill, it's visible from many parts of the city, a constant presence that affords stunning views across Almería.
Burgos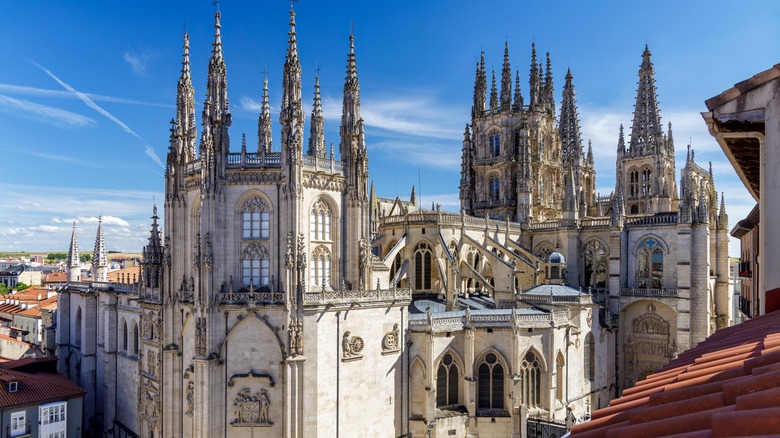 Carlos Bruzos Valin/Shutterstock
Located in the huge northwestern region of Castilla y Leon, the city of Burgos is distinguished by a truly striking piece of Gothic architecture. The cathedral rises up from the heart of this medieval city, almost like a volcano sprouting from the ground, its spires and towers reaching for the sky, extending ever upward. The building is a site to behold, perhaps as inspiring as La Sagrada Familia in Barcelona, and its impressive form has landed it on the Unesco World Heritage site list. The construction took centuries to complete, and inside and out, there is so much to please the eye — the sharp forms of the exterior, works of art, stained-glass windows, tombs topped by starry domes, and grand staircases. 
Burgos, though, isn't a one-hit-wonder. Elsewhere in the city, you will be able to wander along the riverfront, enjoy fabulous city views from the hilltop citadel Castillo de Burgos, and even visits the nearby Unesco World Heritage prehistoric archaeological site, Atapuerca.
Cádiz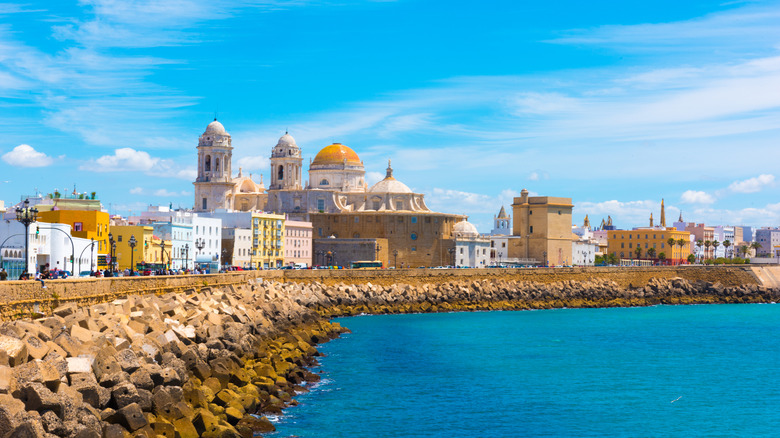 jmbergui/Shutterstock
As far as history goes, can any metropolis in Spain beat this city? Cádiz has been called the oldest city in Western Europe, a label it displays with pride. More than 3,000 years ago, it was founded by Phoenician sailors, though its origins also occur in legends as one of Hercules' 12 Labours — the mythological Roman hero was tasked with separating Europe from Africa. The Phoenicians set about constructing a fort and temple, and gradually, the city became a stronghold of maritime trade, especially with the Americas. 
With this power and prestige came envy, and the city become a focal point for pirate attacks, leading to the building of watch towers, forts, and defensive walls, some of which still stand. You can also come here to wander the medieval old town, with its narrow streets and pretty plazas, and tour the waterfront, where colorful buildings and a large cathedral line the promenade.
Cies Islands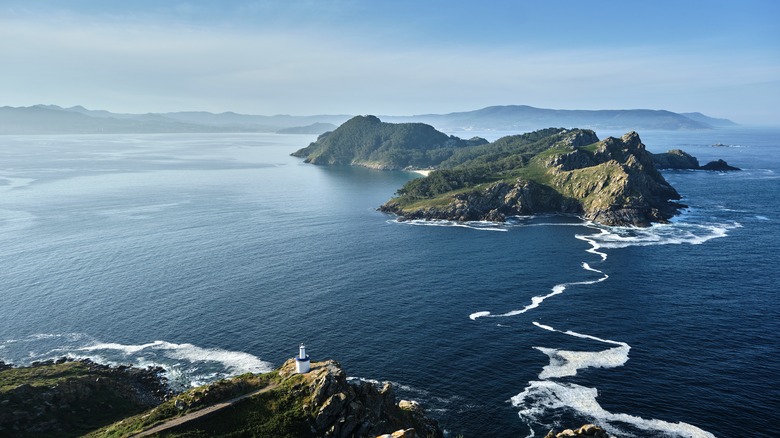 jessicahyde/Shutterstock
Think of Spanish islands, and a few names usually appear. Ibiza, Mallorca, Tenerife, Lanzarote. But the Cies archipelago? Located off the northwest coast of Spain, these three isles don't get many headlines because they are uninhabited, part of the Maritime Terrestrial National Park of the Atlantic Islands of Galicia. And yet, they are gems of ecological and marine beauty, with fabulous sandy beaches, clear blue waters, and a sense of nature and peace that hasn't been ravaged by tourism infrastructure. They are hilly and rugged, with mountainous ridges running along their spines, making them great for hiking. 
The beach that connects two of the islands has also appeared on Top 10 world beach lists, and while there are no hotels or buildings here, camping is permitted. Access to the island is usually through boat trips departing from the nearby town of Vigo, though the moneyed set might prefer to sail here onboard a private yacht.
Córdoba
agsaz/Shutterstock
The Alhambra in Granada needs no introduction — a vast palace and fortress that pulls in tourists each year, it is a stunning example of Islamic architecture in Spain. What might not be known is that Córdoba, a couple of hours northwest of Granada, is also a historical hub of Islamic culture in Spain. The Great Mosque sits in the heart of the city, and its construction began in the 8th century by an Islamic royal, with the building continuing on for two more centuries. 
Today, the interiors, with their red-striped archways and rows of columns, are a stunning example of the era's workmanship, and a striking visual tableau. The city's historic center is also a Unesco World Heritage site, with mosques, palaces, squares, and fortresses making it a destination not to be overlooked. On the outskirts of the city, the Medina Azahara is an archaeological site that shows the symmetry and design of an ancient city.
Cuenca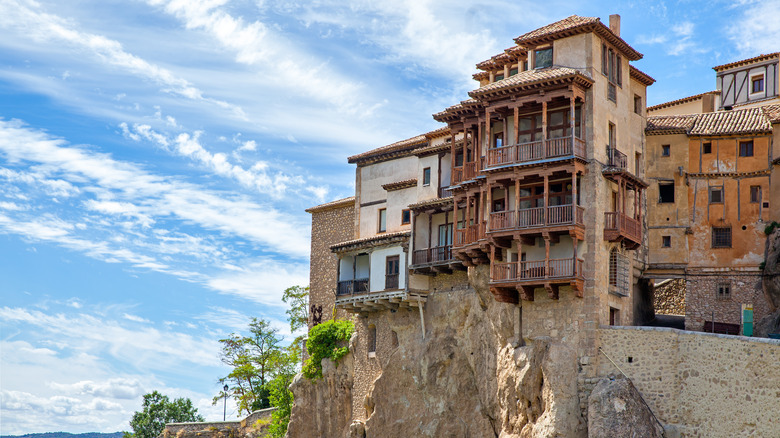 Roman Sigaev/Shutterstock
A couple of hours drive southeast of the Spanish capital Madrid, Cuenca has buildings that might make you scratch your head in wonder. This is where to find the Hanging Houses, a series of homes that cling atop canyons of rock as they desperately hover above the gorge below. These houses are incredible objects to admire from afar — best seen from across the San Pablo bridge — but they can also be visited, with one of them home to a museum that has a selection of Spanish abstract art within. 
Cuenca is a fortified medieval city, developed by the Moors and with many of its historical buildings intact, received a nomination as a Unesco World Heritage site. The historical sites also extend to the Nuestra Señora de Gracia Cathedral, a Gothic pile that displays influences from France. Be sure to wander around the pretty Plaza Mayor, and drop by the bars and restaurants that populate the area.
León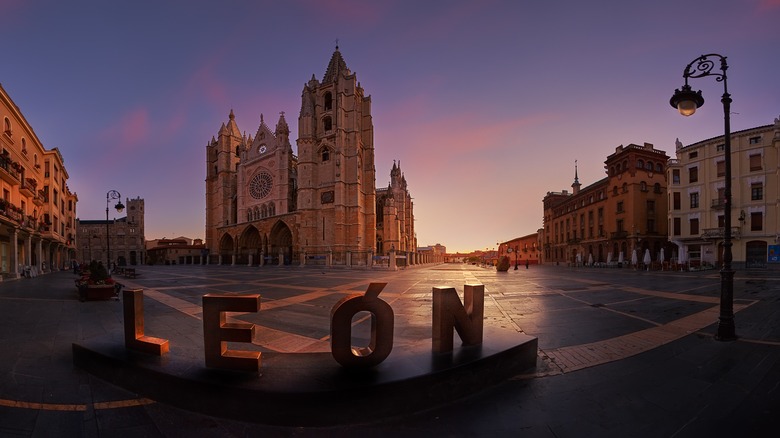 Wirestock Creators/Shutterstock
A strong Roman past lives throughout this city, not far from Burgos. Here, you'll admire beautiful architecture, especially at the San Isidro Royal Collegiate Church. Built by Emperor Ferdinand I, and a repository for the relics of the saints Isidore and Vincent, this church has deep cultural and spiritual currency. The Museum of the Collegiate Church of San Isidoro is a treasure chest of ancient items from this kingdom, with goblets from the 11th century, processional crosses, old Roman tombstones, and stunning frescoes. 
A visit to the city wouldn't be complete without stopping at the León Cathedral, also known as the Pulchra Leonina, located close to Roman walls and a standout star for its Gothic twin towers and expanses of stained-glass windows. Fans of Catalan architect Antonio Gaudí should stop by Casa Botines, designed by the maestro, with an exhibition inside detailing the evolution of the building, made as a commission by cloth merchants from Léon.
Logroño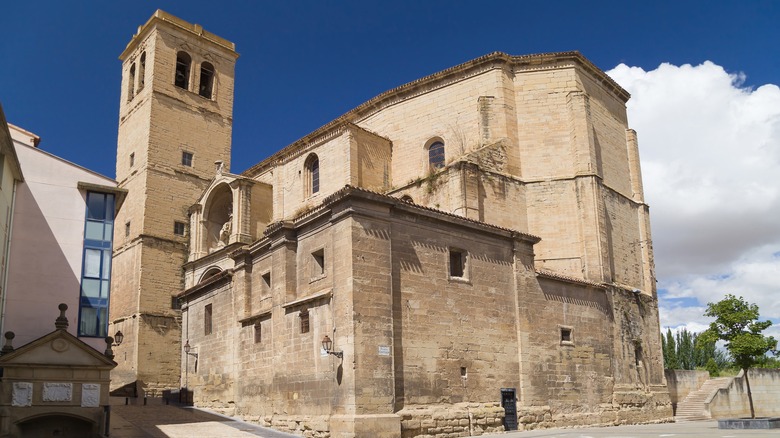 Santi Rodriguez/Shutterstock
Since medieval times, the pilgrimage routes to Santiago de Compostela, the site of a revered cathedral, were a religious rite of passage for disciples all over Spain. They would make the arduous journey to the city to see the remains of Spain's patron, Saint James the Great. The routes are still hugely popular today, even with tourists, and they retain huge cultural significance, appearing on the Unesco World Heritage site list. This town in the province of La Rioja, where the eponymous wine is produced, was an important stop on the pilgrims' journey, and many sites here testify to the city's religious weight. 
Iconography to do with the pilgrimage route abounds, from motifs of the routes appearing in the Santiago el Real Church, the Puente de Piedra (it translates to stone bridge), a sturdy span that pilgrims would take to enter the city, and also an image on the city's coat of arms. For some quiet time in a pretty green space, head to Paseo del Espolón, a park in the heart of the city.
Mérida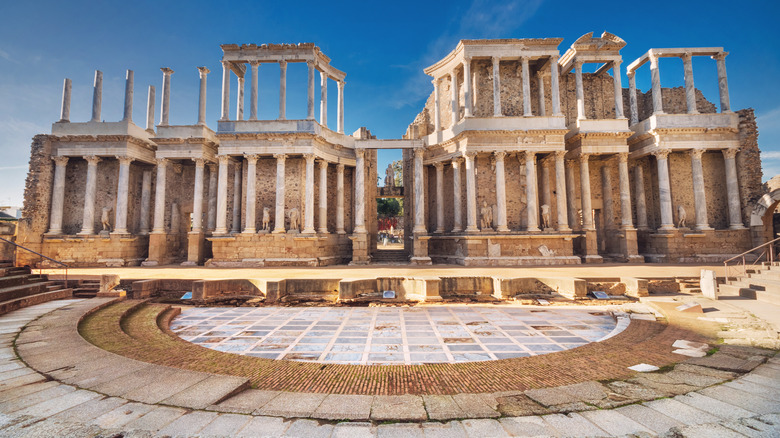 David Herraez Calzada/Shutterstock
In its heyday, the Roman Empire spread far and wide, extending across Europe, Africa, and parts of Asia. Its imprint can be seen in many of these places, among them is the town of Merida in the region of Extremadura, an arid slice of western Spain. The echoes of the empire are very much heard here, through the many ruins that still stand in this place founded in 25 BC. Unesco found the beautifully preserved old city, with its amphitheater, Roman baths, arches, aqueducts, and other ruins meriting the city to attain Unesco World Heritage status. 
A festival each summer, called Emerita Lvidica (referring to the city's former name), features gladiator fights, markets, and soldiers marching, a vivid recreation of days gone. Many of the Roman sites are easily explored, located close to each other, and include the Temple of Diana, the Roman bridge, the Acueducto de los Milagros, and the Roman theater, where the Mérida Classical Theatre Festival takes place each summer. An inspiring collection of Roman sculptures and mosaics delights visitors of the Roman Art National Museum.
Minorca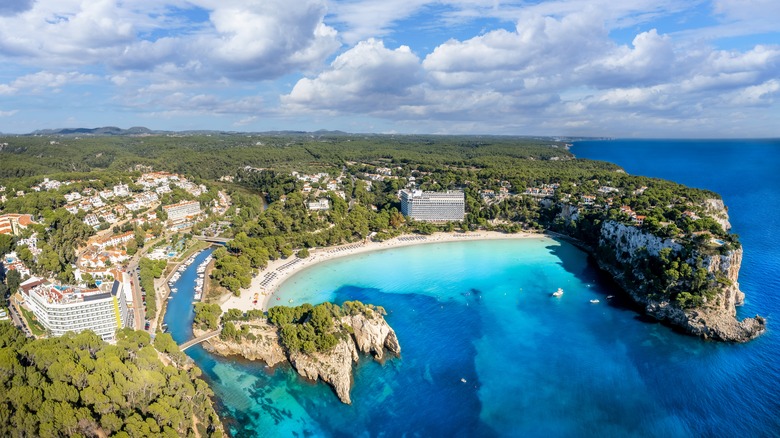 false/Shutterstock
A scattering of islands off the east coast of Spain, the Balearic Islands are a popular destination, with isles like Ibiza (party central) and Mallorca (where tennis supremo Rafael Nadal was born) firmly in the public eye. But Minorca (also spelled as Menorca, in Catalan), gets lets attention, overshadowed by its more prominent neighbors. That is a shame, because it's a striking escape, where the beautifully variegated coastline extends more than 130 miles, encompassing rocky headlands, sultry coves, and soft-sand beaches with crystal clear aquamarine water. 
The options for water sports are plentiful, with sailing, water skiing, windsurfing, and fabulous diving in an area earmarked as a Unesco Biosphere Reserve for its diversity of Mediterranean ecosystems. Within this reserve, the Nature Parc of S'Albufera des Grau is a fount of that natural wealth, with seasonal ponds, marshland, dunes, and dense woodland among the delights. It's also a great location for bird spotting.
Murcia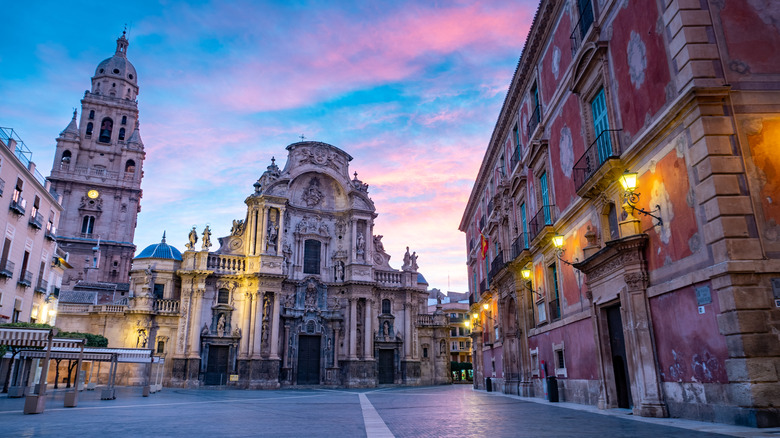 Blanco Mouzo/Shutterstock
One of the multitude of pleasures in walking around Murcia, an inland city in southeast Spain and capital of the province with the same name, is to encounter a number of comely squares. They are dotted all over, small and large, places to wander, to stroll, to take a quiet break, or sit next to while lingering over a coffee or a bite to eat. One of the most hypnotic is the Plaza Cardenal Belluga, set in the heart of the city's historic core, surrounded by a number of grand buildings — City Hall, the Episcopal Palace, and the baroque Cathedral. 
At Julian Romea Square, plenty of bars and restaurants take in the views of the immediate attractions, like the Romea Theater and the Church of Santo Domingo. And for fabulous landscaping and floral arrangements, visit the Paseo de la Glorieta. The city also promises a slew of indoor attractions, from a deep stock of museums —subject include fine art, science, and bullfighting — as well as great dining, with the city designated as the Spanish capital of Gastronomy 2020-2021.
Segovia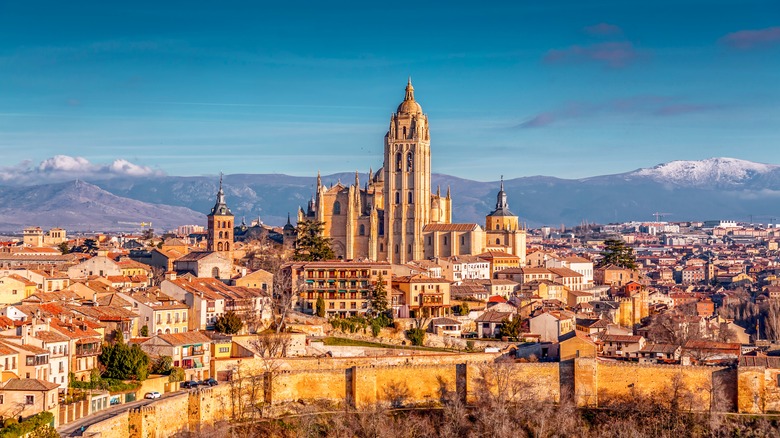 ColorMaker/Shutterstock
This city about an hour northwest of Madrid isn't huge, its compact form squeezed between forests and plains, but these dimensions are an asset. If one structure defines it, it would be the cathedral, with its naves, tower, domes, offset chapels, Gothic spires, and artful buttresses, a sight of immense beauty. The interior is as much of a showstopper, with an altar that is made of marble and bronze. What makes the cathedral even more remarkable is that is was the last Gothic cathedral made in the country, consecrated in the 1760s. 
Segovia is also a city of contrasts, with a Jewish Quarter where a synagogue stands, and an Islamic Alcázar, or fortress, nearby. There is also a stunning aqueduct, running through the heart of the city, that is a testament to the engineering acumen of the Romans — two arched rows carried water into the city, using more than 20,000 blocks to stone without mortar or cement. For an astonishing sense of its scope, visit Plaza del Azogeujo, where the 167 arches rise almost 100 feet into the air.
Seville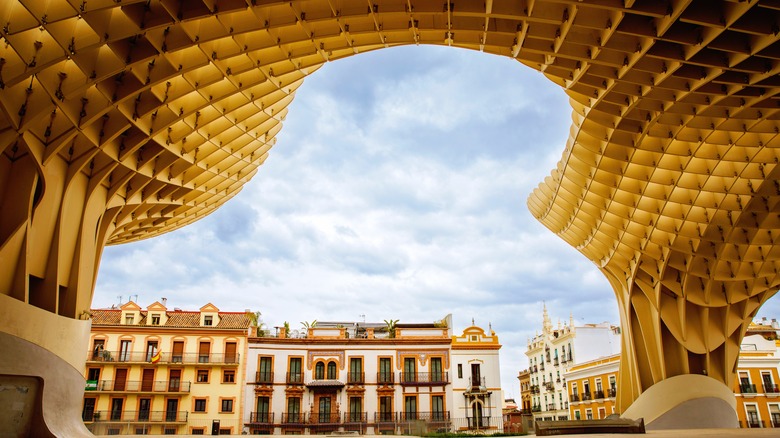 Irina Wilhauk/Shutterstock
For lovers of marmalade, Seville oranges are the stuff of legends. Small, thick skinned, with an uneven texture, their flesh sour or bitter, making them perfect for sweet-tart jam. Their  orange blossoms in spring are intoxicating, filling the city with a heady scent that is mesmerizing. This city, deep in Spain's south, in Andalucia province, has some outstanding buildings that speak to the numerous influences that have shaped this region of Spain. A high point, literally, is La Giralda, once a minaret of an old mosque, with a bell tower added; a climb up here will give visitors an unmatched view of the city. 
Next door, Seville Cathedral is a cynosure, built on the site of the former mosque, with architectural styles that mix Gothic, Renaissance, and Neoclassical, as well as Mudéjar, a vestige of the Muslims that remained here even as their power waned. Formore contemporary artistic flair, visit Setas de Sevilla, a series of wooden parasols that offer amazing city views, and that make up the largest wooden structure in the world.
Tarragona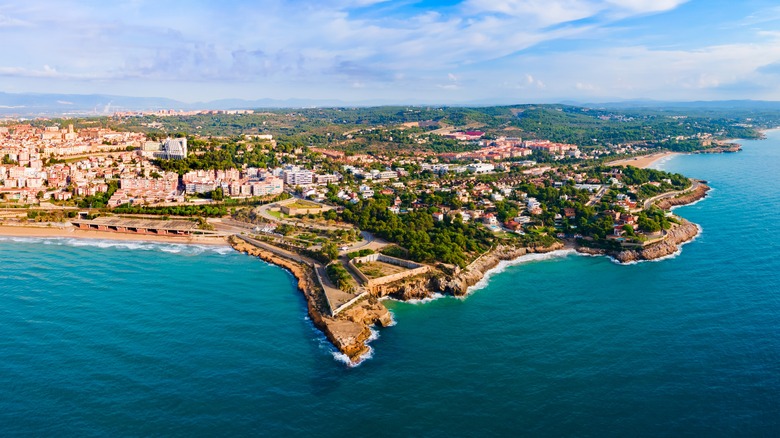 saiko3p/Shutterstock
Everyone knows Barcelona, but how about Tarragona? It probably doesn't sound familiar, even though it's only about an hour away. The city, also on the Mediterranean coast, has a one-two combination that's sure to thrill visitors — fine beaches and great history, with the oldest Roman settlement located on the Iberian Peninsula, now a Unesco World Heritage site. A smart place to start, to get a handle on the extent of Rome's grasp here, is to see the Model of Tarraco (the name of the city under the Romans). Located at the Tarragona History Museum, it shows the city's layout in the 2nd century, with walls, the amphitheater, and canals reconstructed. 
Visit some of the sites in person, including the amphitheater (the sea views are spectacular), the circus where chariot races took place, and more recent, post-empire additions, like the cathedral. A trip here wouldn't be complete without some time at the beach, with sand stretching along 15 kilometers (almost 10 miles) of the city's shoreline.
Toledo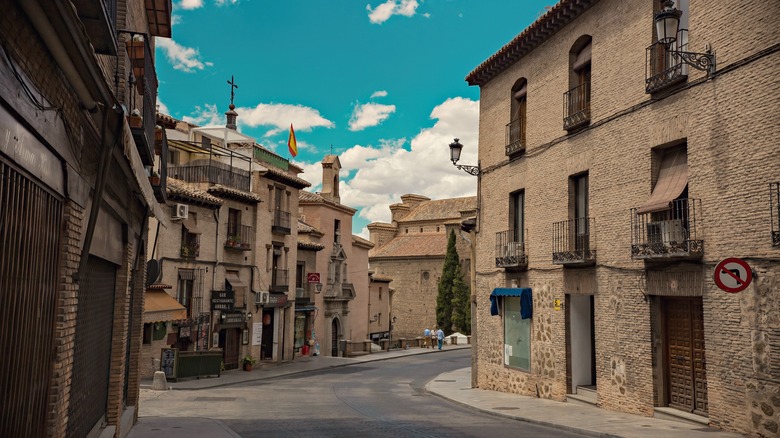 Sun_Shine/Shutterstock
The high-speed train journey from Madrid to Toledo takes only about 30 minutes, but once you arrive at this city, you'll feel assuredly removed from the Spanish capital. This historic center of Toledo, like many places on this list, is a Unesco World Heritage site, a place where cultures built on top of each other, and through eras — this was a center governed by Romans, Visigoths, Islamic rulers, Christians, and even an Austrian Archduke. All this makes for a place that is a fascinating hybrid of architecture and religions, one where Islam, Judaism, and Christianity have had strong presences. 
In the Jewish Quarter, you can visit synagogues, one of which houses the Sephardic Heritage Museum, a trove of information on the Jewish diaspora's experiences in Spain. Nearby visitors will find the Monastery of San Juan de los Reyes, with architectural flourishes from both Christian and Islamic disciplines. Other unmissable sights are the Alcázar, the cathedral, and the church of San Ildefonso, located in Plaza Padre Juan de Mariana, the city's highest point, affording views that will take leave you speechless.
Trujillo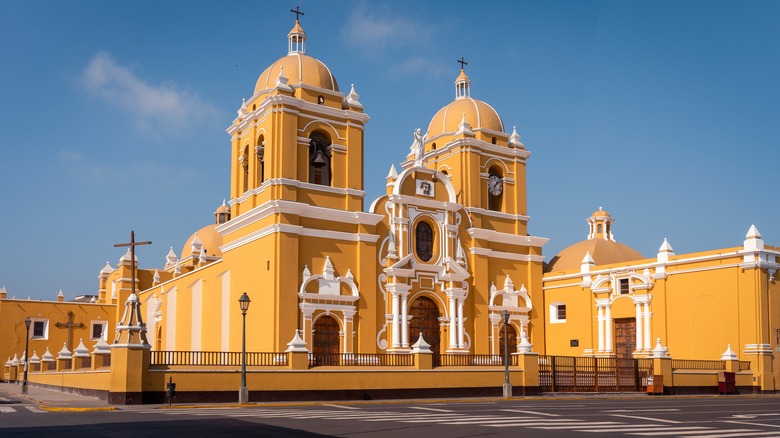 Maurizio De Mattei/Shutterstock
In the dry western region of Extremadura, this fabulous city illustrates vestiges of its past life under the rules of Moors, Visigoths, Romans, and Christians. Two parts of Trujillo offer a sharp window into its past iterations — a village that feels medieval and is Arab in origin, and the more modern city that dates to the 15th and 16th centuries, anchored by the Plaza Mayor. That square's focal point is a bronze statue of Francisco de Pizarro, an explorer and conquistador who was credited with leading expeditions to South America and founding Peru, wresting control of it from the Incan people and helping to expand Spanish power on the continent. 
The city is somewhat of a conquistador fount, with Nuflo de Chaves, who founded parts of Bolivia, and Francisco de Orellana, the first European to explore the Amazon, both born here. You'll come across plenty of handsome buildings here, from churches to Arab forts, but for a real escape, head a little north of the city to Monfragüe National Park, a realm of oaks, mountains, and fabulous ornithology, especially of birds of prey.
Zaragoza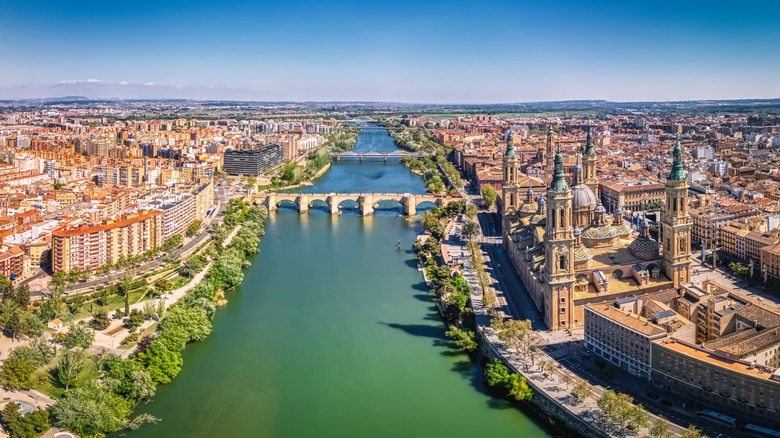 Corrky/Shutterstock
The siting of this city in the region of Aragon places it in a sweet spot, roughly the same distance from Barcelona, which lies to the east, as Madrid, which sits to the southwest. It's an under-appreciated gem, with Roman and Arab traces evident, as well as two majestic cathedrals that represent more recent history, and that stand almost side by side. Visitors will not miss the Basilica de Nuestra Señora del Pilar, set right by the River Ebro, and where the striking exterior is complemented by paintings inside by Spanish master Francisco de Goya. 
A hike up to the cathedral's lookout tower is rewarded with amazing city views. From here, it's a short walk to Catedral del Salvador, where the design reflects the Islamic influences that have left their enduring mark on Spain, and where Flemish tapestries are also visual treats. Aljafería Palace is also a must-see, an Islamic fortress with imposing crenellated towers out front, and intricate, detailed archways within.